TERMS OF USE: There is a chance that some of the content on this page has changed since it was last updated. By reading this article, you consent to our Terms of Use and Disclaimer. Happy Travels!
DISCLOSURE: Some of our posts may contain affiliate links which we may receive a commission if you choose to book something through one of our links.
This is our list of the best gay shops in Barcelona for shopping up a storm, from clothes to art, 'toys' and more.
If you go to a city like Barcelona and don't overdo it with shopping, did you even really go on holiday? We sometimes bring an extra suitcase with us just so we can fill it up with all the new clothes, art pieces and *cough* toys we find along the way!
The Barcelona scene is fantastic for gay shops, with loads of different options. Whether you want to buy new speedos, harnesses, a few tank tops, or just something for a quick jerk-off(!), there's always plenty to discover.
Sure, sex shops can seem quite intimidating from the outside, but hey, we're all human. We all have desires, and these places are committed to helping you fulfil them. So shop til you drop using our guide to the best gay shops in Barcelona.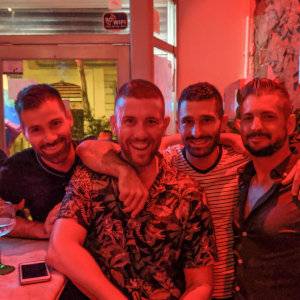 Party in Barcelona with a local gay guide
Once you've got your fabulous party outfit ready, you're going to want to hit the town and paint it red! You can join a gay night tour of Barcelona's best gay bars and clubs with a local guide to ensure you have the most amazing time.
Gaixample, the heart of Barcelona's gay scene
The gay village of Barcelona is located in the large residential Eixample neighbourhood, bordered by the following streets: Carrer de Balmes, Gran Via de les Corts Catalanes, Carrer del Comte d'Urgell and Carrer d'Aragó. This section of Eixample is nicknamed, "Gaixample" (pronounced "gai-sham-ple"). Read more about the gay scene in our comprehensive gay guide to Barcelona.
To get our bearings, we always look for the main Axel Hotel which is right in the heart of Gaixample, then work things out from there. Most of the shops in this guide are located in and around Gaixample. You could also orientate yourself on one of these gay tours of Barcelona!
Getting around Barcelona
Barcelona is a big city, so you will definitely need to use public transport to get around at some point. By purchasing a Hola BCN Transport Card you will have unlimited access to the bus, metro, tram and train system, for up to five days. Less time stressing about transport means more time for shopping!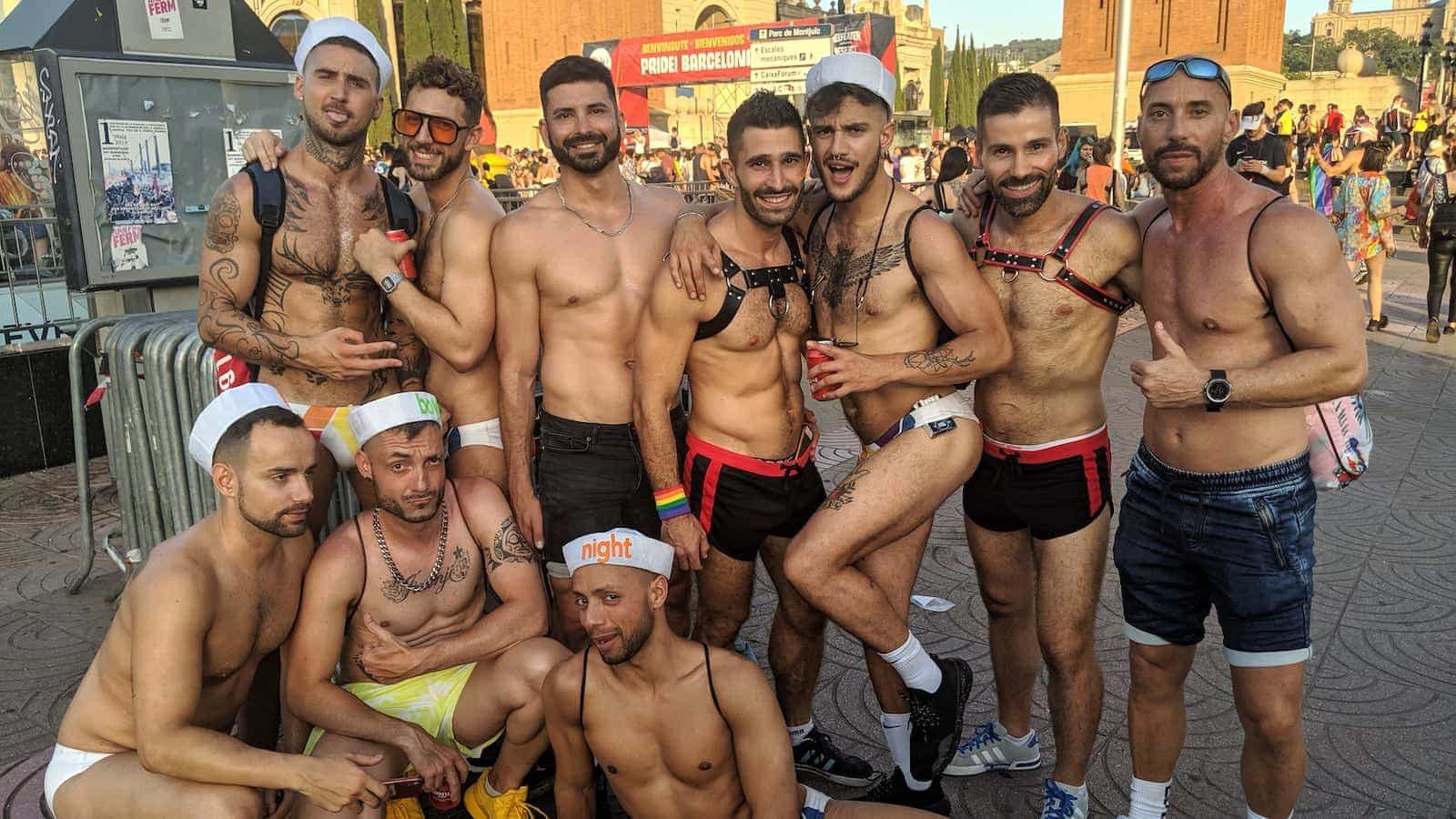 1. X Boxer Barcelona
Find your inner X!
That's their slogan. Who or what is X? We've no idea, but he lives inside all of us it seems. It appears X is the sexy beast that is thriving to escape. And Boxer Barcelona is helping to unlock that cage. Inside the shop, you'll find leather harnesses, swings, ropes, and fetish wear.
Celebrating all things hardcore BDSM and roleplay, this store is a pool for the sexually liberated. Leather galore – from jackets to hats, straps, and boots, you'll be feeling your Janet Jackson Rhythm Nation vibe in no time!
It's also pretty handy to nip into on the way to the beach, for there are lots of cool tank tops and shorts on sale as well.
Boxer Barcelona is located at Carrer de la Diputació, 182. It is open every day except Sunday, from 11am to 9pm.
Probably the most iconic gay brand to come out of Spain and our go-to gay shop in Barcelona. This is THE ultimate gay shop you'll find in most gay capitals around the world. The first one is this one right here in the middle of Barcelona's Gaixample neighborhood, which opened in 2006 before spreading across the globe!
You'll see all the hotties showing off their newly purchased tight ES speedos at Marbella beach during the Circuit Festival. ES is also a big sponsor and supporter of all the major gay events around the world and always rock up at each one with an entourage of hot guys to show them off!.
We love ES because as well as speedos they also sell sexy underwear, well-fitted T-shirts, sporty clothing, shorts, cargo pants, tank tops and trendy co-ords. It's perfect for topping up your outfit before Pride, the Circuit pool party or a night out at Arena Club!
The ES Collection Store of Barcelona is located at Carrer del Consell de Cent, 218 and is open daily from 10am to 10pm.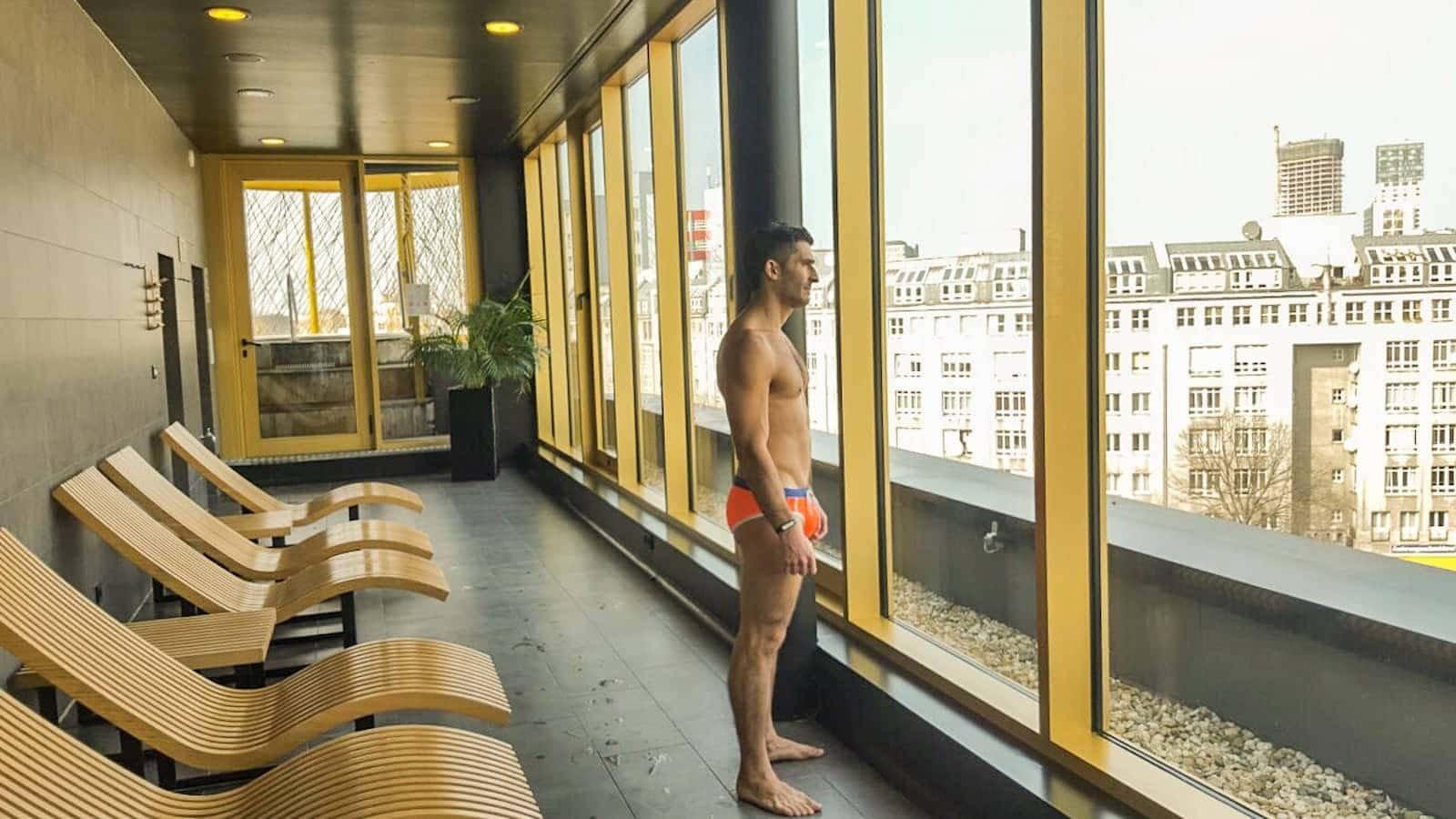 The name of the boss of all the Ancient Greek Gods, so you know you're in for a heavenly experience here!
Either way, Zeus (the Barcelona gay shop) couldn't be more pleasant. Or…as pleasant as any giant-dildo-sexy-underwear-porno-movie-displaying-shop can be! It might be a small shop, but it's fully equipped with movies, toys and a fabulous little hideaway in the back for you and a partner to sneak off into.
Zeus is located at Carrer de la Riera Alta, 20 and is open every day (except Sunday), from 10am to 9:30pm.
A palace you say? Well, for these two queens who love nothing more than visiting a palace, get those doors wide open…
Erotic Palace Barcelona sells lots of fabulous sex toys, swings, harnesses and clothing. For all your roleplaying fantasies, step in through the door and see what lies within. From the outside, it's pretty much what you'd expect from a sex shop. A neon red sign, flashing the words sex, dark windows and leather-clad mannequins posing out front.
As you head inside, you quickly realise this is an awesome space for celebrating all things erotic art, safe sex and gay liberation! There are also plenty of opportunities to sneak off with a partner, with a labyrinth of glory holes and cabins to fool around in.
Erotic Palace is located at Carrer de Sants, 225 and is open every day from 10am – 12pm.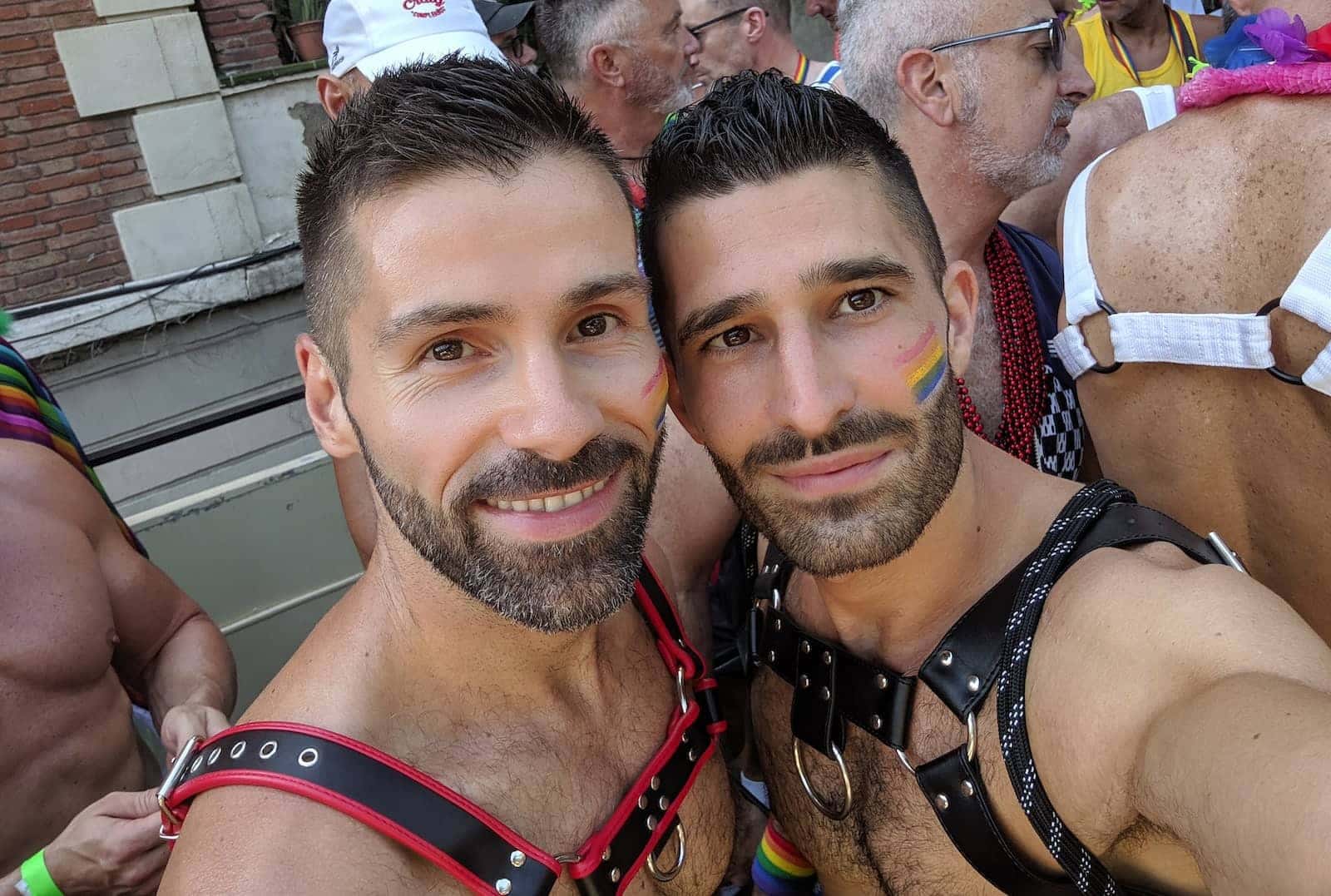 We hope your passport is up to date. As you're heading off to Sexyland!
With bold red lettering outside, it definitely screams sex shop. Step through the door, and you're met with flaming red walls and shelves full of sexy items. There's space for cruising and sexy time inside as well. They don't call it Sexyland for nothing! Make sure you stack up on condoms and lubricant here. You can also purchase some really funky artwork in between your, uh, cabin sessions…
Sexyland can be found at Carrer de Còrsega, 329. It's open every day from 10am – 1am.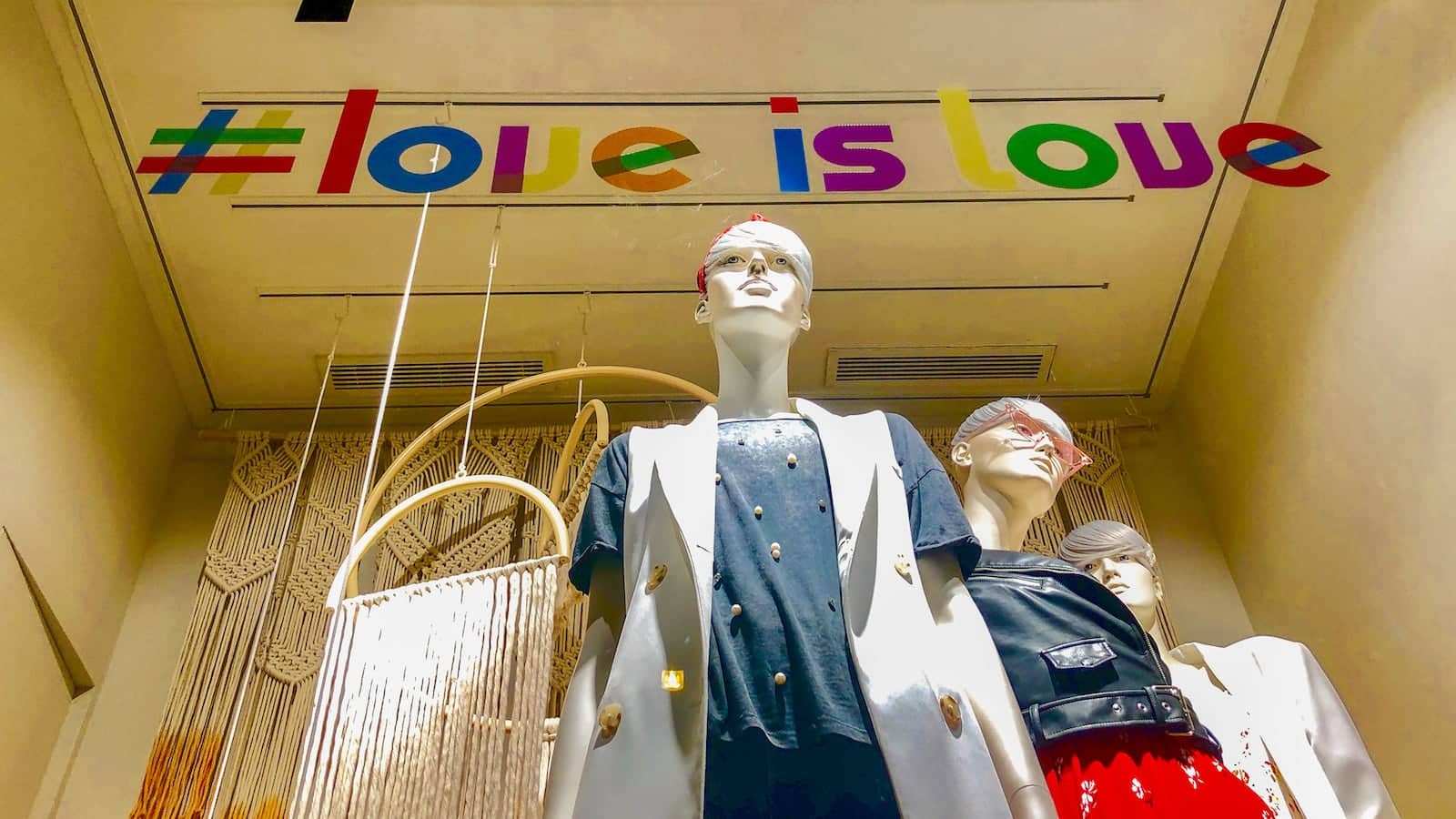 Erotixx is a relatively small shop but that doesn't mean it's not worth checking out. From movies to toys, there's much to discover inside. Plus, the video booths make a fabulous escape for sneaking off into. This is one of the most popular gay shops in Barcelona for the older 40s crowd.
The staff are particularly excellent and attentive to their customers. On Facebook, they actively engage with the LGBTQ community of Barcelona, sharing news on products, as well as tips on how to stay safe in the city. It adds such a breath of community into the place and makes you feel so appreciated as a consumer. Erotixx is also one of the best places to stock up on your DVD porn collection.
Erotixx is located at Avenida de Roma, 153 and it's open every day from 9am – 12pm.
With a name that translates to 'lover' and 'grace', we were expecting big things inside this store. And big things we found…literally!
Whilst Amatis Grácia is not a gay-exclusive shop, it's super popular amongst the local queer community. The staff are very sexy, which sure helps! They're also always super obliging and willing to show off and explain how some of the devices work.
We particularly love this shop for its online store. Prices are fairly reasonable, particularly for a sex shop, where you tend to pay a premium for certain items.
Amantis Gràcia is located Carrer del Torrent de l'Olla, 145 and is open every day from 10am to 10pm.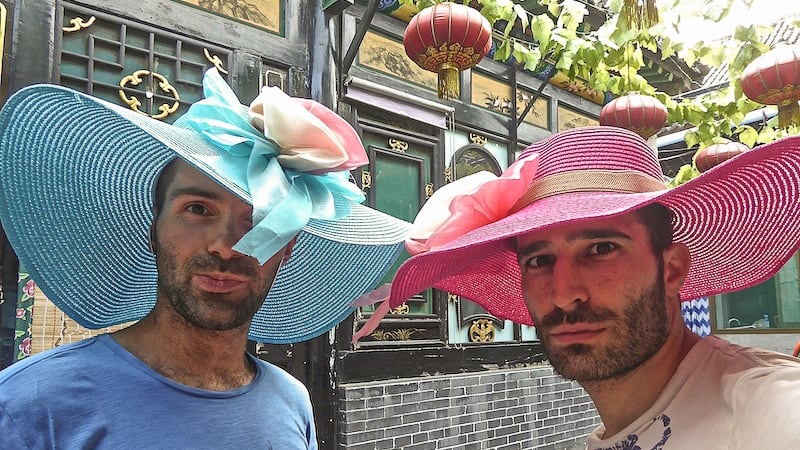 8. Nostromo Gay Sex Shop
Dark rooms and glory holes await inside – Nostromo is one of the most popular gay cruising spots in Barcelona, as well as being a top-notch place to shop!
Inside it feels like you've entered into a 1990's Blockbuster video store, except on closer inspection, you'll quickly realise all the movies on sale are pornos…
Whilst there are loads of toys on sale as well, most people go for the movies and to hook up. The staff are really warm and inviting, so you don't get that intimidating feeling you usually get when you walk into a sex shop for the first time.
Nostromo Gay Sex Shop is located at Carrer de la Diputació, 208. It is open every day from 11am to 12am.
What to do in Barcelona?
Besides shopping obviously, Barcelona has so many other fun things to see and do! From incredible museums to beaches and restaurants, find the best activities for your time in the city here.
Mixing vintage wear with sexy time toys, Only Is Love is a cute little store along the Casanova strip of Gaixample. In the shop window is a mix of different items and products like white feather boas, leather chaps, alluring scents to spray yourself with and fabulous shoes that look like they came right out of an adaption of Kinky Boots. This place is where you need to come to top up your drag outfits and roleplay costumes.
We love this place for their range of underwear (male and female) too. There are so many different colours and shapes to choose from…pretty much any sexual fantasy is covered.
Only Is Love is located at Carrer de Casanova, 43. It is open every day from 11am to 9pm, except Sundays, when it's open 5pm-9pm.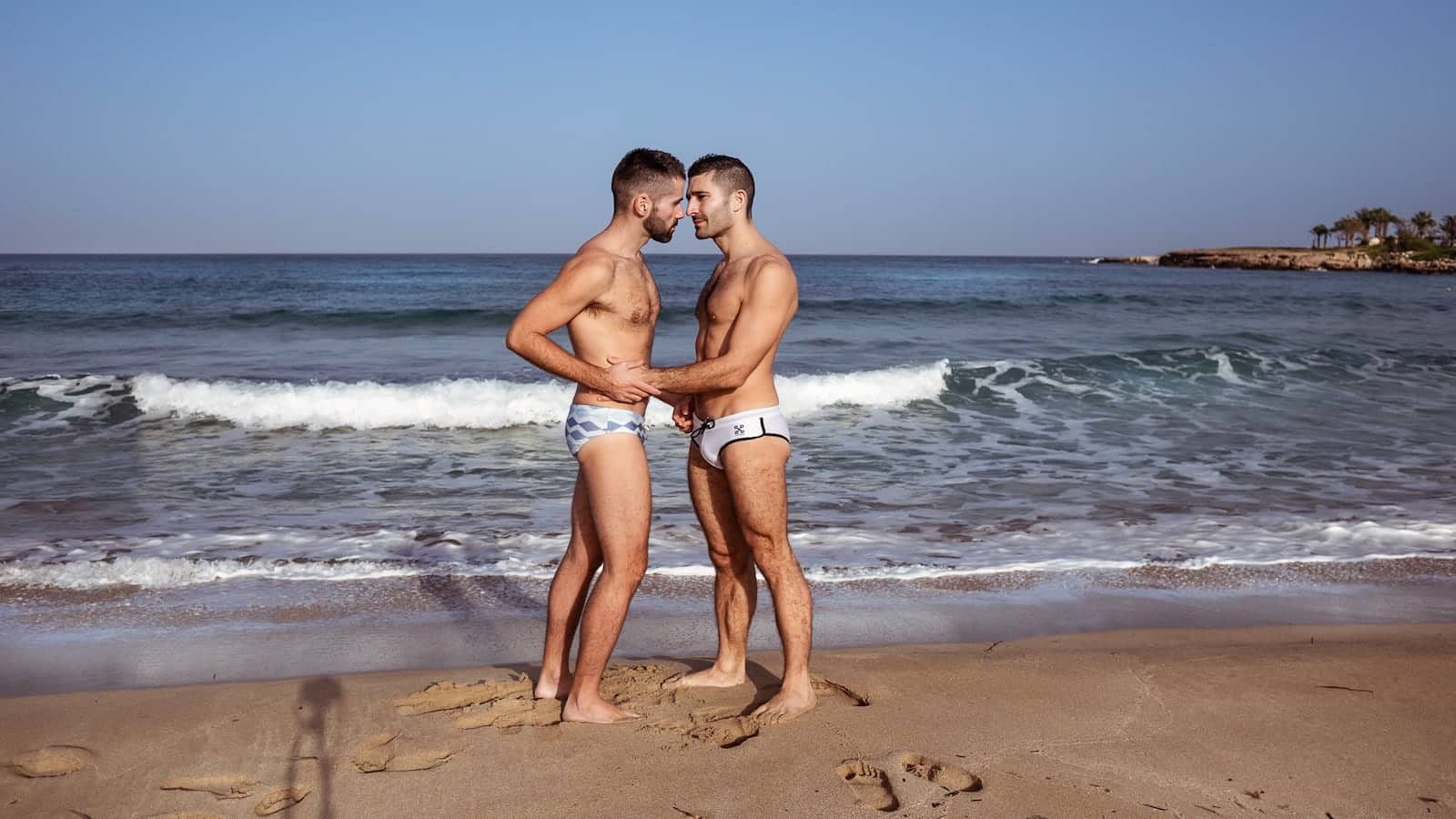 10. D'Angelo
Merging together a sex shop with a peep show theatre space, D'Angelo is a popular spot to discover all your deepest fantasies. With two rooms and adult movies playing, D'Angelo is built to serve your desires. Though one of the rooms typically screens straight pornographic films, the other is dedicated to the fab LGBTQ scene.
The shop also features a labyrinth of cabins and private rooms for you to get some 'alone time' with your partner. It can be a little on the pricey side, but the quality of the products is ultra-premium, especially their books and DVDs.
D'Angelo is open every day from 10am – 12pm and is located at c/ Entença 218.
---
Like this post? Pin it