These are the best gay-owned and gay friendly restaurants in Barcelona for yummy food with a welcoming atmosphere.
Barcelona is a cosmopolitan and exciting city, with a vibrant gay scene. We love coming here to party, celebrate Barcelona Pride, relax and stuff our faces! With such a great mix of people and culture, it makes sense that Barcelona also has a thriving foodie scene.
The unique blend of Spanish, Catalan and Meditteranean cuisine, along with Barcelona's seaside location, make this a wonderful spot for a gastronomic holiday. You will get to try the freshest seafood, the most delicious tapas and many other types of food from all over the world.
The main gay area of Barcelona can be found in Eixample (often nicknamed 'Gaixample'), with many fabulous gay hangouts to check out. A word of warning, most restaurants in Barcelona are closed on Sunday, but we've included the best ones that still serve food on the day of the Lord (a day when we're usually nursing a heavy hangover and craving a bit fat greasy burger…!)
During our visits to Barcelona, we've managed to experience lots of excellent gay owned restaurants, as well as those with a mostly gay clientele, which serve up the most delicious dishes. These are our favourite gay or gay friendly restaurants which we tried and loved in Barcelona.
Restaurante D'Divine
Restaurante D'Divine has been going strong for around 13 years and is the best place to come to watch a drag show with your meal. Whilst the menu is a bit limited, the cocktails are delicious and the shows, hilarious!
One thing's for sure…a place with the word 'divine' in the title certainly grabs our attention!
The best drag shows are on Friday and Saturday nights. Thursday nights is best for live music. You can also come for lunch here and just enjoy the loud, campy and super fun atmosphere. Lots of bright pinks and purples here, but it looks classy rather than tacky.
The menu is quite limited, but it's still very yummy, especially the salmon burgers, savoury crepes and the penne with prawns. Oh, and did we mention their decadent Bailey's mousse for dessert?
D'Divine is open for lunch on Monday/Tuesday, lunch and dinner from Wednesday to Friday and for dinner only on Saturday. You can find it at 24 Balmes Street, just on the edge of the Gaixample neighbourhood.
El Bierzo a Tope
For delicious and traditional Castilian cuisine, head to El Bierzo a Tope in the centre of the gay Eixample area.
This is a family-owned restaurant that serves hearty dishes for great prices. Some of the most popular include Galician Broth, eggs with zorza, baked lamb and French toast. Owner Antonio heads to the market every morning to select the freshest ingredients, and his daughter is one of the sweetest waitresses ever!
The interior of the restaurant is rustic and cosy. Weather permitting, we recommend sitting on the terrace outside, especially in the evening. We strongly advise calling ahead to reserve as it gets booked out quickly.
El Bierzo a Tope is located at Carrer de la Diputació, 159 and is open daily for lunch and dinner (except Sundays) until around 1am.
La Estrella
La Estrella is a tiny restaurant away with an innovative and seasonal menu. It's small and fills up fast, so make sure you reserve a table! It feels completely intimate – almost like being in a family home. But that's exactly the vibe they're going for.
The restaurant has been run by four generations of the family since its opening in 1924. The staff are very passionate about their food and wine, so they will happily make recommendations. If you get the chance, or if the place is quiet enough, we definitely suggest having a conversation with the owners. After all, four generations have kept the business afloat, so they might pass on some divine wisdom on what makes their place so successful.
The menu might look small, but everything is cooked to perfection. There isn't a written desserts menu because each item is handmade and influenced by what fruits are currently in season. We enjoyed an incredible dish of pistachio crumbs with sweet chocolate and spicy dark chocolate ice cream. Everything felt lovingly prepared and presented. We love how the staff make it seem like all the work they did was for you personally, as if you were a much-anticipated guest visiting their home!
Located at 6 Carrer d'Ocata (close to the Barceloneta metro station), La Estrella is open Monday to Saturday for lunch between 1.30pm-4pm and dinner from 8.45pm until 11.30pm.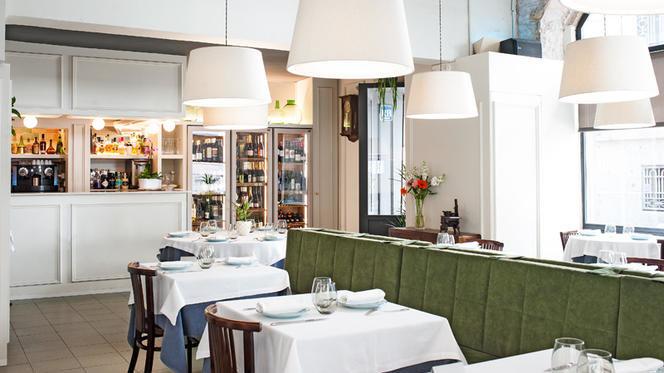 Culture Club
For a mix of elegant gay bar and restaurant, head to Culture Club, located in the heart of Eixample. Spread out over four floors, this is a fun spot for some cocktails and a bite to eat, especially if you need to fortify yourself before a night of dancing!
The dining menu at Culture Club is a combination of Mediterranean, fused with Japanese and American. The neon lighting and plush furniture do feel very reminiscent of New York bars, but the humour and dance style of the patrons remind you that you are in lovely Barcelona!
We recommend the Galician octopus with paprika and the chocolate pyramid for dessert.
The club part is really fun, with lots of purples, cool holographic projections on the walls and tasty cocktails. The music is mainly top 40 pop/Latino hits along with the occasional throwback every once in a while.
Culture Club is located at Muntaner 7 and is only open for dinner. On Monday to Thursday, it's open until midnight and on weekends until 3am; it's closed on Sundays.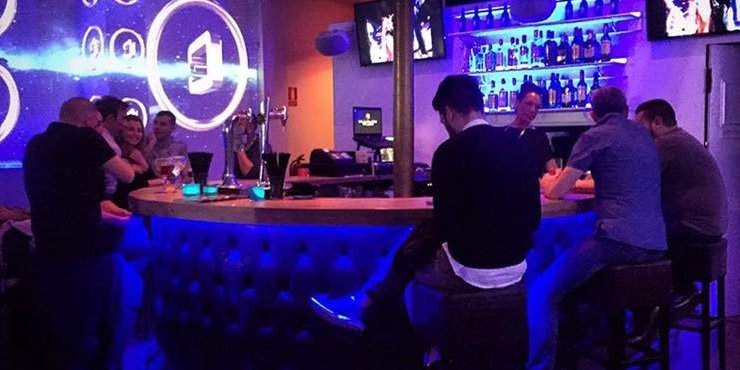 Accés
Sometimes called 'the best-kept secret in Barcelona', Accés is a trendy restaurant, lounge and cocktail bar with some of the most gorgeous decor we've ever seen. Just check out those lush greens, bright purples and pretty patterns on the walls of the lounge (see picture below), not to mention the chairs shaped like seashells!
The restaurant area is a fabulous mix of purple and sleek silver, where you can dine on exquisite contemporary Mediterranean cuisine. We couldn't help but feel like we were in some type of cabaret bar, whilst waiting for Liza Minelli and Joel Grey to pop out and sing 'Money'.
You can dine on things like delicious suckling pig, Catalan-style chicken, filet mignon or stuffed ravioli. Everything is so yummy, with impeccable presentation. You'll find they have a very reasonably priced six-course tasting menu.
Accés is located at Aribau 55 in the heart of Eixample and is open Monday to Saturday for dinner only from 8pm until 2.30am.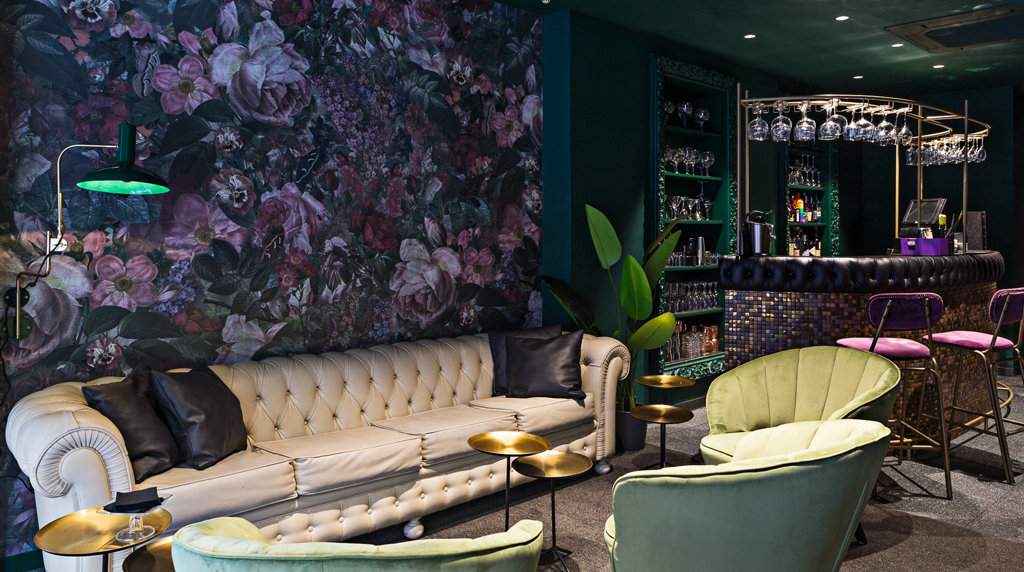 El Berro
El Berro is a staple on the Barcelona gay scene!
This gay owned "straight-friendly" gem is a tapas bar/cafe with super cute staff and yummy food. It's very popular late at night/early in the morning for a snack on your way home after clubbing but is also a great spot for lunch and some cruising people watching!
This isn't a fancy, gourmet restaurant, but it's where you can get tasty food for very reasonable prices. There's a changing special each day, as well as a set three-course menu of salad, main and dessert for just €11. They also serve the best coffee we tried in all of Barcelona!
The owners and staff are very approachable, so we spent a lot of time chatting with them on the outside terrace whilst watching the world go by.
El Berro is located at 180 Carrer de la Diputació and is open daily from 7am until around 2am.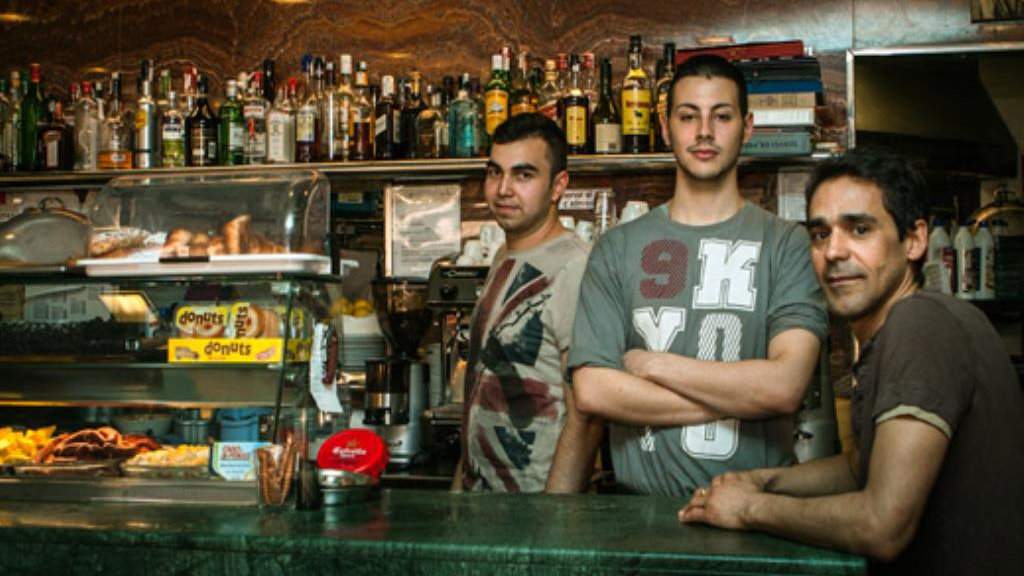 Casa Jaime
Casa Jaime is a gay-owned restaurant right in the heart of Gaixample. It is one of our favourite spots for traditional Spanish tapas like Jamon, calamari, chorizo, gambas and croquetas. It's very popular with locals and visitors alike, probably because the food is delicious at affordable prices.
The decor inside is rustic but cosy. Outside they have a few tables in the small terrace, but they get snapped up super quick. On some evenings they have live music performances.
As well as traditional Catalan and Spanish style tapas, you can also get 'regular' home-style meals including such deliciousness as beef cheek in red wine or their ah-maaaaazing creme brulee!
Located in the Gaixample area you can find Casa Jaime at 222 Consell de Cent. It's open daily for brunch, lunch and dinner, closing around 11.30pm.
Xino Mandarino
Owned by the same gay couple behind Casa Jaime, Xino Mandarino is our favourite Asian restaurant in Eixample. The menu is in the style of a traditional Chinese wedding invite, while the restaurant interior is decorated with red lanterns and cool Chinese pop art.
They have an outside terrace where you can sit and people watch. They have the best Pisco Sours we tried in Barcelona and would happily return just for that! The food is also delicious. The dumplings are a speciality. We recommend asking one of the (very sexy we might add!) waiters to recommend a few plates for you. That's what we did and everything was absolutely delicious.
If it couldn't get any better, out came the cheesecake dessert…it's to die for…Golden Girls…eat your heart out!
Xino Mandarino is located in the heart of Gaiexample gay area at 167 Carrer de la Diputació. It is open daily from midday until midnight.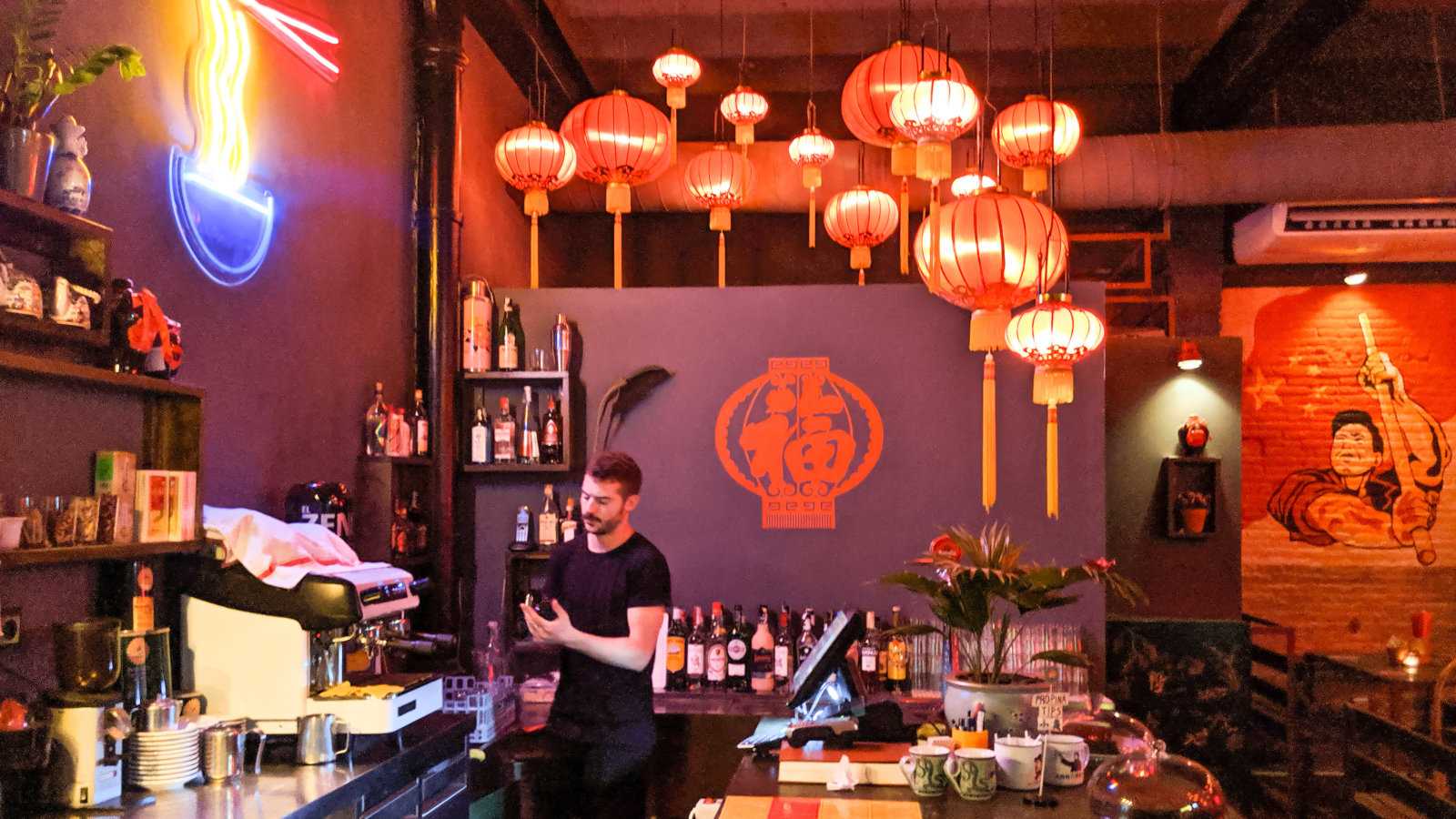 Flax and Kale
For delicious and very healthy vegan food in Barcelona, head to one of the Flax and Kale locations. We often got brunch here after a gym session.
We know…we know, it sounds preachy: healthy foods on vacation?! But this place is so good that it can turn the most stubborn of meat-eaters into grass-skirt-wearing, flower-weaving, coconut oil-obsessing vegan warriors!
There are three different locations to try Flax and Kale, our favorite is obviously the one closest to the Gaiexample area, which was also the first. It's especially good for brunch, although you'll want to get here early as it's so popular and usually has a looong queue! Otherwise, it's just as good for takeaway.
Everything on the menu is vegetarian while lots of things are also vegan and/or gluten-free. As you can see in the picture below, everything is beautifully presented, as well as super tasty.
The main Flax and Kale is located just outside the Gaixample area at Carrer dels Tallers 74B, right by the Universitat subway station. It's open daily for breakfast, lunch, and dinner, closing at 11.30 pm.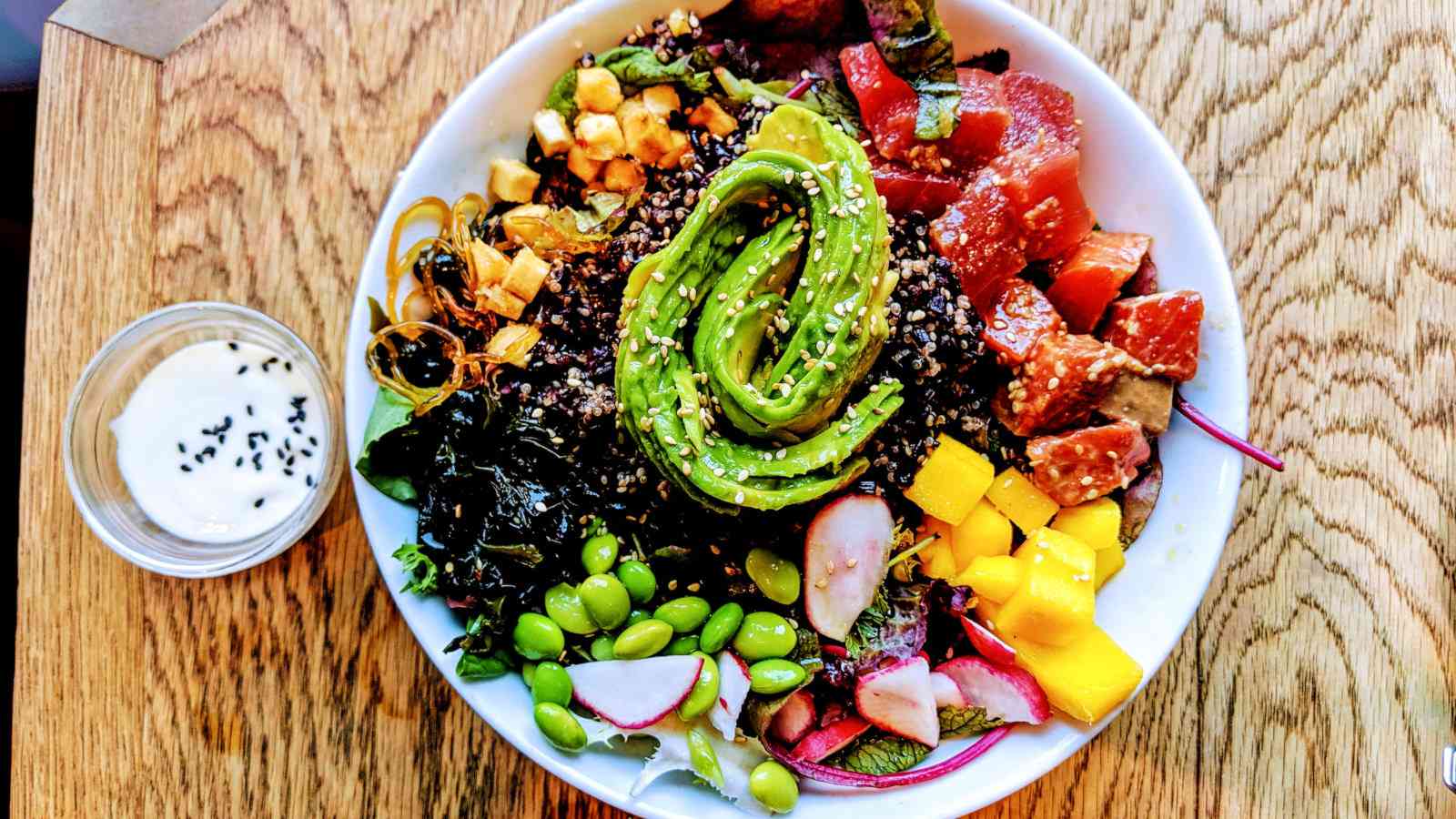 La Federica
La Federica is an exciting mix of gay bar and restaurant. They specialise in tapas and cocktails. While it might be more known for being a party spot, the food they serve definitely makes a trip here worthwhile. Some of their best tapas include taquitos, patatas bravas and cebollas.
They have regular themed weekend parties that are lots of fun, as well as art exhibitions every month. We loved the colourfully painted walls and the fun atmosphere. Drinks and food are very reasonably priced too.
We especially fawn over this place for how it celebrates different kinds of drag artists. From bearded queens to bioqueens, this place welcomes all!
La Federica is open Monday to Saturday from 7pm until around 2/3am. It is located at 3 Carrer de Salva in the El Poble-Sec neighbourhood. You can either get a taxi or a short metro ride to Paral·lel.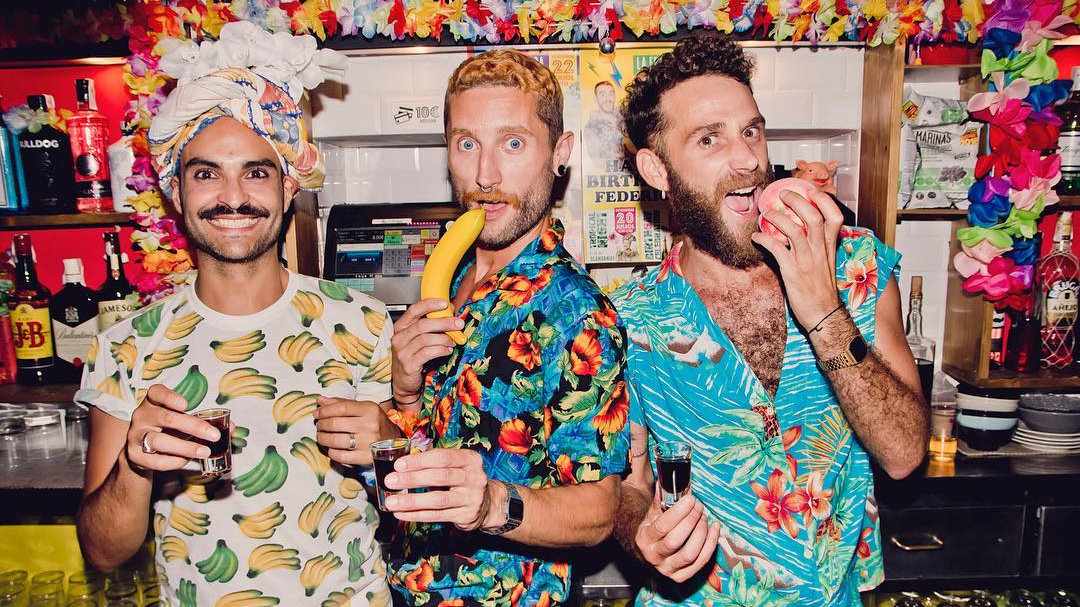 Belladona
Belladona is one of our favourite gay resto pubs in Barcelona. It's been going strong for over 35 years. The word, 'belladona', translates to 'beautiful lady', so couldn't be more apt for us to hang out at!
Belladona does really good food, coffee and Mojitos. We particularly love their quesadillas and choriquitos.
The decor is super unique, with tables inspired by vintage sewing machines, Italian lamps and French chairs. The rustic wooden finishings to the bar decor gives the place a very homely vibe.
Belladona is located at Carrer Diputacio, 222 in Eixample, right next to the University of Barcelona. It is open every day, but for dinner only, closing around 2/3am.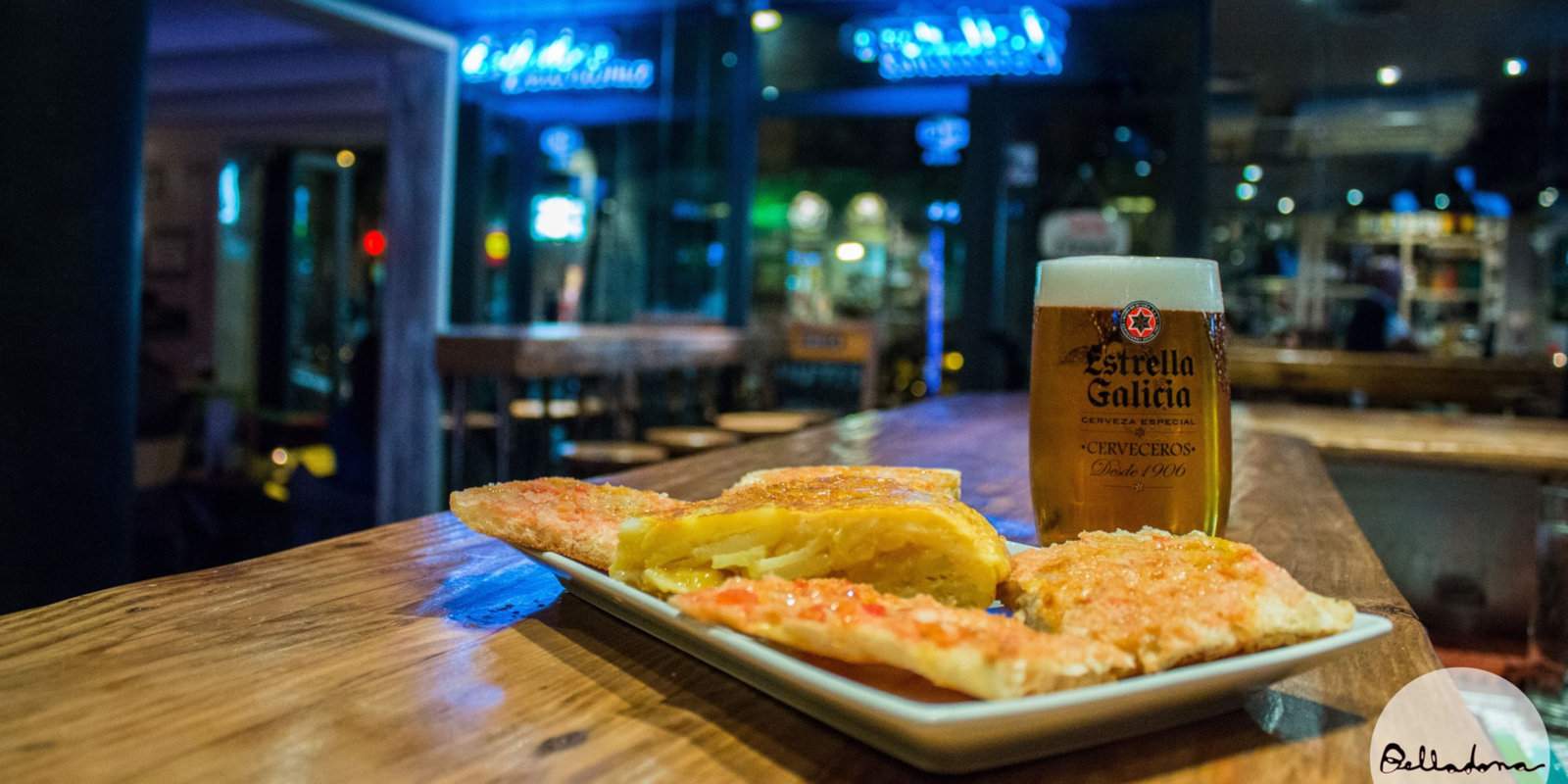 Chiringuito BeGay
The Chiringuito BeGay Beach Bar is located right on the Mar Bella gay beach of Barcelona. Obviously, this is a very out and proud gay spot, rainbow flags flying proudly, literally telling us to be gay! It's a great spot for snacks and cocktails at the beach, although if you're sunbathing in the nude, you will need to put on a few clothes to go inside!
In terms of food options, they have burgers and salads. As well as (quite weak for Spanish standards!) cocktails, they have smoothies and of course being a gay beach bar, protein shakes!
They host regular gay beach parties here, particularly during the Circuit gay festival in August. You can also use their free WiFi to post a few Insta selfies whilst cruising all the hot Spanish nude guys around you on Mar Bella!
BeGay is open every day from 9am until 2am. It is located at Passeig Marítim de La Mar Bella. The nearest metro stop is Poble Nou and then it's a 10 minutes walk from there. Look for the Mar Bella skatepark and it's just a little further on. For more Vitamin Sea inspiration, check out our guide to the best gay beaches of Barcelona.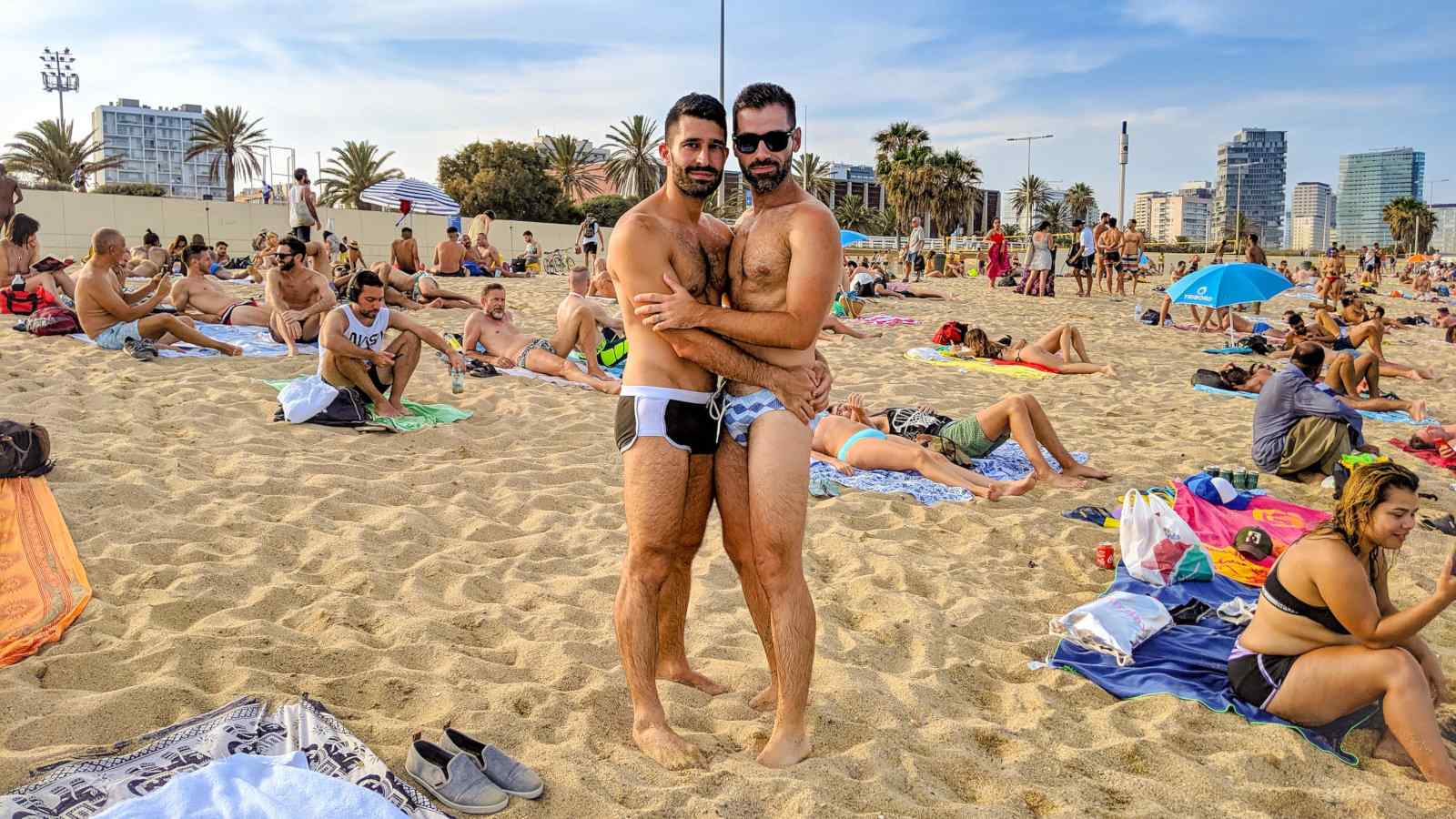 Eixampeling Brunch Café & Bar
The Eixampeling Brunch Café and Bar is pretty much what it says on the label! In our opinion, the best brunch spot in Gaiexmple.
The cafe is so bright and colorful, which pairs perfectly with the wonderful rainbow cakes they serve. We're also big fans of any establishment that serve up gems like: "Don't Melt for me Argentina", "Crustina Egguilera", "Quack Effron" and "Salmon L. Jackson"!
The cakes and freakshakes here are to die for as are their different matcha tea brews – available in green, blue, pink, orange, black, and white.
The Eixampeling Cafe is open every day from 8.30am until around 8pm. You can find it at Diputación 158, which is just around the corner from the Urgell subway station.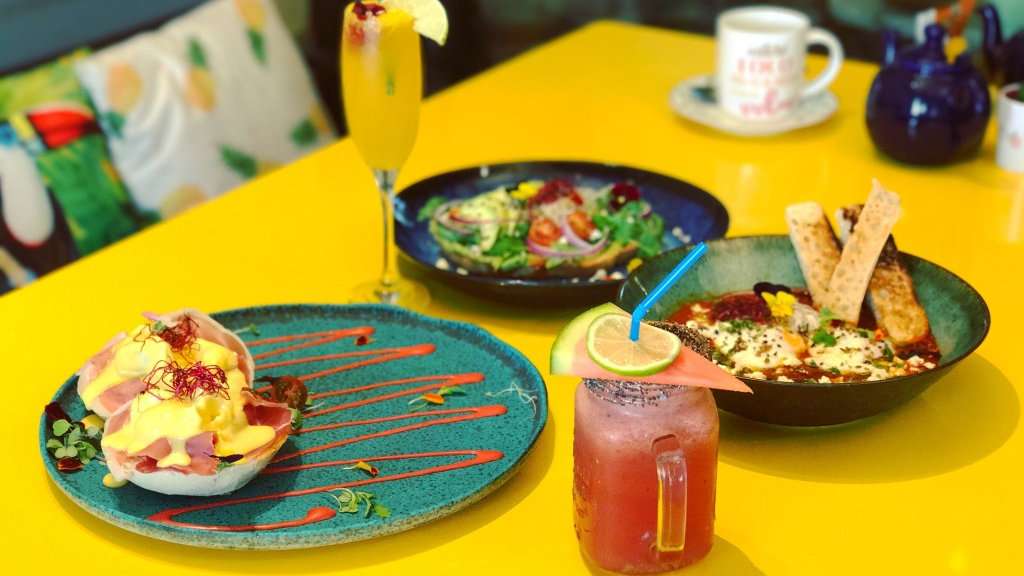 Doña Rosa Cocina Urbana
We found the Doña Rosa Cocina Urbana on Tripadvisor when searching for a highly rated restaurant open on a Sunday evening. It has excellent reviews and didn't disappoint. We went back twice. The food and cocktails are delicious, especially the hummus. The waitress was a gem – super sweet, sharp and friendly, with an amazing memory!
While it's small and tucked away, Doña Rosa has a very cool vibe. It's located near a skater park in quite a grizzly neighbourhood, which certainly adds to the charm. Inside, it's decorated with a groovy jungle theme with a mix of exposed brick, lots of plants and fresh fruit to add colour.
They serve super tasty burgers as well as sweet prizes like Tiramisu Oreos and homemade cinnamon scrolls.
Doña Rosa is open daily from 9am until 1am. It is located at 27 Ferlandina, next to the Barcelona Museum of Contemporary Art.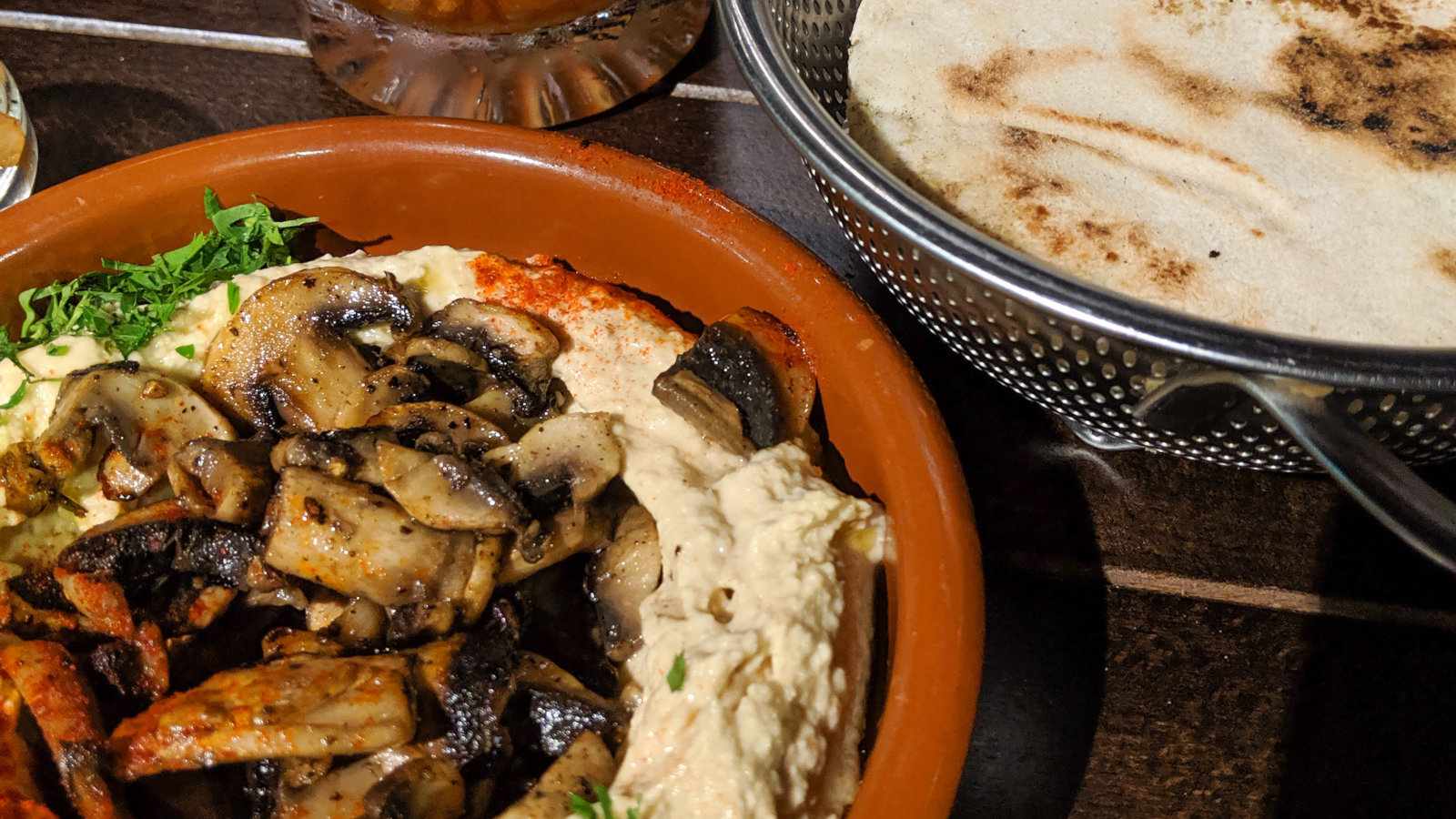 Bivio Restaurant
Bivio Restaurante is located in Barceloneta. While the area is extremely touristy, as is this restaurant, they still produce pretty good food, especially their handmade pasta and some paellas. If you're heading to the San Sebastian gay beach, this is a useful nearby option to check out.
The decor at Bivio is beautiful, with soft colouring, arched doorways and Mediterranean style furniture look. It felt like we were in a F. Scott Fitzgerald novel. This is the perfect spot for a meal on a special occasion, with some real delicacies on the menu like grilled entrecote, salmon, sea bass or tuna tataki.
Bivio is in a lovely waterside location at 60 Passeig Joan de Borbó, which is the main seaside road. It's a short, lovely walk from the Barceloneta subway station. They're open every day from 1pm until around 2/3am.
A word of warning: this is in a very touristic part of the city, so WATCH your valuables, keep them out of sight, ideally with a chair leg over one of your bag straps. When we went, one unfortunate tourist had his entire bag stolen here.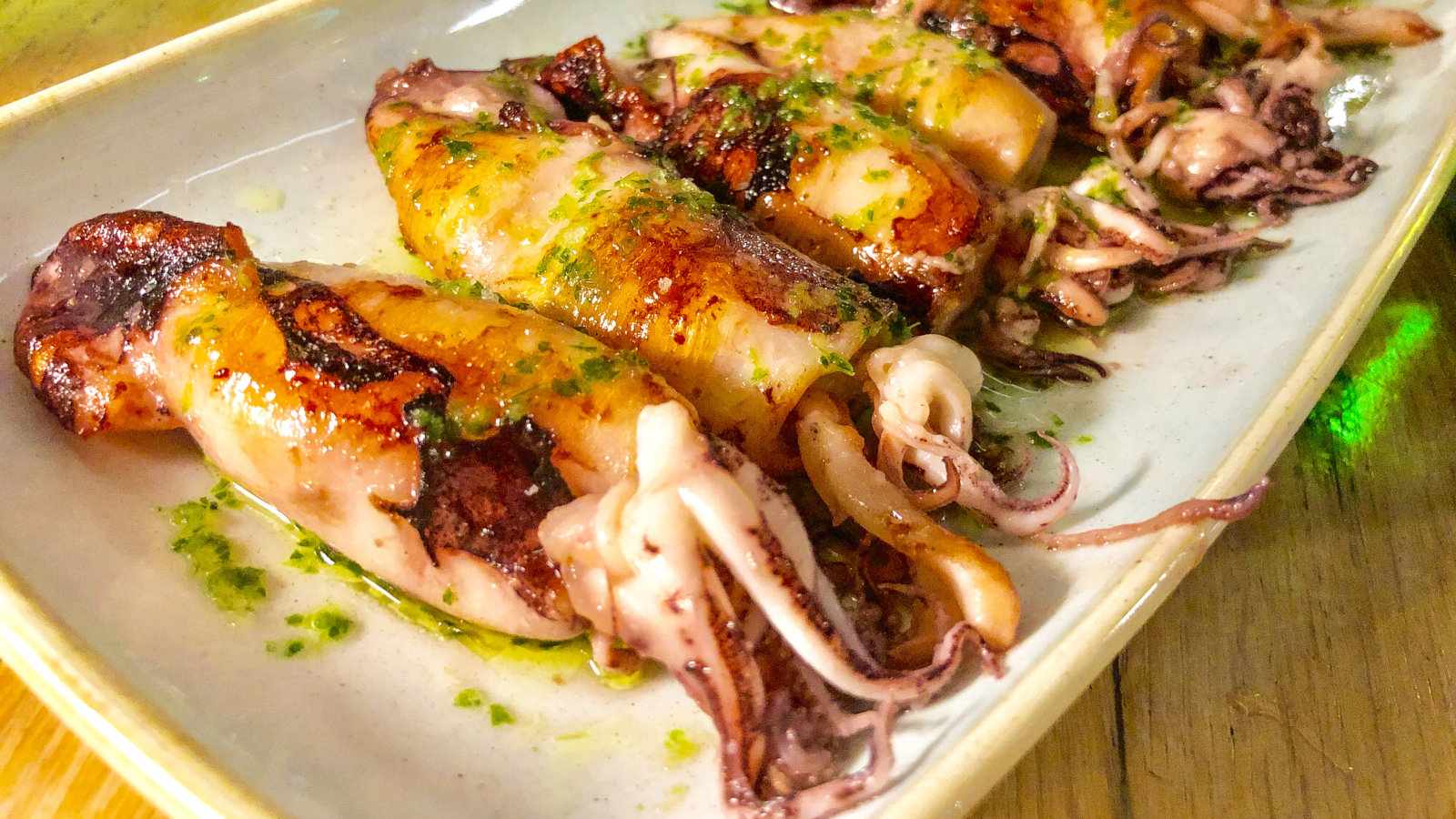 ---
Like this post? Pin it