TERMS OF USE: There is a chance that some of the content on this page has changed since it was last updated. By reading this article, you consent to our Terms of Use and Disclaimer. Happy Travels!
DISCLOSURE: Some of our posts may contain affiliate links which we may receive a commission if you choose to book something through one of our links.
Here's what to expect when attending Barcelona Pride in 2023, including all the best parties and where to stay while visiting.
Home to one of the most diverse, and accepting nations on the planet, Barcelona Pride in Spain is definitely one of our favorite Pride events. It might not be the biggest or boldest, but it holds up its weight with charm, love, and plenty of festivities! Thousands of people from all around the world arrive each year for Barcelona Pride.
Most importantly of all, this was where Spanish queer history began: the first gay Pride in Spain took place on 26 June 1977 in Las Ramblas, Barcelona. Back then Pride was a protest march organised by two young activists: Armand de Fluviá and Francesc Francino. They established the "Front d'Alliberament Gai de Catalunya" (FAGC), which means "Gay Liberation Front of Catalonia" The FAGC later inspired the birth of the LGBTQ liberation movement across the whole of Spain.
Fast forward to today, and Barcelona has become not only one of the most progressive cities in the world but one of the most gay-friendly.
We've been to Barcelona many times and traveled around Spain a great deal. We've also attended many different Pride events in Spain, but Barcelona Pride will always be a personal favorite. Here is our complete guide to Barcelona Pride 2023 so you can have a fabulous time.
About Barcelona Pride
For the most up-to-date information about Barcelona Pride 2023, check their Facebook page.
Barcelona Pride grips hold of the entire city, taking place on the last weekend in June. Events are held all across Barcelona.
They normally have tons of incredible artists performing, hailing from all around the world. Expect to see old classic pop stars and the latest Eurovision big hitters that are gripping the gay clubs all across Europe. When we went, we saw the Venga Boys giving a rendition of all their classic hits along with a killer performance of Fuego by fellow Cypriot, Eleni Foureira.
Each year, the festival has a special theme, always with a focus on LGBTQ families, which is extremely inspiring to see. As RuPaul once said: "We as gay people, get to choose our family" – meaning we decide who to surround ourselves with, and we decide to surround ourselves with nothing but love, love, love!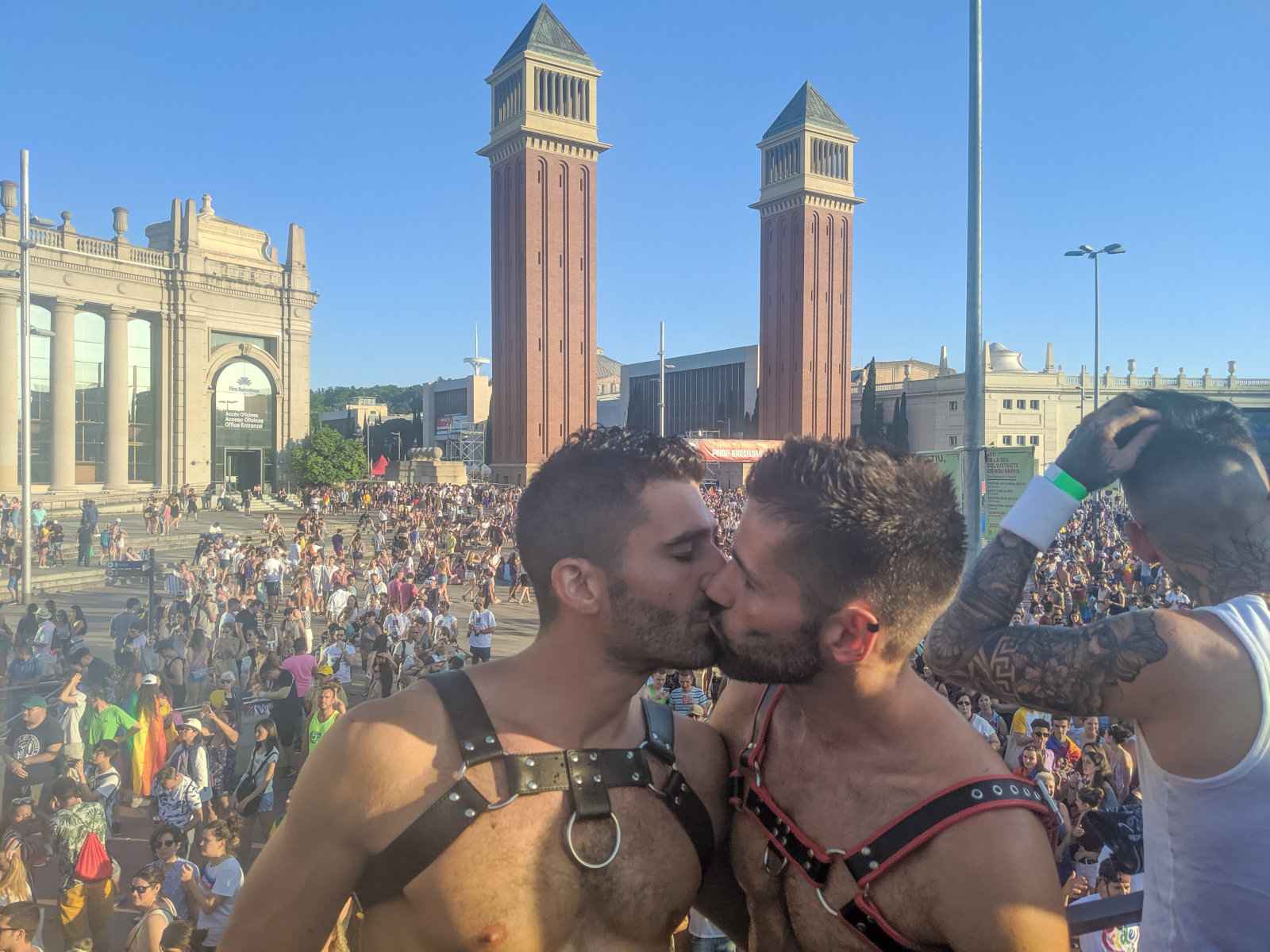 The parade and route
In 2023, the parade will take place on Sunday, June, 25. The parade starts at 18:00 from Parque de las Tres Chimeneas and moves through the main street of Avenida Paralelo, all the way to Plaza España. Once at Plaza España, thousands gather around the main stage for a huge music concert and party until the early hours of the morning.
Right from the start and all the way to the very end, the floats are blasting out party anthems and everyone is in full festival mode! We love the diverse mix of people that gather, from fellow gay tourists to curious locals. Moving through the streets, you get to appreciate exactly how wide and diverse our beautiful community is. From same-sex couples who have brought along their kids, to older gays who are embracing the newfound cultural acceptance, to the young kids who may never have to worry about fighting for their rights as much as we or our older peers did. Twinks, bears, daddies, and otters galore – all celebrating under one common ethos – love!
The best parties at Barcelona Pride
Gay Pride often feels like opening a box of chocolates – so much choice, but what should you go for? Luckily Barcelona Pride offers excellent gay parties, to suit all!
If you're looking to escape some of the festivities on the street, then check out some of the big parties happening. There is usually a big "Opening" and also a "Closing" party.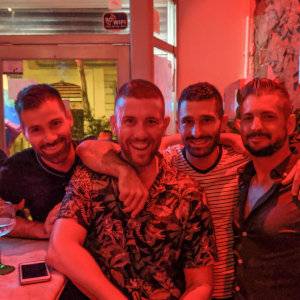 Explore Barcelona's gay nightlife
Barcelona is home to so many fabulous gay bars and clubs that the local gay neighborhood is nicknamed "Gayxample"! You can join a Gaily tour with a local LGBT guide to introduce you to all the best gay places to party in Barcelona.
The Closing Party is our favorite. It usually takes place at the Black Room, located in the City Hall Club. It's a ticketed event that gets very busy, so make sure you book your ticket in advance. The club spans across 2 floors: a bar with a darkroom upstairs, and large dancefloor downstairs. As the night progresses, the dancefloor fills up with more and more hot topless guys of all ages. Oh – and don't miss the very sexy expressive Go-Go dancers…they show you everything!!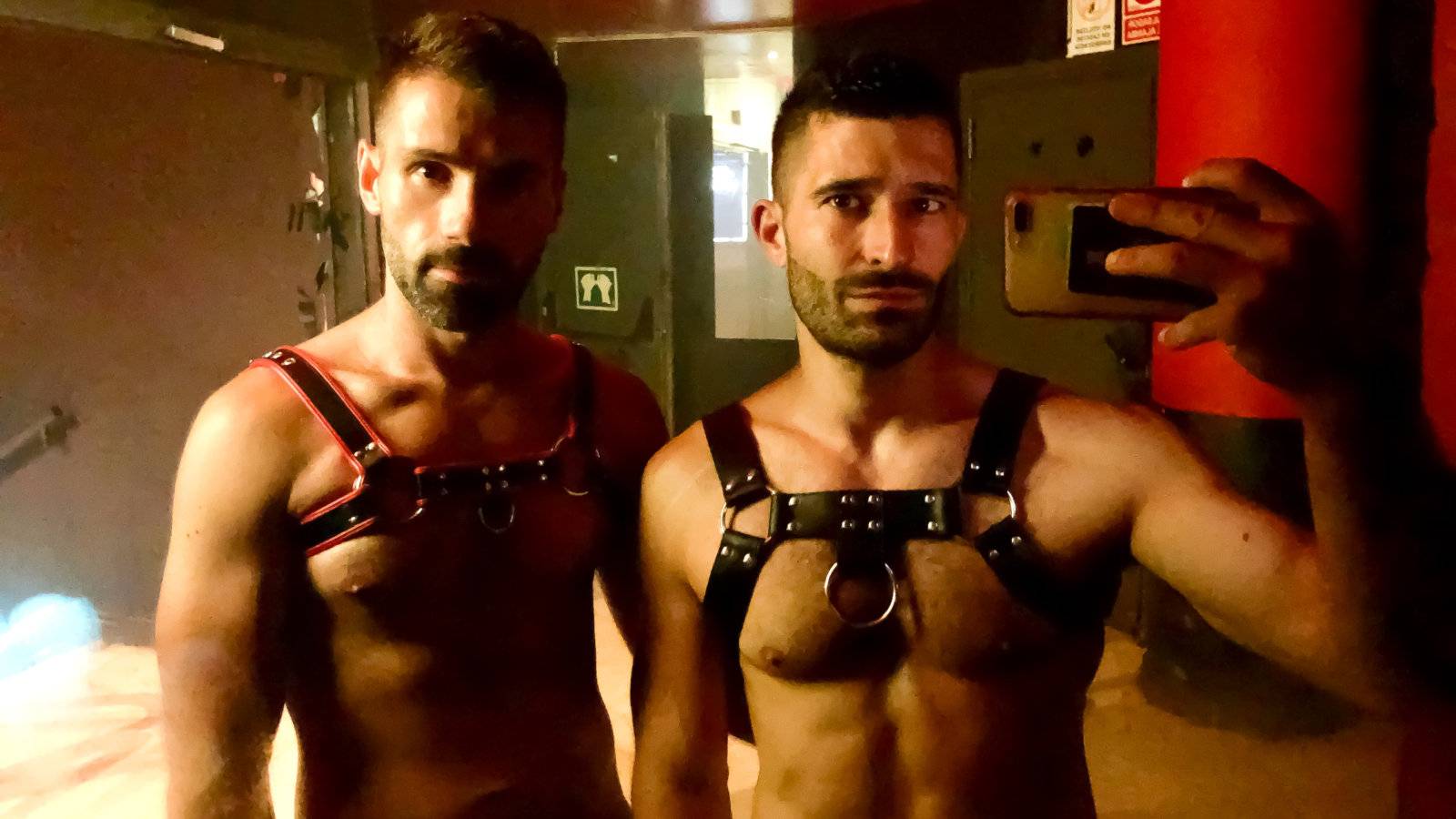 Pride events in 2023
High Heels Race: Whilst Pride is usually about love, acceptance and being kind to one another, all of this gets thrown out the window once you introduce competition! The High Heels Race happens annually, and oh boy is it one very deadly, ferocious and cut-throat battle, where lovers become foes, friends turn into fiends and families become torn apart! A bunch of contestants strap on a pair of stilettos and race each other to a finishing point, with the winner receiving a cash prize and, of course, plenty of pink street cred!
Drag Contest: The RuPaul's Drag Race girls have nothing on these queens. Taking place on the eve of Pride in the Maria Cristina club, queens from across the city and beyond prepare numbers, adorn showstopping outfits and perform for a panel of drag experts. Watching the contestants perform always leaves us spellbound. How can people be so talented?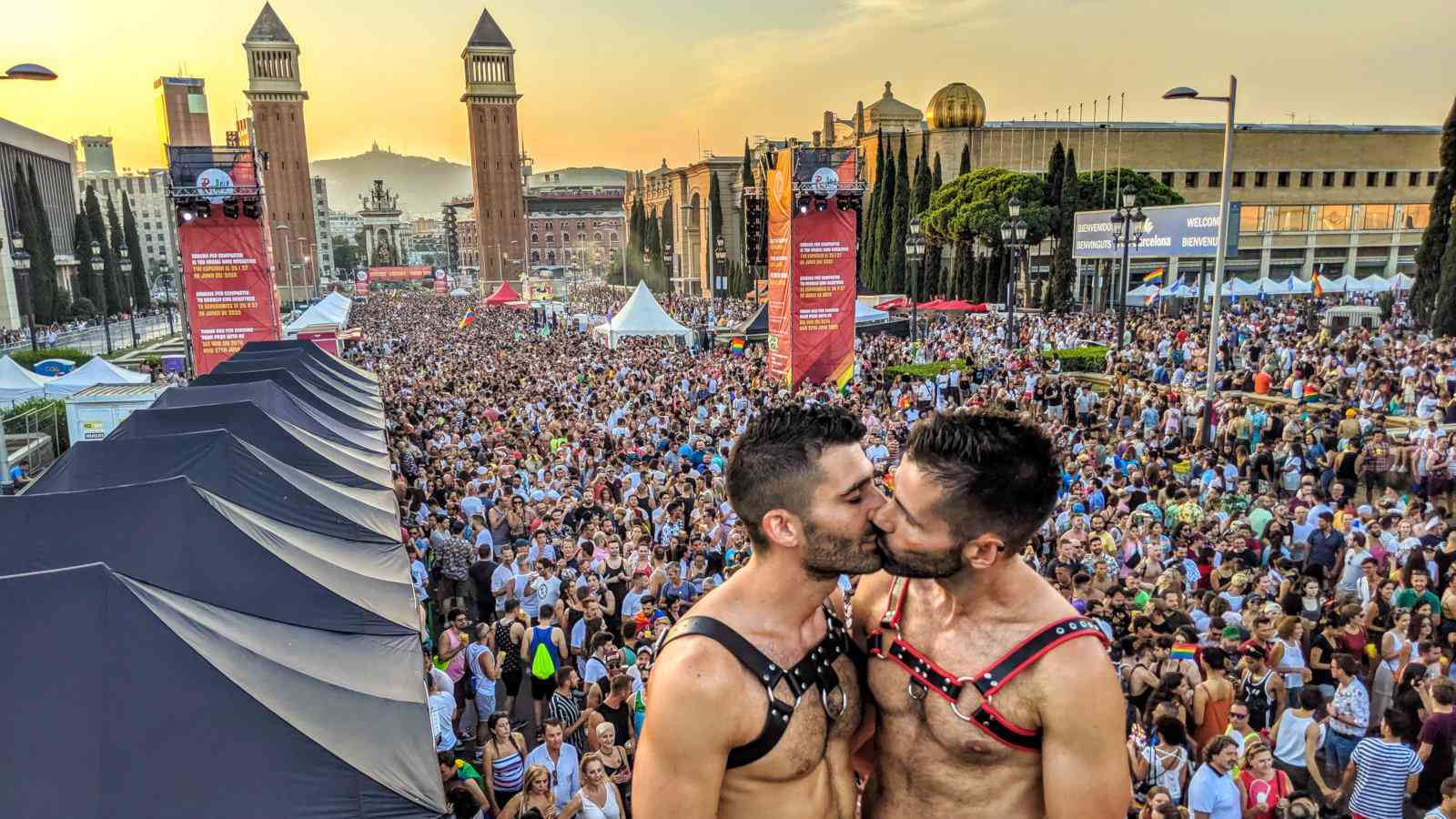 Barcelona Pride in pictures
How did we manage to sneak our way aboard the float? We have the Axel Hotel to thank for that. Visitors can apply to the hotel to join their float, which gives you the best view of the entire processions. We jumped at the chance! After all, why just watch the parade when you can be in the parade?
We met the others who would be joining us in the Jardins de les Tres Xemeneies at around 5 pm – around the same time as everyone else taking part in the march. We scrambled aboard our float, before taking off at 6 pm down Avenida del Paral·lel (one of the main streets of Barcelona), stopping all traffic!
Two queens waving to their people! Standing atop of a float that is slowly chugging its way down the famous Avenida del Paral·lel, the two of us felt like we were part of a homecoming. From everywhere we looked, people were smiling and cheering for us as we danced and kissed, basking under the glorious Spanish sunshine, clad in full rainbow attire.
The parade culminated at Plaza Espanya, where the big music festival kicked off, continuing into the early hours of the next day.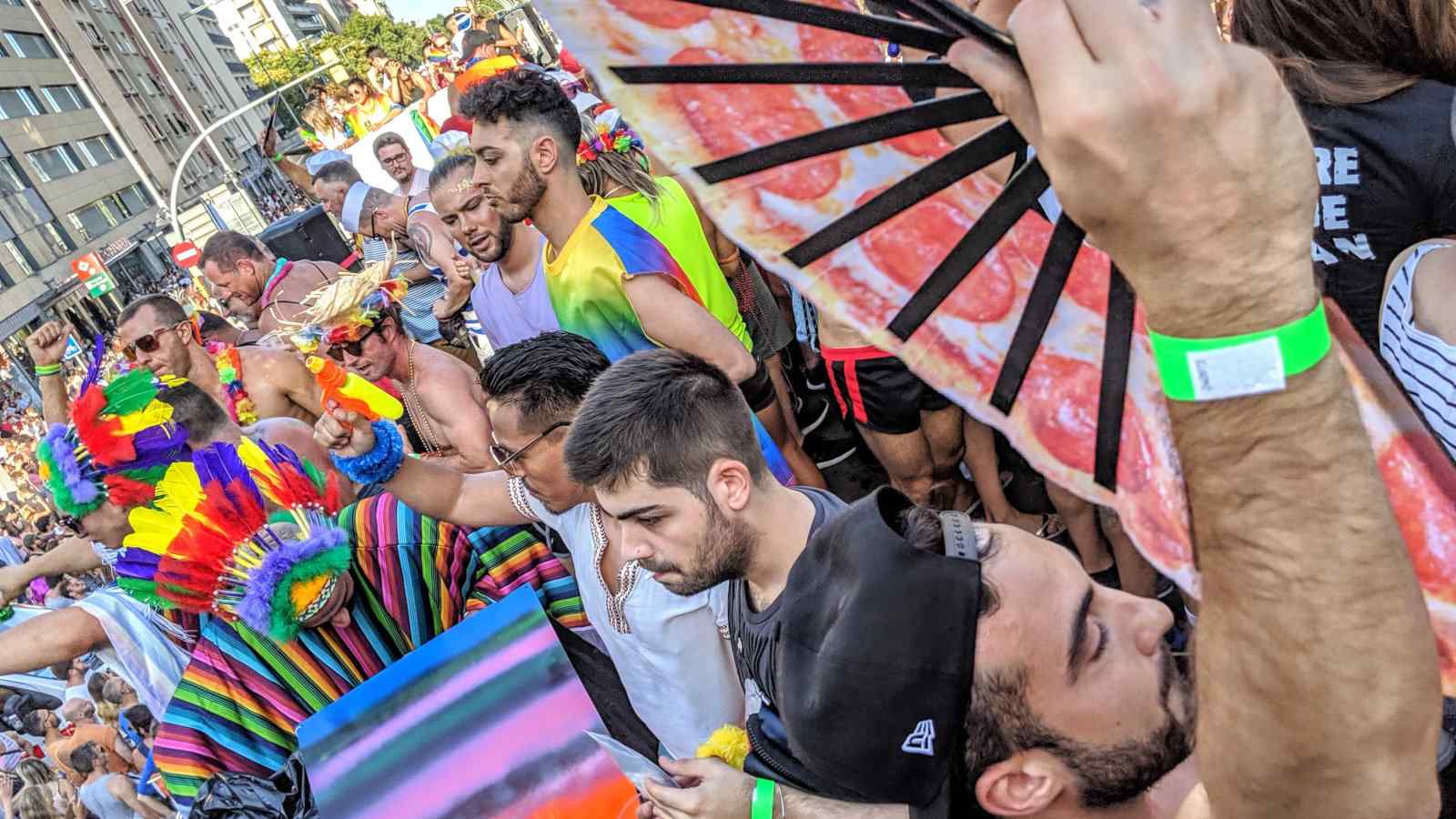 Where to stay in Barcelona during Pride
Don't let your gay pride buzz wear off once you step through your hotel door – keep the momentum going! Following our many visits to Barcelona, both during and outside of Pride, we've set out some of our favourite gay and gay friendly hotels here, mostly based in and around Gaixample (the gay neighbourhood of Barcelona).
01
Axel Hotel Barcelona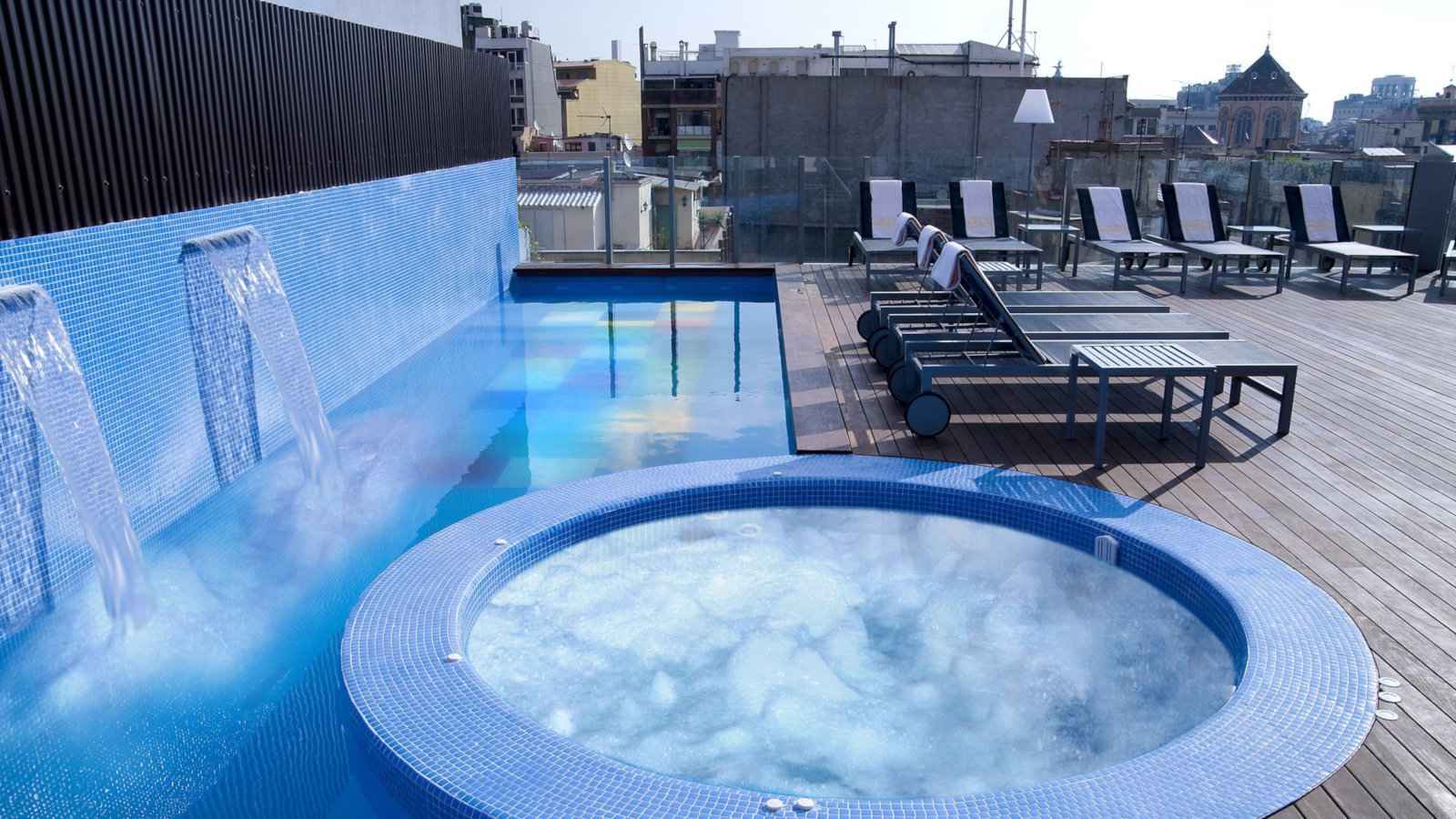 Why we love it
---
Gorgeous modern hotel
Romantic rooftop bar, pool and Jacuzzi
Close to many gay bars and clubs
Adults-only and hetero friendly!
Regal in the street. Party in the sheets!
That's our way of saying how royally gorgeous this hotel appears from the outside! Once you step in the door, you are swept away up by its charm.
The fellow guests are all super charismatic, friendly, and easy-going. The staff are always on hand to help you out with whatever you need and also very friendly too, of course.
Decorated with a cosmopolitan theme, the Axel Hotel is chic, modern and glamorous. With soft furnishings, bright colours and modernist design, you really know you're in the Mediterranean when you set foot in here.
The rooftop bar is exquisite. We never feel guilty about staying in versus going out to the gay bars of Barcelona! The atmosphere on the Axel terrace is not only super romantic, it also offers stunning views of the city.
Staying at Axel is super handy cause it literally is the heart of the Gaixample gay neighbourhood. We always get our bearings here from where Axel is! All the best gay bars and clubs are practically on the doorstep. So we recommend starting the night at the Axel rooftop where you can easily make new friends, then head out together to the gay bars nearby. Be sure to look out for (and hopefully use!) the infamous "Do Disturb" Axel door signs!
A word of warning though: Axel is so popular that it gets booked out months in advance! So if you're looking to stay here then make sure you get on it ASAP, or hope you find a cancellation.
STAY WITH A GAY LOCAL
Misterb&b is the Airbnb equivalent for the LGBTQ community. Unlike on Airbnb, you know your host is gay, voiding any nasty surprises when you check-in. It is also a great way to meet gay locals and discover the underground gay scene. Click below to get 10 € (or $10) off our first booking.
02
TWO Hotel Barcelona by Axel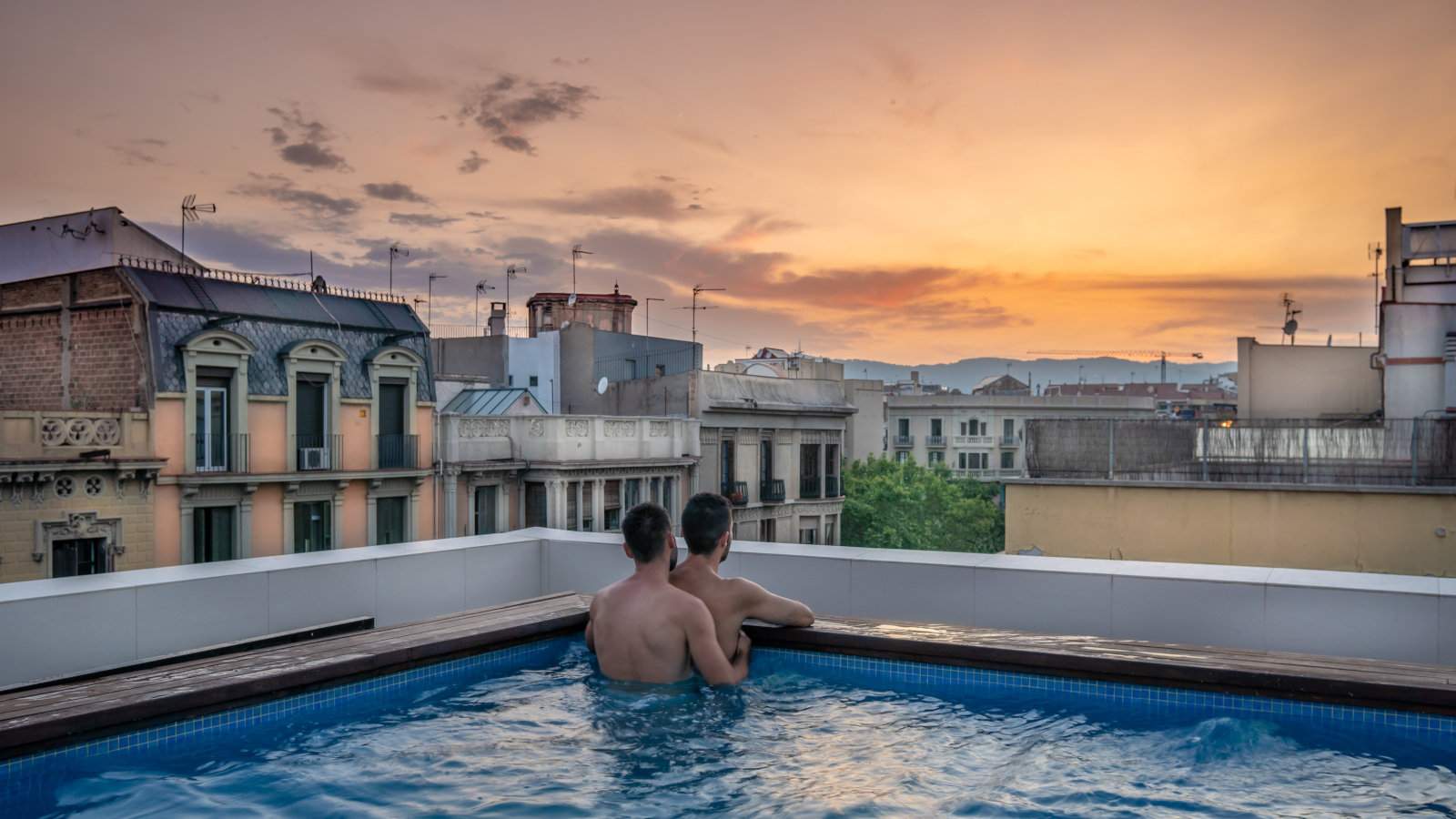 Why we love it
---
'Hetero friendly' gay hotel
Stunning rooftop bar, pool and Jacuzzi
Hot pink sun loungers and gym!
Lovely spa/wellness centre and sauna
So popular is the Axel Hotel that they decided to open up a second branch of it a few blocks away. TWO Hotel by Axel is the little sister to the main Axel Hotel, yet it holds its own with lots of charm and beauty.
Located next to the Boyberry cruising bar, if you're looking for an afternoon of risque adventures, then you might have found your poison! For more cruising inspiration, be sure to check out our guide to the best gay saunas in Barcelona.
This place is so gay, that locals refer to it as "hetero friendly" – since a straight couple will surely feel outnumbered should they wish to stay here. The front desk staff are really adorable, very sexy and more than willing to point you in the right direction of somewhere fun to go.
Just like the other Axel Hotel, TWO has an awesome rooftop bar, pool and Jacuzzi. Chilling here at sunset with a few Margaritas is one of the most romantic ways to start the evening. But be warned, the drinks here are not cheap! As well as the Sky Bar on the roof there's a very futuristic looking lobby bar for having a few drinks before you hit the town.
There's also a full spa/wellness centre at TWO, where you can relax in the steam room and then book yourself a variety of massages or beauty treatments.
And those notorious "Do Disturb" signs are also very much available here as well! Though on our visit we couldn't see any being used (not that we went looking!!)
03
Hotel Soho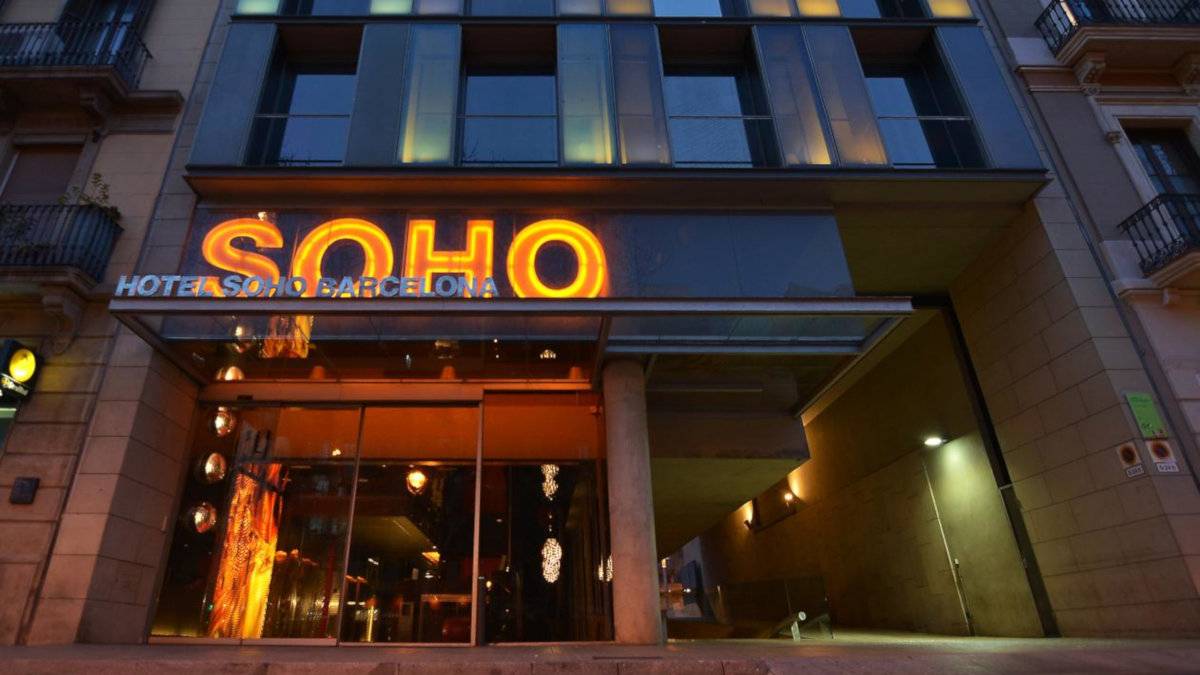 Why we love it
---
Lovely rooftop terrace and pool
Very gay friendly
Perfectly located in the heart of the Gaixample gay area of Barcelona
Groovy and modern artsy decor
While it's officially rated as a 3-star hotel, the warm atmosphere, hard-working staff, and luxurious amenities make Soho feel like a 4 star.
Just like the main Axel hotel, Hotel Soho features centre stage in the Gaixample area, so you're practically within arm's reach of all the best gay clubs and bars that the city has to offer.
The bedrooms have ambient lighting, making them quite romantic. And those beds…they are lush!
An acronym for soft and hot, this hotel blends the perfect mix of luxurious design and comfort. As you move from room to room, you'll feel as if you're being tossed between fire and ice. Lounges that are decorated in reds and oranges are starkly adjacent to rooms that are blue and white. One minute you feel you're in the central plains of Africa, the next, you are surrounded by the snowcaps of Iceland.
We love how Hotel Soho embraces the artistic side of Barcelona as well, with furnishings taking inspiration from modernist art movements. Playing with all kinds of shapes, from mushroom lamps to straight-edged corridors, textured walls and hexagon tiles, the place feels like a controlled chaos!
04
TOC Hostel Barcelona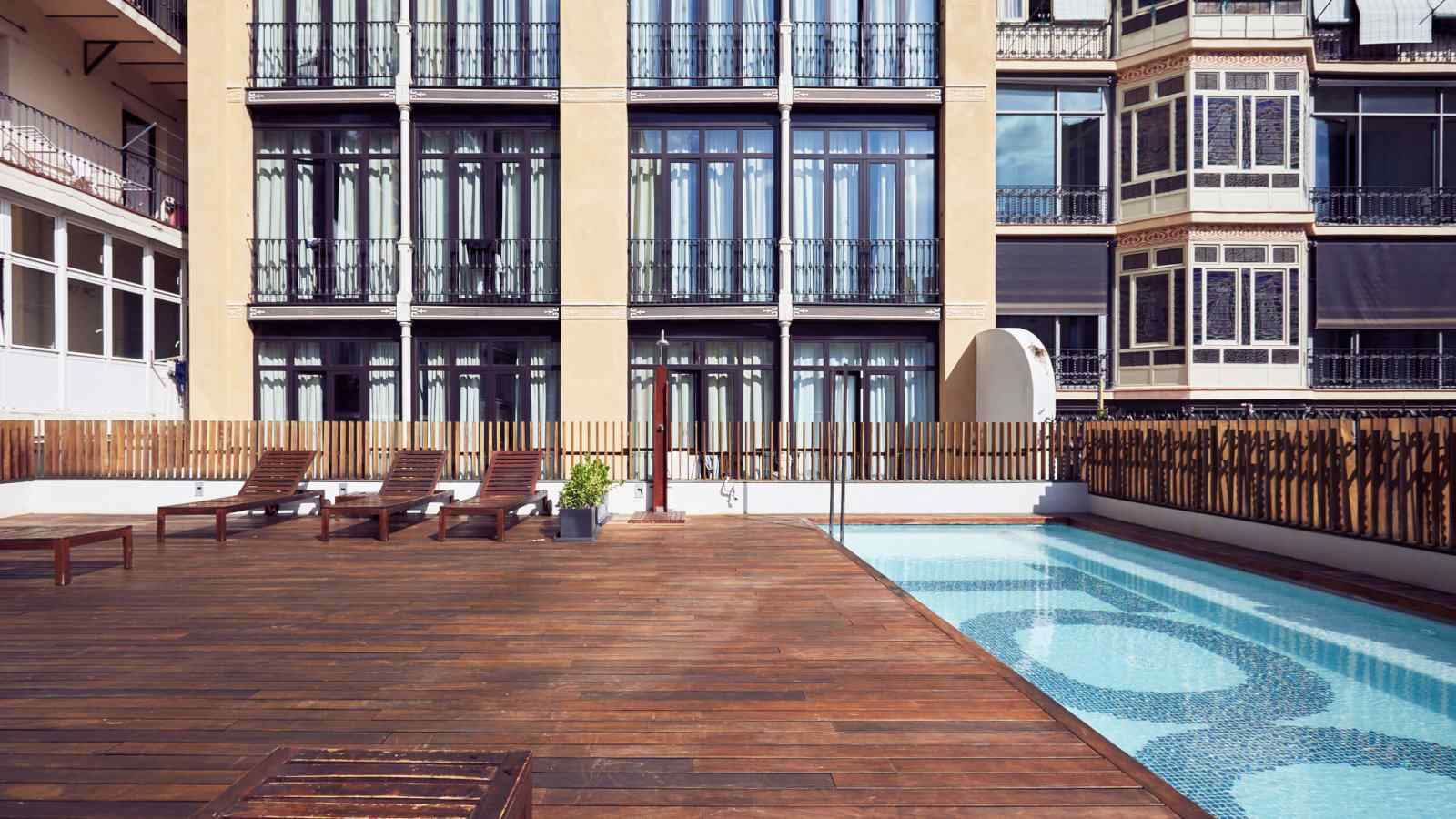 Why we love it
---
Really chic and stylish hostel
Outdoor pool and terrace for relaxing
Comfy bunks in dorms or private suites
Great budget option
When you're in desperate need for a city getaway but need to keep those purse strings tight, the TOC Hostel has got you covered.
We usually stay here when we just need a place to lay our heads during a quick layover. The staff are very welcoming and always up for a bit of banter. We also love that it attracts such a diverse range of guests of all ages, from all around the world.
It can get pretty loud during the evenings here. Though you may as well join in on the constant partying, which happens in and around TOC. But do bear this in mind if you're not a party animal and want something a bit more peaceful.
The bunk beds in the dorms are very comfy. Since they're built into the walls you won't be jostled by other guests climbing up or down. There are also stylish private suites available to book that look basically the same as a hotel. Plus, not every hostel can say it has a pool. So you get the privilege of affordable accommodation, with the luxury of a relaxing swim!
---
Like this post? Pin it