Our gay guide to Kerala in South India, which sets out the best things to do along with invaluable safety tips for gay travelers.
Kerala, popularly known as God's Own Country, has evolved a way of life that was distinct from the rest of the country – a way of life that expressed a fascinating interplay of nature and humanity across the most diverse terrains one could imagine.
Here, every human act is a way of connecting with everything in nature around them. Everything here feels so momentous, and you are intensely aware of how temporary life is. You learn how to appreciate the beautiful moment while they last, and fall in love with your surroundings.
Everywhere we went in this beautiful region of India, we were met with such compassion, and the locals showed such interest in our lives. With so much to discover, so much to do, this is our experience travelling in Kerala as a gay couple.
Disclosure note: this is a sponsored campaign in collaboration with Kerala Tourism.
Heads up: We just wanted to let you know that this post contains affiliate links. That means if you book something through one of those links, we'll get a small commission, at no extra cost to you. It helps us keep our blog going – so thank you in advance for your support! ♥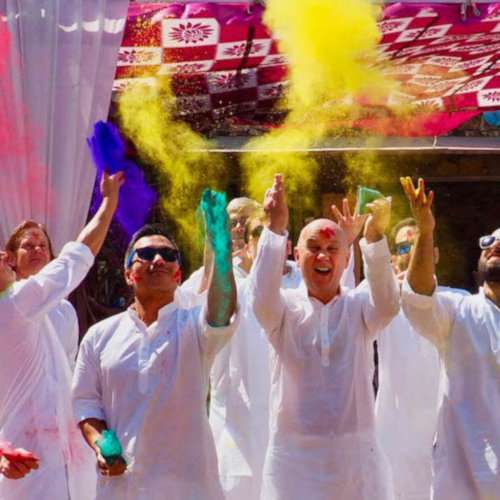 See the colors of India on a gay tour
Taj Mahal – check! Holi Festival – check! 12 days of fiery vindaloos and aromatic curries – check, check, and check again! Our friends at Out Adventures have really outdone themselves with their cultural tour of India. The all-gay adventure snakes through the colorful province of Rajasthan, giving travelers an unfiltered look at one of the world's most fascinating countries and authentic cultures.
Where is Kerala?
Kerala is located in the southwest of India. The main transport hub is the port city of Kochi (Cochin), which has the main international airport for Kerala. This is the city we based ourselves when we toured Kerala.
During our big trip around India, we found Kerala to be a lot different than North India. It was like we'd entered a completely different country, with a more chilled vibe and a whole new exciting cuisine to discover. Kerala is often seen as a more progressive part of India with more gender equality and higher investment in public services, which you certainly feel when you first arrive here.
Is Kerala safe for LGBTQ travellers?
Since the Supreme Court of India decriminalised homosexuality in 2018, gay tourism has flourished. However, society is still very conservative, so although foreigners will be treated differently (almost like royalty!) it pays to be cautious and minimise public displays of affection.
As a gay couple travelling in India, for Kerala, we never had any problems getting a double bed in hotels nor in any of the guesthouses we found. But if uncertain, call/email ahead to double-check with the hotel.
We found Kerala to be one of the more progressive and welcoming parts of India for gay travellers, with an LGBTQ community that has become more and more visible over recent years. For example, the activist group, Queerela, have done wonders for shifting public attitudes towards the Indian queer community, and they play a pivotal role in organising the Kerala Queer Pride. For more, read our interview with local boy Raj about what it's like growing up gay in India.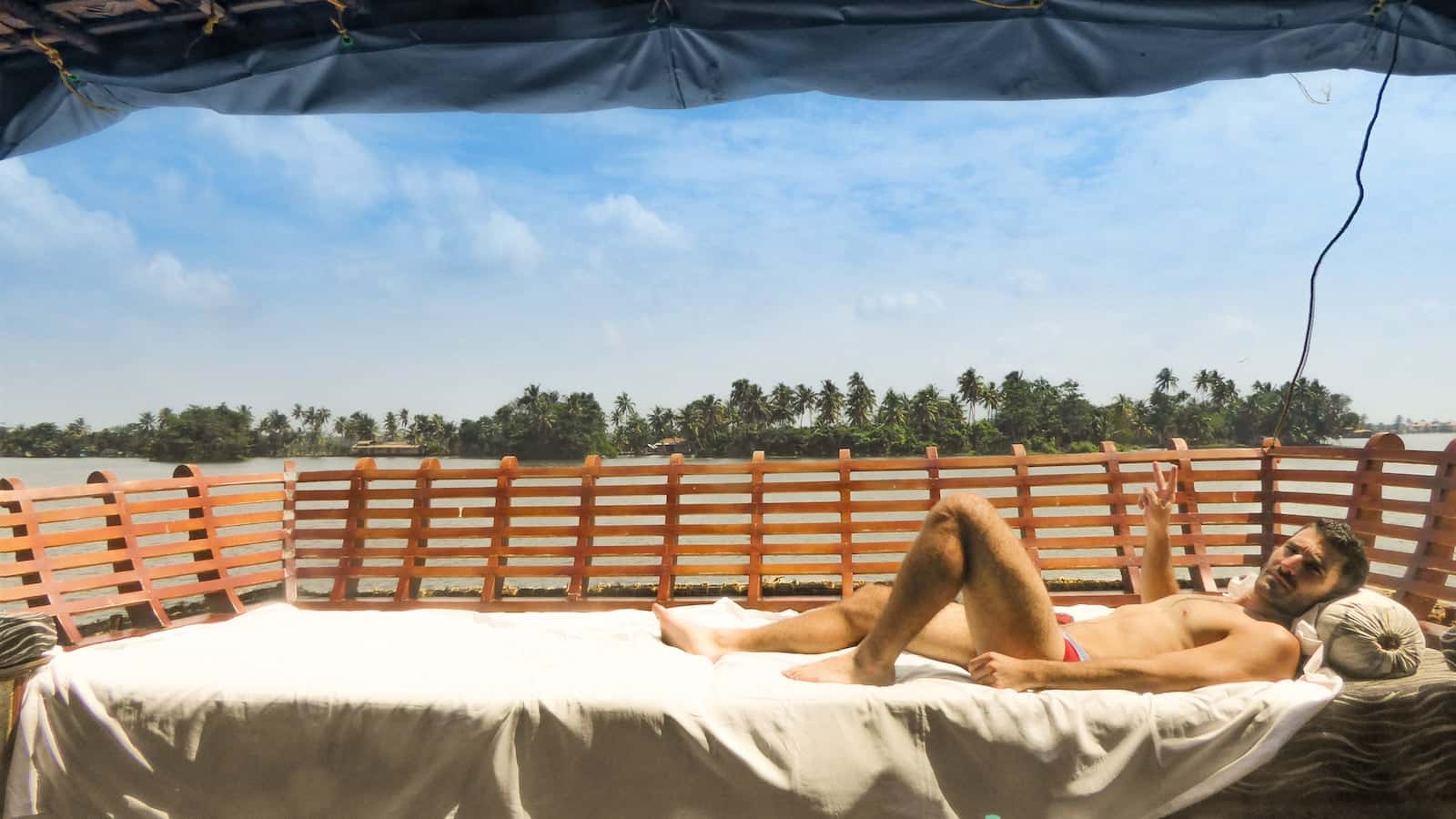 Cruising on a houseboat along the backwaters
Eat your heart out Venice – you may have fancy gondolas to get around the city, but Kerala has houseboats!
For most, this is the number one reason travellers are drawn to Kerala. The backwaters of Kerala are a network of interconnected canals, rivers and lakes with a number of villages. One of the most romantic things we did as a gay couple travelling in Kerala was to rent a houseboat in Alleppey and drift along the backwaters for a few days, watching the world go by. We also got to stop over in a number of small villages along the way and hang out with locals.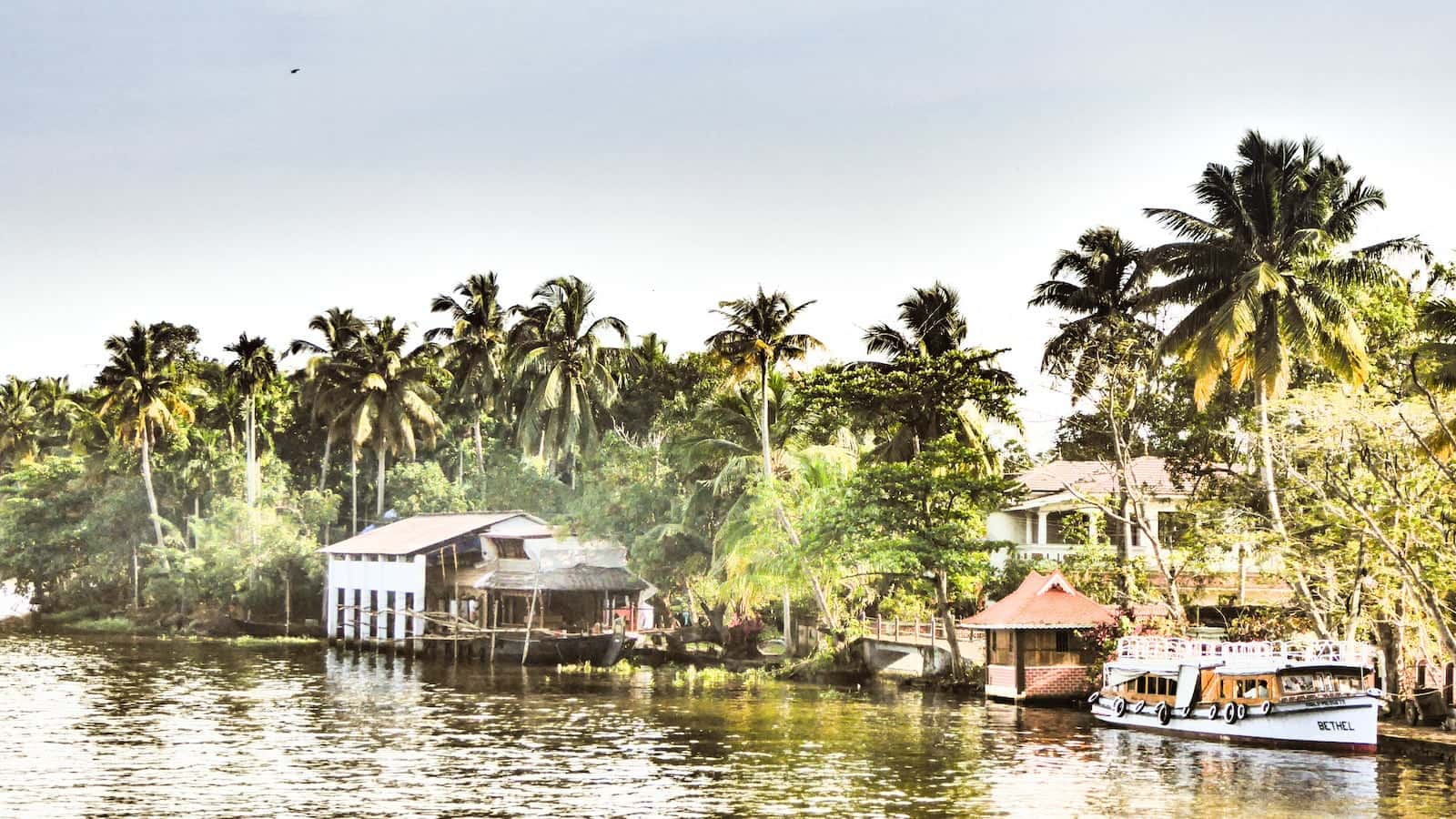 Exploring Kochi (Cochin)
We based ourselves in Kochi for several weeks during our trip around Kerala. We found a super cute homestead run by an old Christian couple who had no issue about welcoming a gay couple.
Kochi city is a pretty city we loved exploring. The architecture harks back to the Portuguese, Dutch and British colonialists who fought to take charge, each leaving their own mark in Kerala's scenic design. The city still echoes with each of the cultures that have touched it.
We also love Kochi because the city is abuzz with so much activity, from mothers yelling at their kids, to young couples kissing in a shop foyer, it can't help but remind you of the beauty in life! One of the most fascinating things to do is head to the old port at sunset and watch the traditional Chinese fishing nets being used.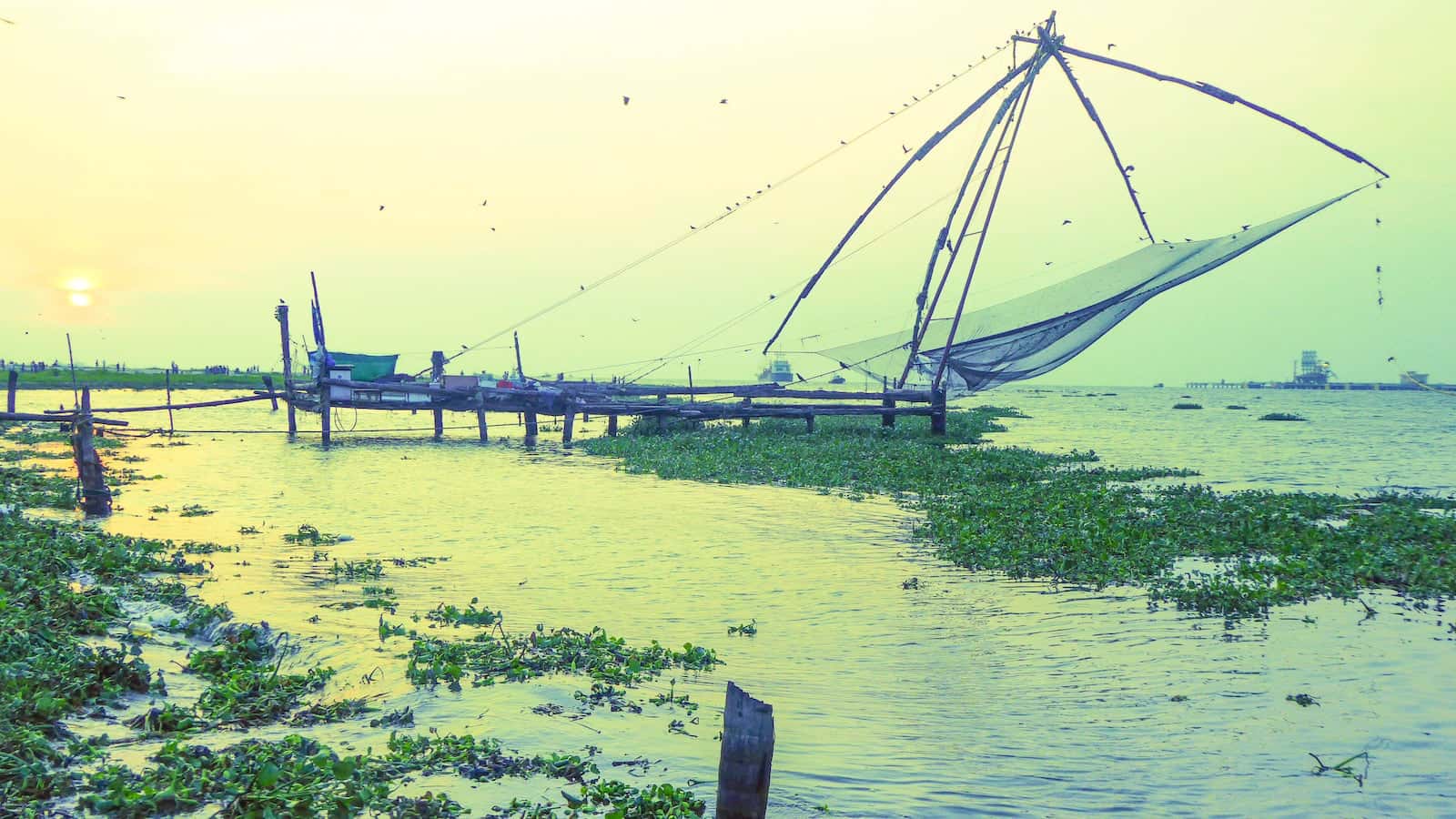 Kerala Queer Pride in August
Kerala Pride has been taking place for the last ten years. Each July, the queer community across the region unite for one giant fabulous party.
The parade pulls together elements of art and activism, with discussion panels, parties, and education workshops taking place across the city. One of the best things to look out for are the fascinating kathakali shows – a classic Indian dance where the story is told by the eyes and elaborate makeup.
For details of the next Kerala Queer Pride, check out their Facebook page.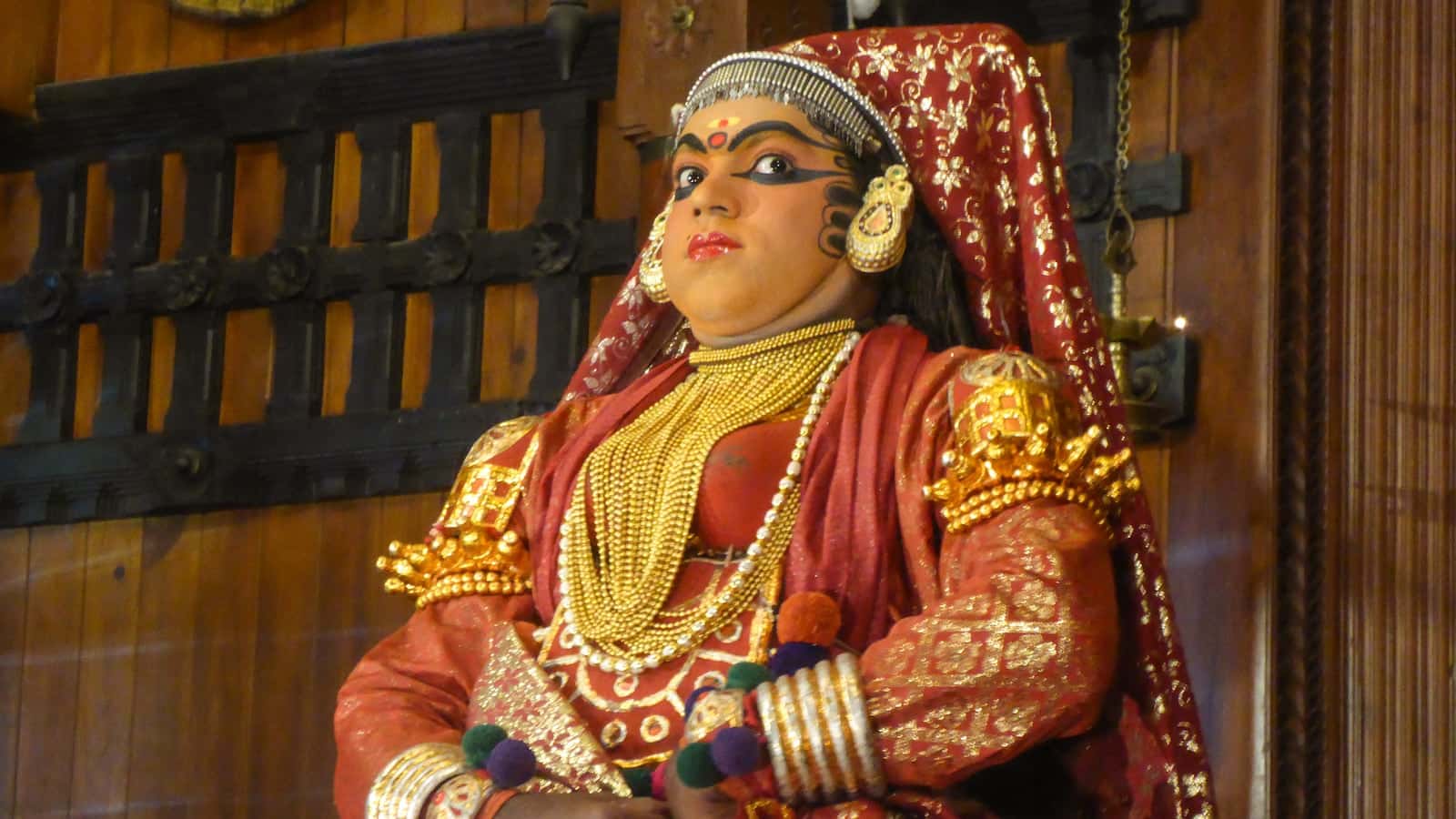 The food of Kerala
Known as the 'Land of Spices', Kerala has earned its reputation for its exquisite cuisine. Back in the Colonial years, Kerala was the focal point for trade with Europe and other parts of Asia, making it a melting point for many intricate and unusual dishes.
Simply put, the food in Kerala is unique and delicious. The cuisine caters for all. From lovers of spice to those who can only handle mild tastes, vegetarians to meat fanatics, and the sweetest of fruits, to the sourest of creams. But be warned, it can get very very SPICY!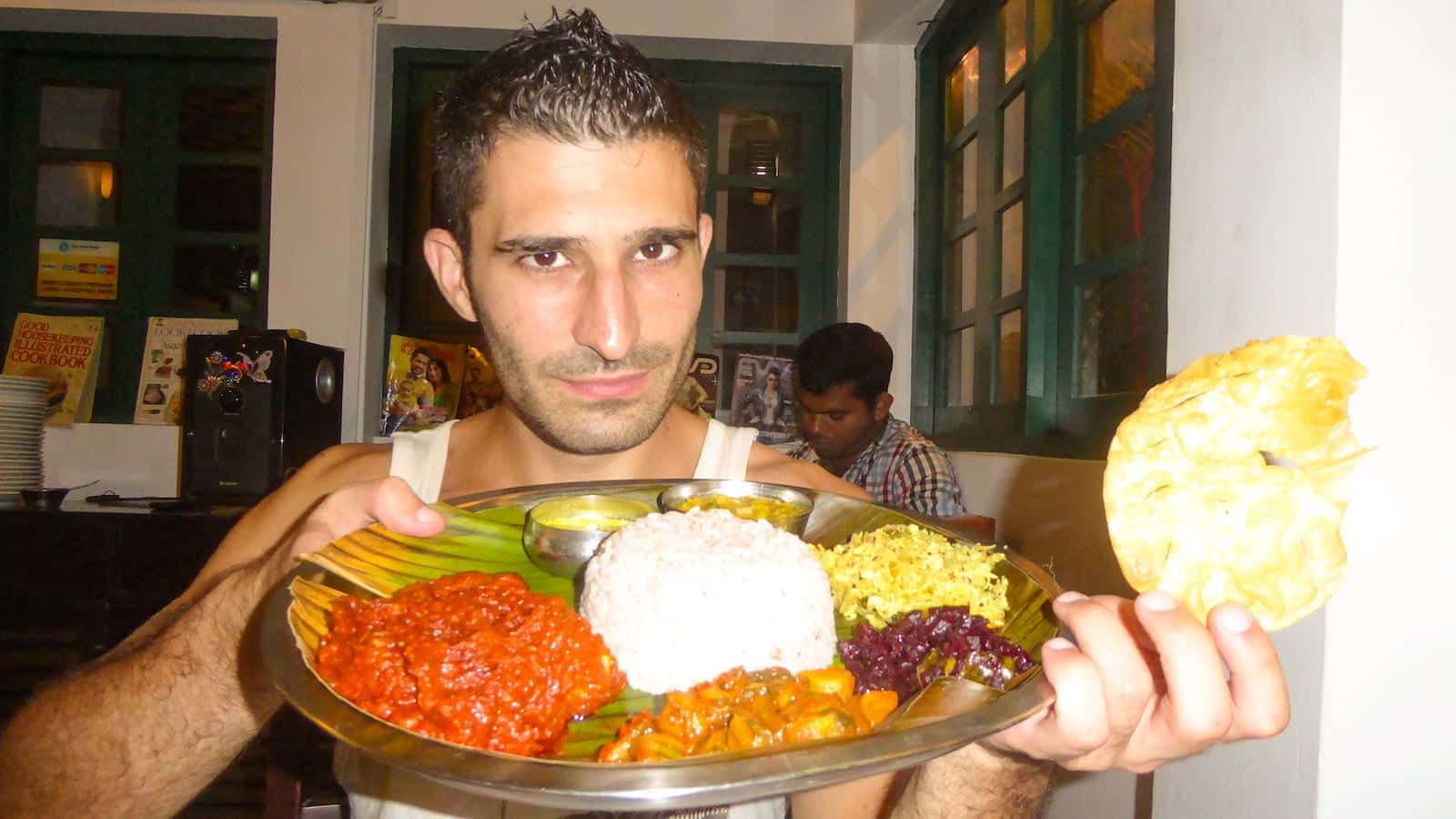 Exploring the Munnar Hills
A popular honeymoon destination for gay couples to India, the Munnar Hills are famous for their lush green scenery and thriving flora life.
The hills are situated in the middle of South India's largest tea-growing region, on the edge of the Western Ghats, around 3.5 hours east of Cochin. It's also a nice break from the intense heat and humidity of Kochi, with a more refreshingly cool climate.
We especially loved the tea museum and small spice market. But the true lure is the surrounding hills, blanketed by tea bushes! As you climb higher, you become encased within the thick forest – feeling like you're in a scene from the "Jungle Book".
For more, watch this excellent video about Kerala:
---
Like this post? Pin it