Indian visa in Kathmandu: How to get it?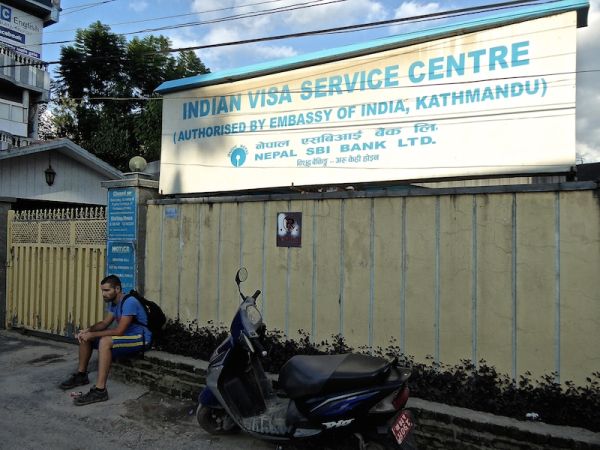 We arrived in Kathmandu, geared up and ready to spend our time in Nepal trekking in the mountains. Our first week was mainly taken up getting our Indian tourist visa.
The process for getting an Indian visa in Kathmandu is relatively simple, bureaucratic, takes 7 working days and requires 3 visits to the Indian embassy in Kathmandu. This is set out in detail below.
UPDATE JULY 2017:
If you are visiting India for less than 60 days, you can actually do this process online and it takes less than 72 hours. You can apply for an E Visa to India on the government website here, no less than 5 days and no more than 30 days before the date of travel. However, if you use an agent like iVisa you can apply anytime so you don't need to worry about forgetting and your visa is processed and sent to you in as little as 18 hours.
Here is our simple summary based on our experience.
PRE FILL AND PRINT YOUR INDIAN VISA APPLICATION FORM
First before doing anything, you need to complete the online website, print it out, sign it the day before your intended first visit to the embassy.
This is the hardest part simply because Nepal has frequent power cuts and finding reliable internet in Kathmandu is a bit of a challenge. Reliable internet is required because the Indian Embassy website is very slow and frequently crashes.
We recommend Electric Pagoda in Thamel for good internet if your hostel/hotel wifi doesn't work very well, then find an internet café to print it off.
The link for the application form on the Indian Embassy's website can be found here (use Chrome or Internet Explorer).
FIRST VISIT TO THE INDIAN EMBASSY:
The first visit to the Indian Embassy Visa Centre is to give them:
your signed application form
x2 large non passport sized photos (get a local agency to do these)
a copy of your Nepalese visa
a copy of your passport
the visa fee
For the photos and photocopying your passport and Nepal visa, there are a few helpful agencies next door to the Embassy who can do this for you for a nominal fee. We advise getting them to do the photos as the size required for the Indian visa is much larger then a standard passport sized photo.
The Embassy's Visa Centre is located at the Indian Visa Service Centre, 296 Kapurdhara Marg, Kathmandu (Next to the Embassy of India, Kathmandu).  It's around 15-20 minutes walk North from Thamel (the dark grey area in the map):
The Embassy's Visa Centre is open between 9:30am to 12pm on Mondays to Fridays:
We advise getting there before 8:45am to ensure you are one of the first in:
Once in, you get a ticket, wait your turn in the queue (it's very quick).
When your number is called, you go to the counter, hand your papers and pay the fee:
At the counter desk, they will then confirm the date for you to return for visit number 2 with your passport – usually in 5 working days.
Note – the Indian Embassy is closed on Indian public holidays not Nepalese ones.
Here's the list of Indian public holidays for 2014 for guidance:
The visa fee is around £30-40 for most countries, except for UK who are charged a whooping 14,150 Nepalese rupees (around £88 / $137)):
SECOND VISIT TO THE INDIAN EMABSSY
After five working days (or the date given to you from your first visit), you return with your passport and visa fee receipt. You hand this to them, collect a receipt and leave.
Same thing applies – arrive early (just before 8:45am) to get in first and leave soon. The queue starts to get quite busy the closer you get to 9:30am.
You will normally be told to return the day after between 5-5:30pm to collect your passport and visa.
THIRD VISIT TO THE INDIAN EMBASSY
The next working day after your second visit, at 5-5:30pm, you come to collect your passport and visa and voila, you have clearance for India (we were given 3 months):
BEST PLACES TO STAY NEAR THE EMBASSY
Thamel is the tourist centre of Kathmandu, so you will not struggle finding a place to stay at. To be as close as possible to the Indian embassy, we recommend you stay in a hotel or guest house north of Thamel like we did. Check out these two places if you have not found accommodation yet:
HOTEL MI CASA   Book online
Located in the north of Thamel, this beautiful hotel has very friendly staff and a delicious breakfast.
Prices start from $45 / £30 a night with breakfast.
HOTEL ENCOUNTER NEPAL   Book online
More budget option, this place is clean and comfortable.
Staff is very polite and professional stag.
Prices start from $29 / £19 a night.
In January 2014, the Indian government apparently announced informal plans to widen the visa on arrival to a further 180 countries to boost tourism and business (to include most European countries) in mid October 2014.  But, at the date of posting this article (mid October 2014!) nothing has yet transpired on this…
Watch more from our travel in Nepal in our awesome video: