Gay Prague: guide to the best bars, clubs, hotels and more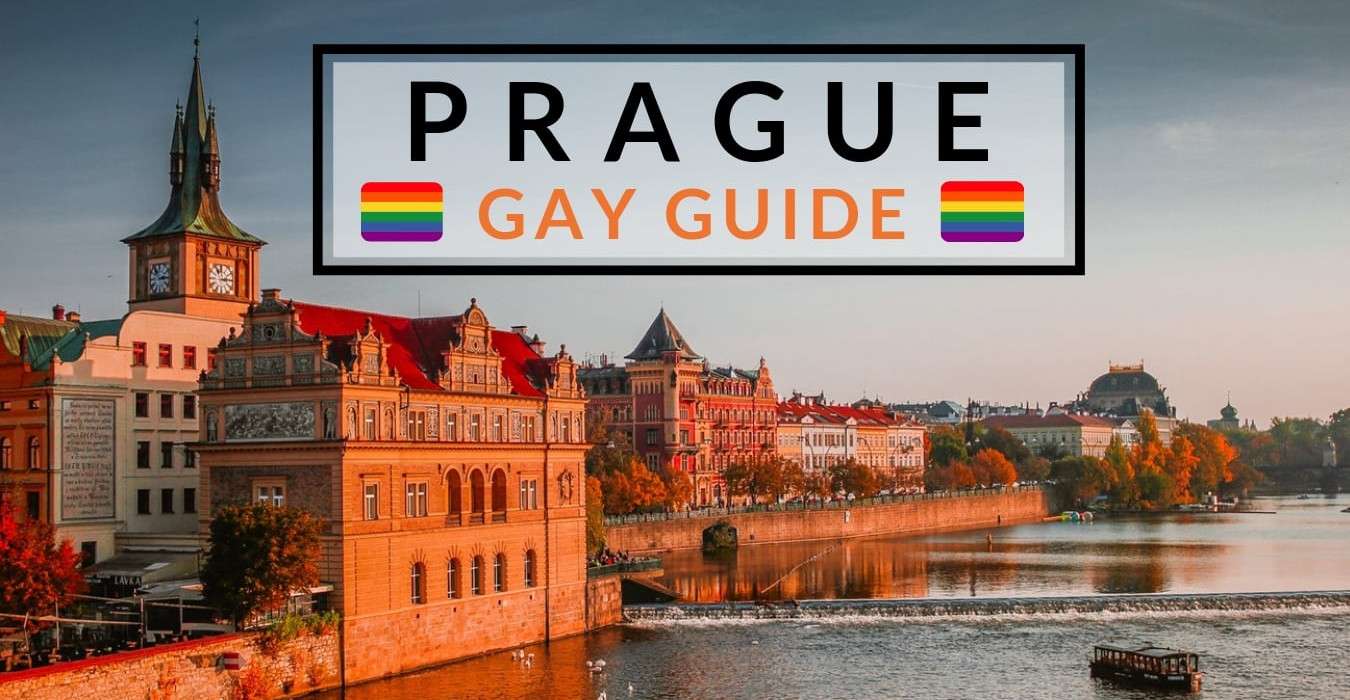 Prague is one of Europe's top gay travel destinations and in our opinion, one of the most beautiful cities in the world. Prague is magical, with its striking gothic architecture, magnificent medieval monuments, like something from a fairy tale. It's no wonder that it's one of the most visited cities in the world.
We loved strolling through the labyrinth of narrow cobblestone streets that make up the UNESCO listed Old Town and then experiencing the thrilling gay nightlife of Prague in the evening.
Prague is the capital of the Czech Republic, a former Soviet country in Central Europe, now part of the EU. The country is so rich with culture that you can never get bored exploring it. To give you a brief idea, its history date back to the 9th century when it used to be called 'The Duchy of Bohemia' under the Great Moravian Empire. It was around this time that Prague Castle was built, one of Prague's most famous tourist sites. In addition, most of the beautiful and picturesque medieval buildings of the Old Town, like "Charles Bridge" were subsequently built in the 1300s by the Holy Roman Emperor, Charles IV. There's a lot to see here, which we've summarised below, but make sure you also give yourself ample time to check out the dynamic gay nightlife of Prague.
Our guide sets out everything you need to know about gay travel to Prague, including our favourite gay hangouts, clubs, places to stay, best things to do and practical tips to help you have an awesome time in the "City of a Hundred Spires".
Gay travel to Prague
We had an awesome time travelling as a gay couple in Prague. LGBTQ travellers will feel safe and welcome in Prague since it is a very gay friendly city and the attitude to homosexuality is super liberal.
Although the former Eastern bloc nations are not known for being the most gay friendly, the Czech Republic is the big shining gay beacon of the region. Each time we've visited the country as a gay couple (both recently and in the early 2000s), we've had a fantastic time and felt extremely welcome.
Put it this way, we felt safe walking the streets of the Old Town and Vinohrady hand in hand, which is not something we normally do back home in London or Lyon. At most, we got a few raised eyebrows, but largely looks of disinterest more than anything. It's not surprising: a study by the Pew Research Centre in 2013 showed that 80% of the Czech public thought that homosexuality should be accepted by society, which was one of the highest among the 39 countries surveyed.
Other positive LGBTQ facts about the Czech Republic which show how gay friendly it is:
homosexuality was legalised as early as 1962, which is 5 years before the UK and long before the US Supreme Court did it in 2003.
civil union laws passed in 2006 and is on the verge of passing same-sex marriage legislation
adoption laws are also about to be passed in 2019
it has a comprehensive set of anti-discrimination laws in place since 2009
the army allows gays and transgender people to openly serve since 1999
And finally, the most important factor of all, the Czech Republic has produced one of the Nomadic Boys' all time favourite Eurovision entries: the 2018 entry "Lie To Me" by the very cute Mikolas Josef (oh those cheeky sexy blonde Czech boys…)
Gay area of Prague
The main gay area of Prague is in the trendy residential neighbourhood called "Vinohrady", which is the eastern edge of "Prague 2". The majority of the gay hangouts are mainly found here, with a couple of others in "Prague 1". Prague 1 is the main touristic neighbourhood directly north of Vinohrady, split into 4 parts: the "Old Town", the "New Town", the "Lesser Town" and the "Prague Castle area".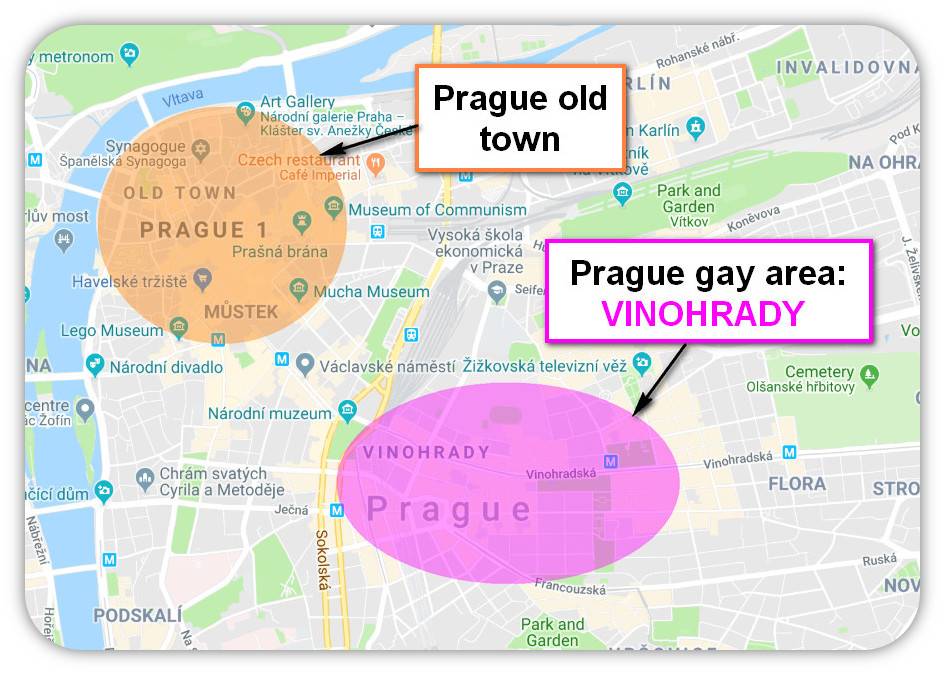 There are also a few gay bars and clubs popping up in neighbourhoods around the city, like the OMG club (see below), located in the northern neighbourhood of Holešovice.
Vinohrady is also one of the best neighbourhoods in Prague for dining, with a wide range of excellent international restaurants. For us this was another major factor for basing ourselves here as the majority of the restaurants in the Old Town were mediocre tourist traps, so having an area with lots of highly rated restaurants was a breath of fresh air.
Prague has so many excellent sights to take in, it can be quite overwhelming. We highly recommend preordering your Prague Card online which includes free entry to most museums, attractions like Prague Castle, the Zoo and even a free riverboat cruise on the Vltava.
Gay hotels in Prague
If you want to make the most of Prague's gay nightlife, we suggest you base yourself in the Vinohrady neighbourhood so that you are walking distance to the gay bars and only a few metro stops away from the main touristic sites of the Old Town. It's also a very safe residential neighbourhood. Otherwise, if you want to be close to the main touristic sites, consider booking a hotel in the Old Town. These are our top gay friendly picks:
The Four Seasons is one of the best gay friendly luxury 5* hotels in Prague. It is set in three historical buildings across the picturesque Vltava River overlooking Prague Castle. We think it's one of the most romantic places to stay here. It's not cheap of course, but well worth it, especially to celebrate a special anniversary.
The service is top notch. The staff are very friendly, always willing to advise on the best things to do in Prague. As a gay couple, we've always felt extremely welcome here and cannot recommend it enough.
The Four Seasons also has a highly rated Italian restaurant called Cotto Crudo, which is worth checking out. Spa lovers should check out their AVA Spa where you can book in a couple of lush facials and body treatments, with some pretty sweet views of Prague Castle.
One of the most luxurious romantic hotels in the Old Town
Gorgeous views of the Vltava River and Prague Castle
Rooms start from €360 ($404)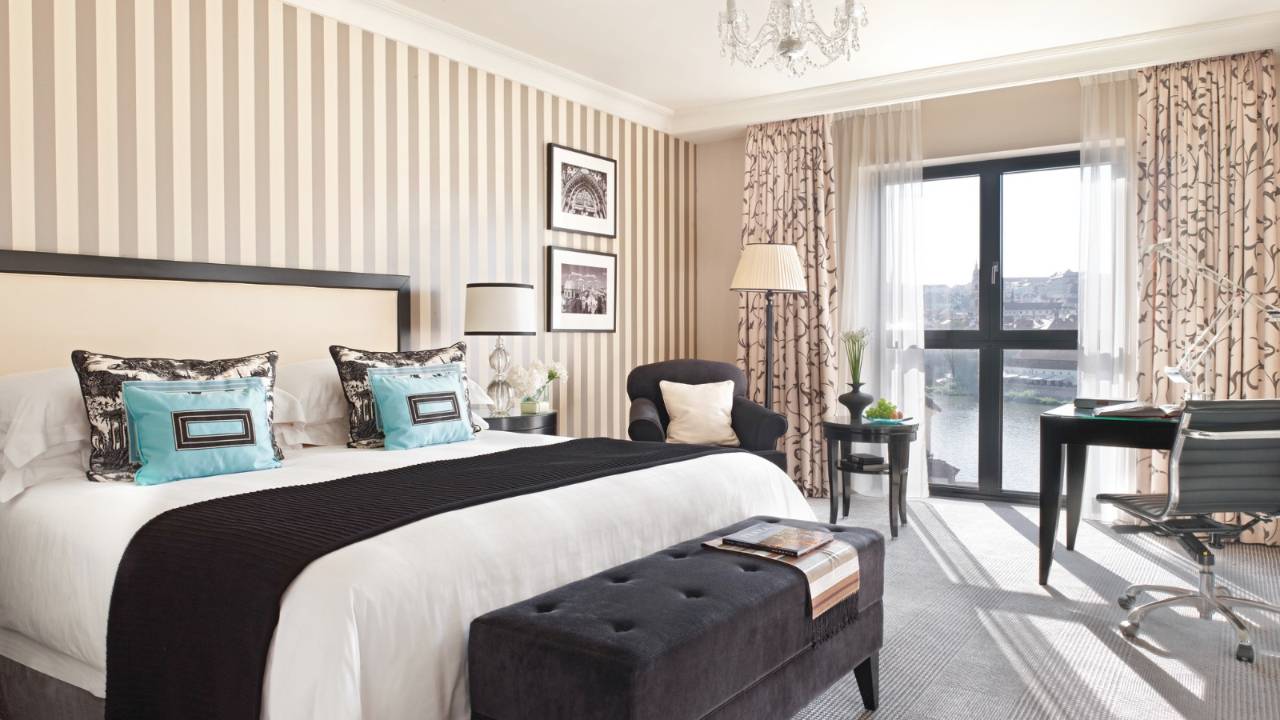 Our top pick for Vinohrady: La Fenice
La Fenice is a popular choice amongst LGBTQ travellers. It was highly recommend by local friends and other gay travellers to Prague who stayed here and raved about it. It is perfect if you want to be based walking distance to the gay scene in Vinohrady. It's a 4 star hotel with 58 spacious rooms, some with kitchenette, which is handy if you don't always want to eat out.
La Fenice is a good medium budget option, especially for couples. They offer a €40 romantic welcome package, which includes a bouquet of flowers and bottle of Czech beer or branded Moravian red wine. It is also pet friendly: they will let you bring your pets with you for an additional fee of €30 a night.
Pet friendly
Walking distance to the gay scene
Rooms start from €50 ($58) a night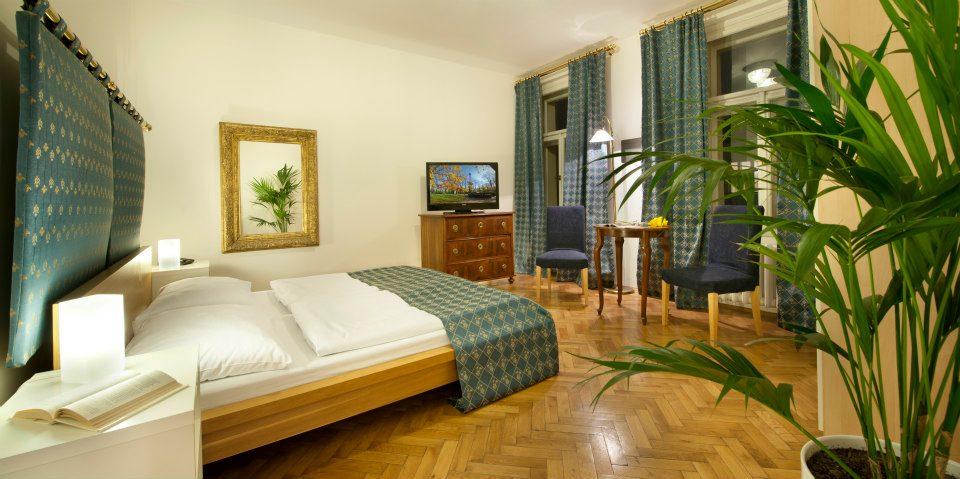 Medium budget pick in the Old Town: Hotel Josef
Hotel Josef is a gorgeous design boutique hotel, located in the Old Town. As well as being one of the most luxurious hotels in Prague, it is notorious for its gay friendly reputation. We initially discovered it on our first trip to Prague and has become one of our favourite gay friendly hotels to stay in the Old Town.
One of the things we love about Hotel Josef are the views across the Old Town and of Prague Castle. You can't beat this for a romantic stay to impress your other half.
Another added bonus: for guests renting out the penthouse, you are assigned your own personal trainer who designs a whole workout for you. This includes a morning run with him through the Old Town!
Fantastic views of the Old Town
Excellent gay friendly luxury option
Rooms start from €130 ($150) a night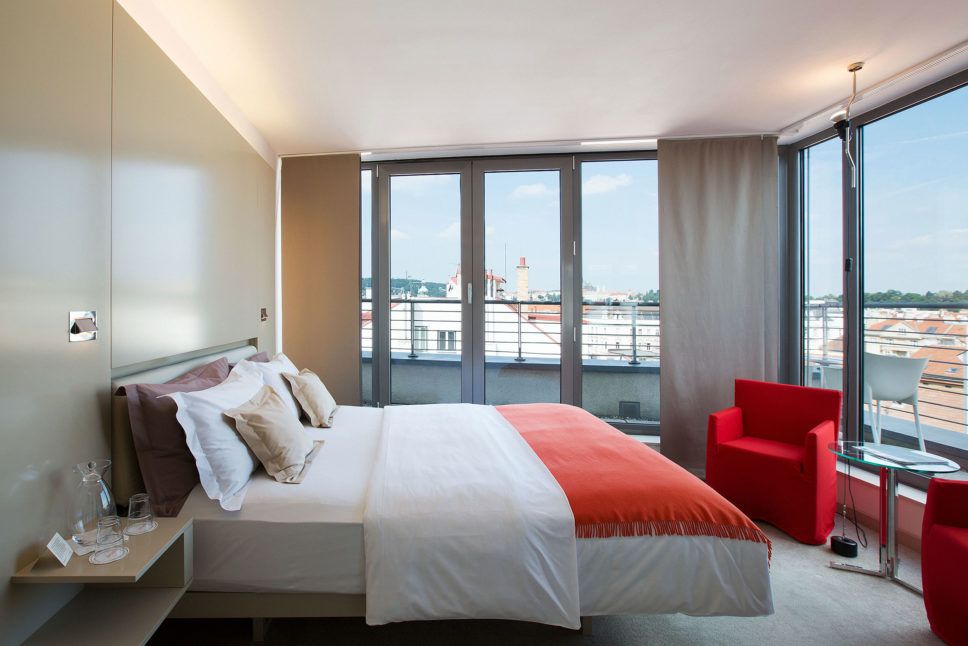 Gay hostels in Prague
Whilst Prague is more expensive than the rest of the country, it's still a great value compared to many other European capitals. Here's some of the best gay friendly hostels and guesthouses to stay in Prague:
The Czech Inn is one of the coolest gay friendly hostels to stay in Vinohrady. It's a design hostel set in a restored 19th century building. It has a hip brick cellar bar, which is a nice place to hang out with fellow travellers before heading out to the gay bars.
The Czech Inn offers a mix of affordable dorm beds starting from €8 a night, private rooms from €53 a night and even apartments with fully-equipped kitchens from €99 a night.
Walking distance to the gay bars in Vinohrady
Hip design hostel yet very affordable
Prices start from €8 ($9) for a dorm bed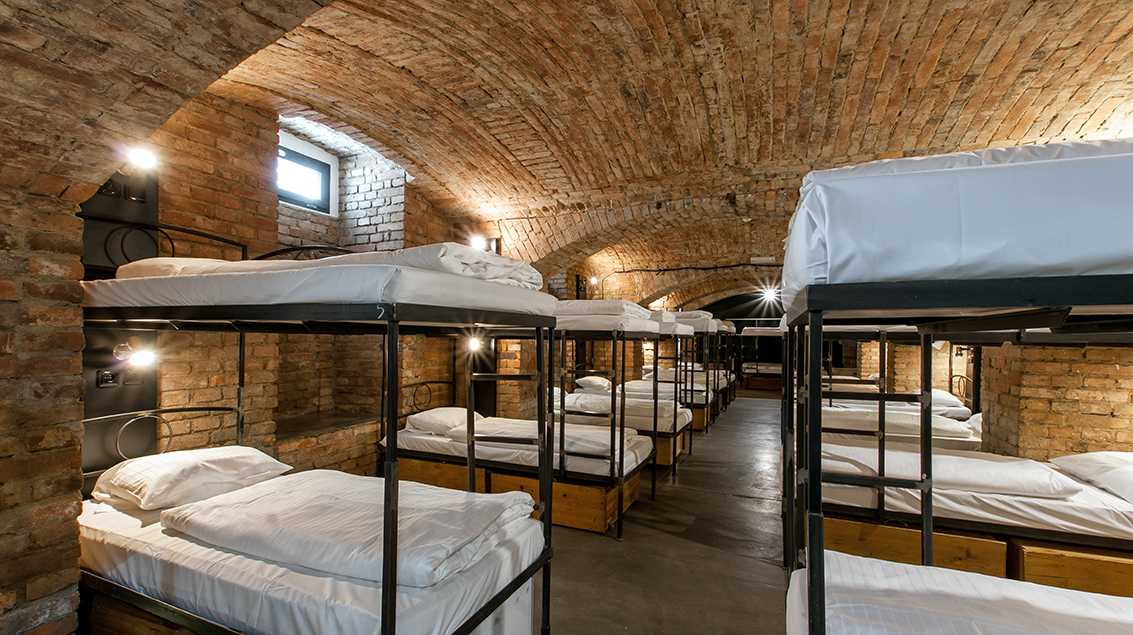 Sir Toby's seems to have been around forever. It was one of the first hostels in Prague and was the first place we stayed at when travelling in Prague as a young gay couple on a budget many many moons ago…
Although Sir Toby's is quite far out from Vinohrady, it's an excellent gay friendly budget option to consider. It's located in the up-and-coming artsy neighbourhood of Holešovice, which is around 10 minutes tram ride north from the Old Town and 25 minutes from the gay scene of Vinohrady. They offer a mix of very affordable dorm beds from €11 and private rooms from €43 a night.
Discover a more residential and local neighbourhood: Holešovice
Excellent base to be close to the big gay party OMG at Mecca
Prices start from €11 ($12) a night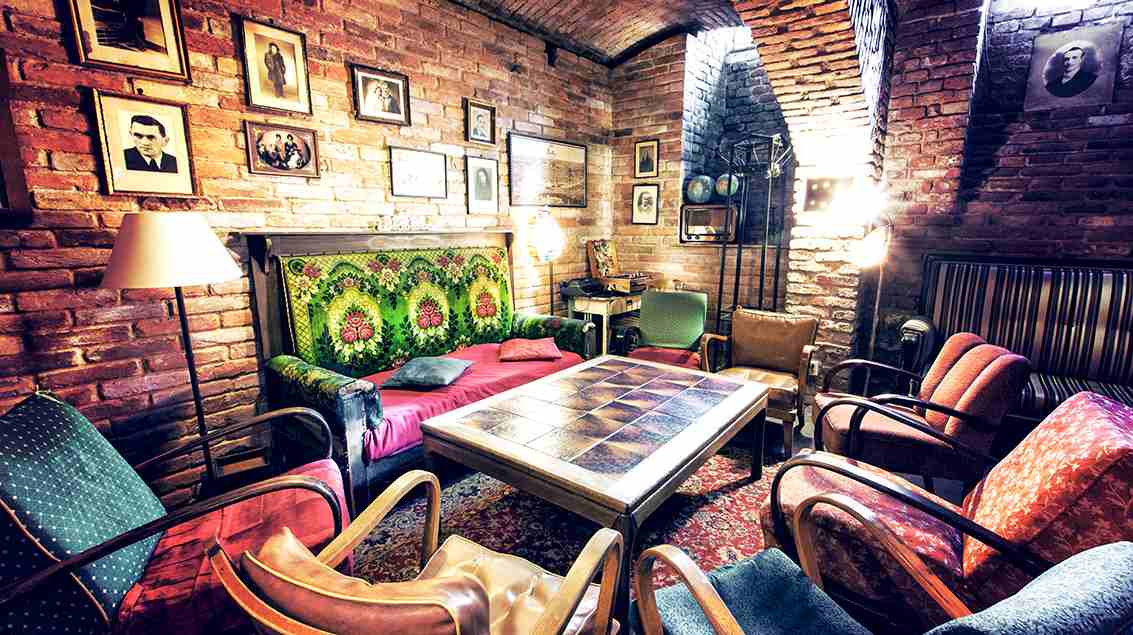 Sometimes referred to as "Ron's Rainbow Guest House", it is known for its quaint and welcoming environment due to the warm hospitality of its owner, Ron. It's located in a 1910 Art Nouveau Building with two self-contained apartments consisting of 4 large rooms, which can be booked either individually or as a Suite.
This is a really convenient budget option if you want to be based walking distance to the gay nightlife of Vinohrady.
Walking distance to the gay bars
Good budget guesthouse option in Prague
Rooms start from €22 ($25) a night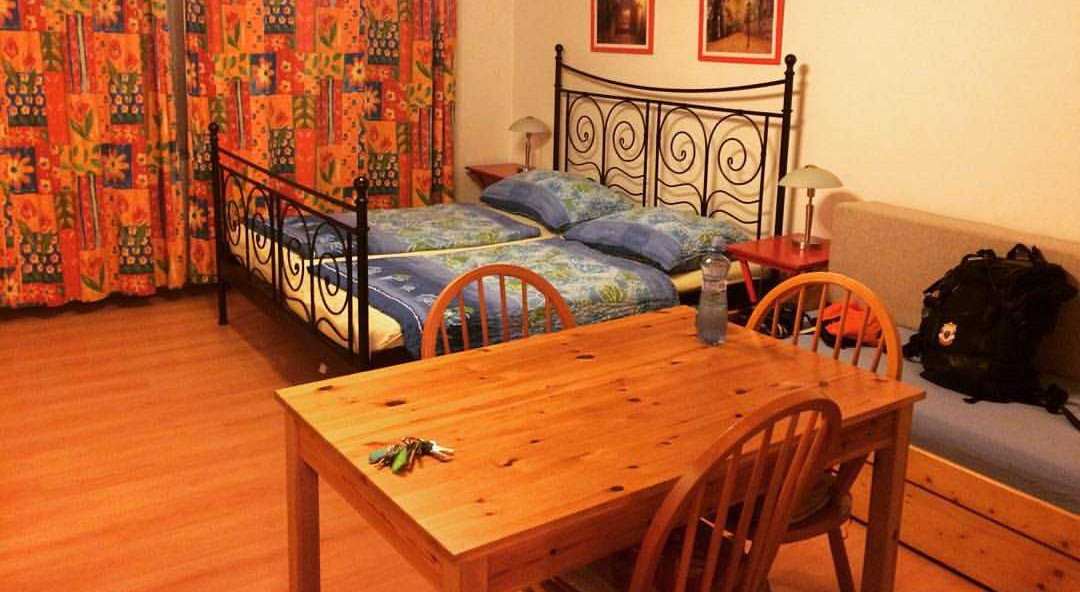 STAY WITH A GAY LOCAL
Misterb&b is the Airbnb equivalent for the LGBTQ community. Unlike on Airbnb, you know your host is gay, avoiding any nasty surprises when you check in. It is also a great way to meet gay locals and discover the underground gay scene. Click below to get 10 € (or $10) off your first booking.
Gay bars in Prague
The main gay bars of Prague are based in the Vinohrady gay neighbourhood, with a few popping up elsewhere in the city. These are the main ones to check out.
Handy tip: if you're travelling alone, one of the best ways we found to quickly make friends is to try out the Prague gay bar crawls. It's only €29 ($33) and is the perfect way to quickly discover the gay scene with a local.
Piano Bar: one of the staples of the Prague gay scene, going strong since 1995. We love coming here to start the night with a few cocktails. They also have fun drag shows taking place throughout the night. On Sundays, they have a hilarious bingo, which attracts a lots of the local gay guys. Piano Bar is located at Milesovska 10 and is open everyday from 5pm to 2am.
The Saints Bar: one of the smaller gay bars in Prague, with a cozy atmosphere and really cute bartenders. The Saints Bar Quiz night every Sunday is definitely worth checking out. Saints is located at Polska 32 and is open daily until 2am (4am on weekends).
Club U Rudolfa: Rudolfa is an important piece of gay history in Prague because it is the longest continually running gay bar. It's a very local bar, with mainly gay Czech lads. Like Saints, it's cozy and a very friendly place to hang out. Rudolfa is located at Mezibranská 3 and is open daily until 2am.
Klub 21: unique basement bar in a cellar vault, which although a bit hard to find, it's so popular that it gets busy on most evenings. When we went, the crowd was mainly 25+ and a mix of local and international. Klub 21 is located at Římská 21 and is open daily (except Sundays) until 3am.
Dandy: Dandy is one of our favourite gay bars in Prague. It's super chic, hipster and trendy, the perfect place to dress up, come and be seen. They do delicious signature cocktails like "Vegan Grindr" and "Dirty Dandy", served by some very charming, cute bartenders! Dandy is located at Anny Letenske 18 and is open daily until 1am.
Bourgeois Pig: in their words, "an unpretentious, bohemian, gypsy punk queer hipster hangout music club, lounge bar and tiny vinyl shop"! What got us are their unique absinthe & cannabis infused signature cocktails. The Bourgeois Pig is located at Koubkova 2 and is open daily (except Sundays) until 2am. NB: it's cash only here.

Gay cafes in Prague
The coffee culture of Prague is just as prominent as its beer culture. Along with the gay bars, we also found a handful of fun gay cafes in Prague worth checking out. Funnily enough, most of these are based close together in the touristic heart of the Old Town. Only Celebrity is in Vinohrady: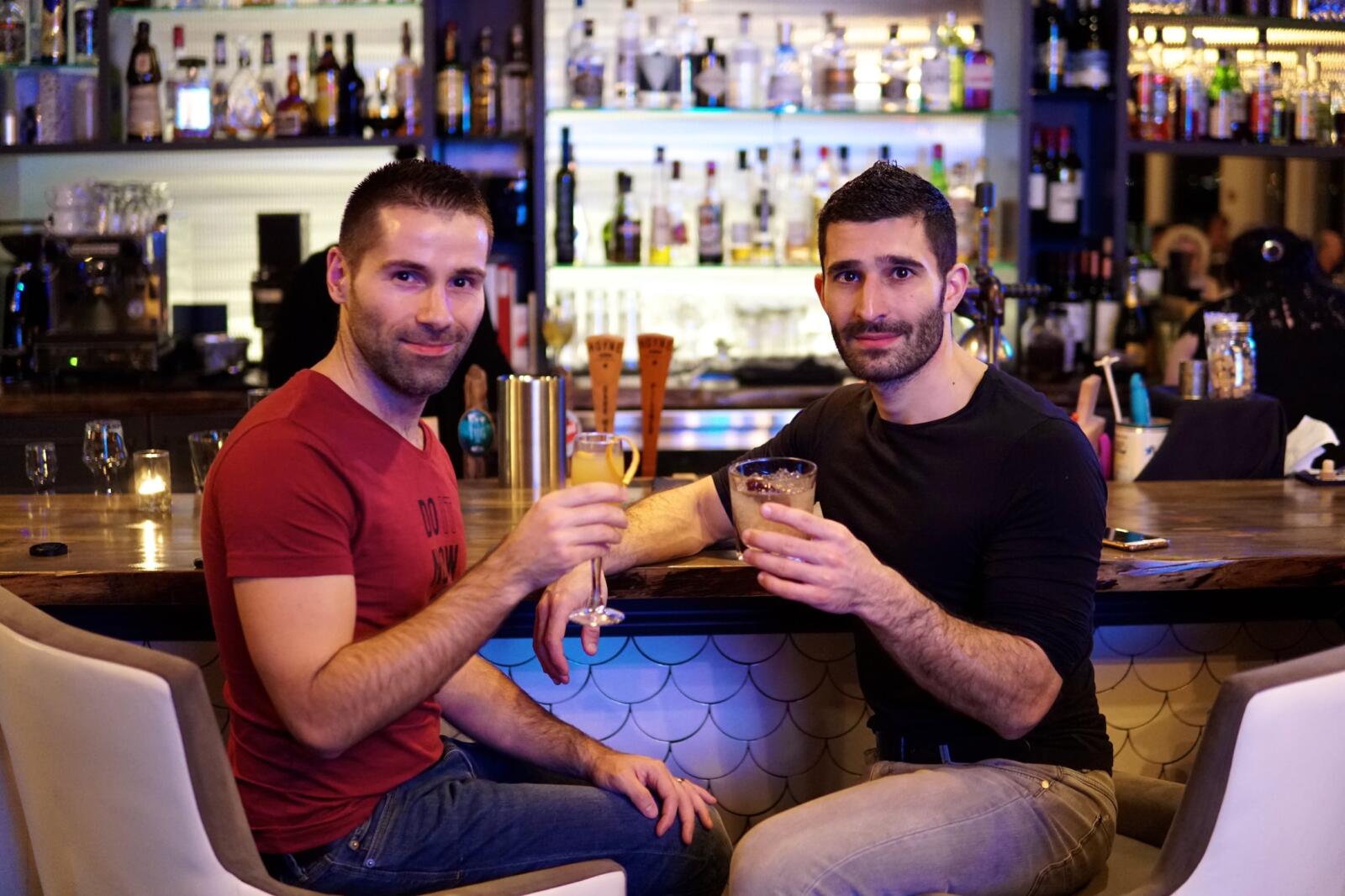 Gay clubs in Prague
The gay clubs of Prague are mainly located in Vinohrady with the exception of "Friends", which is in the Old Town and the OMG party in the Holešovice neighbourhood. Be warned, the Czech boys like to party late, so most clubs usually don't get busy until after 1am.
Club Termax: the largest gay club in Prague and the place we like to go to party on weekends. They have a range of themed nights like "80s 90s Pop Party", drag shows and the Fever Party, which gets really busy with a sexy crowd. Club Termax is also located at Vinohradská 40 and is only open Fridays/Saturdays from 10pm to 7am.
Club TerMIX: the sister club to Termax, which attracts a much younger crowd. There's just one small dance floor, so the vibe is quite intimate and gets quite crowded, particularly on weekends. On weekdays they have karaoke themed nights. Club Termix is located at Třebízského 4a and is open only on Wednesdays to Saturdays from 10pm to 6am the following day.
Friends: a club which we really enjoy going to…it's called "Friends" for good reason! As well as having big club nights with live DJs, they also do fun karaoke nights, drag shows and even a 'Sunday Club Quiz'. Friends is located at Bartolomějská 11 in the Old Town and is open daily until "the last guest leaves", but officially at 6am.
Factory: one of the best fetish gay clubs in Prague. It's massive, set over 3 floors, complete with cruising dungeons, dressing room, large cabins with video, cages, slings, and of course, free WiFi access! Factory is located at Vinohradská 63 and open almost all hours of the day. Check their Facebook page for details of their specific opening hours.
Alcatraz: Prague's infamous leather fetish club. We love that everyone is welcome here and there is zero attitude! It is fully equipped with dark room, maze play areas and of course, a bar! Alcatraz is located at Bořivojova 58 and is open Wednesday to Sunday from 9pm to 6am.
OMG Party at Mecca: is one of the largest and best gay parties in Prague at the stylish Mecca club. It has 3 floors, 5 easily accessible bars, 2 dancing areas, and very friendly, sexy staff! Mecca is located at U Průhonu 3 in the Holešovice neighbourhood towards the north of the city, which is a short taxi ride away. The parties usually take place on a Saturday or Sunday, but check their Facebook page for details of the next event. They start late and go on into the early hours of the next morning on the 2nd stage which becomes one of Prague's best after parties.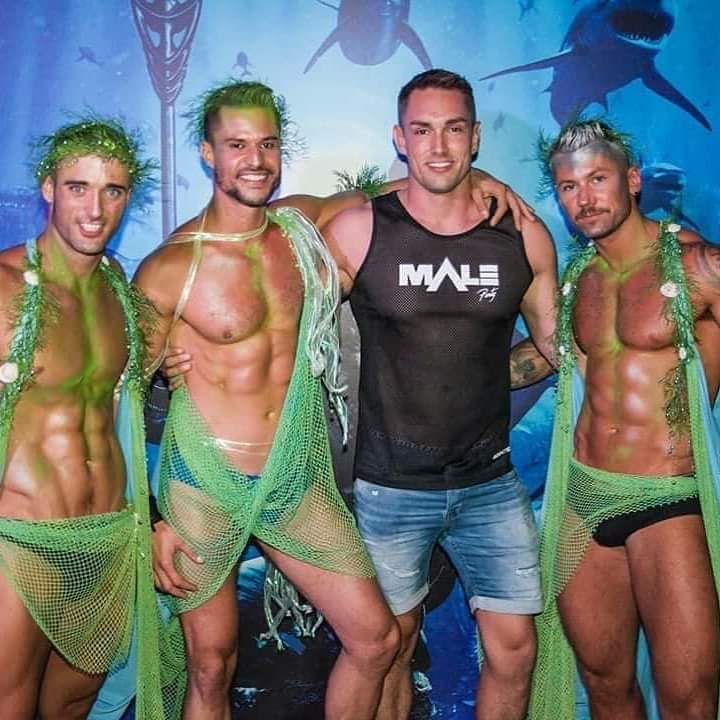 Gay saunas in Prague
If it's cold and raining outside and you want somewhere cozy to hang out for a few hours, maybe some local friends at the same time embellished with a bit of fun, then Prague's got you covered! These are some of the more popular gay saunas in Prague to check out:
Gay cruising in Prague
These are some of the more popular outdoor gay cruising areas in Prague:
Park Letna: large park on Letna Hill. The area near the "Metronom" on the top and next to the Belvedere Palace is the place to check out. Also check out the bushes on either side of the pavillion, near the Hanovsky Pavillion Restaurant.
Šeberák Pond: popular on summer days with nudists and gay men who come to swim. Cruising takes place in the in the woods surrounding the pond.
Podoli Baths: an outdoor swimming pool located next to the Moldau river, which is another popular cruising spot.
Gay events in Prague
As Prague becomes more of a gay friendly destination, the number of LGBTQ events taking place throughout the year has also increased. These are the main gay events in Prague to look out for:
Things to do in Prague
Prague is a stunning city to explore, particularly the UNESCO listed Old Town. For a more local experience in Prague beyond the obvious tourist hotspots, we recommend checking out some of the Withlocals tours, which we tried and loved. Here are a few of our favourite sites to explore and activities to do in Prague:
Old Town: the touristic beating heart of Prague. This historical piece of the city, dates back to the 10th century and is always busy with tourists, but for good reason. Other than the astounding, unique architecture, the Old Town has many bustling restaurants, cafes and street performers everyday of the week.
Prague Castle: today, this magnificent UNESCO listed building is the official office of the President of the Czech Republic. Its history dates back to the 9th century when it was a seat of power for the Kings of Bohemia, Holy Roman Emperors and subsequent presidents of former Czechoslovakia. It's also famous for being the largest ancient castle in the world according to the Guinness Book of Records. It's located on the other side of the river from Prague's Old Town, which you can reach via the Charles Bridge. Bonus tip: free entry is included as part of the Prague Card.
Charles Bridge: what Tower Bridge is to London, Charles Bridge is to Prague. It's one of the city's iconic buildings, touristy, but for good reason. It dates back to 1357 when it was built by King Charles IV and until 1841, it was the only way to cross the Vltava River to reach the castle from the Old Town. There is a small museum to visit to learn more about the bridge, which is free if you have the Prague City card.
Vltava River cruise: the Vltava is the longest river in the Czech Republic and divides Prague into two parts: the labyrinthine Old Town from Hradcany, where Prague Castle is located. Whilst a river cruise may sound super touristy, we recommend it because it's one of the best ways to get the best city views of the Old Town and the famous castle. If you have the Prague Card, a free riverboat cruise is included.
Prague Zoo: the city's zoo is renowned as the 7th best zoo in the world by Forbes Travel Guide in 2007 and 5th best by TripAdvisor. It also has a strong conservation focus, helping endangered species like the the binturong.
Jewish Museum: the Jewish area of the Old Town is not only beautiful, but an important slice of Czech history, which we we think everyone needs to learn about. To give you an idea, we weren't even aware that there was a large concentration camp for Jews in the Czech Republic during WW2: the Terezin Concentration Camp. If you want to visit it, which you can as part of a tour, it is located around 30 miles north from Prague (around 1 hour's bus ride).
Petrin Hill: Petrin Hill is the summit of a hillside park (327m/1,073ft) with a 19th century tower resembling the Eiffel Tower overlooking the big city below. It's a great place to come and enjoy the views of Prague, especially on a clear day at sunset. You can either climb up the 299 steps or take the funicular railway.
Medieval dinner: as foodies, we jumped at the chance of getting a flavour of Medieval Prague's culinary delights. We discovered this five-course dinner, which is set in a Medieval tavern and also includes live entertainment with jesters, swordsmen, jugglers and belly dancers.
Ghosts and Legends of the Old Town: a more unique and quirky way to visit the Old Town, which we recommend checking out. On this tour we explored some of the eeriest parts of Prague that are not only off-the-beaten-track, but showed us a deeper insight into the city's dark past.
Saturday Farmer's Market: if you're looking for a local foodie experience, we recommend checking out one of the many local Farmer's Markets. They usually take place throughout the city on a Saturday morning throughout the year. Some of the best include the Naplavka market underneath the Vysehrad fortress, the Jirak market in the Jiriho z Podebrad square in Vinohrady, and Hall 22 of the Holesovice neighbourhood market, which is also the largest one.
Lego Museum: Lego may not be the first thing that comes to mind when you think of Prague, but the city has the largest Lego museum in the entire world, which made our geeky Seby ecstatic! It has over 3,000 lego models, a lego store and even a Lego restaurant.
Memorial to the Victims of Communism: a series of seven bronze figure statues descending a flight of stairs, commemorating the many victims who suffered during the Communist era from 1948 to 1989. The statues appear more "decayed" the further away they are from you, losing limbs and their bodies breaking open. It symbolises how political prisoners were affected by Communism.
Things to know before you visit Prague
How to get there: most will reach Prague either by plane at the Vaclav Havel Airport, which is around 10.5 miles (17km) north from the centre, or by train at the city's main train station, Hlavní Nádraží, conveniently located in Vinohrady. For more information, be sure to check out our article about how to get from Prague airport to the city centre.
Visa requirements: most European and North American citizens don't need a visa. If any doubts check visa requirements here.
Tipping culture: traditionally, tipping is not expected amongst the older generations. But now it is more common to tip 10-15%, particularly if the service was good and you were really satisfied with your meal. Unlike in the US, the waiters have their own salary independent of tips but it is nonetheless quite low so is a way for them to earn more than their base salary.
Currency: the koruna. The formal name in Czech is koronua česká, which is why it is abbreviated to Kč. Useful conversions: €1 is around 25 Kč and $1 is around 23 Kč.
Internet access: most public places will have free WiFi in Prague including the tourist attractions and even at one of the many libraries. Otherwise consider buying a local SIM card when you arrive, or even a portable WiFi device so you can connect multiple devices at faster speeds.
Gay map of Prague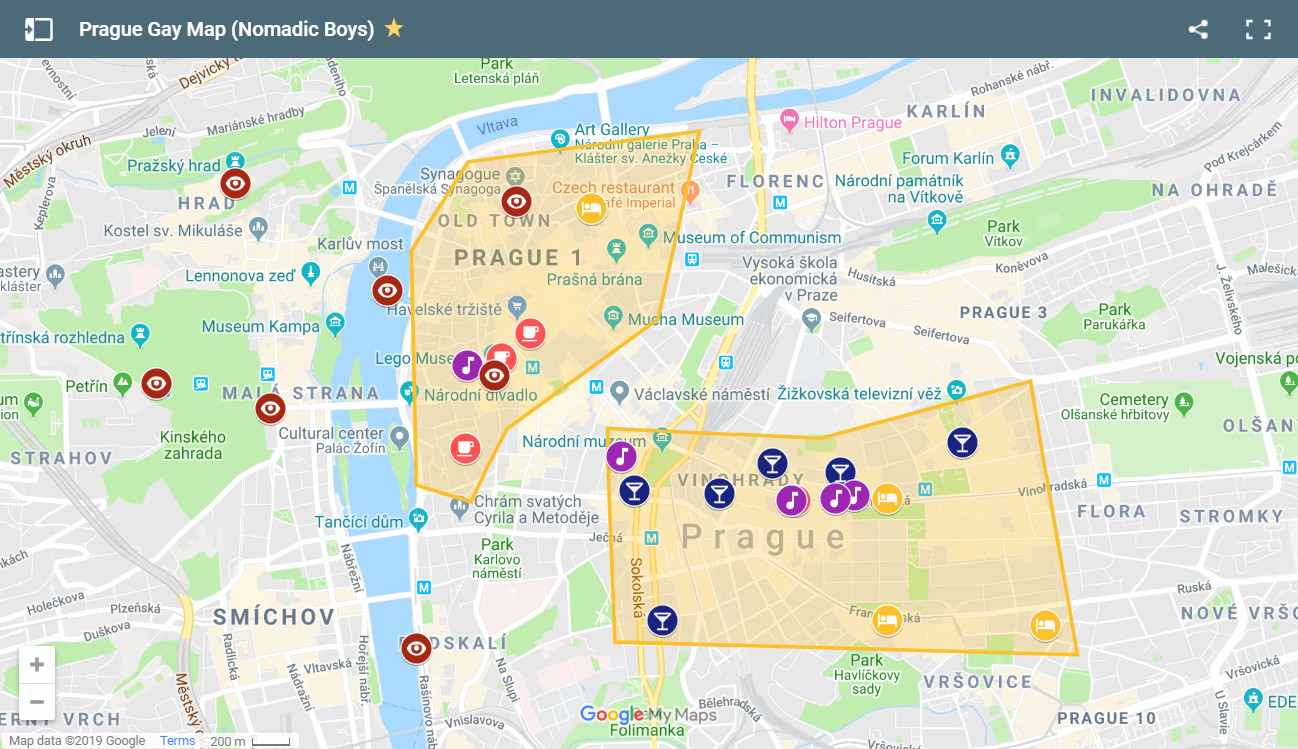 ---
OUR FAVORITE TRAVEL RECOMMENDATIONS
⭐️ TRAVEL INSURANCE — We recommend you always take out travel insurance before your next vacation. What happens if you suffer from illness, injury, theft or a cancellation? With travel insurance, you can have peace of mind and not worry. We love World Nomads travel insurance and have been using it for years. Their comprehensive coverage is second to none and their online claims process is very user friendly.
⭐️ SAFETY & SECURITY — All travelers (gay or not) can sometimes encounter danger when traveling. CloseCircle is your "virtual body guard" mobile app which provides security alerts and support wherever you are in the world. They have a 24/7 emergency response team monitoring their users who will contact you immediately if the SOS swipe button is activated. Support can include anything from practical advice, to free evacuation from areas with extreme weather or security risks. You can read more about CloseCircle in our article about how to stay safe whilst traveling.
⭐️ ONLINE ANONYMITY — A VPN (Virtual Private Network) is a must in many countries: it allows you to surf anonymously and maintain your privacy whilst traveling. You'll particularly need it in countries where gay dating apps are blocked by the government. We recommend ExpressVPN, a reliable and cost effective service which we used and loved during our travels.
⭐️ HOTELS or APARTMENTS — When we plan a trip, we always look for the best hotel deals. We love Booking.com because not only do they have a comprehensive listing of accommodation options, they also offer the best prices. Added bonus: they provide 24/7 support and free cancellation for most listings.
⭐️ SIGHTSEEING and ADVENTURES — When we travel somewhere, we like to seek out the best experiences, whether it is cooking with locals in Bangkok, hiking on a glacier in Patagonia, or going on a wildlife safari in Sri Lanka. Our favorite place to look is GetYourGuide because they have over 30,000 highly rated activities, a user-friendly booking process with free cancellation and a 24 hour customer support.
This article contains affiliate links. If you click on them, we may receive compensation which keeps our website alive and helps us bring you to more destinations.
Pin for later