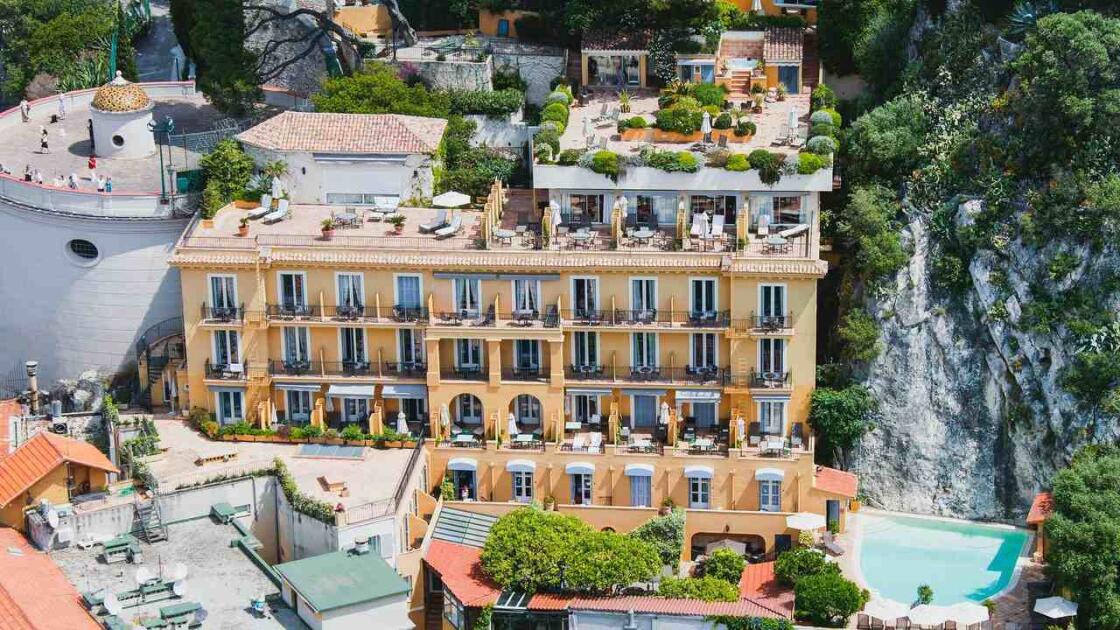 This is our list of the best gay hotels in Nice, a very gay friendly city on the French Riviera.
Do you know the expression, "Nice guys finish last?"
Well, I like to think they made a mistake. I mean, they simply had to have been referring to Nice guys because, honey, I promise you will always be put first when you're with one of them. It's all that southern hospitality!
Seriously, no matter where you turn on those beautiful, historic streets that wind throughout the city, you will be met with an abundance of friendly faces and welcoming establishments. Despite its lack of a concentrated gay village, Nice still ranks as one of the most gay friendly areas in all of France, which is just a fraction of the reason we love spending so much of our time exploring along its cobblestone paths and sandy Mediterranian beaches. Nice is a multi-faceted location in every way. One moment you can be hitting up a popular gay bar in the Old Town, surrounded by stunning, hilarious drag queens, and the next you can be touring fascinating landmarks and submerging yourself in a lovely blend of cultures and nature.
Even their hotels reflect this complicated balance between the tranquil and the wild, the serious and the romantic. To make easy for you, we put together a list of our favorite places to stay in Nice! So, without further ado, here are our top five gay friendly hotels in Nice. For more, be sure to check out our detailed gay guide to Nice.
DON'T MISS OUT!
Join our newsletter
Subscribe now to receive in-depth FREE travel guides, along with inspiring stories, savvy planning tips, and exclusive discounts on gay tours.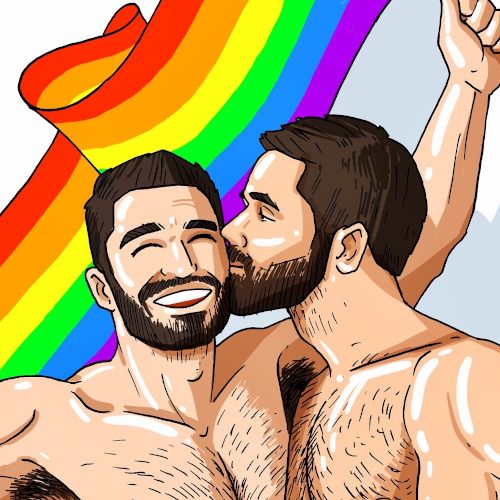 01
Hyatt Regency Nice Palais de la Méditerranée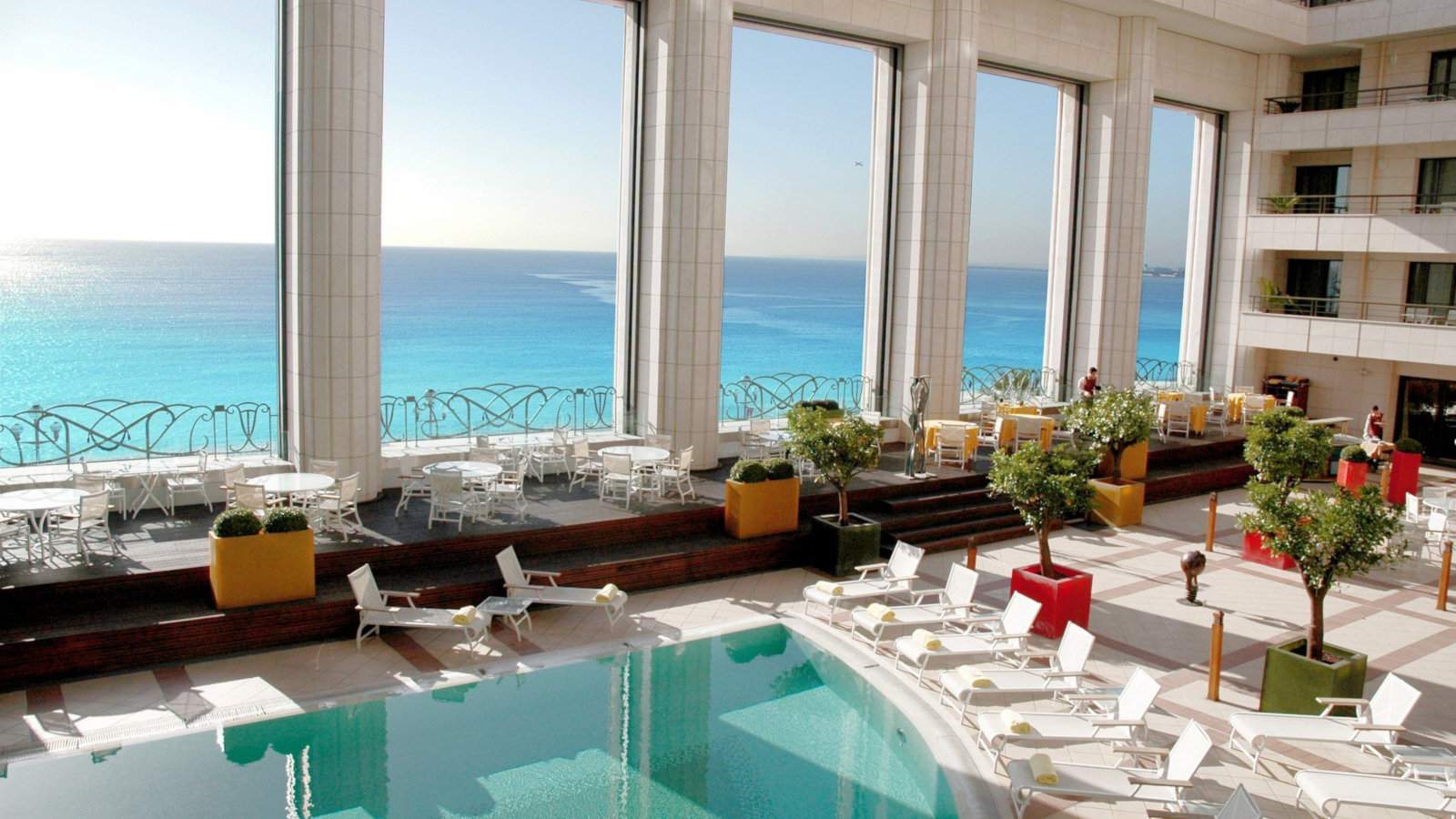 Why we love it
---
The Promenade des Anglais is right outside the front door!
Outdoor and indoor pools that are both unique and HUGE
Delicious meals offered by Le 3e restaurant
An art-deco paradise with such elegant decor!
Imagine this: You're out for an afternoon stroll with your loved one, holding his hand as the gentle, salty sea air radiates off the coast of the Promenade des Anglais and lingers on your face.
Suddenly, you look to your left, and you see a towering, gorgeous castle, complete with wide arches, thick columns, and sculptures reminiscent of the gods and goddesses of Greek mythology. How awestruck would you be? Can you believe that such a place exists in real life? Because it most certainly does!
The Hyatt Regency Nice Palais de la Méditerranée screams 5-star luxury and is a dream for gay travellers who adore all things art-deco. This gay hotel may be on the expensive side compared to the others on our list, but it more than makes up for the high price point with all of its amazing services and amenities. Like, I know we already glossed over this, but their door actually does lead right out to the beach! The Promenade des Anglais is a popular hive of activity for good reason, and you will undoubtedly want to spend a decent amount of time enjoying the warm weather by that glistening Mediterranian sea.
However, if you prefer the comforts of a pool to the ever-changing tides of the ocean, the Hyatt Regency supplies guests with two large pools. Their outdoor pool is located on the third floor of the building, so you can enjoy the beach views from a distance. Meanwhile, their indoor pool is secluded, heated, and very atmospheric. If you ask me, I can easily see the hunky sea god Poseidon lounging in either spot, which is a win in my books. The Hyatt Regency also offers gourmet dining experiences at Le 3e, their in-house restaurant. The menu changes with the seasons but is always focused on organic, local products, essentially guaranteeing that you can enjoy an authentic, fresh meal no matter the time of year.
At the end of the day, the Hyatt Regency Nice Palais de la Méditerranée is a near-perfect hotel due primarily to its central location, walking distance to the main gay bars (10-15 min). We're ready to book a room ASAP!
Arriving in Nice soon?
When you're arriving in a new place the last thing you want to deal with is juggling your luggage on public transport – especially if you don't speak the local language! We like to book a private airport transfer with Welcome Pickups to ensure we can go straight to our hotel in Nice without any fuss. Their English-speaking drivers monitor flights so even if yours is delayed, your personal driver will be waiting to whisk you away, so you can just relax and start enjoying everything Nice has to offer.
02
Hotel Ellington Nice Centre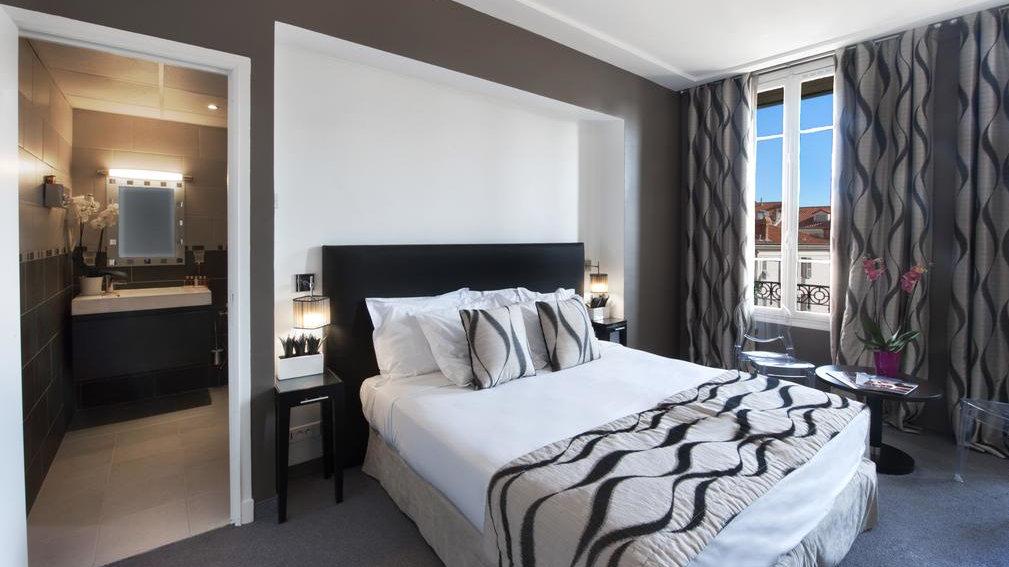 Why we love it
---
Energy and the ambience make you feel like you're living in another era
Live music on the patio each evening
Pick the decor you want in your room
Only a 15 minute walk to the Old Town and the Promenade des Anglais
While the entire city of Nice is a blast to the past with its old buildings and historic landmarks, Hotel Ellington Nice Centre truly transports its guests back in time.
Be prepared for the charm of the 1950s era of France to unfold before you while the swinging sounds of jazz from the 1920s era of New York echo in every hall. No matter where you set foot within this refined boutique hotel, you will be met with a blend of styles and cultures that culminate into one exquisite experience.
Hotel Ellington is named after and heavily inspired by jazz legend Duke Ellington. You can especially feel his presence when you set foot into their bar. During our stay, we found ourselves frequently running into the Duke Bar to enjoy some quick cocktails at Happy Hour. We always promised to leave after just an hour so that we could thoroughly explore the nightlife of Nice, but I can't tell you how often we lost track of time while basking in the soothing piano and the warm furnishings. Once we had resigned ourselves to staying in for the evening, we would usually wander over to the lounge area to enjoy the Niçoise vibes and the cool air streaming in from the patio.
On those occasions when we did make it out to town, returning to our room was always a special treat. Hotel Ellington offers 103 rooms, each decked out in either modern or Louis XVI fashion – always on point for even the most discerning gay traveller! If you're looking to embrace the ambience of the place and perhaps live out some of your royal fantasies, then we definitely recommend the latter (wink). However, we know without a doubt that all of the rooms are spacious, serene, and perfect for resting your head after a long, thrilling day.
Hotel Ellington is located right in the heart of Nice, super close to the gay bars in the old town. It stays busy with tourists and residents alike, meaning everyone wants to be part of this little slice of antiquity!
STAY WITH A GAY LOCAL
Misterb&b is the Airbnb equivalent for the LGBTQ community. Unlike on Airbnb, you know your host is gay, voiding any nasty surprises when you check-in. It is also a great way to meet gay locals and discover the underground gay scene. Click below to get 10 € (or $10) off our first booking.
03
Hotel La Perouse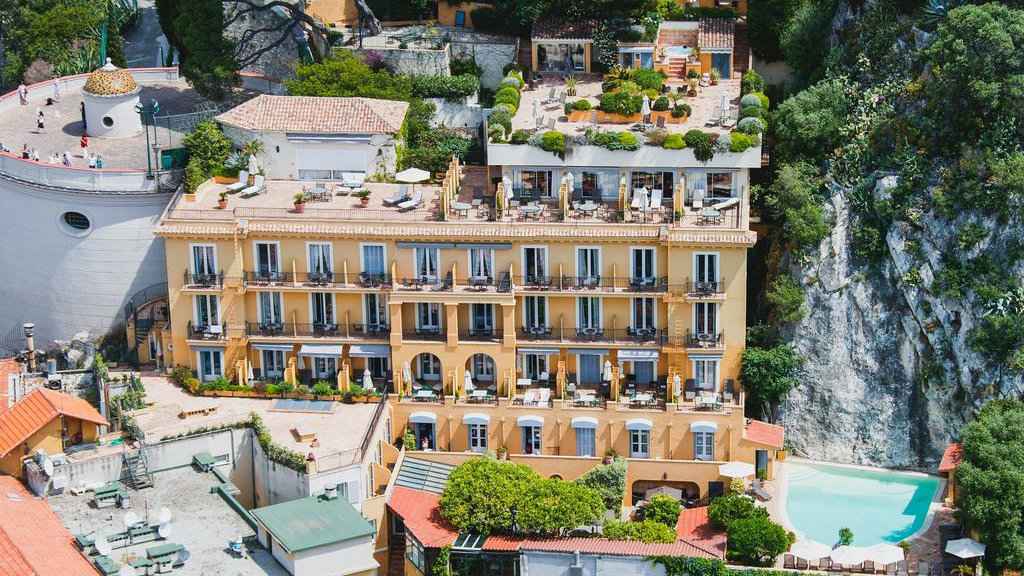 Why we love it
---
Private, gorgeous location that overlooks the beach from up high in the cliffs
Only 56 rooms so it's fairly personable but not too tight-knit
Exquisite meals at Le Patio restaurant surrounded by equally exquisite Mediterranean nature
Isolated but not too far from town
While Hotel Ellington is known for living in the heart of Nice, Hotel La Perouse is known for existing in obscurity as the city's hidden treasure. With an address so private and a setting so obscure, the guests who know about it want to keep the place all to themselves. And rightfully so, in my opinion.
When you find a spectacular hotel that just so happens to be settled into the Castle Hill, overlooking the end of the Promenade des Anglais… It only makes sense to want to lock it down. Treat the hotel how you might treat a good man, you know? Hold on tight and never let go!
You all know that Sebastien and I are both major foodies, so it should come as no surprise to hear me say that what sets this place apart more than anything is its restaurant. Obviously, the food is great. Le Patio serves divine lunches and dinners with a seasonal menu that is based on farm-fresh products. They strive to deliver only the most refined cuisine that has beautiful little accents of standard Provençal meals. It's wonderful, of course, but what really helps Le Patio to take the cake is its own unique surroundings. Hotel La Perouse replicates a Mediterranean garden within its restaurant. With centuries old lemon trees scattered about the pavilion, wafting their sweet, fresh scent from table to table, you begin to feel as though you are in a magical, serene space, distant from all worries and concerns of the modern world.
Their rooftop terrace, which doubles as a solarium and garden, delivers a similar feeling. I would also even venture to say that their heated pool, pressed up against a breathtaking rock formation, achieves that same mood. In the end, it seems that everywhere you turn, you are surrounded by a powerful form of nature.
However, if this quiet atmosphere isn't entirely your thing, and you find yourself needing a moment to get away for a bit of lively action, the gay bars of the Old Town are a short taxi ride from the hotel. At Hotel La Perouse, you may feel isolated, but excitement still lurks around every corner!
DON'T MISS OUT!
Join our newsletter
Subscribe now to receive in-depth FREE travel guides, along with inspiring stories, savvy planning tips, and exclusive discounts on gay tours.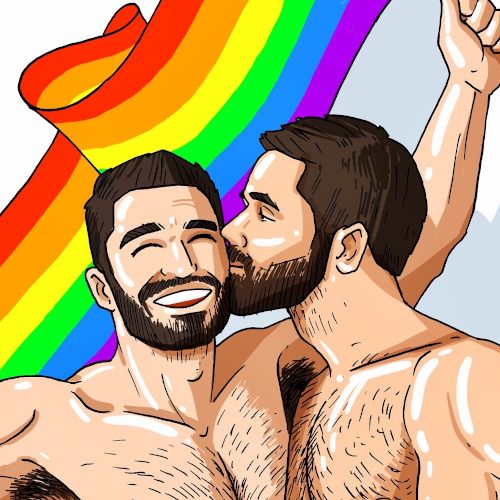 04
Hotel Windsor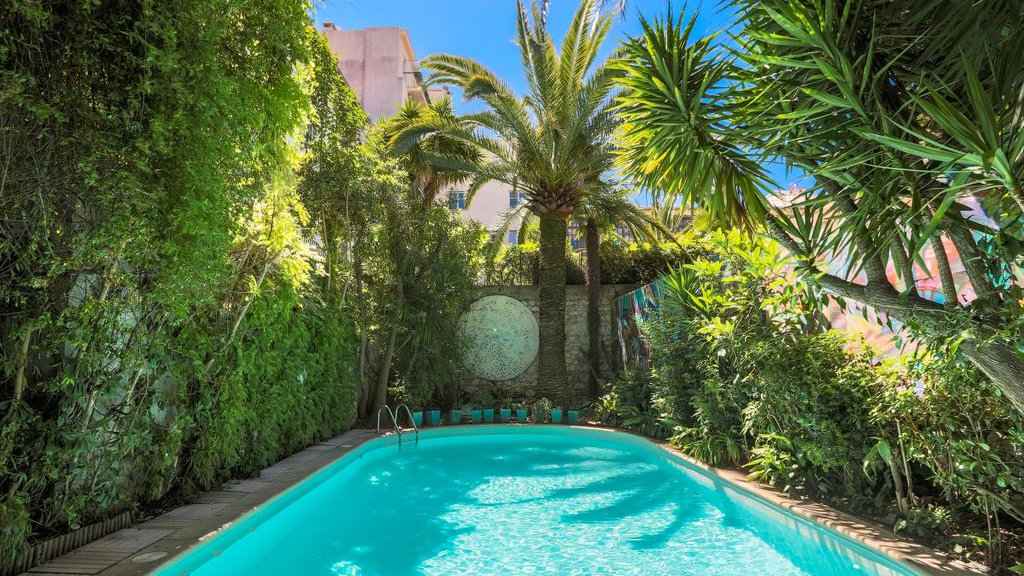 Why we love it
---
Your bedroom literally feels like an art exhibit!
Outdoor garden complete with birds to fill the air with song
Large, outdoor, heated swimming pool
Budget friendly option with plenty of appeal
When an establishment boasts a slogan like "artsy space, hearty place", it is made abundantly clear that you're bound to find warmth and culture as soon as you step through their doorway. We love Hotel Windsor for delivering on this promise of community found through artistic expression. It's one very gay friendly hotel in Nice that we adore!
At the Hotel Windsor, you are so surrounded by works of art that you begin to feel like you are a part of the pieces you find scattered about the building.
Their bedrooms are without a doubt the most impressive feat of artistic achievement. This family-run hotel offers 32 artist rooms and 25 fresco rooms, each one completely different from the last. Some rooms provide traditional or romantic artistic takes while others are far more contemporary and modern. If you're anything like me, the idea of spending the night in a high-class museum has always been an interesting thought. I already know that I'm going to want to drag Seby out here to try every single room with me!
Despite giving such a fun, exclusive space to their guests, the price of a night at Hotel Windsor is more than decent, especially when you consider their other fabulous amenities. Their in-house restaurant, for example, features fresh, organic veggies and a variety of common Mediterranian foods, but it also acts as another one-of-a-kind exhibit that changes each year. The habitat encompassing the hotel only adds an extra layer of appeal. The outdoor garden feels much more like a tropical jungle oasis, and with magnificent, exotic birdsong to wake you every morning, getting out of bed feels like a refreshing reward.
Hotel Windsor is certainly a special place full of surprises. If you're a lover of all things introspective, reflective, and thought-provoking, pack up a couple of your favorite books and escape to this stunning retreat.
05
Villa Kilauea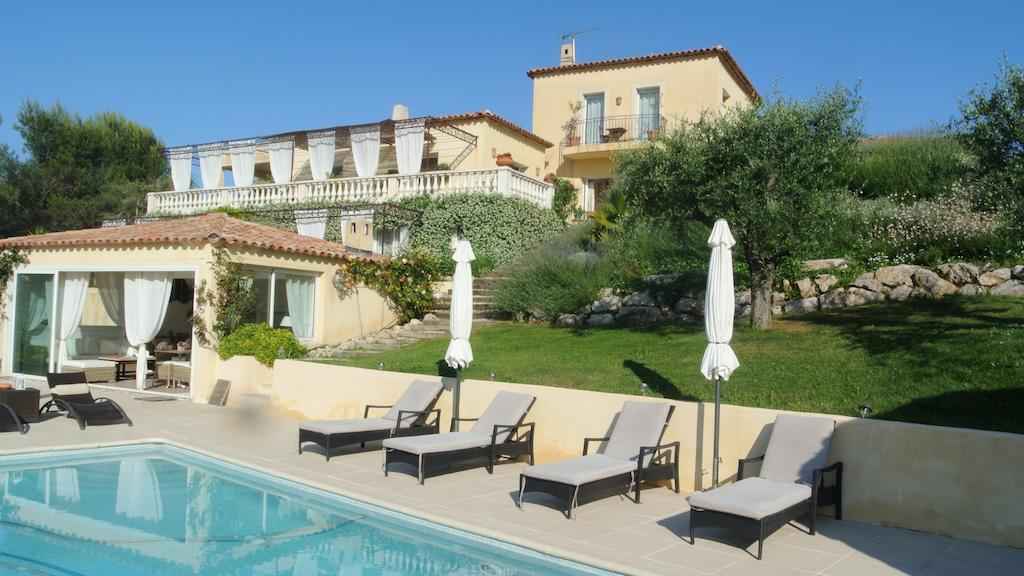 Why we love it
---
Embracing the French countryside whilst still being close to the city
Wonderful welcoming hosts, and a cute pup!
Beautiful views everywhere
Independent access to private terrace rooms
Since we've mostly covered larger hotels and boutiques up until now, Villa Kilauea offers a new perspective as an impressive bed and breakfast set deep into the hills of Nice.
Once you stay at Villa Kilauea, you will certainly know the meaning of southern hospitality. Couple Nathalie and Gerard host plenty of gay travellers throughout the year, but they still strive to deliver fantastic service for each and every person who enters their home.
With only four rooms on the property, they, along with the other guests, will begin to feel like lifelong friends as you bond over amazing, freshly prepared breakfasts and breathtaking, panoramic views across the hilltop villages of Nice. Also, for any animal lovers, the hosts do allow their dog to stay on the property, and she will almost definitely be coming to visit you for snuggles and snacks at least once during your stay. She's super friendly, and honestly, very relatable. I mean, venturing out to see people just for a bit of affection and food? She's living her best life. I'm only slightly jealous!
Okay, actually, I might be a little more jealous than I'm letting on since the dog gets to live in this charming B&B year-round. Despite being a good distance from the major hubs of activity, Villa Kilauea still buzzes with the energy of the city. With a lush garden featuring many plants protected by the EU and a huge pool that faces out across historical homes and landmarks, you observe the spirit of Nice both close up and at a distance. However, if the idea of being away from the hustle and bustle of the town makes you feel a little claustrophobic, don't panic! Old Town and the Promenade des Anglais are both just a 15 minute drive away. Plus, as an added bonus, you'll be situated much closer to the glitzy, glamorous city of Monaco, which we highly recommend visiting during your trip.
Villa Kilauea stands as a dreamy, timeless gay friendly getaway that is welcoming to all. Save me a spot by the pool because I'm sure ready to drink some rosé and bask in some contemporary comfort!
DON'T MISS OUT!
Join our newsletter
Subscribe now to receive in-depth FREE travel guides, along with inspiring stories, savvy planning tips, and exclusive discounts on gay tours.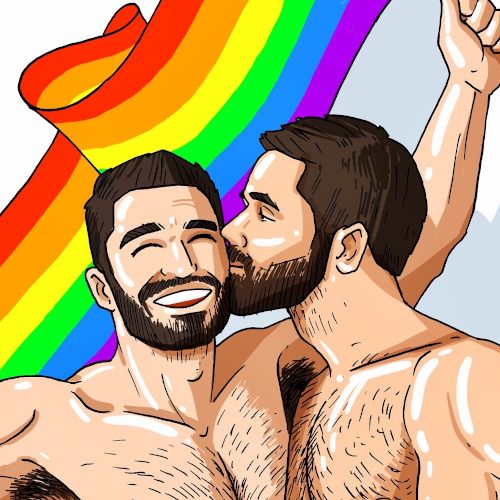 ---