We always feel drawn towards Nice.
Sure, Paris is nice, but there's something particularly magical about Nice. Perhaps it's the beach location? Or the clash of Mediterranean and Italian influences that intertwine with its culture? Or the winding streets that lead you by old buildings, bespoke restaurants, and fascinating landmarks. Maybe also 'cause it's so surprisingly gay? Whatever it is, we just can't get enough! As far back as the 1700s, rich folk from all over Europe came here for their holiday. It was their relaxing getaway…and now, we're also claiming it for us!!
With sunshine all year round, you can't go wrong with choosing a trip to Nice. This is one of France's top french cities. Its seaside location is a massive pull for tourists, and its sprawling, albeit surprisingly modern city, is truly breathtaking!
The food, in particular, is noteworthy. We know the French love their food, but Nice is on a whole other level. They have the whole southern hospitality thing down. Seb and I could literally sense that the chefs in each restaurant pored over every aching detail of the dishes they prepared for us. The hard work really shows!
This is our gay travel guide to Nice including the best gay bars, clubs, events, hotels, and more.
How safe is Nice for gay travelers?
Simply put, Nice is a very gay-friendly place. We'd rank Nice up there with Paris as the most gay friendly city in France – a country we rate as being one of the most gay friendly countries in the world. In relation to LGBTQ rights in France, Homosexuality was decriminalized back in 1795 in France, making it one of the first countries in the world to do so. Since then, the French have adopted a laissez-faire attitude. They just like to keep to themselves and have a mantra of minding their own business.
In Nice, we noticed many same-sex couples kissing and holding hands in public, particularly around the Old Town. There are also various LGBTQ events throughout the year, so gay folk across Nice are made to feel thoroughly appreciated. With loads of gay bars and clubs across the city, there are so many safe spaces for LGBTQ people to hang out and be their fabulous selves.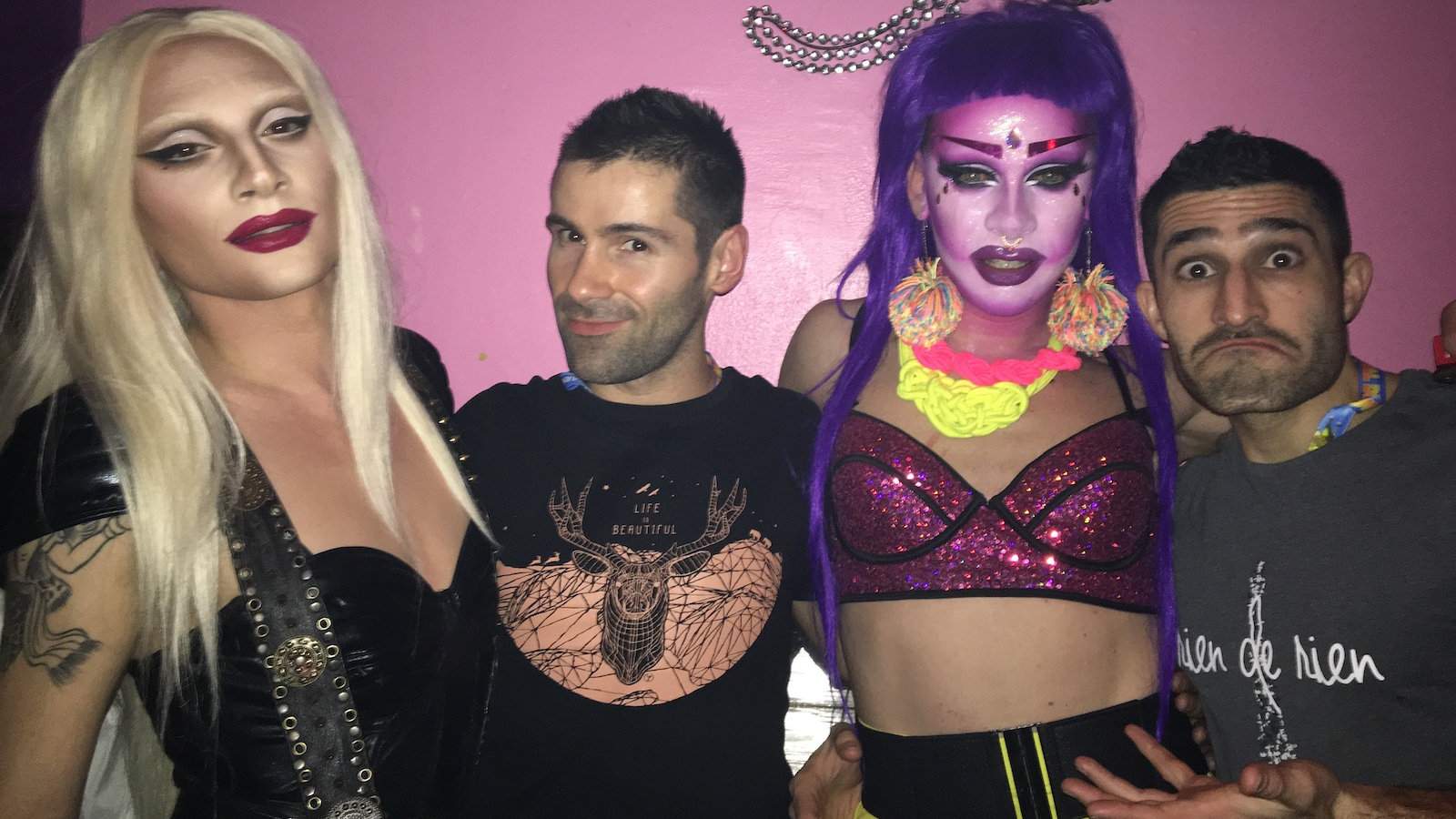 The gay neighborhood of Nice
Whilst there is no concentrated gay village in Nice, many of the best hangouts are located in and around the Old Town. Each night, loads of gay clubs and bars swing open their doors to LGBTQ patrons and paint the town with glittery magic. The best part is that they are all close to the must-see sightseeing spots in Nice as well.
We also found it particularly surprising how good the drag scene is. We found lots of awesome bars that proudly show off fierce queens voguing the house down and lipsyncing for their lives. So, if you're a lover of drag, a visit to Nice is well worth it!
Getting around the city is easy. With car-sharing options and bikes for rent, you can take control of moving around. Those who'd rather opt for traffic can take advantage of the bus or tram services. There are over 40 routes that pass through the city, making it simple to get around. You can also simply walk to most places if you're staying in the city center.
Gay hotels in Nice
Comfy beds? Yummy breakfast? Luxury? Local? Close to the action?
All of these factors cross our minds when picking out the perfect place to stay. Factoring in our budget and the amount of time we have, we feel like we have to resort to some kind of Pythagorean theorem in order to make a decision that works, especially when embarking on a place we've never been to before. Luckily for you, we've already scoped out Nice and laid down a list of some of our favorite places to stay.
For more inspiration be sure to check out our comprehensive guide to the best gay hotels in Nice.
01
Hyatt Regency Nice Palais de la Méditerranée
If you find yourself stuck for choice between the hundreds of food places across the city, then you could do much worse than the Le 3e restaurant. The chef has crafted an exceptional menu that combines the best attributes of Mediterranean cuisine. Fresh veggies, spicy dishes and delicious seafood, we personally couldn't get enough.
From all the eating and snacking you'll find yourself doing it, you'll be relieved to know there is a fitness centre in the hotel, with great cardio equipment. Or maybe you won't be so happy with the idea of exercise staring you in the face as you try and enjoy a relaxing holiday. But there's always the amazing rooftop swimming pool to get some laps in while enjoying views across the beach.
There's also an indoor swimming pool, a hammam, a sauna and even a casino on-site. In terms of the area, there are tons of local shops and cafes to pop in and out of. Cultural fans will love visiting the Matisse Museum, which is practically on the hotel's doorstep.
02
Hotel Apollinaire Nice
The Poet's Lounge gives off a similar vibe. This is where guests can relax over a book or socialise over a board game, perhaps with a drink in hand. Plus, if you fancy a drink outside, in the basking sunshine, then the patio area serves you that fantasy. With dim lighting, wrought iron tables and chairs, and silver tiled flooring, it has a truly unique ambience. During the summer months, bands often play out there, so it's a nice play to kick back your feet and soak in the melody.
Close by is a string of other bars and restaurants to choose from. There is also the Modern and Contemporary Art Museum, Fine Arts Museum and Matisse Museum, so you're basically spoiled for choice with things to do.
03
Blue Angels Gay Bed and Breakfast
It's fairly lowkey. After all, it's just a B&B so don't come expecting crazy parties and long nights dancing in the halls. There are only two guest rooms – though these are spacious and very comfortable. They are quite simple, with a comfy queen-size bed and some furniture.
The sweetest part of this experience is in the morning when loving couple (and owners) Jean-Michael and Philippe fuss and fawn over you. Serving up an amazing scrumptious breakfast, it will truly prepare you for a busy day of sightseeing.
The guesthouse itself is close to all the main attractions. The nicest part about staying in a B&B is that you can get all the real tea on the best things to do in the city. You'll just know you can really trust everything they say or recommend. Plus, there is the chance to have a genuine connection and banter with the hosts who share your everyday experience as a gay person.
04
Villa Saint Exupery Beach Hostel
It also has a great common area, with TVs, ping pong table and lounge chairs, so you can chill out and meet fellow travellers. There's a bar as well that offers up a range of tasty drinks and scrumptious food. Villa Saint Exupery really knows how to spoil their guests!
At just 20 metres away from the main square in Nice, you'll have no excuse for not hitting up all the main tourist sites. Bars, restaurants and shops galore, you'll be relieved that you only have to move a short distance at the end of the day before collapsing into your bed.
The hostel also provides free walking tours of the city. This is great to do on your first day to get a sense of the city and pick out the spots you want to visit first. Though with such a central location, you'll be able to see so many notable places right from the doorstep.
Gay bars in Nice
It's time to socialize! Whether you are parching for a cocktail, or simply in need of some good 'ole draggy fix, Nice has plenty of options for a fun, LGBTQ-centric night out. Sure, it won't have quite as many options as Paris, but for its size, Nice is surprisingly bursting with choices for gays to go to. You can join a night-time tour of the best gay bars in Nice if you'd prefer to have a local guide to show you around. If you're exploring by yourself then here are some true gems. Note the iconic gay "L'Insta Bar" in Nice did not survive the pandemic and has closed its doors for good.
Red by name, red by nature… This bar takes its love for the colour red to the extreme! With walls splattered in bright, neon shades of red, LED screens that play the hottest music videos and gorgeous queens walking about the place, this place feels like the inside of a demon lair. If Hell looks like this, then take us there! There is also a lovely sit-out area where you can have your drinks and watch the world go by. Speaking of drinks? They are delicious, and the staff are always beyond welcoming. Perhaps to compensate for the sharp tongues of the drag cabaret acts. With superstars like Saphyre and Tatyana performing in front of crowds on the weekends, no one is safe from their sassy quips and eleganza! You could say they will re(a)d you to filth! The Red Kafe is located at 9 Rue Halévy and is open every day from 6pm – 2.30am.
Give our regards to Broadway! As there is no business like show business. Fans of musicals and all things stagey cannot pass this bar up. With cabaret nights, drag acts impersonating Golden-age divas and lots of throwback tunes, Le Cave Wilson feels like a portal that brings you back to the 1960s. The interior is truly unique as well, with chandeliers and walls covered in old movie advertisements and actor headshots. It takes the piano bar vibes that you expect to come across in New York and finds a way to make it deliciously French…think Barbra! One of the best drag acts sees a fabulous Streisand impression, a la 'Funny Girl'. Though if you prefer modern-day queens, just know that Gaga often makes an appearance as well. This was just a fun night all around. Light entertainment, cheap drinks and quintessentially glam! Located at 16 Rue Gubernatis, La Cave Wilson is closed on Tuesdays and Wednesdays, otherwise, it is open from 6pm until 12.30am.
The inside of this bar looks like Scary Spice exploded! The walls are plastered in leopard print, which somehow works being paired with fresh flowers in glass vases, swinging chandeliers and an exposed brick roof. This truly is one of our favorite interiors to a bar that we've seen – definitely the most unusual. Getting past all that to what you really want to know – yes, the drinks are fab! And yes, the bar staff are cute! We particularly recommend trying some of the wine – you know us for our love of Pinot Grigio! The bar is relatively small, though this just means that it is a great place to go for a chilled evening. We stumbled upon on it whilst exploring the Place Massena and the old town. It's hard to miss. The outside has the name splashed across a sign, with a background painted in swirling rainbow colours. Located at 1 Rue Alberti, Le Couloir is open every day (except Monday) from 6pm – 1am.
In the mood for some bad singing? Well, you're in luck – as Le Swing throws the most fabulous karaoke in all of Nice. After a few drinks and a wink from the resident drag DJs, anybody can feel confident to go up and channel some Whitney! Tuesday nights are when you can find their karaoke event on. On other nights you'll find drag shows with fierce and sassy performers voguing the house down. These French queens love their Europop, so look forward to loads of cheesy classics and Eurovision favorites. Drinks are fairly cheap, and the crowds are always lively and friendly. The glittering disco ball in the middle of the dancefloor leaves its guests bathed in flashing light and feeling ultra-camp! Located at 10 Rue Defly, Le Swing is open from 6pm – 2.30am.
Gay clubs in Nice
Some like a quiet drink. Some love a crazy night of dancing. We're fans of both – but there is really nothing better than undulating around on the dancefloor beneath the flashing lights of a good club.
Nice has a handful of excellent gay clubs which are always a lot of fun. They can mainly be found in and around the Old Town, surrounded by historic buildings and artsy eateries. Remember you can always join a night-time gay tour with a local guide to take you to all the gay hotspots, but we've compiled a list of our favourites around the city here as well:
It's only open three nights a week, but boy do they make those days count! Le Glam lives up to its name, with rotating glitter balls and the word GLAM projected onto the walls in bright pink. The staff are super friendly and happy to talk tourists through the menu of cocktails. They pack their drinks strong though, so if you're a lightweight you will feel the love very quickly! The bartenders are also very flirty, so be careful with your heart, they're just doing it to be nice. It can get a bit hot on the dancefloor, so dress light and keep hydrated. Then let the music carry you away. The DJs here are fantastic and play all the tracks that we gays love. Plus, some classic tunes from back in the day. Located at 6 Rue Eugène Emmanuel, Le Glam is open Friday – Sunday from 11.45pm – 5am.
Fans of snakes and ladders will love this place. A dance floor that is only accessible by climbing up a little ladder adds a dash of uniqueness to this place. Sure, it might seem a bit dangerous at first, but it's all in good fun. It's small, though this allows for a more intimate setting. The music is fabulous, the drinks are great, and the crowds are a mix of old and young. There is also some great drag-tainment, with fierce performers like Holly White taking to the stage in all their androgynous fabulousness. It opens at 10pm, and usually can be quiet for the first while. But come midnight and the place is popping. No Cinderella to be found here. All the queens from around the town come flocking to the party! Le S6 Club is located at 6 Rue Raoul Bosio and is open from 10pm-5am Tuesday – Saturday.
Are you a night owl like us? Or simply having trouble getting to sleep from all the excitement of being in Nice? Le Klubber has answered your prayers. It only opens its doors at 5am and closes them at 10am. We love pulling all-nighters, but this pushes things to a whole new level! You'll be having coffee and pancakes as a nightcap after you leave. The club itself is hardcore – it would have to be considering how late it opens! Techno music blares from the speakers, guests strip down to their underwear, whilst others roam around in leather gear. This is a place where you can push boundaries. Also, if you have been out all night, namely at L'Oméga Club or Red Kafé you can get a €5 discount at the entrance of Le Klubber! Located at 14 Rue Benoît Bunico, Le Klubber is open Saturday – Monday from 5am – 10am.
Low ceilings, bright lights, hot guys. L'Oméga is an intimate, yet fierce night out. A night here is exciting, adrenaline-inducing and unforgettable. It's a lot darker than other clubs we've been to in Nice, yet this only adds to the electrifying atmosphere. The flashing, neon lights echo the rave halls from the 1990s. The drinks are delicious, and the bar staff aren't bad looking either…The DJs also love a good throwback tune, which only makes the nights even more fun for us lovers of vintage pop. The drag shows here are super campy and fun. They generally happen on Saturday nights, with resident queens battling it out on stage. Located at 8 Passage Emile Négrin, L'Oméga is open from Friday to Sunday from 11.45pm – 6am.
Generally hosted in the High Club Nice, RainboWorld is a fabulous gay event occasionally thrown to paint the town with glitter. These epic parties are rare, so you'll need to keep an eye on the RainboWorld Facebook page to know when the next one is on so you can attend while you're in Nice. But you don't want to miss out as it's an incredibly fierce night with LGBTQ DJs, stunning performances and everyone wearing amazing costumes as they dance the night away. Located at 45 Prom. des Anglais, the High Club is open Friday and Saturday from 11.45pm – 5.30am – but for RainboWorld Events you'll need to check the Facebook page for the next dates.
Gay beaches in Nice
"We're going to the beach-each, let's go get away"…stretching out in our Speedos (or nothing) always feels super liberating. Nothing feels better than filling up on some much-needed D – the vitamin kind!
The beaches of Nice, in particular, are super fabulous, particularly as they form part of the French Riveria. With stunning scenery, gorgeous weather and cool waters, you owe it to yourself to take yourself out of the city for a minute, and pop along to the beach!
St Laurent d'Eze Plage
This is probably one of the most popular gay nudist beaches on the French Riveria though it's notoriously difficult to reach. There are no food places around for miles, so if you plan on going, then pack up a picnic! It gets particularly busy on the weekends, and you can see why. You'll get to absorb some absolutely stunning natural sights. The promenade winds out from the lush, woodland area alongside a gurgling stream, then leads to the beautiful bay with waves that crash into the rocks. You'll never want to leave! Bear in mind, the beach is narrow and mostly made up of stones.
You can reach the beach by taking the #100 bus that travels towards Monaco. You disembark at "Parking St Laurent d'Eze", and just follow the signposted trail until you reach the beach. You'll know you've found the right place when you see loads of casual, naked people all about the place!
Castel Plage
This one is a bit more connected to the rest of the world. Down the track from the popular Plage de Carras, the Castel Plage borders a fabulous restaurant of the same name. We love beaches that are right in the heart of the action like this one. Sure, it's nice to go off the beaten track, but we like the idea of being able to run off and replenish on snacks and drinks whilst sunbathing. This option also allows you to book your own sun lounger, so you can be guaranteed a prime spot to relax, and it's very popular with the local gay population.
Le Plage de Coco Beach
While this one is called a beach it's actually more of a rocky outcrop where you can jump straight into the water or use one of the iron ladders to get in. There are a couple of spots where you can spread out a towel plus it doesn't get too crowded, just some locals and nude sunbathers. There is a first-aid station and a lifeguard around during summer, in case you ever need a little help.
Gay events in Nice
Come when Nice is quiet. Or come when Nice is popping! Throughout the year, Nice has many exciting things happening across the city – and if you plan your trip well, you'll find yourself in the middle of one of the events. From Pride to music festivals, there is something for everyone. This is our list of the main gay friendly events in Nice that we recommend checking out:
When the Nice Carnival comes to town, the entire city comes alive. But did you know the world-famous festival also features an LGBTQ segment called the Lou Queernaval? It's become so popular that each year's event is hotly anticipated. With DJs, musicians, and drag artists performing to large crowds, the streets of Nice are lined with dancing queens, the most fabulous costumes you'll ever see, and gay couples like us happily enjoying the glorious festive atmosphere. It feels like Pride Part Deux!
Spring arrives and so does the Fête des Roses. Taking place at Villa Ephrussi de Rothschild, just outside of Nice, this event has been going strong for over 10 years. The villa welcomes gardeners, horticulturalists, and lovers of all things plants to its celebration of roses and plants. With over 30 exhibitions taking place, visitors can learn and share garden tips, take part in workshops and enjoy a floral-inspired fashion show. Florals in spring? Ground-breaking! There are also stalls set up in the beautiful gardens for people to come and admire exotic plants and beautiful flower arrangements.
Fête de la Musique (June)
The Fête de la Musique is a celebration that takes place every summer solstice on the 21st of June in cities, towns, and villages across France. More than a music festival, the Nice Fête de la Musique is a free event that spills out from the bars and restaurants onto the streets and encompasses every type of music imaginable, from local amateur teen bands to professional classical musicians, to club DJs and traditional folk bands. The best part about it is that it is completely free! It's basically like a giant concert in the middle of the city. In the Old Town is where most of the action takes place, with musical acts for every kind of fan. Or else you can find hidden gems based in the surrounding neighborhoods of the city, where local acts stage more intimate performances.
Bastille Day (July)
One of the most popular holidays across France on the 14th of July, so expect lots of fireworks! Bastille Day marks a celebration of the unity of the French nation during the French Revolution, so it really calls for a party. Most people tend to gather on the Promenade des Anglais, as this allows for optimal viewing of the firework display. Grab a snack or drink and snuggle up with a loved one as the black sky gets illuminated with colorful sparks. Lots of clubs and bars across the city will have their own themed events to mark the occasion. Recent years have also seen commemorative displays take place after a terrorist attack struck Nice on Bastille Day in 2016.
Nice Pink Parade in July/August
This is the official Pride event of Nice. Hundreds and thousands of people flock to the city each year in all of their gay glory. The city has a surprisingly vast LGBTQ scene, with tons of drag artists and queer activist groups coming together to celebrate the festivities. The parade kicks off at 5 pm from St Jean-Baptiste and moves through the Rue de Verdun, the Promenade des Anglais, the Avenue des Phocéens, then Avenue Jean Jaurès, before finally returning to the Museum of Modern Art and Contemporary Art. It all culminates in a "Pink Drink" party at the front of the museum, with awesome DJ sets, singers, and dance acts! It usually happens at the end of July or early August, so expect hot weather. Pack loads of sunscreen, tank tops, and shades! Also, make sure you are drinking lots of water.
Gay saunas in Nice
Whether you're looking for a bit of sleaze or a place to unwind, meet new people and enjoy being in the nip, these are some of the best gay saunas in Nice:
From the arched doorway, with gleaming blue paint and gorgeous stone craft decorating the exterior, you'd be forgiven for believing you were about to enter an elegant government building. Scratch that! Inside, you'll find three floors of sweaty bodies, gurgling jacuzzis and hot saunas. Get it all off and unwind in the steaming rooms of Les Bains-Douches. There's a labyrinth, private cabins, a bar and more to keep you entertained. The staff are friendly, and the entrance fee is cheap compared to other saunas around Europe. Les Bains-Douches is located at 7 Rue Gubernatis and is open from 1pm to 10am every day.
Be the queen that you are and head off to Sauna du Chateau! The clientele here is particularly buff and super sexy. There is also quite a diverse age range, though most guests tend to be slightly older. With sauna rooms and jacuzzis galore, you can end up spending many hours here just unwinding. Holidaying can be a tiring ordeal. Yet the staff at Sauna du Chateau make you feel truly at home. Picture yourself, in a pool, chatting to fellow tourists and locals whilst knocking back a cocktail or two? This is the fantasy that Sauna du Chateau delivers, with a Finnish sauna, Turkish hammam, swimming pool and videos to help you relax. Located at 17 Rue des Ponchettes, Sauna du Chateau is open from 1pm – 8pm every day except Friday, where it opens from 1pm – 12am.
Gay cruising in Nice
Here is a roundup of some of the best clubs for gay cruising in Nice:
Black walls lit up in neon red lights line the corridor as you enter. The words LE CODE are shone across the walls. Burly men in tight leather bondage move ferociously across the room. You'd be forgiven for thinking you'd wandered into a spy film. Throw in all the dark rooms and glory holes, labyrinth and whip cracking, and you'll feel like you're in a Bond movie…'Bondage… James Bondage!' A night at Le Code is exciting. With themed events like naked parties, you'll feel totally liberated after spending an evening here. With toys and whipped cream available at the bar, you'll have all you need to make this visit a truly memorable one. Though don't be intimidated walking in. Curious cats are just as welcomed as eager beavers – and you won't be made to feel bad or uncomfortable if you don't want to indulge in any activity yourself. Le Code is located at 4 Rue Jean-Pierre Papon. It is open from 10pm to 3am Sunday to Thursday, then 10pm to 5am on Friday and Saturday.
The Eagle has landed! Leather daddies, fetish fiends and bears rejoice! The Eagle celebrates you in all your glory. With pulsing, techno beats bouncing through the walls as you walk in, ripped men standing behind the bar and loads of other dudes dancing around in S&M gear, you'll be starkly reminded that you aren't in Kansas anymore. The bar has a "come as you are" mantra. Just have a drink, do some flirting and enjoy the evening. The Eagle Bar isn't for the fainthearted. So be prepared going in. There are loads of hideaways and glory holes to lose yourself in. Also, labyrinths where you could literally get lost. As always, don't be pressured into doing anything you don't want to do. Just be safe and have fun! Located at 18 Rue Emmanuel Philibert, Eagle Bar is open daily, all night from 10pm.
Naked dance parties. Cruising mixers. Boxer nights. There is always something happening at the Morgan Club. We love this place for its carefree spirit. Everyone here is so friendly. The drinks are fabulous, and the music is a little less intense than some other cruising bars in the city. There are even some sexy go-go dancers that really help liven the place up. With a boutique adjoining the bar that sells an assortment of items, from handcuffs to jockstraps, you won't have to worry about coming up short-handed here. After you've stocked up on some items, the next step is finding a hideout. There are private cabins that you can sneak off into, though some don't even make it that far. The best part is, no one really cares. It's all about being free and loving yourself. Located at 3 Rue Claudia, Morgan Club is open from 10pm to 2.30am, Tuesday to Sunday.
Note: Malabar Station has unfortunately closed down. Updated August 2023.
Malabar Station really feels a bit like an underground train station, which adds a unique allure and vibe. It's a nice place to come grab a drink before heading out elsewhere, as it opens a little earlier than other bars around the city and closes early as well. Though don't get us wrong, this place can get a little frisky as well! With dark rooms, cabins and play zones available, this place can become whatever you make it. The carefree nature of the place could make any shy person willing to whip off some clothes and just enjoy some good old fashioned fun. Located at 10 Rue Bonaparte, Malabar Station is open from 6pm to 2.30am Wednesday to Sunday.
Gay friendly restaurants in Nice
When we're not thinking with our hearts, we are thinking with our stomachs! France is known the world over for its food, so the pressure was on for Nice to deliver. Especially since the city prides itself on its unique "Nicoise" cuisine, which is a blend of Italian and French. It did not disappoint! We couldn't get enough of the food in any place we tried. Here are just some of our favorites:
Chez Les Garçons
---
La Route du Miam
---
Olim
---
King Marcel Nice
---
Best things to do in Nice
When you are not busy partying in the clubs or stuffing your face in one of the many food places, you'll, of course, be wanting to explore the city. But what to do, what to do? Well, we've got you covered, and have a list that lays down all the best Nice has to offer to make your trip a memorable one.
Discover Nice on a gay tour
---
Exploring Vieux Nice
---
Promenade des Anglais
---
Cours Saleya Flower Market
---
Matisse Museum (Musée Matisse)
---
Cimiez Monastery (Monastere de Cimiez)
---
Castle Hill (Colline du Château)
---
Parc de la Colline du Château
---
Parc Phoenix
---
Mont Boron
---
Visit Monaco
---
Learn to cook French delicacies
---
Plan your trip to Nice
We've put together some handy hints and tips to help you plan your own trip to Nice. Read on to find out everything the gay traveller should know before they go.
---
---
---
---
---
---
---
---
---
---
---
---
---
Gay map of Nice
Here's a gay map of Nice which includes all the gay bars, clubs, hotels and sightseeing highlights we've mentioned in this post. Use it to plan your own amazing gay trip!
---