My coming out story started out in the late 1990s when the British Queer as Folk version first aired on our screens. Back then, a confused and extremely repressed young teenage Stefan watched in awe as 3 gay blokes, Stuart, Vince and Nathan, went about their daily lives in Manchester's Canal Street Gay Village.
I was flabbergasted! Stunned!
This was the first time I had ever seen "normal" gay guys popularised on screen. It was also the first time I had ever seen gay urban life dramatised in such a way that it felt so real! Finally, that "feeling" that up until this point I had been forced to suppress by the society around me was, in fact, something totally natural. What a relief! I wasn't ill or abnormal. I was in fact part of a large LGBTQ family that also felt the same way. As that young teenage Stefan continued to watch Queer As Folk, he also dreamed: maybe, just maybe, I could grow up and be just like Stuart, Vince and Nathan living so freely in the gay streets of Manchester…
Fast forward a few decades and I'm galavanting down those same historic gay streets, with Seby to hand, together exploring one of the coolest and most progressive places in Europe.
I will always love Manchester!
As well as having a special place in my big gay heart, it has an exciting gay scene, one of the best gay Pride events in the UK and is one of the few places in the world where I feel comfortable walking the streets holding hands with my Seby. It's also super close to London (just 2 hours by train), which makes it ideal for a weekend trip.
This is our detailed gay guide to Manchester following our many city getaways here including the best gay friendly hotels to stay, our summary of the top bars/clubs to check out, some inspiration for the best things to do, and lots more.
Is Manchester a safe city for gay travelers?
Absolutely, yes! For so many reasons.
For starters, Manchester has a young, friendly, and open-minded vibe due to its large student population. With over 100,000 students spread over its 5 universities, they make up around one-fifth of the city's entire population. In addition, Manchester has historically maintained a very strong left-wing anti-aristocratic sentiment. This is where Emmeline Pankhurst started the movement for UK women's right to vote in the 1920s and where famous gay WW2 national hero Alan Turing is from.
In relation to LGBTQ rights in the UK, they are one of the most advanced and progressive, easily making the UK one of the most gay friendly countries in the world. For example, gay marriage laws (civil and religious) were introduced in 2014, there is a very comprehensive set of anti-discrimination laws, LGBTQ people are openly allowed to serve in the military and the right to change legal gender is fully recognized.
Perhaps what speaks volumes about how gay friendly England is: from September 2020 it was compulsory for all schools to teach pupils that different families and identities exist. In short, a generation of schoolchildren will grow up knowing it's ok to be LGBTQ. And nowhere is this feeling of acceptance, tolerance, and open-mindedness better expressed than in Manchester!
Manchester gay village: Canal Street
Most of the gay bars and clubs of Manchester are based along Canal Street and also in the few streets surrounding it. Friday and Saturday nights are the best nights to go out partying here.
Thursday evenings are popular with the local gay sports groups as this is usually the night they go out to socialize. Another tip we noticed: on weekday evenings, particularly on Fridays, the crowds tend to come in two waves: first, the just-after-work crowd at around 5-7pm, and then the second going-out-to-party crowd at around 10/11pm.
The Gay Village is also the focal point of the brilliant Manchester Gay Pride, which is one of our favorite Pride events in the UK. It is the largest annual gay event in Manchester usually taking place in the last week of August.
Gay hotels in Manchester
You'd be hard-pressed to find any hotels in Manchester that aren't gay friendly! This is a city with a large LGBTQ community that sees its fair share of gay travelers. Therefore, booking a double bed is unlikely to be an issue wherever you stay.
These are our favorite gay friendly hotels in Manchester that we have tried, loved, and recommend to you. We have included a range to suit all budgets:
Manchester gay bars
From the moment we set foot onto Canal Street, we have a ball! Manchester has such a diverse range of gay bars to check out whether you wanna hang with twinks, bears, or belt out a few pop ballads in karaoke. We set out some of our favorites below.
Handy tip: if it's your first time in Manchester or you're traveling solo and want to make new friends then we highly recommend the Gaily gay nightlife tour. It's led by a gay local who will show you the best bars and your group will very quickly become your lifelong sisters!
Manchester gay clubs
Wanna recreate those scenes of Vince and Stuart dancing in the fictional Babylon club? That's largely all set in and around Cruz 101 along Canal Street. We've set out some of our favorite ones below, though note that some bars mentioned above (like GAY and Thompsons Arms) morph into a dancing venue late into the night.
If you're traveling solo, we recommend joining a gay night group tour. It's a fantastic way to meet new friends who will quickly become your new wingmen for the remainder of your trip.
Gay saunas in Manchester
Sadly, like most places in the world, the gay sauna scene of Manchester has taken a sharp decline since the rise in the popularity of gay dating apps. However, there remains one gay sauna in Manchester that continues to thrive – the Basement located in the Northern Quarter (the Base in the gay village shut down several years ago). If you're a student (or you like your twinks!) then look out for the student days when under 25 nights can enter for free.
Basement is located a bit further out from the Canal Street Gay Village, up in the Northern Quarter. As such it has a large local/student crowd compared to Base. Basement is open 24/7. Student day here is on Wednesdays. Basement is located at Fourways House, 18 Tariff Street.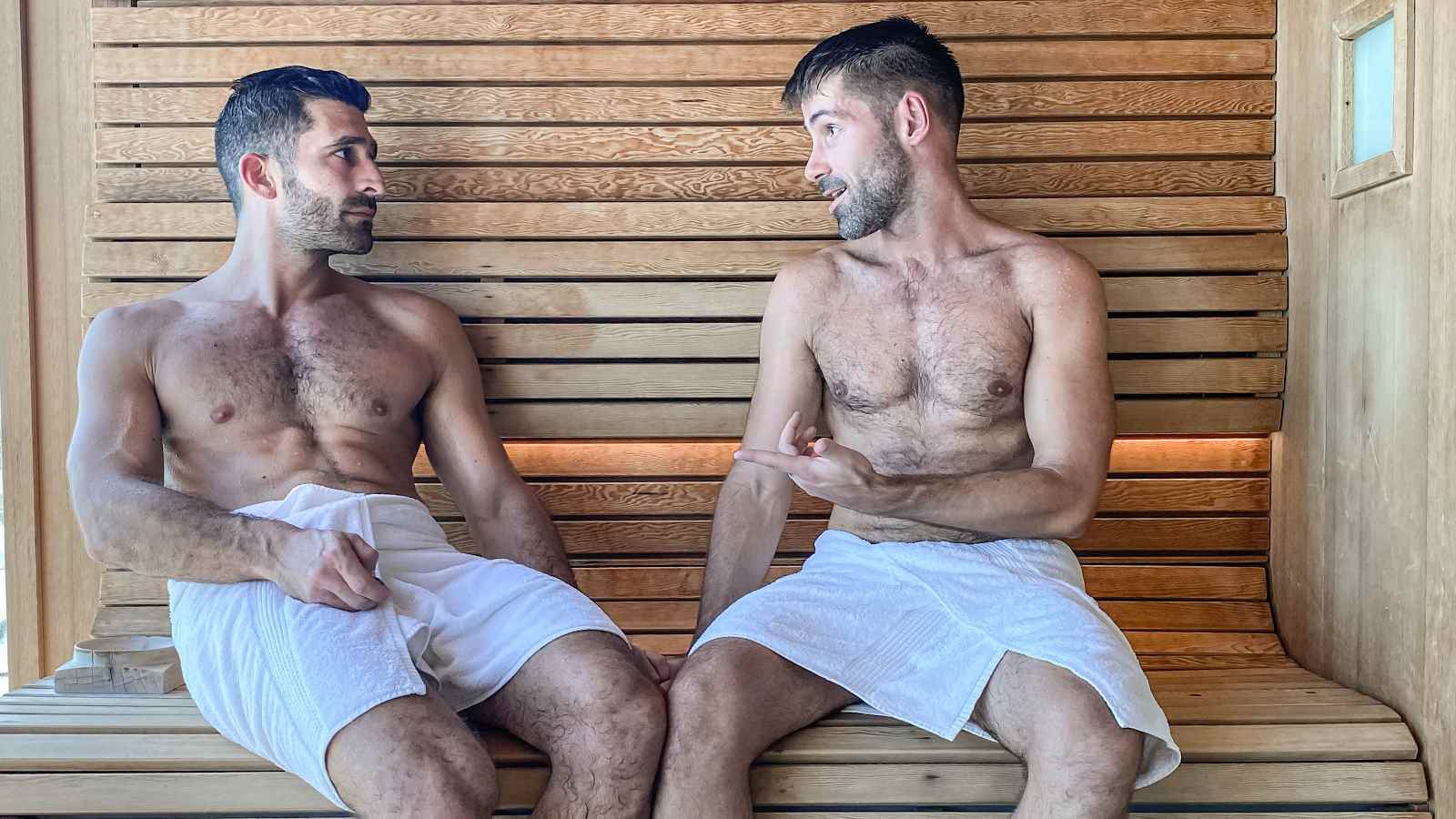 Gay Pride and events in Manchester
Manchester Pride is one of the best gay events in not only the city but across the UK. It's like a well-known set date in the British gay calendar. Manchester is also home to rich drag culture, culminating in the annual Drag Fest in April. The city also has one of the best bear gay festivals in the UK in April/May. Here is our roundup of some of the best gay events in Manchester to look out for:
Drag Fest is an annual festival that happens in London and Manchester every April (except in 2020 when it was moved to September). Note it's not a drag convention but a live music festival that focuses on the love for drag. It usually has 3 stages – one for live events, the second has a panel with lip sync performances, and the third is a comedy stage. It is organized by Klub Kids who also organize other drag events like the "Viva and Baga Show".
The Great British Bear Bash is one of the best gay bear events in the UK. It's organized by the awesome Manbears team and takes place every year on the first bank holiday in May. The weekend includes club nights, pool parties, and sauna-themed events, all for bears, chasers, cubs, and daddies.
Manchester Pride is one of the best gay events in the UK. It's massive, super camp, and tons of fun. Every year it attracts loads of celebrities from Graham Norton, Coronation Street actors, and even the likes of Ariana Grande in 2019. Each year it gets bigger and better with around 200,000 people attending. Manchester Pride usually takes place on the late August bank holiday weekend in the UK (obviously not in 2020).
This is the second major gay bear event in Manchester organized by Manbears. All the main bars and clubs (like The Eagle, New York New York, and Via) get together and host a weekend of parties. For more inspiration about it and for other Manchester bear events like The Great British Bear Bash, check out the Manbears' Instagram gallery.
Manchester's Queer Media Festival in November celebrates everything related to the evolution of queer storytelling in digital media. This includes virtual reality, animation, augmented reality, cinema, podcasting, and mobile filmmaking. The Festival culminates with a joyous after-party on the final day.
Gay cruising Manchester
On the whole, the outdoor gay cruising scene has been damped quite a bit over the last decade by the rise in popularity of the dating apps. Therefore, apps like Grindr, Scruff and Planet Romeo are your best bet for meeting up with guys for a quick spot of hanky panky!
Otherwise, our local Mancunian buddies tell us that the following are still notorious gay cruising spots:
Rochdale Canal: located near Canal Street close to JD Sports, however, police frequently do spot checks and the actual cruising spot keeps changing, so take care!
Rhodes Car Park: gets busy here at night when everything around has shut down.
Sackville Park: busy with tourists during the day coming to marvel at the Alan Turing statue…busy at night with gay boys coming for a different spot of sightseeing!
Gay tours in Manchester
Manchester is a very gay city with a lot of history. There are a handful of excellent LGBTQ tour companies to reach out to who'll be happy to show you round. Here are a few of the best ones:
Gay restaurants in Manchester
Manchester has a thriving foodie scene that continues to get better and better. From under-the-radar local favourites to the city's first Michelin-starred restaurant, you'll find plenty of deliciousness everywhere. These were some of our favourite gay restaurants in Manchester we tried and loved:
Top things to do
Beyond the gay scene, Manchester a lot of fun things to see and do, particularly the comedy scene and a whole bunch of other experiences. These are some of the best things we've done in Manchester following our many city breaks here that we recommend:
Plan your trip
Gay map of Manchester
Here's our gay map of Manchester which includes all the gay bars, clubs, hotels and sightseeing highlights we've mentioned in this post. Use it to plan your own amazing gay trip to Manchester!