TERMS OF USE: There is a chance that some of the content on this page has changed since it was last updated. By reading this article, you consent to our Terms of Use and Disclaimer. Happy Travels!
DISCLOSURE: Some of our posts may contain affiliate links which we may receive a commission if you choose to book something through one of our links.
Our bumper gay travel guide to Vietnam has everything LGBTQ travelers need to know including the country's top gay scenes, best things to do, gay tours, safety tips, and more.
Motorbikes, lush beaches, motorbikes, limestone karsts, motorbikes, ridiculously tasty food, more motorbikes, rice terraces… and did we mention the motorbikes?
That's our takeaway of Vietnam summed up in one sentence. We fell in love with Vietnam and think it's such a rewarding destination for gay travelers, offering an vibrant gay scene in Saigon, a wealth of cultural history to discover, natural wonders like the impressive limestone karsts of Halong Bay, and one of the best cuisines in all of Asia. The Vietnamese people will also charm the pants off you – smart, savvy, charming, super energetic, and can't give a flying monkey's whether you're straight or gay!
Oh and the part about motorbikes? They're everywhere! Almost everyone in the country uses one, which makes crossing the road in big cities like Hanoi and Ho Chi Minh City an experience in itself!
We spent a month traveling in Vietnam, starting in the south in Ho Chi Minh City (Saigon), working our way north to Hanoi (the capital) via Hoi An, Hue, and Da Nang. We loved it and happily return in a heartbeat. This is our complete travel guide to gay Vietnam for LGBTQ travelers with all our firsthand experiences to help inspire you and plan your own fabulous Vietnamese adventure.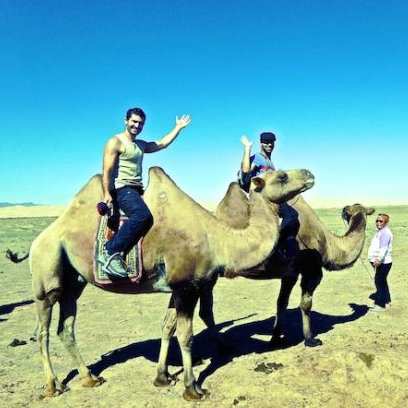 See the sights of Asia on a gay tour
From the chaotic streets of New Deli, India to the quiet zen of Hakone, Japan, Out Adventures' has a vast roster of gay Asian tours showcasing the continent's incredible diversity. Hikers will love their industrious Everest Base Camp climb in Nepal while foodies will naturally be drawn to their signature Thailand tour. Looking to get off the beaten path, you say? Well in our opinion, there's no better escape than Out Adventures' far-flung Mongolian adventure.
Gay rights in Vietnam
When compared to the rest of Asia, Vietnam is pretty liberal when it comes to LGBTQ rights. This is a country that has never had any anti-gay laws in its history. In addition, adoption for single gay individuals is legal and there is no ban on LGB people from serving in the Vietnamese army or from donating blood.
With regard to transgender laws, transgender people who have received sex assignment surgery are allowed to register as their new gender. The government is also set to pass anti-discrimination laws for transgender persons.
In relation to same-sex unions, they were banned in Vietnam until 2015. However, on 1st January 2015, the government passed the Law on Marriage and Family, which removed this ban. This was a big deal because whilst this doesn't recognise gay marriages, it's certainly a huge progressive step in the right direction.
Read more about gay life in Vietnam in our interview with Quan from Saigon.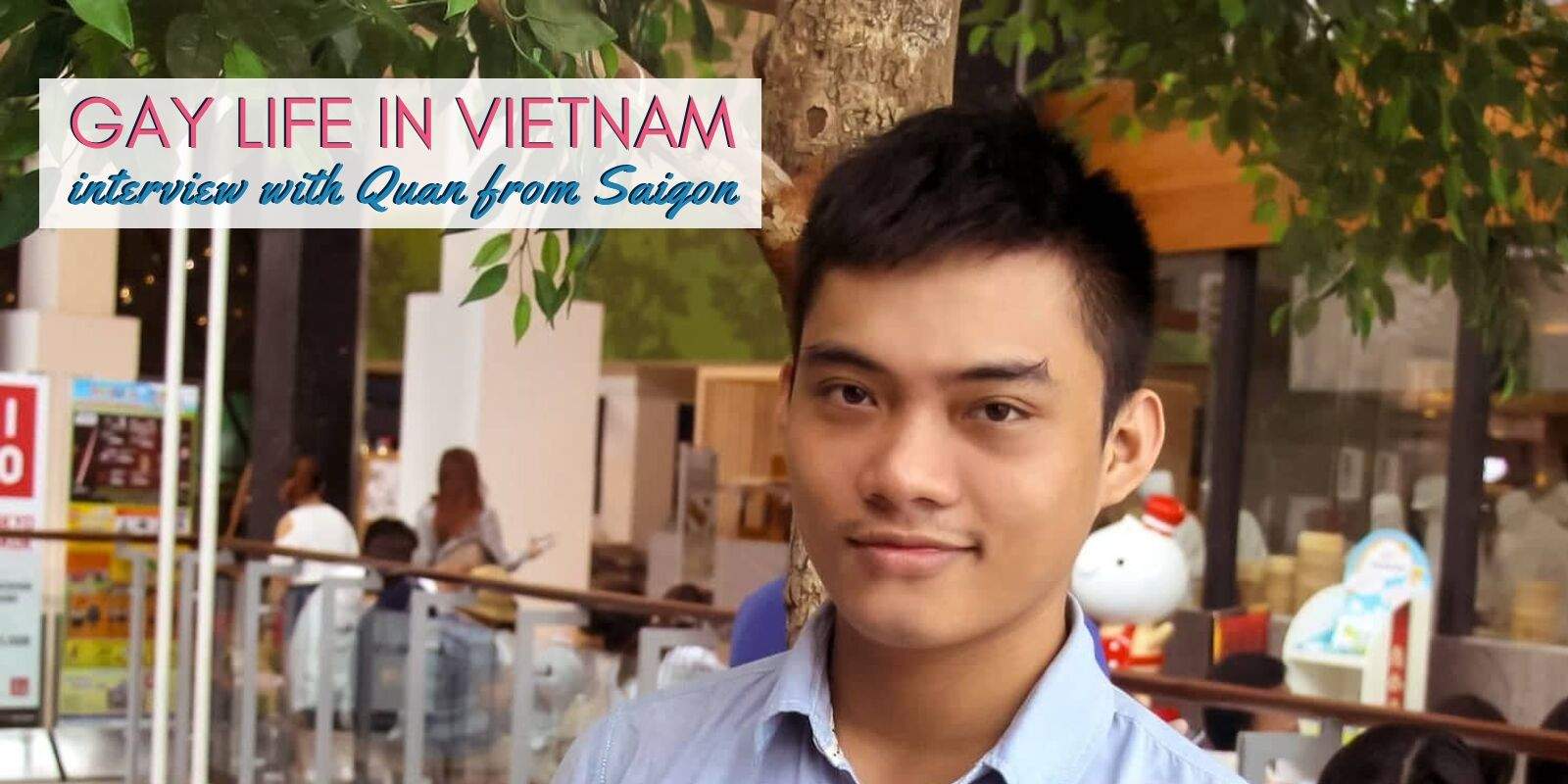 Is Vietnam safe for gay travellers?
We found Vietnam to be one of the most gay friendly countries in Asia with a large, active LGBTQ community, particularly in Saigon.
We felt safe traveling as a gay couple throughout Vietnam. We never had any problems getting a double bed in any of the hotels or guesthouses we stayed at and all hotel staff we encountered had no issue about welcoming a gay couple. At no stage did we ever encounter any homophobia – the only thing was being asked by almost everyone if we're twins or brothers, but we got that everywhere in our travels in Asia.
In terms of a gay scene, the capital, Hanoi, hosts the majority of the LGBTQ events. But when it comes to gay bars, clubs, and parties, it's over to Ho Chi Minh City (Saigon) in the south where you'll want to head!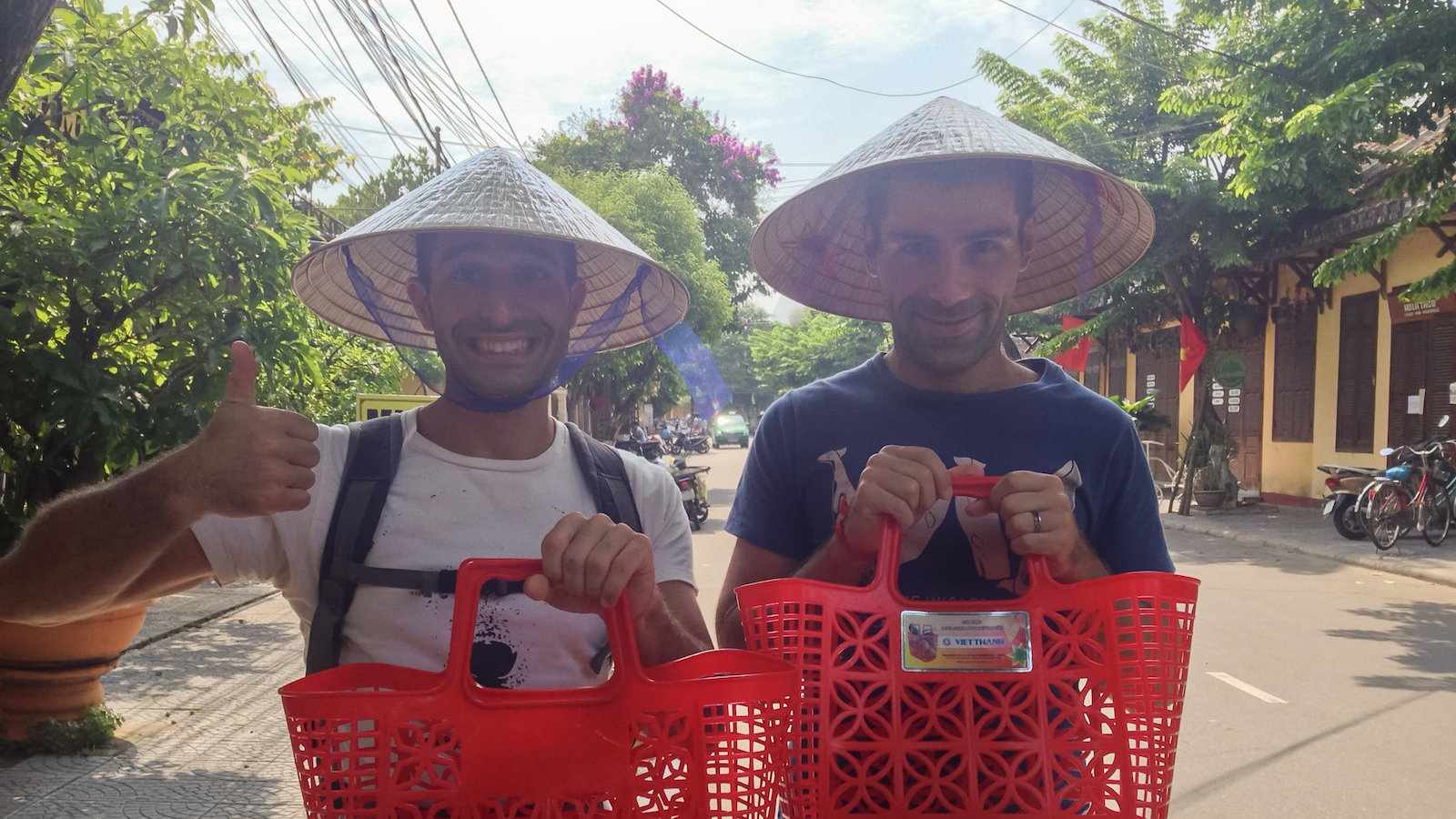 Best gay tours in Vietnam
We love joining gay tours when we're traveling. It's not only a fab way to explore new places, but it's also the perfect way to meet a new group of travel buddies who will very likely become friends for life. Every time we've done a gay group tour we've always left with fantastic memories as well as a new set of friends who we've then met up with someplace else in the world! These are some of the best gay tour companies that offer trips to Vietnam, usually with time in Cambodia included as well.
1. HE Travel Splendors of Southeast Asia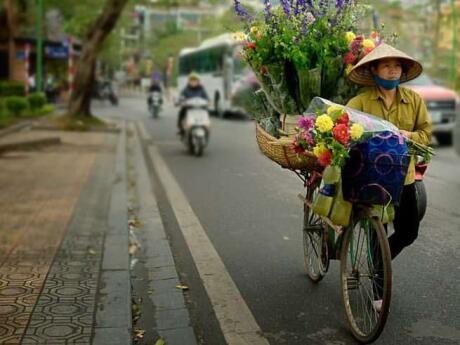 HE Travel is a wonderful gay tour operator that offers an amazing gay group tour of Vietnam and Cambodia, with optional add-ons to also visit Bangkok and/or Laos. On this tour, you'll be able to spend time exploring the famous Halong Bay, sailing on the Mekong River delta, and experiencing the madness of Hanoi and Ho Chi Minh City. Since it also goes to Cambodia you'll even get to see those spectacular sunrises over beautiful Angkor Wat.
HeTravel is offering our readers an exclusive 5% discount valid for any cruise and tour you book with them.
CHECK AVAILABILITY FOR THIS TOUR NOW
Fill out this form to check availability for the Splendors of Southeast Asia Gay Cultural Tour by HeTravel.
You can also contact He Travel directly, but don't forget to mention the promo code NomadicUH5 to get a 5% discount.
---
2. Brand g Vietnam & Cambodia Mekong River Cruise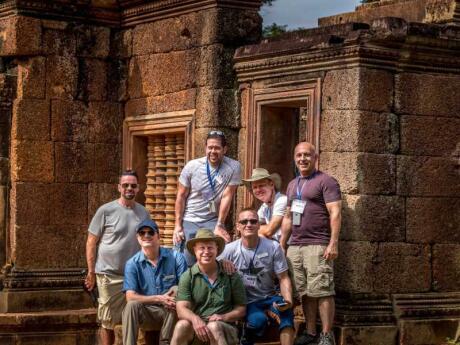 Another gay tour company we love is Brand g. They are organizing a fun all-gay ship charter so you can cruise on the Mekong River in both Cambodia and Vietnam. What's more, the gorgeous Mekong Jewel ship which you'll be traveling on is a luxurious and elegant French-colonial ship that feels like a floating five-star palace. If you want to see more of Vietnam you can also add on an extra trip to Hanoi and Halong Bay.
BrandG is offering our readers an exclusive 5% discount valid for this tour. Fill out this form to find out more
CHECK AVAILABILITY FOR THIS TOUR NOW
Fill out this form to check availability for the Vietnam and Cambodia Mekong river cruise with Brand G.
You can also contact BrandG directly, but don't forget to mention the promo code NOMADICBG at checkout to get your 5% discount off the total price.
---
3. Zoom Gay Vietnam & Cambodia Tour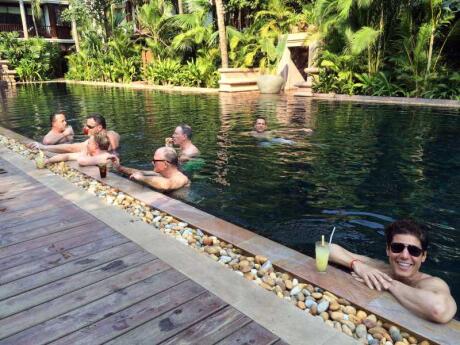 For some true pampering, we can't go past Zoom Vacations' offer for exploring Cambodia and Vietnam in real comfort. This trip sees you staying in only five-star hotels throughout your travels, as well as plenty of exciting excursions and even two complimentary spa treatments. We love how much there is to do on this particular tour, you can take part in a cooking class, learn about making edible rice paper and, of course, see all the most famous sights in these two fascinating countries.
---
Gay travel agent in Vietnam
Out Adventures are a fantastic gay travel company who we absolutely love. They can create your own custom gay tour tailored to your needs so you can simply sit back, relax and enjoy an exciting holiday. With a curated trip like this everything is taken care of for you and someone else handles all the stressful planning. Contact Out Adventures directly to organise your own fabulous gay tour of Vietnam.
Top gay-friendly cities in Vietnam
As awareness and support for the LGBTQ community continues to rise throughout Vietnam, more and more cities will begin to make themselves known as magnificent queer hangouts. Judging from our experience alone, three cities stand out above the rest as being amazingly kind and open to gay visitors.
Ho Chi Minh City (Saigon)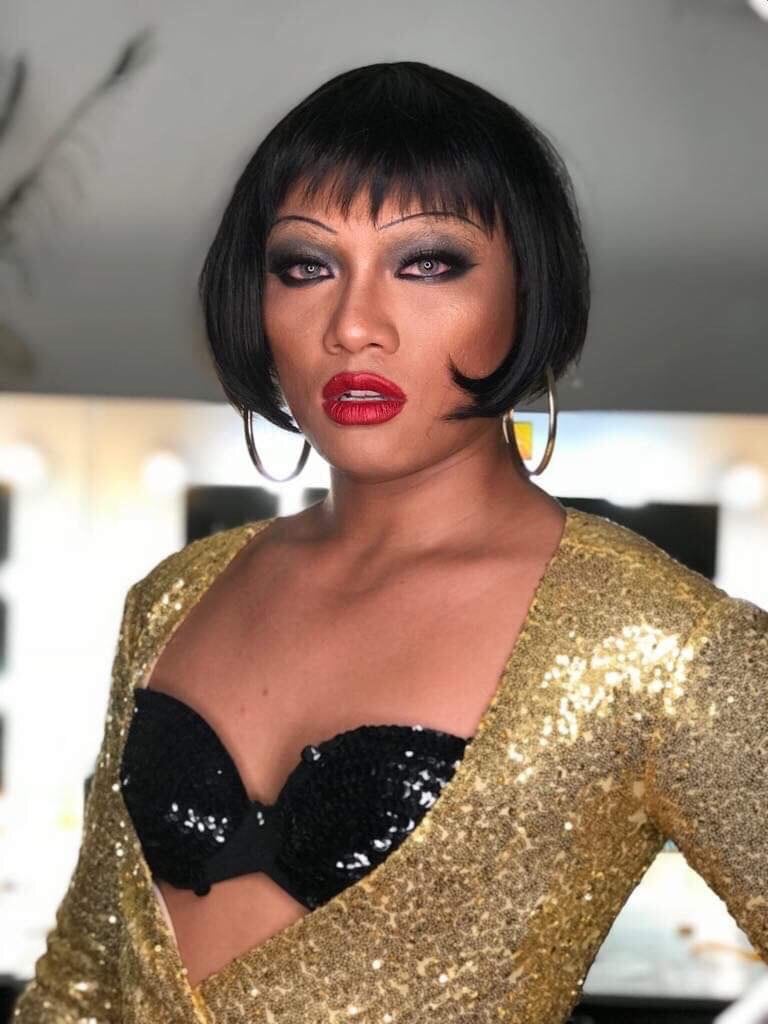 Despite no apparent existence of a gay neighborhood, Ho Chi Minh City remains a phenomenal place for the queer community. Not only are the locals generally tolerant of everyone, but the best gay bars and clubs can be found here including Thi Bar, Pride Cafe, ChinChin Bar, and Papa Cafe. The city stays busy due to its high population and constant influx of tourists, which might be overwhelming for some… but in our eyes, that means more fun!
---
Hanoi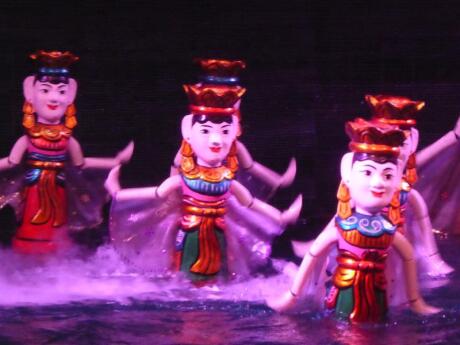 Hanoi is both the capital of Vietnam and the largest city within the country. The destination is changing at a rapid pace to accommodate new travelers, and it shows. While most queer people reach out to others solely through the internet, the LGBTQ scene is growing as fast as the city. Bar GC is the only well-known gay venue around town, but the Hanoi Queer Takeover Parties have recently begun to sweep across the region, inviting people to step out and paint the city with rainbows!
---
Da Nang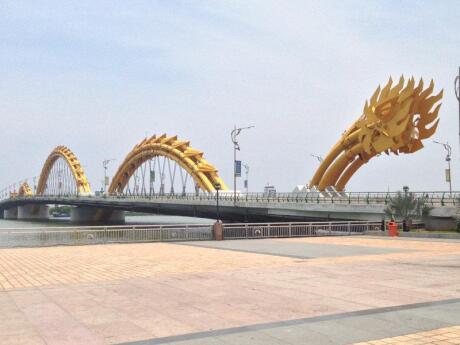 Despite being the third-largest city in Vietnam, tourists have long overlooked the delightful sights of Da Nang. Thankfully, we're here to put an end to that affair! Some of the friendliest people call Da Nang their home, and they truly bring the city to life. While this may not be the best stop for partying, the destination still features a simple set of bars along Bach Dang Street. However, more than anything, we encourage guests to take a step back and appreciate the area's abundant history and nature.
---
Top experiences in Vietnam
For many people, the first image they picture when they think of Vietnam is a road packed to the brim with speedy motorbikes. But, to our relief, the country has much more to offer than bustling cities and busy highways. In fact, Vietnam is a beautiful place with tons of ancient and organic excursions lying in wait.
Halong Bay cruise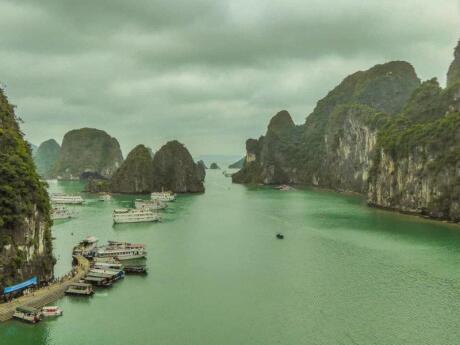 With its status as a UNESCO World Heritage Site, it should be no surprise that Halong Bay is one of Vietnam's most visited locations. Thankfully, there is a simple solution to perusing the Bay's stunning turquoise waters and massive limestone formations: junk boat cruises! You will be able to encounter this natural beauty in a uniquely intimate setting if you join a tour. We highly recommend a multi-day adventure so that you can discover every facet of this dazzling destination through activities like snorkeling, kayaking, and squid fishing.
---
Cu Chi tunnels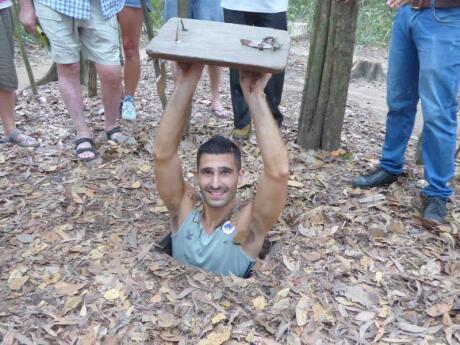 What kind of travelers would we be if we didn't take the time to appreciate historical monuments? Perhaps one of the most fascinating and chilling stops we've made to date is the Cu Chi Tunnels located within Ho Chi Minh City. These underground cavities connected the entire country and served as the primary hub of activity during the Vietnam War. Here, soldiers hid themselves and their supplies, which is an especially incredible feat once you witness the cramped quarters for yourself.
---
Do a cooking class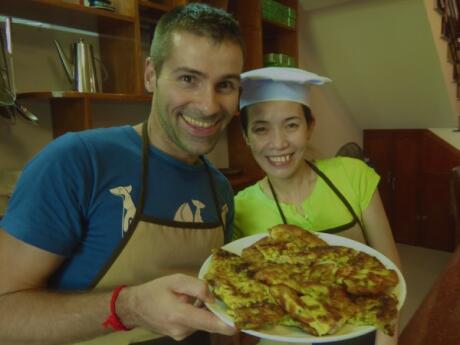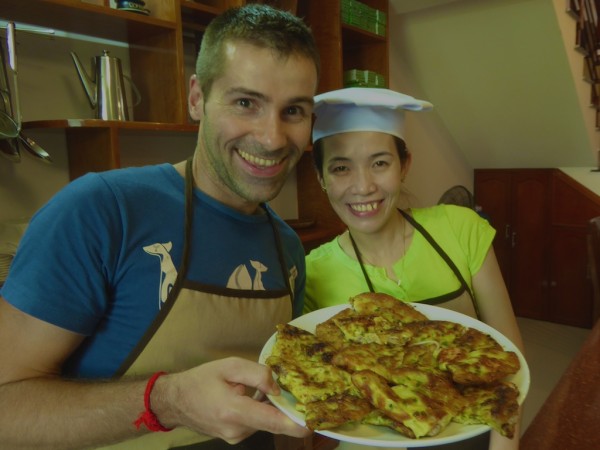 As a rule of thumb, we suggest taking a cooking class no matter where in the world your journey takes you. By learning about a culture's food, you will better understand it. And then, of course, you must consider the added benefits. You can explore marketplaces and farms that might have gone unseen. You can meet new people and participate in a fulfilling group task. In Vietnam specifically, you can prepare delicious bowls of Pho and appetizing plates of Goi Cuon on a healthy farm to table cooking class. It's a win-win-win!
---
The Imperial City of Hue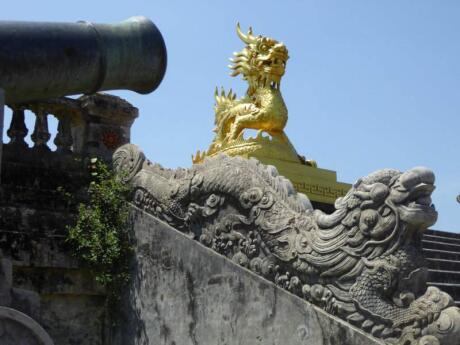 If you're looking for an ideal mix between historical sights, artistic marvels, and exciting opportunities for exploration, Hue has it all. Within this city, there remains a 19th Century Citadel surrounded by a moat and stone walls, ripe for searching. There seems to be a temple, pagoda, or shrine everywhere you turn. On account of the sheer number of important monuments located within Hue, the entire destination has been deemed a UNESCO World Heritage Site. So, hop on a bike and pedal your way through history!
---
Cruise the Mekong Delta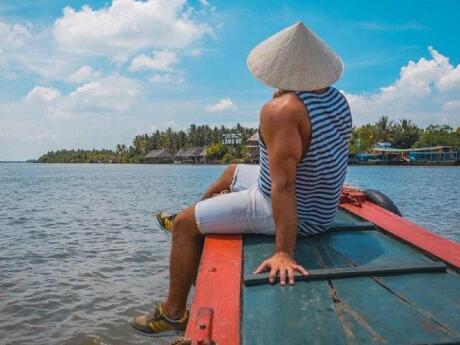 Along the Mekong Delta, the ecosystems are just as diverse as the communities. While most of Vietnam's rice and fish can be found in this region, there are also countless varieties of livestock, fruits, and flowers that flourish here. The citizens of the Mekong Delta are friendly, and their floating marketplaces leave nothing to be desired. We would suggest setting aside a few days to travel along these tropical inlets, if only for the sake of taking in every last drop of the gorgeous scenery.
---
Beautiful Phu Quoc Island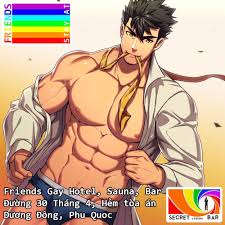 Phu Quoc Island will allow any visitor to live out their wildest dreams! You can hike along trails in the island's national park, scuba dive among vibrant corals, or take in the divine sunset views from the cable car. We personally enjoyed traversing the crowds of the Dinh Cau Night Market, which was crawling with tasty food stalls. No matter how you choose to spend your time on Phu Quoc, there is no denying the sheer beauty of those pristine beaches and lush forests.
---
Hoi An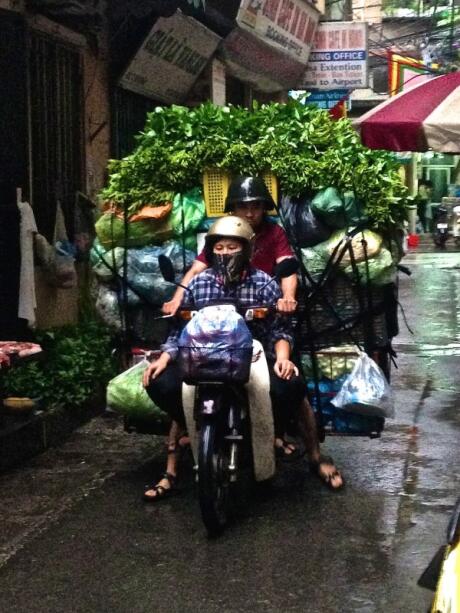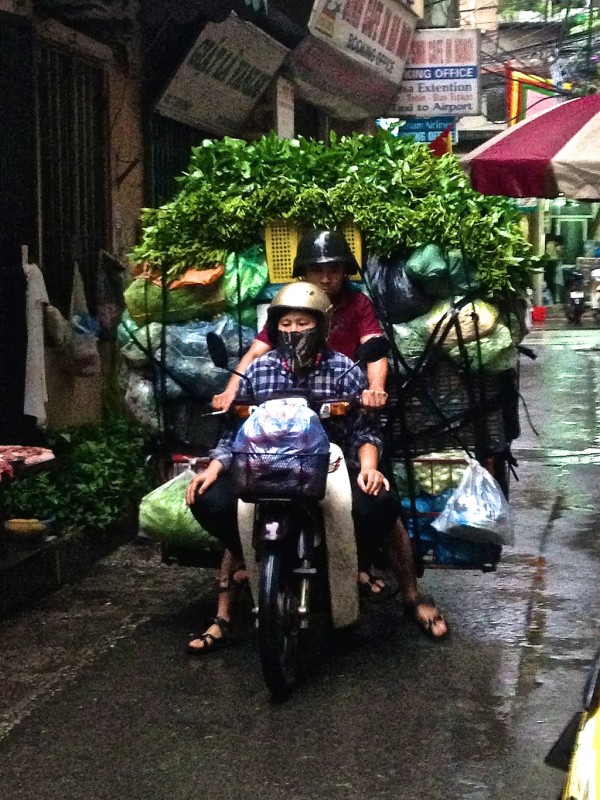 Hoi An is the kind of place that screams rustic charm. The city's Old Town district is arguably the most enticing spot due to its fascinating architecture, some of which dates back to the 16th century. The entire community is well-preserved and continues to reflect the influences of both foreign and native peoples. Whether you're hoping to spend a day mingling between multiple museums, or you're in favor of taking a relaxed stroll around town, Hoi An provides an impeccable environment.
---
Pride and gay events in Vietnam
With a growing understanding and acceptance of the LGBTQ community come gay events! While Vietnam may still be new when it comes to showing off its Pride, the events its citizens hold are everything a gay person could want. They are amusing, entertaining, inclusive, and, above all else, helpful.
Viet Pride serves the LGBTQ community of Vietnam as a fabulous means to take action toward equality. Viet Pride lasts for about three days in either August or September. It flies by with a slew of rainbows, discussions, art exhibitions, and performances. If you can't attend all days of the event, then be sure to find the time to watch the parade of bikes and scooters. We guarantee it will be unlike any Pride you have experienced before!
In 2017, nineteen-year-old Bảo Châu Nguyễn started Hanoi International Queer Film Week to right a few wrongs. Before the founding of this event, Vietnamese films mostly portrayed queer people as jokes or tragedies. Now, members of the LGBTQ community can watch themselves on screen, existing as ordinary people. The non-profit event runs in both spring and autumn with smaller monthly get-togethers in between. The screenings showcase gay cinema from around the globe that revolves around a theme. Who doesn't love having fun and supporting a fantastic cause?
Culinary highlights in Vietnam
One of the best parts about traveling to Vietnam is the food. The preparation is often kept simple to highlight the mouthwatering flavors and aromas dancing across the plate. No matter the time of day, you can expect a fresh yet filling meal to hit your table. Honestly, if we could eat Vietnamese food every day, we might!
Pho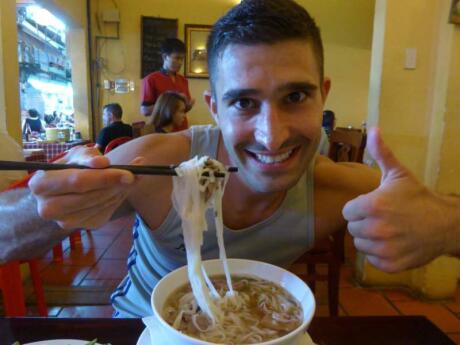 Vietnam's national dish is one held near and dear to our hearts. Seriously, we are complete pho-natics! With its flavorful broth, chewy rice noodles, and everlasting warmth, it's easy to see why the soup has become so popular over time. And best of all? You can find pho all throughout Vietnam. Whether you're entering someone's home, passing by a bustling street stall, or sitting down in a nice restaurant, this delicious meal is everywhere – and always differing in flavor depending on your location!
---
Cao Lau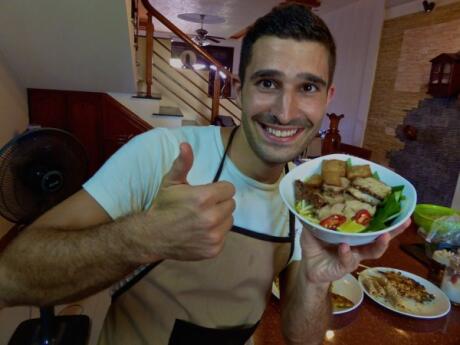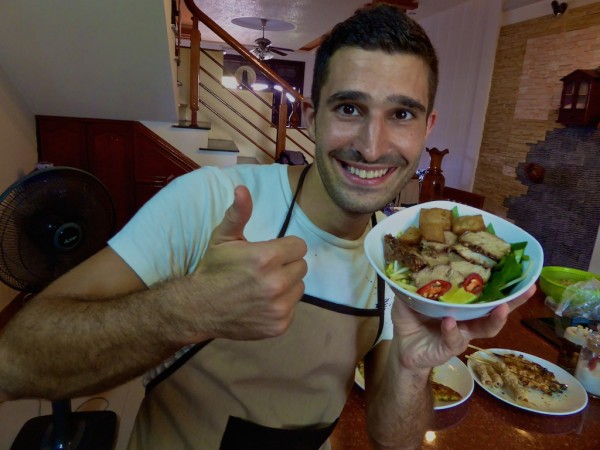 This signature dish from Hoi An will undoubtedly please noodle-lovers far and wide. Seeing as it's his favorite Vietnamese specialty, Stefan will be the first to sing the praises of Cao Lau. The rich broth acts as the perfect accompaniment to the thick rice noodles that have been soaked in ash water from the trees of Cham Island, resulting in a wonderfully springy consistency. The plate is then balanced by savory slices of pork, fresh greens, and crispy fried croutons. Talk about yum!
---
Mi Quang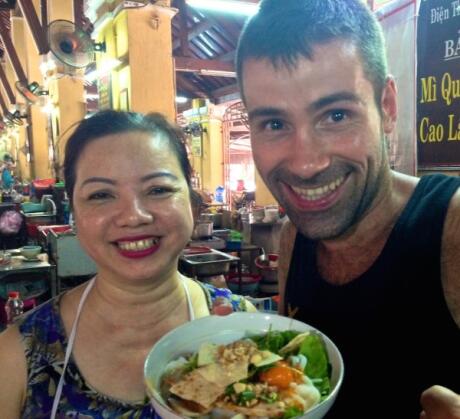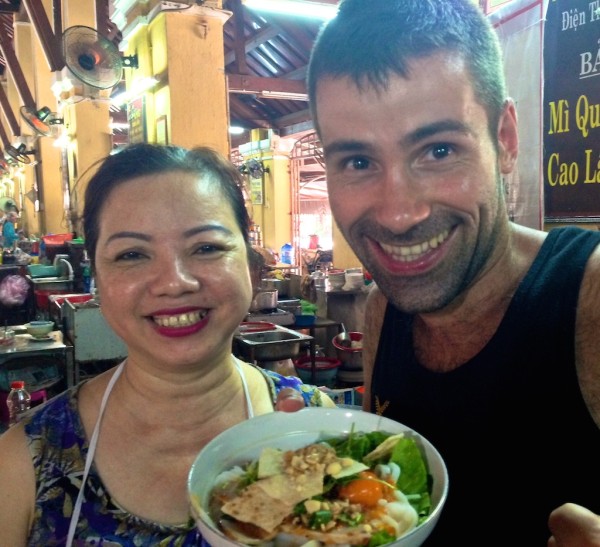 Stefan is to Cau Lau as Sebastien is to Mi Quang – our favorite Frenchman absolutely adores these noodles! Whether served with chicken, shrimp, beef, or pork, Mi Quang shines on account of its versatility. This Central Vietnamese meal works excellently for either breakfast or lunch. Plus, as an added bonus, it will always leave you feeling satisfied and energized for the day ahead. Mi Quang is a delectable labor of love not soon to be forgotten by anyone who partakes in its heavenly tastes.
---
Goi Cuon: Vietnamese Spring Rolls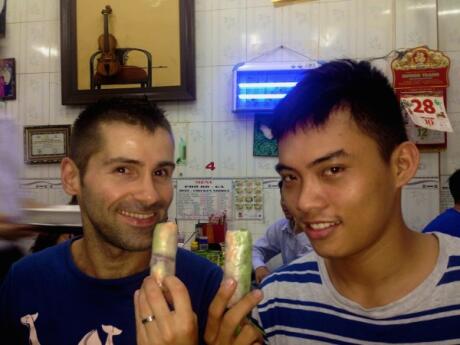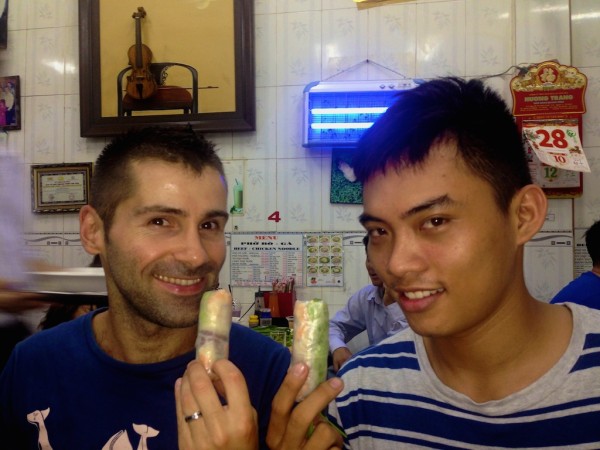 If you've been to an Asian restaurant even once in your lifetime, then you have surely tried spring rolls. But that being said, there is something remarkable about authentic Vietnamese Goi Cuon… a wow factor that makes the dish stand out from the rest of its competition! It's hard to put it into words, but it likely boils down to the difference in ingredients. Goi Cuon is served fresh and includes the finest selection of proteins and veggies alongside homemade rice vermicelli and a complimentary peanut sauce.
---
Vietnamese coffee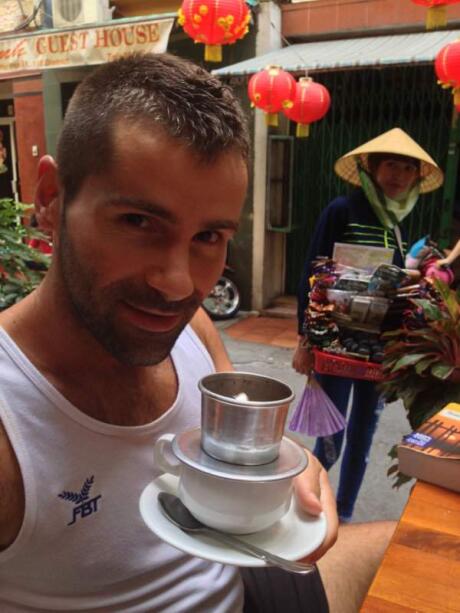 The Nomadic Boys are what you might call coffee connoisseurs. And by that, we really mean that we love trying new coffee! So, what better place than Vietnam – the second largest coffee producer in the world – for us to get our caffeine fix? In terms of our favorite coffee experience within the country, we couldn't possibly choose just one. You see, the sweetened iced coffee was beyond refreshing on a sweltering hot day. Meanwhile, the tiramisu-like flavor of Hanoi's signature egg coffee is out of this world.
---
Banh Xeo: Vietnamese Crepes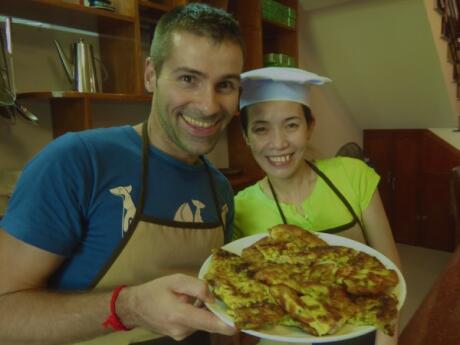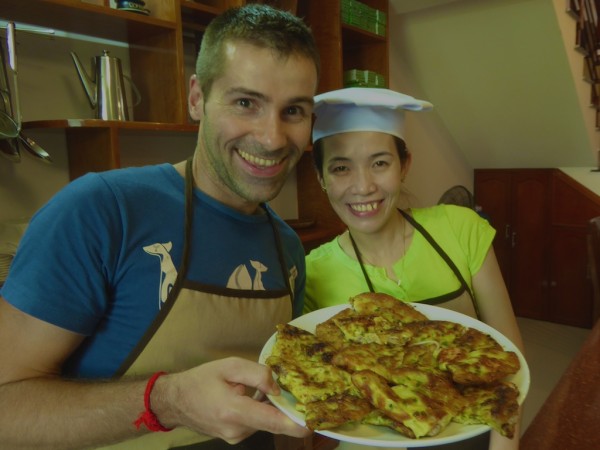 If you think the sizzle of a pancake hitting the griddle is satisfying, wait until you hear the oh-so-tempting sound of a Banh Xeo being cooked. The name quite literally translates to "sizzling cake" due to its resounding fry noise. That's how you know it's good! Though, it certainly helps that the taste is outstanding. While this crispy, rice-based crepe is often filled with hearty ingredients like pork and egg, it is served on a bed of greens to help create an appetizing harmony on the plate.
---
Plan your trip to Vietnam
We've put together some handy hints and tips to help you plan your own trip to Vietnam. Read on to find out everything the gay traveller should know before they go.
Travel insurance: We've put together some security tips for visiting Vietnam below this section, but for times when things just go wrong, we cannot stress the importance of having travel insurance enough. From illness or injury, unexpected cancellations or theft, we never travel without our Heymondo travel insurance, just in case! They not only have comprehensive cover, their online system is also super easy to use if/when you need to make a claim.
---
How to get there: International flights to Vietnam arrive in Hanoi, Da Nang or Ho Chi Minh City from many nearby countries as well as further afield like London. If you are already in Asia you can also reach Vietnam via train from China or bus from Phnom Penh in Cambodia. If you're arriving in the capital of Ho Chi Minh City then we recommend pre-booking a private airport transfer to your accommodation, so you don't need to try and work out public transport with all your luggage after a long flight. Traffic between the airport and city can be very congested, but in your air-conditioned vehicle, you'll be able to relax in comfort!
---
Visa requirements: Citizens of some countries can visit Vietnam without needing a visa for short stays, although most travellers will need to get an e-visa ahead of time. Check your personal visa requirements and apply for the e-visa here.
---
Getting around: Traveling within Vietnam used to be challenging, but things have only gotten better in recent years. Train travel is an excellent way to get around the country and buses are also very cheap if not as pleasant as a train. Use this guide for some more comprehensive advice on travel within Vietnam.
---
Power Plugs: Vietnam uses power plug types A, C and D. Most of these will be compatible with your devices if you are coming from Europe, North America, China, Japan and parts of Africa. If you're travelling from elsewhere we recommend bringing a travel adaptor with you.
---
Vaccinations: Before travelling to Vietnam you will need to be up to date with routine vaccinations like measles, mumps, rubella and chickenpox. The CDC almost recommends that most travellers be vaccinated for hepatitis A and yyphoid. Depending on what you will be doing while there, you may also need to be vaccinated against rabies, malaria, hepatitis B and Japanese Encephalitis, so make sure you check the most up to date vaccination information for Vietnam before you go.
---
Currency: The currency in Vietnam is called the Vietnamese Dong, which is shortened to VND and often written as just dong. 1 US dollar converts to around 23,190 dong, while €1 is worth about 25,490 dong and £1 makes around 28,569 dong.
---
Tipping culture: Tipping is not widely practised in Vietnam, although it is appreciated if you want to reward excellent service. That being said, haggling is a skill you might need to learn, not to mention getting used to carrying around thousands of dong notes! Check out this guide on everything to do with money in Vietnam.
---
Internet access: You shouldn't have any troubles getting online while in Vietnam's larger cities, as nearly all cafes, restaurants, hotels and guesthouses have free WiFi available. If you want to make sure you will have reliable access wherever you are, you could pre-order a local sim card with 4G connection to be delivered to your accommodation when you arrive.
---
Online privacy: Since there aren't any anti-gay laws in Vietnam you won't have any difficulties using gay dating apps like Grindr or Scruff. If you prefer to keep your online activities private then we recommend using a VPN, an affordable and reliable virtual private network that keeps our online access private when travelling.
---
Accommodation: When looking for accommodation in Vietnam we definitely recommend using Booking.com. They have so many great options to choose from, many places with free cancellation if needed. Their online customer service is excellent and available 24/7, plus it's super easy to book online.
---
Sightseeing and adventure: We love using GetYourGuide to find all sorts of fun activities and tours to do throughout Vietnam. They have a very easy-to-use online booking system as well as attentive 24/7 online customer support.
---
When to visit: Since Vietnam is such a long country, you'll need to work around the weather variations if you're planning to visit both the north and south regions. If you are planning to visit both then the best times to visit are autumn/winter between September and December or spring in March and April.
---
Safety tips for gay travellers to Vietnam
Is Vietnam safe for gay travellers? The short answer is YES, but there are some precautions you should always take when travelling. Make sure you follow these safety tips and you are unlikely to encounter any problems while visiting Vietnam.
Check official government advice before you go. You should always check what your country's official government advice is on travelling to any destination before you go. It's also wise to make sure you register your travel plans so you can get updates while travelling if anything changes.
Although homosexuality is legal in Vietnam, we advise being cautious with public displays of affection outside of gay friendly areas. Vietnamese society is quite conservative and PDAs are generally uncommon even by straight couples.
Avoid excess alcohol and the use of stupefiants. It's far more likely that you'll be taken advantage of, scammed or even robbed if you're obviously intoxicated! We're not saying don't have a good time, just make sure you stay in control of things.
Don't wear valuables in public. Pickpockets operate everywhere, and the flashier your belongings, the more attractive you are as a target, even more so if you're wasted! Leave your valuables and important items in your hotel safe so even if you do find something missing, hopefully, it won't be anything too irreplaceable.
Invest in a good money belt. It's always better not to carry too much cash or credit cards anyway, but having a good money belt that hides under your clothes is another way to ensure nothing goes missing.
---
Like this post? Pin it