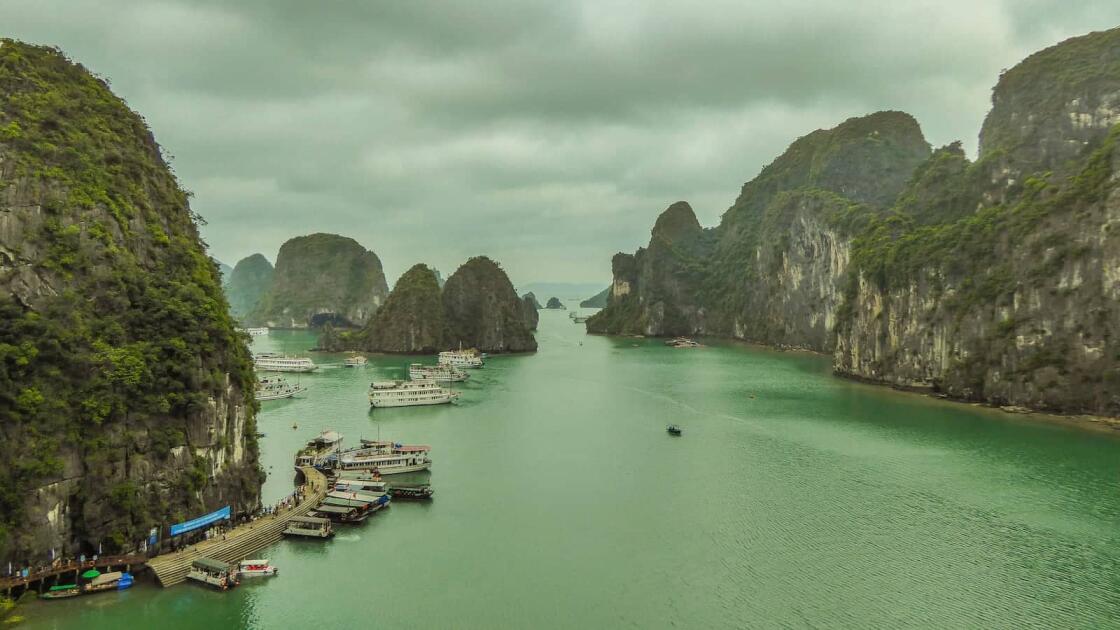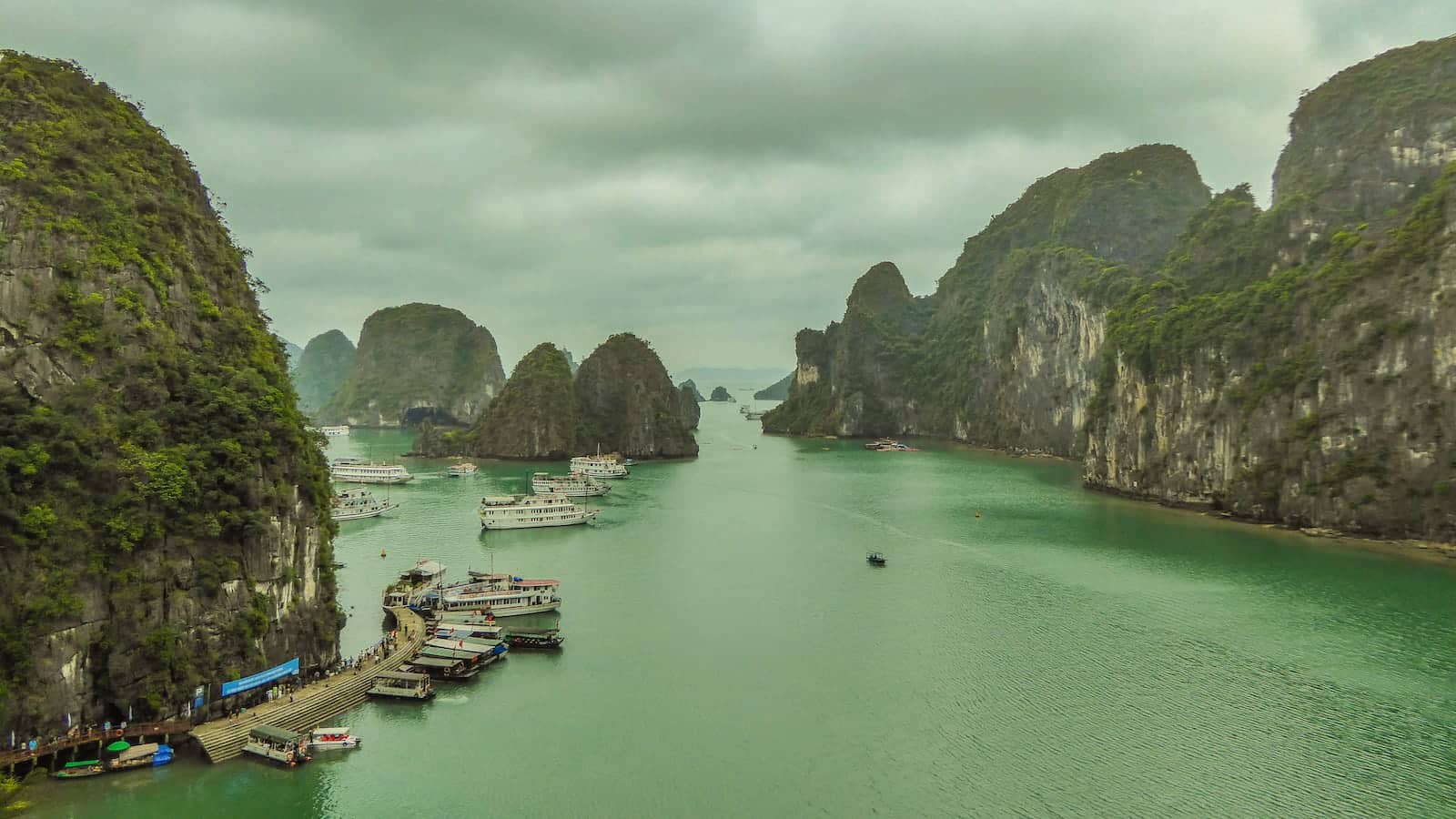 Motorbikes, lush beaches, motorbikes, limestone karsts, motorbikes, ridiculously tasty food, more motorbikes, rice terraces… and did we mention the motorbikes?
That's our takeaway of Vietnam summed up in one sentence. We fell in love with Vietnam and think it's such a rewarding destination for gay travelers, offering an vibrant gay scene in Saigon, a wealth of cultural history to discover, natural wonders like the impressive limestone karsts of Halong Bay, and one of the best cuisines in all of Asia. The Vietnamese people will also charm the pants off you – smart, savvy, charming, super energetic, and can't give a flying monkey's whether you're straight or gay!
Oh and the part about motorbikes? They're everywhere! Almost everyone in the country uses one, which makes crossing the road in big cities like Hanoi and Ho Chi Minh City an experience in itself!
We spent a month traveling in Vietnam, starting in the south in Ho Chi Minh City (Saigon), working our way north to Hanoi (the capital) via Hoi An, Hue, and Da Nang. We loved it and happily return in a heartbeat. This is our complete travel guide to gay Vietnam for LGBTQ travelers with all our firsthand experiences to help inspire you and plan your own fabulous Vietnamese adventure.
Gay rights in Vietnam
When compared to the rest of Asia, Vietnam is pretty liberal when it comes to LGBTQ rights. This is a country that has never had any anti-gay laws in its history. In addition, adoption for single gay individuals is legal and there is no ban on LGB people from serving in the Vietnamese army or from donating blood.
With regard to transgender laws, transgender people who have received sex assignment surgery are allowed to register as their new gender. The government is also set to pass anti-discrimination laws for transgender persons.
In relation to same-sex unions, they were banned in Vietnam until 2015. However, on 1st January 2015, the government passed the Law on Marriage and Family, which removed this ban. This was a big deal because whilst this doesn't recognise gay marriages, it's certainly a huge progressive step in the right direction.
Read more about gay life in Vietnam in our interview with Quan from Saigon.
Is Vietnam safe for gay travellers?
We found Vietnam to be one of the most gay friendly countries in Asia with a large, active LGBTQ community, particularly in Saigon.
We felt safe traveling as a gay couple throughout Vietnam. We never had any problems getting a double bed in any of the hotels or guesthouses we stayed at and all hotel staff we encountered had no issue about welcoming a gay couple. At no stage did we ever encounter any homophobia – the only thing was being asked by almost everyone if we're twins or brothers, but we got that everywhere in our travels in Asia.
In terms of a gay scene, the capital, Hanoi, hosts the majority of the LGBTQ events. But when it comes to gay bars, clubs, and parties, it's over to Ho Chi Minh City (Saigon) in the south where you'll want to head!
Best gay tours in Vietnam
We love joining gay tours when we're traveling. It's not only a fab way to explore new places, but it's also the perfect way to meet a new group of travel buddies who will very likely become friends for life. Every time we've done a gay group tour we've always left with fantastic memories as well as a new set of friends who we've then met up with someplace else in the world! These are some of the best gay tour companies that offer trips to Vietnam, usually with time in Cambodia included as well.
Gay travel agent in Vietnam
Out Adventures are a fantastic gay travel company who we absolutely love. They can create your own custom gay tour tailored to your needs so you can simply sit back, relax and enjoy an exciting holiday. With a curated trip like this everything is taken care of for you and someone else handles all the stressful planning. Contact Out Adventures directly to organise your own fabulous gay tour of Vietnam.
Top gay-friendly cities in Vietnam
As awareness and support for the LGBTQ community continues to rise throughout Vietnam, more and more cities will begin to make themselves known as magnificent queer hangouts. Judging from our experience alone, three cities stand out above the rest as being amazingly kind and open to gay visitors.
Top experiences in Vietnam
For many people, the first image they picture when they think of Vietnam is a road packed to the brim with speedy motorbikes. But, to our relief, the country has much more to offer than bustling cities and busy highways. In fact, Vietnam is a beautiful place with tons of ancient and organic excursions lying in wait.
Pride and gay events in Vietnam
With a growing understanding and acceptance of the LGBTQ community comes gay events! While Vietnam may still be new when it comes to showing off its Pride, the events its citizens hold are everything a gay person could want. They are amusing, entertaining, inclusive, and, above all else, helpful.
As the event approaches its tenth anniversary, Viet Pride continues to serve the LGBTQ community as a fabulous means to take action towards equality. Viet Pride lasts for about three days in either August or September. It flies by with a slew of rainbows, discussions, art exhibitions, and performances. If you can't attend all days of the event, then be sure to find the time to watch the parade of bikes and scooters. We guarantee it will be unlike any Pride you have experienced before!
In 2017, nineteen-year-old Bảo Châu Nguyễn started Hanoi International Queer Film Week to right a few wrongs. Before the founding of this event, Vietnamese films mostly portrayed queer people as jokes or tragedies. Now, members of the LGBTQ community can watch themselves on screen, existing as ordinary people. The non-profit event runs in both spring and autumn with smaller monthly get-togethers in between. The screenings showcase gay cinema from around the globe that revolves around a theme. Who doesn't love having fun and supporting a fantastic cause?
Culinary highlights in Vietnam
One of the best parts about traveling to Vietnam is the food. The preparation is often kept simple to highlight the mouthwatering flavors and aromas dancing across the plate. No matter the time of day, you can expect a fresh yet filling meal to hit your table. Honestly, if we could eat Vietnamese food every day, we might!
Plan your trip to Vietnam
Safety tips for gay travellers to Vietnam
Is Vietnam safe for gay travellers? The short answer is YES, but there are some precautions you should always take when travelling. Make sure you follow these safety tips and you are unlikely to encounter any problems while visiting Vietnam.
Check official government advice before you go. You should always check what your country's official government advice is on travelling to any destination before you go. It's also wise to make sure you register your travel plans so you can get updates while travelling if anything changes.
Although homosexuality is legal in Vietnam, we advise being cautious with public displays of affection outside of gay friendly areas. Vietnamese society is quite conservative and PDAs are generally uncommon even by straight couples.
Avoid excess alcohol and the use of stupefiants. It's far more likely that you'll be taken advantage of, scammed or even robbed if you're obviously intoxicated! We're not saying don't have a good time, just make sure you stay in control of things.
Don't wear valuables in public. Pickpockets operate everywhere, and the flashier your belongings, the more attractive you are as a target, even more so if you're wasted! Leave your valuables and important items in your hotel safe so even if you do find something missing, hopefully, it won't be anything too irreplaceable.
Invest in a good money belt. It's always better not to carry too much cash or credit cards anyway, but having a good money belt that hides under your clothes is another way to ensure nothing goes missing.