Vietnam is a foodie's paradise with a variety of unique flavours and specialities. This is our favourite 10 traditional foods of Vietnam, which we fell in love with.
1. Pho: the classic Vietnamese dish
Pho (pronounced "Fur") is The traditional food of Vietnam and known throughout the world. It is usually a chicken (ga) or beef (bo) broth with thin rice noodles and various herbs.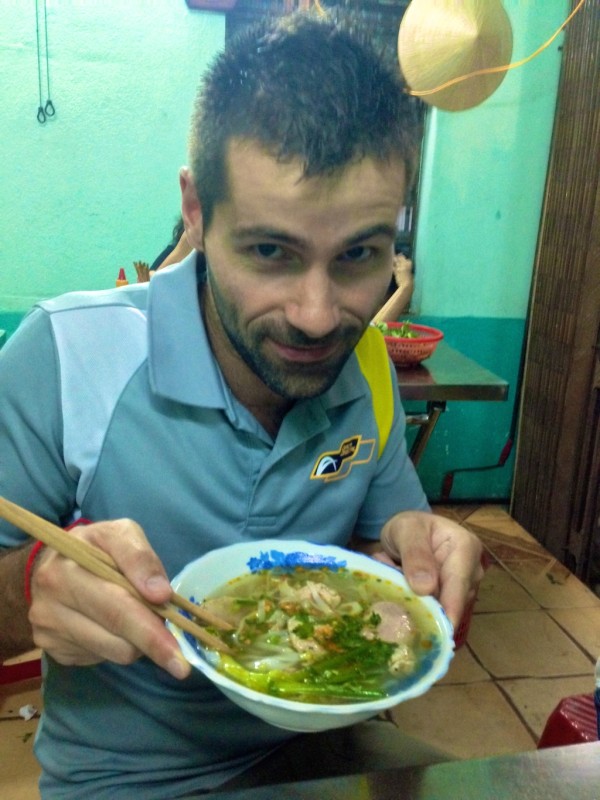 Pho originated in the early 20th century in North Vietnam and spread around the world via refugees who fled during the Vietnam War years.
A yummy variant of Pho is "Bun Bo Hue" from the Central Vietnamese city, Hue using rice vermicelli (instead of rice noodles) and served in a delicious shrimp and lemongrass based broth.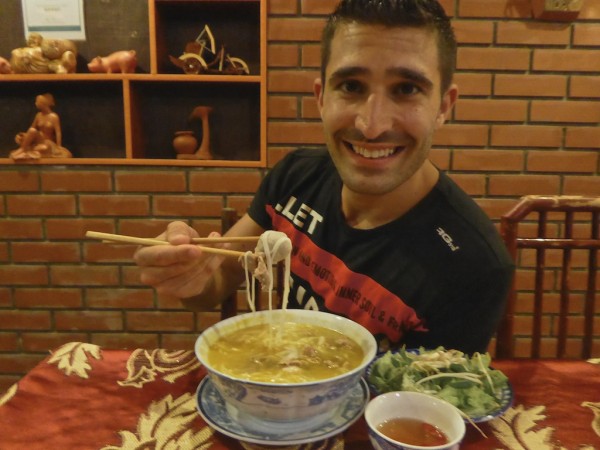 2. Cao Lau noodles from Hoi An
Cao Lau is the signature dish from the Central Vietnamese town of Hoi An and one of Stefan's favourite traditional foods of Vietnam.
The recipe for Cao Lau includes a plate of thick dark rice noodles served in small amounts of richly flavoured broth, topped with pork slices, bean sprouts, greens, herbs and deep-fried croutons.
The noodles make this dish unique because they are darkened after being soaked in ash water from a specific tree found only in the nearby Cham Islands.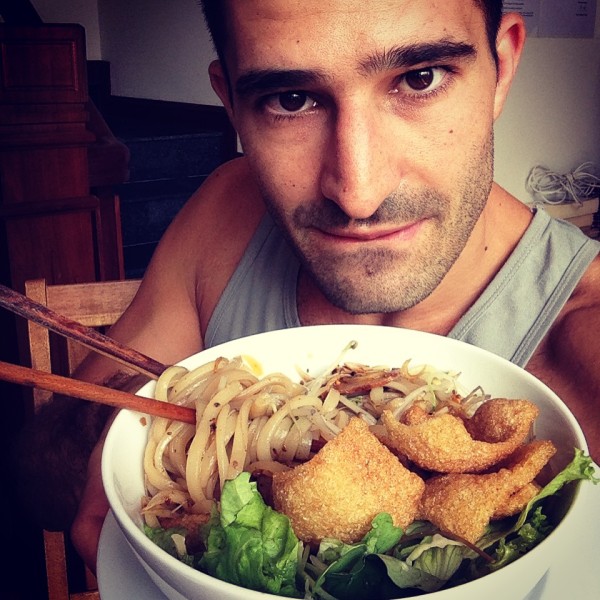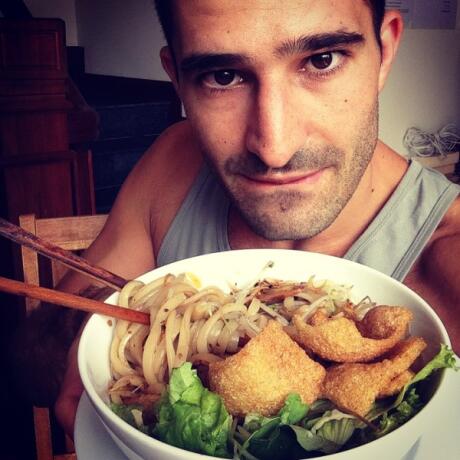 3. Mi Quang noodles
Mi Quang is another popular Central Vietnamese noodles dish, similar to Cau Lao, but the noodles are flat white and tinted yellow by the addition of turmeric. The protein source varies from beef, chicken, beef, pork or shrimp.
It is topped with herbs, crushed peanuts and a hard-boiled egg. Mi Quang was one of Sebastien's favourite traditional foods of Vietnam and if you find this sweet lady in the Hoi An local market, her Mi Quangs are one of the best.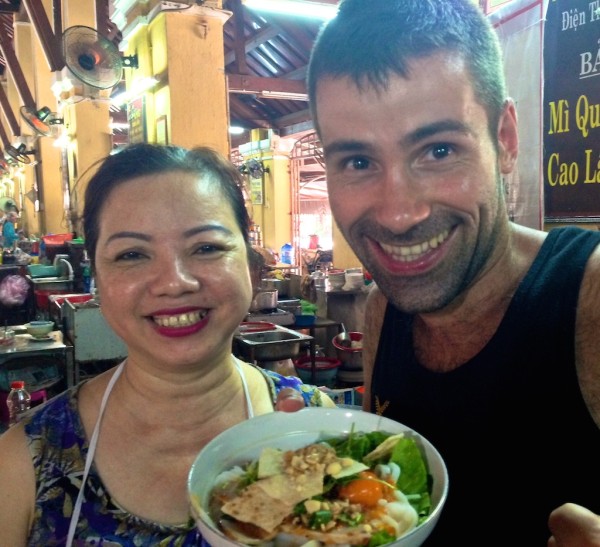 4. Bun Cha from Hanoi
Bun cha is a grilled pork-based dish served with vermicelli, fresh herbs, vegetables, fish sauce and chopped spring rolls. It originated from Hanoi and spread across Vietnam.
It is served with everything presented in separate bowls (one for the grilled pork, another for the vermicelli, another for the herbs, the chopped garlic and the pickled vegetables) and you assemble it yourself. It is not the healthiest traditional food of Vietnam but a very tasty one!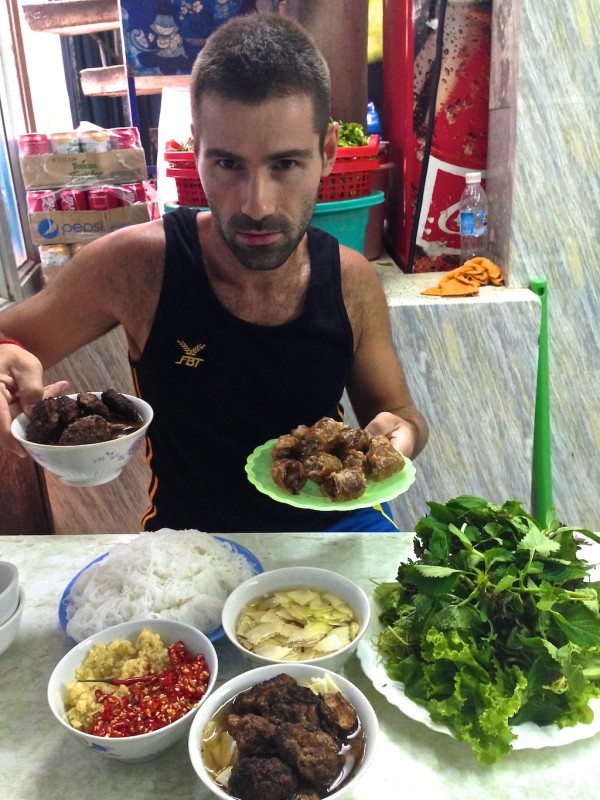 5. Vietnamese spring rolls
Spring rolls are notorious throughout Vietnam and are either deep-fried with minced pork or served fresh.
The deep-fried version is crispy, yummy but not very healthy: we learnt to make deep-fried spring rolls during our cooking course in Hoi An and lots of oil was used.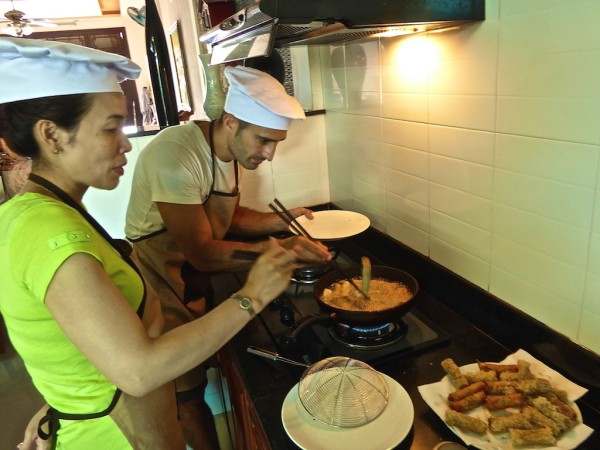 We preferred fresh spring rolls, also called "garden rolls". The ingredients are cooked beforehand and then wrapped in rice paper and served with a dipping sauce like fish or peanut sauce. No deep frying involved here!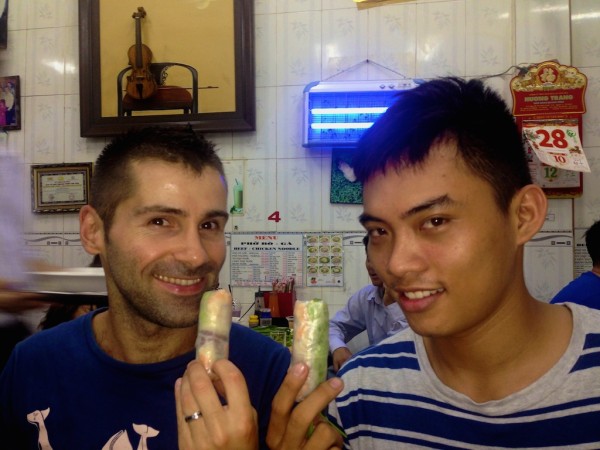 6. Banh Xeo Vietnamese pancakes
Banh Xeo are deep-fried savoury pancakes. The recipe for Banh Xeo includes pork, egg, shrimp and bean sprouts.
The name Banh Xeo literally means "sizzling cake" because of the sound the rice batter makes when it hits the pan. This traditional food of Vietnam is great for an afternoon snack.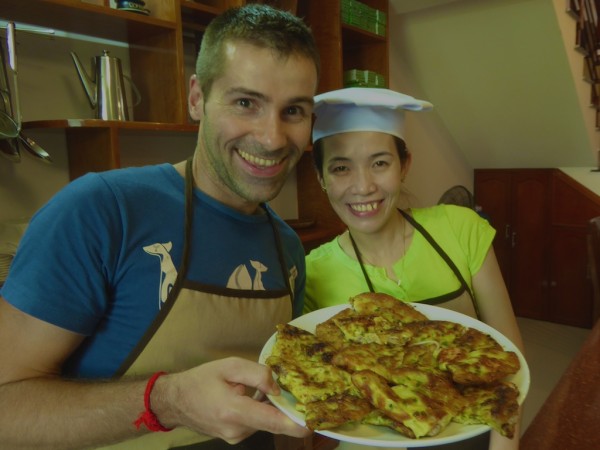 7. White Rose: Vietnamese dumplings
White Rose (or 'banh bao vac') is another traditional food of Central Vietnam. They are shrimp dumplings, bunched up to look like a rose. They are then steamed and served with a fish sauce for dipping. They are also super complicated to make, a technique which takes years to master.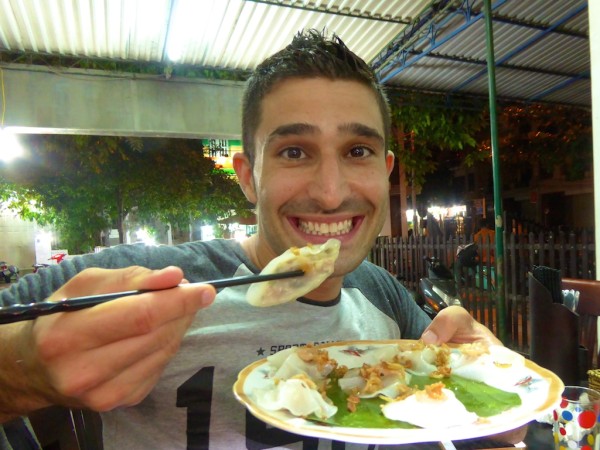 8. Com tam street food from Saigon
Com tam ('broken rice') is a traditional street food snack from Saigon (South Vietnam), made from fractured rice grains and served with grilled pork over the rice, various plates of greens, pickled vegetables, an egg, fish sauce and a small bowl with broth.
We tried a few com tams in Saigon with our friend Quan.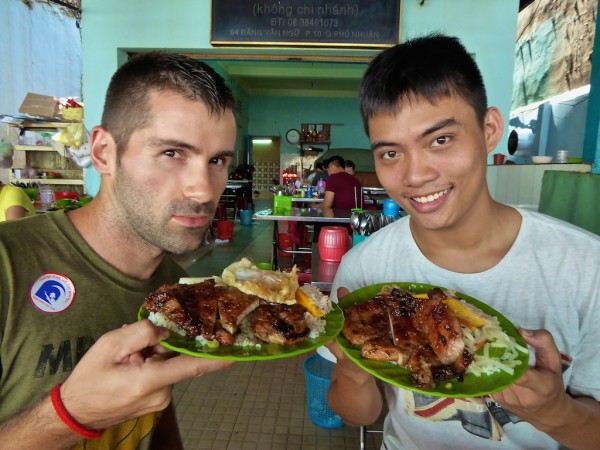 9. Vietnamese coffee: the best ever!
Vietnam is THE place for coffee lovers. It is the second-largest producer of coffee (after Brazil) and boy is it good!
Traditionally coffee in Vietnam is served either hot or cold and sweetened with plenty of condensed milk. The iced version makes a very refreshing snack during the humid months, particularly in the South.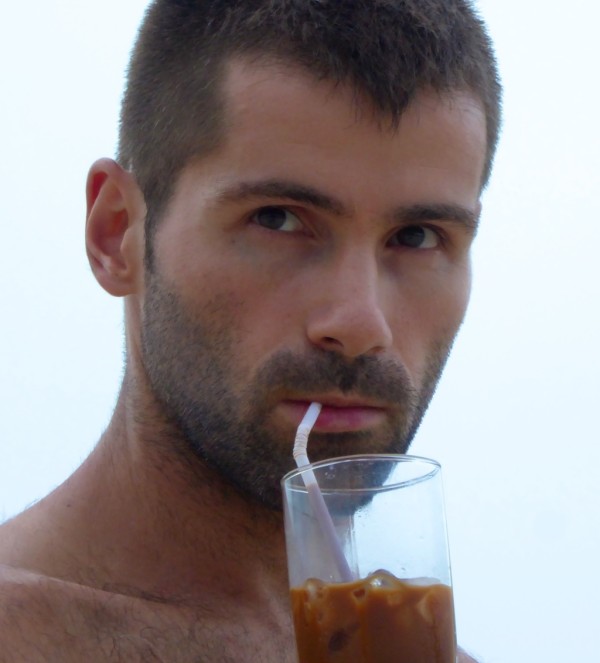 There is a popular variant in Hanoi called egg coffee (ca phe trung), made with the addition of egg yolks and condensed milk. They are frothy, fun to drink and taste like tiramisu.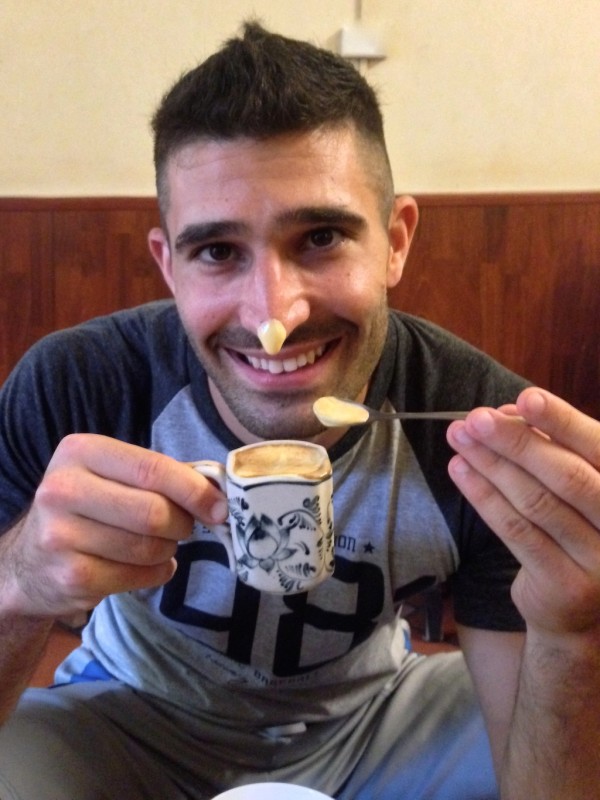 10. Breast milk fruit!
Vietnam has the ideal tropical climate to keep fruit lovers happy and we were spoilt with mangoes, dragon fruits, papaya, passion fruits…
But in Hoi An we stumbled upon a new fruit we've not yet come across: the breast milk fruit! (Also known as Star Apple or Vu Sua).
Star apples are juicy and sweet. They are so nicknamed because as you peel them, a few white milky drops dribble out!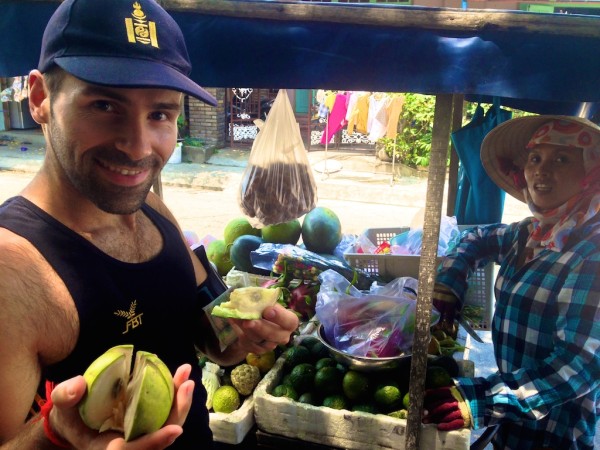 And to conclude our best traditional foods of Vietnam article, a beer selfie with our favourite brew, aptly named after the city. If you wanted to down it, you'd clink your glasses first and cry out:
"mot hai ba, YO!"
(ie 1,2,3, drink!)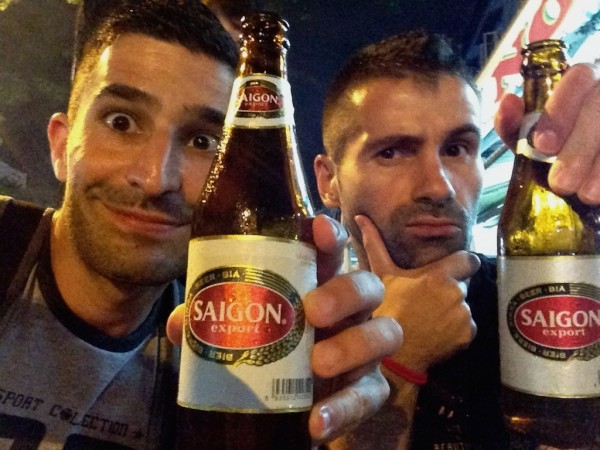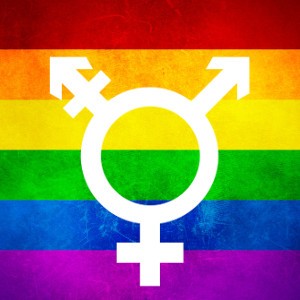 Advice for LGBTQ travellers to Vietnam
Vietnam is gay friendly and definitely one of the most gay welcoming places in Asia. All the hotels and guesthouses we stayed at never had an issue about hosting a gay couple. Vietnam has very progressive LGBTQ laws (by Asian standards) and in 2015 made a fundamental step to gay marriage by introducing the Law on Marriage and Family. There is a small gay scene in the two biggest cities – Hanoi and Saigon (Ho Chi Minh), with a large LGBTQ community in each. Read more in our interview with Quan from Saigon about gay life in Vietnam.
Watch our awesome video of what it's like travelling in Vietnam as a gay couple:
Happy travels are safe travels
We recommend you always take out travel insurance before your next vacation. What happens if you suffer from illness, injury, theft or a cancellation? With travel insurance, you can have peace of mind and not worry. We love World Nomads travel insurance and have been using it for years. Their comprehensive coverage is second to none and their online claims process is very user friendly.