TERMS OF USE: There is a chance that some of the content on this page has changed since it was last updated. By reading this article, you consent to our Terms of Use and Disclaimer. Happy Travels!
DISCLOSURE: Some of our posts may contain affiliate links which we may receive a commission if you choose to book something through one of our links.
Find out what it's like growing up gay in Saigon and learn about LGBTQ rights in Vietnam in this interview with local boy Quan from Saigon.
Vietnam is one of our favorite places we visited as a gay couple traveling in Asia. From delicious foods to fantastic sites like Ha Long Bay, you're spoilt rotten in terms of a destination rich with culture. Vietnam also has a more liberal attitude towards homosexuality, with large thriving LGBTQ communities in Ho Chi Minh City (Saigon) and the capital in Saigon.
We found Vietnam to be one of the most gay friendly countries in Asia. Locals were extremely friendly and welcoming to us, and getting a double bed was never an issue for us anywhere. However, Vietnam still has quite a way to go with regard to its LGBTQ laws, lacking any anti-discrimination or recognition of LGBTQ couples.
We met up with our buddy Quan in Saigon who gave us his perspective of what gay life in Vietnam is really like for LGBTQ locals in this interview.
Hello Quan, please introduce yourself:
Hi Stef and Seby.
My name is Quan Nguyen and I am 34 years old. I am a web designer living and working in Saigon.
Originally, I am from "Can Tho" in the Mekong Delta, but in my teenage years, my family moved to Saigon.
I come from a Catholic family, which surprises most people because everyone assumes all Vietnamese are Buddhist. Catholicism is one of the many influences in Vietnam from the French.
Are you openly gay to your family and friends?
I am fully open to all my friends and family. It was a bit hard at first, especially with my mother because homosexuality is still taboo in Vietnamese society. However, after a lot of tears, yelling and discussions they started to accept me for who I am.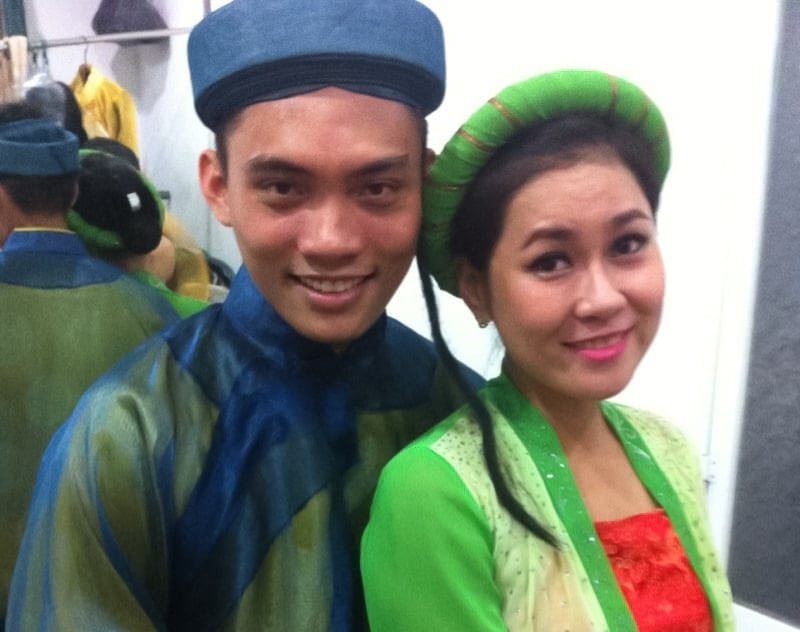 I think my mother, her main concern is my safety well-being and most of all my happiness in life. For example, she now worries about me growing old alone without anyone to care for me in my old age.
With my old sister, I'm very close. She's always been accepting of me being gay and we always make jokes about finding husbands. Just the other day she said to me:
"you better clean up your room if you wanna find a good husband!!"
What's it like growing up gay in Vietnam?
It was quite hard when I was younger because traditional Catholic Vietnamese society was not always so open and supportive toward gays. Back in those days, the Internet as we know it today simply didn't exist and there were no queer hangouts around. At best, gay guys would seek each other out via well-known cruising spots or by friends of friends.
Today, of course, all that has changed, especially with the advent of Grindr and all the other gay dating apps over the past decade. We even have a growing gay scene in Saigon and Hanoi.
Also, more visibility of successful LGBTQ persons in the media helps society see us as something normal and positive rather than as something wrong or an illness. For example, the former USA Ambassador to Vietnam, Ted Osius is openly gay and was not shy about posing with his husband and baby.
There are many notable LGBTQ Vietnamese movies including "Lost in Paradise" (2011), "Madam Phung's Last Journey" (2014), "Big Father, Small Father and Other Stories" (2015), "Rainbow Without Colours" (2015), "Finding Phong" in 2017 and "Bridge of Destiny" (2020).
Also, check out the "My Best Gay Friends" YouTube series in 2013, which went viral:
Did you ever experience, and bullying or homophobia growing up?
Not really. At school a little bit because I hated sports and always hung out with the girls, so the guys on the football team would pick on me for being a "sissy". But that was just little boys being little boys and I don't think they intended or even knew about homosexuality.
Otherwise, I've been very lucky to avoid any homophobia. I'll get the odd comment from senior members of my family about not having a girlfriend and not being married, but the older I get, the less frequently they make these remarks.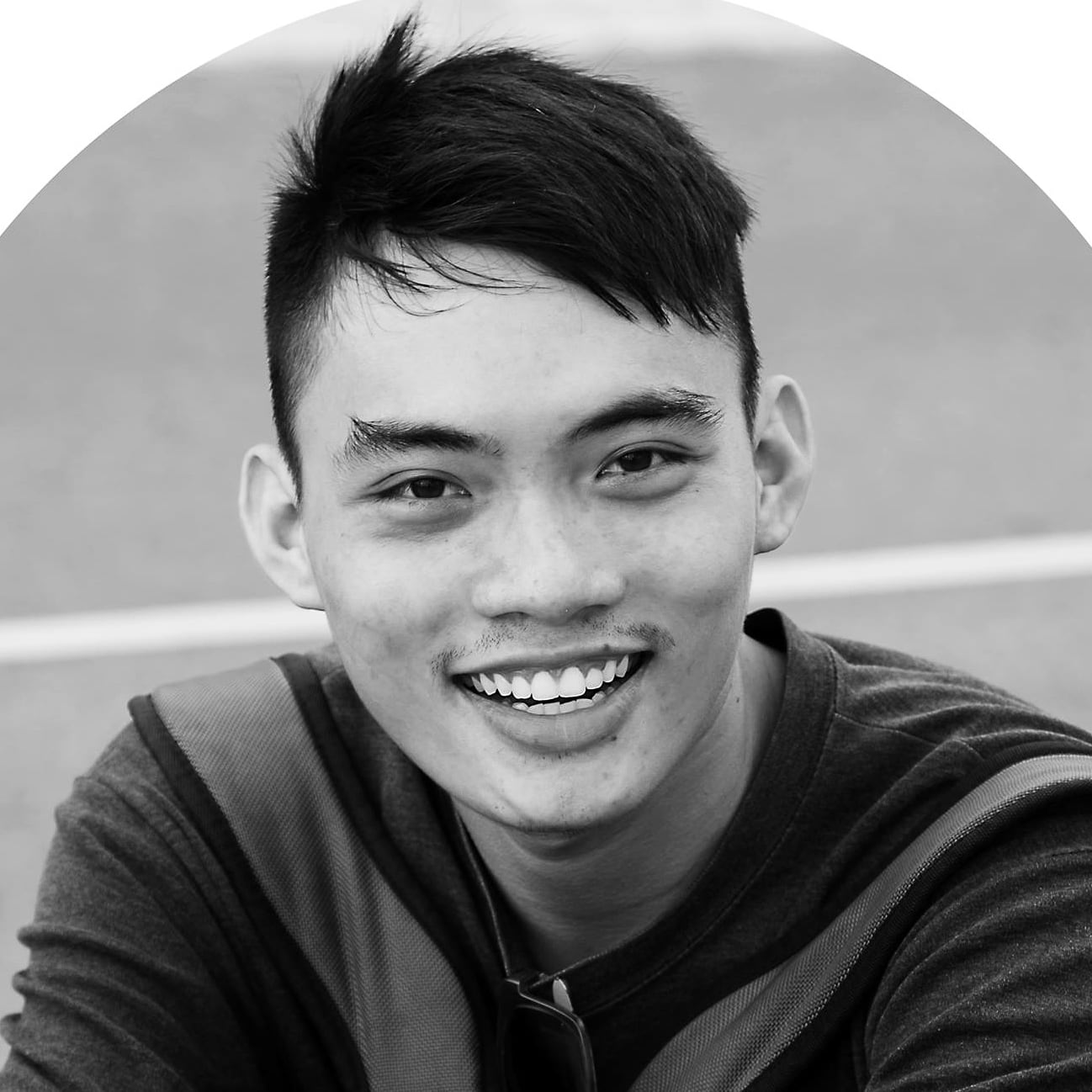 How did you meet other guys growing up?
I was quite shy and nervous about meeting other guys when I was younger, so it was more down to luck rather than me seeking it out. My first encounter with another man was with a friend in the school changing rooms. You see, I may have been crap at sports, but I was always a star in the changing rooms!!
But for other gay guys growing up in the 1980s, 1990s, and early 2000s, meeting other guys was a challenge. There were no gay hangouts, so at best they would go to well-known cruising spots in the parks or public toilets. Before Grindr, dating sites like "Gaydar" and "Gayromeo" were very popular in Vietnam. Pool parties were also very popular growing up, and more so now. Remember that the temperature in Saigon never drops below around 27 degrees (around 80 Fahrenheit).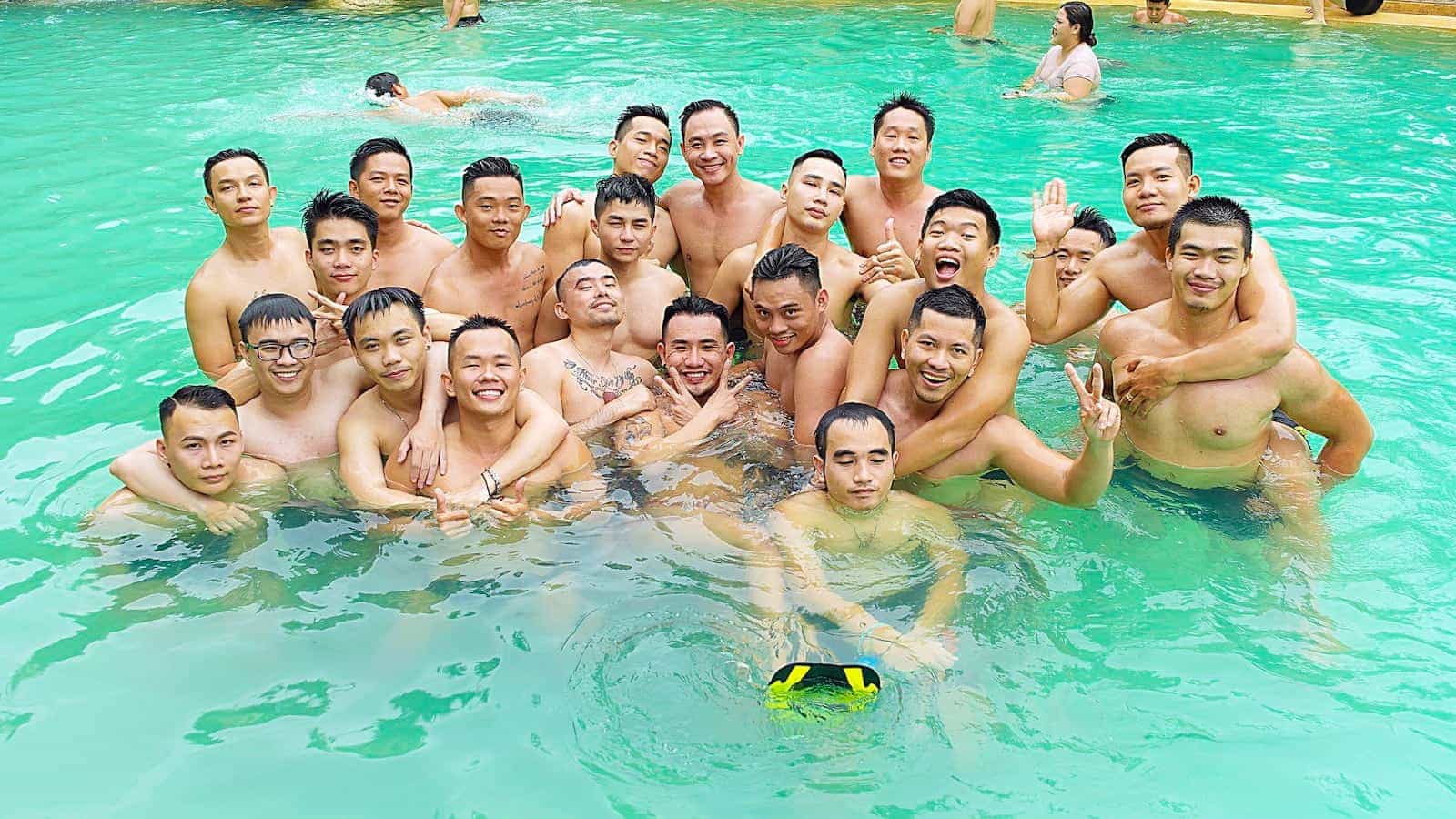 What are the best gay bars in Saigon?
The most popular gay bar in Saigon that I also love going to with my friends is Thi Bar. It has gay nights on Friday and Saturday evenings. I usually head here first with my friends from around 9 pm until midnight and then we go dancing at ChinChin. But if you come before 9 pm, they have some really cheap happy hour deals.
In terms of resto-bar-type places, I recommend checking out Papa Cafe. It's very popular for gay guys to head to for food, cocktails, and karaoke, usually in that order! Another favorite is the recently opened Pride Cafe, which I love coming to for a long boozy Sunday brunch.
What are the best gay clubs and parties in Saigon?
On weekends after midnight, we head to our main gay club here in Saigon called ChinChin Bar. I love it – this is the place to be! It's always busy with a mix of locals and foreign guys. The music is a mix of classic pop hits. They have a drag show on Friday evenings and a large dance party with live music on Saturdays. Once I did my own show here as the very beautiful but super sassy: QUANITA (see photo above)!
I also recommend checking out the Full Disclosure events. Every few weeks they'll organize a themed party at different venues, eg Beyonce/Britney nights and Ru Paul's Drag Race viewing parties. Check their Facebook page for up-to-date details of their next event.
And for gay guys looking for a hot time in a sauna, I recommend NaDam Spa.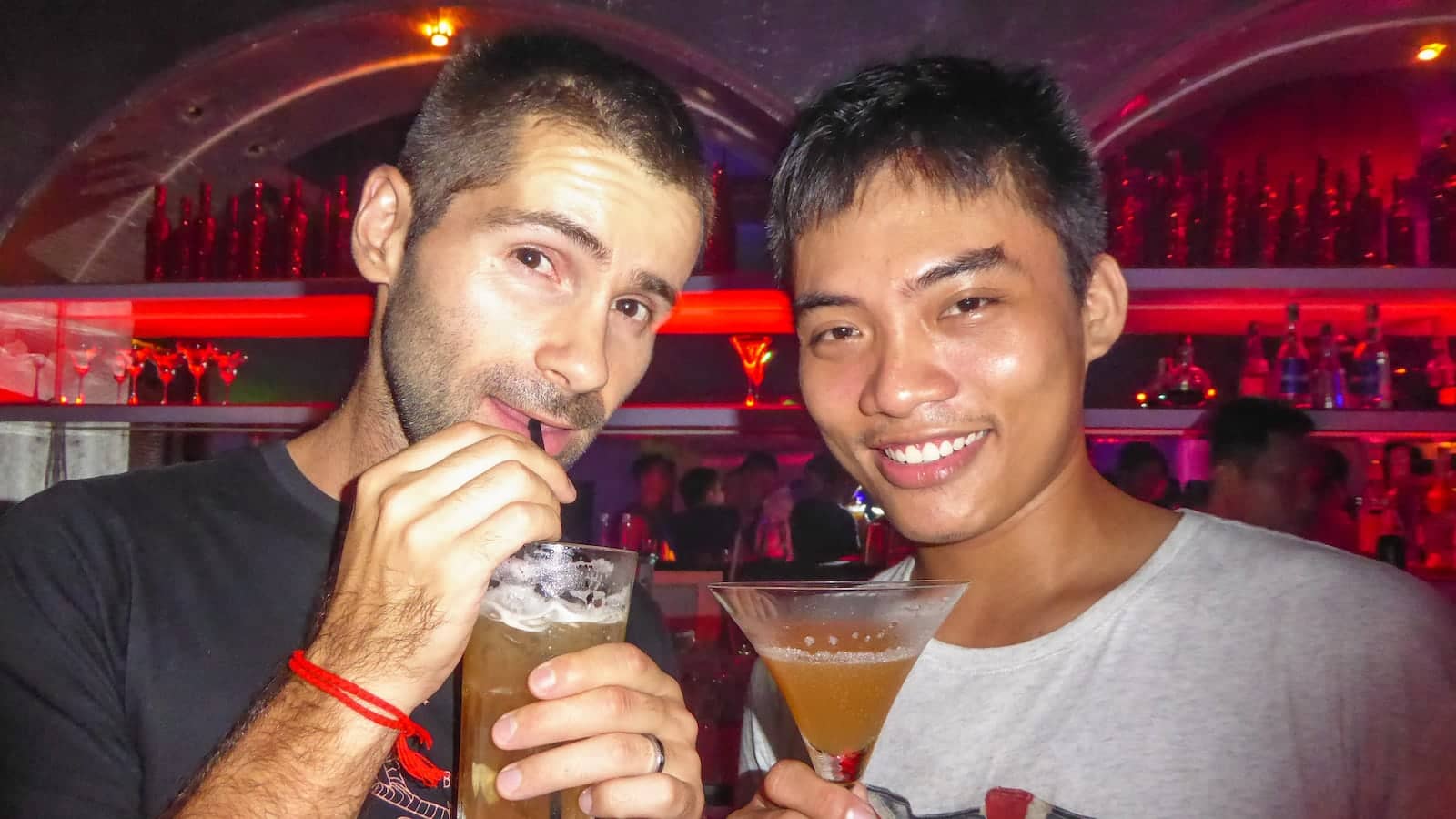 Are there any good gay hotels in Saigon you recommend?
There are several highly rated gay hotels in Saigon, which have been recommended to me by gay travelers visiting or are well-known locally as being gay friendly. The Reverie Saigon, is probably the most beautiful hotel in Saigon where gay couples and guys on their honeymoons are likely to stay. It's right in the center in District 1 but it's not cheap (around $260/£175 a night).
A more affordable gay hotel in Saigon to check out is the Beautiful Saigon Boutique Hotel, also in District 1. It's got a really cool swimming pool and welcomes LGBTQ travelers. Prices are around $45/£30 for a double bed with breakfast.
What are the best gay events in Vietnam?
The Viet Pride in Hanoi is the most famous gay event in Vietnam. It has been taking place every August since 2012 and grows more popular each year. We also have the Hanoi Queer Film Week every August.
In April, we celebrate the Buddhist New Year (Songkran) across Vietnam. The best celebrations are in Saigon when the entire LGBTQ community gets involved and gets very wet! The main event to look out for is called the "Thai Water Festival Songkran" organized by "Saigon Outcast". Whilst it's not an exclusively gay event, it always attracts a large group of both local guys and ex-pat gay guys living/working in the city.
Where are some of your favorite places to visit in Vietnam?
My favorite place in Vietnam was Halong Bay in the North. It's unique and our most famous site because of the emerald waters and thousands of towering limestone islands. It is surrounded by a rainforest area. The best way to see it is on a romantic cruise with your lover.
Here in the South, the Cu Chi tunnels are the most fascinating thing to see. You can visit as part of a day trip from Saigon. They form part of a much larger network of tunnels that go under most of the country, which were used by the Viet Cong soldiers as hiding spots during the war with the Americans.
I also love Hoi An in the middle of the country. It has some of my favorite dishes (like Cao Lao and Bahn xeo) and is also close to An Bang beach, which I love visiting.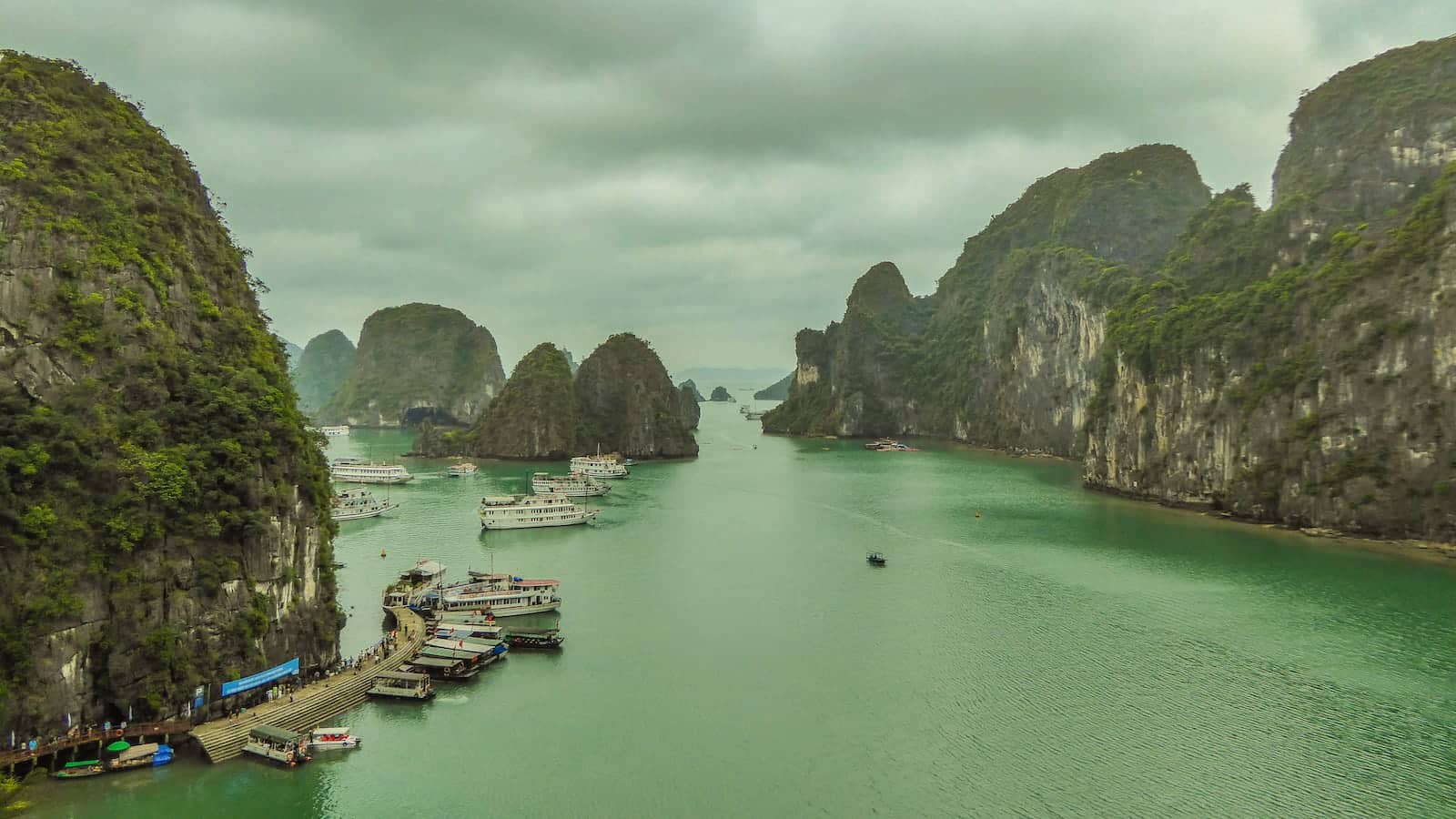 How do you recommend LGBTQ travelers meet local guys?
Well, I always meet foreign guys in the gay bars and clubs of Saigon which I set out above. Obviously, apps like Grindr, Hornet, and Scruff will also help.
For solo LGBTQ travelers who are shy, I recommend reaching out to a reputable LGBTQ tour company like Out Adventures who organize some excellent tours.
---
Like this post? Pin it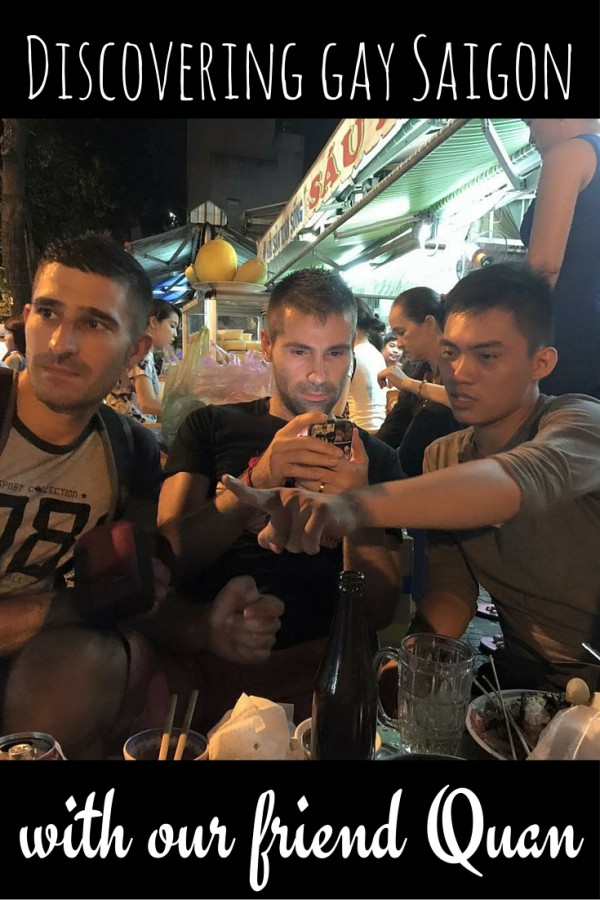 Happy travels are safe travels
We recommend you always take out reputable travel insurance before your next vacation. What happens if you suffer from illness, injury, theft, or a cancellation? Many gay travelers forget about it and regret it when something happens. Better to pay a small price and have peace of mind and not worry.