We spent 10 days in the Maldives in November 2014 on Thoddoo island.
Since 2009, the Maldivian government dropped the ban from allowing local islands to operate guesthouses, therefore breaking the monopoly enjoyed by millionaire resort owners and bringing tourist dollars into the rural economy.
This has made budget travelling to the Maldives accessible for backpackers like us.
Staying on a guesthouse on one of the local islands is a cost effective alternative to staying in the more expensive resorts which charge upwards of thousands of dollars a night.
We paid $65 (£42) a night for a room at Serene Sky Guesthouse and just loved it.
Where is Thoddoo island ?
Thoddoo island is located 67km from the capital city of Male, reachable by public overnight ferry. It is an oval shaped island, 1km across with around 1,400 inhabitants.
The streets of Thoddoo island
One of the great things of staying on a local Island in the Maldives is that you get to live with the locals and learn about the Maldivian way of life. The people are quite shy towards foreigners but once we get to know them we found them to be really kind hearted people.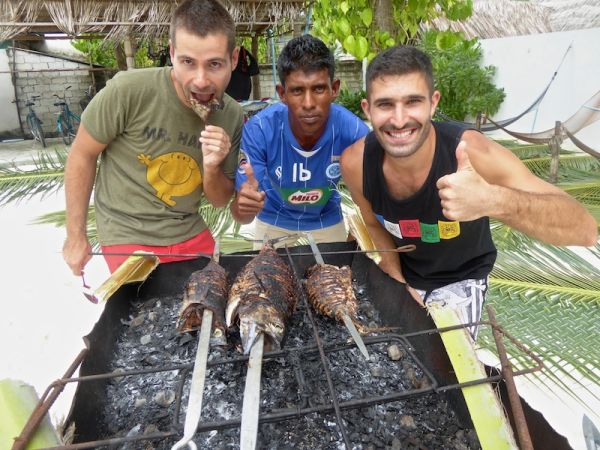 We also found them to be very honest, not trying to rip you off: unlike in India, we were never made to feel like a walking ATM cash cow.
The streets of Thoddoo are not particularly pretty but you can find everything you need like supermarkets and restaurants.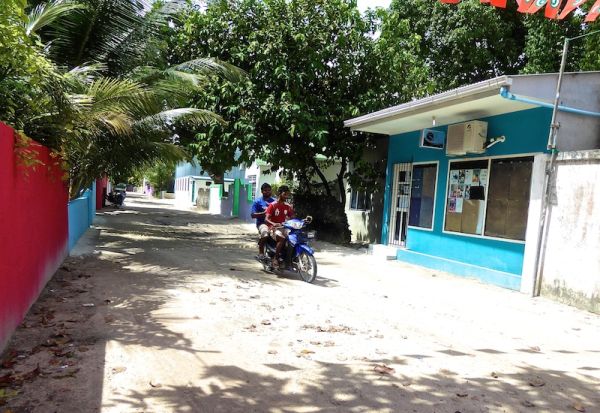 The fruits of Thoddoo island
Ahhh the fruits…they grow everywhere on Thoddoo. The island is in fact one of largest exporters of fruits and vegetables in the Maldives as we found when taking the public ferry there: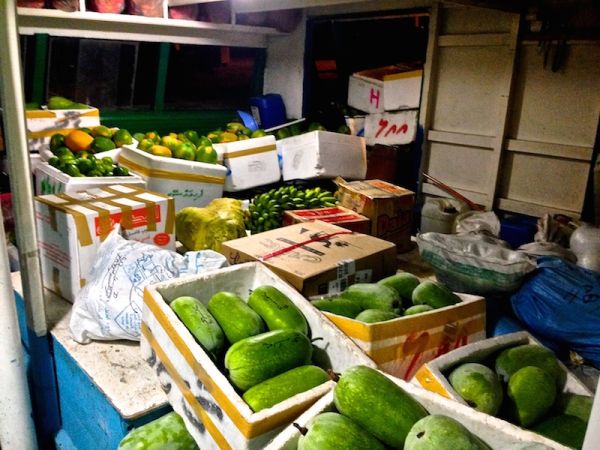 Papayas are particularly commonplace in the Maldives so we went papaya crazy, having lots of it for breakfast, on the beach, for lunch and dinner… and usually for free as the locals will gladly offer them to you.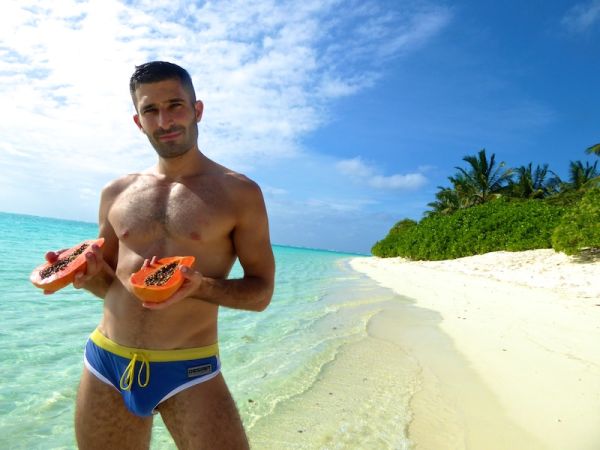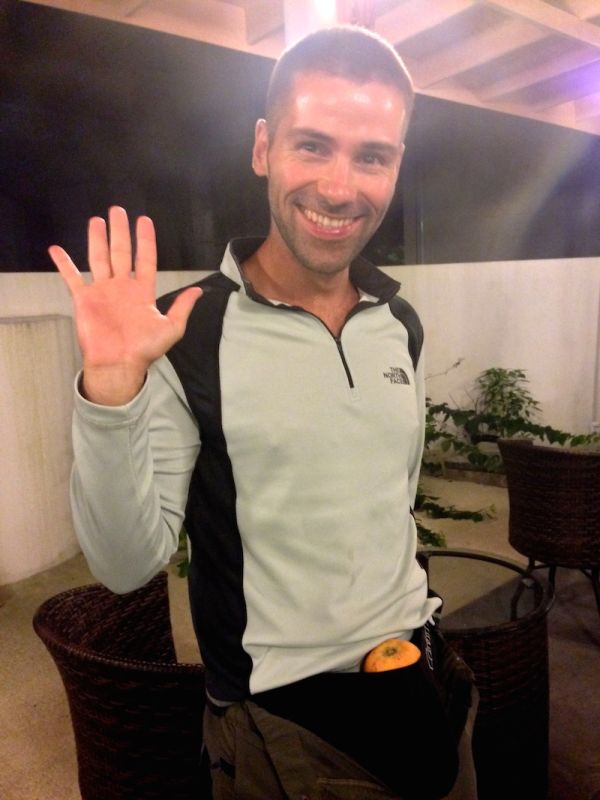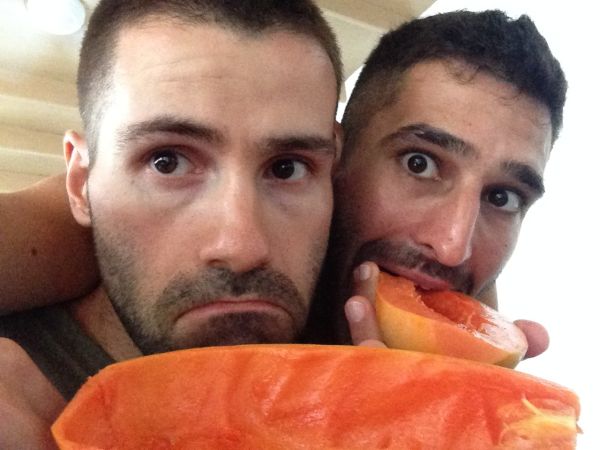 One of the highlights of any visit on Thoddoo island is to take a fruit tour and sample all the different delights the island has to offer. There will always be a variety of fruits in season regardless of when you visit.
So, as well as the papaya, Thoddoo also has wonderful radish and passion fruit: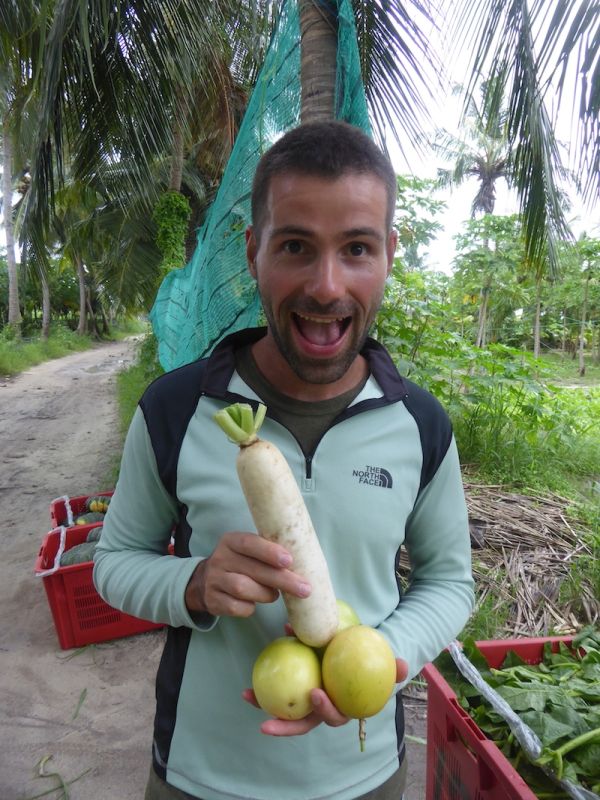 …pumpkins: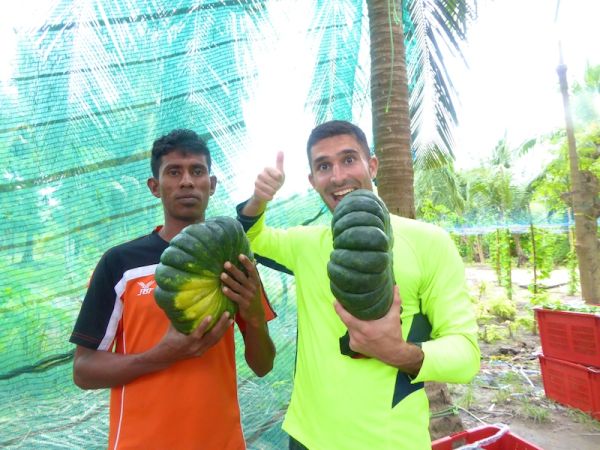 …and also small sweet coconuts:
The beautiful white sandy beach of Thoddoo island
The highlight of any stay in the Maldives will be the beach. Even if it rains (the weather is extremely unpredictable there), the water is always warm. And even if the water is choppy on one part of the island, it will be surprisingly calm on the other side.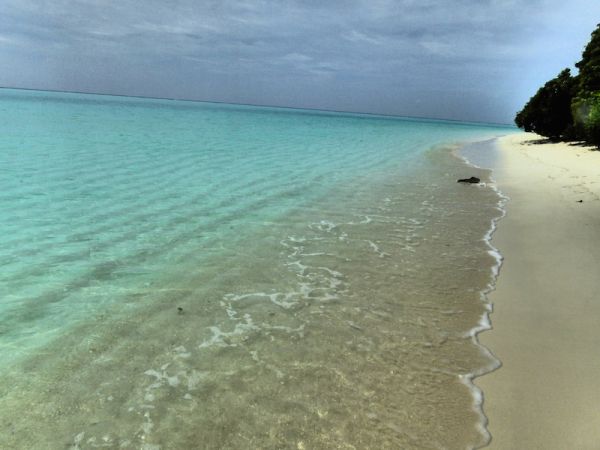 Thoddoo features a huge white-sandy beach with a private 'bikini' beach located in the southeast side (see map above). It is called a 'bikini' beach because women (tourists) are allowed to come here in their bikinis (instead of being covered up).
We also noticed the bikini beach was particularly popular with some of the local men of Thoddoo island who would sneak in for a cheeky peak…they must have been a bit disappointed when they only saw us two fooling around instead of a hot topless Russian girl sunbathing: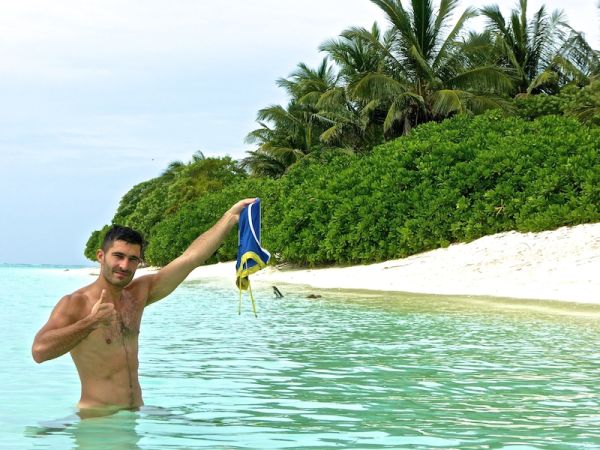 We were on Thoddoo island in late November, just before the peak season kicked off in December and had the entire beach all to ourselves every day:
Scuba diving on Thoddoo island
Scuba diving was one of the main reasons we wanted to travel to the Maldives. The new scuba diving school on Thoddoo island charged from $50 per fun dive, inclusive of all gear and boat ride.
This part of Maldives is popular with scuba divers for opportunities to see turtles, manta rays and even sharks.
For us, it was a dream to see sharks whilst diving. On one dive to the nearby island called Rasdhoo, we saw white tip reef sharks like this one swimming some 5 metres away from us:

Scuba diving is usually offered by most guesthouses as most islands will have a diving school or will be located to a nearby island with a diving school. In our case, a new excellent diving school had just opened up on Thoddoo island, operated by Anatoliy from Latvia.
Snorkelling on Thoddoo island
Thoddoo island has several coral reefs located near it, some a short swimming distance away, others a boat ride away. Either way, the enthusiastic snorkelers will be in heaven here.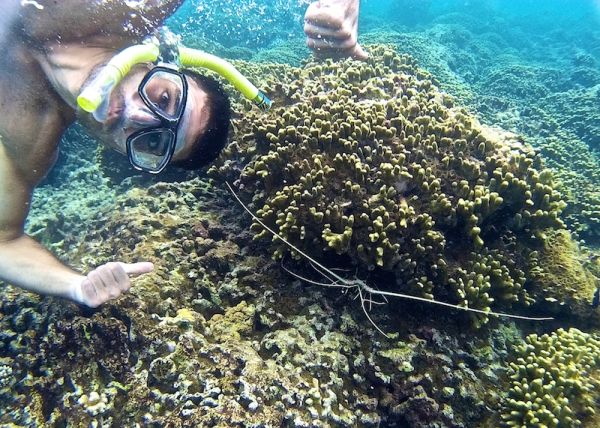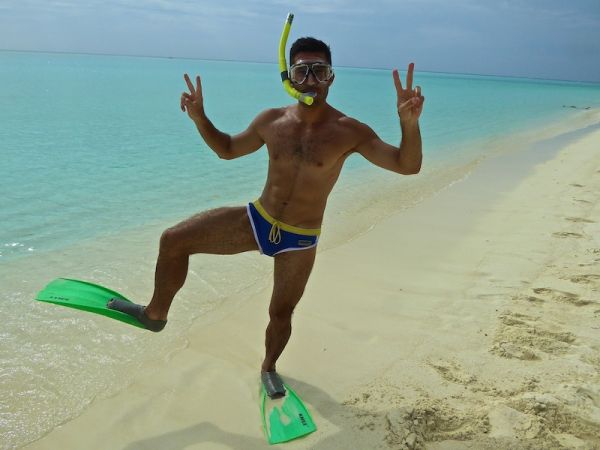 Fishing trips on Thoddoo island
A fishing trip was included as part of our accommodation 'package'. It involved a 5am start as we joined the many local fishermen out on their boats using fishing lines to fish for tuna.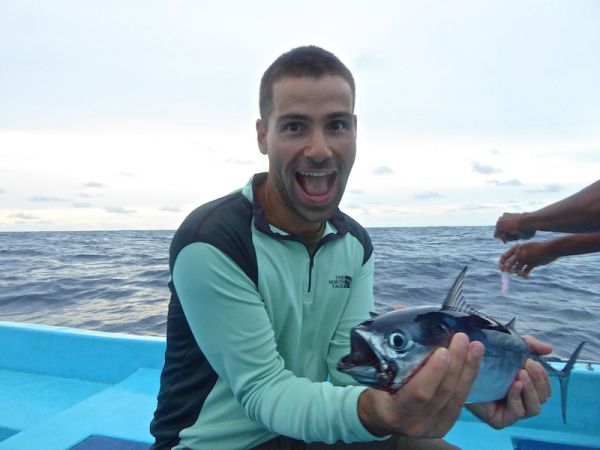 We caught in total 5 big tuna fish after 2 hours of early morning fishing and enjoyed a delicious BBQ for lunch: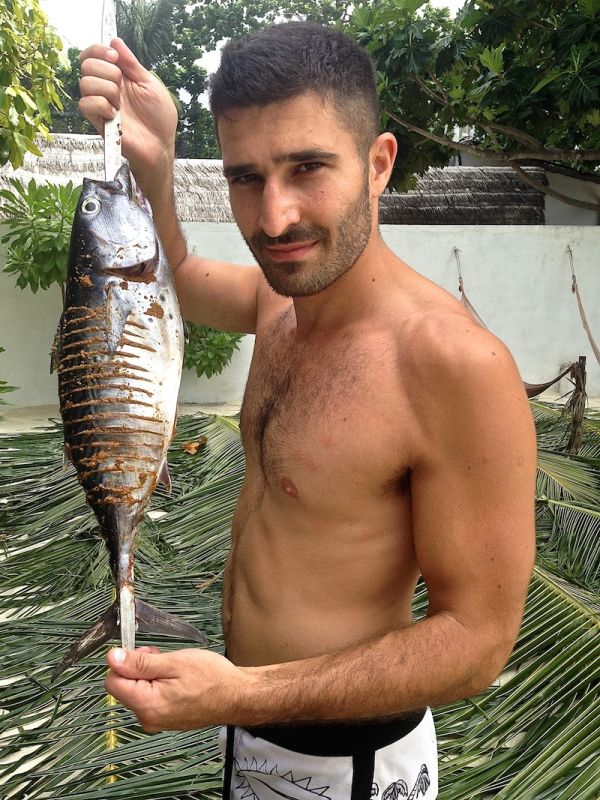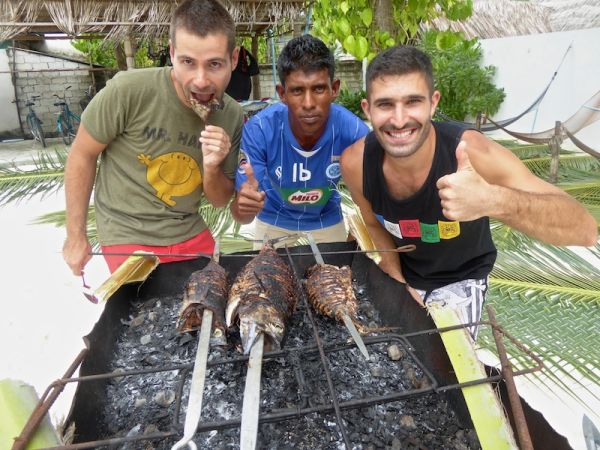 Water sports on Thoddoo island
We also had some water ski thrown in as part of our $65 a night accommodation package. This was great fun and Sebastien took to it like a pro: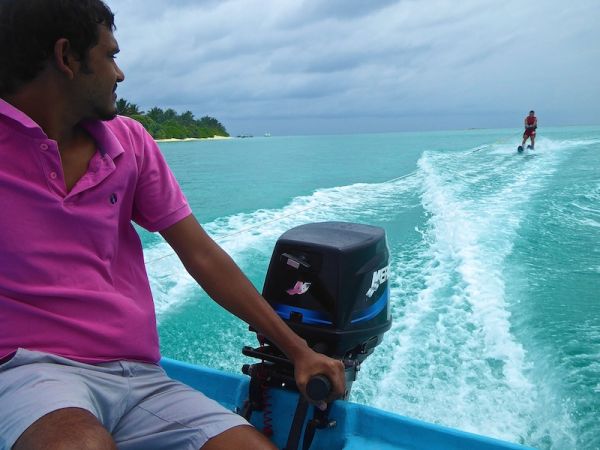 Unfortunately, Stefan didn't quite get it: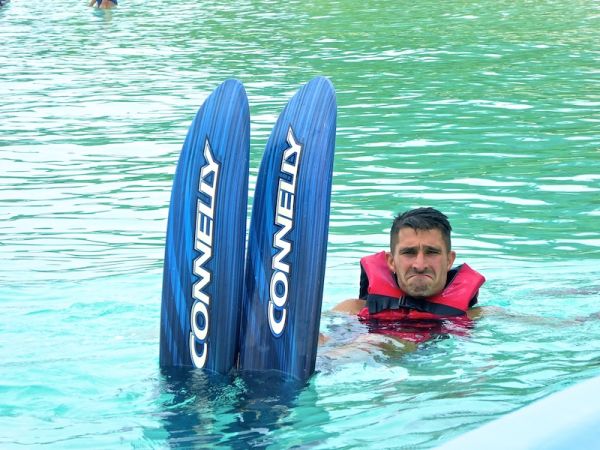 Check out our Maldives travel video right here:
OUR FAVOURITE TRAVEL TIPS
⭐️ TRAVEL INSURANCE — We recommend you always take out travel insurance before your next vacation. What happens if you suffer from illness, injury, theft or a cancellation? With travel insurance, you can have peace of mind and not worry. We love World Nomads travel insurance and have been using it for years. Their comprehensive coverage is second to none and their online claims process is very user friendly.
⭐️ SAFETY & SECURITY — All travelers can sometimes encounter danger when traveling. CloseCircle is your "virtual body guard" mobile app which provides security alerts and support wherever you are in the world. They have a 24/7 emergency response team monitoring their users who will contact you immediately if the SOS swipe button is activated. Support can include anything from practical advice, to free evacuation from areas with extreme weather or security risks. You can read more about CloseCircle in our article about how to stay safe whilst traveling.
⭐️ ONLINE ANONYMITY — A VPN (Virtual Private Network) is a must in many countries: it allows you to surf anonymously and maintain your privacy whilst traveling. You'll particularly need it in countries where dating apps are blocked by the government. We recommend ExpressVPN, a reliable and cost effective service which we used and loved during our travels.
⭐️ HOTELS or APARTMENTS — When we plan a trip, we always look for the best hotel deals. We love Booking.com because not only do they have a comprehensive listing of accommodation options, they also offer the best prices. Added bonus: they provide 24/7 support and free cancellation for most listings.
⭐️ SIGHTSEEING and ADVENTURES — When we travel somewhere, we like to seek out the best experiences, whether it is cooking with locals in Bangkok, hiking on a glacier in Patagonia, or going on a wildlife safari in Sri Lanka. Our favorite place to look is GetYourGuide because they have over 30,000 highly rated activities, a user-friendly booking process with free cancellation and a 24 hour customer support.
This article contains affiliate links. If you click on them, we may receive compensation which keeps our website alive and helps us bring you to more destinations.