TERMS OF USE: There is a chance that some of the content on this page has changed since it was last updated. By reading this article, you consent to our Terms of Use and Disclaimer. Happy Travels!
DISCLOSURE: Some of our posts may contain affiliate links which we may receive a commission if you choose to book something through one of our links.
Our detailed gay guide to Russia follows our experience as a gay couple including safety tips, the lowdown on the gay scene, and top attractions to see.
My "coming out" song back in February 2003 was "All The Things You Said", a pop hit by Russian girl band t.A.T.u, who was marketed as a lesbian couple. For the video of this song, the two band members, Lena Katina and Julia Volkova, were running around in the rain dressed in schoolgirl outfits and kissing, making out in the rain.
Obviously the band were (quite successfully!) targeting a very specific heterosexual male demographic! But despite this, the very fact that such a public homosexual image was being shown and accepted across Russian society in the early 2000s speaks volumes about attitudes to LGBTQ in Russian society…
So what the hell went wrong since?!
In this gay travel guide to Russia, we discuss the situation in relation to LGBTQ rights, how it has evolved over the past decade, and where it stands today for the gay Russian community. We also write about our first-hand experience exploring the country as a gay couple together with all our safety tips for fellow LGBTQ travelers who plan to visit Russia.
Stay safe online in Russia
Over the past few years, the Russian government has been monitoring and censoring online use more and more. For your peace of mind, make sure you get a VPN so that you can use all your favourite gay dating apps and surf the web anonymously whilst in Russia.
Gay rights in Russia
Let's not beat about the bush. If you're openly gay in Russia, you're going to face major problems, whether you're a local or a tourist. It's tough, it's hard and it pays to stay in the closet for your own safety! More about this below. In terms of LGBTQ rights in Russia, it's obviously not great, but we'll start this section with the good news!
It is legal to be gay in Russia!
In fact, it has been fully legal since 1993 – a whole decade before the USA Supreme Court fully decriminalised homosexuality across the entire country in the Lawrence v. Texas ruling. Other positive LGBTQ rights and laws in Russia that we found include:
the age for consent (16 years old) has been the same for both straight and gay couples since 1993 (though sadly not in Chechnya)
homosexuality was formally removed from the list of Russian mental disorders in 1999
it is legal for a single gay man to adopt in Russia
you can change your legal gender
gays are allowed to serve in the Russian military (albeit under a "don't ask don't tell" policy)
openly gay men are (theoretically!) allowed to donate hemoglobin – by comparison in the UK, USA, Canada and Australia, we are required to have 3 months of no relations before we can even be considered, and in Germany, it's a whopping 1 year!
…and have you seen some of those super homoerotic photos of Vladimir Putin??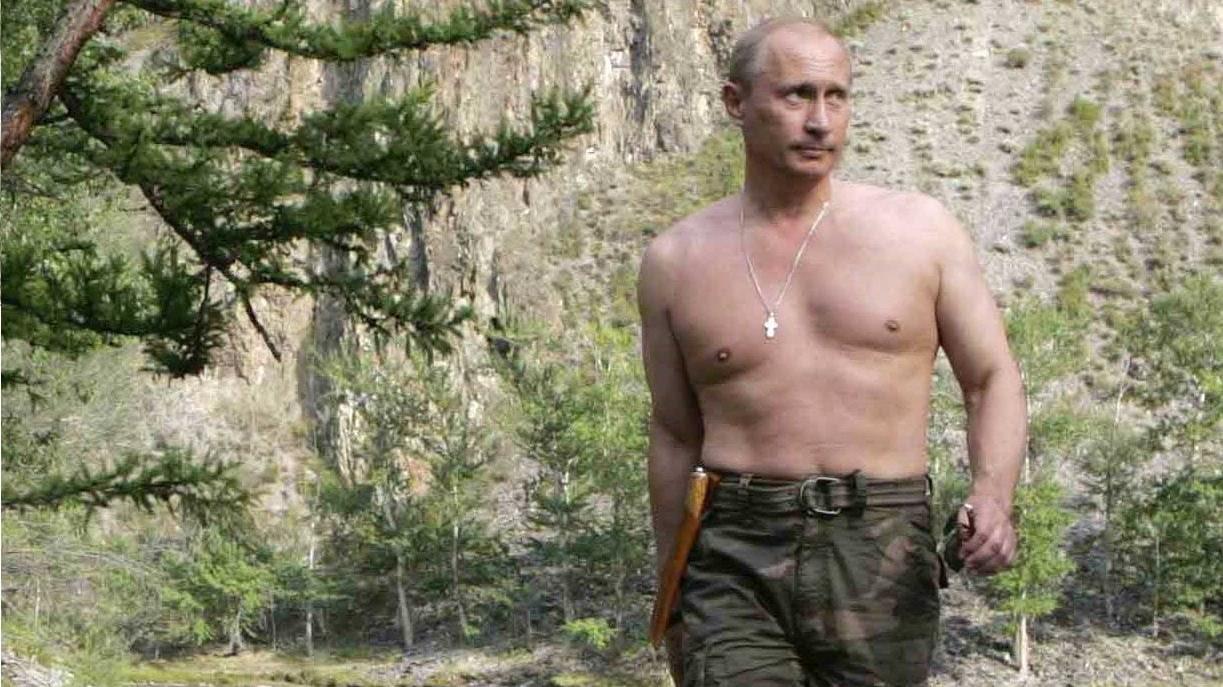 Why Russia has a bad reputation?
Up until the late 2000s Russia had the sort of LGBTQ standing you'd expect from an Eastern European country, namely that the situation for the local gay community was not great, but ripe for positive change. Sadly, over the past decade, this positive change went the opposite direction completely, particularly in June 2013 when the awful anti-gay propaganda law was introduced.
Under the banner of "protecting children from being exposed to homonormativity", the anti-gay propaganda law outlaws anything that promotes "non-traditional relationships" among minors. However, as it's so widely drafted, this has effectively re-introduced an anti-gay law in Russia because anything that is seen to promote homosexuality can arguably be said to contravene this law, and therefore lead to arrest, deportation and/or fines.
Worst of all, this law has led to a surge in LGBTQ hate crime in Russia, along with state-sponsored violence such as the gay concentration camps in Chechnya, which you can find out more about in the 2020 BBC documentary, "Welcome to Chechnya".
To get an idea of the level of homophobia and outright stupidity prevalent amongst Russian politicians, check out this interview from October 2013 between Stephen Fry and Vitaly Milonov.
Milonov is one of the most prominent politicians in Putin's "United Russia" party and he was also the principal sponsor of the awful 2013 anti-gay propaganda law:
Is Russia safe for LGBTQ travelers?
The short answer is, yes, it is safe, but….only if you're prepared to stay in the closet throughout your visit, especially in public.
Just before travelling on the Trans Siberian across Russia in 2014, we were nervous! After all, we all know Russia has a terrible reputation for LGBTQ rights, particularly in light of the awful anti-gay propaganda law passed in 2013. All our friends and family warned us:
"you better be careful in Russia boys, probably best avoid going altogether!"
With hindsight, we are so glad we ignored this advice! We travelled through Russia for 2 months and survived unscathed! However, we did feel like we went back in the closet, especially in public, where we pretended to be "mates" rather than a couple in love. We found that if you respect the fact that Russian society is very conservative and prefers low key behaviour from people, then you'll be absolutely fine.
We also strongly believe that going there, supporting gay friendly businesses, meeting and making friends with the local LGBTQ community would be far more productive than boycotting them altogether.
At the end of the day, whether you choose to travel to Russia, is a personal choice for you. We are not saying you shouldn't visit. Russia is a beautiful country, rich in culture and history that it would be a shame to skip. It also has a thriving LGBTQ community living their day-to-day lives, particularly in Moscow, which has quite a large gay scene. As long as you have common sense, have your wits about you at all times and avoid any LGBTQ activism, you'll be fine!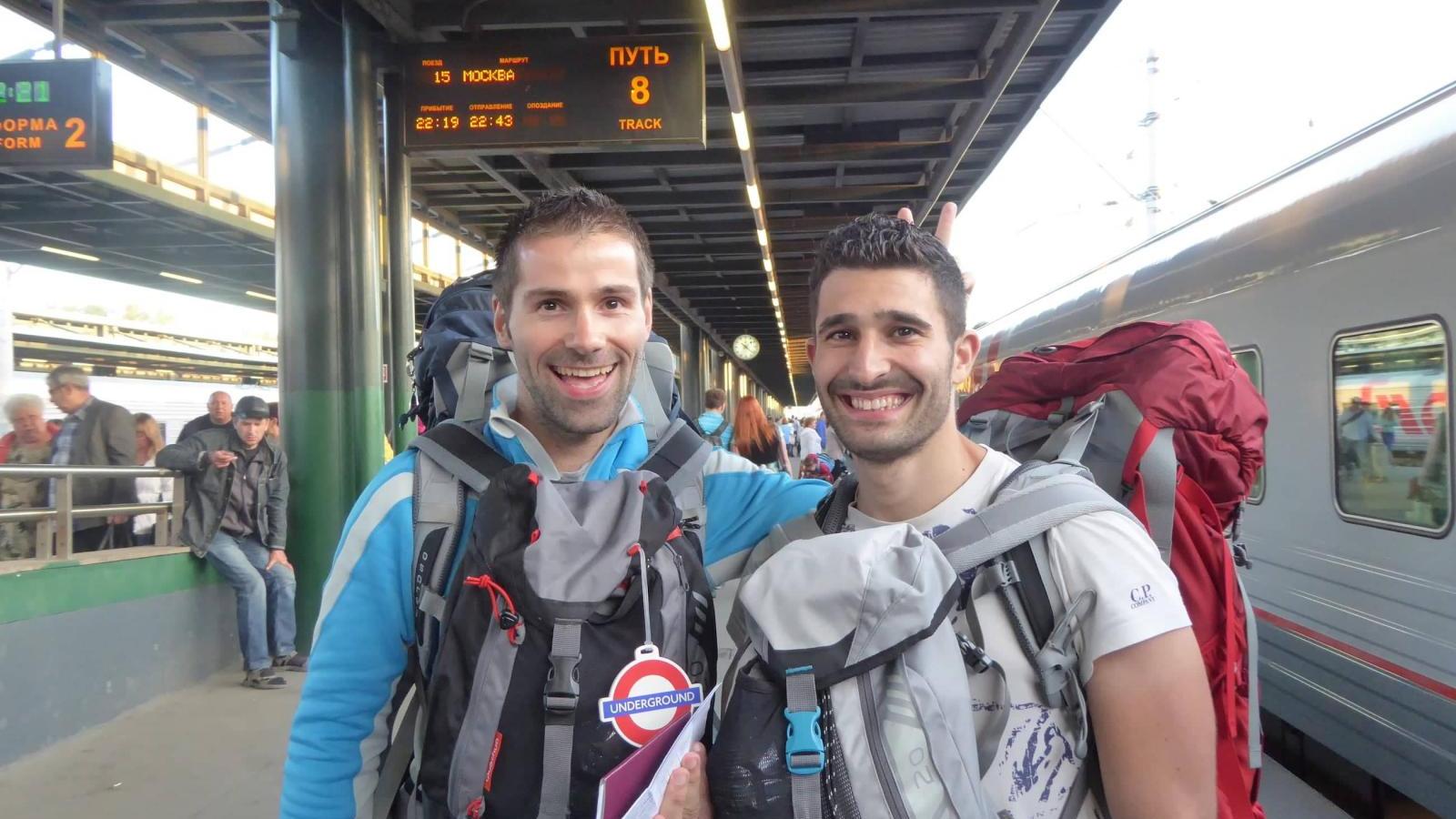 Best gay scenes in Russia
Surprisingly, Russia has a gay scene, particularly in the two main cities: Moscow and St Petersburg. Moscow, in particular, has quite an impressive number of bars, clubs, cruising parties, and saunas.
1. The gay scene in Moscow
Stefan first went to Russia in 2007 before he met Seb and partied at Central Station MSK, which is still today, the biggest gay club in Moscow. Over a decade later, Central Station is still going strong in defiance of the anti-gay law in place. This place is huge, 5 stories high, and a really fun night out on weekends. The doormen outside are very curt and stern, but all part of the notorious Soviet-style "face control" to avoid any homophobic violence inside. After a night out at Central Station, we headed to BoyZ Club for the after-party.
Other big and super popular gay clubs in Moscow to check out include MONO, Three Monkeys, and Propaganda. There are also cruising parties like Hunters, which is the biggest and the best, and also Imperia.
Popular gay bars in Moscow include Nashe Cafe (НАШЕ Кафе) and NICE. In terms of gay saunas in Moscow, there are many! Some of the more popular include VODA, XL Spa, and Paradise.
2. The gay scene of St Petersburg
We loved St Petersburg a lot. It's like an outdoor museum, full of architectural gems like The Winter Palace, the Spilled Church, and the Mikhalmikhailovsky Castle. It's the most European-like city in Russia, and definitely one of the more liberal-minded places in Russia.
The gay scene of St Petersburg is smaller than Moscow, but still buzzing with life. The main gay club of St Petersburg is Blue Oyster/Priscilla, which is a gay bar by day and club at night. It is named after the fictional gay bar in the Police Academy movies. Blue Oyster/Priscilla has several bars spread over 4 floors, which include a karaoke room, dance area, lounge, and a dark labyrinth.
Central Station Spb is the other popular gay bar/club in St Petersburg. It's also quite large, with 2 large bar areas, a dance floor, a VIP area, and a darkroom. Other gay clubs and bars in St Petersburg include Cabaret and Malevich, as well as a cruising bar called Bunker which may have permanently closed (we're keeping an eye on this, updated August 2023).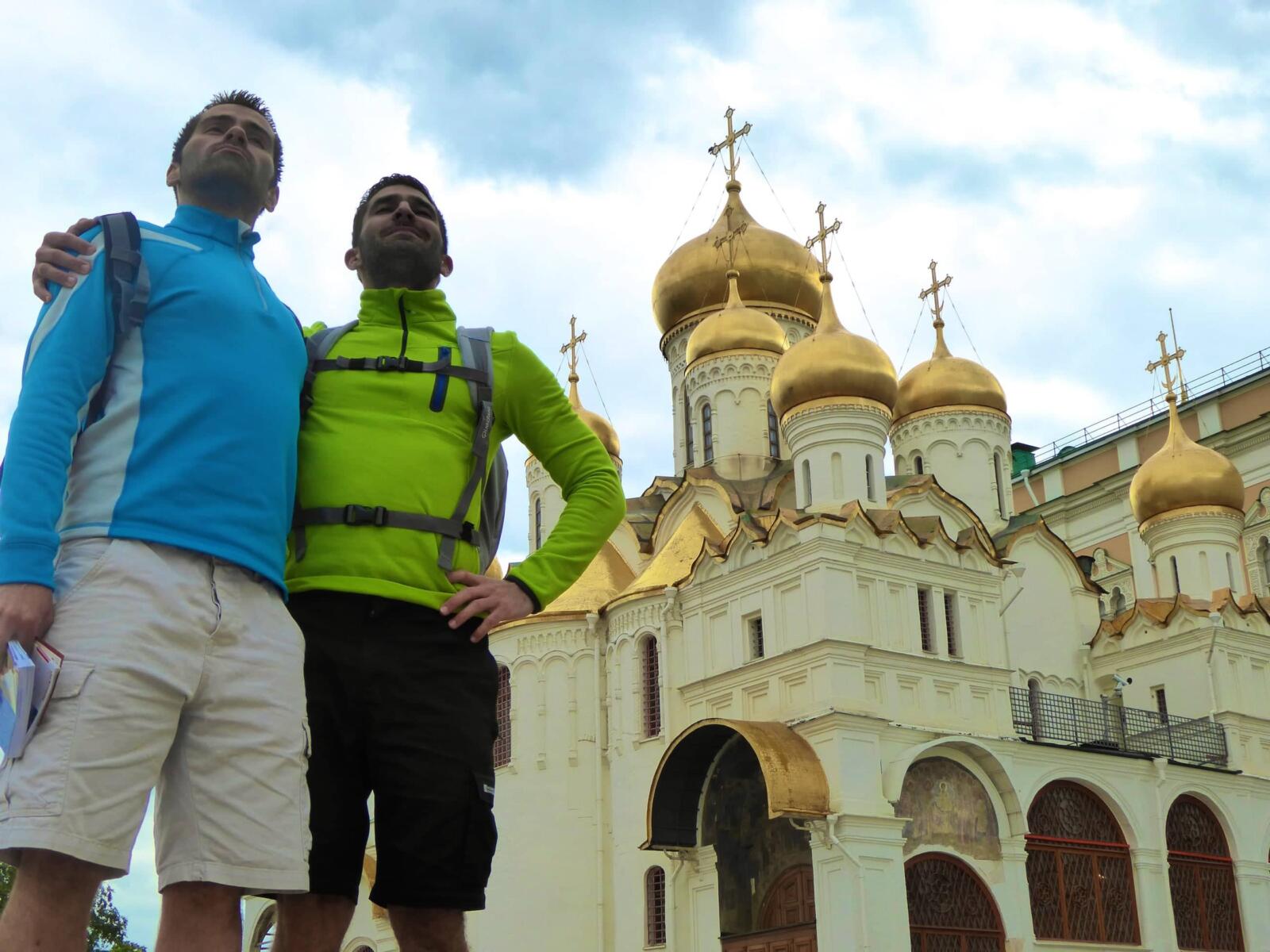 Top experiences for gay travelers in Russia
There are a lot of pretty impressive bucket list items to check out in Russia. Having studied Russian history at length at school, we both had a huge curiosity to see more of a country that is so greatly vilified by our Western media – think Bond Villains, Russian interference in elections, etc etc
Whatever your thoughts are about the government and its politics, remember that there are everyday people living in this country who are just like you and me, around 6% of who are LGBTQ!
This is our lowdown of some of our not-to-miss highlights in Russia:
The Red Square (and Lenin's Mausoleum)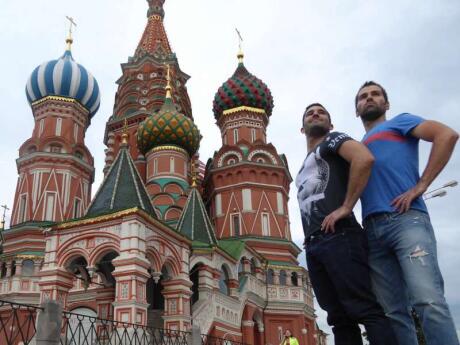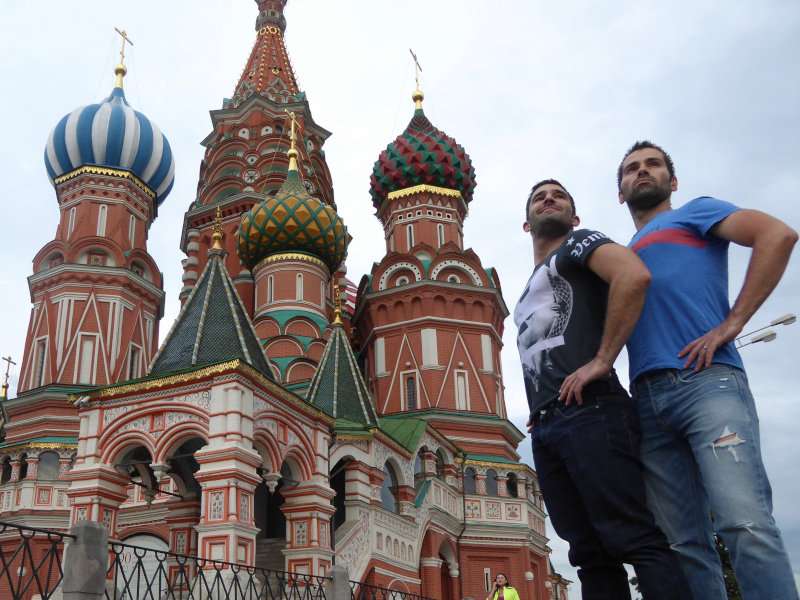 Moscow's Red Square is possibly the most famous location in the whole of Russia. All of Moscow's streets (and then the highways that connect to those streets) originate here, so it's often called the central square of Moscow. This is also the location of Lenin's Mausoleum, the Kremlin, and our favorite building in all of Russia – the super colorful St. Basil's Cathedral. This whole area is a UNESCO World Heritage Site and is a must while you're in Moscow.
---
The Winter Palace in St. Petersburg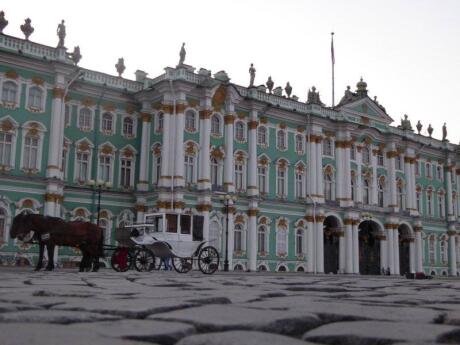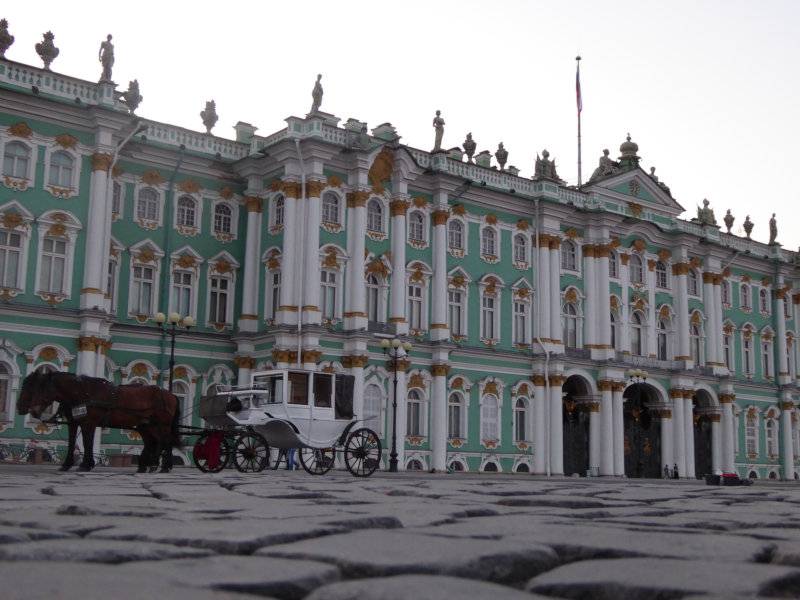 Another incredible building that blew us away was the Winter Palace in St. Petersburg. It used to be the official residence of the Russian Emperors between 1732 to 1917. It's an impressive building, built in the Elizabethan Baroque style. Nowadays the palace forms part of the State Hermitage Museum, which is the second-largest art museum in the world! Other highlights include marvelling at paintings, sculptures, jewelry, and other art forms from around the world, including pieces that belonged to Empress Catherine the Great – yaaas Queen!
---
Mikhailovsky Palace in St. Petersburg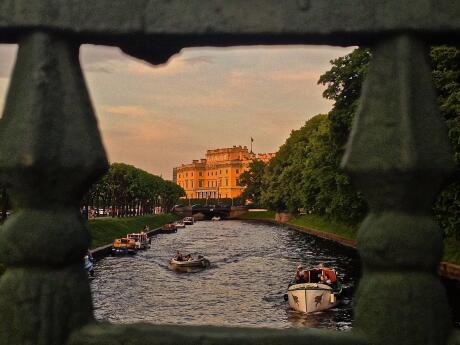 Another stunning palace you need to see in St. Petersburg is the neoclassical Mikhailovsky Palace. Originally the home of Grand Duke Michael and his wife Grand Duchess Elena Pavlovna, the beautiful building now houses the State Russian Museum. Here you can see the world's largest collection of Russian art, covering all main trends from over a thousand years! We also really enjoyed exploring the extensive gardens behind the palace as well as the Field of Mars and Summer Garden just beyond that.
---
A journey on the Trans Siberian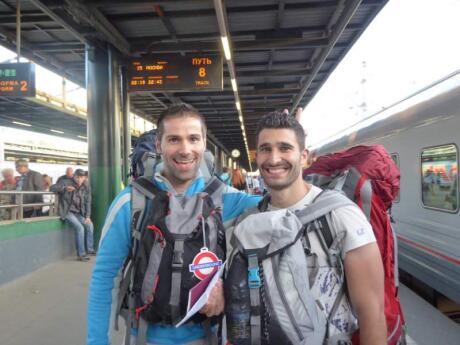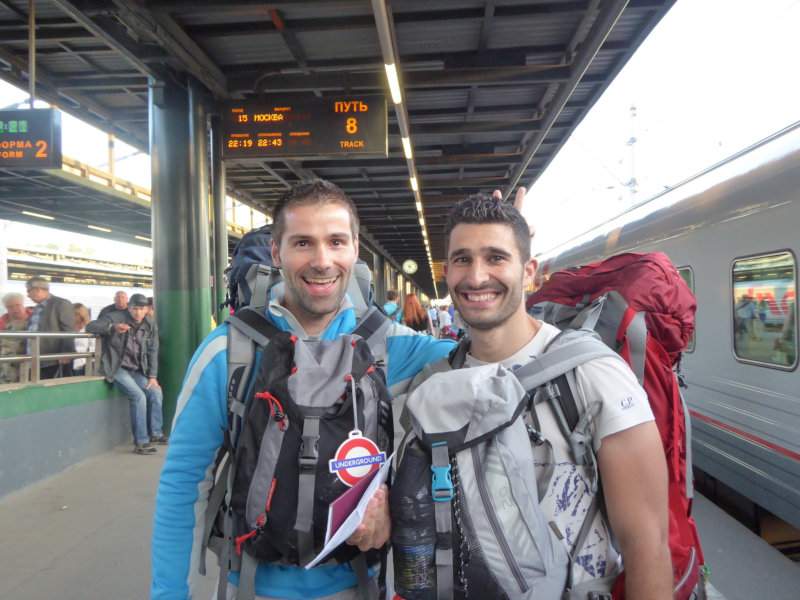 We took a journey on the famous Trans-Siberian Express when we visited Russia and we would definitely recommend other visitors make the effort to experience this once-in-a-lifetime journey! Stretching 9,289 kilometres (5,772 miles) across Russia from Moscow to Vladivostock, the Trans-Siberian is the longest railway line in the world. You can also explore the Trans-Mongolian route which gives you the chance to travel through three different countries (Russia, Mongolia and China) from Irkutsk to Beijing. Whichever part you choose, it's truly a train trip you'll never forget!
---
Lake Baikal (Olkhon island)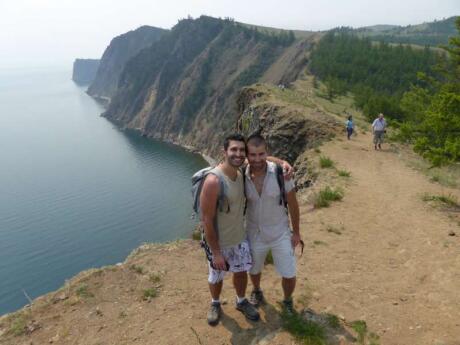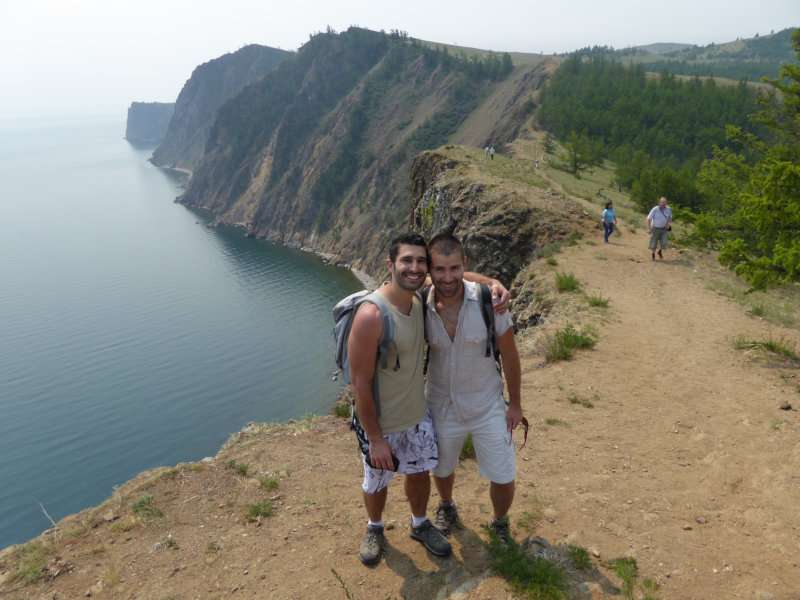 During our travels on the Trans-Siberian Express, we organized a stopover in Irkutsk to break up the journey and give us a chance to explore the region. We then joined a tour from Irkutsk to Lake Baikal, which is the largest freshwater lake in the world by volume and the world's deepest lake! It's so big it seems like you're standing next to the ocean, not a lake, except there's no salt in the water. We also visited Olkhon Island which is the biggest island within Lake Baikal. Here we stayed with a local family and learned about their spiritual beliefs surrounding the island which was fascinating.
---
Gay tours in Russia
If you'd feel more comfortable visiting Russia as part of a group don't worry, there are some gay tour operators organising gay group tours you can join! You'll be able to relax and feel perfectly at ease with other gay travellers while you explore the sights of this magnificent country.
1. Deluxe Imperial Russia with Out of Office
UPDATE SEPT 2022: THIS TOUR HAS BEEN TEMPORARILY WITHDRAWN – we will update you as soon as things have changed.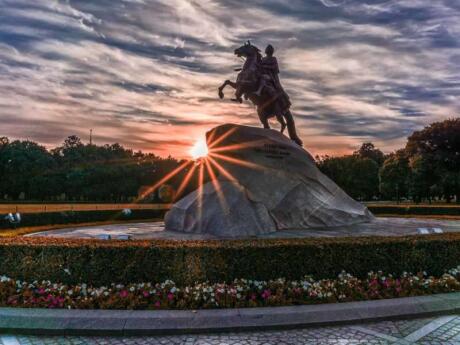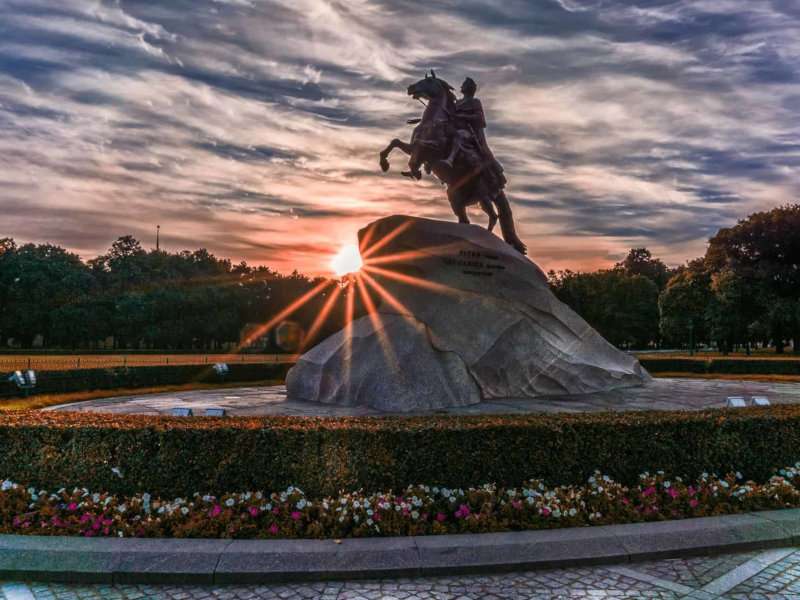 Out of Office organizes a gay group trip to Russia which explores Moscow, St. Petersburg and Pushkin. You'll definitely feel like the long-lost Romanov princess as you prance among stunning gardens and explore opulent palaces. This tour includes guided excursions to all the most famous sites, like the Red Square, Kremlin and St Basil's Cathedral in Moscow. After transferring via the high-speed Sapsan train to St. Petersburg you'll then get to explore the Hermitage within the winter palace – one of our highlights! A day trip to the "Tsar's Village" is also pretty incredible with multiple palaces to explore.
---
Can I use Grindr in Russia?
Grindr is allowed in Russia, but use your common sense for your personal safety at all times. Over the the last 5 years, the Russian government has been tightening control over online activity and has also demanded apps hand over information about its users or face being banned in Russia. It has to date done this to Telegram, LinkedIn and Tinder.
As far as we know Grindr and Hornet are not yet blocked in Russia, but regardless of this, we strongly recommend using a VPN to access your gay dating apps. This will allow you to hide your location and browse the web anonymously.
We used Grindr and Hornet extensively during our trip to Russia and at no stage did we ever encounter any issues, but we were always careful. We found it to be super useful for connecting with the local gay Russian community, particularly when traveling to smaller cities like Yekaterinburg, Irkutsk, Kazan, etc where there is absolutely no gay scene at all.
Beware of Catfishing whilst travelling in Russia as there have been reports of violent homophobic gangs targetting gay guys on the dating apps, so please take care! Always meet the other person in a public area, ask for pictures first, cross-check their name on Google as well as on other social media channels to see if things add up.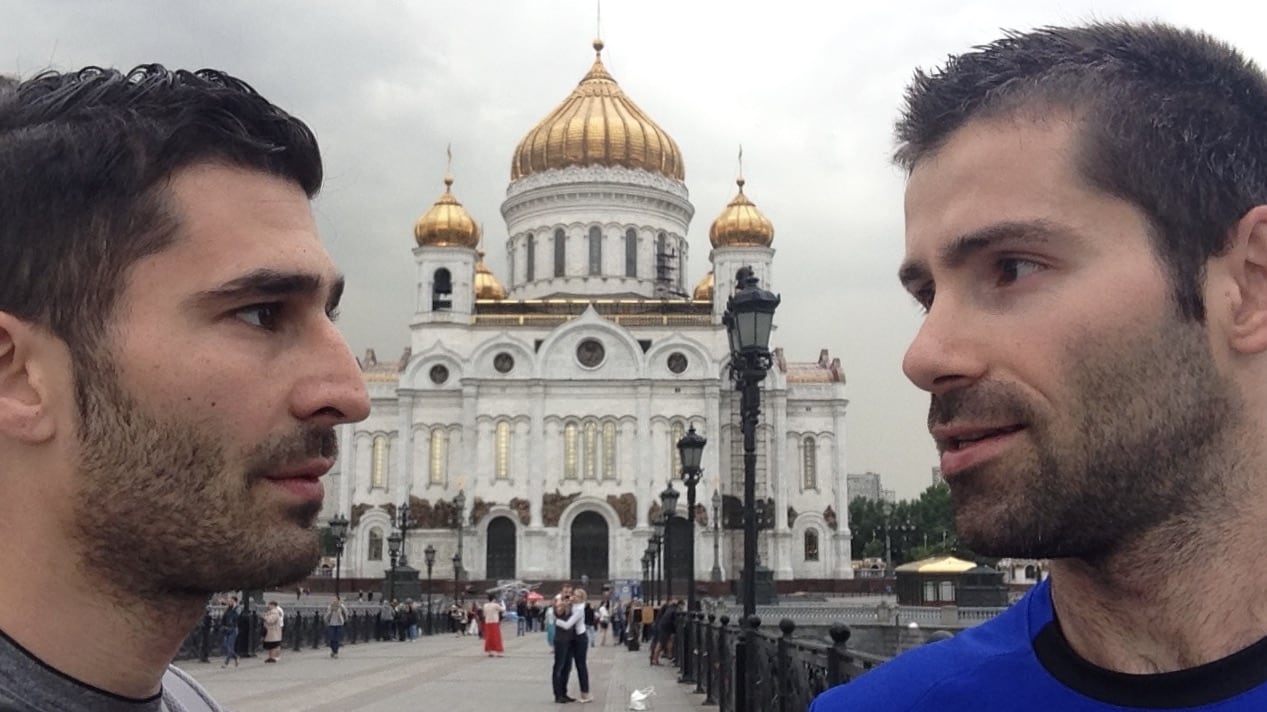 Gay pride in Russia
The sad reality is that due to the anti-gay propaganda law, you'd be hard-pressed to find any gay events taking place in Russia.
The local gay Russian communities of Moscow and St Petersburg have tried to organize a Moscow Pride and a St Petersburg Pride in the past. Sadly, they always get shut down by the government, risking violence if they do go ahead. In June 2012, the Moscow City Hall even went as far as enacting a 100-year ban on gay pride parades taking place in the city!
We recommend watching this brief video to you an idea of the different attitudes prevalent across different sections of Russian society towards the LGBTQ community and Gay Pride events. It's interesting and inspiring to see more positive reactions by the younger generation:
Foods and drinks in Russia
It's not just about the vodka, although that does play a huge part in Russian cuisine! Here is our pick of the top foods and drinks you should try in Russia:
Vodka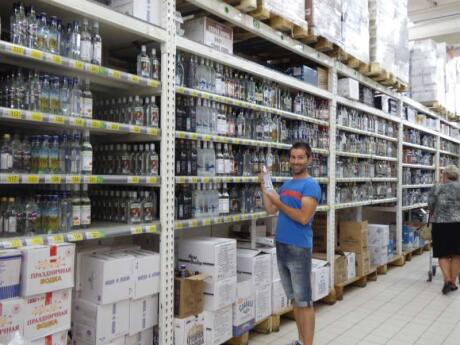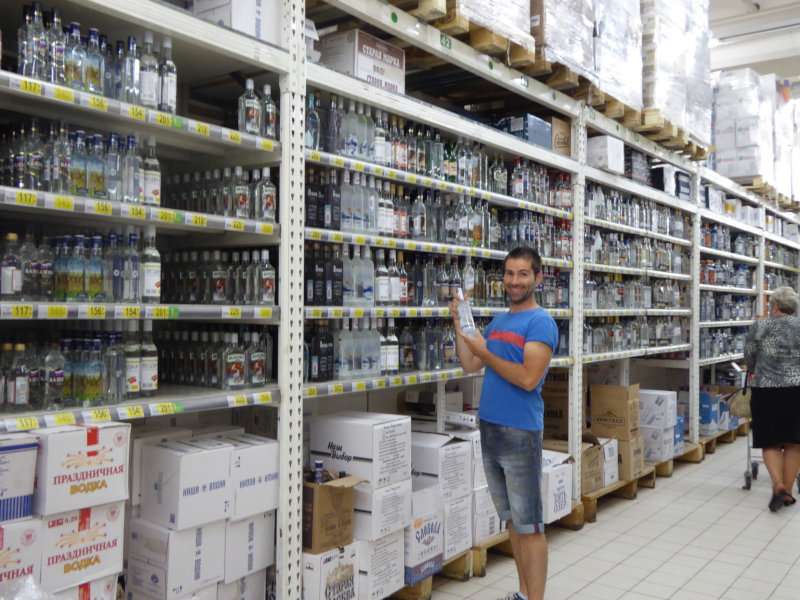 Vodka is one of the national symbols of Russia so it's not surprising that this is a massive industry throughout the country. Russians are also the biggest consumers of vodka in the world which is very noticeable once you're there. A typical supermarket will have an entire row devoted to just vodka as you can see in this picture! There are vodka museums in both Moscow and St. Petersburg if you want to learn more about the history of the drink, or just try a few different varieties during your travels. We really liked the Russian Standard variety which is made from a traditional Siberian recipe.
---
Borscht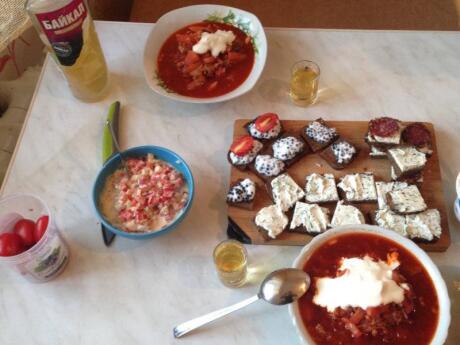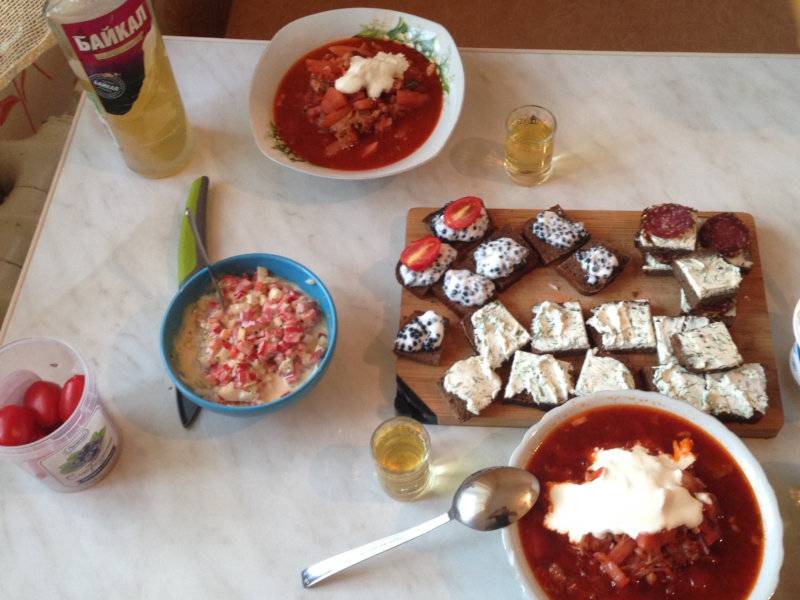 Borscht is another type of food/drink that's often associated with Russia, although this type of soup is also a traditional dish in countries like Ukraine and Poland. While it's mostly known as a sour beetroot soup, the word borscht just refers to any sour soup. The red beetroot version is definitely the most well-known and popular in Russia. Borscht is usually served cold during summer but is just as yummy to have hot during winter. Along with beetroot, it's often made using meat, potatoes, carrots, cabbage and onion. It's usually topped with sour cream and makes for a hearty, filling meal.
---
Pelmeni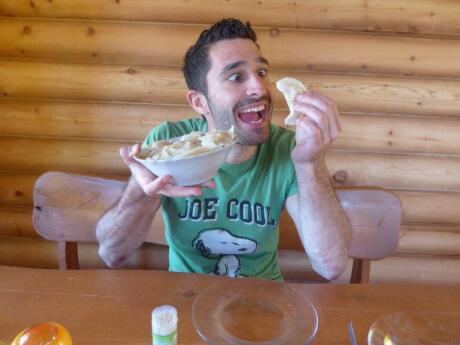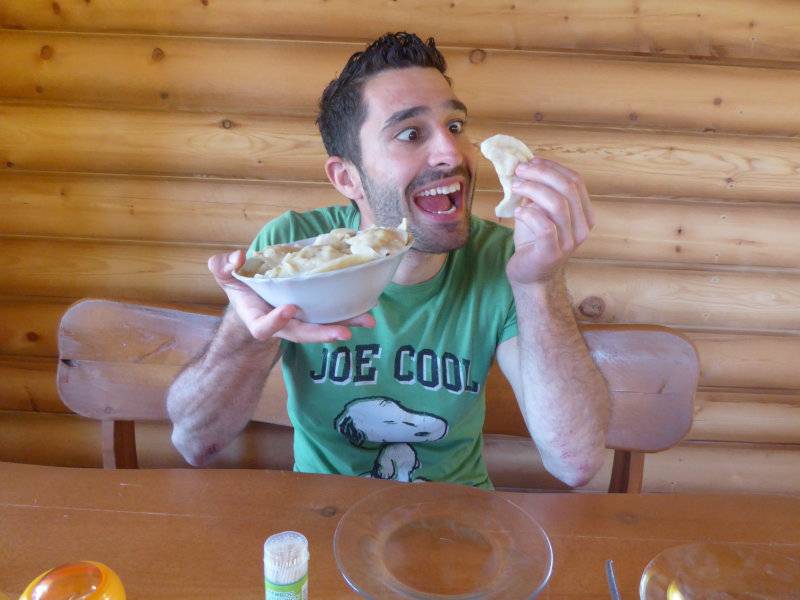 We've loved every kind of dumpling we've ever tried and pelmeni Russian dumplings were certainly no exception! Pelmeni is made using quite simple ingredients but they're delicious Russian comfort food. The dough is made from just flour and water, sometimes with eggs. The filling is usually some kind of minced meat (or mushrooms for vegetarian versions) with onion and spices. They're then served with sour cream or even just butter. It sounds boring but they're honestly just so yummy especially on a cold day. They freeze well too since they were traditionally used as preserved food in the Siberia region.
---
Piroshki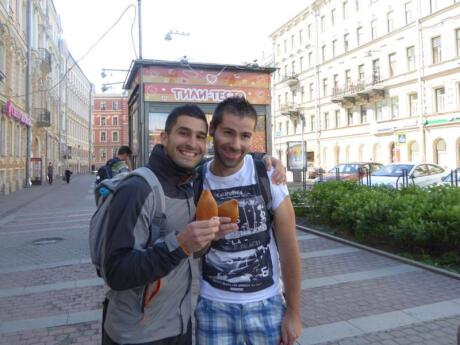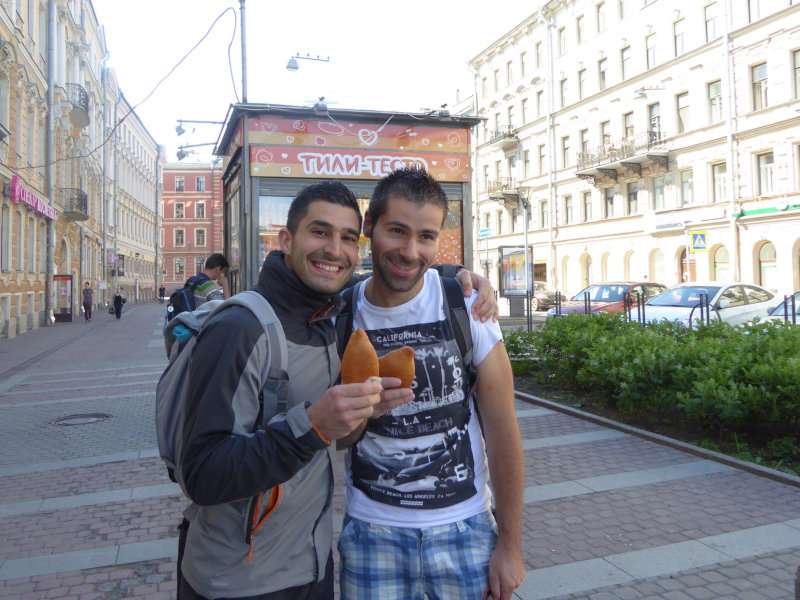 A typical street food we encountered (and loved) during our time in Russia was piroshki. These fried/baked buns are served with a variety of different fillings, including savoury ones with meat, mashed potato, mushrooms, boiled egg or cabbage. You may also find sweet versions filled with fruit or jam. They're perfect for eating on the go as they're hand-sized, so we often grabbed a couple while wandering around markets or exploring Russia's city streets. Don't get them confused with pierogis though, as they are made with a different type of dough and then boiled (or boiled and fried) so they're slightly different.
---
Smoked Omul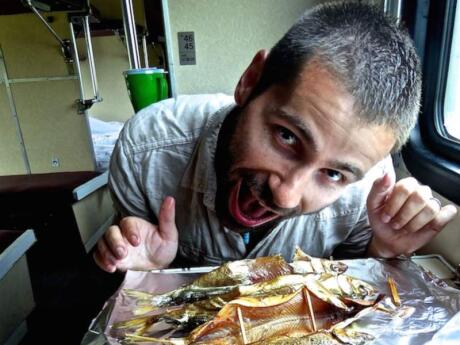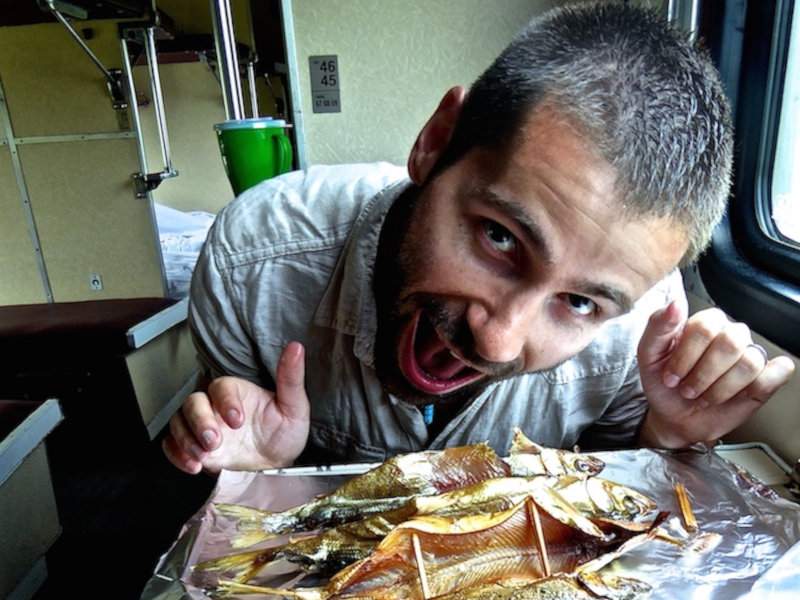 Omul is a type of fish that's part of the salmon family and is only found in Lake Baikal in Siberia. We tried some during our Trans Siberian journey and were pleasantly surprised. The traditional way of preparing the omul is by spreading it open with skewers, covering it in salt and then smoking it over a fire. It sounds simple but the flavours are actually incredible and complex when you eat some! First, the flesh just sort of melts into your mouth with saltiness then the smokiness and sweetness of the fish comes through. It was like nothing we've ever tried before but we ended up loving it!
---
Plan your trip to Russia
We've put together some handy hints and tips to help you plan your own trip to Russia. Read on to find out everything the gay traveller should know before they go.
Travel insurance: We never travel without making sure we have travel insurance to cover us in case of emergency. Anything from cancelled flights to illness can derail your plans, so it's good to know you're protected when visiting Russia. We recommend Heymondo Travel Insurance as we've been using them for years and know they will look after us. Their cover is comprehensive and affordable, plus it's easy to make a claim online if you need to.
---
How to get there: There are three major airports near Moscow and one by St. Petersburg, so it's relatively easy to travel to Russia by plane. You can also travel to the country by train from most of the surrounding countries and even as far away as Beijing.
---
Visa requirements: Nationals of some countries don't need a visa to visit Russia for certain periods, but if you are coming from the United States, Canada, Australia or the United Kingdom then you will need to apply for a Russian visa well in advance of your travels. Citizens of countries within the EU can get an e-visa but make sure you always check your personal visa requirements before booking anything.
---
Getting around: Russia is big, so if you're looking to travel within the country you can fly, although it's a lot more affordable to use trains. As well as the famous Trans-Siberian Express there are high-speed trains like the Sapsan, which travels between Moscow and St. Petersburg. There are also good metro systems in the main cities, the Moscow and St. Petersburg metros are both renowned for having the most gorgeous metro stations many people have ever seen!
---
Power Plugs: Russia uses power plug types C and F which are common throughout Europe. If you're travelling from the United Kingdom, Canada, the United States, Australia or many other countries then you will need to bring a travel adaptor with you.
---
Vaccinations: All travellers to Russia should be up to date with routine vaccinations for things like measles and chickenpox. Most travellers are advised to also be vaccinated against hepatitis A. Depending on where in the country you're planning to visit and what you may be doing you might also need vaccinations against hepatitis B, Japanese encephalitis or rabies. Make sure you check the CDC website and speak with your doctor before your trip.
---
Currency: The currency used in Russia is called the Russian ruble. The code for it is RUB and the symbol is ₽. Generally, US$1 will convert to around ₽73.97, €1 is worth about ₽80.47 and £1 will give you around ₽91.97.
---
Tipping culture: Tipping in Russia is a relatively new custom brought in by western visitors so it's not usually expected but probably appreciated, especially in the big cities. Generally, about 10% of a restaurant bill (only if the service is good), rounding up the change for taxi drivers or bartenders is enough. You can read more about tipping in Russia here.
---
Internet access: Free WiFi is available in many public places in Russia, including airports, the metro, big chain restaurants, and even some parks. If you don't want to be hunting for WiFi then you could bring a portable WiFi device with you or buy a local SIM card.
---
Online privacy: While gay dating apps aren't blocked in Russia at the moment, the government is exerting more control over online activities. We recommend getting a reliable VPN such as Express VPN while you're in Russia so that you can use the internet with complete anonymity and protect your privacy.
---
Accommodation: We always use Booking.com to find accommodation in Russia as they have so many excellent choices! It's easy to book online and many listings offer free cancellation as well. They also have online customer support available 24/7 to help you out if needed.
---
Sightseeing and adventure: For more fun activities and excursions in Russia make sure you check out GetYourGuide. They have an easy to use booking system and excellent 24/7 online customer support – so you're bound to find something you'll love!
---
When to visit: You can visit Russia at any time of year, basically just choose if you'd rather experience hot, warm or cold weather and plan your trip accordingly. It can be quite magical to see Russia in the snow during winter and the cities can get quite hot in the middle of summer. June is particularly good for visiting St. Petersburg, as there are many events held during the continuous daylight hours!
---
Safety tips
Russia is a safe country in general but be cautious about being out of the closet or engaging in PDAs unless you're in a safe queer space. Most of the time you'll need to "go back into the closet" while travelling in Russia, and if travelling as a couple, perhaps allow people to assume you're just friends or brothers. Also, ensure you do your due diligence if meeting up with someone online as some groups target gay guys (see the section on catfishing earlier).
Check official government advice before you go. We recommend doing this before you travel anywhere, but definitely make sure that you're up-to-date with recent events in Russia that may cause issues while you're visiting. These are the most recent updates on Russia for travellers from the UK, but check your own country's official advice if you're travelling from elsewhere.
Although homosexuality is legal in Russia, avoid public displays of affection. Especially in more rural areas, we found that we pretty much needed to go back into the closet while we were in Russia. Even though homosexuality is technically legal, you don't want to risk any unpleasantness coming your way from homophobic residents.
Be aware of your surroundings at all times. Basically, make sure to keep your wits about you when in Russia. Traffic will be different from what you are used to and obvious tourists are always seen as the easiest pickings for thieves. If you're paying attention to what's going on around you, you should be fine.
Don't overdo it on alcohol and the use of stupefiants. This is something we would recommend no matter where you're travelling, as the last thing you want is to get wasted and lost or taken advantage of in a completely unfamiliar place. You can still enjoy yourself of course (we're not total squares!), but be aware that obviously intoxicated people are much easier targets for theft or other crime.
Don't wear valuables in public. If you go around flaunting expensive items or stacks of cash, you'll be seen as a prime target for pickpockets pretty much anywhere you travel. We recommend leaving valuables in your hotel safe and only carrying around what you will need for the day in terms of cash.
Invest in a good money belt. A good money belt is a great way to keep your cash, cards or other valuables like your passport safe when traveling. Ones that can be worn under your clothing are excellent as it's much more difficult for people to steal from you if they can't access your belongings without undressing you!
Beware of catfishing on gay dating apps: we recommend you check out the following articles that provide excellent practical tips for spotting fake accounts and prevent you from becoming a victim of catfishing: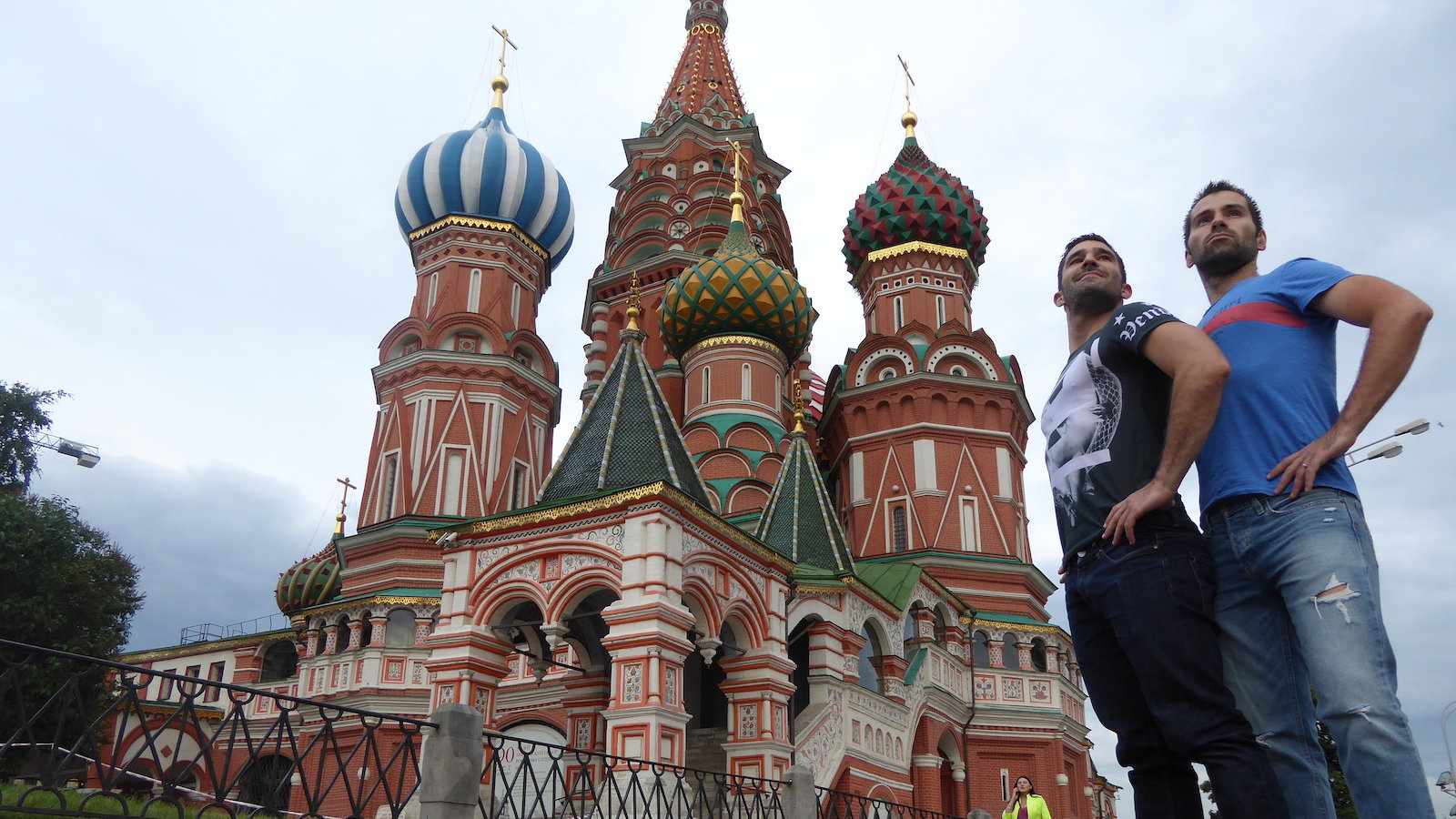 Conclusion
We conclude this article with this interview with Putin by the BBC ahead of the Sochi Olympics in 2014 in which he tries to defend the anti-gay propaganda law whilst insisting that Russia is not prejudiced against homosexuals. Obviously we don't agree with this man nor his ridiculous homophobic anti-gay "propaganda" law! But we were nonetheless fascinated to watch him trying to prove that Russia is not that anti-gay. For example, he argues homosexuality is not a crime in Russia as it is in many other countries in the world, and makes positive references to Elton John.
Watch the video on the right hand side and see for yourself. The point we are trying to make is that quite clearly, the situation for LGBTQ is bad in Russia, and as an LGBTQ traveller, you do need to be careful, particularly with public displays of affection.
However, it's not as bad as you may have thought, especially when you realise there is quite a thriving gay scene in Moscow and St Petersburg, along with a large LGBTQ community living their daily lives across the country.
For more insight into gay Russia: watch this BBC documentary of LGBTQ football fan Joe White as he wondered whether it would be safe to go to Russia for 2018 World Cup. Stefan gave his input to him as part of the documentary. You can only watch this BBC documentary if you're in the UK, otherwise you can watch this shortened YouTube version.
See more from our Trans Siberian train adventures across Russia, starting from Riga in Latvia and going all the way to Irkutsk in deep Siberia:
---
Like this post? Pin it