Stefan's coming out song in February 2003 was "All The Things You Said", a pop hit by Russian girlband t.A.T.u, who were marketed as a lesbian couple. For the video of this song, the two band members, Lena Katina and Julia Volkova, were running around in the rain dressed in school girl outfits and making out.
Obviously the band were (quite successfully!) targeting a very specific heterosexual male demographic. But despite this, the very fact that such a public homosexual image was being shown and accepted across Russian society in the early 2000s, speaks volumes about attitudes to LGBTQ in Russian society…
So what the hell went wrong since?!
This is our advice about travelling safely in Russia for gay travellers based on our first hand experience exploring the country as a same sex couple.
Stay safe online in Russia
The Russian government is monitoring and censoring online use more and more. For your peace of mind, make sure you get a VPN so that you can use all favorite gay dating apps and surf the web anonymously whilst in Russia.
What we cover in this guide
Gay rights in Russia
The good news first: it is legal to be gay in Russia! In fact it has been legal since 1993. In addition, the age for sexual consent (16 years old) has been the same for both straight and gay couples since 1993, except in Chechnya. It's also legal for a single gay man to adopt, you can change your legal gender, and gays are allowed to serve in the Russian military (under a "don't ask don't tell policy) unlike in some European countries like Cyprus, which has a total LGBT ban in its army!
Another surprising fact about Russia is that gay men are allowed to donate blood without any restrictions. In the UK, we are required to have 3 months of no sexual relations before we can even be considered.
…and have you seen some of those homoerotic photos of Vladimir Putin??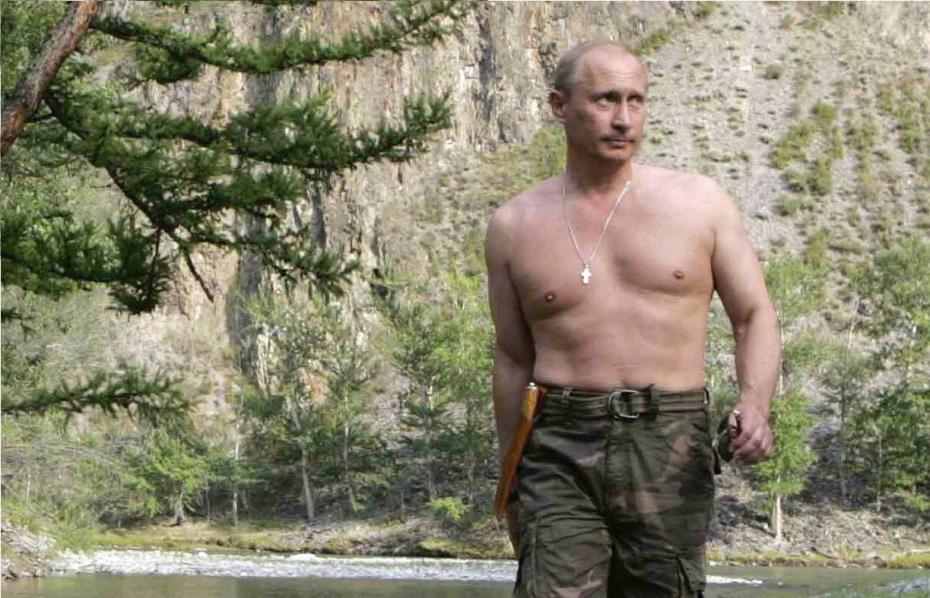 Up until the late 2000s, Russia had the sort of LGBTQ standing you'd expect from an Eastern European country, namely that the situation for gays was not great, but ripe for positive change. Sadly, over the past decade, this positive change went the opposite direction, especially in June 2013 when the anti-gay propaganda law was introduced.
Under the banner of "protecting children from being exposed to homonormativity", the anti-gay propaganda law outlaws anything that promotes "non-traditional sexual relationships" among minors. However, as it's so widely drafted, this has effectively re-introduced an anti-gay law in Russia because anything that is seen to promote homosexuality can arguably be said to contravene this law, and therefore lead to arrest, deportation and/or fines. Worst of all is that this law has led to a surge in LGBTQ hate crime in Russia, along with state sponsored violence such as the gay concentration camps in Chechnya in 2017.
In 2015, ChebuRussiaTV did a fascinating experiment with two (straight) guys, Artem Frantsuzov and Jay Babenko, who walked the streets of Moscow holding hands with a hidden camera to show people's reaction. Whilst a lot of people just ignored them, you sadly also see them getting quite a lot of verbal and physical abuse. After a few hours of filming they had to stop because they felt threatened:
So just like gay travellers to Iran, you're safer in the closet when travelling in Russia, especially in public. But this is not to say you shouldn't visit, particularly as there is a thriving gay scene in both Moscow and St Petersburg.
How safe is Russia for LGBTQ travellers?
Just before travelling on the Trans Siberian across Russia in 2014, almost every other person warned us "you better be careful in Russia boys, probably best avoid going altogether!"
With hindsight we are so glad we ignored this advice.
Yes, we were nervous when we first touched down at Domodedovo airport in Moscow. After all, we all know Russia has a terrible reputation for LGBTQ rights, particularly in light of the awful anti-gay propaganda law passed in 2013. Nonetheless, we were absolutely fine during our travels there. We were even pleasantly surprised that there are thriving gay scenes in Moscow and St Petersburg.
STAY WITH A GAY LOCAL
Misterb&b is the Airbnb equivalent for the LGBTQ community. Unlike on Airbnb, you know your host is gay, avoiding any nasty surprises when you check in. It is also a great way to meet gay locals and discover the underground gay scene. Click below to get 10 € (or $10) off your first booking.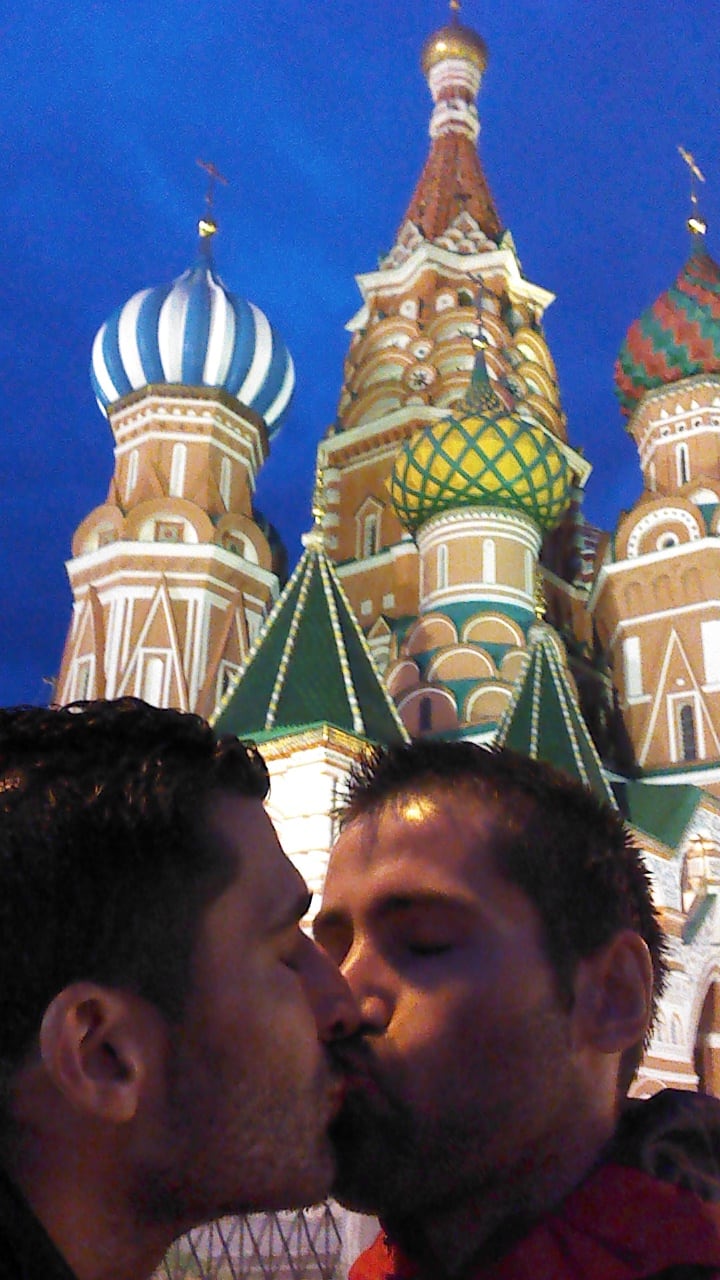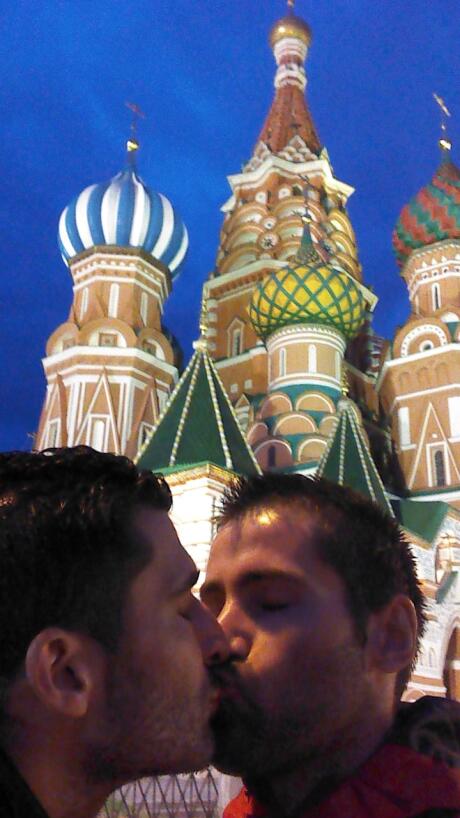 Is there a gay scene in Russia?
Surprisingly, yes there is! The two main cities of the country, Moscow and St Petersburg, each have a thriving gay scene with a mix of bars, clubs, cruising parties and saunas.
GAY BARS AND CLUBS IN MOSCOW:
Stefan first went to Russia in 2007 before he met Seb and partied at Central Station MSK, which is the biggest gay club in Moscow. Over a decade later, Central Station is still going strong in defiance of the anti-gay law in place. This place is huge, 5 stories high and a really fun night out on weekends. The doormen outside are very curt and stern, but all part of the Russian "face control" to avoid any homophobic violence inside. After a night out at Central Station, we headed to BoyZ Club for after-party.
Other big and super popular gay clubs in Moscow to check out include MONO, Three Monkeys and Propaganda. There are also cruising parties like Hunters, which is the biggest and the best, and also Imperia.
Popular gay bars in Moscow include Nashe Cafe (НАШЕ Кафе) and NICE.
In terms of gay saunas in Moscow there are many! Some of the more popular include VODA, XL Spa and Paradise.
GAY BARS AND CLUBS IN ST PETERSBURG
We loved St Petersburg a lot. It's like an outdoor museum, full of architectural gems like The Winter Palace, the Spilled Blood Church and the Mikhalmikhailovsky Castle. It's the most European-like city in Russia, and definitely one of the most liberal-minded places in Russia.
The gays scene of St Petersburg is smaller than Moscow, but still buzzing with life. The main gay club of St Petersburg is Blue Oyster/Priscilla, which is a gay bar by day and club at night. It is named after the fictional gay bar in the Police Academy movies. Blue Oyster/Priscilla has several bars spread over 4 floors, which includes a karaoke room, dance area, lounge and a dark labyrinth.
Central Station Spb is the other popular gay bar/club in St Petersburg. It's also quite large, with 2 large bar areas, dance floor, VIP area and dark room. Other gay clubs and bars in St Petersburg include Cabaret and Malevich, as well as a cruising bar called Bunker.
Is it safe to use Grindr in Russia?
We highly definitely gay travellers to use Grindr/Hornet in Russia to connect with locals, particularly when travelling to smaller cities like Yekaterinburg, Irkutsk, Kazan etc which do not have any gay hangouts. In addition, check out Hornet, which is more popular in Russia than Grindr, and also "Telegram", which has different groups to use for chats, search for friends and dates.
A word of caution of course. This was based on our experience in 2014. Since then, the Russian government is monitoring and censoring online use more and more. For this reason, we definitely recommend using a VPN when travelling in Russia to access gay dating apps safely and anonymously. This will also allow you to access any websites that may have been banned by the Russian government.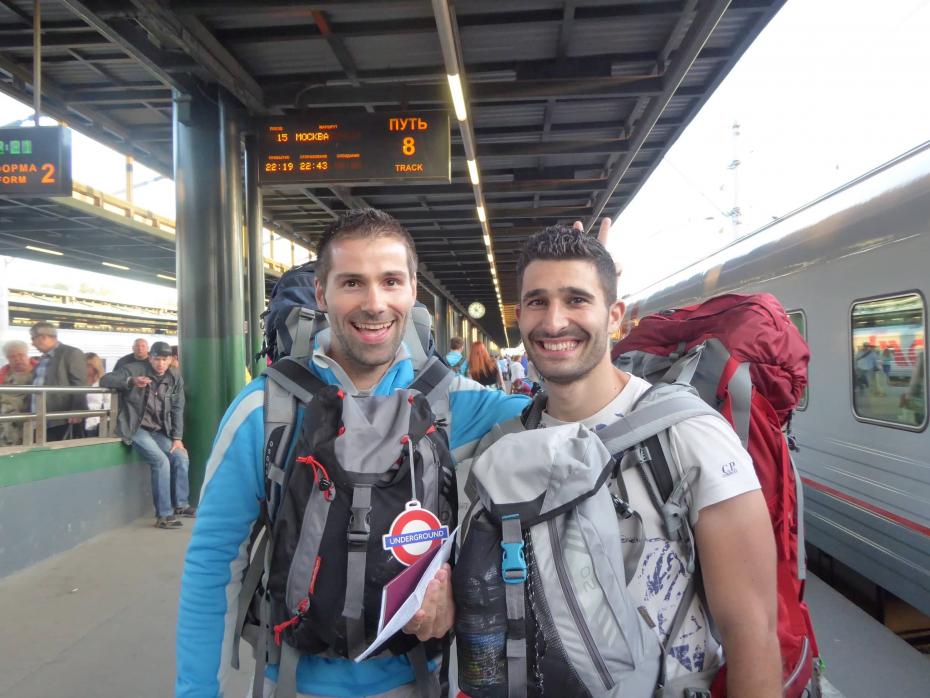 Gay hotels to stay in Russia
Russia was the first destination we visited as a gay couple which had some form of anti-gay law in place. As such we were quite scared, so made a point of being "mates" in public and only booking single beds in hotels. After visiting, we regret this approach because most people just don't care! Whilst you do need to be discreet in public and not rub your sexuality in people's faces, but most of the high end or international hotel brands are trained to deal with LGBTQ couples. These are the ones who will be happy to host you, allow you to share a double bed and have over night guests without any issue.
Having said that, for your own peace and security, we strongly advise emailing or calling ahead to specifically ask if they are ok to host a gay couple/traveller, and let you have a double bed.
GAY FRIENDLY HOTELS IN MOSCOW
The main gay friendly hotels in Moscow we found through recommendations by gay locals and fellow gay travellers are:
GAY FRIENDLY HOTELS IN ST PETERSBURG
The gay friendly hotels in St Petersburg we found or were recommended are:
Four Seasons Hotel: luxury hotel in St P, just two blocks from the Winter Palace, which is where you want to be based here.
So Sofitel: another popular centrally located gay friendly luxury hotel in St P. We love the Sofitel because their beds are SO so comfortable that it feels like you're sinking into a cloud!
So is Russia safe for gay travellers to visit?
We did it and survived, so yes! However, we did feel like we went back in the closet, especially in public, where we pretended to be "mates" rather than a couple in love. We found that if you respect the fact that Russian society is very conservative and prefers low key behaviour from people, then you'll be absolutely fine.
Put it this way, if you go there in full drag, walk the streets holding hands, waving rainbow flags around, making out in public, then of course you're likely to encounter problems. It's also a matter of common sense: if you see a group of rowdy young guys drinking in the streets, then it's probably best to avoid them whether you're straight or gay. Have your wits about you at all times, as well as common sense, and avoid any activism.
Russia is a beautiful country to visit, rich in culture and history that it would be a shame to not visit. We also strongly believe that going there, supporting gay friendly businesses, meeting and making friends with the local LGBTQ community would be far more productive than boycotting them altogether.
We close this article with this interview with Putin by the BBC ahead of the Socchi Olympics in 2014 in which he tries to defend the anti-gay propaganda law whilst insisting that Russia is not prejudiced against homosexuals. Obviously we don't agree with this man nor his ridiculous homophobic anti-gay "propaganda" law, but we were nonetheless fascinated to watch him trying to prove that Russia is not that anti-gay. For example, he argues homosexuality is not a crime in Russia as it is in many other countries in the world, and makes positive references to Elton John.
Watch the video below and see for yourself. The point we are trying to make is that quite clearly, the situation for LGBTQ is bad in Russia, and as a gay traveller you do need to be careful, particularly with public displays of affection. However, it's not as bad as you may have thought, especially when there are thriving gay scenes in the big cities.
Happy travels are safe travels
We recommend you always take out travel insurance before your next vacation. What happens if you suffer from illness, injury, theft or a cancellation? With travel insurance, you can have peace of mind and not worry. We love World Nomads travel insurance and have been using it for years. Their comprehensive coverage is second to none and their online claims process is very user friendly.
Some of the links in this post are affiliate links. This means that if you book your accommodation, an activity or your insurance, we'll earn a small commission. There is never an extra cost to you for using these links and it helps us keep the site going.
For more insight into gay Russia: watch this BBC documentary of LGBTQ football fan Joe White as he wondered whether it would be safe to go to Russia for 2018 World Cup. Stefan gave his input to him as part of the documentary. You can only watch this BBC documentary if you're in the UK, otherwise you can watch this shortened YouTube version.
Other practical travel tips: we've put our best tips from our travel experiences in our article about how to stay safe while travelling.
See more from our Trans Siberian train adventures across Russia, starting from Riga in Latvia and going all the way to Irkutsk in deep Siberia:
If you enjoyed reading, please pin me: