Gay Montevideo guide: gay bars, clubs, hotels and map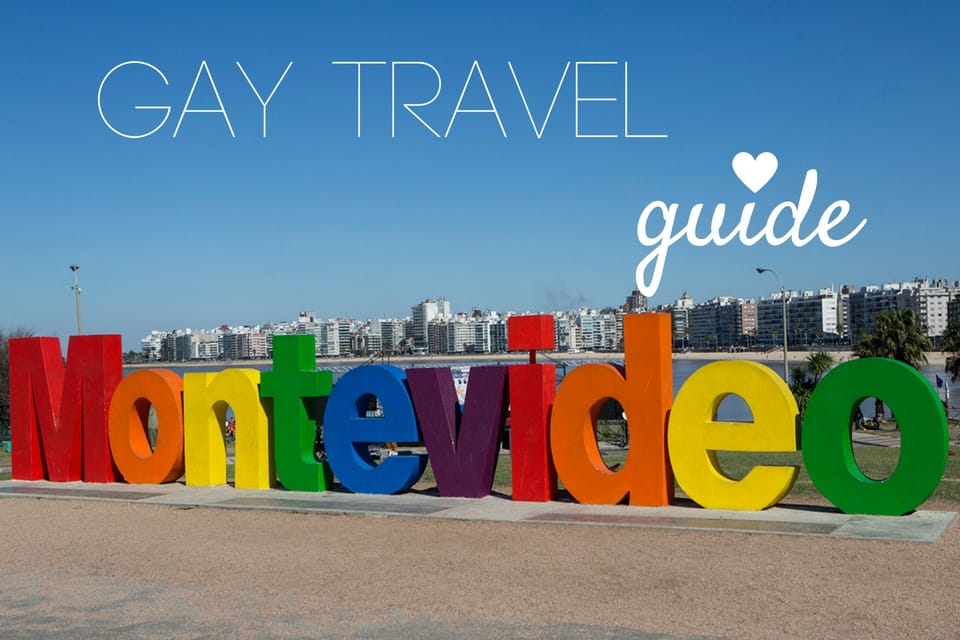 Montevideo is frequently rated as one of the most gay friendly cities in the world, particularly by the likes of Lonely Planet and Skyscanner.
And now by the Nomadic Boys…especially when this is what you see on your way into the country:
Uruguay itself is an extremely gay friendly country, not only across Latin America, but in the world. Gay rights in Uruguay have long been secured and respected: homosexuality was decriminalised in 1934, anti-discrimination laws firmly in place since 2003, adoption laws since 2009 and gay marriage implemented in early 2013.
There are plenty of things to do in the city for the gay traveller, so we've put together our gay travel guide to Montevideo featuring the best gay bars, clubs, events and hotels to stay in the city.
GAY MONTEVIDEO MAP
We found Montevideo to be a chilled and relaxed city. The population is only around 1.3 million, but there's nonetheless a vibrant gay scene.
Here's our gay map of Montevideo showing the best gay bars, hotels and hangouts we discovered during our stay.
THE GAY SCENE OF MONTEVIDEO
Despite its size, the gay scene of Montevideo has several gay hangouts and events. The main 3 gay bars and clubs in Montevideo are Chains, Il Tempo and Cains, but there are a few others worth a visit.
#1

Gay bars in Montevideo

There are a handful of gay bars in Montevideo where you can head for drinks with friends. As with the gay scene of Buenos Aires, everything starts late here. As such, we've also included a few gay restaurants which are more like resto/bars: places you can come earlier in the day.
Chains Pub: Chains is the most popular gay bar in Montevideo. Most come here for a few drinks before heading to Il Tempo or Cains. There's a cover charge called a "minimum consumption charge" of 250 Uruguayan Pesos (around £7/$9). Chains is located at Soriano 827 and is open Thursdays-Sundays from 10pm.
La Fonda Restaurant: with the rainbow flag proudly flying outside, La Fonda is not only very gay friendly, but is also regarded as one of the top 10 restaurants in Montevideo by Tripadvisor. It's located at Peatonal Pérez Castellano 1422 at the corner of 25 de Mayo street. It's open Tuesdays to Sundays from 12-4pm then re opens in the evening from 8-11pm.
Bar Rodo: Rodo is a gay friendly bar with happy hours like 2 for 1 Fernet with cola on Wednesdays from 6-9pm. Bar Rodo is located at Boulevard España 2246 (Juan Paullier) and opens everyday from 6pm to 2am and until 4am on Thursdays to Sundays.
Pepito Bar: gay owned bar attracting a mixed crowd. It has weekly events like stand up shows on Sunday evenings. Pepito is located at Pedro Francisco Berro 1231 and opens everyday for lunch, dinner and drinks.
La Pasiva: a popular restaurant chain for pizza and beer. La Pasiva has made a name for itself in the LGBT community for its subtle(!) branding: pasiva is Spanish gay slang for bottom with a logo that speaks for itself! It's open daily from 9am to midnight.
Other gay friendly restaurants worth checking out are La Cocina de Pedro and Francis.
#2

Gay clubs of Montevideo

The gay clubs of Montevideo are fun, full of beautiful Uruguayan guys but just remember, don't turn up before midnight or you'll be dancing alone. Here are the 2 main gay clubs of Montevideo:
Il Tempo: Il Tempo is the most popular gay club in Montevideo, with hilarious drag shows. If you come early (before 1am) it's got more of a bar like atmosphere. Afterwards, the tables and chairs are cleared and it becomes one large disco. Il Tempo is open Wednesday-Sunday from midnight to 8am and located at Gonzalo Ramirez Salterain 2121 near Parque Rodo.
Cain Dance Club: Cain is the other main gay club of Montevideo. It has 3 bars, 2 dance floors, 3 lounge areas and a darkroom. Like Il Tempo, there are drag shows as well as strippers. Cain is located at Cerro Largo 1833 at Arenal Grande and opens only on Friday and Saturday evenings from midnight to 7am.
#3

Gay events in Montevideo

There are several major gay events both in Montevideo and across the country, the main ones are as follows:
Montevideo Pride: this is Uruguay's largest LGBT pride, celebrated on the last Friday of September also called the Marcha por la Diversidad in Spanish. It started in the 1990s when only 300 turned up. It has now become a huge annual event, attracting over 30,000 people.
Punta Pride: it started a few years ago in Punta del Este and has become one of the country's most popular events. Punta Pride is less about the politics and more about beach party fun. It takes place in February, when it's summertime in Uruguay. The next Punta Pride is on 10-12 February 2017.
LGBT Chamber of Commerce National Conference: every September, the Uruguayan chamber of commerce have their annual conference, showcasing the best of gay travel in Uruguay. The next event is on 21-22 September 2017 and will be in Punta del Este.
#4

Gay saunas in Montevideo

There are 2 popular gay saunas in Montevideo as well as a gay cinema:
Toronto Sauna: the largest and most popular gay sauna in Montevideo, located at Calle Tacuarembó 1531. It opens all week from 3pm to 11pm and till 1am on Fridays/Saturdays.
Sauna Horus: this is the second popular gay sauna in Montevideo. It is located at Julio Herrera y Obes 1240 corner. It is open all week from 3pm to midnight and until 8am on weekends.
Cine Private: this cinema has 2 screening rooms, one straight, one gay. Cine Private is located at Convencion 1290. It opens everyday except Sundays from 11am to 3am the next day, and till 5am on Fridays/Saturdays.
GAY FRIENDLY HOTELS IN MONTEVIDEO
Montevideo is an extremely gay friendly city with most hotels welcoming LGBT travellers with open arms. These are the gay friendly hotels in Montevideo that particularly stood out for us:
This former hotel casino has been revamped into one of the most luxurious hotels in the city. It's located in a European style building, mixing classic architecture with modern design. Check out the iconic Philip Stark designed horse lamps in the reception area for example. The suites at the Sofitel offer incredible views over the Ramblas beachfront: you'll feel just like a Bond girl staying here!
The in-house 1921 Restaurant is set in a large grand room with a very dramatic glass chandelier. This is the place to come for romantic and very extravagant dinner.
Rooms at the Sofitel start from $200/£160. Read more about it on Tripadvisor.
My Suites is a classy, sexy and super gay friendly boutique hotel, located just down the road from the Ramblas beach front. The hotel is themed around wine with each floor named after a bodega (winery). Every evening, wine tastings are offered to guests accompanied with a lecture by a sommelier. The staff are very welcoming to gay travellers, they even made a YouTube video to show this.
Rooms at My Suites start from $100/£80. Read more about it on Tripadvisor.
The Holiday Inn is a convenient option right in the heart of the Old Town. It is minutes walking distance to Plaza Independencia and the pedestrianised Sarandí street. The hotel has a basic gym, a large pool and the Junior Suites even have a Jacuzzi. Holiday Inn are so gay friendly, they are not only members of the Uruguay gay chamber of commerce, they also hosted their 2016 conference.
Rooms at the Holiday Inn start from $78/£61. Read more about it on Tripadvisor.
To find out more, check out our 10 cool gay friendly hotels in Uruguay.
THINGS TO DO IN MONTEVIDEO
Montevideo offers plenty of things to do, particularly around Plaza Independencia in the Old Town (Ciudad Vieja) and the Rambla beach promenade.
Bike tour Uruguay: one of the best ways to discover the city is by bike. We recommend Bike Tour Uruguay who offer tours around the Old Town, visiting museums along the way then heading to the Ramblas for a cycle along the famous promenade.
Queer tango lessons: Uruguay is just as responsible for the birth of tango as Argentina. What better place to take tango classes than here in Montevideo. Our extremely handsome tango teacher Rodrigo told us more about queer tango in Montevideo and gay life in Uruguay.
Uruguayan wine: there's a massive wine industry in the country with over 20,000 acres devoted to it. Uruguay is one of the top 5 wine producers in South America (along with Argentina, Chile, Brazil and Peru). The Canelones region around Montevideo has the most concentrated wine production. You can visit wineries there like Bodega Bouza as part of a day trip.
Ciudad Vieja: Montevideo's Old Town is based around the Plaza Independencia, which has the famous statute of General Artigas, the national hero. The old town has beautiful Instagrammable colonial buildings dating back to the 1800s, including the Solís Theatre, Metropolitan Cathedral and the iconic Puerta de la Ciudadela, which was the entrance to the former fortress surrounding the city.
Sarandí promenade: this is the main pedestrian street in the city, starting from the Puerta de la Ciudadela and ending at the Rambla promenade on the coast. The Sarandí is lined with cool art galleries, buskers and shops selling handicraft souvenirs.
Mercado Agricola Montevideo (MAM): the famous market in the city where you can come to purchase fresh produce, meat, fish, Uruguayan wine, have a coffee and watch the locals go about their daily chores. You need a taxi to get here (José L. Terra 2220) and it's open daily 9am-10pm.
Ramblas beach promenade: the 22km long promenade avenue along the coast is perfect for people watching or for a romantic walk with your lover. The famous "Montevideo" sign is here. We recommend going early in the morning to get your money shot without people in it.
For more inspiration, check out our 10 interesting facts about Uruguay you didn't know and plan your holiday with our 1 week Uruguay itinerary.
IF YOU ENJOYED READING, PLEASE PIN ME: