TERMS OF USE: There is a chance that some of the content on this page has changed since it was last updated. By reading this article, you consent to our Terms of Use and Disclaimer. Happy Travels!
DISCLOSURE: Some of our posts may contain affiliate links which we may receive a commission if you choose to book something through one of our links.
These are the best, most unique and gay friendly hotels in Uruguay to stay at during your travels.
Liberal attitudes, amazing beaches and some seriously hot locals, Uruguay might just be the king of South American gay travel. Or should we say queen?
This tiny country wedged between Brazil and Argentina is a dream for gay travelers. Whether it's sipping local vino in a chic Montevideo wine bar or beach hopping along the coast, Uruguay is packed with culture, excitement and total pura vida! Uruguay packs a punch when it comes to welcoming gay travelers and we love it for this.
The country is also home to some seriously fantastic gay hotels, with a smattering of gay-exclusive spots and hundreds of gay-friendly places to stay. From boutique offerings to down at heel places to rest your head in between partying at the beach, we loved the diversity of Uruguay's gay hotels.
We've put together a list of ten of the best Uruguay gay hotels. Our selection spans the whole of the country and is as varied as the nation's landscape. Of course, you can rest assured that every offering is either gay-exclusive or at the very least, a gay-friendly place to stay.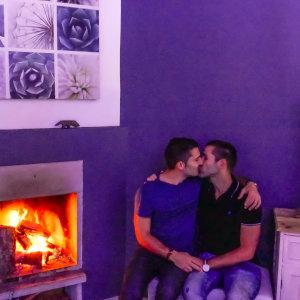 Our top pick for the best gay hotel in Uruguay…
Has got to be the gay-male exclusive Undarius Hotel in Chihuahua! Not only is this hotel gay owned and only for gay male guests, but it's also clothing-optional, has a private swimming pool AND is only a short walk from the beach.
01
Sofitel Carrasco
Montevideo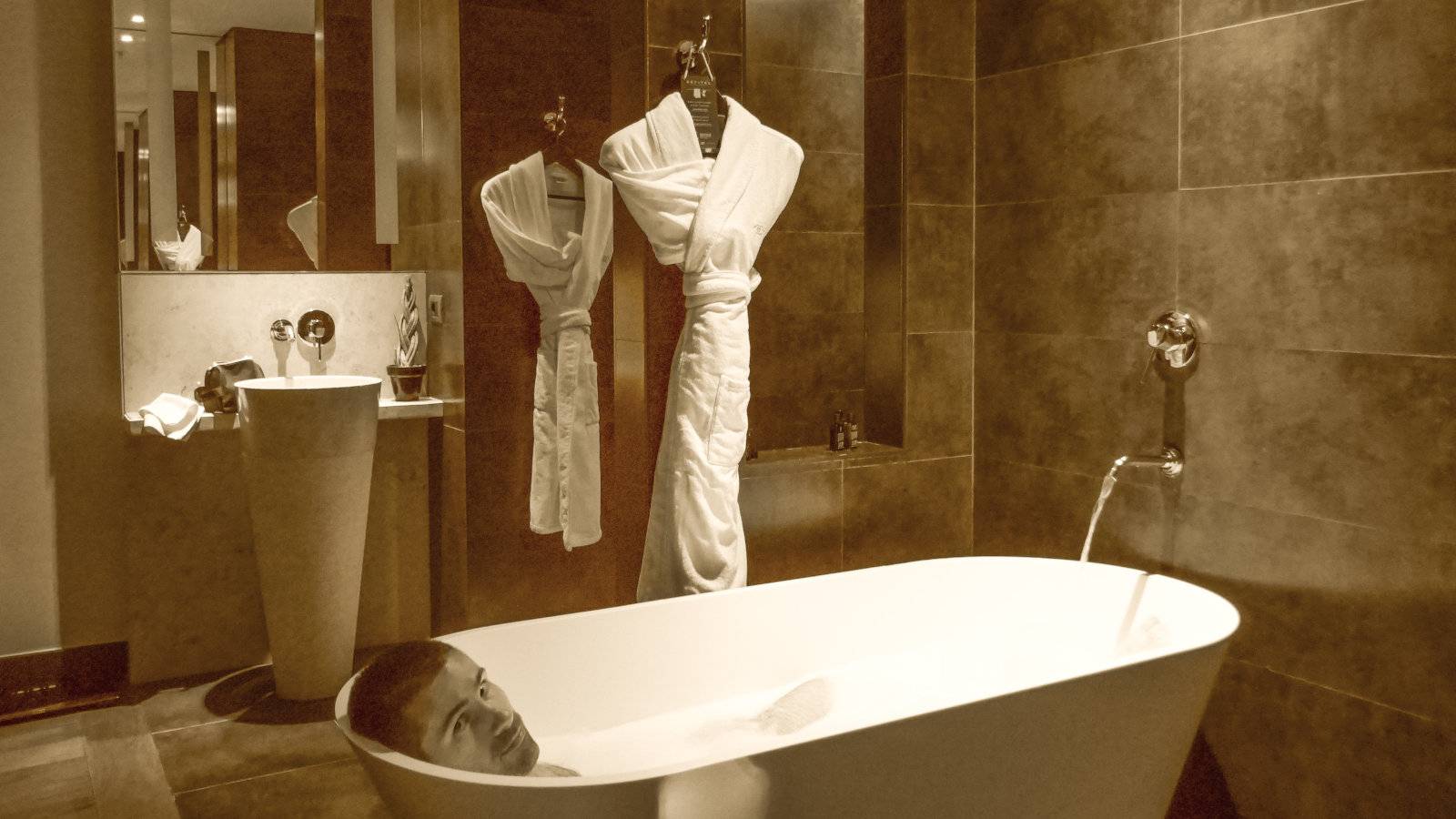 Why we love it
---
Luxuriously elegant hotel
Close to the airport
Gorgeous spa and swimming pools
Classy restaurant
Sebastian and I felt like royalty upon checking into this luxurious hotel just a short drive from the center of town.
After a day of exploring the vibrant streets of Montevideo, Sofitel Carrasco provided exactly what we needed to unwind, with a glorious spa and lush swimming pool. The fact that this place is so close to the airport earns it extra brownie points!
Our room was an oasis of elegance and calm, with a modern but tasteful style that reminded us of the Italian Riviera with its silk curtains and marble floors. This was definitely one of the most romantic rooms we stayed in during our trip to Uruguay.
Although far from a gay exclusive hotel, Sofitel Carrasco is definitely gay friendly. In fact, the staff at Sofitel Carrasco were ultra-professional throughout our stay. We were welcomed with open arms and when we checked into our double room with just one bed, nobody batted an eyelid.
Dinner in the hotel restaurant was fabulous. The French-inspired a la carte menu fit perfectly with the opulent decor, making us feel oh so posh dining here! The wine list was incredible too, packed with all kinds of delicious offerings from South America, Europe and beyond.
When we weren't enjoying the high life in the restaurant and bar, we enjoyed working on our physique in the extensive gym here. With all kinds of machines and free weights, this was a great spot for observing some of the eye candy that comes to touch up their pecs and biceps throughout the day.
STAY WITH A GAY LOCAL
Misterb&b is the Airbnb equivalent for the LGBTQ community. Unlike on Airbnb, you know your host is gay, voiding any nasty surprises when you check-in. It is also a great way to meet gay locals and discover the underground gay scene. Click below to get 10 € (or $10) off our first booking.
02
Holiday Inn Montevideo
Montevideo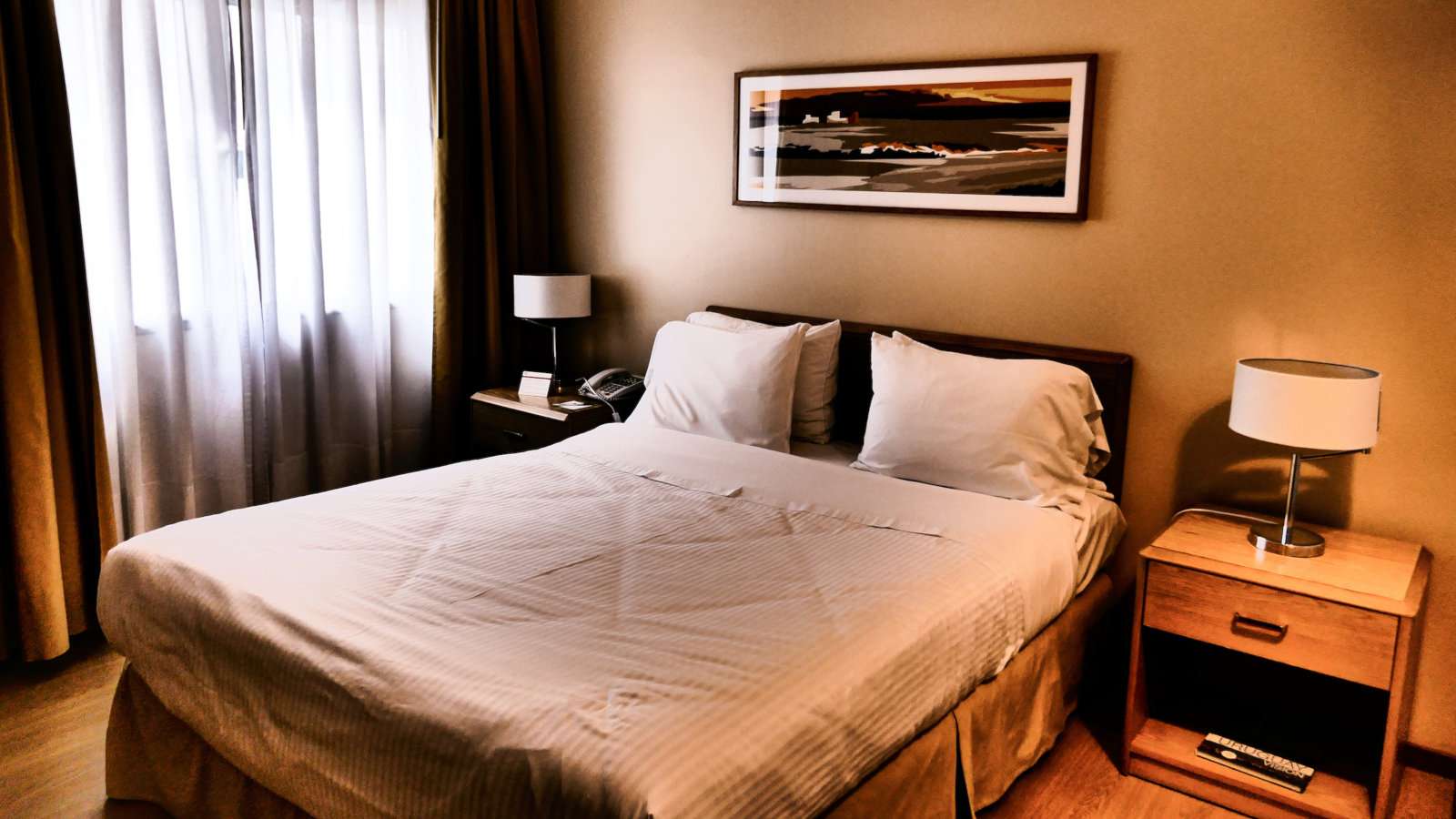 Why we love it
---
Super central location
Spa baths in some rooms
Heated indoor pool
Restaurant serving local food
They don't come much more central than Holiday Inn Montevideo. This place makes for an ideal base when exploring the city's major sights such as Plaza Independencia and Salvo Palace.
Once you're all touristed out, head back to the plush rooms for a nap or the swish indoor pool (where there are also stunning views of the city out the windows) for some serious rest and relaxation.
The rooms at the Holiday Inn are modern and comfortable, with lovely features such as large sofas and spa baths in the premium rooms. This makes Holiday Inn the ideal choice for gay couples traveling through the city who want a romantic oasis from the busy city outside.
The breakfast is particularly good at Holiday Inn Montevideo, with plenty of delicious meats, cheese, pastries, breads and juices to help fuel hours of exploring the city's ambient streets. You'll definitely need to take some time and energy to find out why Montevideo is one of our favourite gay destinations in Latin America.
The facilities here include a gym, which gets filled with local and visiting hotties at all times of the day. Pump up those biceps before enjoying a well-earned refuel at the delicious restaurant, which specializes in Uruguayan and European classics. By night, the hotel bar becomes quite a classy affair with relaxing music and cocktails flowing freely. This makes for the perfect post-dinner drink before a night out enjoying the local nightlife scene, which can get seriously spicy.
The area around Holiday Inn Montevideo is super-central, so you're not going to be stuck for cafes, bars, nightclubs and excellent restaurants. This place is even nicely positioned if you're thinking about your next destination in Uruguay, with the Tres Cruces bus station just over a mile away.
03
Undarius Gay Hotel (men only)
Chihuahua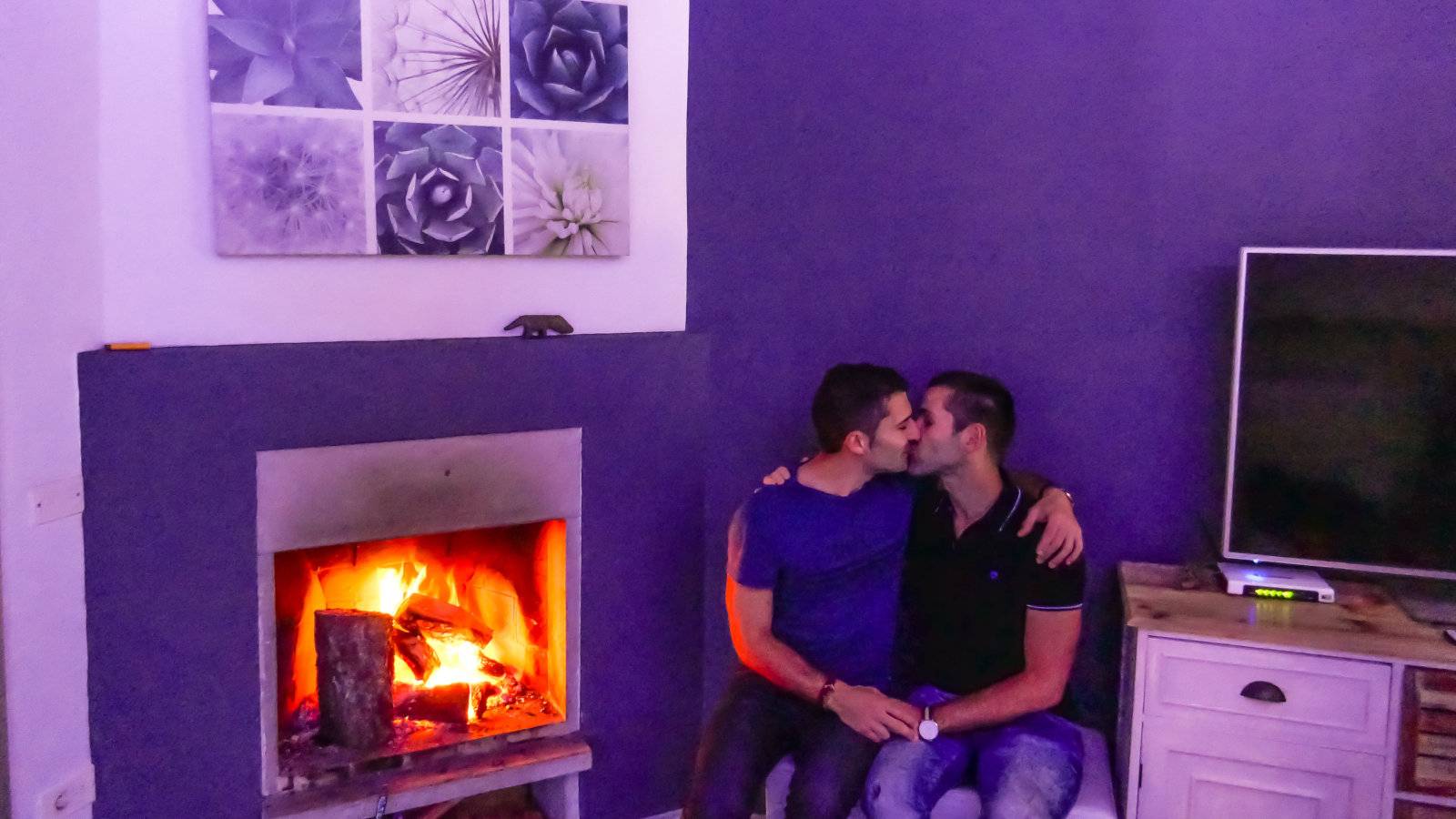 Why we love it
---
Gay-exclusive hotel
Clothing optional policy
Close to the beach
Chic decor
Now this place was a real treat! Undarius is not only a gay-owned hotel but it is a hotel for gay men exclusively. If that isn't exciting enough, it's also a place where clothing is very much optional!
Needless to say, we spent our time here feeling very relaxed indeed…
Undarius is in beautiful Chihuahua, a beach resort just east of Montevideo.
With the beach just a short stroll away, we spent our days here either mingling with gay boys down at the beach or meeting guys around this gorgeous boutique hotel. This is a super-chic hotel, with a real hideaway vibe that's nonetheless incredibly modern and tasteful. You will not lack for privacy at Undarius, where you're free to wear as much or as little as you like.
Our room was minimal in the coolest of ways, with neat little features such as our own bathrobes and a huge, comfy bed. Rooms come with a balcony overlooking the pool area, ideal for a pre-dinner drink to get warmed up before heading to the beach bars of Chihuahua, a buzzy hive of local nightlife.
We adored the outdoor patio and chill out area, which is centered around the gorgeous little pool at Undarius. The bar and restaurant are both open from early til late. Whether you're after a strong caipirinha or a deliciously gooey cheese toastie, nothing is too much for the staff here.
04
Yoo Punta del Este
Punta del Este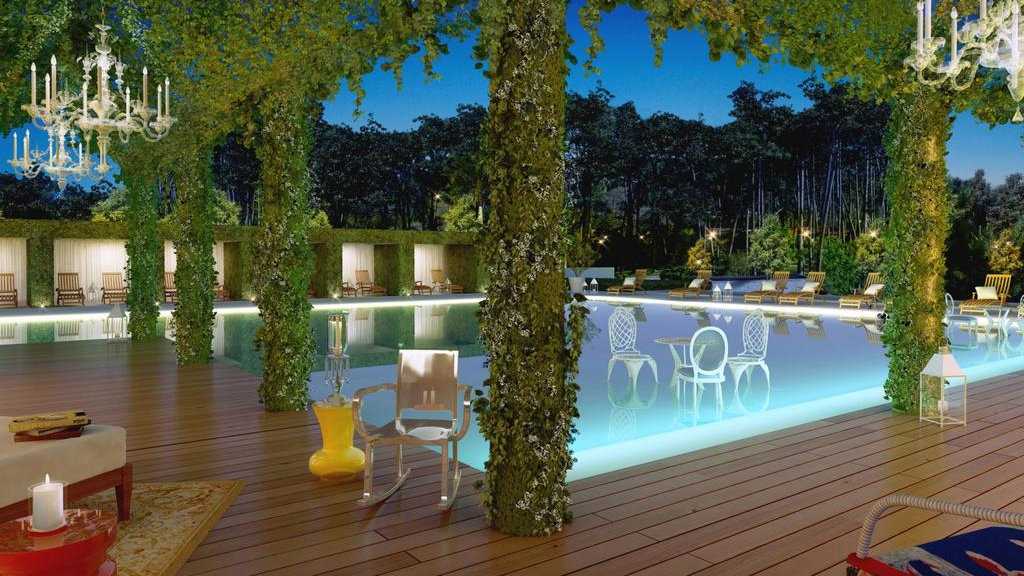 Why we love it
---
Easy independent living
Close to the beach
Stunning ocean views
Modern interior
We felt like fully-fledged Montevideo residents during our stay at Yoo Punta del Este. This luxurious apartment complex gave us everything we needed to live independently close to the beautiful Punta del Este Brava beach.
Our days here were spent down at the beach, tanning, sipping cocktails or enjoying an al fresco lunch, we always knew that we would have an oasis of calm to return to at the end of the day.
The decor at Yoo is super modern, with plenty of natural light courtesy of the enormous veranda windows. We loved nothing more than chilling on the balcony as we ate a homecooked breakfast each morning, a refreshing change from the standard hotel buffet! The view from our balcony stretched far across the Atlantic, making every minute we spent there a romantic one.
One of the best things about staying at Yoo Punta del Este was the spa and wellness suite. After a day down at the beach, a long soak and a hot sauna will almost make you melt with relaxation. The gym is well-equipped, which meant we could work on our chest with the free weights in between sampling the delicious food at the on-site restaurant.
Punta Shopping, a huge shopping center with plenty of amazing stores, was just down the street from our apartment at Yoo Punta del Este. I would be lying if I said that Seby and I didn't indulge in a little retail therapy during our stay, but with shops this good we couldn't resist.
05
Valizas Hostel
Barra de Valizas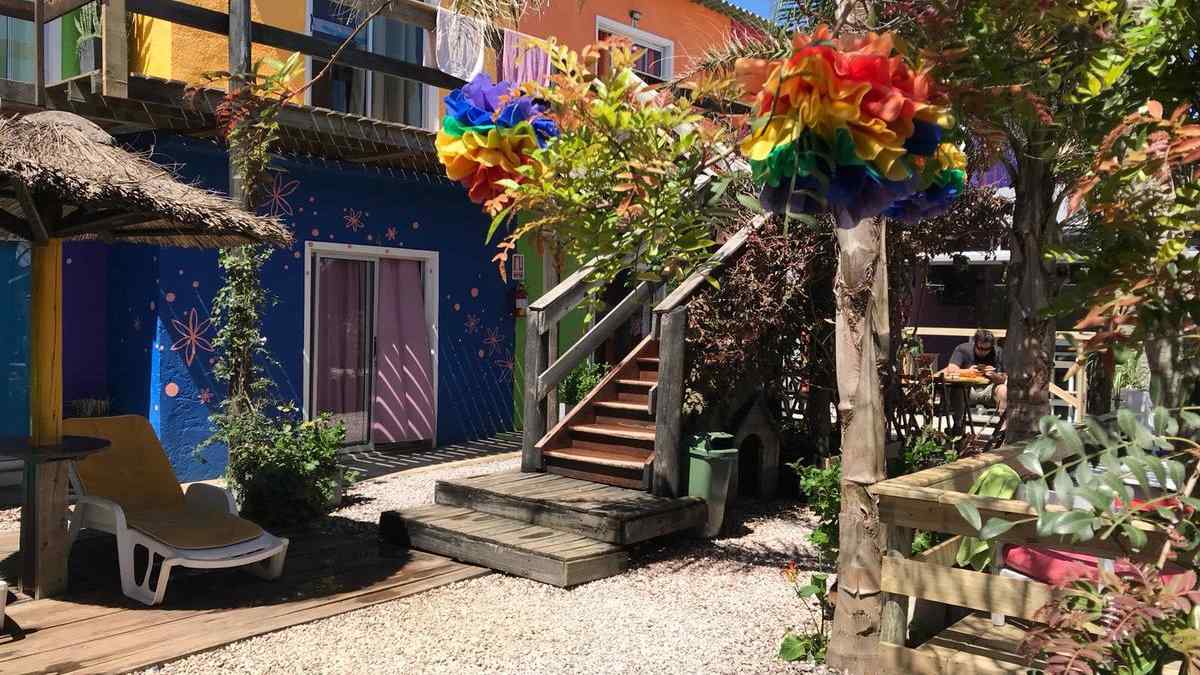 Why we love it
---
Cool gay-friendly hostel
Communal vibe
Art-filled rooms
Attentive owners
Sitting in a quiet part of Barra de Valizas, not far from the Brazilian border, this awesome gay hostel was one of the most fun places we stayed in Uruguay.
The first thing we noticed about this place is the rainbow flag flying proudly above the main entrance. In fact, the flag can be found everywhere throughout this place, which isn't a gay-exclusive hostel but boy is it gay-friendly!
The rooms at Valizas are clean, simple and quirkily decorated. We loved the traditional blankets and rugs, as well as the Uruguayan original art on our walls. The real draw to Valizas is the rest of the space though, with this hostel focused very much on the community. There is a sun terrace, a garden, chill-out room and plenty of spots to enjoy an al fresco breakfast and matecito.
The owners here were amazing, super-friendly and of course extremely welcoming of gay travelers. We loved the inclusive, easygoing vibe of Valizas Hostel. Nothing was too much to ask, from the use of the bbq area to coffee and tea at any time, we were treated exceptionally well here.
Of course, the main draw of Valizas is the opportunity to stay just 100 yards from the beach. We loved strolling back and forth from the sea shores throughout the day, meeting new people and soaking up the bohemian vibe of the area that makes this part of Uruguay so special.
06
Alma de la Pedrera Villaggio and Spa
La Pedrera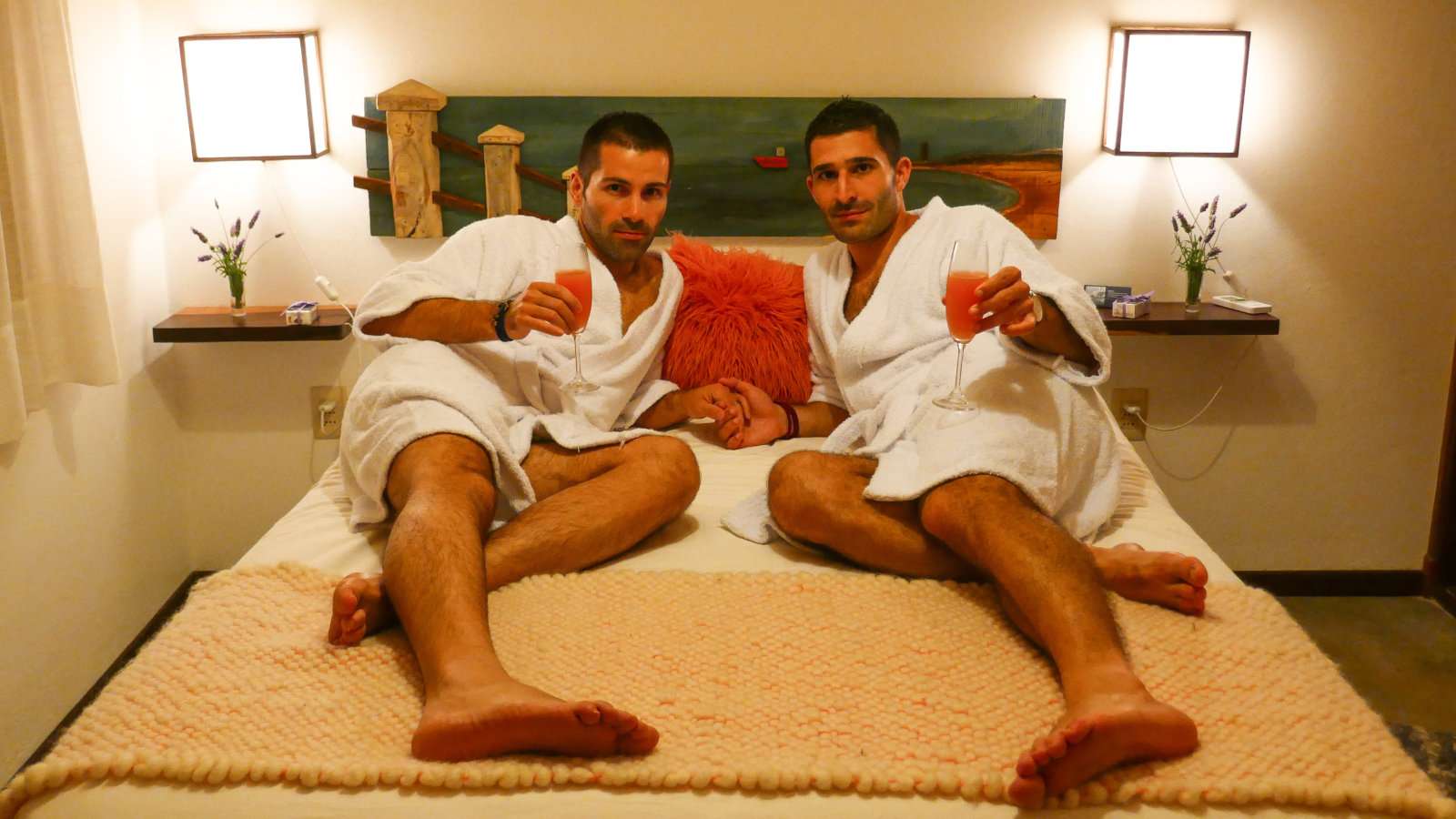 Why we love it
---
Beautiful grounds
Stylishly renovated buildings
Beach a short walk away
Free use of wood fire bbq
Alma de la Pedrera is one of the most unique, beautiful spaces we had the pleasure of experiencing in Uruguay. Located in beautiful La Pedrera just a stone's throw from the beach, this amazing group of holiday casitas blew us away.
The first thing that strikes you when you arrive here is the stunning baby blue facades of the buildings, which manage to remain both traditional and modern at once.
Inside, each casita is even more gorgeous, with a modern yet super-chic aesthetic that wouldn't look out of place in a design magazine. Think plenty of natural material, light and quirky art throughout. Waking up here in the morning, you just know it's going to be a great day!
The communal areas of the Alma de la Pedrera Villaggio & Spa are just as lovely. There is a small garden and seating area for enjoying breakfast and coffee at any time. By night, this becomes your own private restaurant complete with woodfire oven that's free to use as much, or as little, as you wish. An evening of homemade pizzas and delicious local wines is the way to go here.
The pool is small but beautifully clean and refreshing for a morning dip. Then there are the spa facilities, which include a sauna that left our muscles feeling like jelly after a long day sunbathing. When it comes to relaxation in style, Alma de la Pedrera Villaggio & Spa is as good as we found in Uruguay.
07
Posada La Viuda Del Diablo
Punta del Diablo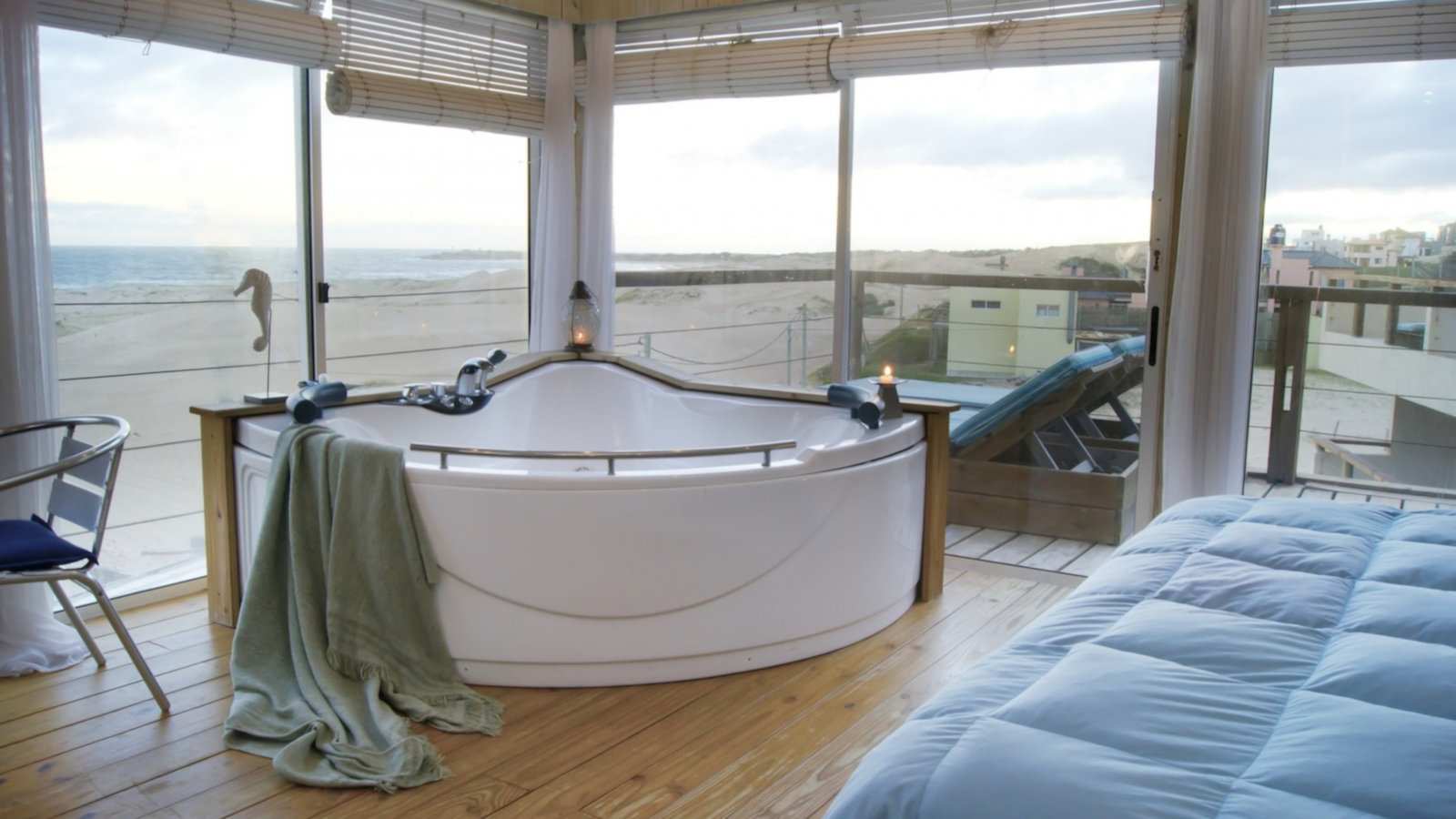 Why we love it
---
Homely atmosphere
Vintage furniture in rooms
500m from beach
LGBTQ friendly
Posada de la Viuda is a darling little inn located in Punta del Diablo, a lovely Uruguayan beach town. We felt right at home in the cozy atmosphere of this place, meeting plenty of fellow open-minded travelers.
Our double room here was small but beautifully decorated and squeaky clean. Local art and vintage furniture gave some serious character to our lovely little room.
The rest of the inn is just as stylish, with the living room, dining room and outdoor patio area ideal for swapping tales with fellow guests over a cup of quality local café. Again, the unique furniture and art scattered across the inn made our stay at Posada de la Viuda a true pleasure.
Our days here were spent lazing around the pool sipping on cold beers or cocktails, sunbathing down at the beach and catching up on our reading. This place just made it so hard to do anything other than chill! We particularly enjoyed reading and chatting in the chic little living room, which is filled with books in dozens of languages to choose from. If you're more of an adrenaline-seeker then Punta del Diablo is also the most famous surfing town in Uruguay!
With the beach just 500 meters away, the location of Posada de la Viuda couldn't be much better. The bus stop was also a short walk away, which made day trips super-easy but the truth is that we rarely felt like leaving this relaxing little hotel.
Of course, the staff at Posada de la Viuda were incredibly helpful and inclusive. Clearly, this place is accustomed to hosting LGBTQ guests. We were even told about the best places in town where one can scope out cute local gay guys…if that's not great hospitality, we don't know what is!
08
Il Tano Suites
Punta del Diablo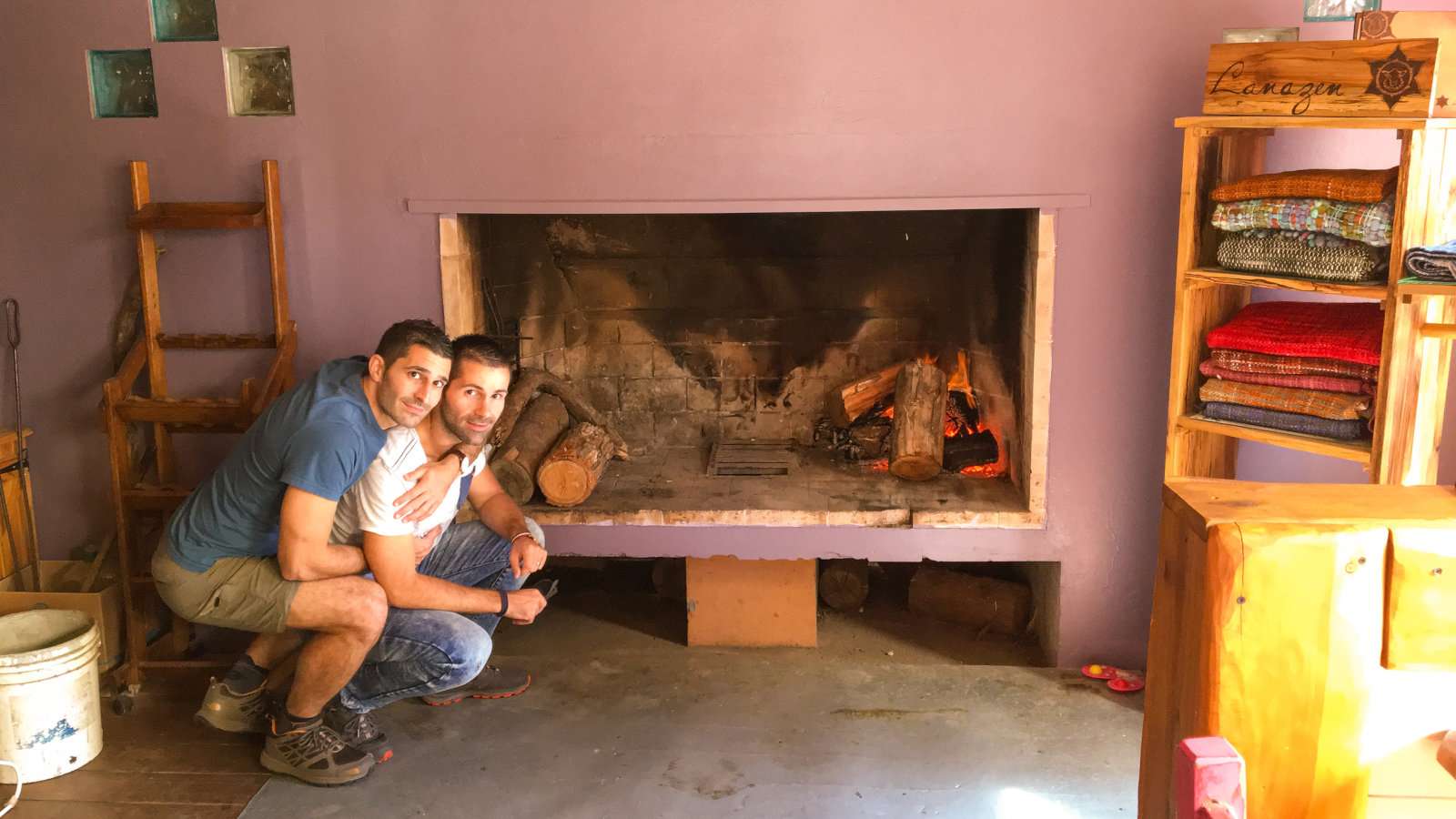 Why we love it
---
Swanky self-catering accommodation
All rooms have a spa bath
Classy on-site restaurant
Free to use bicycles
Another Punta del Diablo offering, Il Tano is a super popular aparthotel that's just a short hop from the beach. The big attraction here, aside from the location, is the opportunity to live in a chic self-catering accommodation.
Each apartment is decked out in modern but homely decor, with all the amenities you need to live independently and cook your own meals whenever you like.
We love that all apartments at Il Tano have their own living room as well as a spa bath, making this aparthotel in Punta del Diablo ideal for gay couples seeking a little romance from their stay.
There is a lovely little bar and restaurant on-site that serve up fresh seafood daily. They also mix some devilishly good cocktails which are ideal to get things started before embarking on a tour of Punta del Diablo. The inhouse bar can actually get pretty wild itself, with live music and a convivial vibe that means you might just end up spending your whole evening here.
The owners are known for their hospitality at Il Tano, with nothing too much for them to do. Whether you're after extra pillows, a cold beer or recommendations for the best things to do nearby, they're always more than happy to help. We found the staff at Il Tano to be very open-minded and can confidently say that all gay guests will be completely welcomed here with open arms.
Be sure to make use of the bicycle service at Il Tano, which provides guests with free use for exploring this charmingly chilled little beach town.
09
Posada El Capullo
Colonia del Sacramento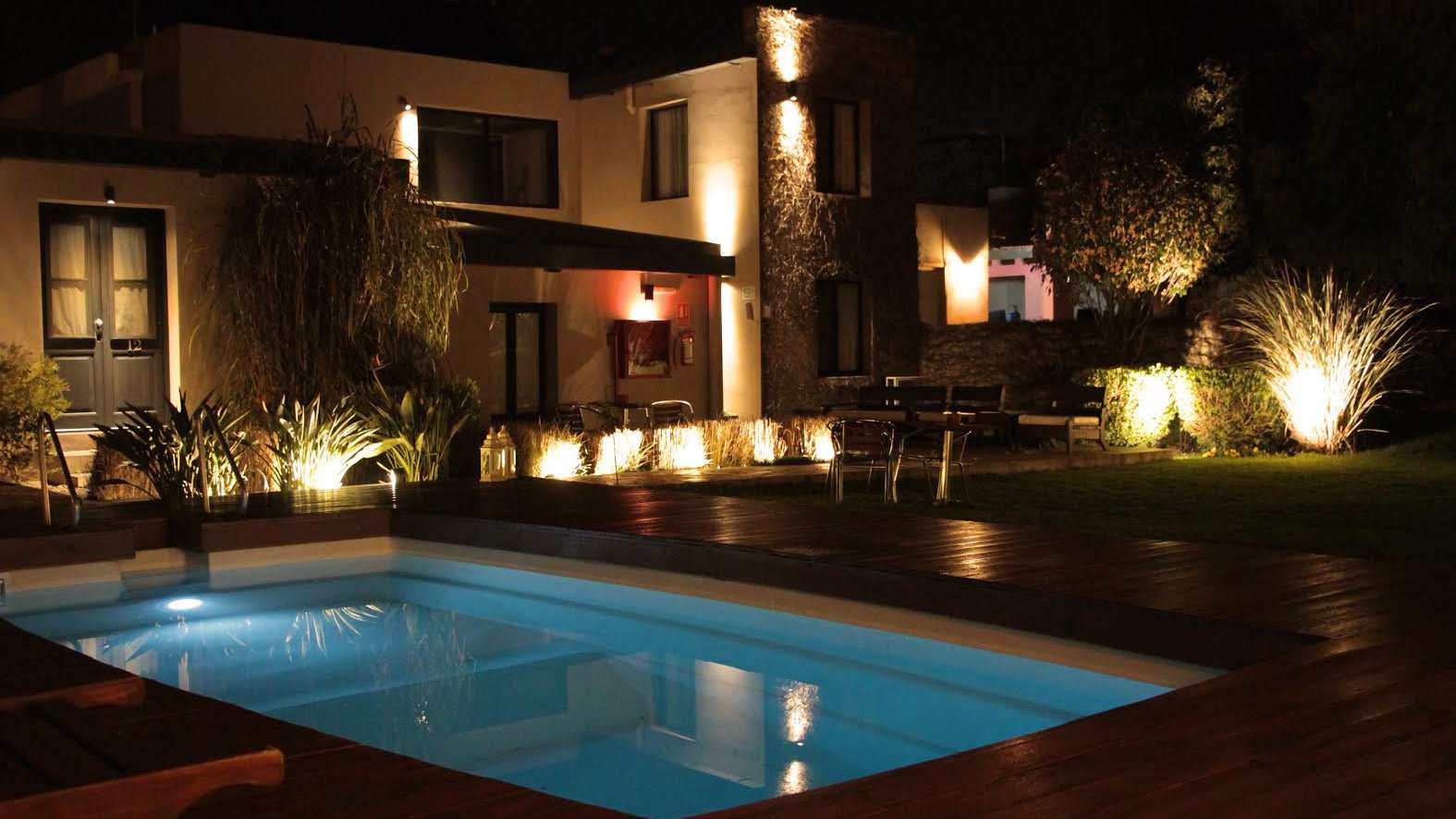 Why we love it
---
Hotel in a gorgeous 19th century home
Recently restored space
Ambient outdoor chill zones
City center locale
Seriously chic, this hotel is situated in a grand 19th century home. Nowadays, Posada El Capullo is one of the most modern and stylish places to stay in Colonia del Sacramento, southern Uruguay's atmospheric city of cobbled streets and colonial history.
We love the way this place blends contemporary design with the kind of European colonial architecture that the city is known for.
The rooms here feature colorful examples of natural art and carefully restored furniture, making for a unique stay. The rest of Posada El Capullo is just as beautiful, with the hotel home to a pool, BBQ area and TV lounge for those nights when going out just isn't on the cards.
Located in the heart of Colonia del Sacramento, Posada El Capullo is a great base for exploring this gorgeous little city and its atmospheric streets, particularly the UNESCO World Heritage rated historic quarter. The hotel is a short stroll from some of the most delicious restaurants and coolest bars in town, whilst the wilder nightlife options are also close. Gay couples will love this place, the rooms are really romantic and the city itself is absolutely dazzling! The sunsets alone will make you fall in love all over again.
The staff at Posada El Capullo are highly professional and discreet. Gay guests are common here, so welcoming LGBTQ travelers is like second nature to them! All in all, Posada El Capullo is very much a top gay-friendly hotel in Uruguay.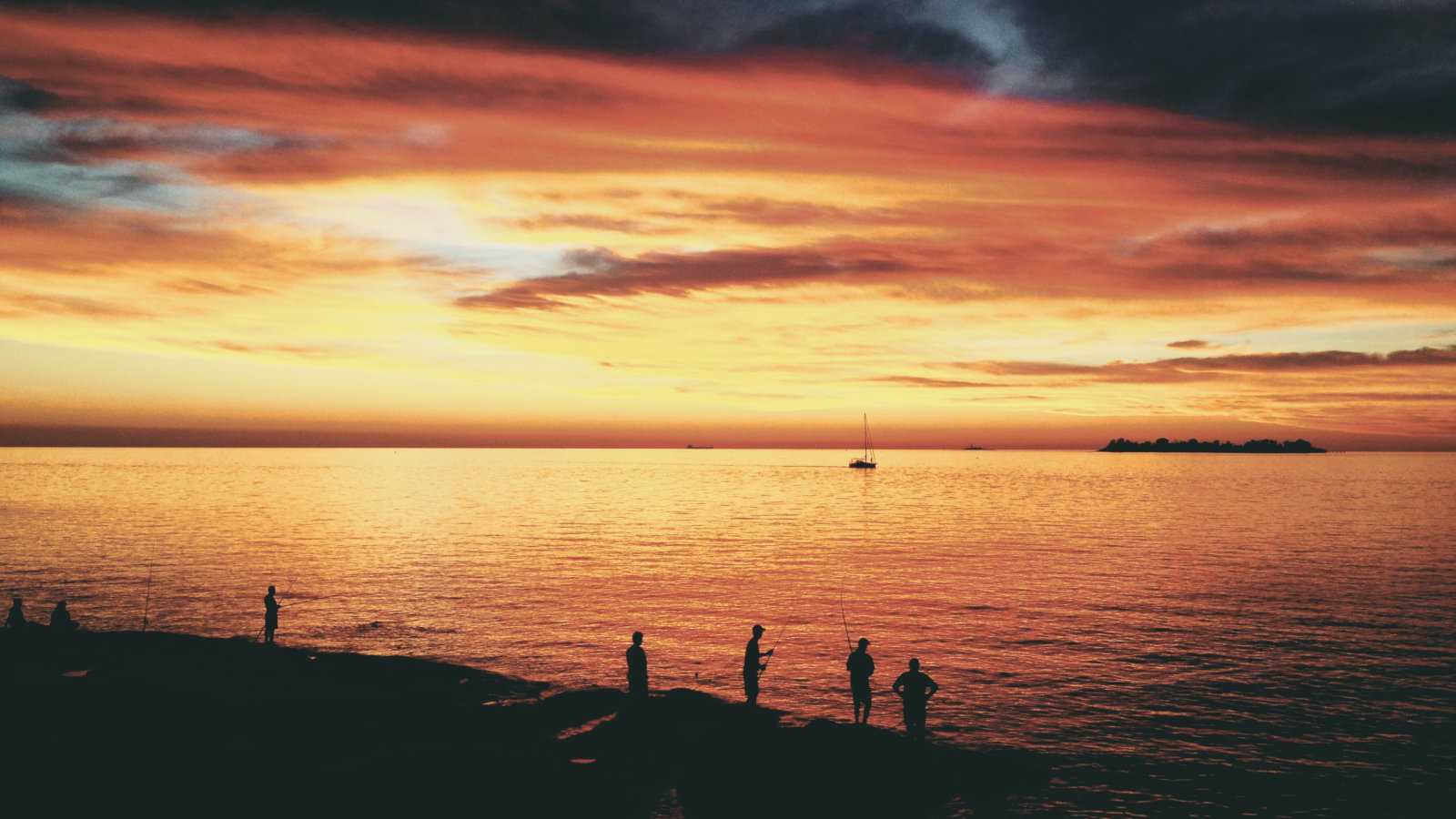 What to do in Uruguay?
There's a lot of fun things to see and do in Uruguay, from the beaches on the coast to the lush green interior. Make sure you check out Montevideo as well as the other exciting cities and much more!
---