This is our gay travel guide to Uruguay, with a fun itinerary including where to stay and what to do for LGBTQ travelers.
Uruguay is a country you cannot afford to skip from your Latin America itinerary. It has so much to offer, whether it's surfing beaches, good wine, stunning scenery, delicious steaks and of course marijuana.
Uruguay is one of the most progressive countries in the world and certainly the most gay friendly in Latin America. It was one of the first in the continent to allow gay marriages, legalise abortions in 2012 and established a welfare state in 1903.
And of course the marijuana which it's so famous for: since December 2013, Uruguay legalised the cultivation, sale and consumption of marijuana for recreational use.
Most will add on Uruguay as part of their Latin America trip to Argentina or South Brazil, so we set out a variety of options to hit the main highlights the country has to offer. Our Uruguay gay travel itinerary can be done in 1 or 2 weeks, depending if you like to travel at a slow pace like we do.
We also assume that you will be taking the boat from Buenos Aires to Colónia as your entry point, but you can also fly in to Montevideo and start from there.
Heads up: We just wanted to let you know that this post contains affiliate links. That means if you book something through one of those links, we'll get a small commission, at no extra cost to you. It helps us keep our blog going – so thank you in advance for your support! ♥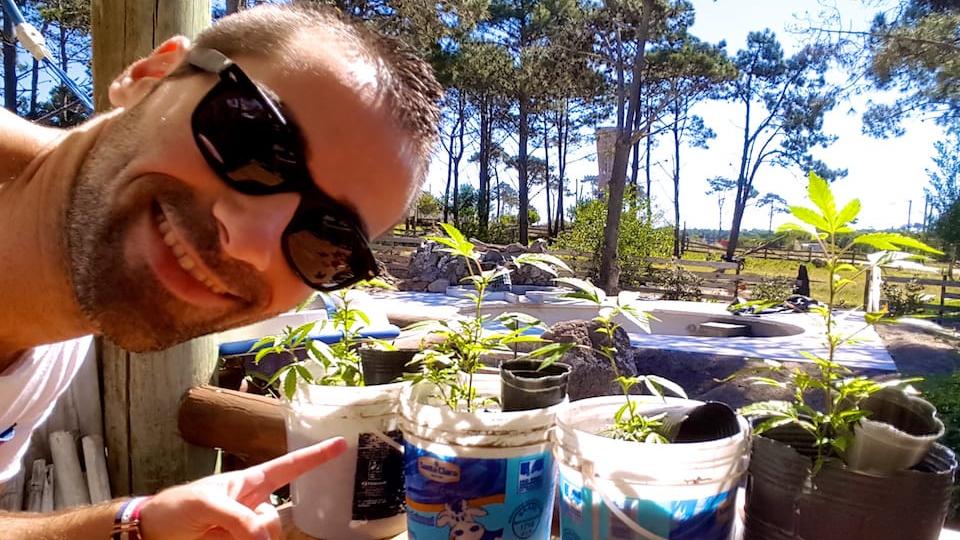 Colónia Del Sacramento
Most people will travel to Colónia from Buenos Aires by ferry. The journey takes around 2-3 hours with 3 daily round trips. There are 3 companies to choose from: Colónia Express, Buquebus and Seacat.
On our journey into Colónia from Buenos Aires, this is what we had sitting behind us…what a way to be welcomed to Uruguay!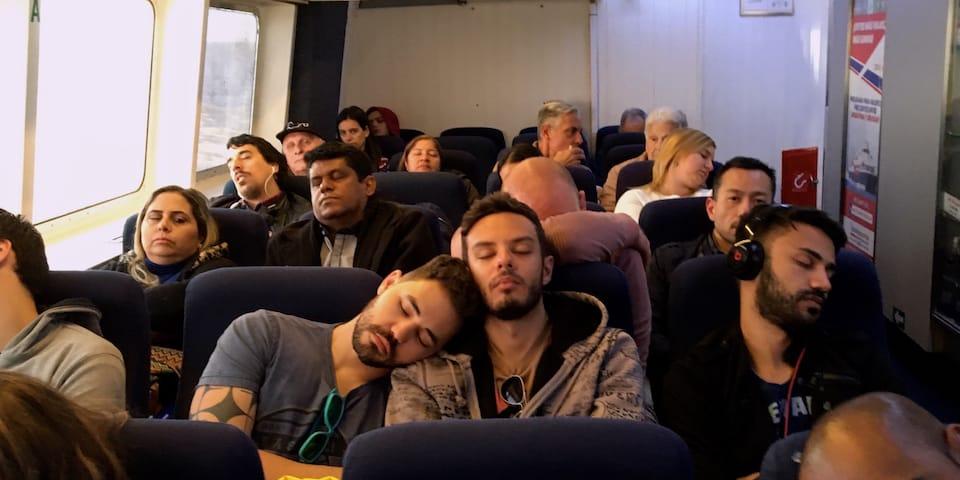 What to do in Colónia Del Sacramento
Colónia del Sacramento is a city in Southwest Uruguay and one of the oldest in the country. It is famous for its picturesque UNESCO World Heritage Site old town with small cobblestone roads surrounded by thick fortified walls. A few of the highlights in Colónia include:
Exploring the Old Town: the historic quarter of Colónia is the most famous and attracts many tourists from Buenos Aires just across the river. As such it's very touristy, but no less beautiful. The city walls and the Puerta de la Ciudadela (Old Town gate), built in 1745 by the Portuguese are one of the major highlights.
Puerto Viejo: the picturesque Old Port area is no longer functional, but is now the perfect place for a stroll and for people watching.
El Faro Lighthouse: built in 1857, the lighthouse is great for climbing to awe at the views across the Río de la Plata.
Museums: you can buy 1 ticket to cover all of Colónia's museums for 50 Uruguayan pesos ($2/£1.50). Some of the best ones include Museo Portugués, Museo del Azulejo, Museo Español and the Museo Municipal.
Horse riding day trips: Colonia Horse Riding is a highly rated gay and hetero friendly company, based in Buenos Aires, who offer horse riding tours in Colónia as well as private walking tours in the Old Town.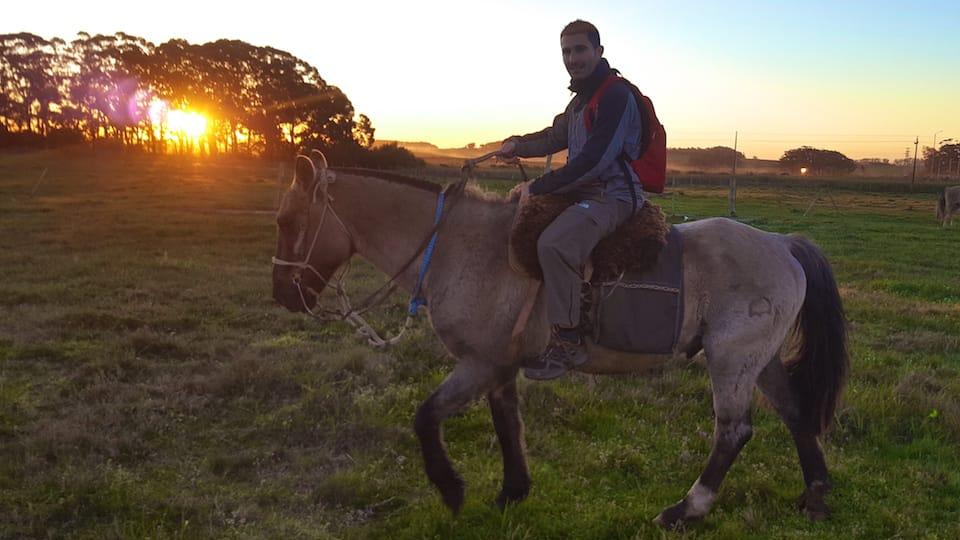 Gay hotels in Colónia Del Sacramento
You can either head straight to Montevideo and stay an extra night there or invest in a night in Colónia. A few outstanding gay friendly options include:
01
Radisson Hotel Colónia del Sacramento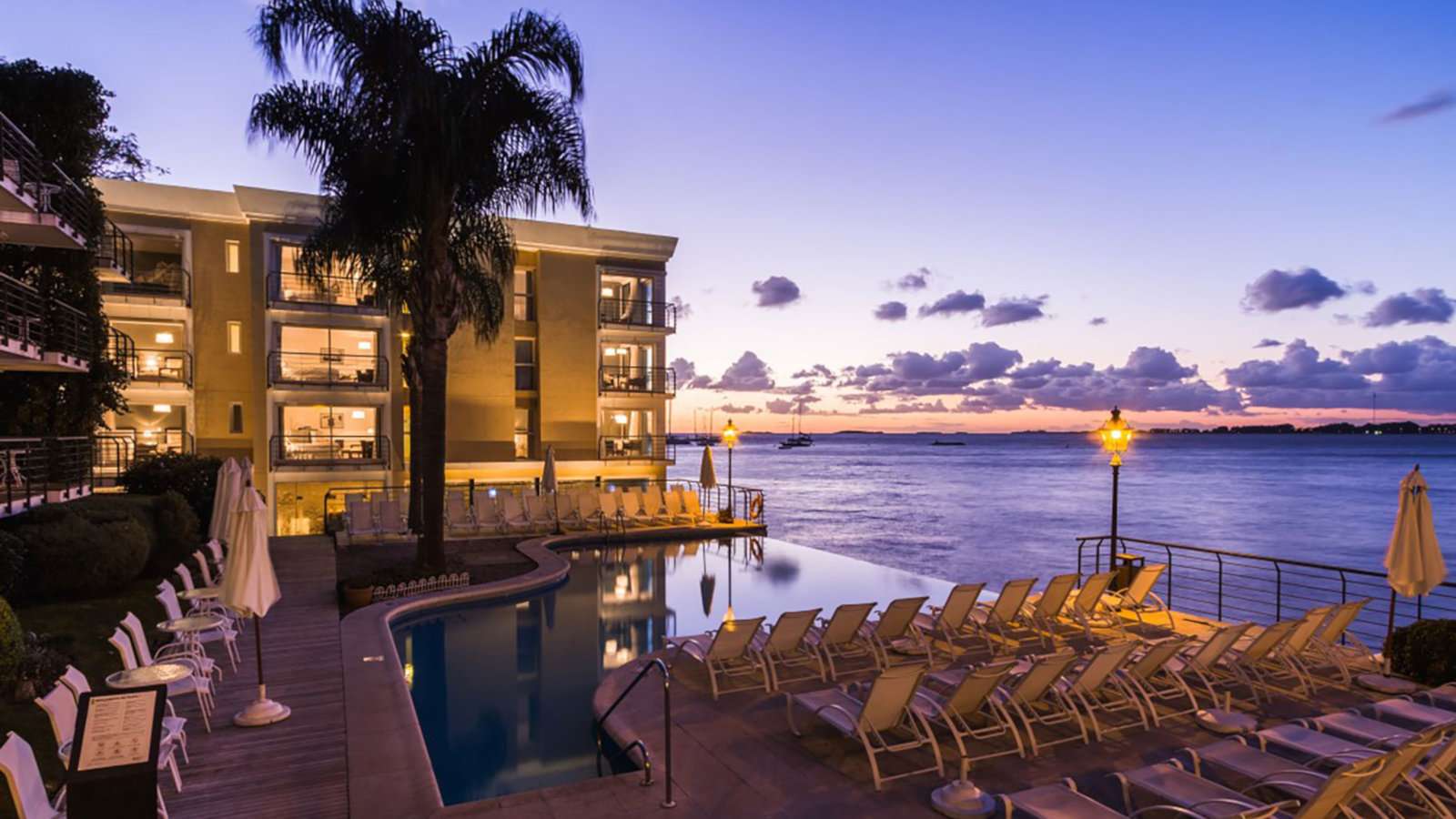 Why we love it
---
Great location near historic district
Incredible riverside infinity pool
Indoor swimming pool and hot tubs as well
Delicious in-house restaurant
The Radisson Hotel in Colónia del Sacramento is in a prime location right on the riverfront and only a block away from the historic district.
The infinity pool overlooking the Río de la Plata is simply stunning, perfect for those romantic Instagram #sunsetporn moments!
The staff are so lovely and accommodating as well, although you might need to brush up on your Spanish.
As well as the infinity pool there's also an indoor swimming pool, multiple hot tubs, a sauna and well-equipped gym (also with great views over the river). For a five-star hotel this is very affordable, make sure you pay the little bit extra to get a room with a balcony looking out over the river.
You might not even want to leave this luxurious hotel, especially once you try their delicious dishes at the Del Carmen Restaurante and Lounge Bar. Breakfast especially is a huge spread of fresh tropical fruits, pastries, cereal, cakes, eggs, sausages and more! For lunch and dinner, you can also dine on Uruguayan or international cuisine.
02
Posada El Capullo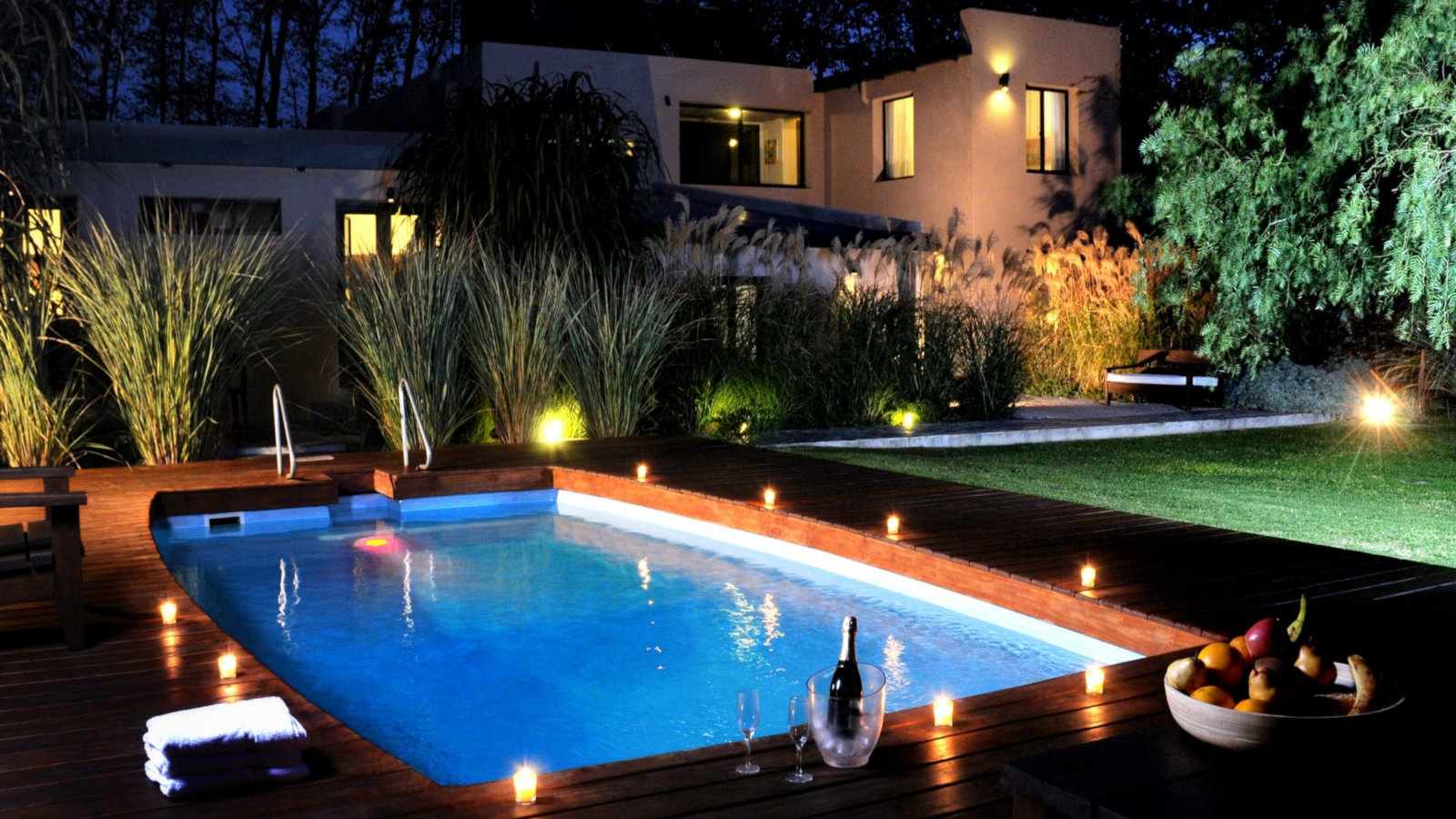 Why we love it
---
Cute little lovenest
Great location near beach and historic area
Swimming pool in a leafy garden
Delicious breakfast served on the terrace
Close to the beach and historic area, with an outdoor swimming pool set in a lush garden, El Capullo is the ideal romantic place to stay in Colónia.
The rooms are decorated in earthy tones with lovely stone and wood accents. With views over the garden and pool, this will be your perfect little love-nest.
One of the best parts is spotting all the beautiful local birds who visit every morning.
A delicious 100% home-made buffet breakfast is served each morning, consisting of yoghurt, fruit, juices, bread, jams, coffee and pastries. We loved the little whitewashed terrace where breakfast is served, with pot plants on the walls. There are also shared BBQ facilities in the garden.
The staff are extremely gay friendly and very helpful, giving us lots of recommendations for places to eat in the area. You can also rent cute bicycles with wicker baskets to explore the city, book a relaxing massage or just snuggle up in front of the cosy fireplace.
Discover gay friendly Montevideo
The drive from Colónia to Montevideo car is around 2 hours.
You can also get to Montevideo from Colónia by bus. The bus terminal for Colónia is right next to the ferry station and there are buses every hour from Colónia to Montevideo, which take around 2.5 hours.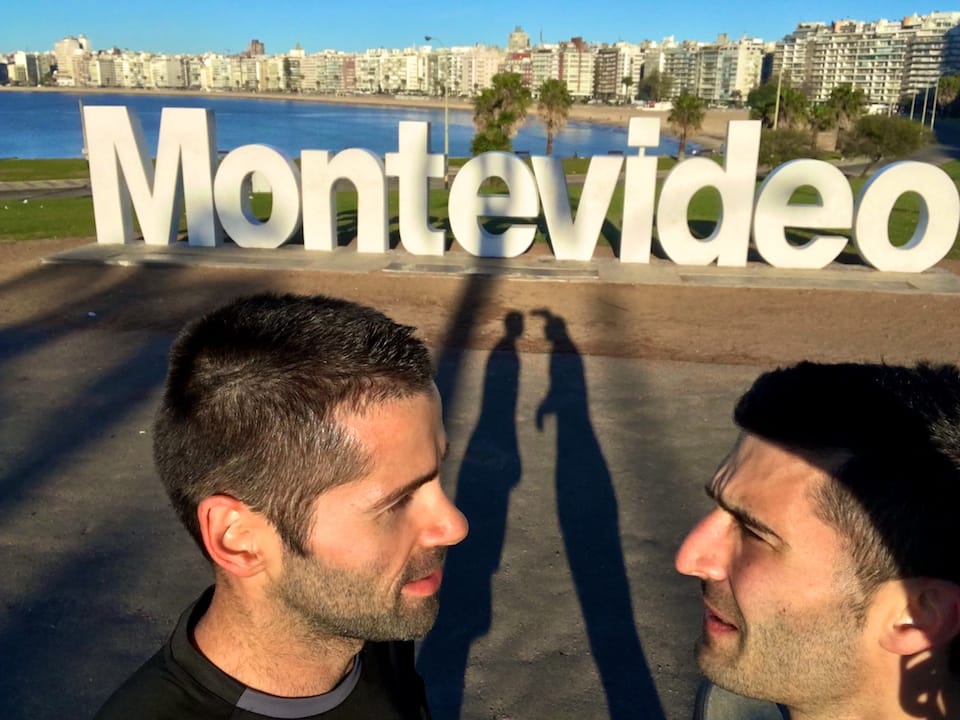 Gay hotels in Montevideo
01
Holiday Inn Montevideo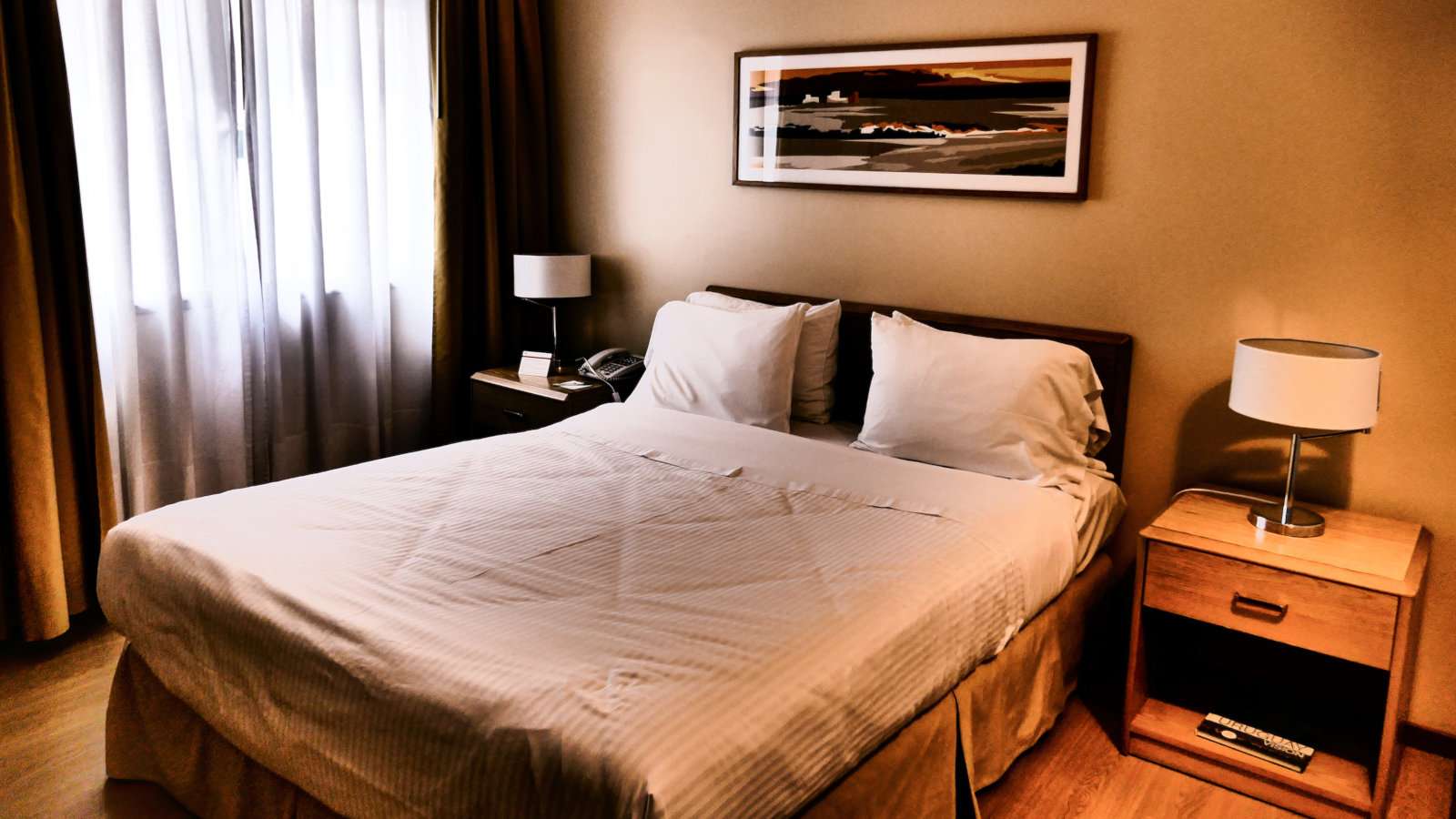 Why we love it
---
Excellent gay friendly hotel
Good location in the Old Town
Spacious, comfy rooms with Jacuzzi
Delicious in-house restaurant
For an affordable option located right in the heart of Montevideo's Old Town, we loved the Holiday Inn.
The rooms are simple but spacious and comfortable. Their suites each have a large Jacuzzi, which is perfect if you love your bubbles like we do!
You'll be walking distance from the main attractions and there's also a nice indoor pool with views over the city.
The Holiday Inn is definitely very gay friendly as they are part of the InterContinental Hotels Group, which has a history of championing LGBT rights and offering special deals to LGBT travellers. The staff are exceedingly helpful and speak good English, in case you're worried about your Spanish skills.
Hotel restaurant El Quijote serves yummy international cuisine, including an excellent breakfast buffet with lots of different fruits, yoghurts, pastries, parfaits, as well as warm dishes like eggs and bacon. There's also a nice big gym for working out so don't feel like you can't eat as much as you want!
02
My Suites Boutique Hotel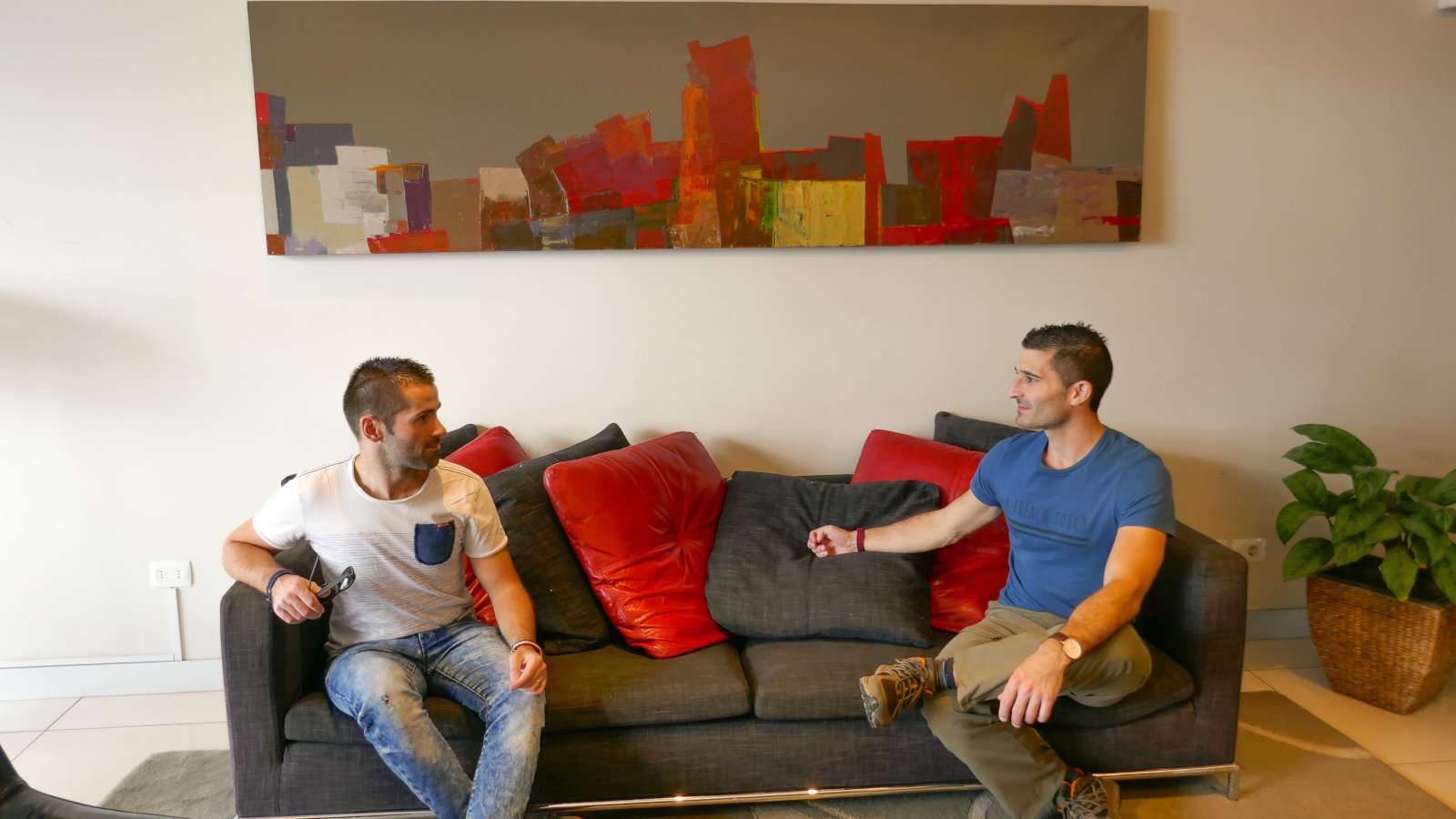 Why we love it
---
Wine themed restaurant with free tasting sessions
Rooftop pool/Jacuzzi
Lovely buffet breakfast
Spacious rooms and very comfy beds
Wine connoisseurs will love this one!
My Suites is a sexy, classy and extremely stylish boutique hotel, with a unique wine theme, including pops of wine-red decor throughout the property.
Each floor is named after a winery, and the hotel offers guests complimentary wine and olive oil tasting sessions every evening (from Tuesday to Saturday) with lectures by a local sommelier.
There's also a small but lovely rooftop pool as well as an internal garden. You can keep fit in the wellness centre, book a massage, relax in the sauna or even join a yoga class. The staff are very friendly and helpful, especially when giving recommendations for nearby things to do.
The hotel is just two blocks from the beach and a short uber or taxi ride into the city centre. The Wine Bar does meals to go along with their excellent wines, including a daily buffet breakfast of pastries, cereal, yoghurt, bread, jam, cakes, fruits, and eggs. The rooms also come with a kettle, microwave and fridge so you can save money by self-catering a little too.
03
Sofitel Montevideo Casino Carrasco & Spa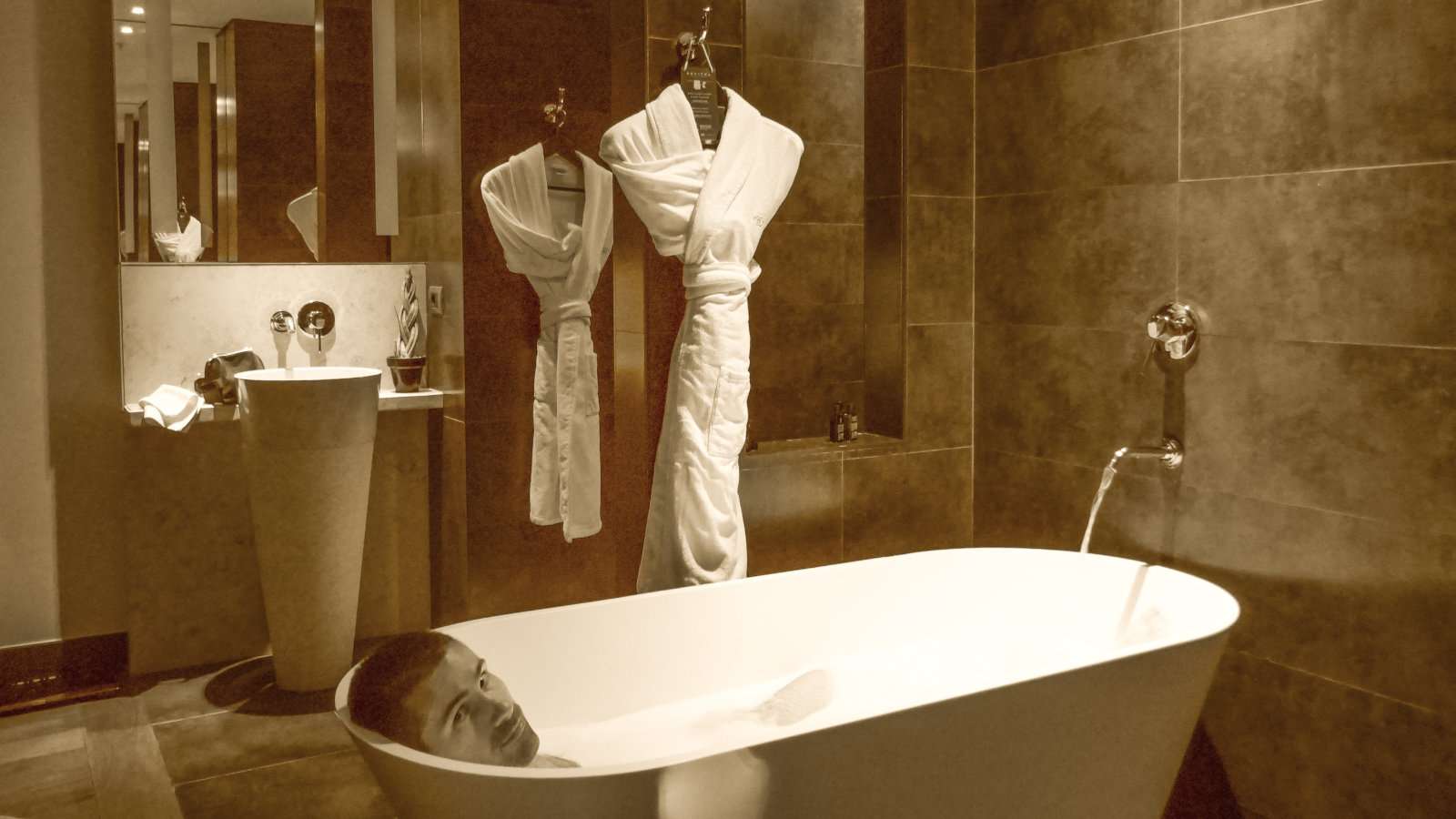 Why we love it
---
Luxurious 5-star hotel
Indoor and outdoor swimming pools
Fantastic spa with sauna and hammam
Incredible French restaurant
Overlooking the Rambla beachfront, this glamorous former casino palace was built in 1821.
This Sofitel hotel boasts a mix of French classic architecture with a modern twist. Check out the Philip Starks horse lamps in the grand, impressive lobby.
You'll also be gobsmacked by the gorgeous chandeliers, chic furniture and marble finishings everywhere.
Their suites offer amazing views over the Rio Del Plata, have 2 huge walk-in showers and the most luxurious free-standing bathtubs! We loved soaking here after a day of exploring the city. The hotel spa is also a wonderful choice for relaxing massages or to enjoy the sauna and Hammam style baths.
There's a sleek gym for keeping fit, as well as the choice of indoor or outdoor swimming pools for some laps. If you haven't had enough French-inspired elegance make sure you eat at in-house Restaurant 1921 for classic French dishes and stunning views of the beach.
What to do in Montevideo
Montevideo offers plenty of things to do, particularly around Plaza Independencia in the Old Town (Ciudad Vieja) and the Rambla beach promenade.
Ciudad Vieja: Montevideo's Old Town has the famous statute of General Artigas, the national hero as well as beautiful colonial buildings dating back to the 1800s, like Teatro Solís and the iconic Puerta de la Ciudadela.
Sarandí promenade: this is the main pedestrian street in the city, starting from the Puerta de la Ciudadela and ending at the Rambla promenade on the coast with art galleries, buskers and shops selling handicrafts.
Ramblas beach promenade: the 22km long promenade avenue along the coast is perfect for people watching or for a romantic walk with your lover. The famous "Montevideo" sign is also here.
Bike tour Uruguay: one of the best ways to discover the city is by bike. We recommend Bike Tour Uruguay who offer tours around the Old Town and the Ramblas promenade.
Uruguayan wine: Uruguay is one of the top 5 wine producers in South America and you can visit wineries near Montevideo such as the Bodega Bouza as part of a day trip.
Mercado Agricola Montevideo (MAM): the famous market in the city where you can come to purchase fresh produce, meat, fish, Uruguayan wine, have a coffee, and watch the locals go about their daily chores.
Tango lessons: Uruguay is just as responsible for the birth of tango as Argentina. You can learn more about it in our article about gay life in Uruguay.
If you're a gay traveller, check out our gay guide to Montevideo.
Punta del Este is THE place to come to party, especially during the summer months, December to February. Everyone comes here, surfers, beach hotties, Brazilian millionaires, the high society from Buenos Aires. It's often referred to as The Hamptons of South America. So if you're in a party mood, consider adding Punta to your itinerary.
Explore gay Punta Del Este
Regular buses travel from Montevideo to Maldonado bus terminal, which is a few kilometres north of Punta Del Este. The journey takes around 3 hours and costs 220 pesos $8/£6. From Maldonado, you can take a taxi or catch the local bus to Punta Del Este.
By car, it's a scenic 2 hours drive from Montevideo to Punta del Este. Along the way we suggest stopping at Punta Ballena to marvel at Casapueblo, the extremely pretty home of Uruguay's most famous artist, Carlos Páez Vilaró, There's a small part of Casapueblo open to the public, which houses an exhibition of Vilaró's works. The rest of the building has been converted into a 4-star Hotel.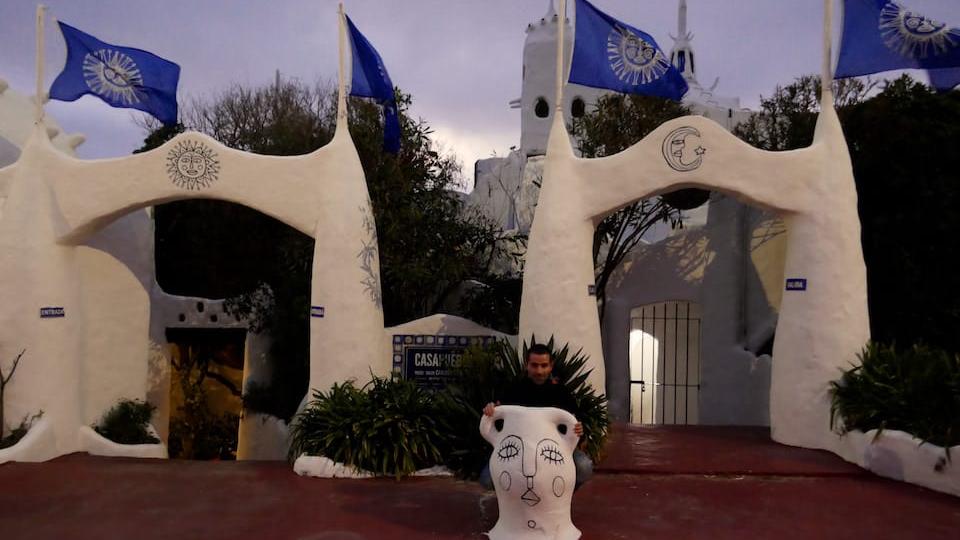 Where to stay in Punta Del Este
01
Undarius Gay Hotel (men only)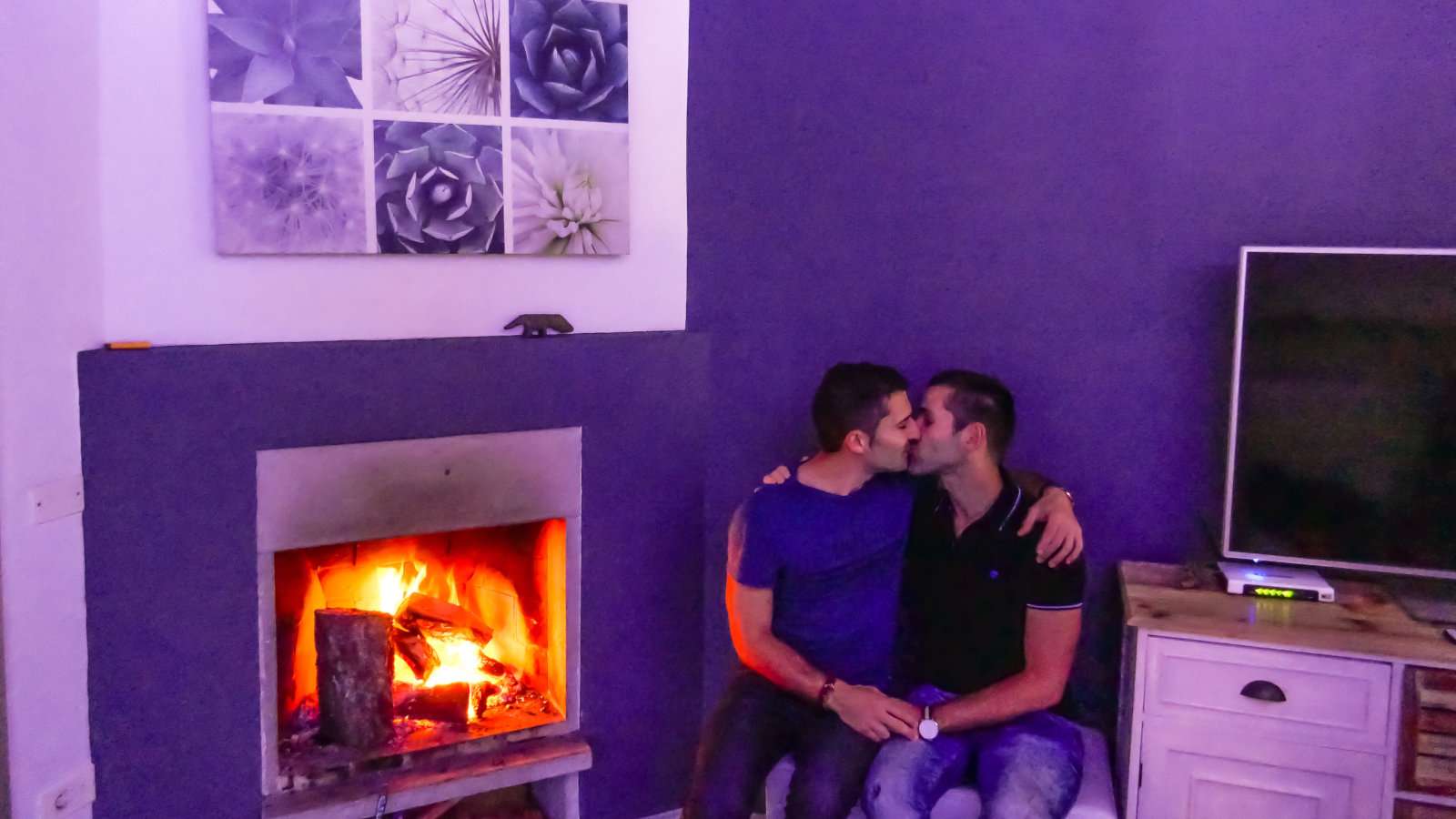 Why we love it
---
Clothing optional, gay male-only hotel
Lovely garden and swimming pool
Walking distance from local gay nude beach
Spacious double rooms or dorms
Undarius is a clothing-optional, gay male-only hotel located just 400 metres from the popular gay and naturist beach Chihuahua in Punta del Este.
The hotel has a beautiful garden, a large outdoor swimming pool and an extremely romantic fireplace in the awesome purple communal area.
This is a fun but also very restful gay resort, perfect if you're looking to relax and meet like-minded travellers.
The double rooms are very spacious and airy, while you can also stay in dorm rooms if you're trying to save money. We love the bright rainbow colours painted on the walls of each room's little private terrace that overlooks the garden and swimming pool. It's lovely to relax next to the pool, or in the covered Jacuzzi.
The hosts and staff make you feel like you're staying with a bunch of friends, which the other guests from around the world will soon become. Undarius is about 15km from Punta del Este, so you'll be very secluded, but still able to explore the local nightlife after a short taxi or uber ride.
STAY WITH A GAY LOCAL
Misterb&b is the Airbnb equivalent for the LGBTQ community. Unlike on Airbnb, you know your host is gay, voiding any nasty surprises when you check-in. It is also a great way to meet gay locals and discover the underground gay scene. Click below to get 10 € (or $10) off our first booking.
02
Yoo Punta del Este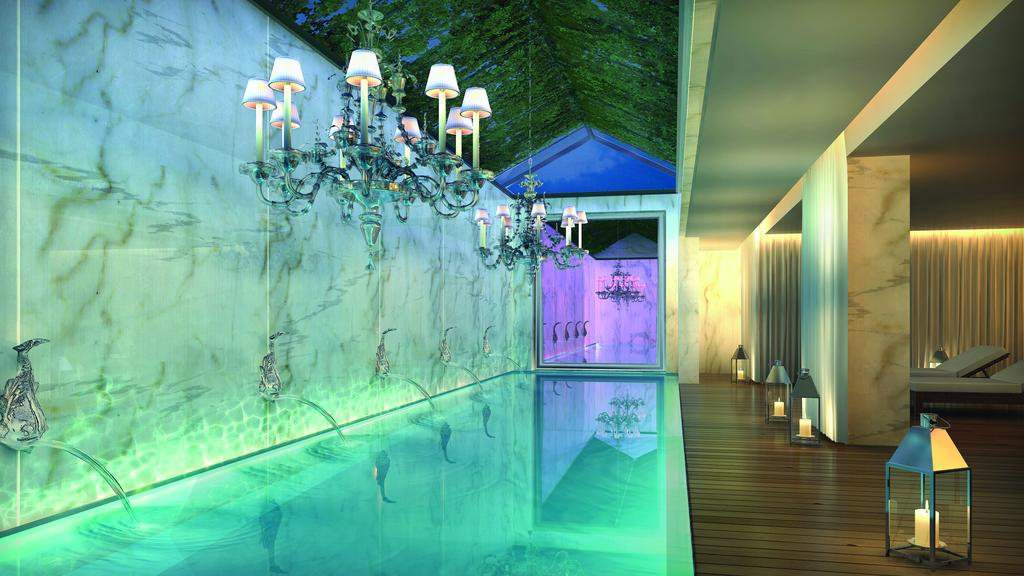 Why we love it
---
Luxurious self-contained apartments
Exquisite spa with indoor Turkish hammam
Outdoor infinity pool too
Exclusive poolside restaurant
Yoo Punta del Este is one of the best lodgings in Punta del Este on Tripadvisor, which is what first attracted our attention.
If you wanted to be right in the city then this is a fabulous choice. Yoo is located in the 8th stop of Roosevelt Avenue, which is the heart of the Art District.
All of the apartments come with a balcony, but make sure you check out the ones with a sea view!
One of the most incredible parts of Yoo Punta del Este is the exquisite spa with a beautiful indoor Turkish-style pool (see the picture above). There's also a Jacuzzi, sauna, Scottish shower and treatment cabins where you can enjoy massages or a variety of beauty treatments.
The apartments are self-contained, so you'll have a small kitchen for cooking your own meals. Along with the fancy spa, there's also a gorgeous outdoor infinity pool with table and chairs sitting in the water as well as luxurious cabanas for lounging. On top of all this, there's even an exclusive restaurant and a classic library at the end of the pool-side promenade!
What to do in Punta Del Este
Punta del Este is famous for being an international beach resort, especially during the summer months of December-February when you can do parasailing, waterskiing and jet skiing. It's the perfect place for partying with many bars and clubs. Here's a few of our favourite activities in Punta del Este:
Punta Bike Tour: this is the perfect way to see the main sites of the most emblematic icons of the city, including the famous and bizarre fingers rising out of the beach statue.
Nightlife: the port area is the most happening part of the city with restaurant/bars becoming the fashion. One of our favourite hangouts includes Soho bar which serves up delicious cocktails.
Cabo Polono day trip: Cabo Polono is a settlement of 95 people in a National Park on the Eastern coast of Uruguay on the tip of a peninsula. It's worth visiting as a day trip, which involves a 7km truck drive through the sand dunes.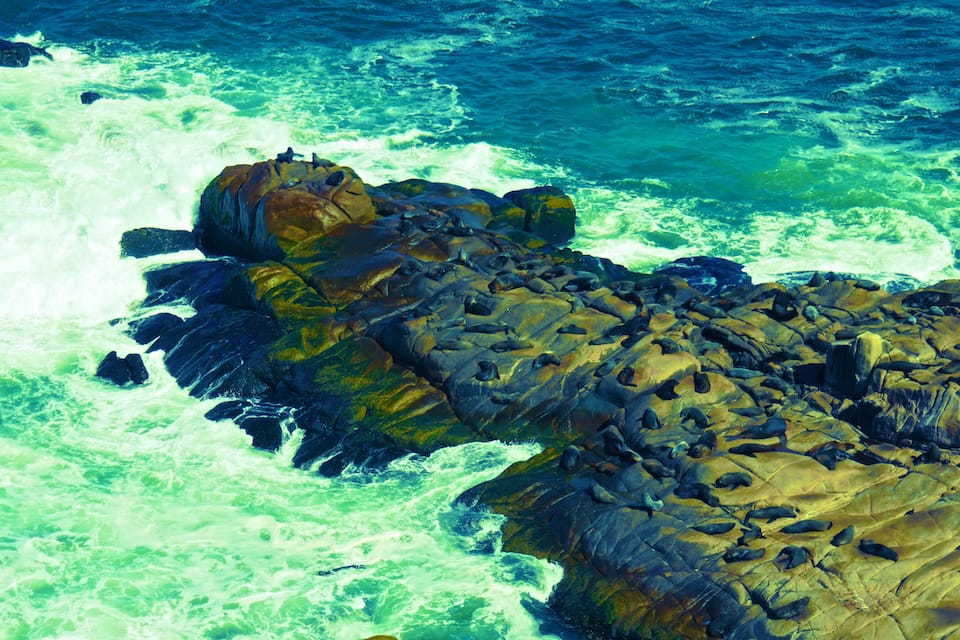 Punta Del Diablo is a small fishing town and seaside resort in Rocha, on the Eastern coast of Uruguay. Over the years it has evolved to become a prime summer getaway for Uruguayans and Argentinians during the summer months, December-February.
If you visit outside of those months, however, it's more tranquil, remote and feels like you have the entire beach all to yourself, making it the ideal option if you're looking for a quiet and peaceful getaway.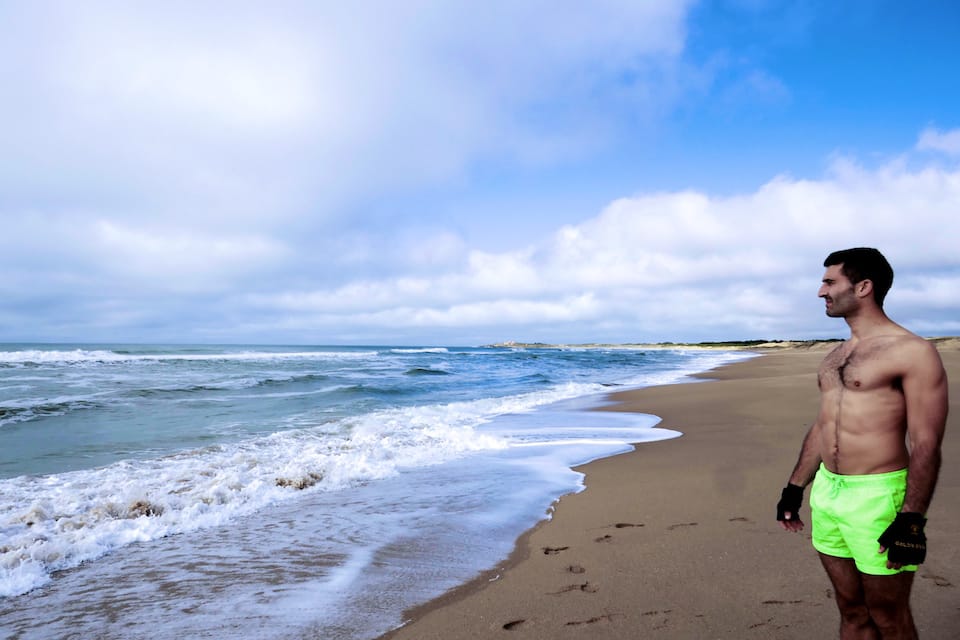 Punta Del Diablo
The drive by car from Montevideo takes around 4 hours.
The bus from Montevideo takes around 5 hours and buses leave frequently. The best companies offering a direct service includes COT and Rutas del Sol.
Gay friendly hotels in Punta Del Diablo
01
Il Tano Suites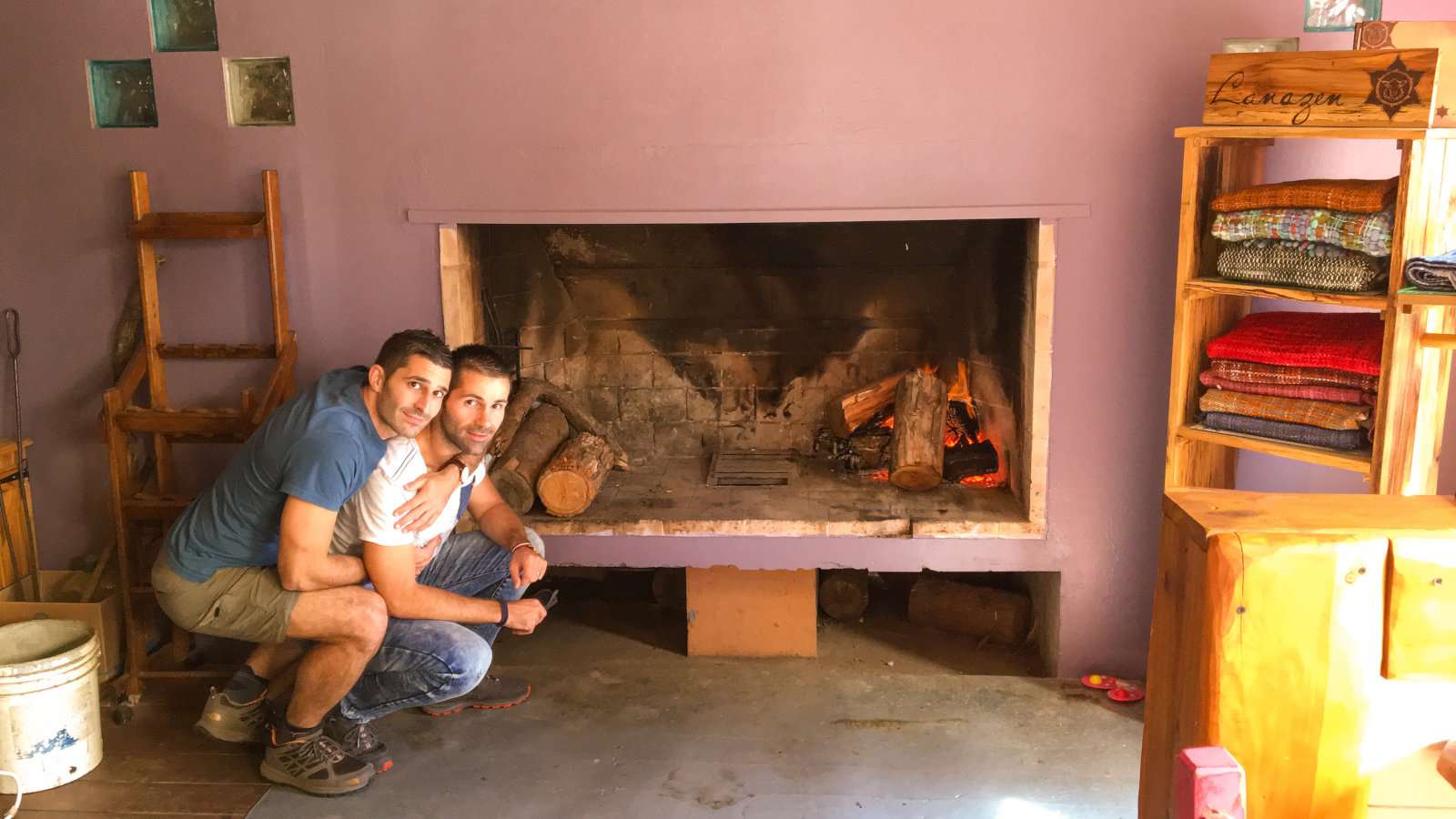 Why we love it
---
Lovely family-owned B&B
Quiet area close to Playa Grande
Small private pool in the garden
Delicious breakfast included
Il Tano Suites is a charming family-owned guesthouse offering 2 cosy private suites with fireplace and a swimming pool.
The suites are located in a quiet area, surrounded by forest and only about 400 metres from nearby Playa Grande.
They also serve delicious Italian food in their restaurant called Il Tano Cucina.
Breakfast is included in your stay, and you can have half or full board at the restaurant if you want all your meals provided. The food is delicious, homemade Italian dishes made with the freshest ingredients, many of which are grown on the property in the pretty garden.
There's a small pool with a cute fountain in the garden for guests to use, as well as beach chairs and an umbrella. Bicycles are also provided for exploring the area. There are only three suites, so you'll be able to relax in perfect tranquillity with only a few other guests.
02
Posada de la Viuda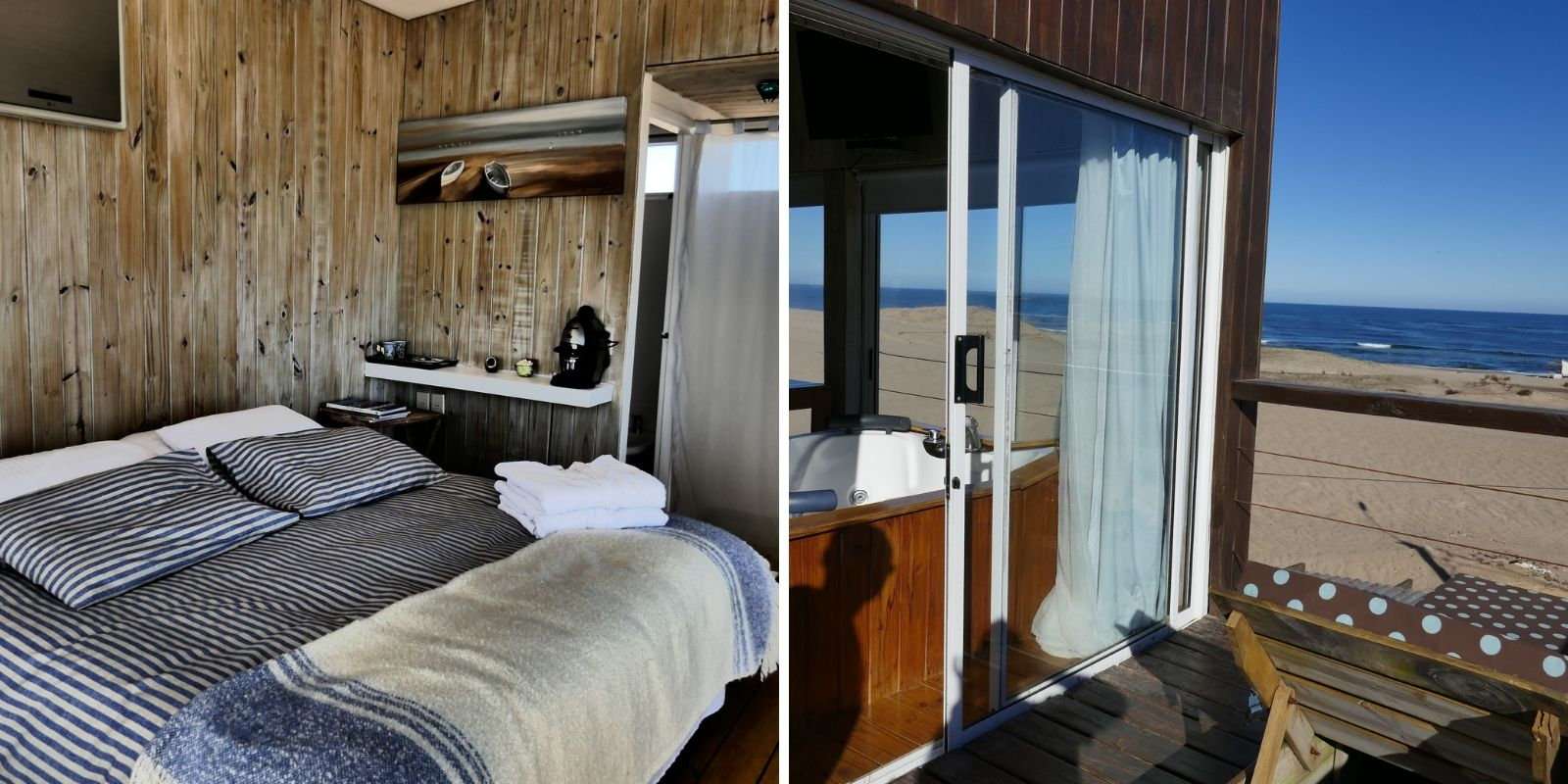 Why we love it
---
Lovely beach side hotel
Jacuzzi and balcony overlooking the sea
Very affordable
Swimming pool and hammocks for relaxing
Posada de la Viuda is a beautiful hotel/inn right on the beachfront of Punta Del Diablo village.
The rooms are huge, with a Jacuzzi and balcony overlooking the sea, perfect for relaxing in the sun.
The friendly staff helped us organise a romantic candlelit dinner in our room which was heaven!
The decor here is rustic, but so cosy, with bright splashes of colour. A delicious handmade breakfast is included, which is lovely to enjoy while you're watching the waves crashing on the sand. There are also lots of hammocks and sun loungers in the communal garden for relaxing in between swimming in the pool.
This is a great budget option, walking distance from the main part of town. The rooms include a bar fridge and kettle, there's also shared BBQ facilities in the garden, as well as a fully-stocked communal kitchen. The married couple who run Posada de la Viuda are so lovely, they'll even pick you up and drop you off at the local bus stop.
What to do in Punta Del Diablo
Punta Del Diablo was one of our favourite places in Uruguay. There's plenty to do and we truly enjoyed the tranquility of the place.
Playa de la Viuda: super cool and relaxed beach, which is also popular with surfers.
Santa Teresa National Park: pretty forested National Park, close to the Brazilian border. It's perfect for hiking and you can also visit the Fort of Santa Teresa here.
Horse riding: imagine horse riding at sunset on the beach, led by a handsome gaucho, then returning by moonlight. That summed up our experience with Caballos del Este who we highly recommend.
Cabo Polono day trip: Cabo Polono is a settlement of 95 people in a National Park on the Eastern coast of Uruguay on the tip of a peninsula. It's worth visiting as a day trip, which involves a 7km truck drive through the sand dunes.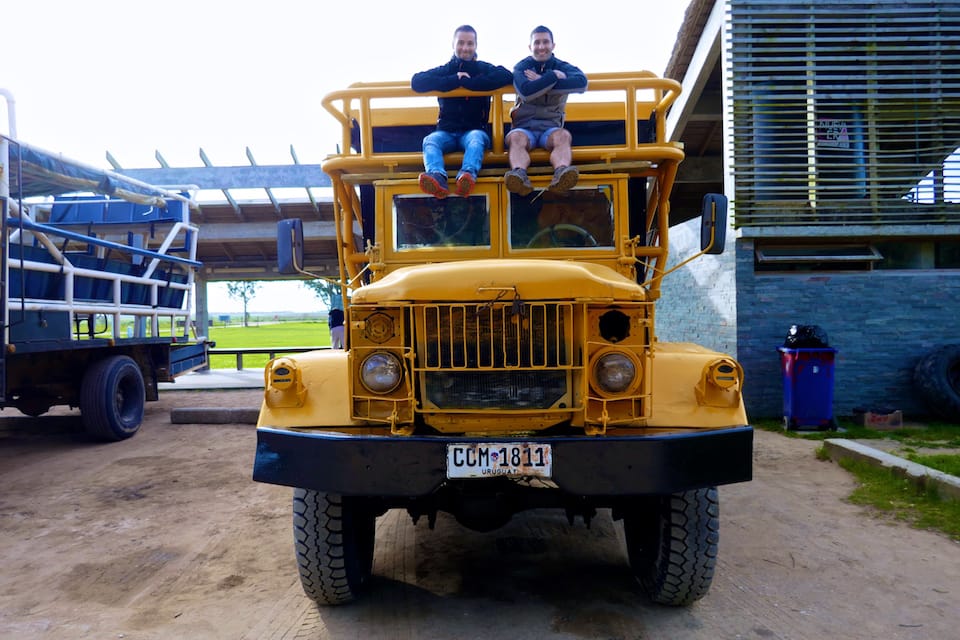 La Pedrera
Pedrera Village is a tranquil little village famous for having the oldest rock formations in Latin America. It's the perfect place to come if you love wildlife and nature. As with Punta Del Diablo, the summer months of December to February are peak season, attracting a large mix of young and old.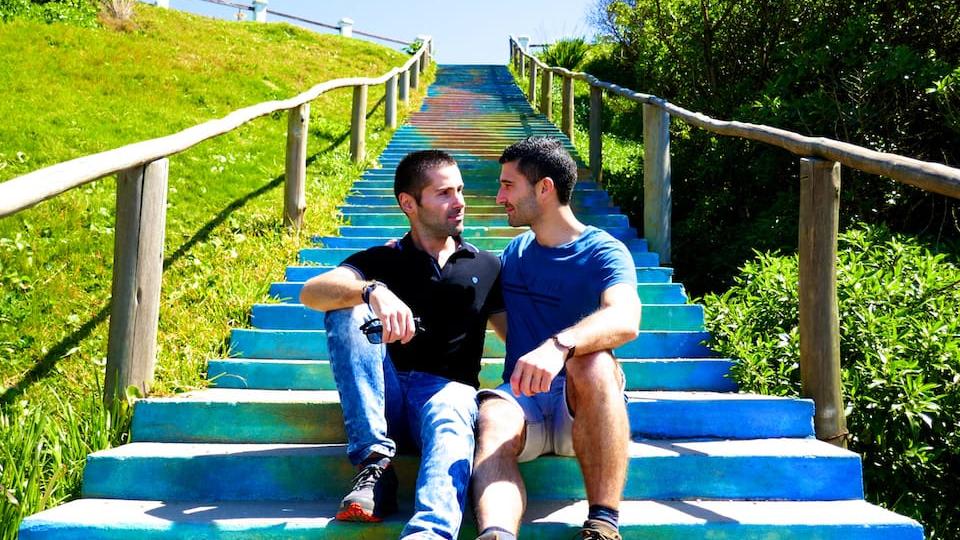 Where to stay in La Pedrera
01
Alma de la Pedrera Villaggio & Spa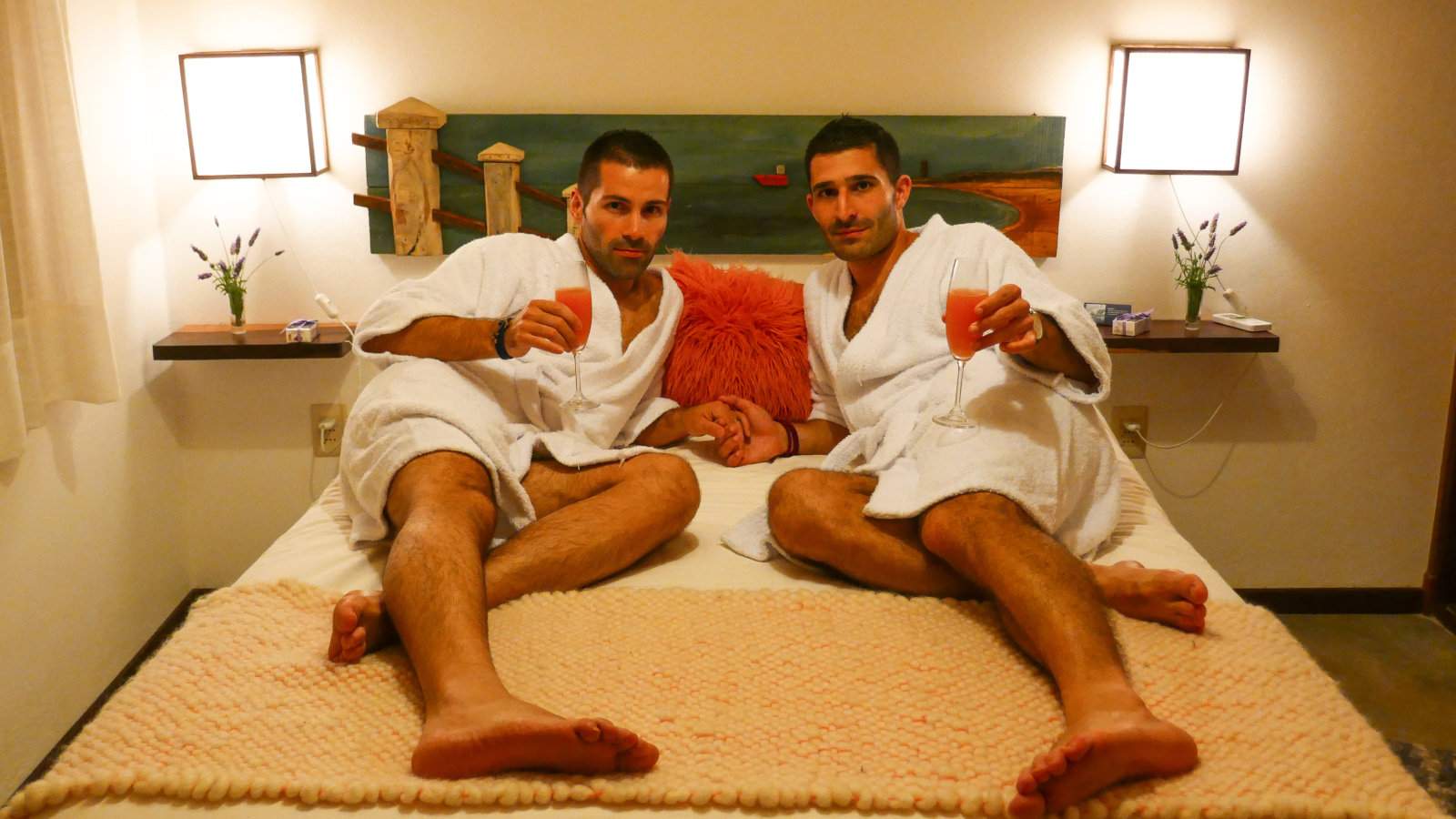 Why we love it
---
Romantic airy rooms in private villas
Lovely spa with Jacuzzi, yoga and massages
Gorgeous outdoor BBQ area with hammocks
Gay friendly and very helpful staff
Alma de la Pedrera Villaggio & Spa offers both a comprehensive spa experience as well as lovely individual houses, each with a private terrace, outdoor barbecue, and with all the services you can expect from a high-end hotel.
The service here was outstanding and they welcomed us as a gay couple with open arms. The property is even pet-friendly too, so you can bring your four-legged friend along with you!
The private villas are beautifully decorated with wooden art, while the rooms are very large and airy. We loved the gardens filled with lavender, the outdoor BBQ area and the hammocks for relaxing in. The villas also have proper kitchens if you don't want to cook outside.
The spa is a special treat, so spotlessly clean with pretty blue tiles where you can enjoy the Jacuzzi and Finnish sauna. They offer massages, beauty treatments and yoga here. There's a nice outdoor pool as well, with comfy sun loungers for relaxing poolside.
What to do in La Pedrera
La Pedrera only has 215 residents and is a quiet unassuming village for most of the year. However during the carnival in February, it really comes to life with an invasion of visitors from all over, tripling its size!
Playa del Barco is the beach in La Pedrera and the ideal spot for surfers. It's also beautiful to relax on or enjoy a few romantic sunsets.
For lunch, we recommend Don Rómulo restaurant. It's THE place all locals here rave about!
The drive from La Pedrera to Colónia takes around 6 hours.
There are no direct buses between La Pedrera to Colónia, but you can take a direct bus to Montevideo, then change for another bus bound to Colónia.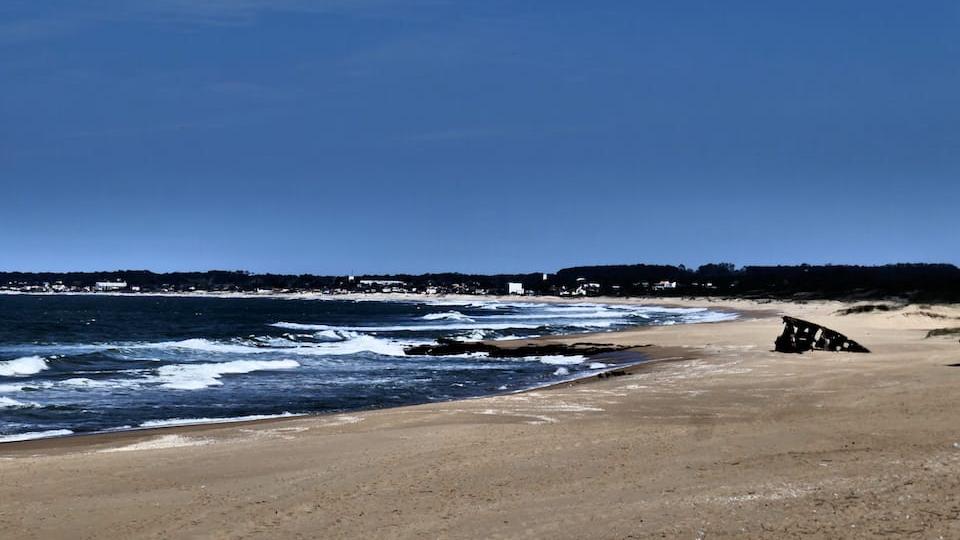 Getting around Uruguay
Driving in Uruguay is probably the best way to move around the country. The roads are safe and in a very good condition. Distances are pretty short (by South American standards!) so you will never drive for more than 2-3 hours at a time.
We found driving in Uruguay to be absolutely fine. Other drivers are mostly courteous and safe and we never had any problems.
---
Like this post? Pin it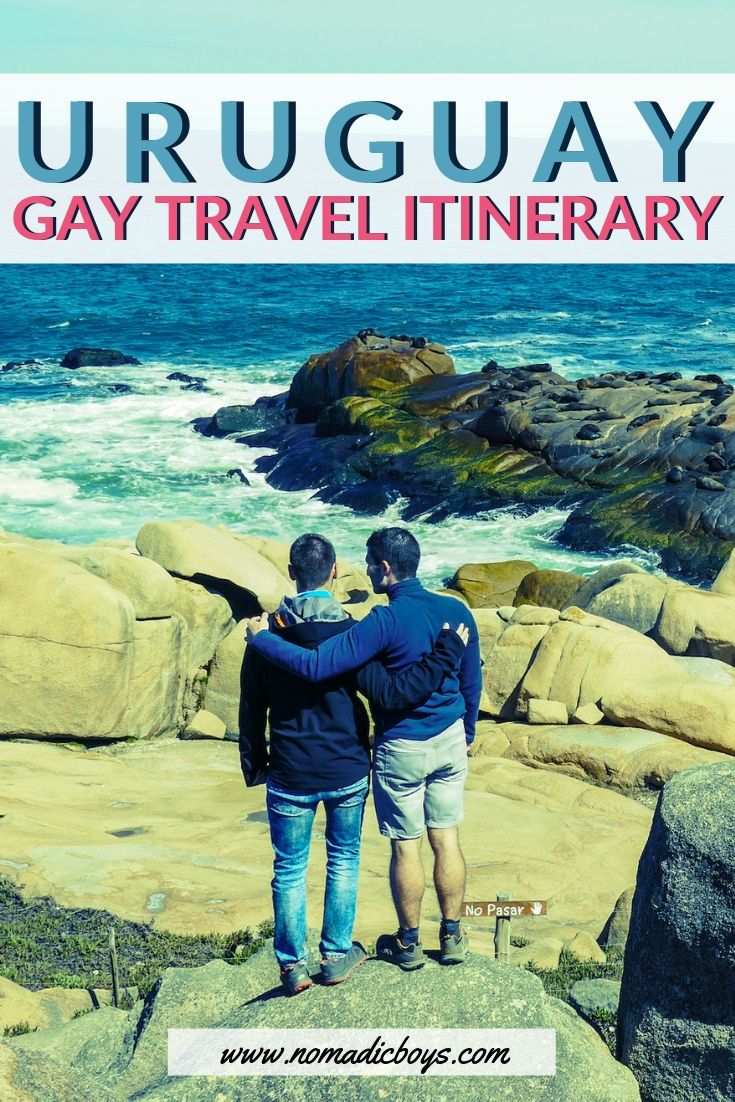 Happy travels are safe travels
We recommend you always take out a reputable travel insurance before your next vacation. What happens if you suffer from illness, injury, theft, or a cancellation? Many travelers forget about it and regret it when something happens. Better to pay a small price and have the peace of mind and not worry.