Mongolia is a stunning country. We will never forget our time living with nomads in the Gobi Desert, or some of the incredible landscapes we saw in the Orkhon Valley and the magnificent Khongoriin Els sand dunes.
After a month travelling through the country, eating lots and lots of mutton and drinking freshly brewed airag, we've put together our 10 interesting facts about Mongolia.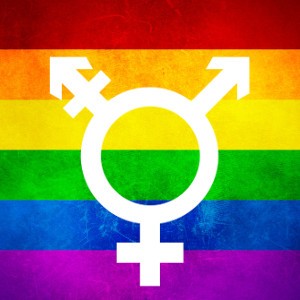 Advice for LGBTQ travellers to Mongolia
Mongolia does not have the best LGBTQ reputation in the world, but by Asian standards, it's not bad. It's not illegal to be gay here, but it is lacking when it comes to LGBTQ friendly laws. Whilst the situation is hard for LGBTQ locals, for gay travellers, we found Mongolians treated us with respect and were very welcoming. We never experienced problems booking double beds in hotels or guesthouses in the capital – Ulaanbaatar. However, when staying with nomadic families in the Gobi Desert, we were only offered single beds – as were all travellers, whether straight or gay. Read more about what gay life is like in Mongolia in our interview with LGBTQ local, Zorig from Ulaanbaatar.
What we cover in this guide
Naadam Festival: the Mongolian Olympics
In July each year, the Naadam Festival takes over the entire country. This is the equivalent of the Mongolia Olympic Games to commemorate the 1921 revolution when Mongolia declared itself a free country. It is by far one of our favourite interesting facts about Mongolia, which we planned our trip around.
Much like at the Olympics, the opening ceremony in Ulan Bator is the most popular event, which everyone wants to see. If you want to visit Mongolia, we strongly advise trying to come in July to see it. The Naadam Festival is not only impressive, but a true showcase of everything representing Mongolian culture, featuring processions, military parades and ethnic dances before the games begin. It's literally an orgy of colours, fabulous outfits and lots of ethnic singing and dancing.
The official Mongolian name for the Naadam Festival is "eriin gurvan naadam" which translates to: "the three games of men". The 3 games are wrestling, archery and horse riding. Therefore, the festival centres around these 3 sports:
Wrestling: the rules of Mongolian require you to make your opponent touch the ground with any part of his except hands or feet. Unfortunately women are not allowed to participate in the wrestling. In one year, one woman sneaked into competition disguised as a man, and won the entire event. To avoid this deception happening again, the participants are required to wear an open sleeved top. A reason alone to watch this sport we say!
Horse riding: the horse riding competition takes place outside of the main stadium in Ulaanbaatar and also around the country, with races around 15-30km long. If you're touring Mongolia in early/mid-July, you're very likely to see some of the horse riding rehearsals taking place. This event is now mixed, so girls are allowed to participate.
Archery: another mixed sport. It is played by teams of ten. Each archer is given 4 arrows and the team must hit 33 "surs". Men shoot their arrows from 75 metres (246 feet) away while women shoot theirs from 65 metres (213 feet). During the competition and later at the medal ceremony, the archers wear their national clothing called "deel".
See more in our video of the best moments of the Naadam Festival opening ceremony:
There's one gay bar in Mongolia
During our time in Ulaanbaatar, we stumbled upon the only gay bar in the entire country. We were quite shocked at first. When we first came to Mongolia, we didn't expect there to be much/any gay scene at all. Well, it turns out we were wrong!
We met the owner, Zorig, who told us about gay life in Mongolia and the efforts he has taken over the past few decades to set up a gay bar in Ulaanbaatar. The main obstruction was corrupt landlords and surprisingly, the LGBTQ community itself who at first were too scared to come out of the closet to visit the bar.
Whilst Mongolia still has a long way to go with regards to its LGBTQ rights, progress is swiftly being made with Ulaanbaatar Pride now a fixture in the Mongolia annual calendar! We loved exploring Mongolia as a gay couple and certainly didn't experience any antipathy from locals.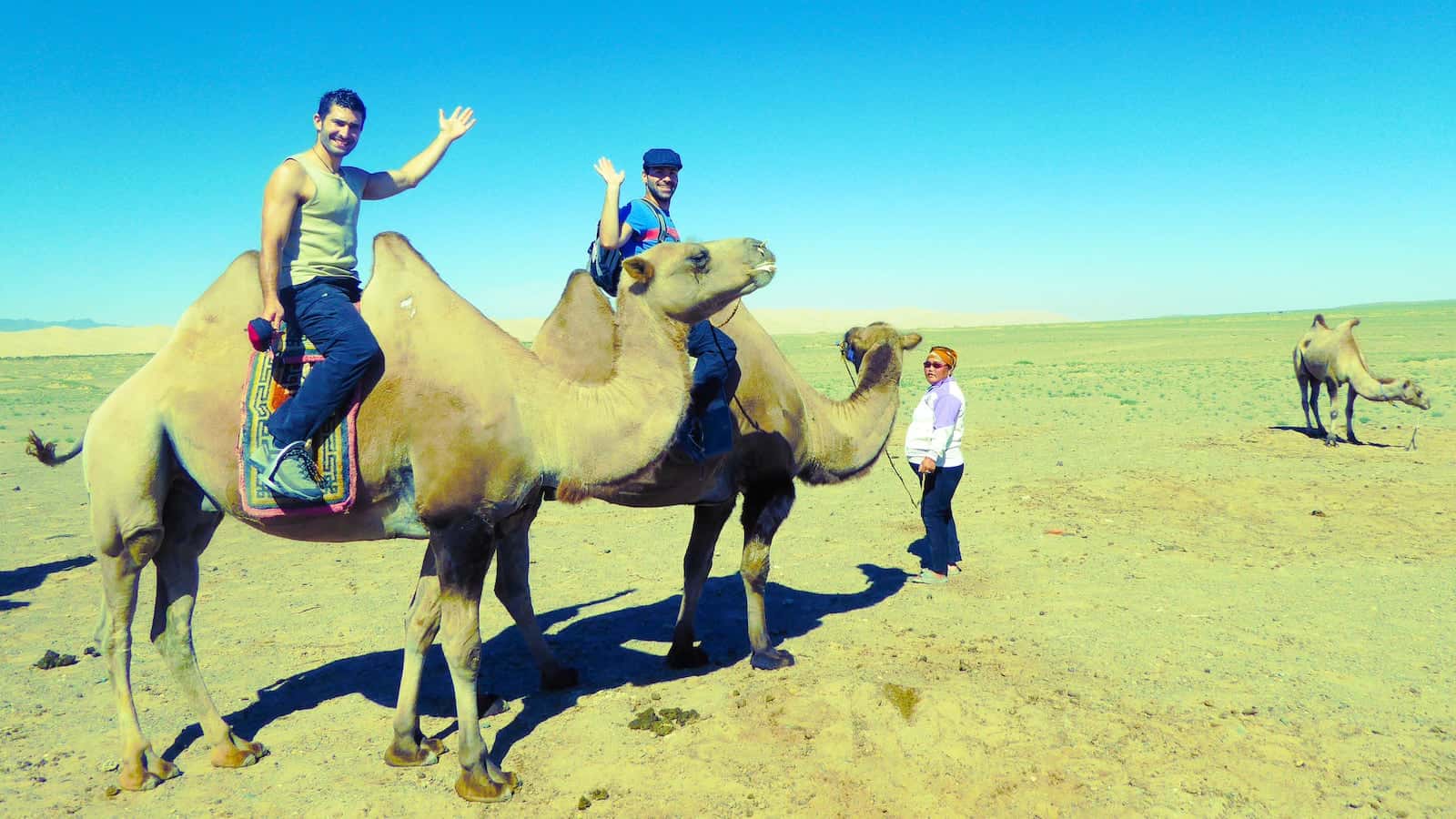 Lost in the Gobi Desert? Gers face south!
The traditional nomads continue to live their way of life as they did in the days of Genghis Khan. They roam the Mongolian steppe with their gers (also called a yurt) and set up camp in a particular spot for an indefinite period. Kind of like our Nomadic Boys' approach to travelling!
If you're out exploring the Gobi Desert and you get disorientated or lost, fear not, look at the direction the gers are facing, and Voila! The Mongolian nomads traditionally build their gers so that they face south. This is because it shields their families from the cold Northerly winds.
The nomadic Mongolians are friendly and hospitable people. They love receiving guests, especially foreigners. We certainly felt quite welcome as a gay couple, although we were careful not to be too open knowing that Mongolia is still a very conservative country when it comes to LGBTQ rights. Staying with a nomadic family in their gers is one of the most unique and memorable experiences from our travels, one which we highly recommend doing if you get the chance.
Tsagaan Suvraga: like the surface of Mars
Tsagaan Suvraga (meaning "white stupa") is one of the many impressive landscapes we saw in Mongolia. It is made up of several rocky formations which is a dried-up seabed. Over thousands of years of wind and rain, it has formed something resembling what you'd imagine the surface of planet Mars to look like.
The Tsagaan Suvraga rocky formations have different coloured layers, mainly brown/red, which is what gives them that otherworldly feeling. They are also quite large: around 60 metres (197 feet) high and 400 metres (1,313 feet) long.
It's quite a long drive to reach the Tsagaan Suvraga, so ideally best done as part of a Gobi Desert Tour offered by most agencies in Ulan Bator.
Airag: fermented horse milk
Airag is one of the most popular drinks that nomadic families drink. It is commonly offered to guests when they enter a ger and is considered rude to reject it.
Airag for foreigners is, er, interesting…!
Traditionally, nomadic families keep a large amount of wildlife around their gers, including horses, camels, goats and more. The milk produced by the mare is stored and left to ferment until it reaches around 3% alcoholic content. It's very popular amongst pastoral nomadic families, who drink large quantities of it throughout the day. For us, the taste left a lot to be desired…
…but try if for yourself before judging.
Mongolian throat singing
..is itself a very interesting fact about Mongolia! Watching a throat singer performing is quite spellbinding and extraordinary.
Mongolian throat singing involves the performer producing a fundamental pitch and at the same time one or more pitches over that. It's so remarkable that it became UNESCO listed in 2009.
We met Mongolian throat singer, Enkh Jargal Dandarvaanchig (aka "Epi") at the Rainforest World Music Festival in Kuching who tried to teach Seby Mongolian throat singing with some success:
The tugrik: a coinless currency!
This is one that currency collecting geeks like Stefan will appreciate and a very interesting fact about Mongolia. The Mongolian currency does not have any coins! Everything is paper notes.
To give you an idea, $1 is around 2,500 tugrics and £1 is around 3,300. The highest value note available is a 20,000 tugrik note (worth around £6/$8) and they work downwards from there.
Genghis Khan appears on the higher value notes (20,000, 10,000, 5,000, 1,000 and 500). General Sukhbaatar (who declared Mongolia an independent county in 1921 from the Chinese) appears on the lower denominations.
Here's your Mongolian mission: try to find a 1 tugrik note! After a lot of searching we managed to find one for Stefan's currency collection, which he proudly shows off to anyone who'll listen: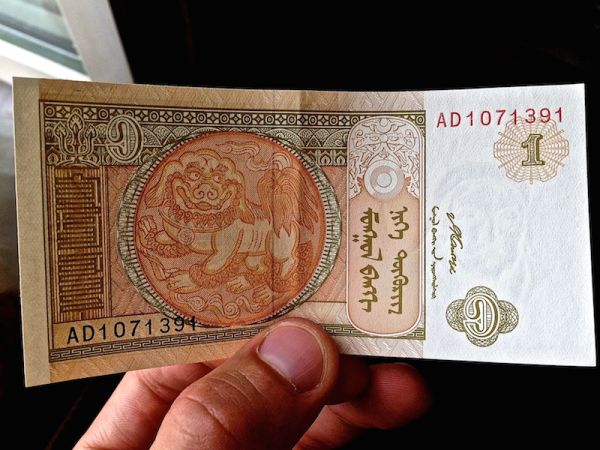 Lots and lots and lots of mutton fat!
Vegetarians look away…in Mongolia, the cuisine mainly consists of dairy products, meat, and animal fats. The most common rural dish is cooked mutton, ubiquitous across the entire country. Fruits and vegetables are usually imported and not really a major part of the diet. Their cuisine is after all designed for the extreme weather conditions they have to withstand in the cold winter months.
During our trip, we cannot recall a Mongolian meal which didn't come with mutton! For us, the meat is ok, but we're less keen on the mutton fat which is usually mixed with it. For Mongolians, the mutton fat is the best part, and never thrown away. The best way to wash it down? With a swig of airag of course…
Too many nomads spell trouble!
Ulan Bator has seen a huge influx of nomadic families moving to the capital city mainly for employment opportunities. As a result, a "shantytown" like area of gers has developed around the suburbs, akin to the favellas in Brazil or the shantytowns surrounding New Delhi.
These "ger districts" in Ulan Bator's suburbs are sadly unfortunately very poor, most with no running water, little central heating, sporadic rubbish collection and poor sewage system.
You see the ger districts as you drive out of the city into the countryside beyond.
The smog problem of Ulaanbaatar
As a result of the influx of nomadic families to Ulan Bator over the past decade, pollution and smog levels have massively increased across the capital city. To give you an idea, the total population of Mongolia is just over 3 million. Almost half of the country, around 1.38 million lives in Ulan Bator. Time Magazine famously nicknamed Ulan Bator as the world's most polluted capital city.
The main reason for the increased levels of pollution is due to the coal-powered stoves used by the nomadic families in their gers. The smog gets particularly strong during the cold winter months when temperatures in Ulan Bator drop to a high of -10 degrees Celsius and a low of minus 25 degrees Celsius at night.
As a result of the increased smog levels, in October 2012, the Mongolian government implemented a new law requiring drivers to alternate the days they are permitted to drive into the city centre. The weekday you're allowed to drive depends on the last number your car licence plate ends with:
Mondays: cars ending with 1 and 6 are not allowed to enter the city centre
Tuesdays: cars ending with 2 and 7 are not allowed to enter the city centre
Wednesdays: cars ending with 3 and 8 are not allowed to enter the city centre
Thursdays: cars ending with 4 and 9 are not allowed to enter the city centre
Fridays: cars ending with 5 and 0 are not allowed to enter the city centre
If caught entering when you shouldn't, the penalty is a fine of 80,000 tugriks (around $32/£24). Although this doesn't seem much, it's a hefty fine in a city where the average net monthly salary is less than $325/£250.
Watch more from our Mongolia adventures in travel video:
---
Like this post? Pin it