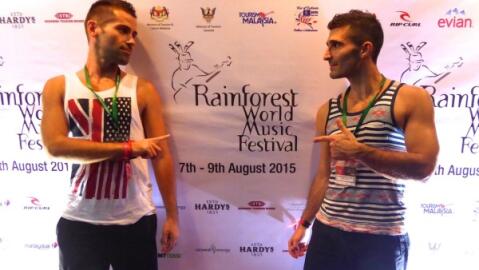 The Rainforest World Music Festival in Sarawak (Malaysia Borneo) is a 3 days musical orgy of ethnic and folk acts from all around the world. It is organised annually by the Sarawak Tourism Board and takes place in July/August at the Sarawak Cultural Village.
We attended the 18th Rainforest World Music Festival in August 2015 and had the time of our lives! We twerked with Congolese pygmies, danced with drummers from Reunion island, gawked at the topless dancer boys from Bali, were blown away by the talented throat singing Mongolian nomad.
As first timers, this is our beginner's guide to the Rainforest World Music Festival and hope to inspire you to attend the next ones.
A typical day at the Rainforest World Music Festival
The Rainforest World Music Festival unites an eclectic group of international ethnic and folk musicians to perform over 3 days and lead various workshops.
A typical day starts around 2pm with a variety of workshops and interactive activities with the acts. It goes on until midnight, culminating with a live performance from each band on the main stage to a large enthusiastic crowd.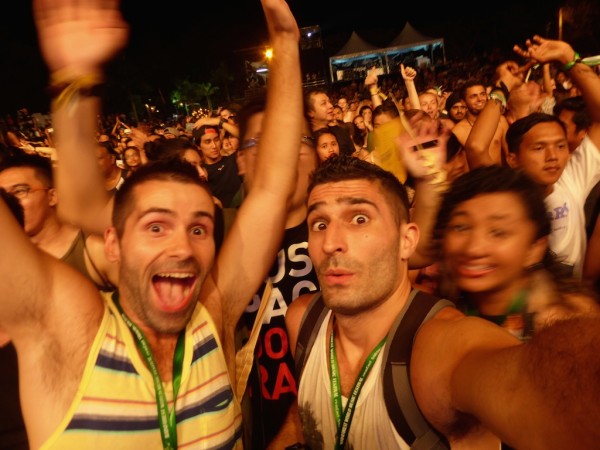 The workshops
The workshops were one of our favourite aspects of the entire festival. They take place in the intimate setting of the Iban and Bidayuh indigenous longhouses in the Cultural Village.
We loved the workshops because you get up close and personal with the performers. They improvise and interact with the audience, showcasing their different styles of singing and dancing.
There are plenty of awesome workshops happening at the same time, the only problem was trying to decide which one to attend!
Interactive dance workshops
The interactive dance workshops are where you get to dance till you drop and learn about folklore dances from all over the world.
These workshops are led by a variety of artists such as the musicians from the Sarawak Cultural Village or the 16 young and very energetic boys of the Harubee group from the Maldives.
Instrumental and singing workshops
There are a variety of interactive workshops showcasing the instruments used. For example, artists showcasing the various wind and plucked stringed instruments, or the human voice itself to accomplish something like yodelling.
Our favourite was the final workshop on the last day when the acts joined together to perform, completely unrehearsed, mixing together all their amazing voices.
Imagine a room where a Celtic singer harmonises with a power (male) diva from the Reunion islands, the Mongolian throat singer joining in, Alecia Keys lookalike Sona offering her Gambian rhythms…and more!
Cultural and lifestyle workshops
This is where you get to learn about the culture, traditions and history behind the music and dance of each act.
We got the chance to learn to dance (twerk!) like hunter gatherers with the pygmies from Congo band called Ndima: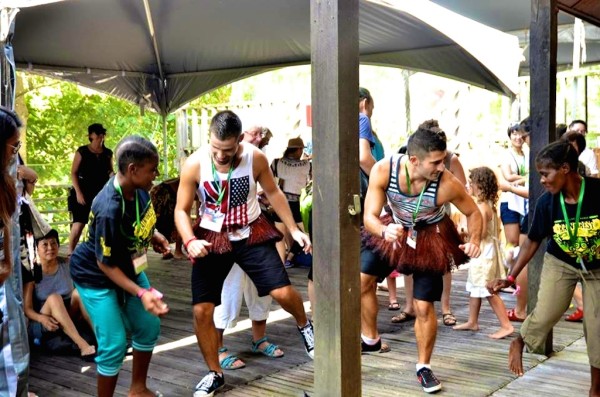 One giant drum circle
Every afternoon at 5pm, after all the workshops finished, there was a community interactive drum session by the main arena were everyone could participate.
Each participant chooses a particular percussion instrument, like a drum, tambourine or triangle. Taking the lead from the charismatic conductor in the centre, together we created quite an impressive sound:
Afternoon performances
There is an indoor theatre style stage where each performer gets the chance to feature and showcase their music. It's in a more intimate and quiet setting then the outdoor stage for the live performances in the evening.
Here's a few of our favourite afternoon performers:
Mongolian throat singer Epi
Epi (full name: Enkh Jargal Dandarvaanchig) is the ridiculously talented Mongolian throat singer who also plays the morin khoor (horse headed fiddle).
Watching Epi perform makes your hair stand on end and was like being transported back to our travels in the Gobi Desert in Mongolia. We were left spell bounded by Epi, but it was quite clear he was taught to sing by Sebastien (!!):
Sona Jobarteh from Gambia
Sona is the Gambian Alecia Keys lookalike playing her kora (guitar like instrument) with an incredible voice.
Sona is famous for being the only female kora player and was featured as a solo vocalist in the film "Mandela – The Long Walk to Freedom".
Alaverdi from Georgia
Alaverdi is a polyphonic group of 4 lads from Georgia performing folk music, sounding very similar to Gregorian monks chanting. They are named after the highest ancient cathedral in Georgia.
Georgian folk music was almost stamped out during the Soviet Union times when people would frown on it. Thanks to bands like Alaverdi, who raise awareness of this style of music, we are still fortunate to experience it.
Evening performances: setting the stage on fire
And we had a blast watching and dancing along with them in the outdoor stage surrounded by the green scenery of the rainforest. These are some of our favourite evening live acts:
Ndima pygmies from Congo
Ndima are a group of hunter-gathering-nomadic-pygmies from Congo.
They sing in a yodel like polyphony, completely improvised, complemented by some awesome dance styles, which are thousands of years old and not dissimilar to twerking:
Kobagi Kecak from Indonesia
Kobagi Kecak are an Indonesian band from Sebatu village in Bali, Indonesia. They are quite unique because they use their own body as percussion along with pieces of bamboo as stamping tubes.
Kecak is a Monkey Chant trance ritual. It's described as a spine tingling spectacle…we certainly thought so when you consider it can be performed by up to 150 (topless) men…!
Harubee from The Maldives
Harubee are a group of 16 young men exploding with (ahem!) energy, performing boduberu music.
Boduberu music originated from East and South Africa, dating back to the 11th Century. This music was developed by the common people as an alternative to court music. Traditionally, the performers wear tight white shirts and mundus (like a sarong or lungi).
Practicalities to bear in mind
1. Tickets
Tickets are cheaper if you buy them in advance. Check the RWMF website for more up to date ticketing information.
When we went, tickets cost 110 Ringgits (£17/$26) for a day pass and 300 Ringgits (£47/$71) for a 3 days pass.
Family package day tickets for 2 adults and 2 children (7-12years old) are available for 220 Ringgits (£35/$53).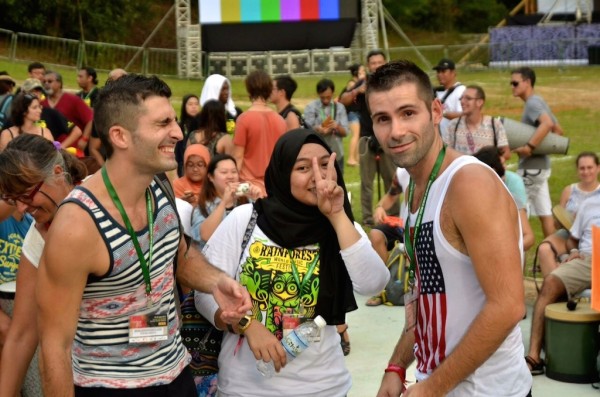 2. Transport
The Sarawak Cultural Village is located around 45 minutes drive away from Kuching, the nearest city.
Most people base themselves walking distance to the Cultural Village or in Kuching.
There is an hourly shuttle bus service between the Cultural Village and Kuching, which costs 20 Ringgit (£3/$5) each way and runs at various times throughout the day.
3. Where to stay
There are several places to base yourself for the Rainforest World Music Festival depending on your budget:
4* hotel on the beach, 10 minutes walk away from the festival.
This is where the performers and media are based. If you want to meet the artists, this is the best place to stay at.
Rooms start from 236 Ringgits ($55 / £36) a night.
Cost effective option located around 20-30 minutes walk from the Cultural Village.
Rooms cost from 120 Ringgits (£19/$29) a night, including breakfast.
Good budget option, based directly opposite the Cultural Village.
Beds from 78 Ringgits (£12/$19) a night.
Highly rated by Tripadvisor and based in nearby Kuching if options near the Cultural Village run out.
Room start from 285 Ringgit (£43/$66).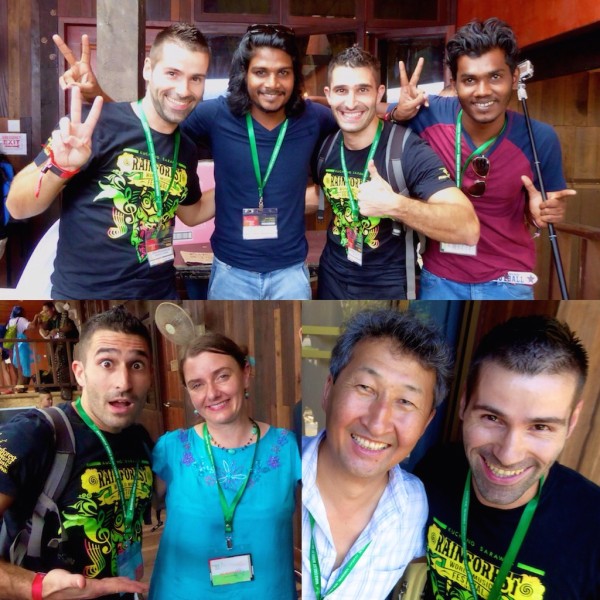 Where to eat during festival
There is food village mart based at the Cultural Village, offering a mix of western and local food (including our favourite: sarawak laksa).
Your wristband is your ticket and your wallet so do not lose it!
You can put money on your wristband at the top up centre at the entrance and use this to buy food and alcohol throughout the festival.
When we were there, you could buy a beer for 10 Ringgits (£2/$3), a small bottle of wine for 20 Ringgits (£3/$5) and a large one for 90 Ringgits (£14/$22).
Watch our complete video of our favourite acts, workshop moments and performances from the 3 days Rainforest World Music Festival:
Happy travels are safe travels
We recommend you always take out travel insurance before your next vacation. What happens if you suffer from illness, injury, theft or a cancellation? With travel insurance, you can have peace of mind and not worry. We love World Nomads travel insurance and have been using it for years. Their comprehensive coverage is second to none and their online claims process is very user friendly.