TERMS OF USE: There is a chance that some of the content on this page has changed since it was last updated. By reading this article, you consent to our Terms of Use and Disclaimer. Happy Travels!
DISCLOSURE: Some of our posts may contain affiliate links which we may receive a commission if you choose to book something through one of our links.
This is our complete guide to the Rainforest World Music Festival in Sarawak, Malaysia.
Twerking Congolese pygmies, crazy high-energy drummers from Reunion island, topless dancers from Bali, ethereal Mongolian nomadic throat singing…
…this sums up the sort of amazing acts you'll see at Malaysia's Rainforest World Music Festival (shortened to RWMF)!
We came to the Rainforest World Music Festival (RWMF) during our trip around the Sabah region of Malaysian Borneo and had the time of our lives. It's a 3-day event taking place every year in June, July or August featuring both local indigenous artists and international acts from all around the world – set in the middle of the jungle! Beyond the unique international acts, we loved the exciting vibe here. Every day we made a whole new bunch of friends, everyone united by their love for music.
In this blog post, we describe what it was like attending the Rainforest World Music Festival in Sarawak for our first time, which we hope inspires you to attend the next one.
What is the Rainforest World Music Festival?
The Rainforest World Music Festival in Sarawak (Malaysia Borneo) is a 3-day event in the jungle organized by the Sarawak Tourism Board featuring ethnic and folk musical acts from all around the world. It started in 1998 and has taken place every year since, in June, July or August at the Sarawak Cultural Village.
The festival includes a mix of interactive afternoon workshops, musical lectures, and mini-concerts with the artists… we actually had a legit twerking session with those Congolese pygmies! Then in the evening, there are several performances on the main stage, which is the most popular part of it all. There is always a large crowd of people who gather to watch the performances in the evening (especially on the third day), which creates a truly exhilarating vibe.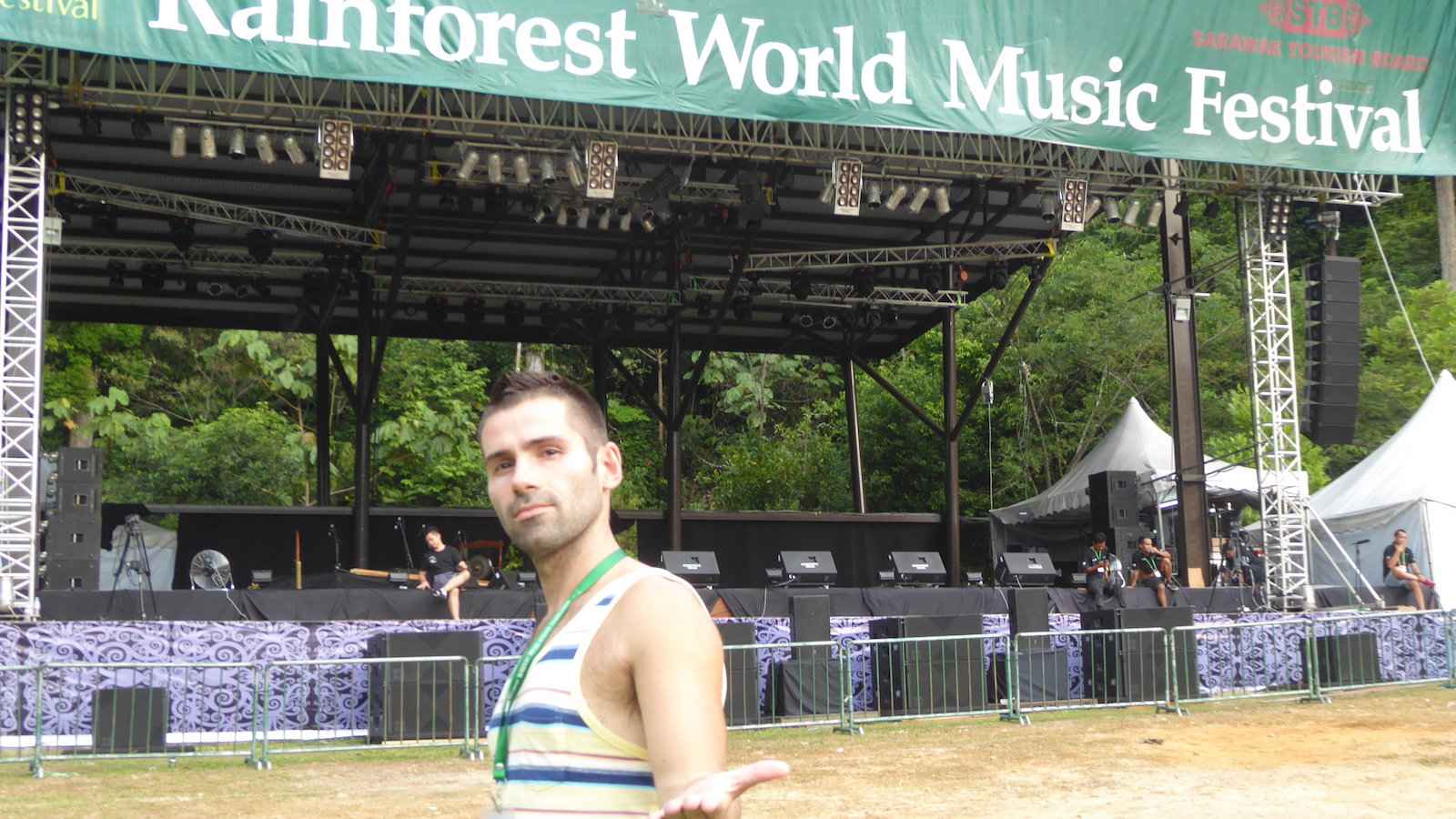 How much is a ticket?
You have the option to either buy a day pass or a full 3-day pass.
The day pass costs 110 Ringgits ($30) and the 3-day pass is 300 Ringgits ($75). They also offer a Family Package (i.e. 2 adults + 2 children between 7-12 years old) which is 220 Ringgits ($55). Under 7s go in for free.
If you buy them in advance you can usually get a discount. Check the RWMF website for the most up-to-date ticketing information.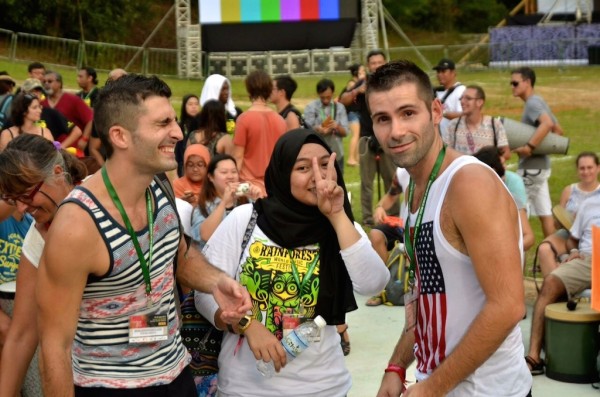 How to get to the RWMF?
The Sarawak Cultural Village is located around 45 minutes drive away from Kuching, the nearest city. Most people base themselves at a hotel near the Cultural Village. Otherwise, staying in Kuching is also a good idea. There is a shuttle bus service running at various times throughout the day during the RWMF between the Cultural Village and Kuching, which costs 20 Ringgit ($5) each way.
If you miss the Festival shuttle, the Grand Magherita Hotel has its own shuttle bus going to the Cultural Village at 9:15am and at 12:15 pm. The return is at 1:15 pm and later at 5:15 pm. Tickets cost 20 Ringgits (around $5) each way.
You can also book a taxi which costs around 30 Ringgit (around $8) each way, but when we did this we struggled to find a cab for the return leg and just hopped on one of the shuttles.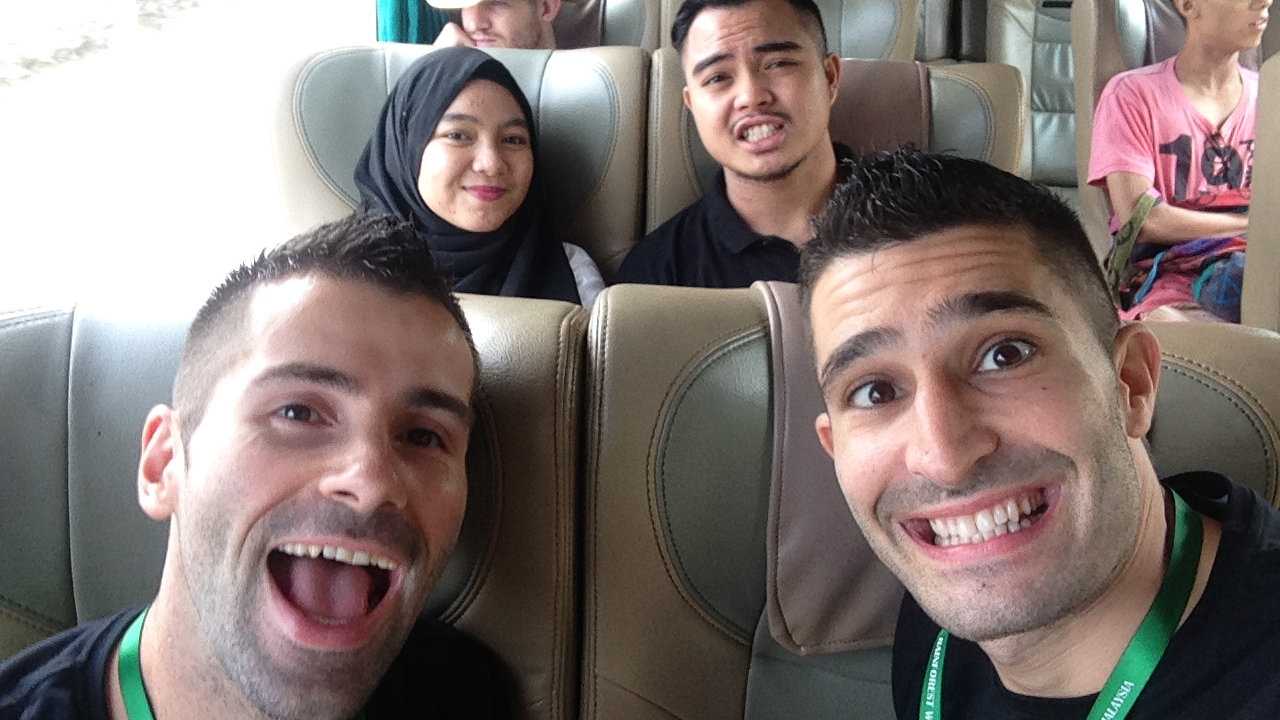 Where to stay?
There are a variety of places to stay in and around the Cultural Village where the Rainforest World Music Festival takes place. We've set out some of the best ones below, however, during the days of the RWMF they do get booked out pretty quickly. In this scenario, check out the hotels in Kuching and just rely on the shuttle to get to the Cultural Village. We've therefore also included one hotel recommendation in Kuching for this reason.
01
Damai Beach Resort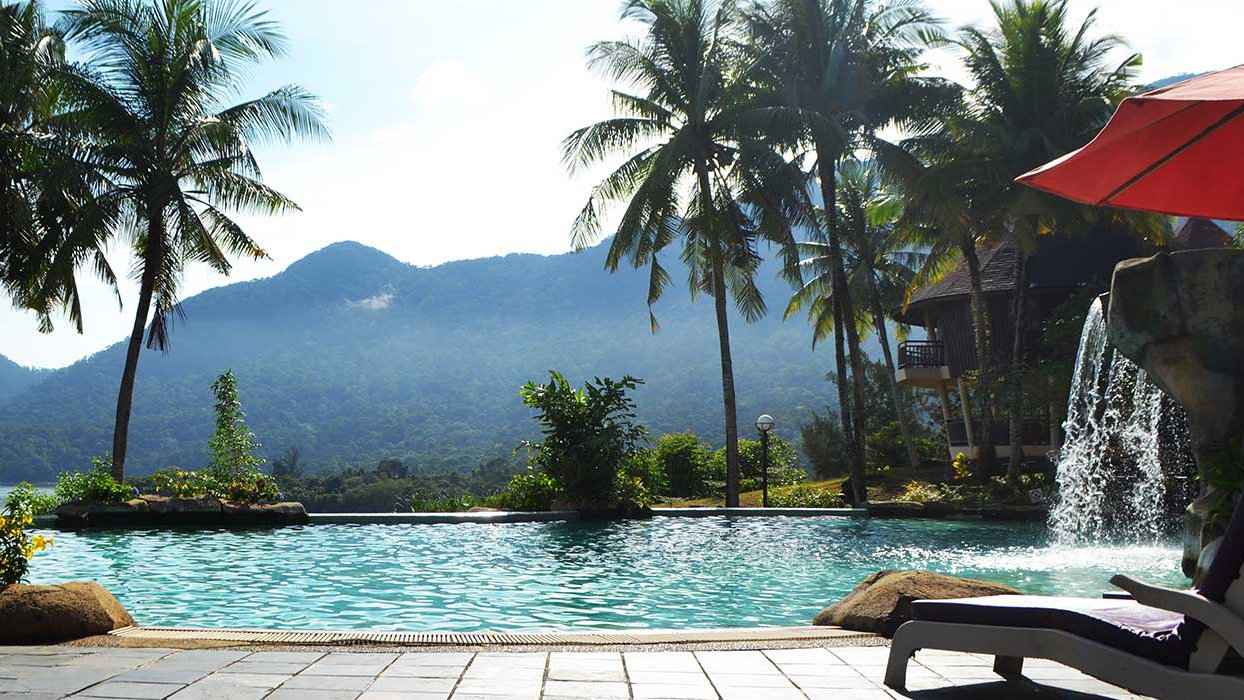 In a nutshell
---
4-star resort hotel on the beach
Just minutes walk from the festival
Beautiful swimming pools
Luxurious spa on-site
Damai Beach resort is where the performers and media are based during the Rainforest World Music Festival, so if you want to meet the artists, this is the best place to stay.
This is our top pick in the area because it's a gorgeous beach-side resort with multiple swimming pools, including the 'clifftop swimming pool' which features a little waterfall and stunning views.
Accommodation options at the resort range from standard rooms, to deluxe suites and chalets, all featuring traditional Sarawak décor. Some of them also have beautiful, bright murals above the bed, with colorful designs featuring jungle leaves and flowers.
The divine Sadau Massage & Spa provides pampering treatments plus relaxing massages, with couples' packages available. Everything is set within perfectly manicured gardens, so walking to any part of resort feels totally idyllic and like you're on a deserted island, even though it's actually a rather large facility.
Café Satang is open for breakfast, lunch and dinner, with many excellent local dishes to try as well as western favorites. The Santubong Bar is where we often had a cocktail while listening to some groovy tunes, although our favorite was the Sunken Bar by the pool, where you could relax next to the water with a fresh fruit juice or milkshake and snacks.
Prices at Damai Beach Resort start from $55 per night:
---
02
Permai Rainforest Resort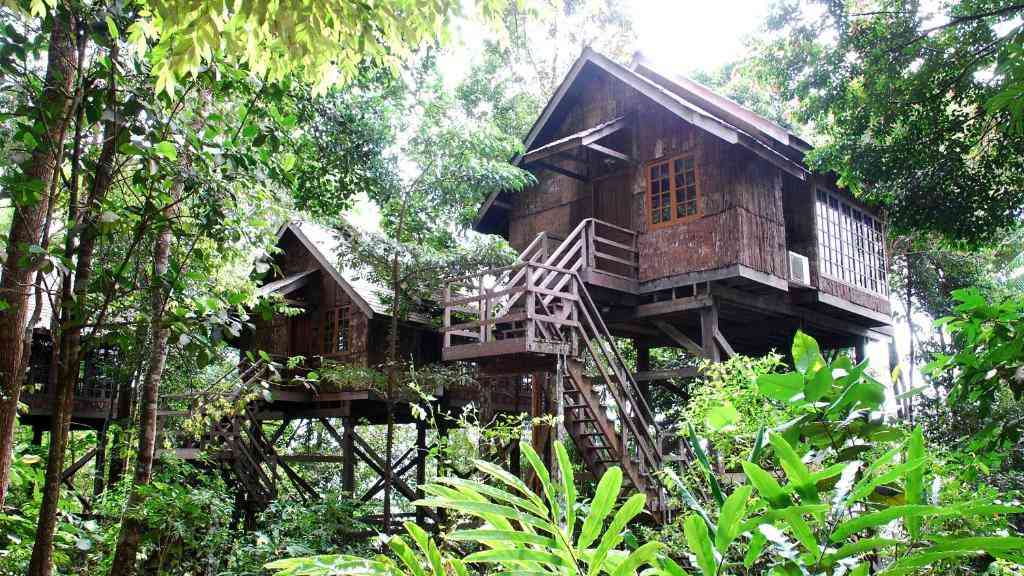 In a nutshell
---
Five minutes walk from the festival
Range of accommodation prices from camping to treehouses
Eco-resort designed to minimize impact on the environment
Huge variety of fun activities to do!
For those traveling on an absolute shoestring, the Permai Rainforest Resort has a campsite where you can stay for (the equivalent of) just $5 a night. Of course, if you'd rather sleep in the trees than on the ground, there are also incredible tree-houses on stilts, which start from $62 a night, so still super-affordable.
The best part about the Permai Rainforest Resort is that they are very socially conscious and committed to protecting the Santubong Peninsula Rainforest. The resort has been designed to minimize it's impact on the natural environment and they follow eco-friendly practises wherever possible.
We love to support eco-conscious businesses, and when we can do that while literally sleeping in the rainforest canopy, well just try and hold us back! The treehouses only accommodate two adults, so it's the perfect romantic experience to wake up with your love, then step out onto your balcony surrounded by jungle. Don't be surprised if you come face to face with cheeky proboscis monkeys!
The Permai Rainforest Resort is also ideal for adventure-lovers, like us, because there are so many fun things to do. There's a 'high-ropes course' which includes a flying fox that saw us clambering through the jungle canopy like monkeys ourselves. You can book kayaking excursions for night or day, take part in a hike up Mount Santubong, go dolphin-watching by boat or just make use of gear to snorkel or do some stand-up paddle boarding off the beach.
Meals are served in the Feeding Tree café, which overlooks the ocean while still feeling like a treehouse. The food ranges from local dishes to western cuisine, with vegetarian options. Breakfast and dinner are included in the price of your stay. Staying at the Permai Rainforest Resort gives you direct beach access and there's also a rain-fed 'jungle pool' for splashing about.
Prices at Permai Rainforest Resort start from $5 per night:
---
03
Nanga Damai Homestay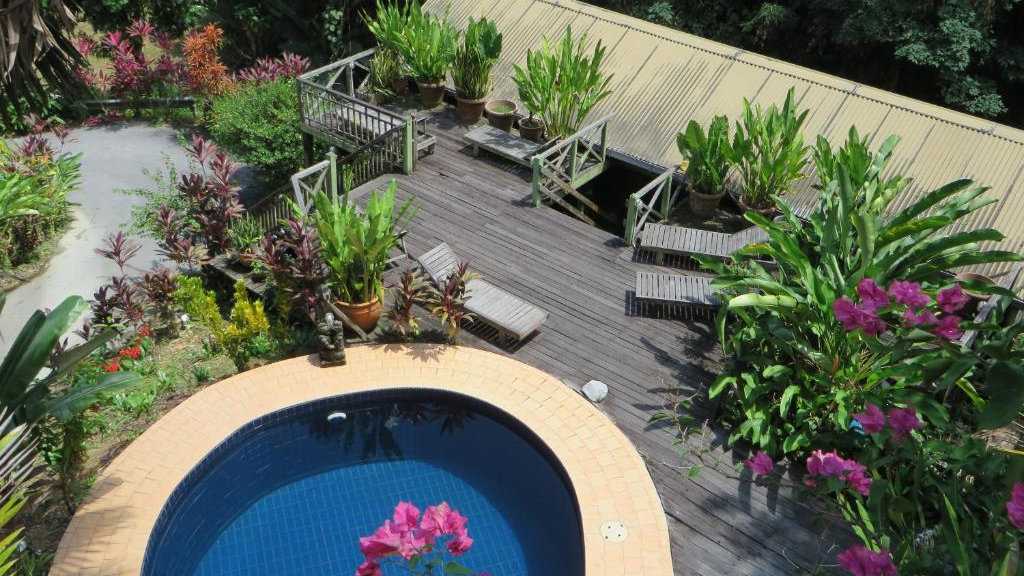 In a nutshell
---
Cost effective option, 20-30 minutes walk from the cultural village
Breakfast included
Stay with a local family including their pets!
Lovely little swimming pool and sundeck
If both resorts are booked up, you want to save money and don't fancy camping or you just want to experience a more local side to the area, then you can't go wrong with the charming Nanga Damai Homestay.
Here you can stay in a variety of different rooms within the home of host Polycarp, who loves meeting travelers from all over the world and making them feel welcome. The accommodation choices vary between spacious rooms with views, queen-sized beds and private bathroom, to small villas with two bedrooms or the 'nomad rooms' with bunk or twin beds.
There are shared areas in the home where you can interact with other guests, as well as Polycarp and his family who help out in busy periods, but you can also relax in seclusion if you don't feel like socializing. Polycarp serves a yummy breakfast each morning and is happy to pick-up takeaway food from nearby for dinner if you want it (the price is added onto your bill).
It's about a 20-minute walk from the Homestay to the Cultural Village, where you can experience the amazing Rainforest World Music Festival. Polycarp is also happy to organize tours or private drivers to take you exploring the rest of the region.
We could easily have spent days relaxing and beside the pool, while listening to the sounds of the surrounding jungle. Staying here we got to see wild monkeys in the trees and tropical birds, while the view from the terrace stretches all the way to the sea.
Prices at Nanga Damai Homestay start from $29 per night:
---
04
The Ranee Boutique Suites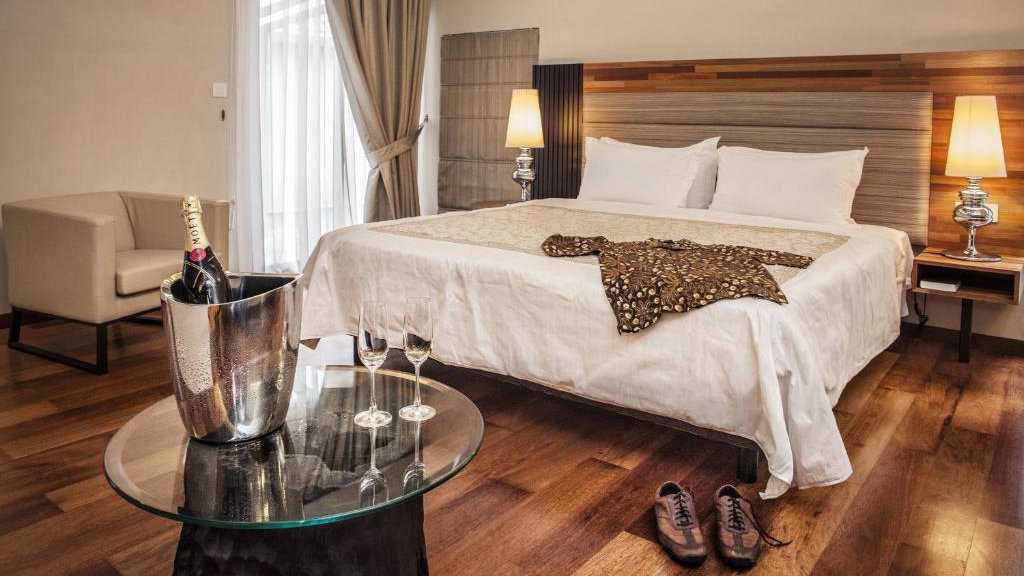 In a nutshell
---
Based in nearby Kuching if options near the cultural village run out
Gorgeous comfortable suites
On-site bistro and bar with great cocktails
Ideally situated for exploring Kuching
Another option if things are booked up in the cultural village is to stay in the nearby city of Kuching and get the shuttle bus to the Rainforest World Music Festival.
The Ranee Boutique Suites is our top pick of hotel in Kuching, it's located right in the heart of the city, so you can also spend time exploring everything on offer here when not partying it up at the festival! It doesn't hurt that this is the top-rated hotel for within the city itself, according to TripAdvisor.
While the Ranee Boutique Suites are situated in two traditional 19th century shophouses, they are anything but dated. The buildings have been stylishly updated so that every suite is unique, but not unique in their plush comfort and charm. The décor is a fusion of old and new, but inspired by Sarawak's colonial heritage. Spacious is the name of the game here, along with luxury and relaxation.
There's an on-site café for coffee and snacks, while the MBar & Bistro is lovely for an evening drink and main meals. Their cocktail list, in particular, is to die for. We may have wanted to extend our stay just so we had time to try everything on the menu! Hotel guests get a discount on food and drinks too.
When you need some downtime there's a lovely little library/lounge area, where you can also get some work done if need be. The Ranee is in an excellent location to walk to many of Kuching's top sights, the helpful and friendly staff are happy to provide maps of the city or they can organize tours for you at the tour desk.
Prices at The Ranee Boutique Suites start from $66 per night:
---
Where to eat during the festival?
During the RWMF there is a food village mart based at the Cultural Village, offering a mix of Western and local food, including our favorite: Sarawak laksa! Payment is done by credit you purchase on your wristband on entry – so take good care of that wristband, it's not only your ticket into the festival but also your "wallet".
Drinks are also served at the festival, which you purchase via the credit on your wristband. To give you an idea, 1 beer cost us 10 Ringgits ($3), a small bottle of wine, 20 Ringgits ($5), and a large bottle of wine, 90 Ringgits ($22).
What's a typical day like at the RWMF?
The Rainforest World Music Festival unites an eclectic group of international ethnic and folk musicians to perform over 3 days and lead various afternoon workshops.
A typical day starts around 2 pm with a variety of workshops and interactive activities with the artists. Following these in the late afternoon are mini live performances by each of the artists, usually with a Q&A session. The day concludes in the evening with the large live performances on the main stage where the crowds gather. These go on until midnight and are always heaps of fun!
And then there's the Drum Circle! Every day at 5pm – make sure you attend at least one of these, they're brilliant to both be a part of and to watch.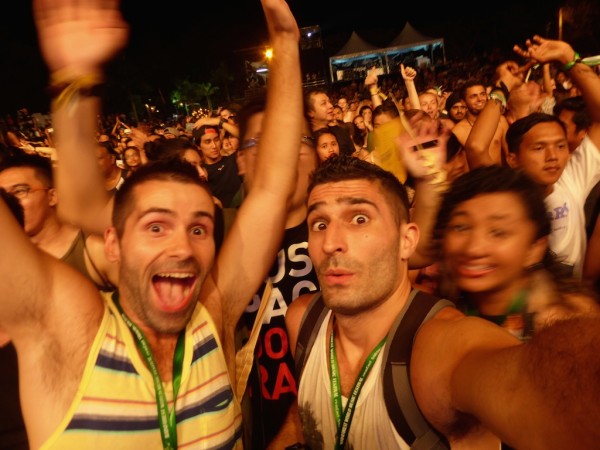 The different workshops at the RWMF
The workshops were one of our favorite aspects of the entire festival. They take place in the intimate setting of the "Iban" and "Bidayuh" longhouses in the Cultural Village. Super cozy and a nod to the region's indigenous culture.
We loved the workshops because you get up close and personal with the performers. They improvise and interact with the audience, showcasing their different styles of singing and dancing. There are plenty of awesome workshops happening at the same time, the only problem was trying to decide which one to attend. Here's what you can expect at each of them to give you an idea:
Interactive dance workshops
The interactive dance workshops are where you get to dance till you drop whilst learning about folklore dances from all over the world at the same time. These workshops are led by a variety of artists such as the musicians from the Sarawak Cultural Village or in our case, 16 young and very energetic boys of the Harubee group from the Maldives.
It's such a wonderful way to start the day; you can't help smiling during these workshops!
Instrumental and singing workshops
There are a variety of interactive workshops showcasing the various instruments used throughout the festival. For example, artists showcasing the various wind and plucked stringed instruments, or the human voice itself to accomplish something like yodeling. Our favorite is the final workshop on the last day when all acts join together to perform, completely unrehearsed, mixing together all their amazing voices.
Imagine a room where a Celtic singer harmonizes with a power (male) diva from the Reunion islands, the Mongolian throat singer joining in, Alecia Keys lookalike Sona offering her Gambian rhythms…it makes your hairs stand on end!
Cultural and lifestyle workshops
This is where you gain a deeper appreciation of the cultures, traditions, and history behind each artist. For example, we got the chance to learn to dance (twerk!) like hunter-gatherers with the pygmies from the Congolese band, "Ndima":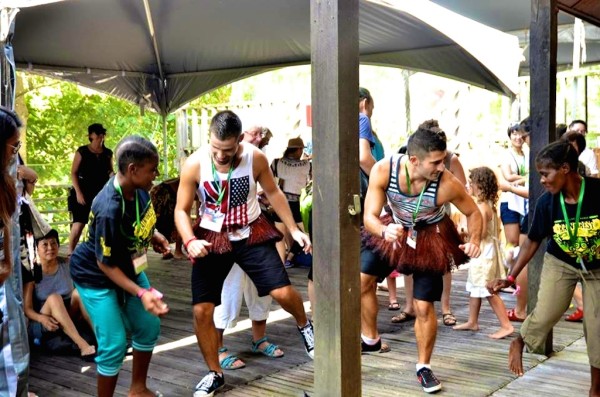 The giant drum circle
Every afternoon at 5 pm, after all the workshops had finished, there was a community interactive drum session by the main arena where everyone could participate. Make sure you don't miss out on this. It's so much fun and a great way to connect with everyone else.
Each participant chooses a particular percussion instrument, like a drum, tambourine, or triangle. Taking the lead from the charismatic conductor in the center, together we created quite an impressive sound:
Afternoon live performances
There is an indoor theatre-style stage where each performer gets the chance to feature and showcase their music. It's in a more intimate and quiet setting than the outdoor stage for the live performances in the evening.
Here's a summary of some of the best afternoon performers from when we attended the RWMF to give you an idea of how eclectic it all is!
Mongolian throat singer Epi
Epi (full name: Enkh Jargal Dandarvaanchig) is the ridiculously talented Mongolian throat singer who also plays the morin khoor (horse headed fiddle).
Watching Epi perform makes all your hairs stand on end! It was like we were being transported back to our travels in the Gobi Desert in Mongolia. We were left spell bounded by Epi. He even taught me how to do it:
Sona Jobarteh from Gambia
Sona is the Gambian Alecia Keys lookalike playing her kora (guitar-like instrument) with an incredible voice. Sona is famous for being the only female kora player and was featured as a solo vocalist in the movie "Mandela – The Long Walk to Freedom".
Alaverdi from Georgia
Alaverdi is a polyphonic group of 4 lads from Georgia performing folk music, sounding very similar to Gregorian monks chanting. They are named after the highest ancient cathedral in Georgia. Georgian folk music was almost stamped out during the Soviet Union times when people would frown on it. Thanks to bands like Alaverdi, who raise awareness of this style of music, we are still fortunate to experience it.
Evening performances: setting the stage on fire
Every night we had a blast watching and dancing along with all the big acts as they performed on the outdoor stage surrounded by the green scenery of the rainforest. As with the afternoon performances, it's an eclectic range of artists performing. Here's who we saw to give you a taster of the sort of thing to expect:
Ndima pygmies from Congo
Ndima is a group of hunter-gathering-nomadic-pygmies from Congo. They sing in a yodel like polyphony, completely improvised, complemented by some awesome dance styles, which are thousands of years old and not too dissimilar to twerking:
Kobagi Kecak from Indonesia
Kobagi Kecak is an Indonesian band from Sebatu village in Bali, Indonesia. They are quite unique because they use their own body as percussion along with pieces of bamboo as stamping tubes. Kecak is a Monkey Chant trance ritual. It's described as a spine-tingling spectacle…we certainly thought so when you consider it can be performed by up to 150 (topless) men…!
Harubee from The Maldives
Harubee is a group of 16 young men exploding with (ahem!) energy, performing boduberu music. Boduberu music originated from East and South Africa, dating back to the 11th Century. This music was developed by the common people as an alternative to court music. Traditionally, the performers wear tight white shirts and Mundus (like a sarong or lungi).
Plan your trip to the Rainforest World Music Festival
We've put together some handy hints and tips to help you plan your own trip to the Rainforest World Music Festival. Read on to find out everything the gay traveler should know before they go.
Travel insurance: We never travel without having travel insurance to protect us and strongly recommend all other travelers do the same! You never know when you may miss a flight, lose your luggage or get sick. Travel insurance gives you the comfort of knowing you'll be able to claim most of this back. We've used Heymondo Travel Insurance for years and can't recommend them highly enough. Their cover is comprehensive, affordable and extremely user friendly.
---
How to get there: To get to the music festival you'll first need to get to Kuching. Kuching has an international airport, so it's possible to fly in from Singapore and other Malaysian destinations, or from further afield with a transit in Singapore. It's also possible to reach Kuching via bus from other cities in Sarawang if you're already exploring the area. If you're staying in Kuching then you can get the shuttle to the cultural village each day, or get a cab out there from the airport if you are staying in the area.
---
Visa requirements: Citizens of many countries are able to visit Malaysia visa-free for up to 90 days, so long as you have at least six month's validity remaining on your passport. Make sure you check your personal visa requirements before making any travel plans for the Rainforest World Music Festival.
---
Getting around: You can explore the main old town area of Kuching quite easily on foot, but to get to the cultural village where the Rainforest World Music Festival takes place you'll need to take either a shuttle bus, taxi or rent a motorcycle locally. As we've mentioned, there's a shuttle bus organized for the festival which is the best way to travel to and from (check the RWMF website closer to the time for more info), or the app Grab can help you organize transport too.
---
Power Plugs: Malaysia uses the same plugs as the UK, but if you're traveling from anywhere else you will need to bring a travel adaptor with you to ensure you can charge any electronic devices.
---
Vaccinations: All travelers to Malaysia should be up to date with routine vaccinations for things like measles, mumps and chickenpox, as well as Covid-19. Most travelers should also be vaccinated for hepatitis A and typhoid. Some travelers may also need vaccinations for hepatitis B, cholera, Japanese encephalitis, malaria, yellow fever and rabies, depending on what you'll be doing. Check the CDC website for the most up to date info and also consult your doctor or travel nurse before flying out to the Rainforest World Music Festival.
---
Currency: The currency used in Malaysia is called the Malaysian ringgit. The official currency code is MYR and it's usually written as RM. $1 converts to around RM 4.33, €1 is worth about RM 4.70 and £1 makes around RM 5.31.
---
Tipping culture: In general, Malaysia doesn't have a strong tipping culture, so you will never be expected to tip. A service charge is often included on restaurant bills and locals will sometimes round up the bill to the nearest ringgit. You can tip if you want while you're at the Rainforest World Music Festival – it certainly won't be refused!
---
Internet access: Most hotels, restaurants, cafes, hostels etc will provide free WiFi in Kuching, but if you're staying at either of the resorts near the cultural village it might not be completely reliable (and you need to pay a fee for it at Permai Rainforest Resort). If you are worried about having good enough access or know you will need to get work done then you could bring a portable WiFi device with you or buy a local SIM card.
---
Watch our complete video of our favourite acts, workshop moments and performances from the 3 days Rainforest World Music Festival:
---