The Kinabatangan River is located in the Sabah region of East Malaysia on Borneo island.
It is the second longest river in Malaysia and a popular destination to experience the surrounding rainforest and see some incredible animals in their natural habitat, like the orang-utans, pygmy elephants, proboscis monkeys and many more.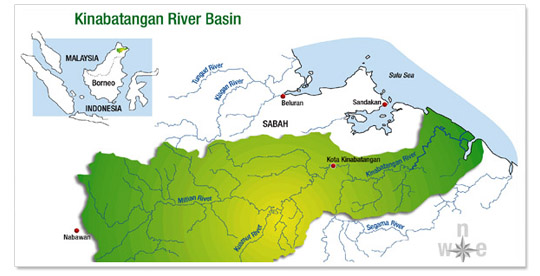 We based ourselves at the excellent and gay friendly Last Frontier Boutique Resort in Bilit village, located almost 100m above sea level, in the heart of the rainforest.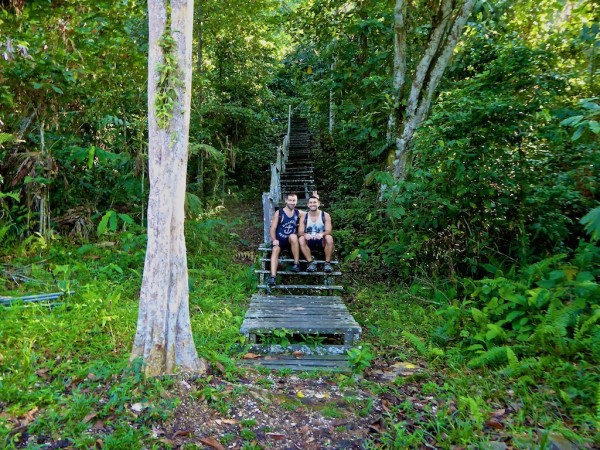 THE LAST FRONTIER BOUTIQUE RESORT
The Last Frontier is the brainchild of power duo Jason (from Malaysia) and Gert (from Belgium) who spent almost 2 years building it from scratch.
It was opened in 2008 and has been going strong since, offering one of the most cost effective packages (room, full board and river/jungle tours) from all the accommodation options we researched around the Kinabatangan River area.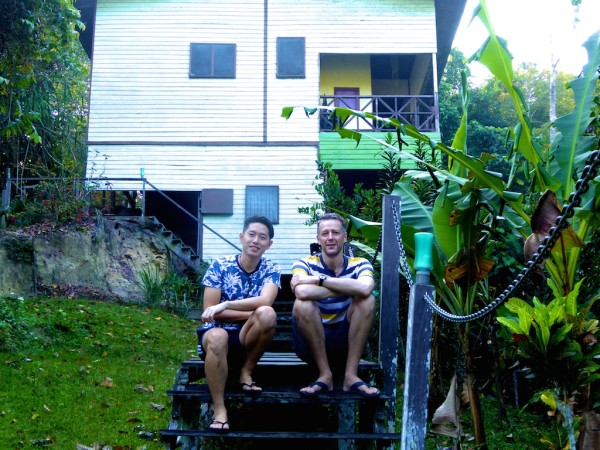 Jason and Gert are both extremely passionate about the rainforest and taught us a great deal about the wildlife and the catastrophic effects from the growing logging and palm oil industries.
Jason is also one of the co-organisers of the annual summer Wildlife Festival at the Rainforest Discovery Centre in Sepilok, called "Rhythms of Rimba", which aims to raise awareness and unite people passionate about conserving the biodiversity of the rainforest.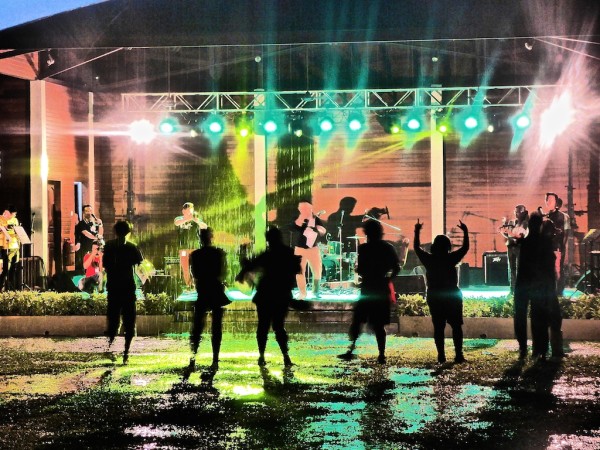 538 STAIRS? ARE YOU CRAZY??!!
Yes we are and this was one of the best things about it!
The Last Frontier is unique because it is located at the top of a hill, unlike all the other resorts, which are squashed together by the Kinabatangan River.
So yes there's 538 stairs to keep you fit, but the rewarding views at the top make it all worthwhile and it means you are completely isolated from everyone and everything, right in the heart of the rainforest.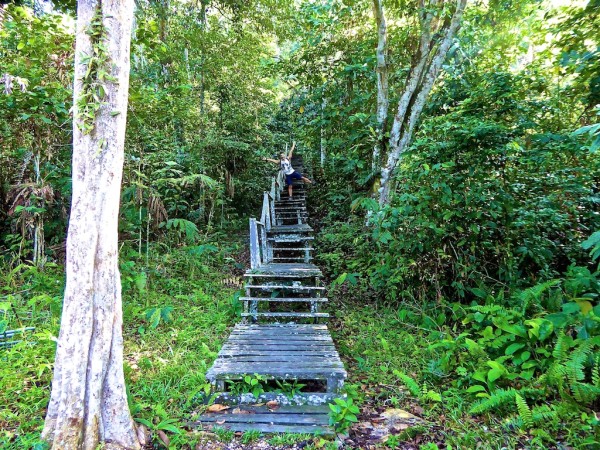 OUR NEW FRIENDS AT KINABATANGAN
We made heaps of new friends during our walks in the rainforest and our boat rides on the Kinabatangan River. Here's a few of our favourites:
1. Olivia the Orang-Utan
Prior to our visit to The Last Frontier Resort, we saw orphaned orang-utans at the nearby Sepilok Orang-Utan Rehabilitation Centre, who'd been rescued and rehabilitated so that they could be released back into the wild.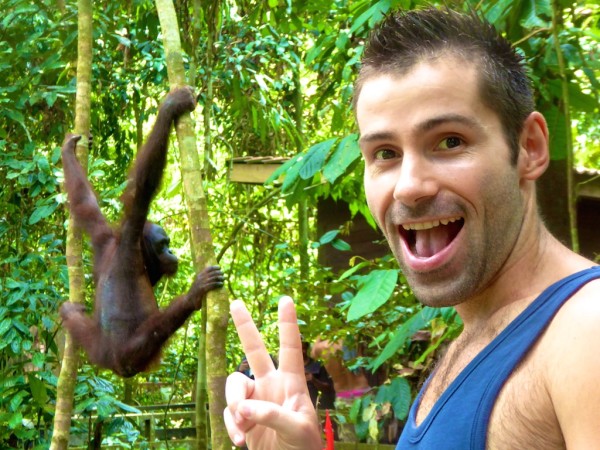 In the rainforest surrounding The Last Frontier, there's many orang-utans living peacefully in the wild. On one glorious morning, we met Olivia the Orang-Utan, who was munching away at the rambutans in the trees.
Olivia looked down at us staring up at her, dropped the rambutan shells on our heads and then moved on as if nothing had happened.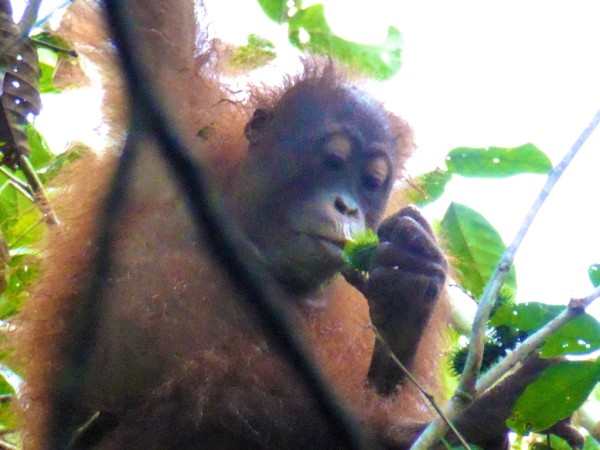 It was incredible to see orang-utans in their natural habitat in the wild in the rainforest around the Kinabatangan River after seeing them at the Rehabilitation Centre in Sepilok.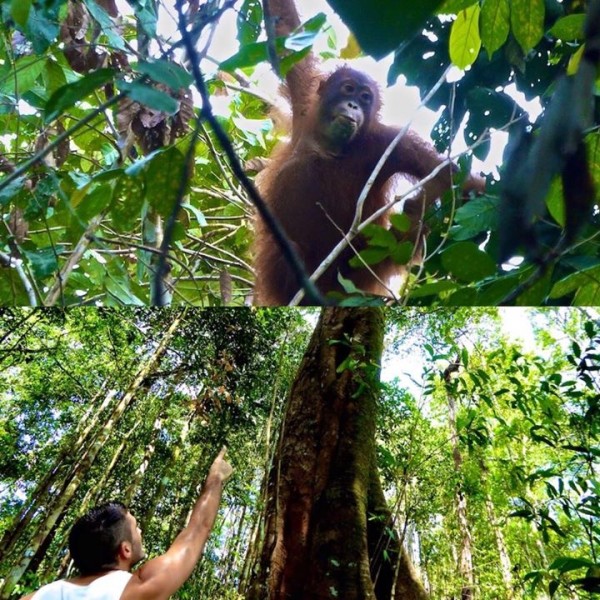 2. Esmeralda the Elephant and her family
On one of our boat tours on the Kinabatangan river, we stumbled upon Esmerelda the Pygmy Elephant and her family grazing on the river bank.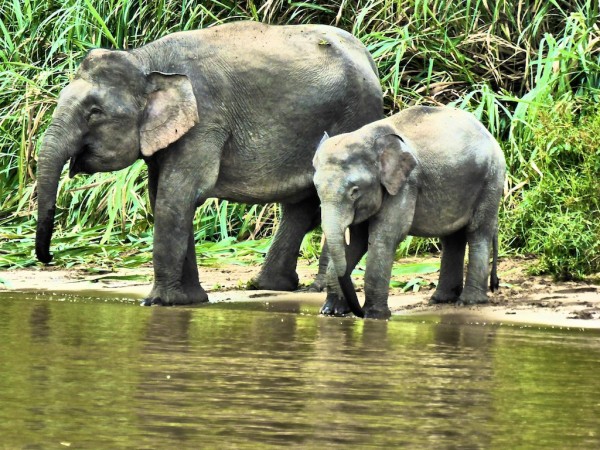 The pygmy elephants are smaller than their African cousins and similar to other Asian elephants, like the ones we saw during our safari at the Udawalawe National Park in Sri Lanka.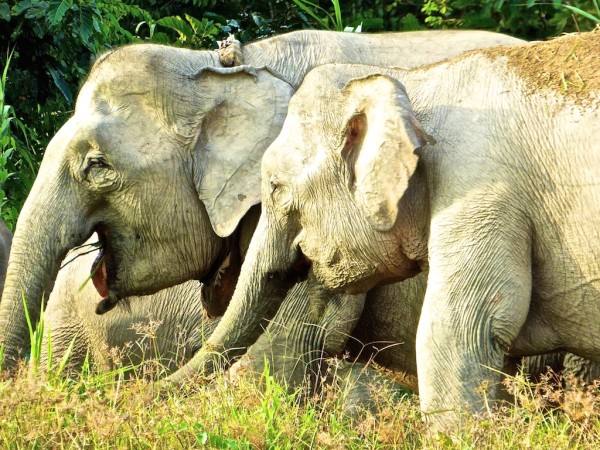 Want to know what makes Esmeralda and her family even more adorable? They're excellent swimmers and unlike the orang-utans, can just swim their way to cross the Kinabatangan River. Olivia has to find a crossing to climb across.
As with Olivia, it was just extraordinary to see Esmeralda & co in her natural habitat, but she could have been a bit more polite and considerate by not photobombing poor Sebastien: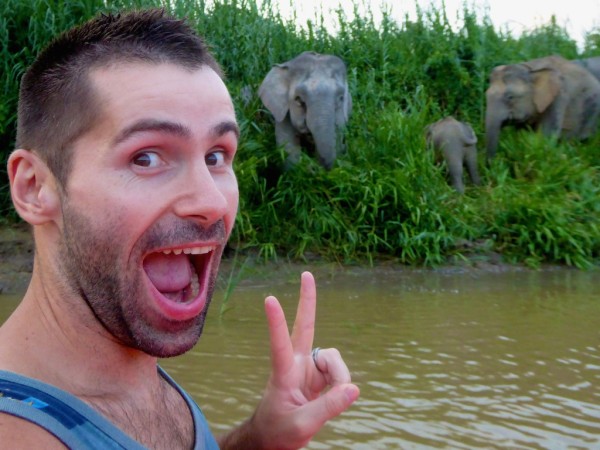 3. Patricia the Proboscis Monkey
Patricia the Proboscis Monkey and her friends are everywhere along the Kinabatangan River. She has a very distinct nose, which makes it very easy to spot her from far away: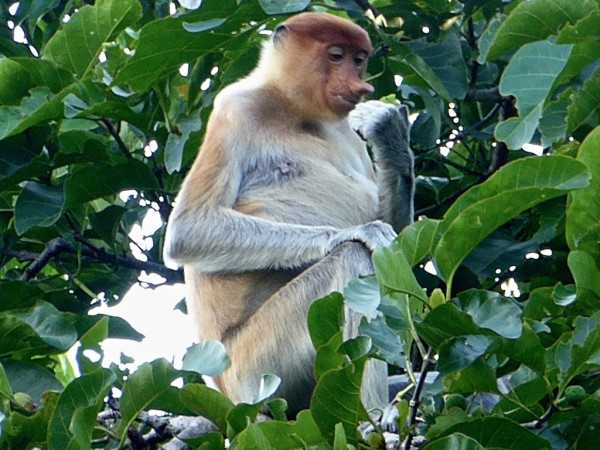 Patricia's male counterparts on the other hand have much larger noses that hang lower than the mouth and can measure up to 10cm!
4. Melody the Macaque Monkey
There are plenty of macaque monkeys along the river. They are playful and very cheeky. Melody the Macaque Monkey made us giggle a lot: check out her face expression when she tried to photobomb her brother: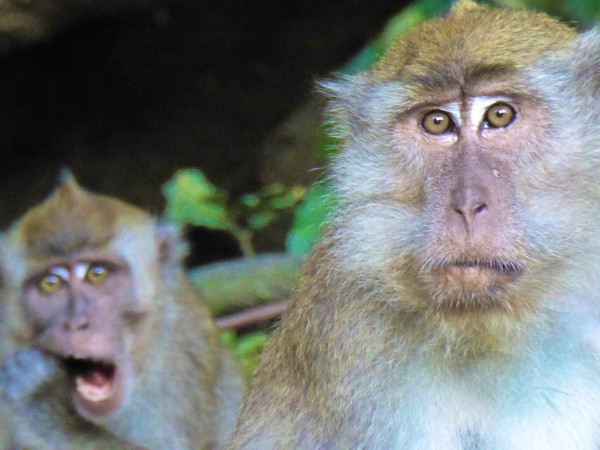 The family of macaque monkeys we saw around Melody took a break from munching and playing, to clean and pick off dirt from each other: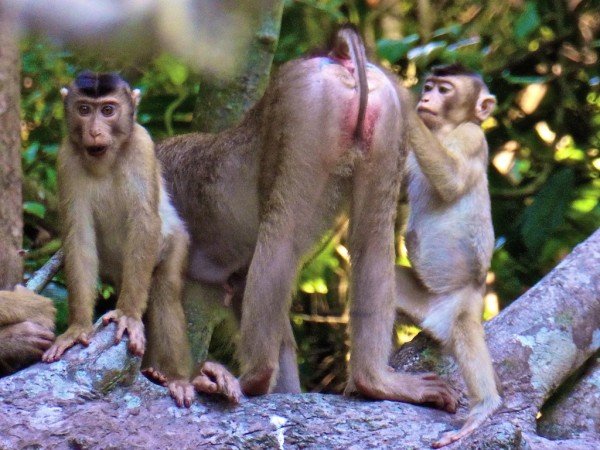 5. Bugs on steroids
There are a variety of bugs who seem like they've taken steroids.
Geraldine the Grasshopper had some quite nasty fangs if you tried to double cross her and you just wouldn't want to mess with Angelina the Giant Ant: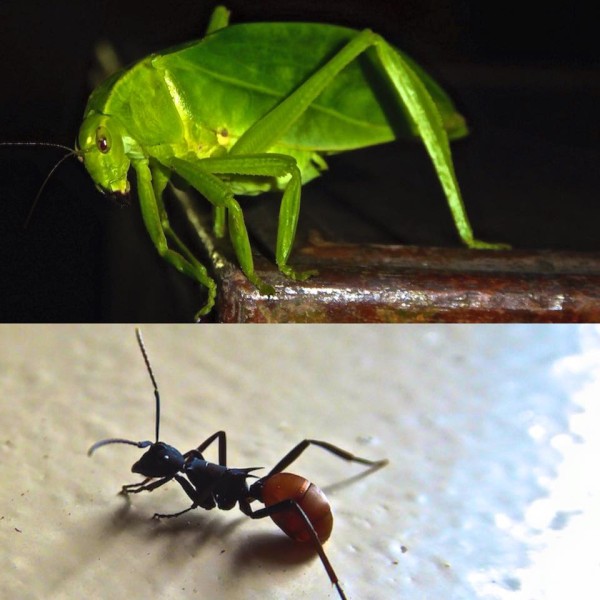 Another insect on steroids was Mariah the Moth, who comes out when the sun goes down. Here's Mariah posing with one of her favourite friends: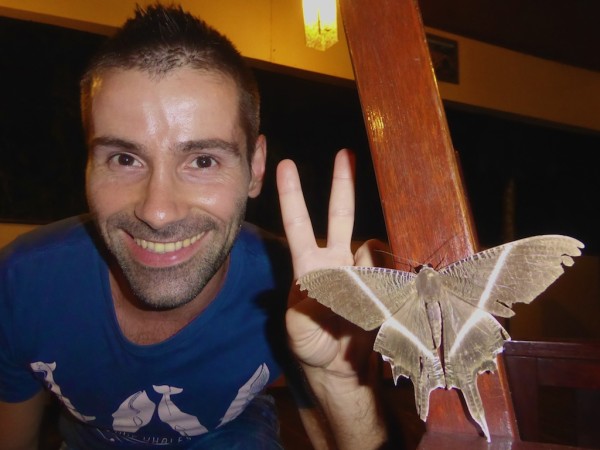 AND DID WE MENTION THE AMAZING FOOD?
Jason has a culinary background, so every meal was a surprise and a complete joy to experience. We had the best nasi lemak we've tasted in our travels in Malaysia: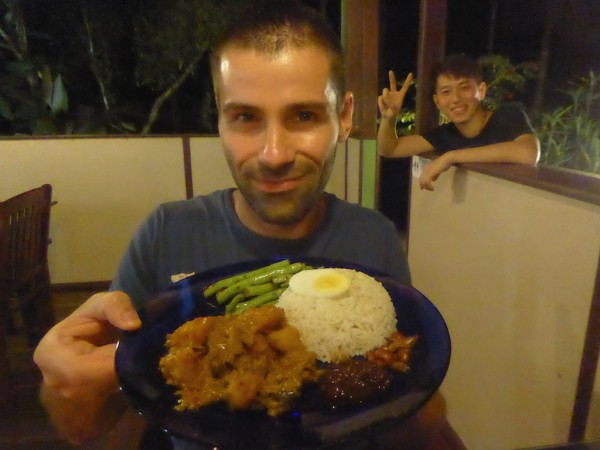 We were really impressed with the high quality of the food, particularly when you take into account that they have to carry everything up 538 steps, in the heart of the rainforest, which is a 2 hours drive away from the nearest town.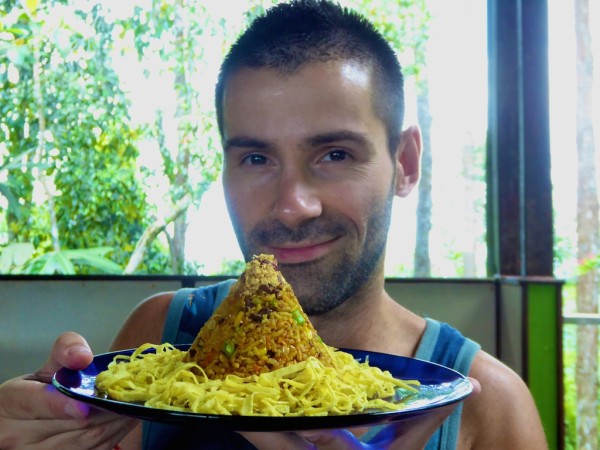 We loved our time at the Kinabatangan River with The Last Frontier team and definitely recommend a visit to anyone travelling in Sabah.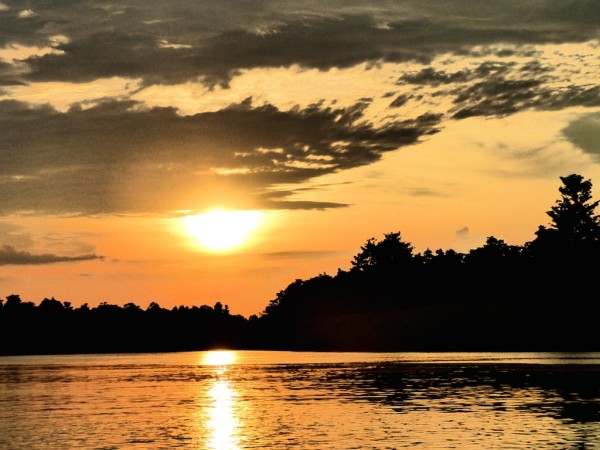 For more about The Last Frontier and the surrounding rainforest and wildlife, check out their awesome video by clicking here.
OUR FAVOURITE TRAVEL TIPS
⭐️ TRAVEL INSURANCE — We recommend you always take out travel insurance before your next vacation. What happens if you suffer from illness, injury, theft or a cancellation? With travel insurance, you can have peace of mind and not worry. We love World Nomads travel insurance and have been using it for years. Their comprehensive coverage is second to none and their online claims process is very user friendly.
⭐️ SAFETY & SECURITY — All travelers (gay or not) can sometimes encounter danger when traveling. CloseCircle is your "virtual body guard" mobile app which provides security alerts and support wherever you are in the world. They have a 24/7 emergency response team monitoring their users who will contact you immediately if the SOS swipe button is activated. Support can include anything from practical advice, to free evacuation from areas with extreme weather or security risks. You can read more about CloseCircle in our article about how to stay safe whilst traveling.
⭐️ ONLINE ANONYMITY — A VPN (Virtual Private Network) is a must in many countries: it allows you to surf anonymously and maintain your privacy whilst traveling. You'll particularly need it in countries where gay dating apps are blocked by the government. We recommend ExpressVPN, a reliable and cost effective service which we used and loved during our travels.
⭐️ HOTELS or APARTMENTS — When we plan a trip, we always look for the best hotel deals. We love Booking.com because not only do they have a comprehensive listing of accommodation options, they also offer the best prices. Added bonus: they provide 24/7 support and free cancellation for most listings.
⭐️ SIGHTSEEING and ADVENTURES — When we travel somewhere, we like to seek out the best experiences, whether it is cooking with locals in Bangkok, hiking on a glacier in Patagonia, or going on a wildlife safari in Sri Lanka. Our favorite place to look is GetYourGuide because they have over 30,000 highly rated activities, a user-friendly booking process with free cancellation and a 24 hour customer support.
This article contains affiliate links. If you click on them, we may receive compensation which keeps our website alive and helps us bring you to more destinations.
Check out our adventures in Malaysia in our travel video: