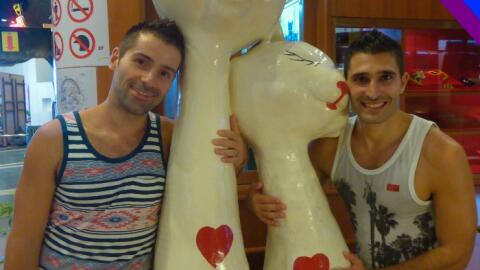 "It's just more relaxed here compared to mainland Malaysia"
Here is Sarawak, Malaysia on Borneo island, where we stayed for a month after travelling in Peninsular Malaysia. We based ourselves in the main city of Kuching, a very cool city, relaxed and smiles aplenty from everyone.
We made a lot of friends here, both straight, gay, Muslim, Chinese origin – all very accepting and welcoming. One particular friend was local metrosexual journalist, Ronnie, who guided us through the ins and outs of this part of Borneo island in our guide to gay Kuching.
DON'T MISS OUT!
Join our newsletter
Subscribe now to receive in-depth FREE gay travel guides, along with inspiring stories, savvy planning tips, and exclusive discounts on gay tours.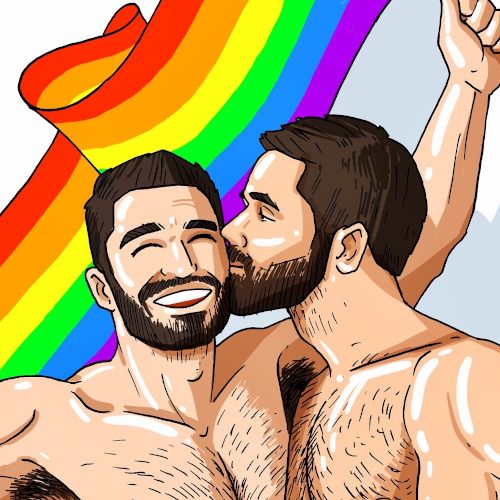 Hey Ronnie, introduce yourself:
Selamat detang to Kuching my Nomadic Baes! I am Ronnie, born and raised in Kuching and also a journalist.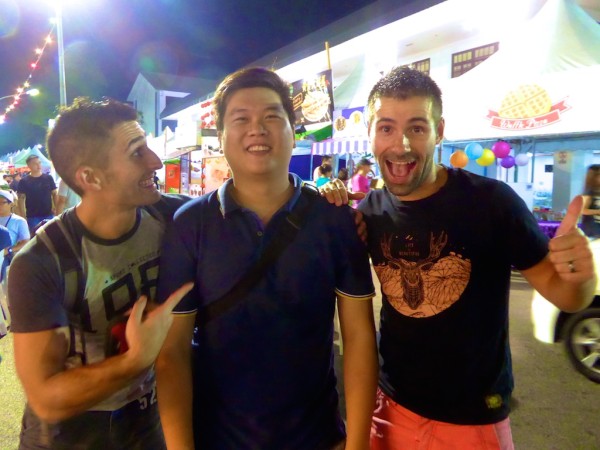 What's the perception of the LGBTQ community in Malaysia and Kuching?
Malaysia is a very conservative society, but we have a large gay community in the big cities, especially Kuala Lumpur. It's not as active as Thailand, but at least there are places you can go.
Malaysia is such a hodgepodge of races and religions and that's exacerbated here in Sarawak with indigenous races like the Dayak, which can further be broken down to more than 200 ethnic subgroups!
So, there are many criteria that differentiates all of us anyway. Somewhere along the way, sexual orientation becomes one of those "check-boxes". People around here have gotten to know about gays and lesbians, but that does not necessarily translate into acceptance.
Nevertheless, people rarely resort to hatred or violence on the topic. I guess it comes as no surprise why Kuching was pegged as the City of Unity a couple of months ago. And I think tourists who come here feel it too. Smiles and greetings of welcome come easily from us.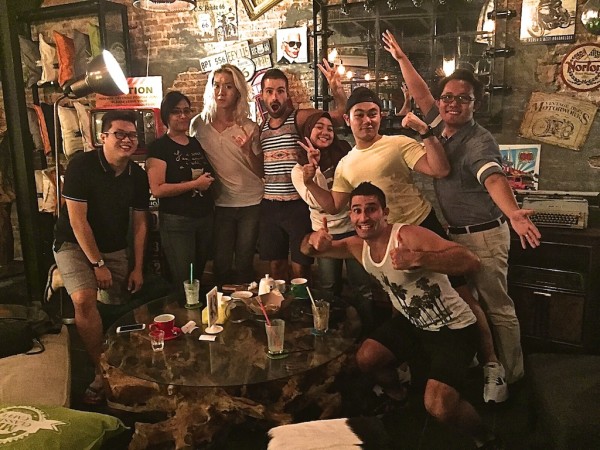 Do you have any gay friends who've experienced any open homophobia by their friends, family or in the workplace?
Luckily boys I don't. Many people here practice the ideology of an "open secret": it's not really talked about in public discussions. Along this line, not many are really open about their sexuality.
Nevertheless, sexuality isn't the only factor that makes up a person, and that's why homophobia is not prevalent here. We're so much more than just a straight/gay/bi label.
Sarawakians are people with plenty of talent, like Ms Pandalela Rinong, 22, becoming the first female Malaysian athlete to win a medal at the Olympics, or fellow Sarawakian Miss Malaysia World 2014, Dewi Liana Seriestha, being crowned Miss World Talent last year.
So now, we're just about ready to take over the world 🙂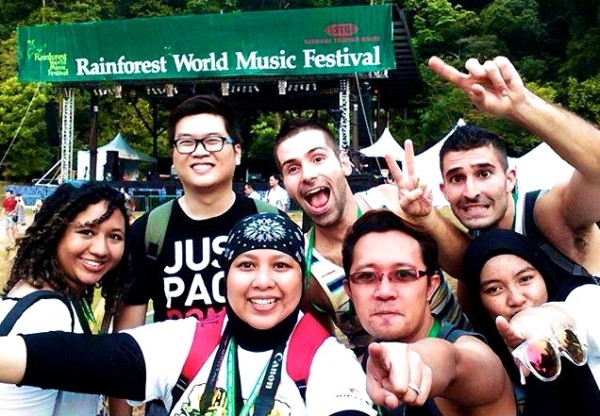 Are there any gay bars in Kuching?
Generally pubs and bars welcome anyone, as long as you don't cause them any trouble. These are some popular hangouts, which aren't officially gay but attract a gay/mixed crowd:
Zinc Bar at 38 Tabuan Road is a popular high end French / Malay fusion hang out.
For a larger party gay scene, we head to Bangkok, Singapore and even Australia.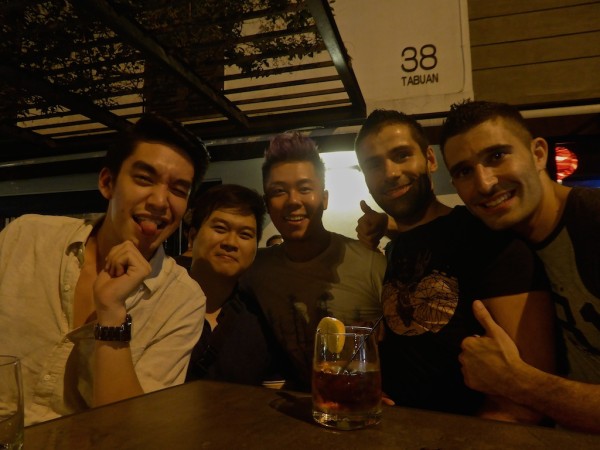 Are there any gay friendly hotels in Kuching?
There are several for all budgets, which wouldn't bat an eyelid if you boys ordered a double bed. Some favourites recommended by gay friends include:
Cute little boutique hotel with clean and comfortable rooms.
Very friendly staff and excellent breakfast.
Rooms start from 300 Ringgits (£46/$70) a night.
Located on the river, perfect for walks and evening market.
Excellent breakfast (you must try their Laksa Sarawak).
Rooms from 230 Ringgits (£36/$54) a night.
Good budget option with extremely friendly owners devoted to their guests.
60 Ringgits (£10/$14) a night includes a basic breakfast.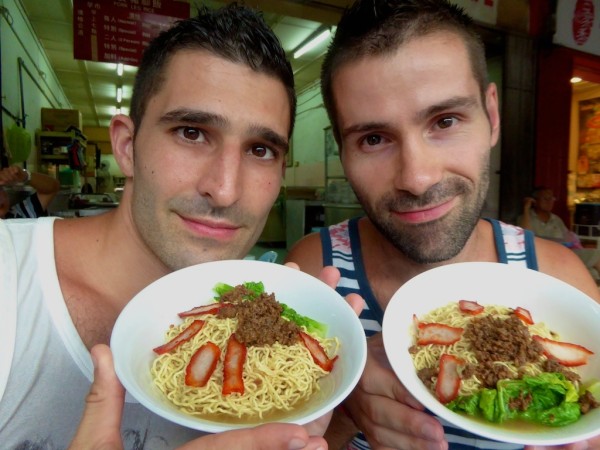 What fun activities do you recommend to gay travelers visiting Kuching?
Great question boys. Kuching has a lot to offer and keep you busy both in the city and around. Here's a summary of my favourites:
Cats: we have a thing with cats and the name Kuching even means "cats" in Malay. We have a cat statue which welcomes you into the city and also a museum just about cats!
Orchid garden: I love the relaxing serene atmosphere here. It's located near the Cat Museum, so the two tie in nicely for a day trip.
Food: if you love your food, then you will do very well in Kuching. Everyone here is excited to show off our local specialties and every August we have the Kuching Food Festival for the entire month.
DON'T MISS OUT!
Join our newsletter
Subscribe now to receive in-depth FREE travel guides, along with inspiring stories, savvy planning tips, and exclusive discounts on gay tours.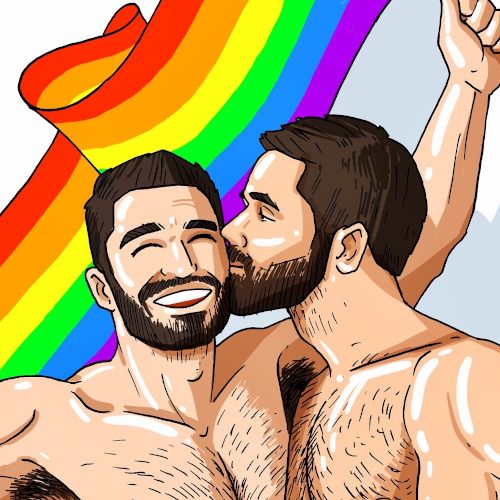 Any gyms you recommend to LGBT travellers?
A good gym I recommend for fitness bunnies is Level Up Fitness located at Wisma Everrise (behind HSBC). As well as an excellent gym with brand new equipment, they have a variety of classes like body pump, yoga, core and spinning: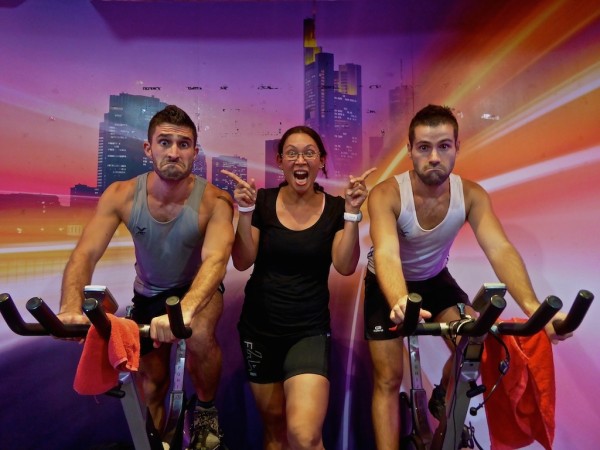 Any tips for getting up close to the proboscis monkeys and orang-utans?
There's several National Parks near Kuching, each makes for an excellent day trip:
Bako National Park: the place to come to see proboscis monkeys. It is located on an island, which you reach via a car ride and boat transfer. I recommend using a well reputed and gay friendly tour company like Borneo Adventures.
Semenggoh Wildlife Centre: the place to see orang utans close up. This is the largest orang-utan rehabilitation centre. It was established in 1975 as a sanctuary for injured and orphaned orang-utans. You can visit as a day trip by yourself or arrange a tour with a company like Rainforest Kayaking, which will also include some awesome kayaking in the Borneo jungle.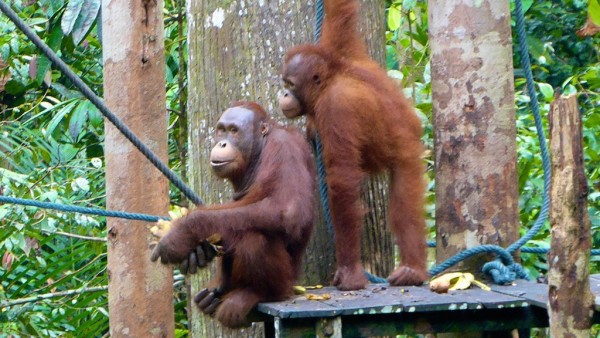 Where's the best place to experience the rainforest near Kuching?
Mulu National Park is the place to go to experience the Borneo rainforest. It's a short flight away from Kuching.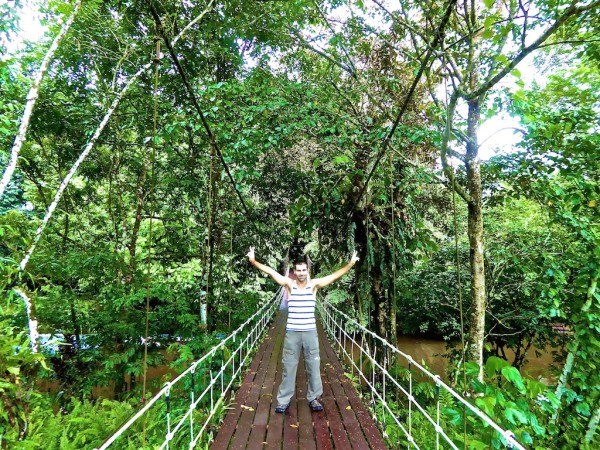 Finally, Sebastien would like to invest in a new outfit for next year's Rainforest World Music Festival, any suggestions?
Oh Sebastien would look just awesome in one of our batik outfits: colourful and a great way to bring out his very dramatic French personality: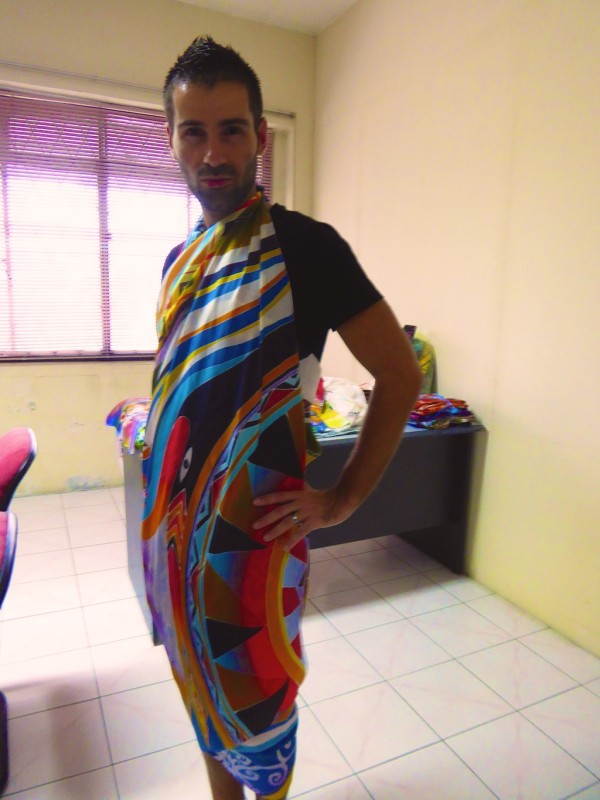 DON'T MISS OUT!
Join our newsletter
Subscribe now to receive in-depth gay travel guides, inspiring stories, savvy planning tips, and exclusive discounts on gay tours.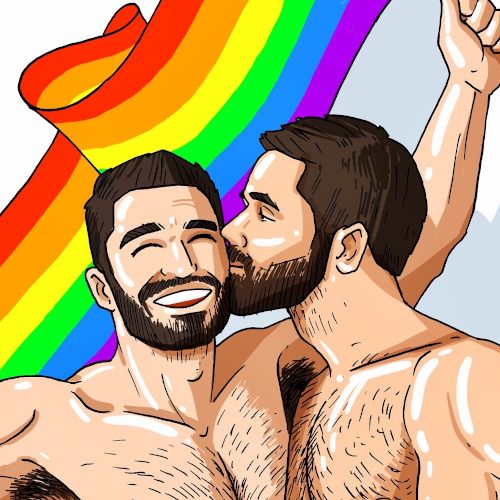 To find out more about Ronnie, read his very touching coming out story, and watch our adventures through Malaysia in our travel video:
Happy travels are safe travels
We recommend you always take out travel insurance before your next vacation. What happens if you suffer from illness, injury, theft or a cancellation? With travel insurance, you can have peace of mind and not worry. We love World Nomads travel insurance and have been using it for years. Their comprehensive coverage is second to none and their online claims process is very user friendly.
IF YOU ENJOYED READING, PLEASE PIN ME: