We found Singapore to be an oddity when it comes to LGBTQ rights. On the one hand, there is a large thriving LGBTQ community here, with lots of gay bars, clubs and events taking place throughout the year. On the other hand, homosexuality is illegal (for men only!), punishable with up to 2 years imprisonment!
BIG NEWS IN AUGUST 2022: fresh off the press, Prime Minister Lee Hsien Loong confirmed that Singapore will repeal its anti-gay law! This is fantastic news for both Singapore as well as the rest of SE Asia where this is likely to have a strong positive ripple effect!
In reality, the anti-gay law of Singapore has rarely (if at all ever) been enforced. We found Singapore to be super gay. Put it this way, when we were hanging out in Kuala Lumpur's gay scene, the drag queens we met told us that Singapore is one of the places in Asia they aspire to perform in, citing it as one of the continent's gay meccas…kinda like gay Dubai is for the Arab world.
We put this down to the country being so affluent, with many big companies having their Asian headquarters here, like Google, Bloomberg, Barclays, and many more. In addition, Singaporeans are very well educated and affluent (have you SEEN some of the prices in this country?). They're also a very internationally minded bunch, with English as the official language: it's estimated that every 2 out of 5 people in Singapore are foreigners.
In this gay guide to Singapore, we explore its LBGTQ rights in more detail, write about our experience traveling here as a gay couple, and also set out some of the best gay hotels, bars, clubs, events, and more.
Gay rights in Singapore
Currently, homosexuality is legal for women, but illegal for men in Singapore. This is because section 377A of the Penal Code punishes male homosexuality with up to 2 years imprisonment but is silent about female homosexuality.
However, as of August 2022, Prime Minister Lee Hsien Loong announced on national TV that Singapore will repeal its anti-gay law, also confirming:
"This is the right thing to do, and something that most Singaporeans will accept…gay people are now better accepted"
In terms of other LGBTQ laws, Singapore has no anti-discrimination laws (yet!) to protect its LGBTQ community, nor any laws (yet!) recognizing gay relationships.
On the upside, Singapore introduced the right to change your legal gender in 2003, and in late 2018, the courts ruled in favor of a gay Singaporean man to adopt a child he fathered through a surrogate, and of course, in 2022, it was formally announced that the infamous s.377A will finally be repealed!
Is Singapore safe for gay travelers?
Whilst Singapore seems so conservative, ironically it's one of the gay meccas of Asia, with a handful of gay hangouts like Tantric, Dorothy's, and Taboo. It also has a number of prominent LGBTQ events taking place throughout the year, like the annual Pride in August called IndigNation and Pink Dot SG every May.
As a gay couple traveling in Singapore, we found it to be extremely safe. Crime is very low here, and the people are incredibly polite and respectful. As it's so international with a large ex-pat community, it felt more like we were in a big cosmopolitan city rather than in a conservative Asian metropolis. Maybe we could have walked the streets holding hands without any problems, but we opted not to. And we advise you to do the same when in Singapore – best leave any PDAs for the queer-friendly spaces.
Gay hotels in Singapore
Singapore does not have any outright all-male gay hotels as you'd find in Berlin or Fort Lauderdale. However, most high-end hotels in Singapore are more than accustomed to LGBTQ travelers given how international the country is. Just be prepared – they ain't cheap!
On the higher end, the bulk of the luxury hotels in Singapore are lush, with most featuring an infinity pool looking out to the unique city skyline. If you're on a tight budget and don't want to stay in a claustrophobic hostel (remember, space is tight and pricey in Singapore – similar to Hong Kong and Tokyo), consider basing yourself in Johor Bahru, which is the nearest city in Malaysia, around 1 hour away by bus.
These are some of the best gay friendly hotels we recommend in Singapore based on our own experience and recommendations from fellow gay travelers we met along the way:
01
W Singapore
Sentosa Island
The Away Spa is absolute heaven. It's designed to feel like a rainforest, offering so many pampering options! There's a decompression area, sauna, steam room, vitality pool, herbal bath, and experiential showers. Plus, you can have massages and beauty treatments. You can also have romantic couples' massages together, then enjoy some drinks and nibbles in the garden outside.
Rooms at the W are gorgeous, with either sea or pool views, some with private balconies. One of the best things about the resort is that they provide free return shuttle services to Orchard Road, Vivo City Shopping Centre, Universal Studios Singapore, and the Marina Bay Financial Centre. If you don't feel like leaving the resort there are also two on-site restaurants – our favorite was SKIRT for delicious steak and sustainable seafood.
02
Shangri-La's Rasa Sentosa Resort & Spa
Sentosa Island
Rasa Sentosa is a huge resort with plenty of fun and relaxing activities to take part in. The gym is open 24 hours a day with big windows opening out onto the garden so you can feel like you're sweating it out in the jungle, just like Tarzan! As well as swimming in the pools, you can take part in nature walks, spend time on the beach, or head to Chi, the resort's spa, for a range of holistic treatments in a tranquil setting.
There are four different delicious restaurants on-site, so whether you're in the mood for Chinese, Italian, an international buffet, or a la carte, you'll be filled up with yummy food no matter what. We loved the lotus-shaped Bubble Bar for a cheeky cocktail at sunset. Even though Sentosa Island is a bit out of the main part of Singapore, there are plenty of fun things to do on the island. Also worth noting, the Rasa Sentosa Resort provides free Sentosa monorail passes for its guests.
03
Hotel Jen Orchardgateway Singapore by Shangri-La
Orchard
We found Hotel Jen to be very gay friendly and didn't feel uncomfortable at all to be staying there as a gay couple. It's also very trendy and quite quirky in some ways, with a robot butler that delivers room service! We also liked the well-equipped gym and the fact that you can join sunset yoga sessions beside the rooftop pool. You can also take part in an Aquaspin class or book a massage in the cabana beside the pool if you're feeling less energetic.
Makan@Jen is a fantastic restaurant with both local and western-style cuisine on offer, either buffet-style or a la carte. We loved the make-your-own salad bar and the regular buffet offers where you can enjoy things like lobster, brunch or high tea at great prices. There's also a cocktail bar next to the rooftop pool and a lounge on level 10, both wonderful for sunset drinks after a long day of shopping in the streets below!
04
The Scarlet Singapore
Chinatown
At The Scarlet, you can stay in beautiful rooms or grand suites, many with private balconies. The suites are incredible. There are only five and they each have a different theme: Lavish, Swank, Splendour, Passion, and Opulent. But for a truly romantic experience, we definitely recommend Passion as it has its own private outdoor Jacuzzi! Even if you don't stay in one of the suites there's also another outdoor hot tub for guests to enjoy.
There's a gym that's open 24 hours to help you burn off all those Laksa calories and prepare to show off your tits when partying topless later at Taboo… The other reason we love The Scarlet is the location – right slap bang in the heart of Chinatown! It's within walking distance to most of the main gay bars and clubs and also close to the Marina Bay & Gardens by the Bay areas. And calling all foodies – some of the best street food in Singapore is right on your doorstep!
05
The Pod @ Beach Road Boutique Capsule Hotel
Kampong Glam
There are also pod suites so you can be totally away from other guests, but you're only paying for the absolute necessities like a bed and tiny desk. Capsule hotels are becoming increasingly popular with travelers who just want a place to sleep but may not be interested in the party atmosphere of hostels. Everything about The Pod is clean, chic, and modern, even the shared bathrooms.
You get a lot of bang for your buck here with a free buffet breakfast provided each morning, as well as complimentary amenities like soap, shampoo, toothpaste, toothbrushes, and towels. There are laundry and business facilities for those who are staying for a while or might need to get some work done. The area around the hostel is called Kampong Glam, which is close to the Arab Quarter of Singapore in case you wanted to shop for a few Persian rugs…
Gay bars in Singapore
For a gay 'ole time in Singapore, you wanna be heading to Chinatown. This is where the bulk of the country's gay bars can be found. And there are quite a few! For a small country with an explicit anti-gay law, it certainly packs a punch when it comes to gay bars. Here are the main ones we found and think you should try out.
Note that a lot has changed in the Singapore gay scene as a result of the Covid-19 Pandemic. We've listed the survivors below, but we grieve the loss of iconic gay bars like OUT Bar Singapore.
Tantric Bar is easily the most popular gay bar in Singapore, which gets particularly busy on Fridays and Saturdays. It's got a super buzzy courtyard, where we loved hanging out. There are both indoor and outdoor areas to relax with friends and some drinks. The cocktails are divine and probably one of our favorite places in the country for Singapore Sling tasting sessions (we had many of these here!) as well as being the home of The Blue Spin – a super-strong cocktail that regularly leaves drinkers spinning on the floor.
Geeky but important fact: when Tantric first opened in 2004, it was the first LGBTQ establishment to fly the rainbow flag outside, and continues to do so to this very day. In your face Section 377A!
Tantric Bar is located at 80 Neil Road. It's open daily until 3 am, and until 4 am on Saturdays.
Are you a friend of Dorothy's? We quickly became her BEST friends with her after discovering this is the only bar in the whole of Singapore brave enough to offer Absinthe towers and shots! Warning though, you'll be less of a friend of Dorothy's when those hangovers kick in…
Dorothy's is another staple on the Singapore gay scene, located in the Chinatown area. It's one of the oldest gay bars in Singapore, having been around for over 20 years. We recommend heading here during their happy hours, especially on Friday and Saturday evenings when they have an all-you-can-drink offer for SG$50 (£23/$36).
Dorothy's is located at 13a Trengganu Street and is open daily until 1 am, and until 2 am on Saturdays.
"There's no business like show business!"…think musical theatre posters on every wall, plus lots of semi-nude men…this is Backstage Bar a cozy hangout during the week and a buzzing hot spot on weekends. The staff is one of the highlights – cute, super cheeky, and quite flirty! Be sure to try out a few Casablancas or Golden Girls Cheesecakes – they've named their cocktails after famous TV shows and movies. Then when you're done with those, wash them down with a few Blowjobs, Butt Plugs, and Cockteasers for good measure (this being the name of their more famous shots!)
Backstage Bar is located in the back (duh!) of the building where Tantric is. You can get into Backstage Bar either through Tantric (78 Neil Road) or via the back entrance (ooh la la!) on Teck Lim Road. It's open daily until 3 am and until 4 am on Saturdays.
Lluvia is the Spanish word for rain, and the motto of this little gem of a bar is 'there is no rainbow without rain'. We say there is no rainbow without our darling bear boys! And Lluvia completes this nicely cause this is THE go-to bar for the bears, cubs, otters, wolves, unicorns, and mermaids (Seby is the unicorn, I'm the mermaid…). The atmosphere is totally chilled and down-to-earth, which is why we love coming here. And then there is the karaoke: do NOT try to challenge a Singaporean bear boy at karaoke, you will lose! These guys can sure belt out a few anthems…
Lluvia is located at 145 Telok Ayer Street and is open daily until 2 am, and till 4 am on weekends.
Cecilia (formerly Ebar)
Calling all karaoke queens – audition for the next Asia's Got Talent right here!
We're only joking, but Cecilia is notorious for having some of the best karaoke nights in town! Cecilia attracts a younger crowd, located in a converted shop directly opposite Tantric in Chinatown. Tip: if it's your birthday, show them your ID and they'll give you a few free shots to celebrate!
After midnight, Cecilia transforms into a dancing venue apologetically blasting out cool house music till closing time.
Located at 57 Neil Road, Cecilia is open daily from 8am to 8pm.
Gay clubs in Singapore
Whilst Singapore has a large chunk of gay bars, it's rather lacking on the gay club front. The main one is Taboo. In addition, be sure to check out the Hypertainment events 'cause when they happen, they're raucous – famous for being some of the largest gay parties in all of Asia!
NOTE: Unfortunately, Taboo Club seems to have closed down. We will continue to monitor this and update here as we know more. Updated July 2023.
Taboo is currently THE go-to gay club in Singapore. It's just across the road from Tantric, so most will head here after Tantric starts to wind up for the night. Look out for HandBag Nite on the 2nd Saturday of each month when they have some of the best drag queens from Asia performing. Other popular nights to look out for here include their iconic Tutti Frutti Nite on the 3rd Saturday of each month, and another favorite of ours, FLIRT Friday! Oh and if you're worried about spending too much on booze in Singapore (drinks ain't cheap here!), on weekends, entry includes an all-you-can-drink "liquid buffet"!
Taboo is located at 57 Duxton Road and is only open Tuesdays to Saturdays until midnight.
The Hypertainment team organizes some of the best gay nights at various places across the country. The best one to look out for is their flagship party called Hyperise, which takes place at 1-Altitude. This place is super impressive, set in a massive tower block that has an impressive 360-degree view of the city skyline. To give you an idea – the rooftop bar at 1-Altitude is one of the tallest in the world, standing proud at 282m (925ft). There are two different party zones and events, often featuring guest appearances from famous queer artists.
1-Altitude is located at 1 Raffles Place and you can visit the rooftop bar every day from 6pm until late (2-4am), but for the Hyperise gay parties, keep an eye on the Hypertainment social channels.
Gay saunas in Singapore
We remind you that this is a country with an explicit anti-gay law in place. Despite this, Singapore has several gay saunas thriving. Some of the most popular are set out below:
Ten Mens Club (aka 10Mens Club), is targeted to the bear boys. They have regular themed nights like Bear Night on Tuesdays, Beefy Stocky Night on Thursdays and Skin Nights on Wednesdays/Saturdays. It features a steam room, private rooms, a maze, movie hall and rooftop garden area.
Ten Mens Club is located at 323 New Bridge and is open daily: Sunday–Thursday from midday until 11pm, then from midday until 2am on Friday and Saturday.
Shogun
Shogun is another popular gay bear sauna, targeted toward the older lads. It's located just around the corner from 10Mens Club. Shogun is open 24 hours a day and gets super popular, especially on weekends. There are two different floors with facilities including a glory hole maze, an orgy room, an outdoor shower, a hot steam room, and plenty of places for relaxing or hooking up. Not bad for a city where homosexuality is illegal, right?!
Shogun is located at 51A Pagoda Street and is open 24/7.
Hook Club (temporarily closed – updated August 2022)
Hook Club is listed as temporarily closed online. As soon as we get an update from them, we'll update our guide straight away!
Hook Club is more of a cruising club than a sauna. We love that they call themselves a "private gentlemen's club serving the discerning few"…a gentleman's club with a steam room of course, as well as a gym, maze, cozy cafe, and a networking area(!) Each night has a different theme ranging from towel, underwear, speedo, and their most popular: just skins!
Located at 285 New Bridge Road, Hook is open from 2pm-midnight on Sunday–Thursday and from 2pm–8am on Fridays and Saturdays.
One of the most popular gay saunas in Singapore that attracts a younger crowd. The best time to come is around 3am when the gay clubs have closed and the party boys are looking for a place to hang out and play! It's also very big, with a large jacuzzi, dry sauna, steam room, TV room, a well-equipped gym, and private cabins spread out over 5,000 square feet. Also, look out for some of their themed nights, like "Locals and Foreigners" on Mondays, "Gym Members" on Wednesdays, "Underwear/Swimwear" on Fridays, and (ahem!) "Sunday Couple's Day"!
Keybox is located at 17 Upper Circular Road and is open daily from midday until 8am the following day.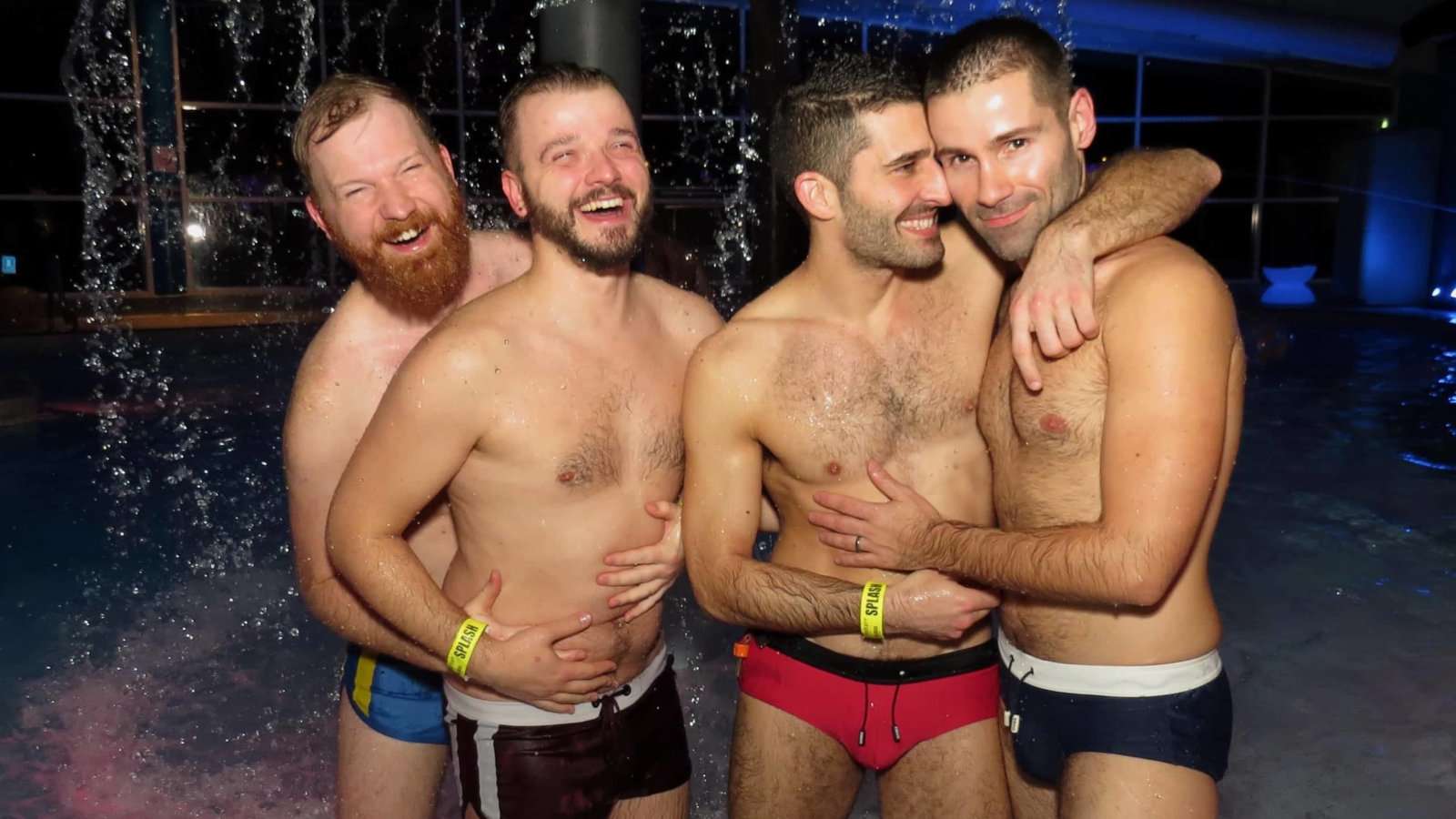 Gay events in Singapore
We keep repeating this, but for a country with an anti-gay law, Singapore sure packs a punch when it comes to gay events! Along with the IndigNation Pride event in August, Singapore also features Pink Dot, which has become one of the most popular LGBTQ events in the whole of Asia! This is our roundup of some of the best gay events happening in Singapore throughout the year, which we recommend looking out for:
Circuit Parties – usually around April/May
April is when the largest gay parties take place over in Thailand for Songkran (imagine: huge parties with live DJs, muscle boys, a foam zone, GoGo dancers, drag queens and more). Singapore has taken a leaf out of Thailand's book and also hosts similar events around this time like "Bring Your Own Trunks", "Top Up" or "BeachBall Singapore" (the latter coincided with the Buddhist Vesak day celebrations back in May 2019 when it was last held). While there isn't an official website, we recommend keeping an eye on Hypertainment's website for details of the next event.
Pink Dot SG – May/June/July
Pink Dot SG is an annual rally/festival that takes place in Hong Lim Park in the summer months. However, in recent years, a change in local laws has restricted attendance to just Singapore Citizens and Permanent Residents, but you might still be able to get if you know people locally. We hope they relax this law soon…! The Pink Dot team does, however, organize other events during the year, such as queer film screenings, art exhibitions, and even markets.
IndigNation – August
IndigNation is Singapore's month-long Pride festival taking place every August. There are usually talks, workshops, film screenings and other events taking place throughout the city, although currently there is a bit of a pause on programming so that the organization can focus more on consulting with the local communities. But make sure you keep an eye on their Facebook page for details of the next events.
Gay restaurants in Singapore
Since Singapore is such a melting pot of cultures, you can bet you'll be able to find many amazing places to tempt your tastebuds. The only problem is going to be choosing from the wide variety on offer and cramming in as many recommendations as you can during your visit. We hope to help fuel your culinary inspiration with some of our personal favorite gay friendly restaurants in Singapore:
National Kitchen by Violet Oon
---
PS Cafe
---
JAAN by Kirk Westaway
---
The Plant Food
---
Best things to do in Singapore
Well if you're not here on business or in transit, then Singapore is great for shopping, especially if you're looking to replace that (ahem!) broken Go Pro camera of yours. Nonetheless, there's also much more to do than just shop. These are our favorite things to see and do in Singapore for gay travelers:
Ride on the Singapore Flyer
---
Explore the Marina Bay area
---
Stop and smell the flowers at the National Orchid Garden
---
Learn about Singapore's history
---
Visit the world-famous Gardens by the Bay
---
Feel like a kid at Universal Studios
---
See the city from a different perspective on a Duck Cruise
---
Enjoy the flavors of Singapore on a food tour
---
Visit Sentosa Island
---
Experience the stunning Wings of Time show
---
Before you go
We've put together some handy hints and tips to help you plan your own trip to Singapore. Read on to find out everything the gay traveler should know before they go.
---
---
---
---
---
---
---
---
---
---
---
---
---
Gay map of Singapore
We've made this gay map of Singapore with all the gay bars, clubs, hotels, restaurants and attractions we've talked about here, so you can more easily plan your own fabulous visit to Singapore.
---