TERMS OF USE: There is a chance that some of the content on this page has changed since it was last updated. By reading this article, you consent to our Terms of Use and Disclaimer. Happy Travels!
DISCLOSURE: Some of our posts may contain affiliate links which we may receive a commission if you choose to book something through one of our links.
A nation obsessed with food, the world's highest twin buildings, and durian obsession(!)…these are our interesting facts about Malaysia.
Malaysians are obsessed with food.
And we totally get it – the entire country is a non-stop feast of delicious food! There are 5 legit meal times in Malaysia – breakfast, lunch, tea, dinner, and supper.
Beyond the foodie paradise that is Malaysia, we discovered a lot about this magnificent and super diverse country during our 3-month trip here as a gay couple. But the one uniting thing about all Malaysians is their immense pride in their food! Every Malaysian has strong opinions about where to find the best laksa or from which city you can find the tastiest rendang!
A word of warning to our fellow LGBTQ travellers – it is illegal to be gay in Malaysia. It is an Islamic influenced country, so homosexuality is very much taboo. Therefore it goes without saying you should avoid any acts of activism or public displays of affection here. But having said that, despite the awful anti-gay law, there is a fabulous large LGBTQ community throughout the country, especially in Kuala Lumpur, with a small and underground gay scene.
We made a lot of local gay friends throughout Malaysia who we love dearly. It is through their eyes we discovered the gay scene of the country and also the more unique facets of Malaysian culture, which forms the backbone of this article.
This is our rundown of our top interesting facts about Malaysia we bet you didn't know!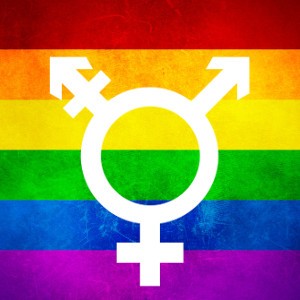 Advice for LGBTQ travellers to Malaysia
It is illegal to be gay in Malaysia! The colonial anti-gay laws are still very much in place here sadly. Whilst they are rarely enforced, this does mean that society retains an air of hostility towards our LGBTQ family. We advise against public displays of affection and any activism in Malaysia. There is however a large and active LGBTQ community and an open gay scene in the larger cities, particularly in Kuala Lumpur.
1. The food capital of the world is in Malaysia
As foodies, this is one of our favourite interesting facts about Malaysia. Everywhere across the country you'll find hawker stalls selling a range of delicious freshly made foods like laksa, Indian inspired roti canai, the national dish: nasi lemak, and so much more. The entire country is a haven for foodies, with Penang the jewel in the crown, as it's a melting pot for Indian, Chinese and Southeast influences.
One of the reasons Penang is such a hit for street-food is that many vendors are second or third-generation, meaning they know what they are doing! The historic George Town part of Penang is also still perfectly set up for street food, unlike the more modern Kuala Lumpur. The street food culture is going strong here, with some of the best dishes we ever tasted.
What we loved the most about Malaysia, however, is how opinionated and passionate Malaysians are about their food! For example, if you were to, say post a photo online (wrongly!) describing Assam Laksa as having coconut milk, god help you! Or, if you describe the type of noodles used in a Mee Kolok incorrectly… look out! Malaysian Instagrammers will roast you for this – in a very lighthearted way of course. We love this about them and had a lot of fun learning about each individual food item during our 3-month trip here.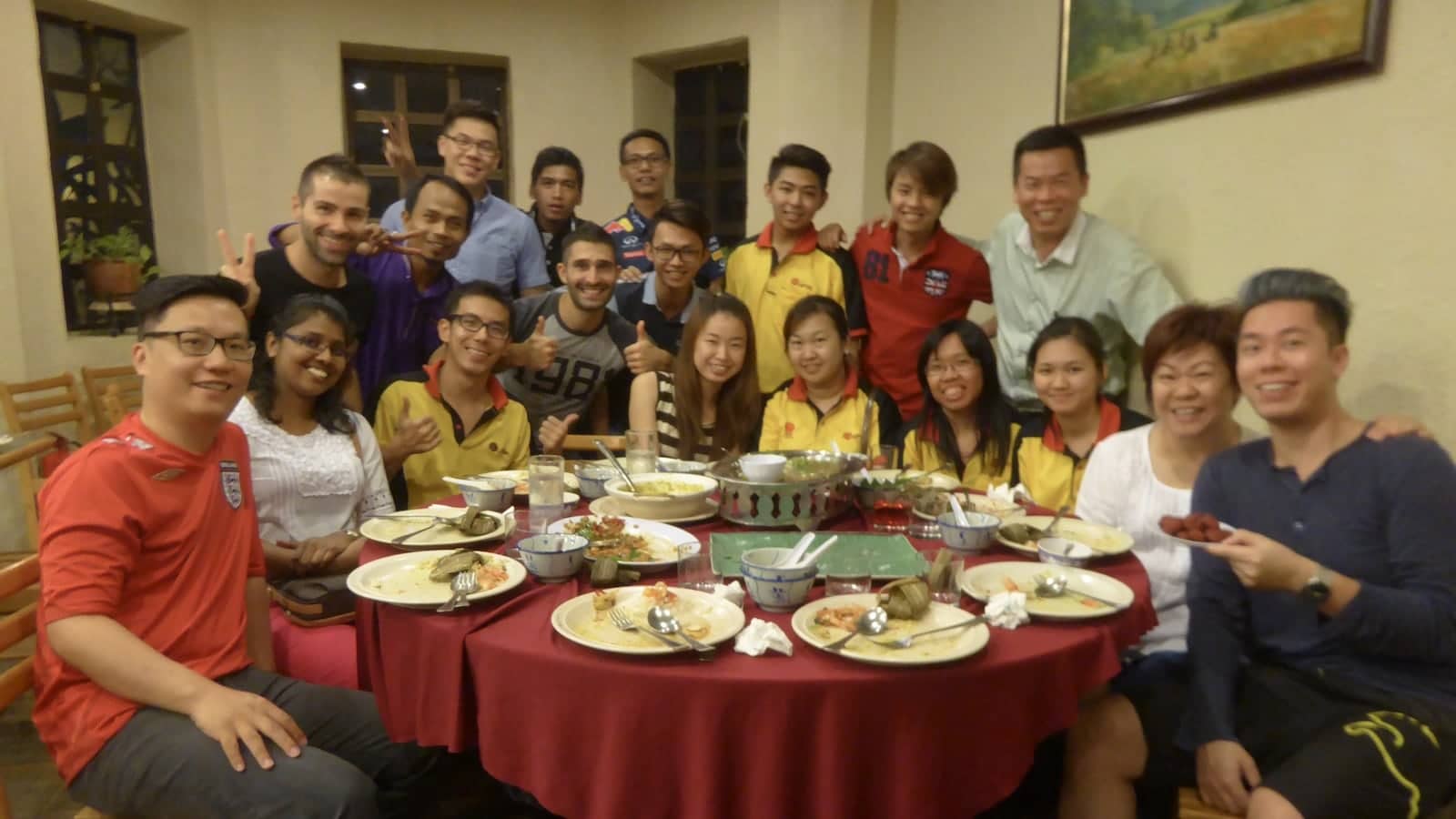 2. Shoe designer Jimmy Choo was born in Malaysia
A very famous celebrity who is from Malaysia is Jimmy Choo. Oh, we know him well: almost every episode of "S3x in the City" featured one of his famous pairs of shoes! Choo was born in Penang to a family of shoemakers, so as we ate our way through Penang, we noticed lots of Jimmy Choo inspired street art dotted around the city.
Jimmy Choo is so highly regarded that he was made a Dato'. When you're given the title of Dato' in Malaysia, it is the equivalent of being knighted in the UK, so for example, Dato' Jimmy Choo would be called Sir Jimmy Choo.
As well as in fashion, Malaysia punches above its weight when it comes to famous celebrities both in Hollywood movies and even in space! Ok, we mean astronauts in that last sentence, specifically Dr Sheikh Muszaphar Shukor, who was the first Malaysian astronaut to go into outer space in 2007 and the first Muslim to observe Ramadan while in space. He also holds the highly sought after Dato' title.
Michelle Yeoh is one of our favourite Hollywood celebrities. Originally from Ipoh, she starred in some of our favourite movies like Crouching Tiger Hidden Dragon, was the Bond girl in Tomorrow Never Dies, the notorious leader of Myanmar Aung San Suu Kyi in The Lady, and in Memoirs of a Geisha. Michelle Yeoh is another famous Malaysian who became so highly regarded that she was made a Dato' in 2001.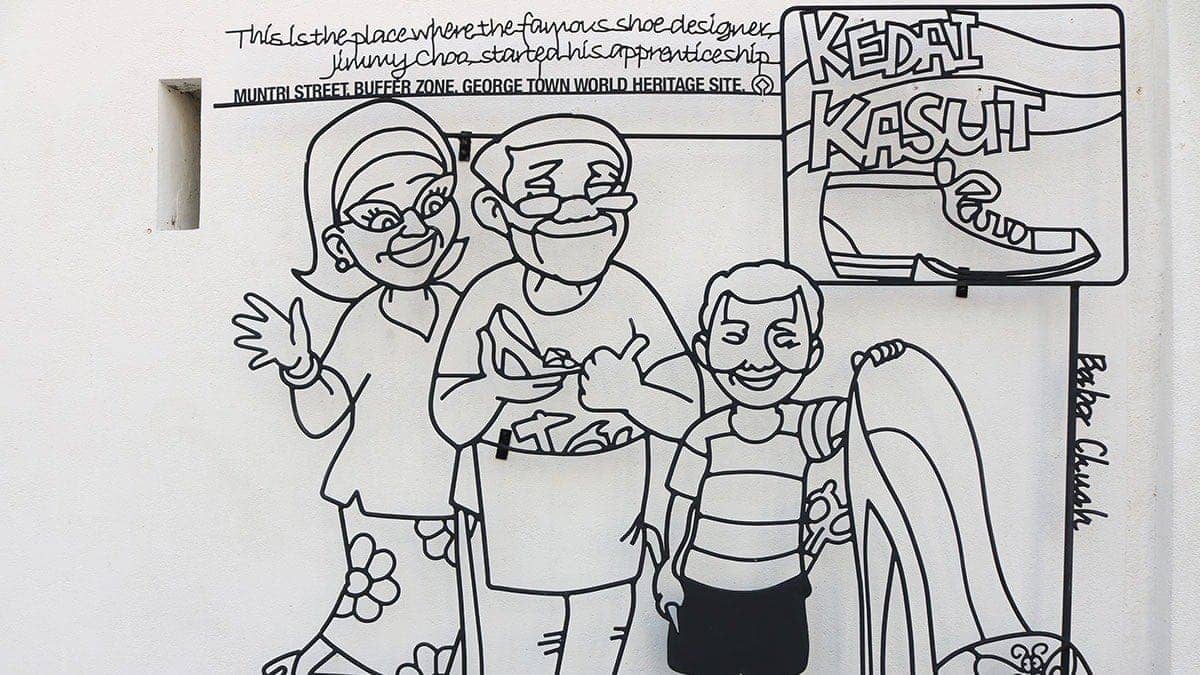 3. Malaysia is one of the most multicultural countries in Southeast Asia
One of the most unique interesting facts about Malaysia is that it reminded us a lot of London or New York: people of all races and ethnicities getting along as one. This is perhaps why despite the anti-gay laws in place, we felt more welcome and safe on the streets of Kuala Lumpur than we did in, say, Moscow!
Malaysia is famous for being one of the most multicultural nations in Southeast Asia. It is comprised of 3 main races: Malays, Chinese and Indians. The three main religions are Islam, Buddhism and Hinduism. Other religions such as Sikhism and Christianity are also practised. Muslims are the majority comprising around 67% of the population.
We felt a strong sense of multiculturalism in Malaysia from the moment we arrived. For example, upon entering, we were stamped into the country at immigration by a smiley sweet lady wearing a burkha, welcomed and checked into our Air BnB condo in Kuala Lumpur by a friendly Chinese Malay guy and then served dinner in Little India with strong Indian accents and plenty of head wobbling! This is Malaysia – a melting pot of so many strong cultures merged into one, which is what makes the country so unique and exciting in our opinion.
We thought this photo of 3 of our Malaysian friends from Kuching nicely sums up this very ethnically diverse country: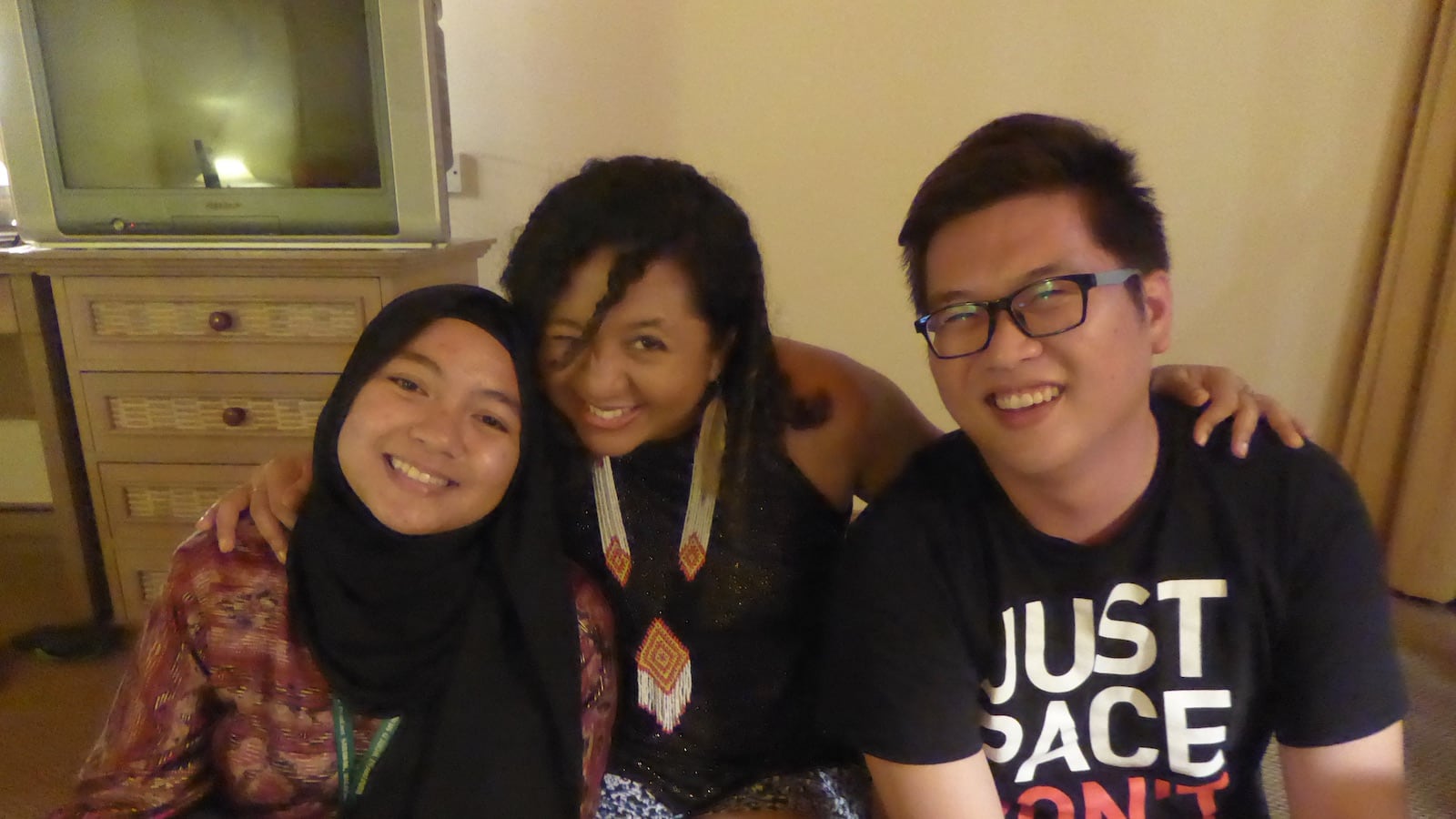 4. The tallest twin buildings in the world are in Malaysia
Fun fact about Malaysia: the famous and iconic Petronas Towers in Kuala Lumpur hold the Guinness World Record for the world's tallest twin buildings, standing proud at 452 meters (1,483 feet) high. In fact, the Petronas Towers used to be the tallest buildings in the world when they opened in 1998, but still remain the tallest twin buildings.
From 2004 onwards, a skyscraper boom took place around the world and taller buildings were built in the UAE, China, Saudi Arabia, USA, Taiwan and Hong Kong, knocking the Petronas Towers to 19th place for overall height. The two iconic towers are joined by a sky bridge at level 41, which is 170m (558 feet) high and home to Petronas, the national oil company.
The Petronas Towers are one of the most iconic buildings of the Kuala Lumpur city skyline along with the Menara communications tower. Whether it's 19th place or 1st place, you can't beat the views. We recommend going to the Skybridge that links the two structures together between the 41st and 42nd floors, which is 170 metres (558ft) high.
Also, be sure to watch the 1999 Hollywood movie "Entrapment" with Catherine Zeta-Jones and Sean Connery, which is largely set in and around the Petronas Towers.
5. Kings in Malaysia are elected
Malaysia is a constitutional monarchy, but a very unique one which is why we chose to include as one of the most interesting facts about the country. There are 13 states within Malaysia, of which 9 are ruled by Malay royal families, the head of each is usually called a sultan. The King of Malaysia is elected from these rulers by the group and serves a five-year term, unless he abdicates early, which happened in 2019.
While 9 of Malaysia's 13 states are ruled by royal families, the other four are run by governors who don't have a say in who gets to be king. It may seem confusing but this is the way Malaysia's government has been run since the country gained independence from British rule in 1948. Because of the British influence, Malaysia's government is modelled on the Westminster parliamentary system.
The King of Malaysia is a largely ceremonial role, but he does appoint political positions like the prime minister and heads of the Malaysian armed forces. He also represents Malaysia when foreign dignitaries come to the country on state visits.
6. The stinkiest fruit in the world grows in Malaysia
Durian is the marmite of Asia, loved or hated by all and nicknamed The King of the Fruits. It is also the most, er, potent of our interesting facts about Malaysia!
Durian has such an infamous reputation because of its extremely strong smell and taste. So strong that most public places and hotels across Asia ban them! In Malaysia, durian fruit is one of the most popular fruits. It's serious business here, with many different types like D24, Musang King, Udang Merah (meaning Red Prawn) and Susu (which means milk).
You can also use durian to make ice cream, cheesecake and even durian crème brûlée…
Our opinion?
We are sorry to say (and mean no disrespect to our Malaysian friends!) durian is one of the most disgusting things we've ever tried… Imagine eating something soft that has a strong smell of stale old onions, with a taste not too dissimilar from that! And the smell doesn't go away easily. It's strong, just like onion breath, which stays for hours, no matter how many times you rinse your mouth out with mouthwash! We totally understand why hotels and metro stations across Asia have large signs banning durian.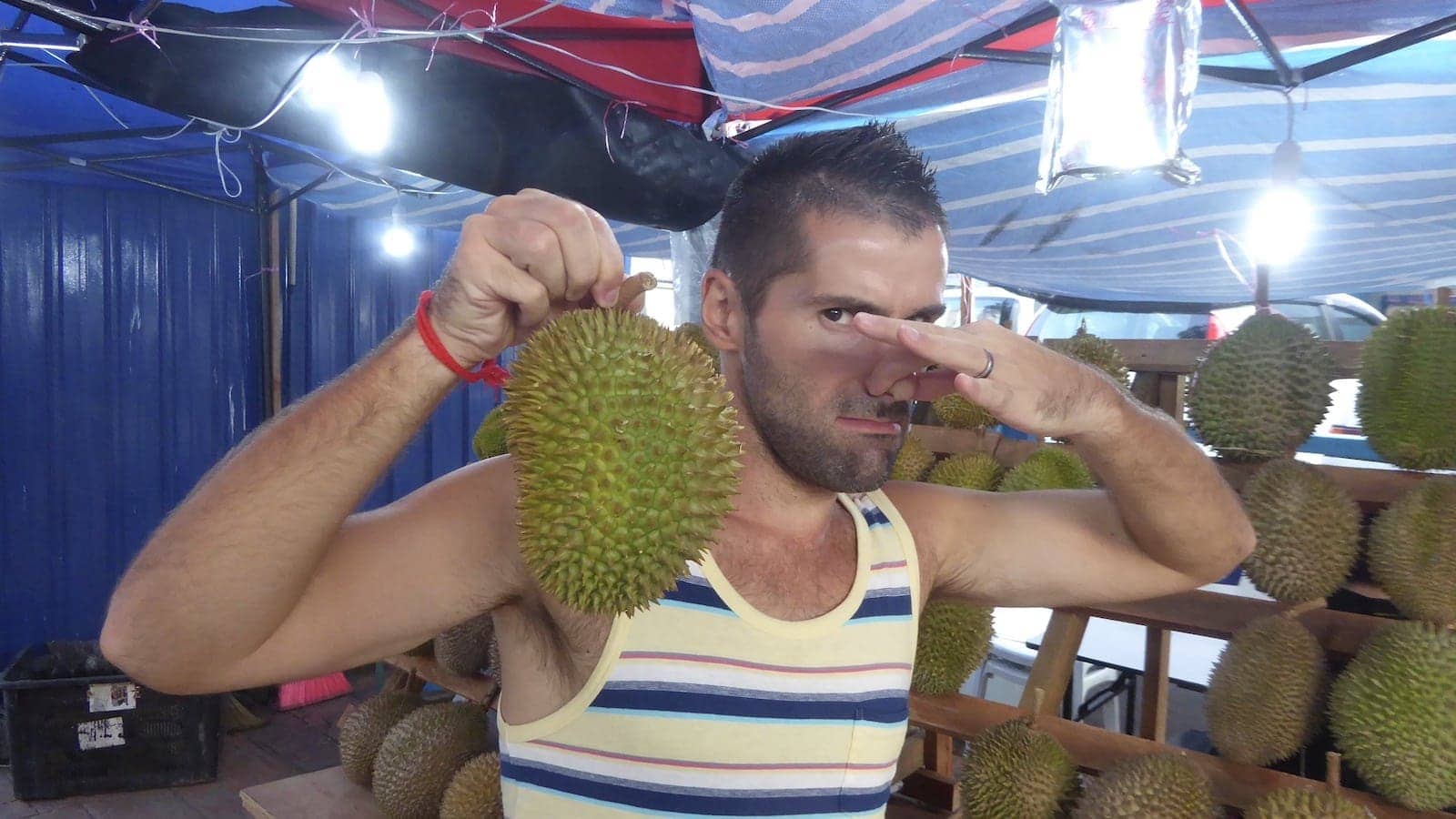 7. Malaysia is a major exporter of tropical fruits
Durian aside, Malaysia is a country rich in delicious fruit throughout the year, much of which is exported to other countries. Malaysia is blessed with a vibrant tropical climate both on mainland Malaysia and on Borneo Island, which means lots of heat and plenty of rainfall all year round, making it ideal for growing tropical fruits.
One of our favourites is mangosteen, nicknamed the Queen of the Fruits! The nickname made us giggle, but when tasting it you realise why – it has a sort of cooling effect, which helps counteract the hot effects caused to your senses by the durian King.
Other tropical fruits to check out in Malaysia include lonyan (similar to lychee), mangos, jackfruit, dragon fruit, guava, rambutan, lychee, papaya and many more. One fruit which is less tropical (which we can grow back home in the UK) is strawberries! If you visit the Cameron Highlands (around 200km/125 miles) north from Kuala Lumpur, this is one of the most famous places where strawberry fields are in abundance.
On the Borneo island side of Malaysia, you'll even find fruit unique to this area. One particular example is the tarap fruit (also called "marang" in the Philippines). It looks like a cross between durian and jackfruit, but unlike durian it's delicious. So delicious, that it can be used to make a cake or ice cream. We tried tarap in Sandakan, located on the Sabah side of Malaysia Borneo: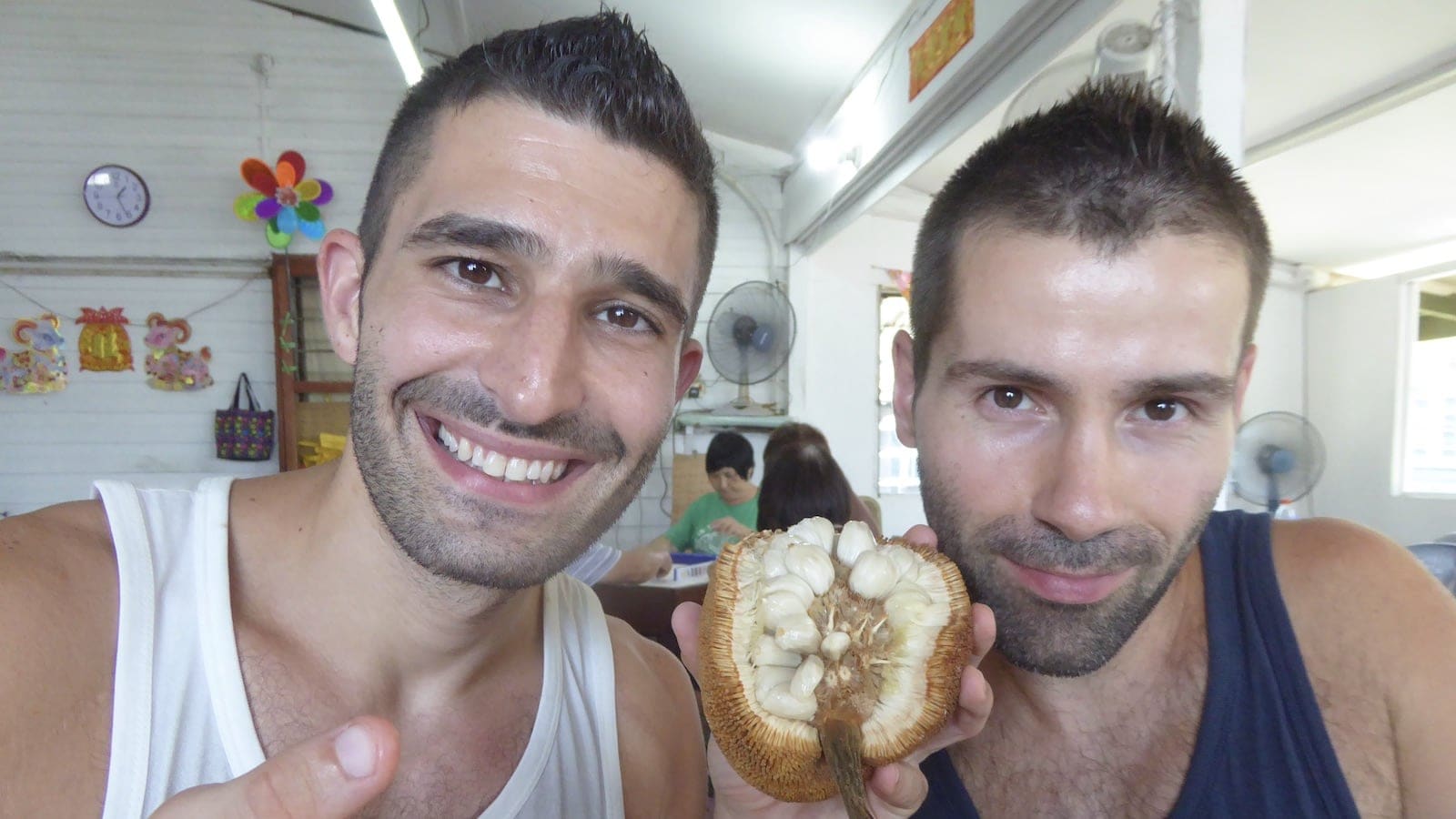 8. Orangutans are native to Malaysia
Orangutans are native to the island of Borneo. These beautiful creatures had to make it to our list of interesting facts about Malaysia. We saw them up close at the Semenggoh Wildlife Centre near Kuching and also in the wild at the Kinabatangan River. We were amazed at how human-like Orangutans are with their mannerisms, which makes sense when you realise they have 98% of the same DNA as us.
In Malay, orang-utan means "person of the forest" and the rainforest is indeed their natural habitat. Unfortunately, due to the severe deforestation and logging of the rainforest across Borneo – caused by the huge demands of the palm oil industry – orangutans have become an endangered species.
This is why rehabilitation centres exist across Borneo Malaysia, the Semenggoh Wildlife Centre is the most famous. We highly recommend visiting it to learn more about this beautiful animal, but also to support the efforts of this centre, whose mission is to provide a sanctuary for injured and orphaned orangutans.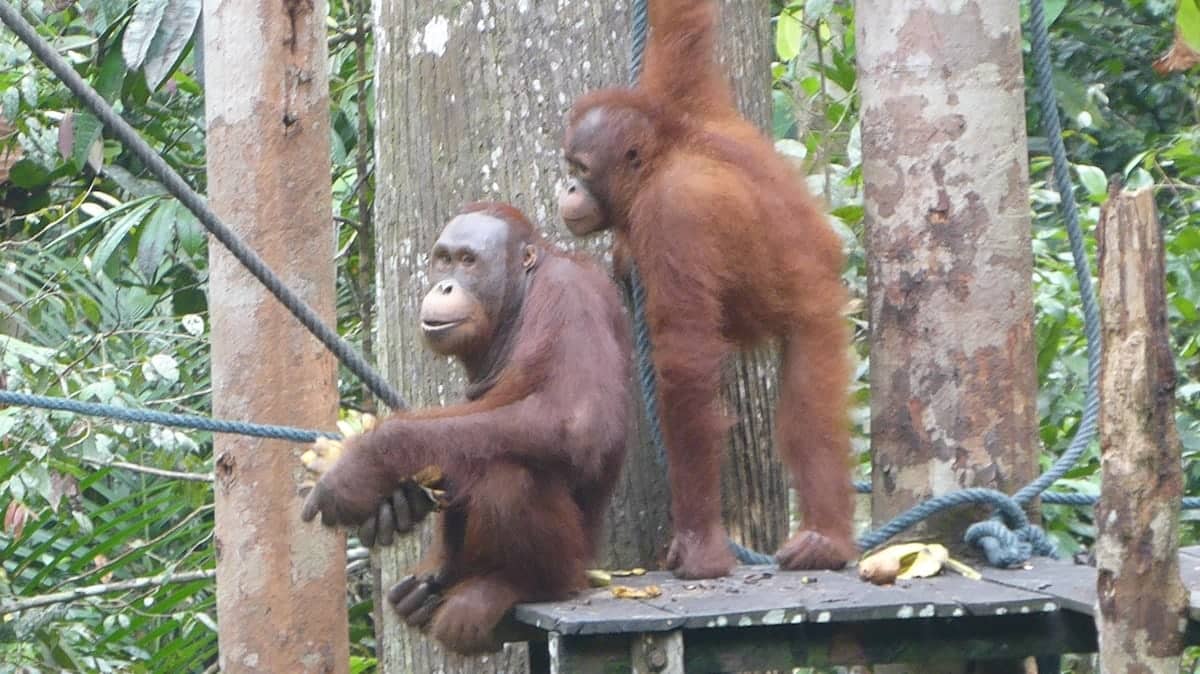 9. The largest flower in the world grows in Malaysia
The Rafflesia arnoldii is a type of flower mainly found on Borneo island in the Kinabalu National Park and it can grow up to 1 meter (3 feet 3 inches) in diameter – making it the largest flower in the world! It's technically a parasite because it attaches itself to another plant in order to gain nutrients and water. You won't even see the plant until it flowers, although it makes up for that by having such massive blooms.
A fun fact about this flower: while the Rafflesia flower might seem kinda cute in pictures, it gives off a powerful smell of rotting meat, which attracts insects to pollinate the plant. While it looks a bit like there are teeth inside the flower, the plant isn't actually carnivorous, just a bit gross to us humans!
Bad smells aside, the Rafflesia is quite a sight to behold, and often used in tourism advertising for the rainforests of Borneo. If you are a plant geek this is definitely a bloom to add to your Bucket List.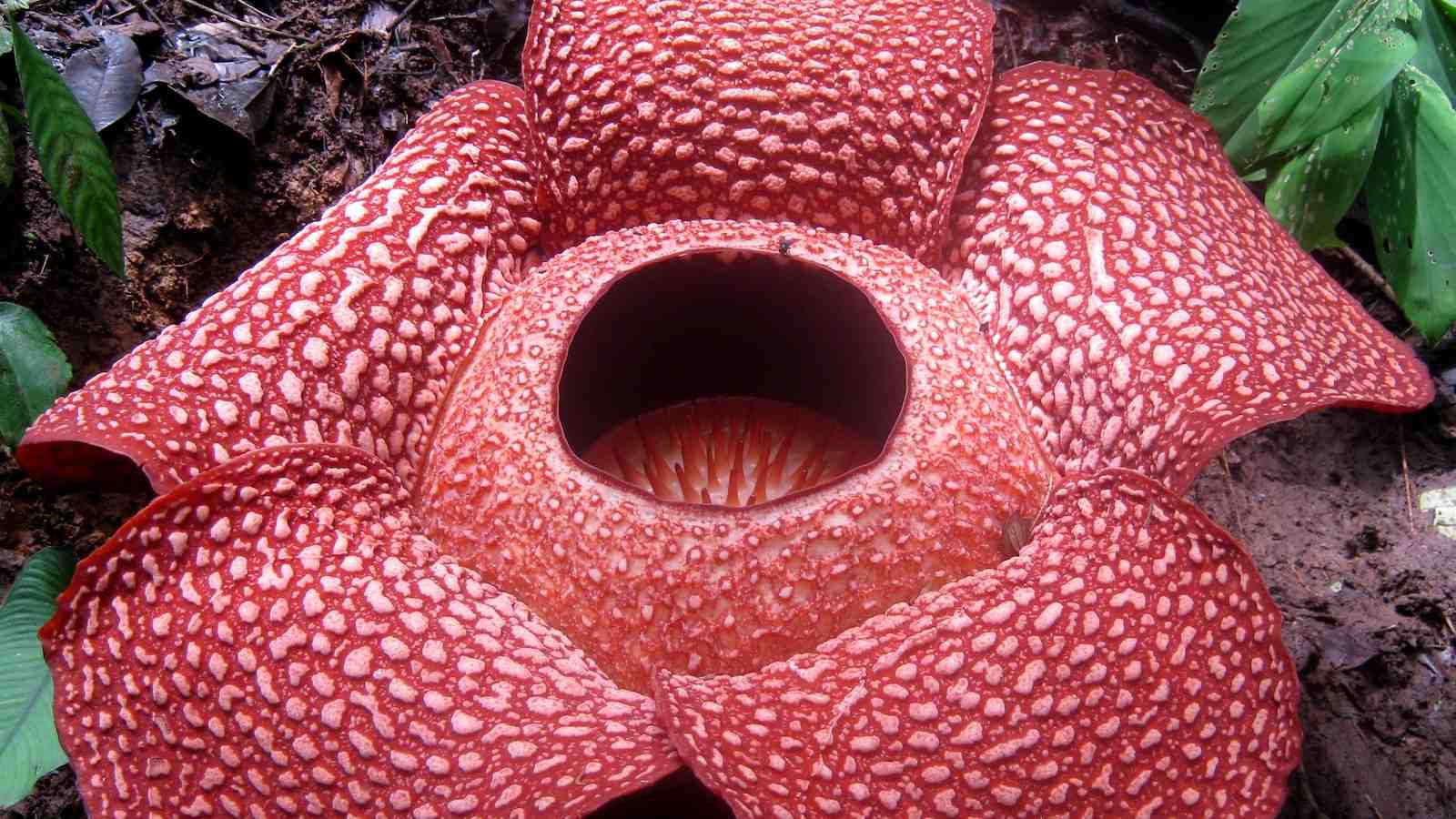 10. Borneo is the third largest island in the world
That's if we're not including Australia, which is the largest if you count it as an island but we're going to go with it being a continent for now. So, therefore, Borneo is the third-largest island in the world after Greenland and New Guinea. Interestingly, Borneo is divided up by three countries, Malaysia, Brunei and Indonesia. It's also the only island in the world to be part of three countries at one time.
Malaysia controls about 26% of the island, with the states of Sabah and Sarawak in the northern part of the island. The equator also runs through the center of Borneo, meaning about half the island is technically part of the northern hemisphere while the other half is in the southern hemisphere!
Borneo is covered in tropical rainforests as well as mountain ranges including Malaysia's Mount Kinabalu, more on that in a minute. It's thought that the rainforest of Borneo is around 140 million years old, which also makes it one of the oldest in the world.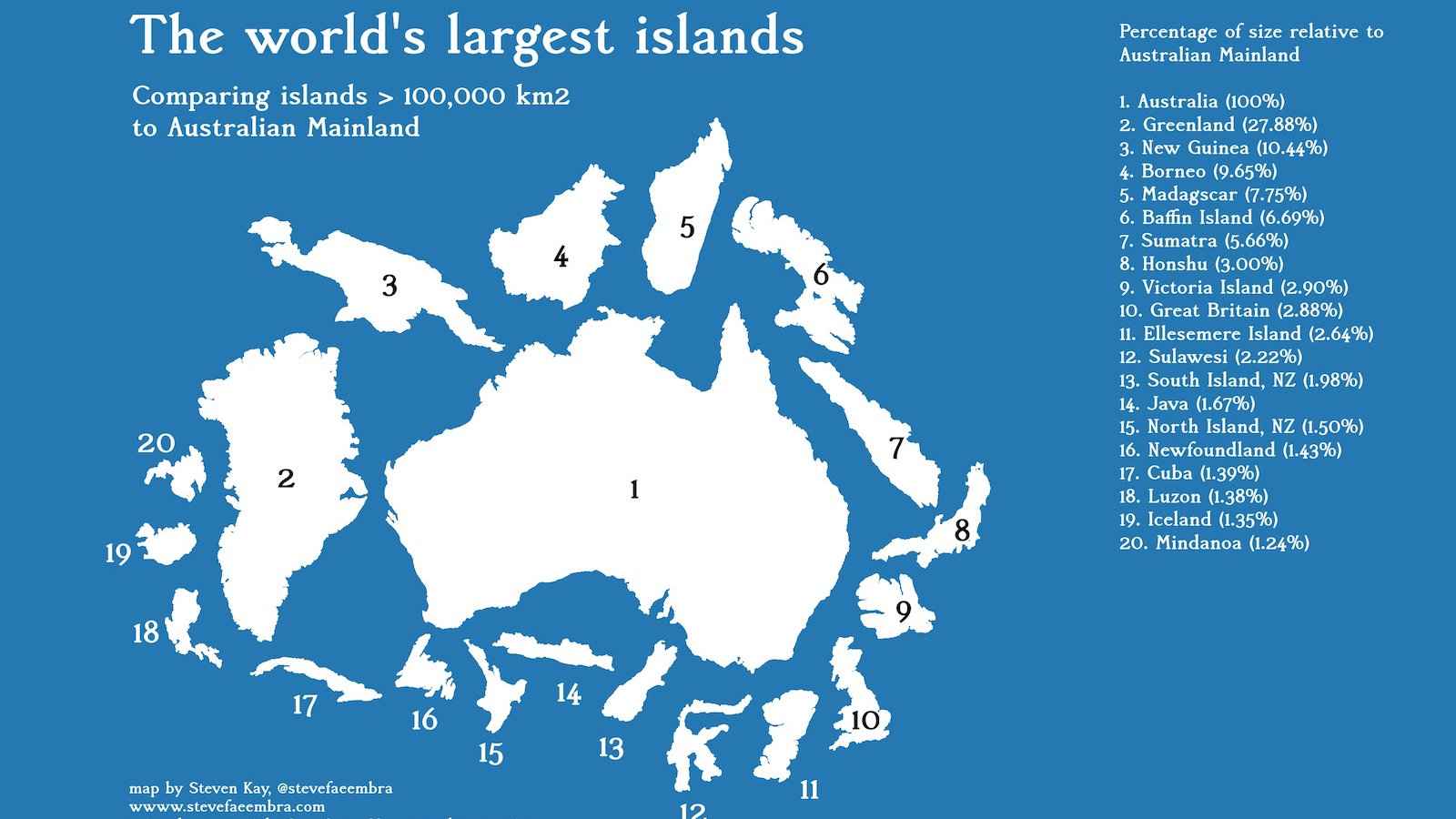 11. The Highest point in Malaysia is also sacred
Mount Kinabalu is the highest mountain in Borneo, the Malay Archipelago and Malaysia itself amking the highest… of our interesting facts! As well as being a UNESCO World Heritage Site and one of the most important biological sites in the world, Mount Kinabalu is also sacred to the Kadazan Dusun people of Sabah.
They believe that after they pass away, souls travel upwards to their creator, but need to spend some time on top of Kinabalu's peak while waiting for emancipation. Visitors looking to hike Mount Kinabalu should always treat it with respect so as not to offend the spirits of the mountain.
A group of backpackers undressed to their birthday suit on top of the peak in 2015, causing widespread anger in the local community. This was then intensified after an earthquake hit the mountain less than a week later, which took 18 people. Whether you think the earthquake was caused by the sacrilege or not, we always urge travelers to respect local customs and beliefs.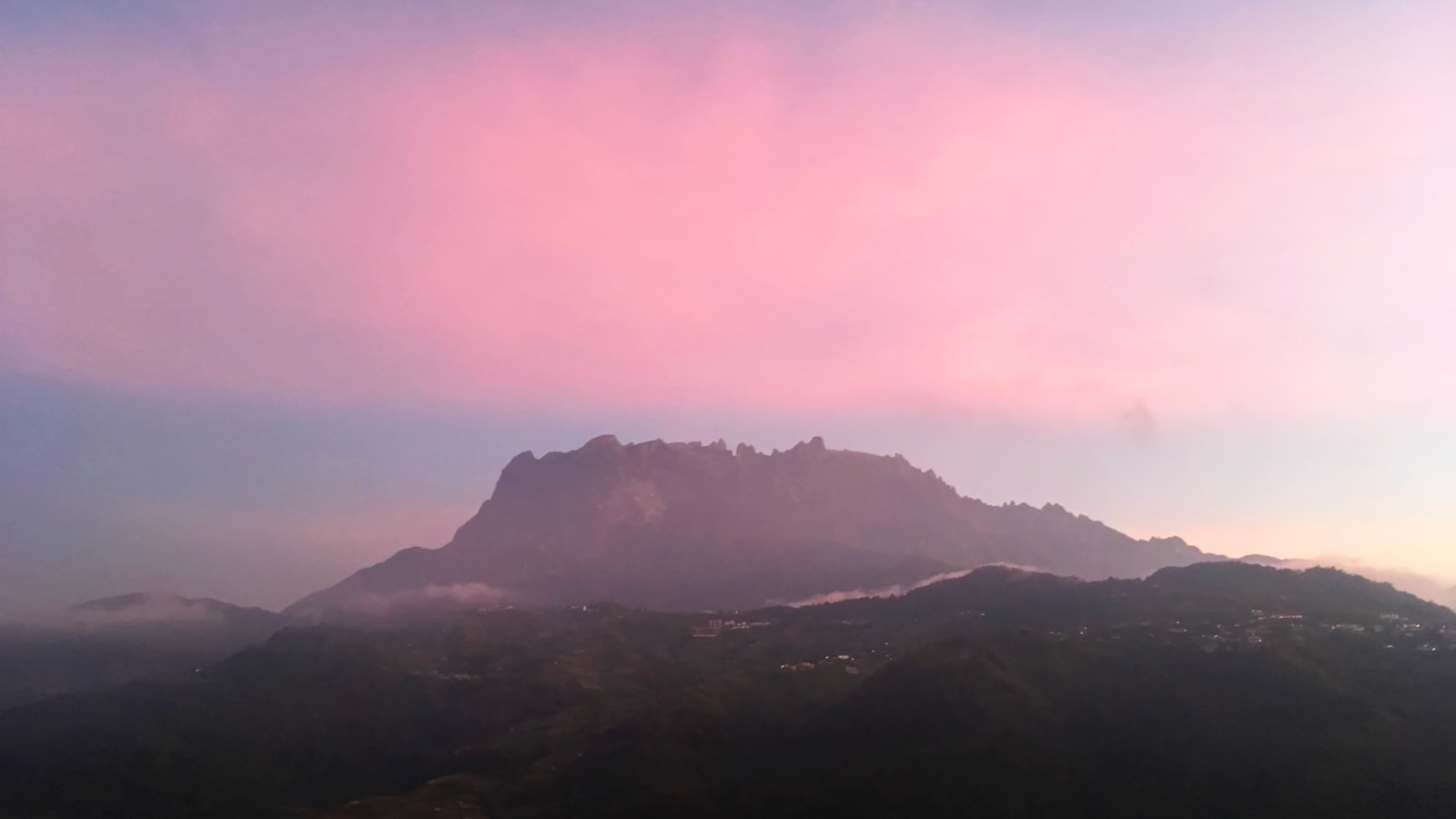 12. Malaysia has 4 UNESCO designated World Heritage Sites
As we've mentioned, the Kinabalu Park (which consists of a national park and Mount Kinabalu itself) is a UNESCO World Heritage Site, but it's not the only one in Malaysia. The country is actually home to three other sites, making four "places of importance to cultural or natural heritage" in Malaysia.
Along with Kinabalu Park, Gunung Mulu National Park is a natural UNESCO World Heritage Site in Malaysia, owing to both sites' high diversity and geographical features. Kinabalu is home to multiple unique ecosystems while Gunung Mulu is home to the most studied tropical karst area in the world.
When it comes to cultural UNESCO sites, the Archaeological Heritage of the Lenggong Valley features evidence of human remains dating back to 2 million years old. This is one of the oldest records outside of Africa! In the Lenggong Valley you can visit the prehistoric caves with guides only, and see Perak Man, an extremely well-preserved 11,000-year-old skeleton, in the Lenggong Archaeological Museum.
Malaysia's fourth UNESCO site is Melaka and George Town, Historic Cities of the Straits of Malacca. Technically this 'site' is two different cities that are about 500 kilometers (310 miles) apart, but they both demonstrate a multicultural heritage of European and Asian influences which are quite something to experience. We especially enjoyed exploring George Town's incredible architecture while we were there!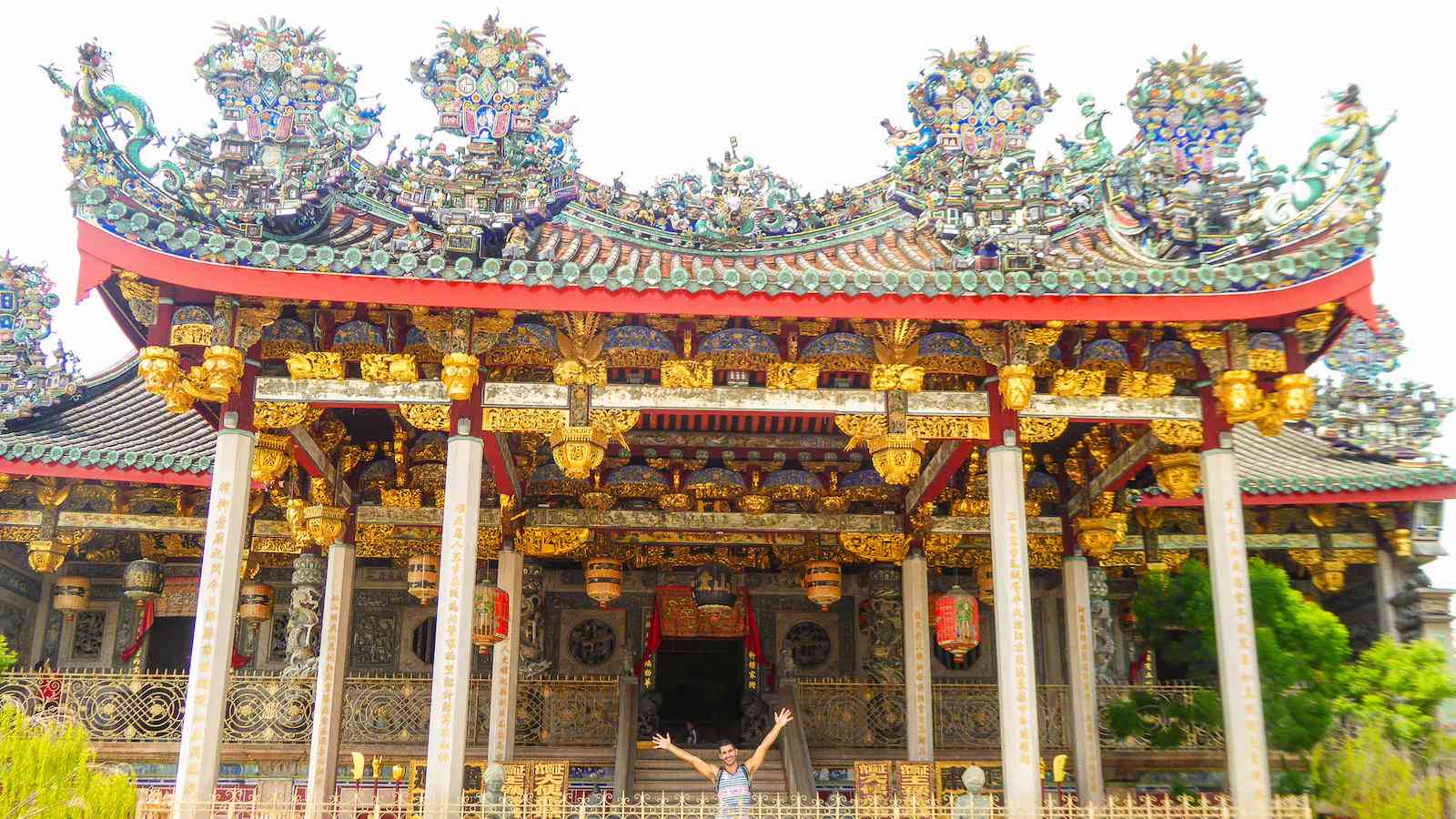 13. Every Malay grows up with the Rasa Sayang song
Rasa Sayang is THE popular Malay folk song you will hear throughout Malaysia (and also in Indonesia and Singapore). It means "I've got that loving feeling". Every Malaysian knows and loves this song and will have grown up singing it at school. During our trip in Malaysia, this is a song we would often hear on the radio which is why it made it to our top fun facts about Malaysia.
If you ever want to create an argument, tell a Malaysian that it originated in Indonesia (or vice versa) – this will get the tongues wagging almost as much as a discussion about food or durian!
Rasa Sayeng followed us throughout our travels in Malaysia. It was performed at parties, festivals and even by us when we were featured on the Malaysian TraXXFM morning radio show.
The main lyrics are:
Rasa sayang, hey!
Rasa sayang sayang, hey!
Hey, lihat nona jauh,
Rasa sayang sayang, hey!
This means: "I've got that loving feeling, hey! I've got that loving feeling, hey! See that girl in the distance, I've got that loving feeling hey!" See the song in full with translation on its Wikipedia page.
One of our favourite Rasa Sayeng moments was at the Rainforest World Music Festival in Kuching when the "Kenwy Yangqing" ensemble from Sarawak got the crowd going with this very cool version of the song:
14. Malaysians use lah in every other sentence
Whenever speaking with our Malaysians friends we'd hear lah thrown in quite a lot, especially after a noun or a subject in a sentence. We sat down a few of them to explain when and how to use lah:
Firstly they told us, "lah" can be used as a Malaysian exclamation. In most situations, you'd be able to use lah to exaggerate a statement. It is also an exclamation of a matter of fact. So for example, if you're really hungry, you could say:
"Go eat lah, what are you waiting for?"
Second, "lah" is an expression of exasperation, for example:
"Why do you keep asking me for money, I don't have extra cash lah!"
Thirdly, "lah" is also used to strongly agree or disagree with someone:
"Yes lah!" or "No lah!"
And to make things even more confusing, in the Sabah province of Malaysia on Borneo island, they use bah instead of lah!
Other quirky Malaysianisms include using the word "already" or "wey" at the end of sentences. These are locally called Manglish and we recommend watching this video to learn more about them and how to use them:
For more about our adventures through Malaysia, watch out our Malaysia travel video:
Happy travels are safe travels
We recommend you always take out a reputable travel insurance before your next vacation. What happens if you suffer from illness, injury, theft, or a cancellation? Many travelers forget about it and regret it when something happens. Better to pay a small price and have the peace of mind and not worry.
---