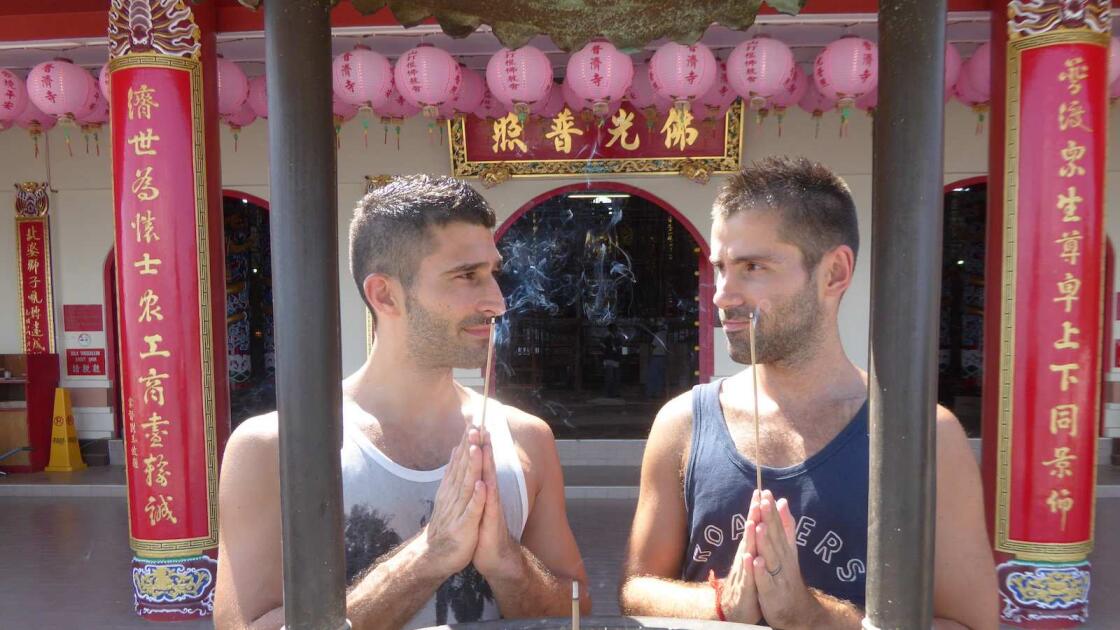 When an entire country's branding relies on the richness of its culture, it better live up to all expectations…Malaysia calls itself "truly Asia"…it was not lying!
If it's your dream to visit every country in Asia, but you can only fit one stop into your budget, we guarantee that Malaysia will serve up every bit of Asian realness. Thanks to its thorough mix of Malay, Indian, Chinese, and European cultures, the country is a melting pot of all lifestyles.
The only downside? Queer visitors will be entering a place that doesn't have the best LGBTQ rights – in fact, none at all! Simply put, being gay in Malaysia is illegal! And while Malaysia does have an open door policy to tourists, it can still be incredibly terrifying to willingly walk into a location with such discriminatory laws. We sure thought so before touching down for our first time at Kuala Lumpur airport!
That being said, as a gay couple traveling in Malaysia, we always felt safe and respected by the locals. Even if it meant giving up on hand holding for a while, we would never take back our time spent exploring the beaches, wild spaces, delicious foods, and the contemporary marvels of each city. To help make your travels resemble ours, we're here to present our comprehensive guide to gay travel in Malaysia based on our own personal experience.
Gay rights in Malaysia
Malaysia is a bit of a dichotomy. On the one hand, it is officially an Islamic country with some of the strictest and most conservative laws on the planet. Yet on the other hand it is a multicultural country, with 61.3% of the country practicing Islam and the rest a mix of Buddhist, Christian, and Hindu – helping to tip the balance away from the country becoming a full-on Sharia state!
When it comes to LGBTQ laws, Malaysia has none. Instead, the Malaysian government holds on to its anti-gay law inherited from the British Colonial years. It was even recently enforced against a lesbian couple in 2018 who faced a fine of 3,300 Ringgit and public caning! There are also occasional police raids on the LGBTQ community, the most recent raid in 2018 on the gay bar Le Boy in Kuala Lumpur.
On the plus side, there is a large progressive generation of savvy Millennials who are more open-minded. One particular bold Millennial even started a test case in the Courts to challenge the anti-gay law back in May 2020…so, watch this space!
We found that most of our Chinese and Indian Malaysian gay friends were more likely to be out to their friends and families, but sadly our gay Muslim Malaysian friends were more likely to be in the closet, only out to a few close friends and no one else.
Is Malaysia safe for gay travelers?
On the surface, Malaysia seems to be a No-Go for LGBTQ travelers due to the existence of the daft anti-gay law and the occasional enforcement of it by the Sharia Courts. This is not helped by the even more ridiculous homophobic statements made by public figures such as the Tourism Minister, Mohamaddin Ketapi, who told the German media in 2018 that "there are no gay people in Malaysia"!
However, from our experience, we found Malaysia to be gay friendly, especially in touristic and international hotspots like Kuala Lumpur and Langkawi. The Malaysians are also some of the legit friendliest people we've been fortunate enough to meet. They love meeting foreigners and showing off their country. We quickly made lots of friends, both gay and straight, in each city we visited. No one had an issue about us being gay, although we were selective about who we did "come out" to.
Our caveat to this is that we avoided all PDAs and only stayed in hotels that we had contacted beforehand to ensure they are ok to host a gay couple. For the record, this was never a problem. All hotels we stayed at couldn't care less that two guys wanted to share a bed.
Top gay friendly destinations in Malaysia
Due to Malaysia's strict laws, you would expect it to be hard finding a place where the LGBTQ community can feel safe. However, three cities stand out as ultra-welcoming towards queer newcomers thanks to their increasing move towards becoming internationalized. Basically, the more visitors and citizens from abroad, the more tolerant a place will be. We recommend acting with caution throughout these destinations, but don't let that stop you from meeting a few cute boys along the way!
Top experiences in Malaysia for gay travelers
Malaysia is one of those places that seems to have it all. Wildlife? Check! Booming, modernized cities? Obviously! Thrilling new activities always beckoning on the horizon? Duh!! When we write our guides, we usually try to keep our list of top experiences concise… But as you can see, we really couldn't help ourselves when it came to discussing the stunning, thrilling excursions we have discovered during our time in this tropical paradise… Sorry, not sorry!
Gay tours in Malaysia
There are no specific gay tours planned for Malaysia but we recommend Out Adventures if you don't fancy flying solo. Out Adventures are a fantastic gay travel company, they can create your own custom gay tour tailored to your needs so you can simply enjoy an exciting holiday. With a curated trip like this everything is taken care of for you and someone else handles all the stressful planning. Contact Out Adventures directly to organise your own fabulous gay tour of Malaysia.
Pride and other gay friendly events in Malaysia
Sadly, that awful anti-gay law means there are no official Pride events or marches taking place in Malaysia. A Pride March was scheduled in 2017, but it got canceled due to religious complaints from Islamic groups.
There are occasional "White Party" type events taking place in Kuala Lumpur, but nothing official. Our best bet is to look out for any gay events in Singapore like Pink Dot and IndigNation and head to those.
One event in Malaysia we loved which is not gay, but certainly attracts quite a large queer crowd from all around the world is the Rainforest World Music Festival in Kuching in July/August. It is a 3-day musical event with folk acts from all across the globe. It also beautifully coincides with the Kuching Food Festival, making this humble city in Sarawak on Borneo island THE place to be in August.
Food and drinks in Malaysia
As total foodies, Malaysia was our dream come true. Whether we were sitting down in high-quality restaurants or hunting for the best food stalls, we did it with huge smiles on our faces. Due to the blend of cultures found within the country, many of Malaysia's top dishes have their origins in other locations. Thankfully, over time, Malaysian people developed their own tastes and flavors to place unique spins on those meals. We hope you enjoy these delectable foods as much as we did!
Plan your trip to Malaysia
Safety tips for gay travel to Malaysia
Is Malaysia safe for gay travellers? The short answer is yes, but make sure you avoid PDAs unless you're in a gay establishment as the official government stance is NOT gay friendly. We found most Malaysians to be very friendly and welcoming, although we didn't come out to everybody. We also recommend contacting hotels before you travel to ensure they are happy to host a gay couple, just in case.
Check official government advice before you go. We recommend you do this any time you're travelling so that you are aware of any recent developments that might create difficulties. This is the most recent travel advice for UK citizens to Malaysia, but check your own government website if you're travelling from somewhere else.
Homosexuality is illegal and you should avoid public displays of affection unless you're in an actual gay bar or club. Unless you know you are hanging out with other gay or gay friendly people, we recommend going back into the closet in Malaysia in order to avoid any issues with the law.
Just like anywhere in the world, be aware of your surroundings, especially in big cities. Petty crime is prevalent in Malaysia, but if you're alert to your surroundings then you should be fine.
Avoid excess alcohol and drug use. Be careful not to drink too much or take drugs when in a new country, as you're a much easier target when obviously intoxicated.
Don't wear valuables in public. This is basic common sense, pickpockets operate everywhere, so the more bling you show off, the more alluring you become as a target. We recommend leaving your valuables and important items locked away in your hotel safe!
Invest in a good money belt. It's always better not to carry too much cash or credit cards anyway, but having a good money belt hidden under your clothes is one of the best ways we've found of ensuring your valuables stay safe and secure out of harm's reach.