TERMS OF USE: There is a chance that some of the content on this page has changed since it was last updated. By reading this article, you consent to our Terms of Use and Disclaimer. Happy Travels!
DISCLOSURE: Some of our posts may contain affiliate links which we may receive a commission if you choose to book something through one of our links.
Our gay travel guide to Malaysia has everything the LGBTQ traveler needs to know including where to stay, where to play, what to do, and important practical safety tips.
When an entire country's branding relies on the richness of its culture, it better live up to all expectations…Malaysia calls itself "truly Asia"…it was not lying!
If it's your dream to visit every country in Asia, but you can only fit one stop into your budget, we guarantee that Malaysia will serve up every bit of Asian realness. Thanks to its thorough mix of Malay, Indian, Chinese, and European cultures, the country is a melting pot of all lifestyles.
The only downside? Queer visitors will be entering a place that doesn't have the best LGBTQ rights – in fact, none at all! Simply put, being gay in Malaysia is illegal! And while Malaysia does have an open door policy to tourists, it can still be incredibly terrifying to willingly walk into a location with such discriminatory laws. We sure thought so before touching down for our first time at Kuala Lumpur airport!
That being said, as a gay couple traveling in Malaysia, we always felt safe and respected by the locals. Even if it meant giving up on hand holding for a while, we would never take back our time spent exploring the beaches, wild spaces, delicious foods, and the contemporary marvels of each city. To help make your travels resemble ours, we're here to present our comprehensive guide to gay travel in Malaysia based on our own personal experience.
How to access gay content safely in Malaysia!
The Malaysian government heavily regulates the Internet and blocks a number of LGBTQ websites and apps. We therefore strongly advise organizing a reliable VPN before you go so you have full access to everything online. It will also ensure your online activities are kept private because you can choose to hide your location when using a VPN connection.
Gay rights in Malaysia
Malaysia is a bit of a dichotomy. On the one hand, it is officially an Islamic country with some of the strictest and most conservative laws on the planet. Yet on the other hand it is a multicultural country, with 61.3% of the country practicing Islam and the rest a mix of Buddhist, Christian, and Hindu – helping to tip the balance away from the country becoming a full-on Sharia state!
When it comes to LGBTQ laws, Malaysia has none. Instead, the Malaysian government holds on to its anti-gay law inherited from the British Colonial years. It was even recently enforced against a lesbian couple in 2018 who faced a fine of 3,300 Ringgit and public caning! There are also occasional police raids on the LGBTQ community, the most recent raid in 2018 on the gay bar Le Boy in Kuala Lumpur.
On the plus side, there is a large progressive generation of savvy Millennials who are more open-minded. We found that most of our Chinese and Indian Malaysian gay friends were more likely to be out to their friends and families, but sadly our gay Muslim Malaysian friends were more likely to be in the closet, only out to a few close friends and no one else.
Is Malaysia safe for gay travelers?
On the surface, Malaysia seems to be a No-Go for LGBTQ travelers due to the existence of the daft anti-gay law and the occasional enforcement of it by the Sharia Courts. This is not helped by the even more ridiculous homophobic statements made by public figures such as the Tourism Minister, Mohamaddin Ketapi, who told the German media in 2018 that "there are no gay people in Malaysia"!
However, from our experience, we found Malaysia to be gay friendly, especially in touristic and international hotspots like Kuala Lumpur and Langkawi. The Malaysians are also some of the legit friendliest people we've been fortunate enough to meet. They love meeting foreigners and showing off their country. We quickly made lots of friends, both gay and straight, in each city we visited. No one had an issue about us being gay, although we were selective about who we did "come out" to.
Our caveat to this is that we avoided all PDAs and only stayed in hotels that we had contacted beforehand to ensure they are ok to host a gay couple. For the record, this was never a problem. All hotels we stayed at couldn't care less that two guys wanted to share a bed.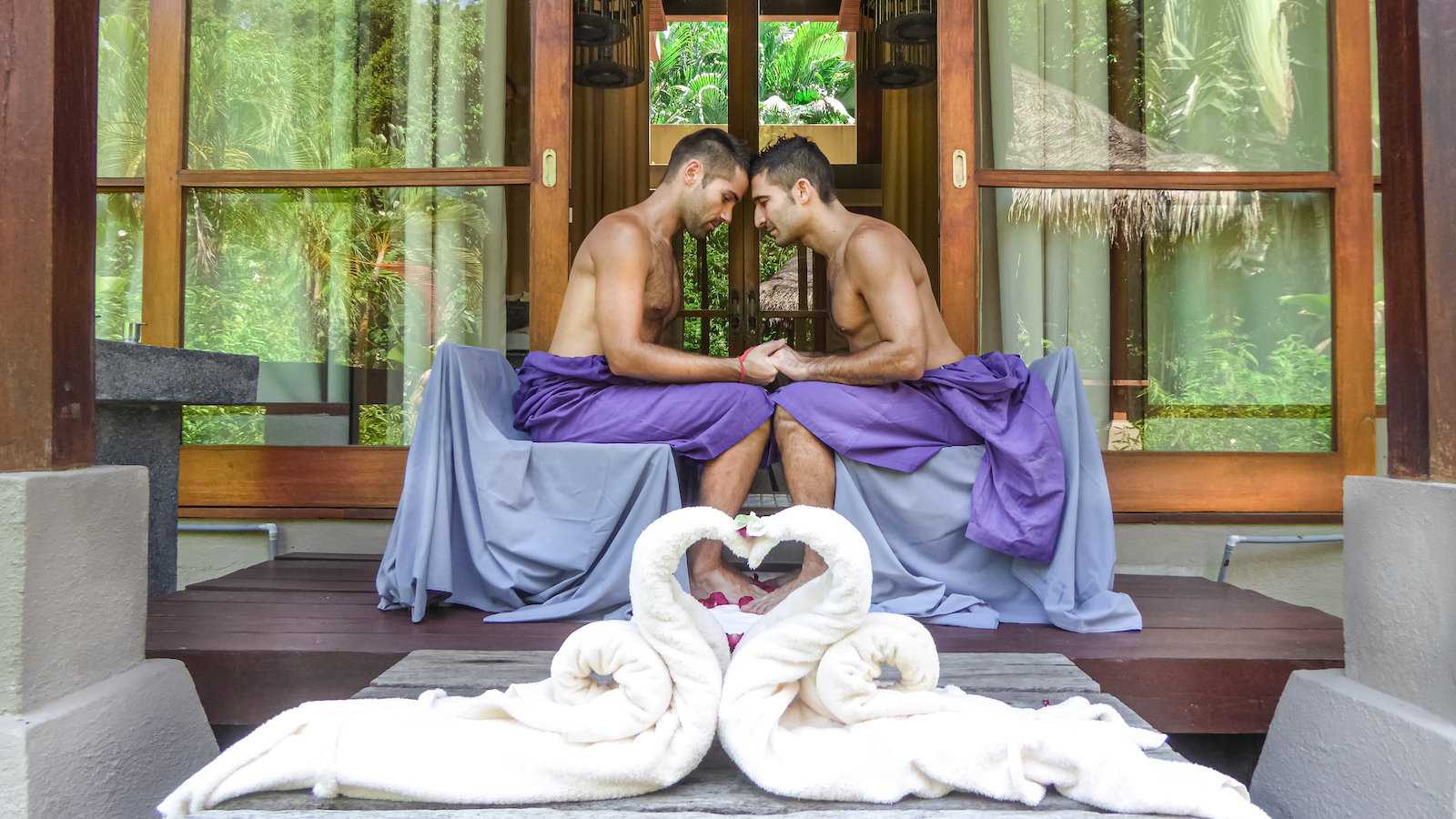 Top gay friendly destinations in Malaysia
Due to Malaysia's strict laws, you would expect it to be hard finding a place where the LGBTQ community can feel safe. However, three cities stand out as ultra-welcoming towards queer newcomers thanks to their increasing move towards becoming internationalized. Basically, the more visitors and citizens from abroad, the more tolerant a place will be. We recommend acting with caution throughout these destinations, but don't let that stop you from meeting a few cute boys along the way!
Kuala Lumpur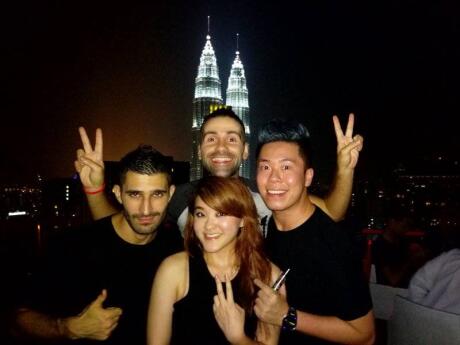 More times than not, the capital of a destination has the most liberal belief systems. Even in Malaysia, where being gay continues to be criminalized, this fact remains true! We found the largest gay scene (and some of the kindest locals) in the country during our time in Kuala Lumpur. When you're in town, be sure to hit up gay hangouts like Market Place and BlueBoy. Other queer friendly and mixed bars to check out include The Geytherin Pub, Iblue Pub, OMG Bistro & Pub and CU29. For a rooftop bar experience, we recommend The Heli Lounge Bar, which has a gorgeous backdrop of the Petronas Towers lit up at night.
---
Penang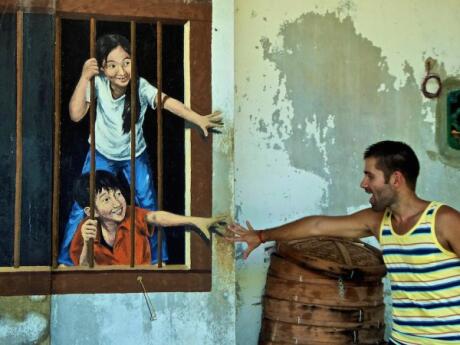 Despite being a smaller city, Penang draws in tons of tourists year-round, many of whom are surprisingly gay. The majority of gay-friendly businesses, including the wild Seventy7 bar, will be situated within George Town, which is also where you can find the best food and art in the area. Seriously, you need to understand that, during our trip, we ended up extending our time in gay friendly Penang from two days to two weeks…if that's not true love, we don't know what it is!
---
Langkawi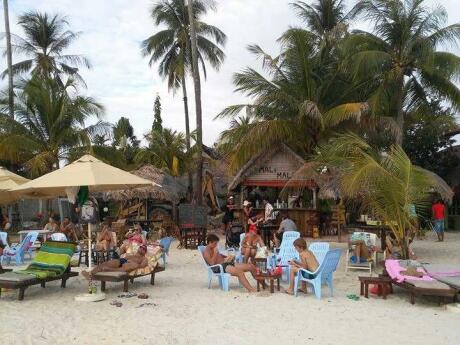 By visiting Langkawi, you will be unlocking a world of adventure. Since the island is duty-free, expect to be greeted with excursions that clearly cater to tourists. We're talking about relaxing on the beach, cycling through paddy fields, and devouring fresh seafood. But on the other hand, we're also talking about hikes through jungles, trips on the infamous Langkawi cable car, and boat rides along the Kilim River. Despite the lack of a gay scene in Langkawi, the locals are more open-minded than on the mainland which makes it a great destination for gay travelers.
---
Top experiences in Malaysia for gay travelers
Malaysia is one of those places that seems to have it all. Wildlife? Check! Booming, modernized cities? Obviously! Thrilling new activities always beckoning on the horizon? Duh!! When we write our guides, we usually try to keep our list of top experiences concise… But as you can see, we really couldn't help ourselves when it came to discussing the stunning, thrilling excursions we have discovered during our time in this tropical paradise… Sorry, not sorry!
Marvel at the Petronas Towers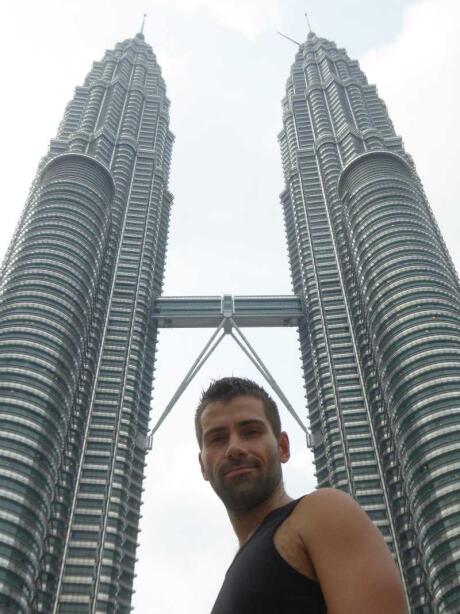 Do you have a fascination with architecture? An intense passion for astounding city views? A deep love for shopping? If even one of those traits applies to you, then the Petronas Towers in Kuala Lumpur are bound to set your heart ablaze! Not only do these gorgeous buildings stand as the tallest twin towers in the world, but they also perfectly capture the multifaceted essence of Malaysian culture. Plus, the connecting sky bridge offers incredible photo ops, and the Suria KLCC Shopping Centre along the bottom floors is every fashionista's dream.
---
Sample the Street Food of George Town, Penang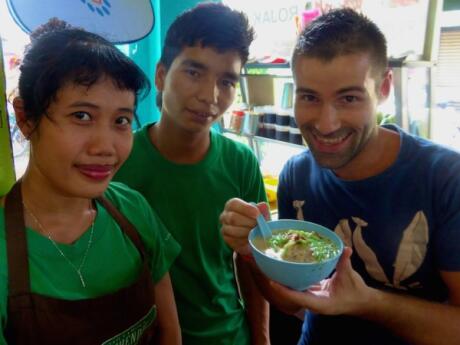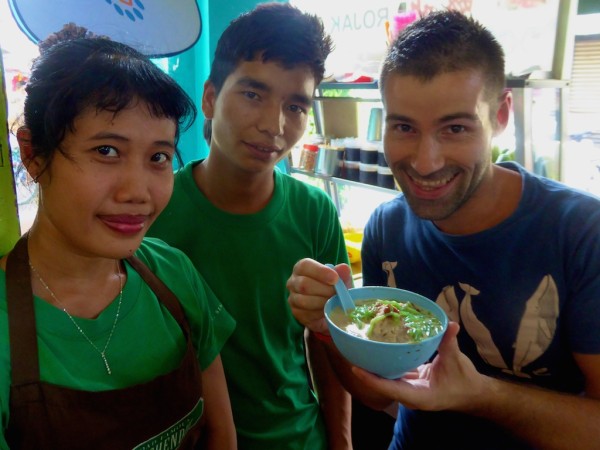 Penang is Malaysia's foodie capital, but the city of George Town is undoubtedly the primary hub for all things decadent, fragrant, and mouthwatering. When we first stumbled into one of the many hawker centers within the area, it was… Overwhelming! However, with a little help from a brilliant tour guide, we tasted the Penang authentic culture! Because, believe it or not, buying street food concerns more than just tasting delicious local cuisine. It's also about supporting generational businesses and experiencing the live entertainment of a busy marketplace.
---
Drink Tea at the Cameron Highlands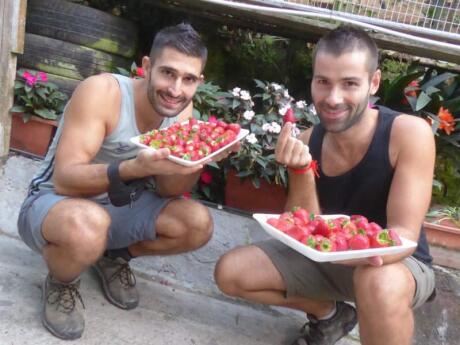 Out of all of the destinations in Malaysia, the Cameron Highlands may perform the best economically. As the largest tea-growing region in the country, there is a noticeable boost from exports… However, tourists also regularly flock to the area, hoping to witness the lush agriculture of the valley. The presiding BOH Tea Estate offers factory tours to guests, which we found utterly captivating. But our favorite part of this stop was the actual tea sampling. There's nothing better than sitting back and sipping on a cup of locally-produced tea while absorbing gorgeous scenery. The Cameron Highlands are also famous for their delicious juicy strawberries, especially when they are in season between May to August. If you're here during these months, make sure you book in a strawberry picking tour!
---
Snorkel at Tioman Island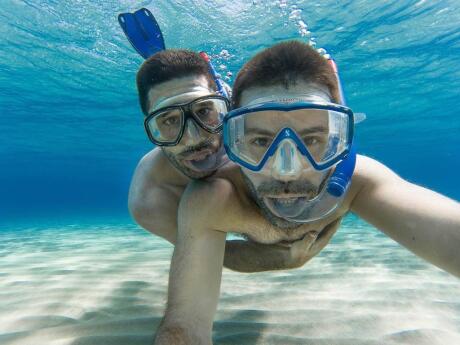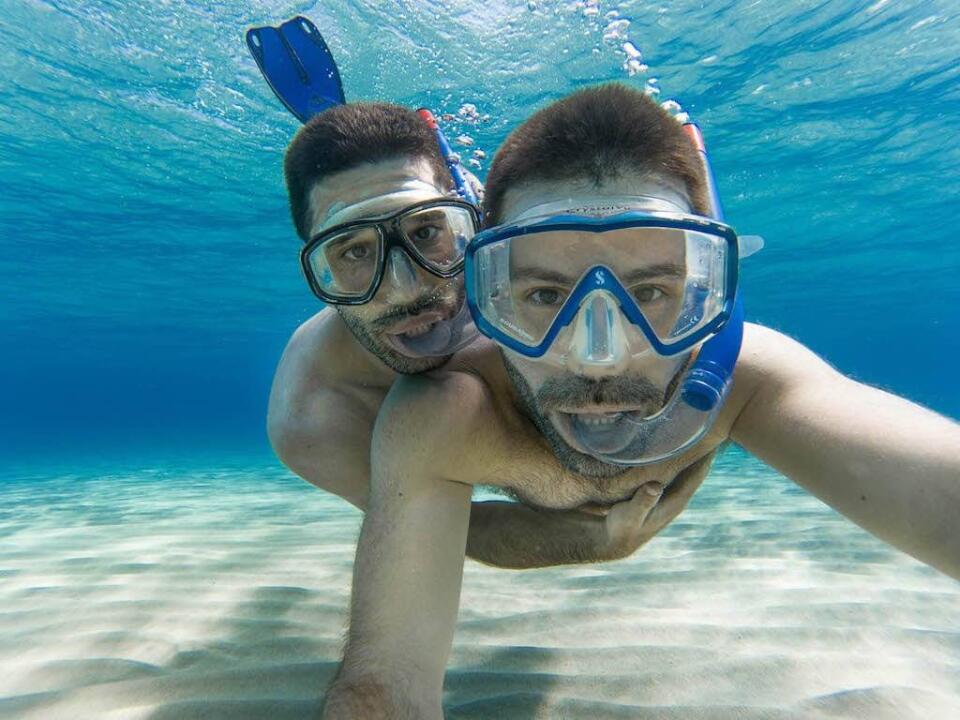 Located off Malaysia's east coast is Tioman Island, a literal treasure trove of natural wonders and mysteries. With adventure tucked away on its comfortable beaches and inside of its verdant forests, visiting the island never gets old. However, those exciting features aren't even the main attraction! The real thrills begin when you take to the ocean. In the tropical waters surrounding the island, coral reefs flourish and marine life thrives. Whenever we think of snorkeling, Tioman always comes to mind as one of our favorite places.
---
Meet the Wild Orangutan – Kinabatangan River on Borneo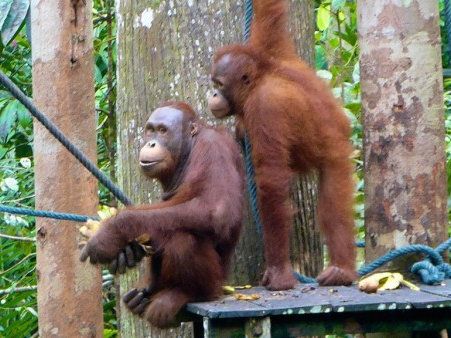 For all of you animal lovers out there, Malaysia has definitely got you covered with pleasant encounters lurking around every corner. When we first entered the country, we knew that we needed to see the orangutans along the Kinabatangan River. Don't get us wrong – there are plenty of other places where you can have a unique orangutan experience. But from our own knowledge, traveling along the river is the simplest and most convenient way to witness these creatures in their natural habitat.
---
Watch the Bat Exodus at the Mulu Caves – Borneo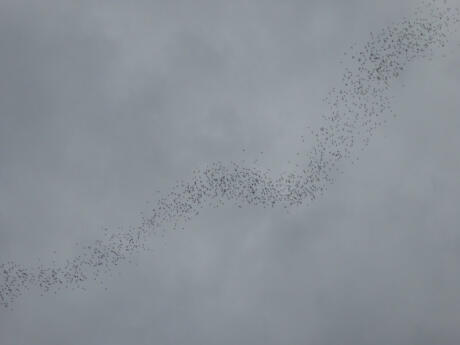 As scary as the name may sound, the bat exodus at the Mulu Caves best exemplifies why exploring the great outdoors is essential for any journey. The event starts with a forty-five-minute hike through a gorgeous, blooming jungle landscape. Then, with the sun setting across the nearby cliff faces, you will spot the bats performing their beautiful ballet, eagerly anticipating a satisfying meal. If you're anything like us, then the entire spectacle will leave you feeling speechless at the wonders of nature at work. The most impressive thing about it is that the bats move in a DNA-shape as they leave the cave – a sight in itself to behold!
---
World Class Diving at Sipadan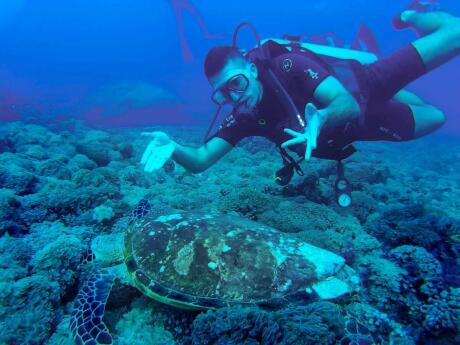 Unbelievable diving spots can be found across the globe. Still, none can hold a candle to the island of Sipadan. As Malaysia's only oceanic island, it is not necessarily easy to visit the destination. Tourists can only stay at neighboring islands throughout their visit. Also, a driving permit must be acquired in advance due to high demand. That being said, every last bit of that struggle is worth the payoff of swimming in those dazzling waters… Expect to see turtles, reef sharks, barracudas – oh, my!
---
Trek at Bako National Park – Borneo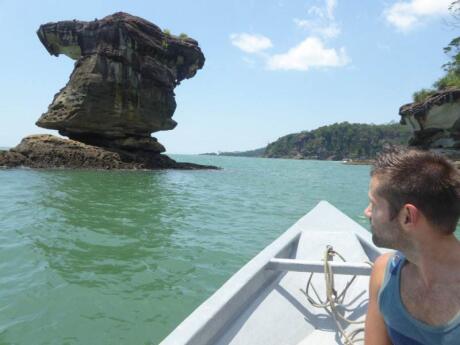 Whether you're looking to partake in a simple afternoon stroll or you're ready to commit to a hardcore day of challenging hikes, Bako National Park is the place to be! With a color-coded trail system leading you through various areas of the dense jungle, you're in for a fun and safe adventure. Honestly, though, we have to admit that our favorite part of our excursion was our ability to take soothing breaks on the white sand beach. Even on highly active days, rest time is essential!
---
Climb Mount Kinabalu – Borneo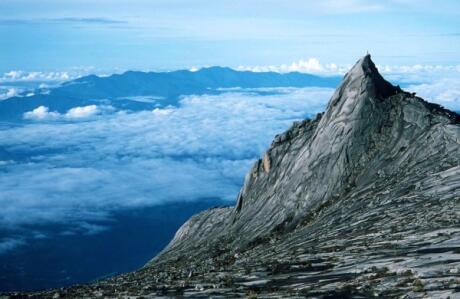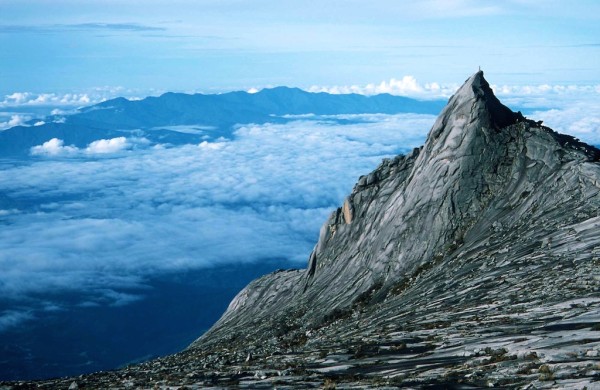 Mountain climbing can be intimidating for anyone who doesn't have experience… and Mount Kinabalu may present a slight challenge since it is the tallest mountain in Malaysia. But in actuality, reaching its peak is considered one of the safest ascensions in the world. Plus, finishing the hike and allowing yourself to take in the sights from your position among the clouds is such a rewarding feeling. Even if you have to take your time getting there, we highly recommend a trip to this colossal, majestic destination. The transport hub to base yourself in is Kota Kinabalu, which is also quite an exciting city to check out.
---
Visit the Sepilok Sanctuary – Borneo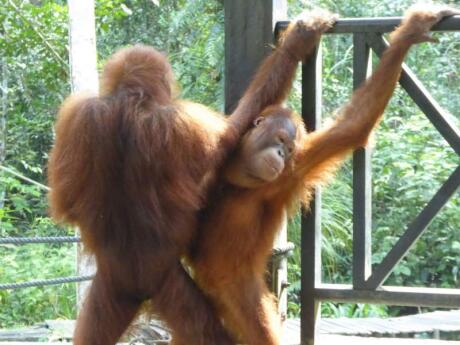 If you can't get enough of Malaysia's orangutans, visit them any time at the Sepilok Orangutan Rehabilitation Centre. The sanctuary houses between sixty and eighty orangutans, plus a handful of other native creatures like elephants and sun bears. The organization primarily focuses on rehabilitating young, orphaned orangutans that may have otherwise fallen victim to deforestation or illegal pet trades. We obviously loved seeing our fuzzy friends living their best lives but more than that, we were thrilled to support a place that devotes everything to the animals.
---
Gay tours in Malaysia
There are no specific gay tours planned for Malaysia but we recommend Out Adventures if you don't fancy flying solo. Out Adventures are a fantastic gay travel company, they can create your own custom gay tour tailored to your needs so you can simply enjoy an exciting holiday. With a curated trip like this everything is taken care of for you and someone else handles all the stressful planning. Contact Out Adventures directly to organise your own fabulous gay tour of Malaysia.
Pride and other gay friendly events in Malaysia
Sadly, that awful anti-gay law means there are no official Pride events or marches taking place in Malaysia. A Pride March was scheduled in 2017, but it got canceled due to religious complaints from Islamic groups.
There are occasional "White Party" type events taking place in Kuala Lumpur, but nothing official. Our best bet is to look out for any gay events in Singapore like Pink Dot and IndigNation and head to those.
One event in Malaysia we loved which is not gay, but certainly attracts quite a large queer crowd from all around the world is the Rainforest World Music Festival in Kuching in July/August. It is a 3-day musical event with folk acts from all across the globe. It also beautifully coincides with the Kuching Food Festival, making this humble city in Sarawak on Borneo island THE place to be in August.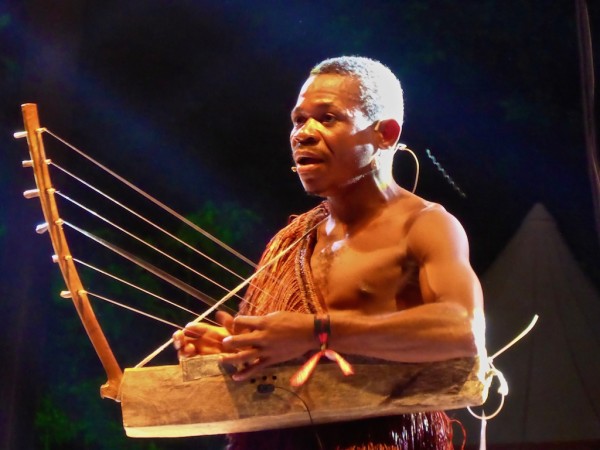 Food and drinks in Malaysia
As total foodies, Malaysia was our dream come true. Whether we were sitting down in high-quality restaurants or hunting for the best food stalls, we did it with huge smiles on our faces. Due to the blend of cultures found within the country, many of Malaysia's top dishes have their origins in other locations. Thankfully, over time, Malaysian people developed their own tastes and flavors to place unique spins on those meals. We hope you enjoy these delectable foods as much as we did!
Nasi Lemak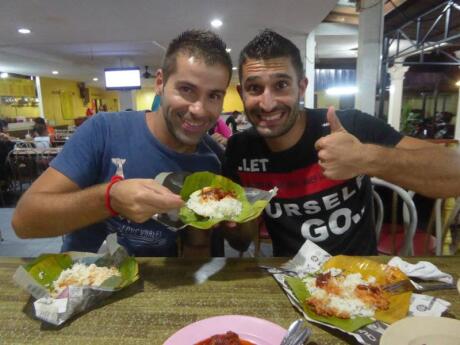 Our rule of thumb? When visiting a new country, you must try the national dish! Luckily, Malaysia's nasi lemak is particularly appetizing. By cooking fragrant rice in coconut milk and pandan leaf, the meal accomplishes a consistency that completely embodies the word creamy. While most people will reach for this meal as a filling breakfast time bite, countless iterations make the food extremely versatile. Whether eating it plain or alongside textural elements like cucumber, peanuts or eggs, nasi lemak will always leave you satisfied and smiling.
---
Beef Rendang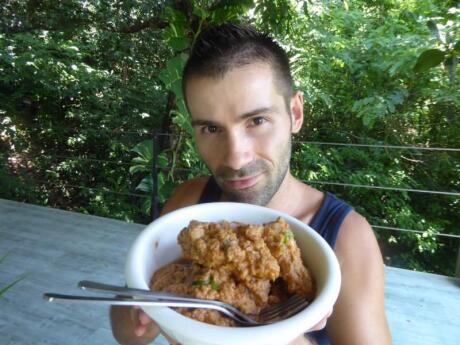 Though beef rendang may be traditionally considered an Indonesian plate, it does have a longstanding history within Malaysia. The dish best resembles a beef stew… but we guarantee it isn't anything like your mum could make! You see, this stew is exceptionally spicy. Best of all, depending on where you purchase your meal, the flavor can change based on the spice blends. We always enjoyed our beef rendang with a side of rice, but on our daring days, we would pair the meal with nasi lemak.
---
Laksa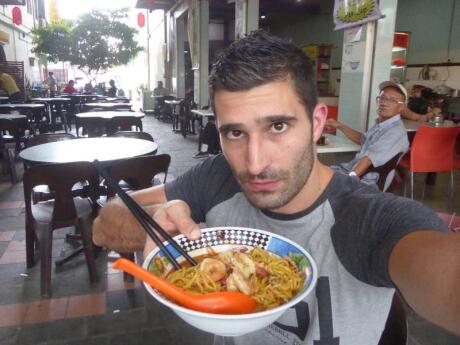 Laksa is a specific type of noodle soup served throughout Southeast Asia. More often than not, the dish will be plated with either wheat noodles or rice vermicelli alongside a protein, and it is packed full of spice. Like most dishes, it does come with two popular variants: assam laksa and curry laksa. Asam refers to an incredibly sour flavor, so expect your lips to pucker up when you take your first sip! Meanwhile, curry laksa represents more decadent flavors due to its unique coconut base.
---
Roti Canai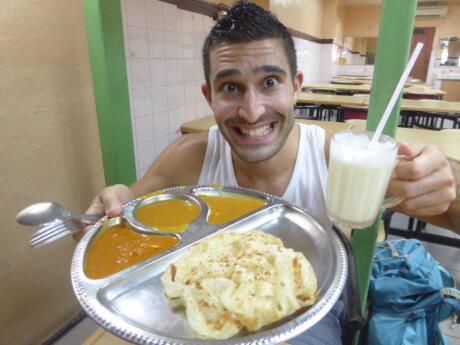 If we had a favorite food, it might be something loaded with carbs. If we had a favorite carb, it might be flatbread… and if we had a favorite flatbread, it would undoubtedly be roti canai! During our time in Kuala Lumpur, we would often start our day by feasting on this scrumptious snack. Whether it's being eaten with a hearty curry, baked with meats and cheeses, or served up plain, we cannot keep ourselves away from this crispy, flaky piece of heaven.
---
Hainanese Chicken Rice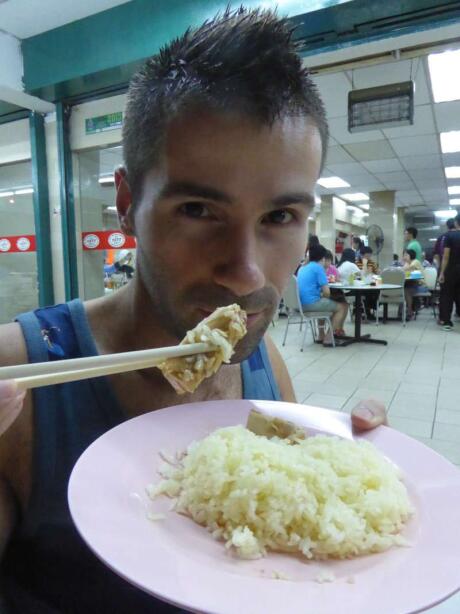 You all should know by now how much we appreciate a multifaceted queen, which is why it should come as no surprise that we lose our minds over Hainanese chicken rice! It's simple enough at its core – just poached chicken and rice with a side of cucumbers and chili sauce. But what we really love is how the dish can be transformed so easily. Variations of the original plate can include changes ranging from different cooking methods to alternate sides.
---
Plan your trip to Malaysia
We've put together some handy hints and tips to help you plan your own trip to Malaysia. Read on to find out everything the gay traveller should know before they go.
Travel insurance: We never travel without making sure we have travel insurance to cover us in case of emergency. Anything from cancelled flights to illness can derail your plans, so it's good to know you're protected when visiting Malaysia. We recommend Heymondo Travel Insurance as we've been using them for years and know they will look after us. Their cover is comprehensive and affordable, plus it's easy to make a claim online if you need to.
---
How to get there: Depending on which part of Malaysia you're visiting (or visiting first) the easiest and most common way to get there is by flying into Kuala Lumpur, Penang or Langkawi airports on the western side and either Kuching or Kota Kinabalu airport on the eastern side of the country. If you fly into Singapore first then you can also reach Malaysia by train, bus or a short flight. We recommend organising a private airport transfer when you first arrive in Kuala Lumpur, as public transport can be confusing, hectic and the last thing you want to deal with after a long flight. It's much more relaxing to have a driver waiting to help you with your luggage and whisk you straight to your hotel without any haggling or trying to figure out the transport system in a new language.
---
Visa requirements: Travelers from many countries are able to visit Malaysia visa-free for up to 90 days, so long as you have at least six month's validity remaining on your passport. Make sure you check your personal visa requirements before making any travel plans for Malaysia.
---
Getting around: Malaysia doesn't really have a train system but public buses, minivans and taxis are affordable and reliable for getting around. There are budget flights to get you between the two major parts of Malaysia, as well as ferries in some areas. Check out this post for more on getting around within Malaysia.
---
Power Plugs: Malaysia uses the same power plug type as the UK, so if you're from there you'll be fine but if you're heading there from other countries then you will need to bring a travel adaptor with you.
---
Vaccinations: All travellers to Malaysia should be up to date with routine vaccinations like measles, mumps and chickenpox. Most travellers should also be vaccinated for hepatitis A and typhoid. Some travellers may also need vaccinations for hepatitis B, cholera, Japanese encephalitis, malaria, yellow fever and rabies, depending on what you'll be doing. Check the CDC website for the most up to date info for Malaysia and also consult your doctor or travel nurse before flying out.
---
Currency: The currency used in Malaysia is called the Malaysian ringgit. The official currency code is MYR and it's usually written as RM. $1 converts to around RM 4.33, €1 is worth about RM 4.70 and £1 makes around RM 5.31.
---
Tipping culture: Malaysia doesn't really have a strong tipping culture, so you will never be expected to tip. A service charge is often included on restaurant bills and locals will sometimes round up the bill to the nearest ringgit. You can tip if you want – it certainly won't be refused!
---
Internet access: In the most built-up areas of Malaysia there are free WiFi hotspots, while hotels, hostels, cafes and restaurants in the cities will offer free WiFi as well. In remote jungle areas like Borneo then you will most likely be without internet access. If you will need to get online to do work or just want to stay connected with people back home for the whole trip then you might like to bring a portable WiFi device with you.
---
Online privacy: The Malaysian government monitors internet usage and is increasingly blocking more and more LGBTQ websites and apps. We recommend that all gay travellers to Malaysia get a VPN before visiting. This will not only allow you to access all blocked apps/websites but it will also allow you to browse the internet safely and anonymously as the VPN hides your location.
---
Accommodation: We always use Booking.com to find accommodation in Malaysia as they have so many excellent choices! It's easy to book online and many listings offer free cancellation as well. They also have online customer support available 24/7 to help you out if needed.
---
Sightseeing and adventure: For more fun activities and excursions in Malaysia make sure you check out GetYourGuide. They have an easy to use booking system and excellent 24/7 online customer support – so you're bound to find something you'll love!
---
When to visit: Malaysia has two distinct areas separated by the sea, so the weather and seasons aren't completely uniform across the country. In general though, the best time to visit Malaysia is between the dry season months of December and February for the west side of the country or May through September if you're heading to the east coast. Most of the country is hot and humid, but traveling during the dry seasons means you can avoid a lot of rain.
---
Safety tips for gay travel to Malaysia
Is Malaysia safe for gay travellers? The short answer is yes, but make sure you avoid PDAs unless you're in a gay establishment as the official government stance is NOT gay friendly. We found most Malaysians to be very friendly and welcoming, although we didn't come out to everybody. We also recommend contacting hotels before you travel to ensure they are happy to host a gay couple, just in case.
Check official government advice before you go. We recommend you do this any time you're travelling so that you are aware of any recent developments that might create difficulties. This is the most recent travel advice for UK citizens to Malaysia, but check your own government website if you're travelling from somewhere else.
Homosexuality is illegal and you should avoid public displays of affection unless you're in an actual gay bar or club. Unless you know you are hanging out with other gay or gay friendly people, we recommend going back into the closet in Malaysia in order to avoid any issues with the law.
Just like anywhere in the world, be aware of your surroundings, especially in big cities. Petty crime is prevalent in Malaysia, but if you're alert to your surroundings then you should be fine.
Avoid excess alcohol and drug use. Be careful not to drink too much or take drugs when in a new country, as you're a much easier target when obviously intoxicated.
Don't wear valuables in public. This is basic common sense, pickpockets operate everywhere, so the more bling you show off, the more alluring you become as a target. We recommend leaving your valuables and important items locked away in your hotel safe!
Invest in a good money belt. It's always better not to carry too much cash or credit cards anyway, but having a good money belt hidden under your clothes is one of the best ways we've found of ensuring your valuables stay safe and secure out of harm's reach.
---
That time we were interviewed on Malaysian National Radio: TraXX FM
Kuala Lumpur was a great base for us to stop and take a breather from our backpacks for a month. Whilst in KL, we met the awesome DJ Kevin Chong, who invited us to be interviewed about our travels in Asia over the past year, on his morning show with his partner in crime, DJ Diyana.
TraXX FM is one of the most popular English radio stations in Malaysia, broadcasted nationwide and also in neighbouring Singapore and Brunei. We were of course dead excited at the opportunity and jumped at the chance to be grilled by Kevin and Diyana about our travels.
So, on the morning of Wednesday 1st July, we set off bright and early to the Wisma Radio station centre for our first ever encounter with the radio world. Check out and listen to our radio interview on TraXX FM right here: