Lovely liberal Langkawi – the shining pink jewel of the Malaysian crown…
Langkawi is an archipelago of 104 islands in the Andaman Sea, located in the state of Kedah, 30km off the mainland coast of northwestern Malaysia near the Thai border. For years, Langkawi has developed a reputation of being more liberal and relaxed than mainland Malaysia, thanks largely to its status as a duty-free haven…a win for tourism in Malaysia!
We visited Malaysia for 2 weeks, trying out the different hotels and bars on the island, which we summarise in this detailed gay guide to the island. Whilst the island maintains a more relaxed approach compared to mainlanders, this is still very much part of an extremely conservative country, with all the anti-gay sentiments that compliment it. We explore this in more detail below, but our big takeaway tip for LGBTQ travellers to Langkawi is that you will have an awesome time here, but we recommend avoiding any PDAs to be on the safe side.
Is Langkawi safe for gay travellers?
Yes, but…!
On the one side, it's easy to dismiss Langkawi as a dangerous place you shouldn't set foot on – it is after all part of a country that criminalises homosexuality and had a local newspaper publishing a ridiculous article about how to "spot" gay people! (In case you're wondering, if you've got a beard, abs and wear branded clothes, then you're bound for gay jail!)
Yet on the other side, Langkawi is well known for not only being more relaxed than mainland Malaysia, but thanks to tourism, the island is very international. There are many people from all around the world living/working in Langkawi, a large proportion of who are members of the LGBTQ community. Islanders are therefore used to seeing people from all walks of life.
For us, we found the people of Langkawi to be extremely welcoming and hospitable. Of course, we always took care to avoid PDAs, which meant that in the worst-case scenario, people just thought we were brothers. Finally, when it came to booking a hotel room, we never had any issues getting a double bed in any of the places we stayed at.
However, we opted for hotels that either have an international reputation (like The Four Seasons) or which are foreign-owned and managed (like Ambong Ambong or the Bon Ton Resort), which meant they have a more progressive and accepting outlook to gay travellers.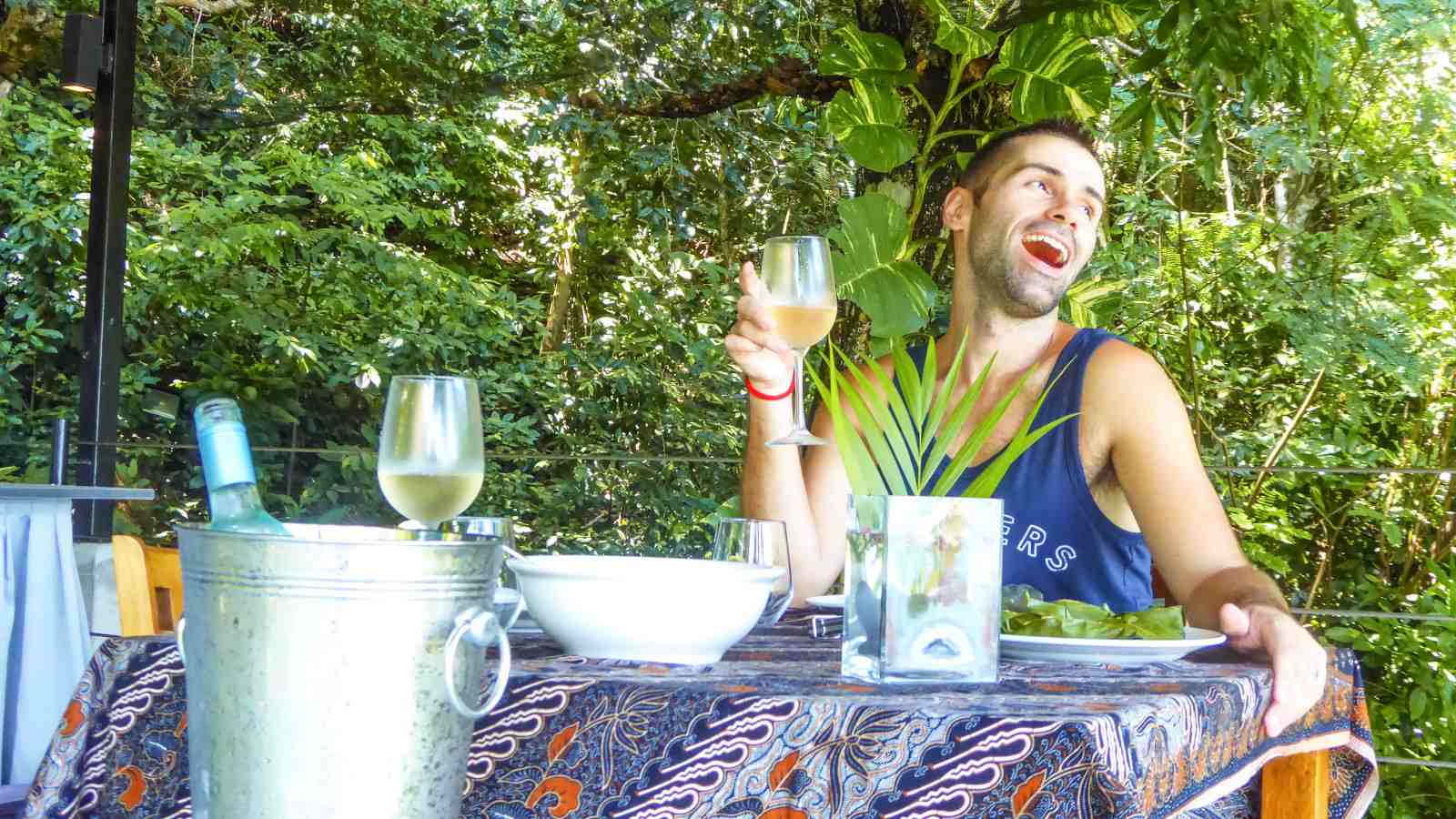 Gay friendly hotels in Langkawi
Langkawi is an extremely liberal island by Malaysian standards. Although there are no gay-exclusive hotels as such, we had a fabulously welcoming experience at all of the places we stayed on the island. Everywhere we stayed, we were treated with total respect and acceptance.
From boutique seaside hotels to rainforest retreats, our experience of this tropical paradise would not have been the same without these beautiful hotels. Langkawi really is a jewel all on its own when it comes to pink travel in Malaysia.
Gay bars and clubs in Langkawi
Langkawi is known across Malaysia for its awesome bars and nightlife. Characterized by an inclusive, non-judgemental vibe, we had a ball dipping in and out of the island's many nightlife venues. There is no official gay scene as we know it, but we encountered a number of local gays, who are out of the closet, living happily and very openly within this island society. These are the main bars where we enjoyed having a drink and which attract an open-minded international crowd:
Gay friendly restaurants in Langkawi
One of the best things about a trip to Langkawi island has to be the food. A mixture of Chinese, Indian and Malay traditions, Malaysian food tends to be pretty fantastic. When you throw in the fact that Langkawi is a paradise island surrounded by tropical seas, you have a recipe for some truly unforgettable food! The seafood on Langkawi is some of the best we have enjoyed anywhere in the world. These are some of our tips for the best places to dine on the island.
Top things to do in Langkawi
Sure, Langkawi is the ideal place to come if you want nothing more than a lazy, tropical getaway. However, this island paradise is also home to some seriously exciting activities for LGBTQ travelers to enjoy. Whether you're an adrenaline junkie or a nature buff, Langkawi is filled with exciting options to make the most of your time on the island. Let's take a look at a couple of our top things to do in Langkawi to inspire your travel planning.
Plan your trip to Langkawi
Gay map of Langkawi
Here's our gay map of Langkawi so you can see all the places we've written about in this guide. We hope it's useful for you to plan your own fabulous trip to Langkawi!
For more about our adventures through Malaysia, please check out our Malaysia travel video: