Lovely liberal Langkawi – the shining pink jewel of the Malaysian crown…
Langkawi is an archipelago of 104 islands in the Andaman Sea, located in the state of Kedah, 30km off the mainland coast of northwestern Malaysia near the Thai border. For years, Langkawi has developed a reputation of being more liberal and relaxed than mainland Malaysia, thanks largely to its status as a duty-free haven…a win for tourism in Malaysia!
We visited Malaysia for 3 weeks, trying out the different hotels and bars on the island, which we summarise in this detailed gay guide. Whilst the island maintains a more relaxed approach compared to mainlanders, this is still very much part of an extremely conservative country, with all the anti-gay sentiments that compliment it. We explore this in more detail below, but our big takeaway tip for LGBTQ travellers to Langkawi is that you will have an awesome time here, but we recommend avoiding any PDAs to be on the safe side.
Arriving in Langkawi soon?
There is no public transport system on Langkawi, so you'll only be able to get around via taxis, car hire or tours. When you first arrive at the airport the easiest way to get to your hotel is by pre-booking a private airport transfer. That way you can avoid the long taxi lines and be confident knowing that your driver will be waiting in the terminal for you.
Is Langkawi safe for gay travellers?
Yes, but…!
On the one side, it's easy to dismiss Langkawi as a dangerous place you shouldn't set foot on – it is after all part of a country that criminalises homosexuality and had a local newspaper publishing a ridiculous article about how to "spot" gay people! (In case you're wondering, if you've got a beard, abs and wear branded clothes, then you're bound for gay jail!)
Yet on the other side, Langkawi is well known for not only being more relaxed than mainland Malaysia, but thanks to tourism, the island is very international. There are many people from all around the world living/working in Langkawi, a large proportion of who are members of the LGBTQ community. Islanders are therefore used to seeing people from all walks of life.
For us, we found the people of Langkawi to be extremely welcoming and hospitable. Of course, we always took care to avoid PDAs, which meant that in the worst-case scenario, people just thought we were brothers. Finally, when it came to booking a hotel room, we never had any issues getting a double bed in any of the places we stayed at. However, we opted for hotels that either have an international reputation (like The Four Seasons) or which are foreign-owned and managed (like Ambong Ambong or the Bon Ton Resort), which meant they have a more progressive and accepting outlook to gay travellers.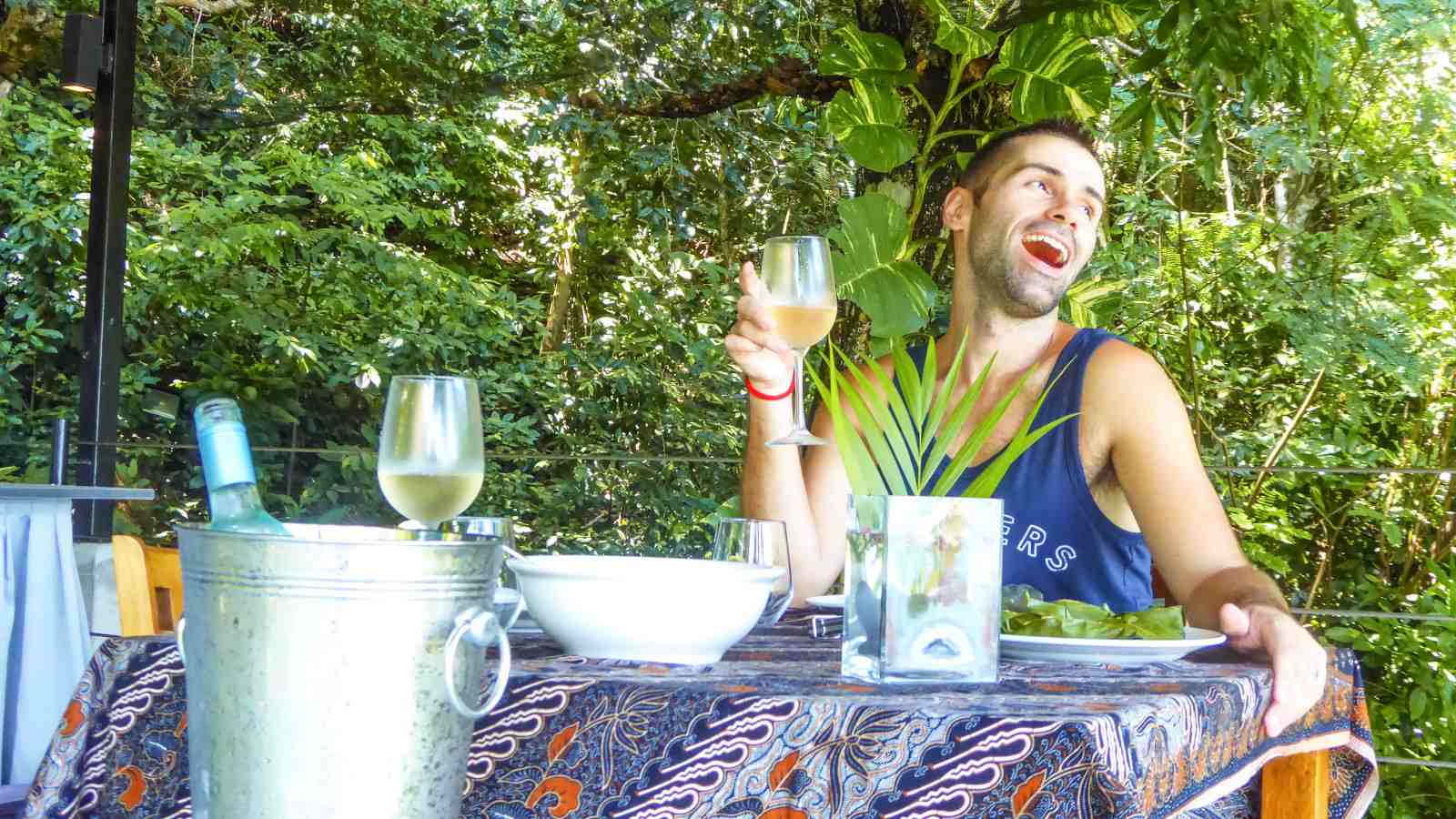 Gay friendly hotels in Langkawi
Langkawi is an extremely liberal island by Malaysian standards. Although there are no gay-exclusive hotels as such, we had a fabulously welcoming experience at all of the places we stayed on the island. Everywhere we stayed, we were treated with total respect and acceptance.
From boutique seaside hotels to rainforest retreats, our experience of this tropical paradise would not have been the same without these beautiful hotels. Langkawi really is a jewel all on its own when it comes to pink travel in Malaysia.
01
Ambong-Ambong Langkawi Rainforest Retreat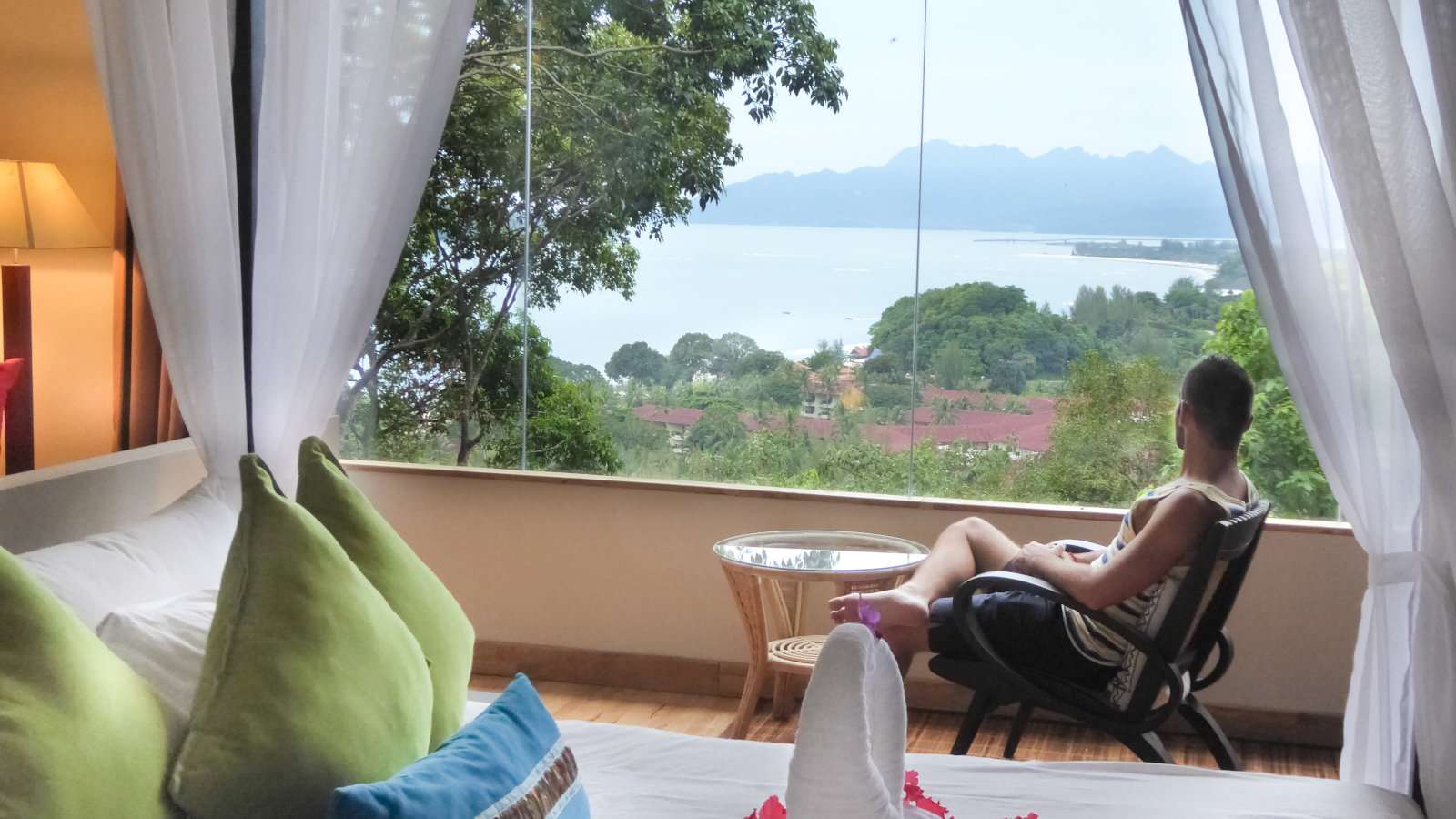 Why we love it
---
Luxurious jungle hotel
Apartments with kitchen facilities
Amazing views
Cheeky monkeys!
Pure luxury in the heart of the rainforest, Ambong Ambong was a dreamy hotel in Langkawi. Not only is this the most romantic hotel we stayed in on the island, but it was by far the most gay-friendly, too.
We loved the fact that we had our own fully equipped apartment here, allowing us to prepare snacks and drinks whenever we felt like it.
The views from our private open-air balcony across the jungle canopy and out over the Andaman Sea were breath-taking. We spent many romantic evenings sipping wine and enjoying the vista! Our apartment was elegantly designed yet also respectful of the local environment, with plenty of bamboo and repurposed wood throughout. The vibe at Ambong Ambong is tropical tranquillity, which is further enhanced with the presence of an on-site spa and pool.
Beautiful Pantai Cenang beach is just a short walk from Ambong Ambong. The beach is home to lots of bars and restaurants, with a chilled scene in general. Ambong Ambong has a lovely restaurant and bar area itself, perfect for a nightcap or a light breakfast before a swim down at the beach.
One of the best parts of our stay here was getting to know the local monkey population! Whenever we spent time chilling on our private balcony, these cheeky but friendly little primates would sidle up to us for a closer look. We wouldn't recommend getting overly touchy with the monkeys here but for any animal lovers visiting Langkawi, the jungle location of Ambong Ambong is a definite bonus.
02
Four Seasons Resort Langkawi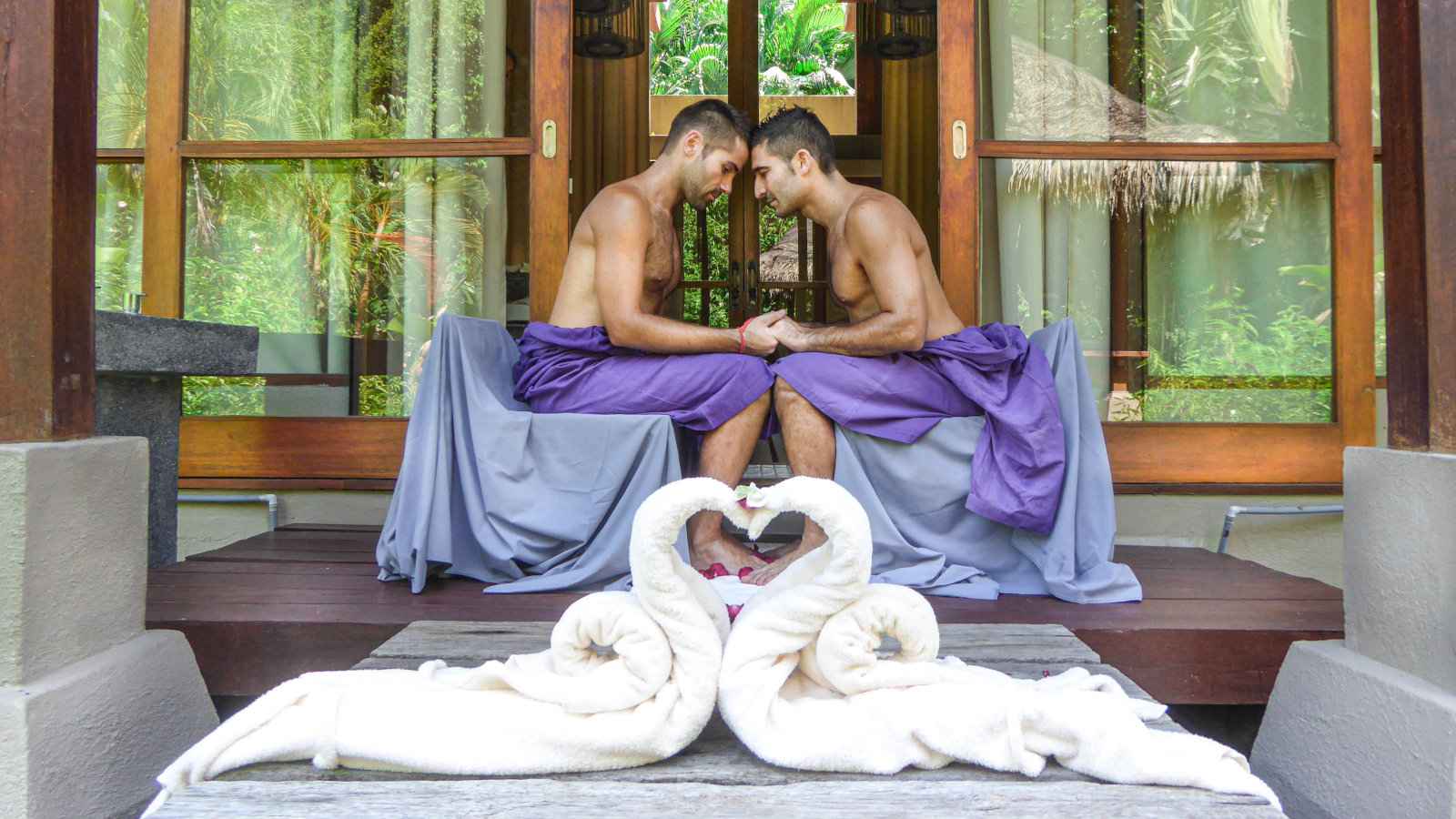 Why we love it
---
Super-luxurious resort
Incredible staff
Private beach
Amazing food
For us, when it comes to romance and luxury on Langkawi island, The Four Seasons just cannot be beaten! By now we are all familiar with these hotels, they are a byword for refinement and elegance the world over.
The Langkawi Four Seasons is no different. Whether we were chilling on the hotel's private beach or relaxing by one of the many pools here, our stay was pure bliss from start to finish.
It goes without saying that the staff here were first-class in every way, with no hint of judgment or reservation whatsoever. That's probably because they are used to LGBTQ visitors as the Four Seasons in Langkawi is beloved by gay travelers.
Still not convinced? Well, the stunning spa area at the Four Seasons was so gay-friendly that the wonderful staff performed a special uniting spirits lovers ritual ceremony for us. Yes, this happened in Malaysia, where being gay is technically illegal. If that doesn't show you how gay-friendly this place is, we don't know what will.
Of course, our room at Four Seasons Resort Langkawi was flawless in every way. From the touches of sheer luxury to the harmonization of rooms with the beachside locale, everything was utterly perfect.
The various restaurants serve delicious local and international food and the cocktails were the best we had anywhere in Langkawi. If you couldn't tell already, this resort is our favorite place to stay anywhere on the island – simply perfect.
03
Bon Ton Resort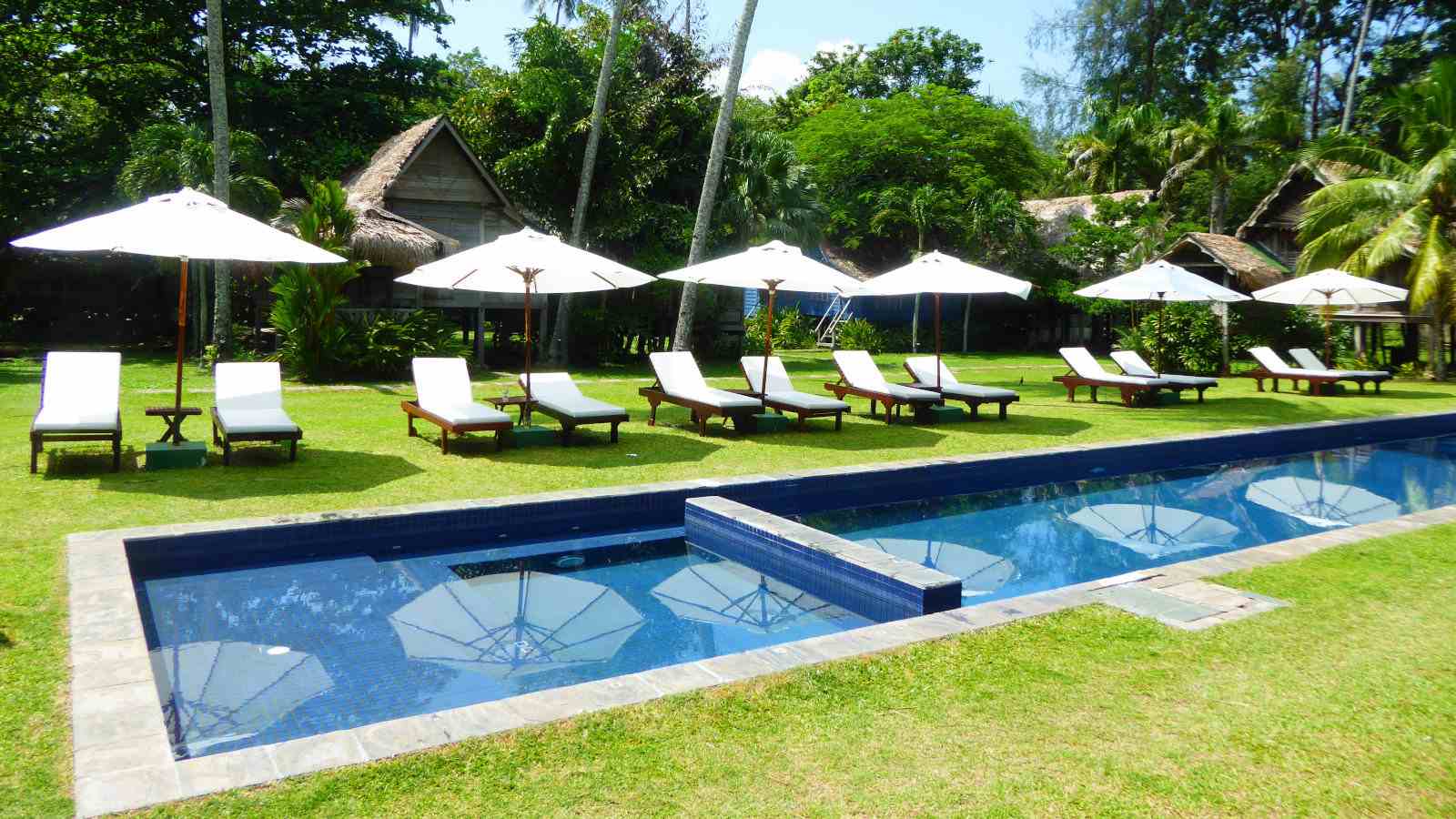 Why we love it
---
Beautiful rooms
Tranquil pool
Liberal staff
Highly attentive
Staying in beachside villas is one of the best ways to spend time in Langkawi. Bon Ton offers eight traditional boutique villas nestled within a 100-year-old coconut plantation. We fell in love with the romantic, tranquil vibe at this resort situated beside the balmy waters of Pantai Cenang beach.
Breakfast was dropped off at our room the night before, allowing us to enjoy our yogurt, cake, bread, fruits and more before a day of exploring.
Like all of the best places to stay in Langkawi, Bon Ton Resort's rooms blend modern convenience with local traditions. We adored the high ceilings of our bungalow, which was made from locally sourced wood and decorated with Malay works of art and sculpture. With that said, the enormous beds covered in luxurious linens provided a welcome touch of comfort to our stay.
Trust us when we say it's all about the pool at Bon Ton Resort. A small but perfectly formed body of water, there are plenty of parasols and sun loungers to relax on in between dips. We loved ordering a fruity cocktail from the on-site bar and spending hour upon hour sunbathing at this tranquil part of the hotel.
Staff at Bon Ton Resort are used to LGBTQ guests and did not show any kind of judgment toward us during our stay. Langkawi is not like the rest of Malaysia when it comes to attitudes and values. For us, the staff at Bon Ton Resort showed the island's people at their progressive best.
04
The Frangipani Langkawi Resort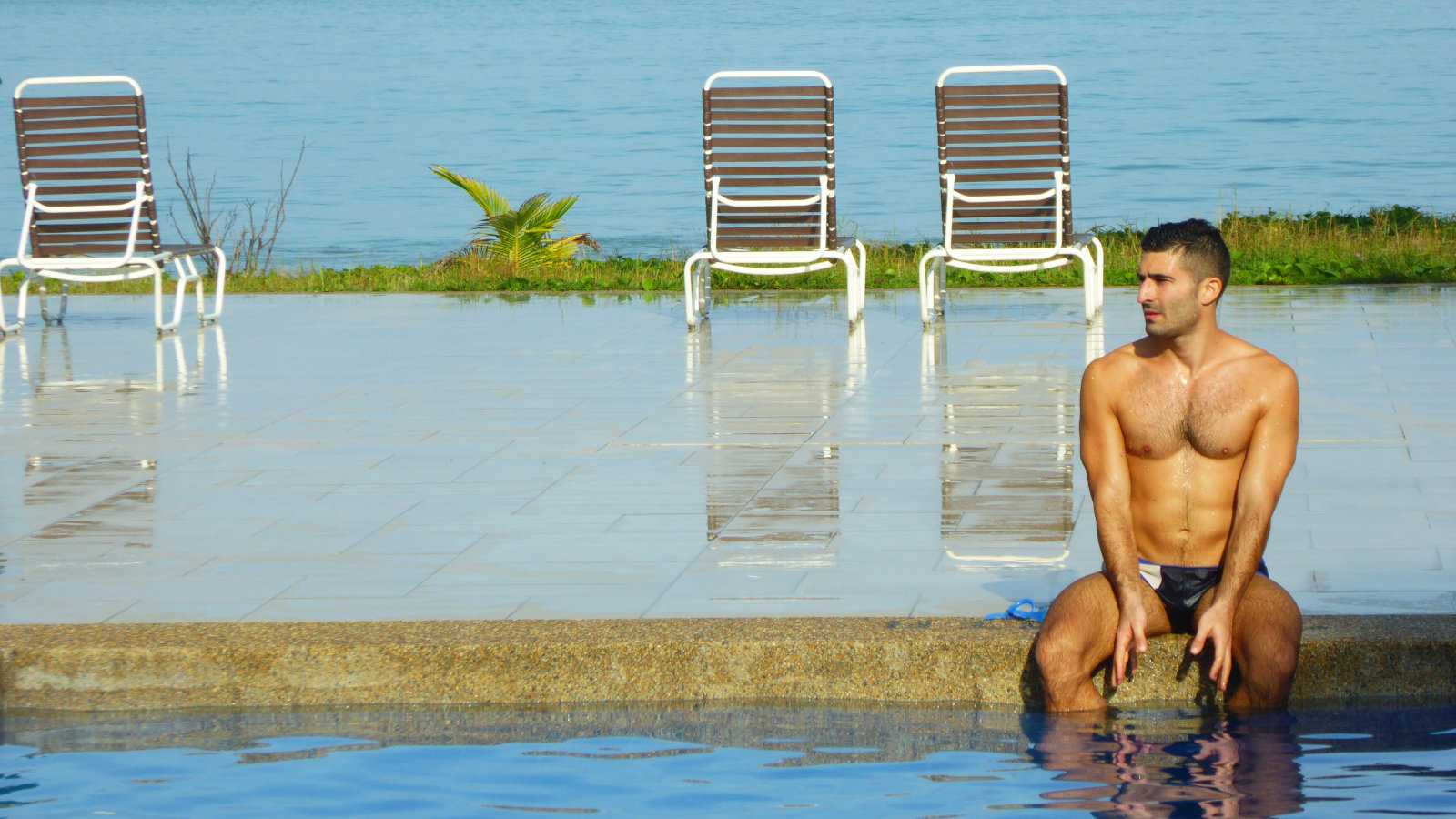 Why we love it
---
Private beach
Modern rooms
BBQ area
Top location
Situated on gorgeous Pantai Cenang, The Frangipani Langkawi Resort and Spa is an absolute dream of a hotel. With a private beach and pool, we felt like true VIPs during our stay here.
You can choose between a private room or an entire villa at Frangipani, yet the truth is that both are just as beautiful. All rooms and villas are designed in a local yet modern style.
There are lots of plants, flowers and art in every space of the hotel to make you feel relaxed and in-tune with this gorgeous paradise island. We particularly loved our en-suite bathroom, which had an open-air shower area that allowed us to enjoy our very own private rainforest shower.
One of the best parts of our stay here was using the hotel BBQ area. Although the restaurant at Frangipani was great, the experience of cooking our own dinner of freshly caught fish whilst overlooking the Andaman Sea is one that will live long in the memory.
The staff at Frangipani Langkawi are known as some of the most respectful and attentive on the island. Nothing is too much for them, whether you have a special request for the room, dietary requirements, or wish to book a treatment at the spa.
For us, one of the best things about Frangipani Langkawi was the location. Not only is the beach just steps away from your room, yet you also have the bars, cafes and restaurants of Pantai Cenang right on your doorstep. This makes Frangipani an ideal destination to explore this stunning section of Langkawi.
05
The Weekend Langkawi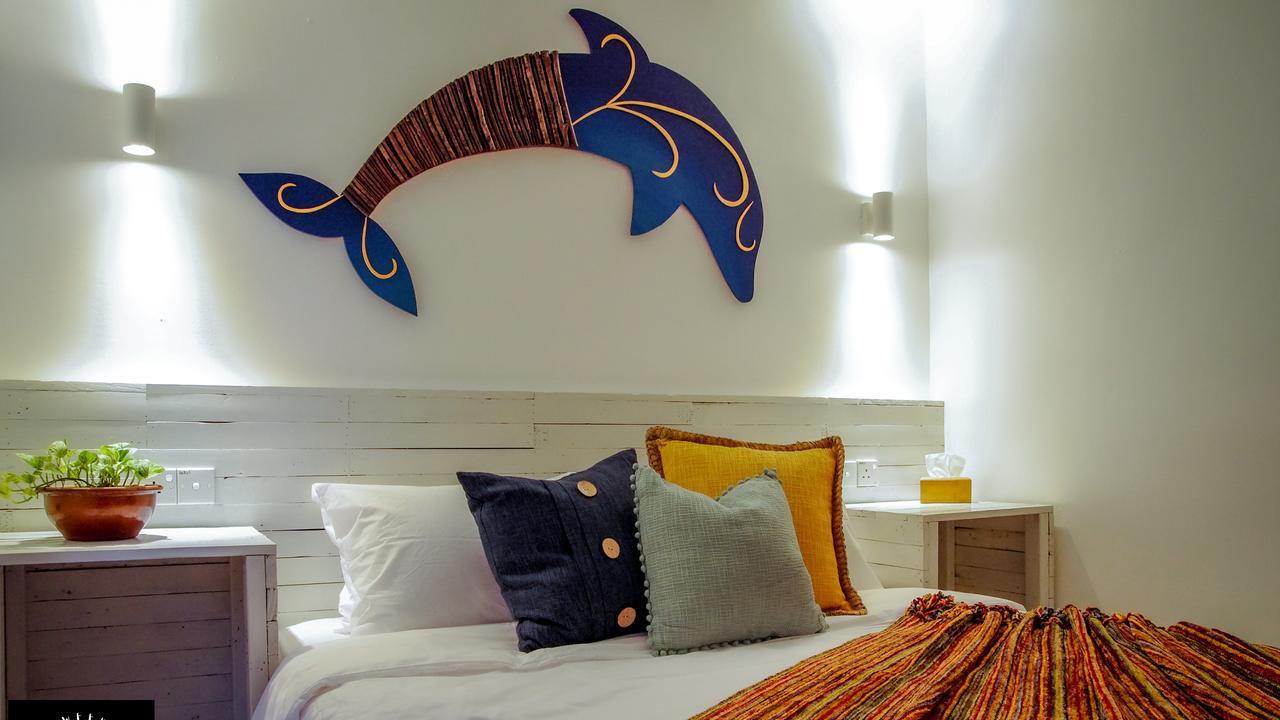 Why we love it
---
Quirky rooms
Delightful hosts
Free bicycle rental
Off the beaten track
Located between two of Langkawi's best beaches, Pantai Cenang and Pantai Tengah, The Weekend is a simple yet funky option for LGBTQ travelers visiting this pearl of an island.
The staff were amazing here. Not only were they incredibly attentive and friendly, our sexuality was not an issue in the slightest. We felt totally at ease staying at The Weekend.
The rooms at The Weekend are decorated in a super-quirky style, with the hosts certainly putting their personal stamp on things. We particularly loved the art in our room as well as the funky lighting and bedspread. This might be an affordable place to stay but it is far from boring!
The outdoor area provided a relaxing place for us to hang out in the day and during the evening. Not only is the pool at this hotel wonderfully clean and quiet, but the poolside bar was a real pleasure. We especially loved eating breakfast on the terrace before heading out for a day of swimming at the beach or exploring Langkawi using the free bicycles that the hotel provides guests with.
In fact, using the free bicycles was one of the best decisions we made during our time at The Weekend. This is because the hotel is situated in a slightly off the beaten track area nearby to a small village. Cycling through the lush countryside and into an authentic Malaysian village was one of the most memorable things about our trip to Langkawi.
Gay bars and clubs in Langkawi
Langkawi is known across Malaysia for its awesome bars and nightlife. Characterized by an inclusive, non-judgemental vibe, we had a ball dipping in and out of the island's many nightlife venues. There is no official gay scene as we know it, but we encountered a number of local gays, who are out of the closet, living happily and very openly within this island society. These are the main bars where we enjoyed having a drink and which attract an open-minded international crowd: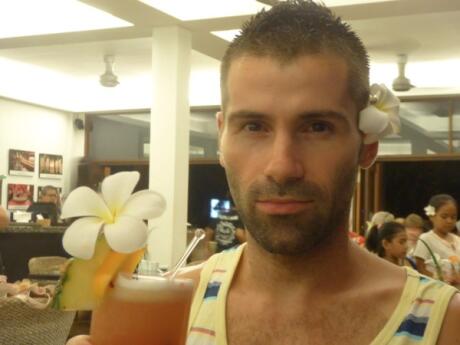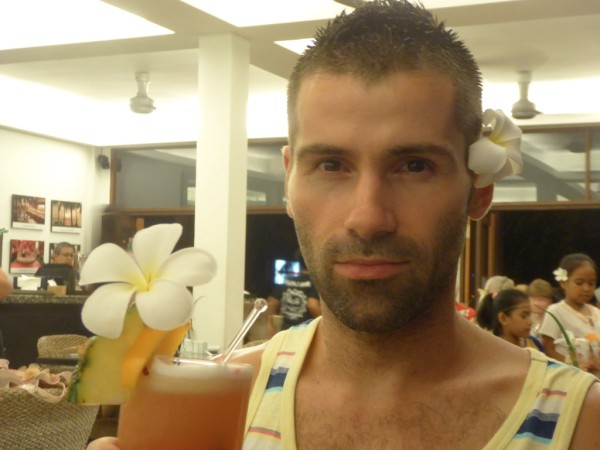 This was our favorite nightlife destination on Langkawi island. Although not officially a gay bar, Sunba is definitely where you will find most of Langkawi's queens having a good time! The music was great, the cocktails delicious and the crowd inclusive. What more could you want from a bar?! Our only complaint would be that because this is a popular but small place, all of the cigarette smoke can make it feel as though you're partying inside a chimney!
Location: Jalan Teluk Baru, Langkawi 07000 Malaysia
Open: Daily from 11pm to 4am
---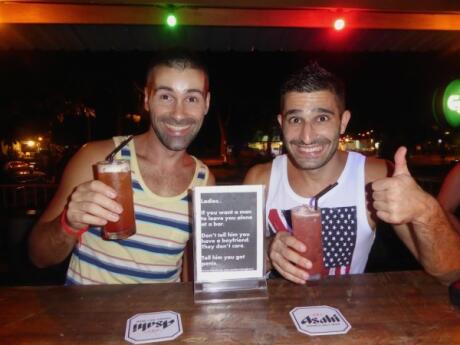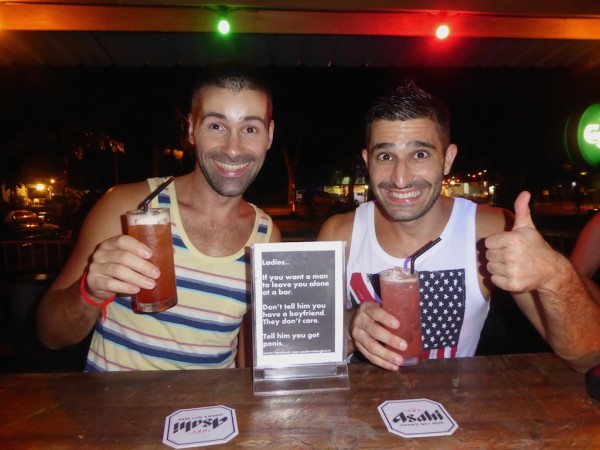 Right by Sunba, One Love is another great place for cocktails around Pantai Cenang, Langkawi's most popular beach. This place, as you might have guessed, plays a reggae soundtrack and we loved the relaxed vibe. With that said, things can get pretty busy here and there is a good chance you will find some local gay boys on the dancefloor towards the end of the night. The staff here are awesome and super gay-friendly, just like the vast majority of people on Langkawi.
Location: Pantai Tengah,Langkawi
Open: Daily from 7pm to 4am
---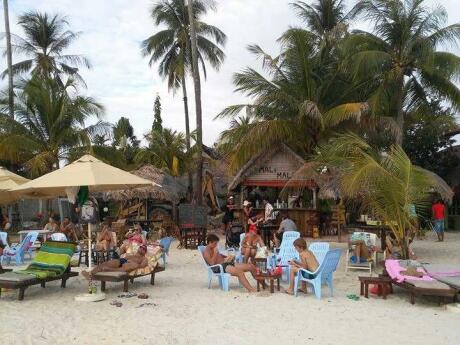 Cold beers down on the sand is the name of the game at this popular beach bar. Things get going early here and don't finish up until very late indeed, meaning this is a great spot to meet some fellow travelers. Mali Mali Beach Bar attracts a diverse crowd, things are extremely gay-friendly here. Most people drink cold beers but the cocktails are super-affordable and delicious for the price, so don't hold back!
Location: Jalan pantai cenang, mali mali beach resort, Langkawi
Open: Daily
---
Gay friendly restaurants in Langkawi
One of the best things about a trip to Langkawi island has to be the food. A mixture of Chinese, Indian and Malay traditions, Malaysian food tends to be pretty fantastic. When you throw in the fact that Langkawi is a paradise island surrounded by tropical seas, you have a recipe for some truly unforgettable food! The seafood on Langkawi is some of the best we have enjoyed anywhere in the world. These are some of our tips for the best places to dine on the island.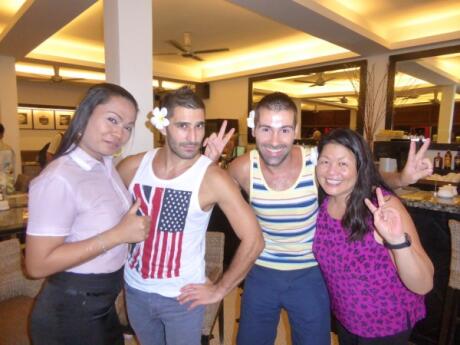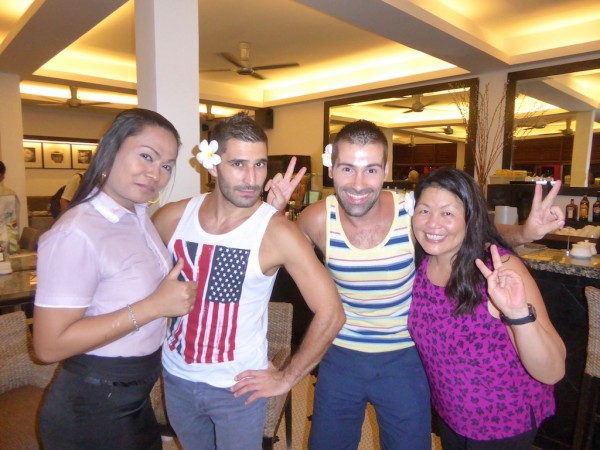 The food at this popular restaurant is fantastic, but what really got us excited was the delightful gay-friendly staff who make you feel like family from the moment you enter the door. Sun Cafe is a popular spot. With such great food and friendly staff, it is not tough to see why. A must-visit for good value meals on Langkawi island, we recommend their Supreme Pizza, Barracuda fillet and delicious chocolate lava cake.
---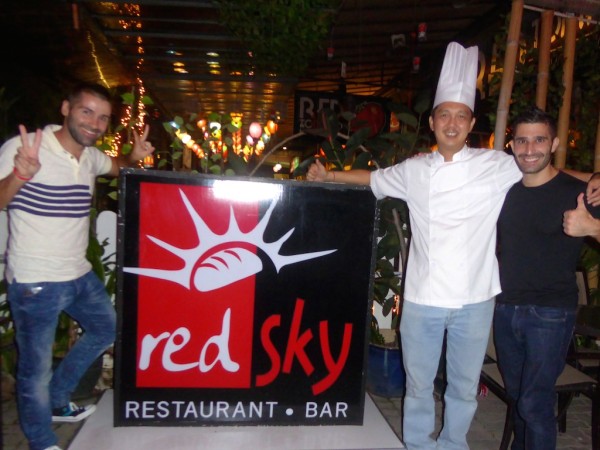 Chef Ben of Red Sky restaurant is a local legend on Langkawi island, and it is not tough to see why. Not only does this guy make some of the most exciting Malay-Western fusion food in the area, but he is one of the friendliest people we met during our stay on the island. Visit this delicious restaurant for inventive treats like durian creme brulee, chicken satay and much, much more.
---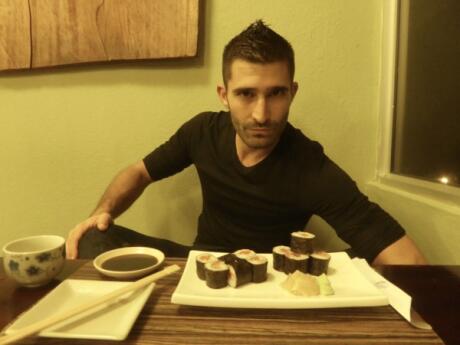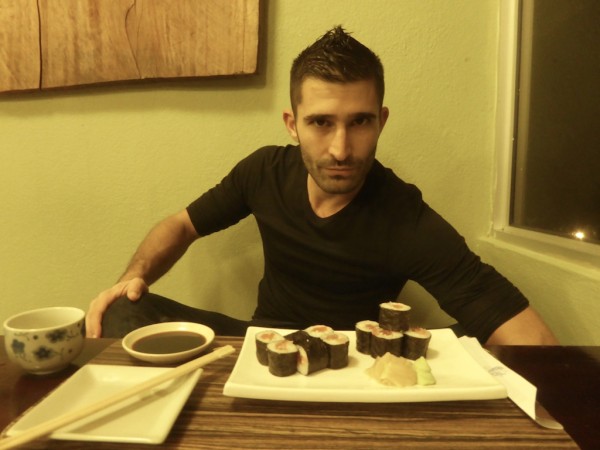 When we fancied something a little different for dinner on Langkawi island, we headed straight to Unkaizan Japanese Restaurant. Located close to the Ambong Ambong resort, this might be a little pricier than most options in Langkawi but boy was it worth it! Fresh fish, perfectly cooked rice and all of the accompaniments, this is some of the best sushi we have had since our travels in Japan. We also recommend trying their homemade green tea ice cream – delicious!
---
Top things to do in Langkawi
Sure, Langkawi is the ideal place to come if you want nothing more than a lazy, tropical getaway. However, this island paradise is also home to some seriously exciting activities for LGBTQ travelers to enjoy. Whether you're an adrenaline junkie or a nature buff, Langkawi is filled with exciting options to make the most of your time on the island. Let's take a look at a couple of our top things to do in Langkawi to inspire your travel planning.
Romantic Sunset Cruise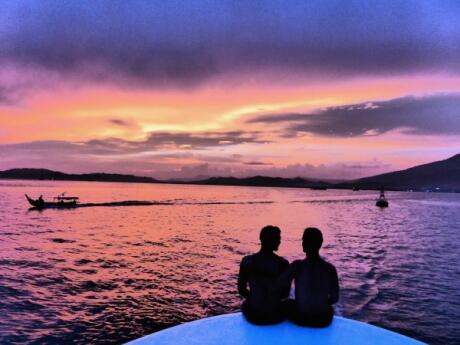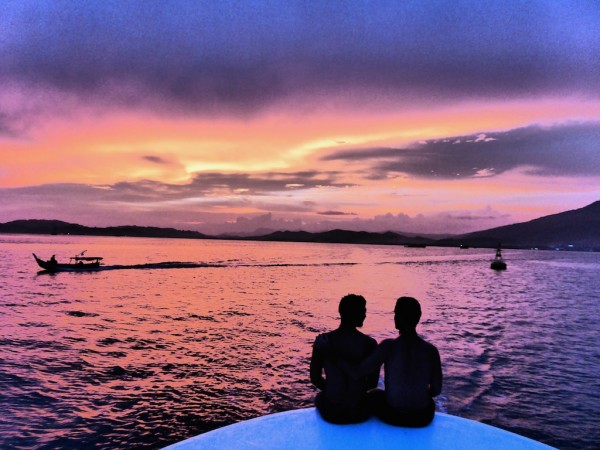 A sunset boat cruise was one of the best things we did in Langkawi – just so romantic! The best to choose is the German-owned Damai Indah. Captain Eva welcomed us with open arms as a gay couple, proudly telling us she identifies as an Ally! The cruise itself was just fantastic…just true luxury all afternoon! The Damai Indah only takes a handful of people onboard to ensure a personable service. Being a small yacht, it has the benefit of being able to access the more secluded beaches, which the larger tour boats cannot. We cannot recommend Damai Indah highly enough. From the delicious food onboard to the super charismatic Captain Eva, this was one of our #1 standout highlights from our trip in Langkawi.
---
Learn to cook with the best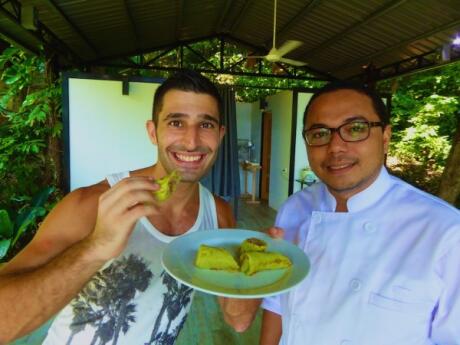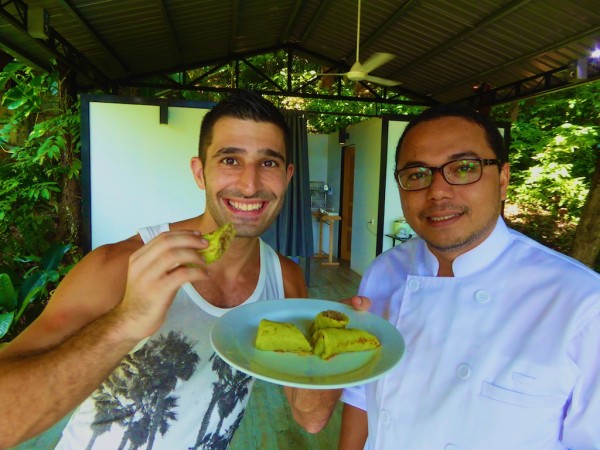 Malaysia is all about food. Malaysians of all races will proudly tell you all about the different foods you can go face down in. Naturally, we were only to happy to listen. A cooking course in Malaysia is a must! While staying at the awesome Ambong Ambong, we did a cooking course with celebrity Chef Anuar Hassan, learning to cook fish cakes wrapped in banana leaves, chicken rendang and pandan pancakes. The ingredients were picked fresh from the herb garden of Ambong Ambong. This is a must for any foodies travelling to Langkawi!
---
Cycling through Langkawi's countryside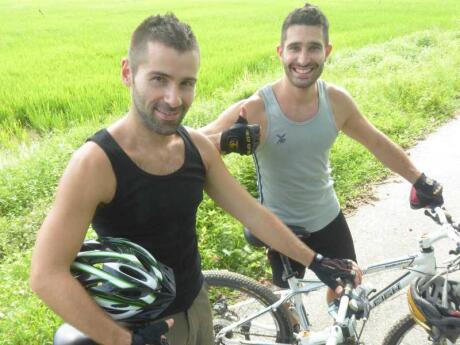 Langkawi has a large patch of rainforest and paddy fields. As a tourist, it's easy to miss this staying in your resort or beach all day long. A cycling tour is one of the best ways to see more of the island. We found Dev's Adventure Tours on Tripadvisor who have mainly excellent reviews, and for good reason! Our guide, Khirien is a local, who took us out as a group of 5 people on sturdy mountain bikes. We cycled through the jungle countryside and paddy fields of Langkawi. It's got some stunning scenery, just begging to be photographed!
---
Langkawi cable car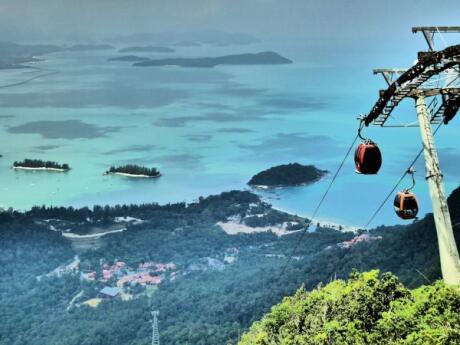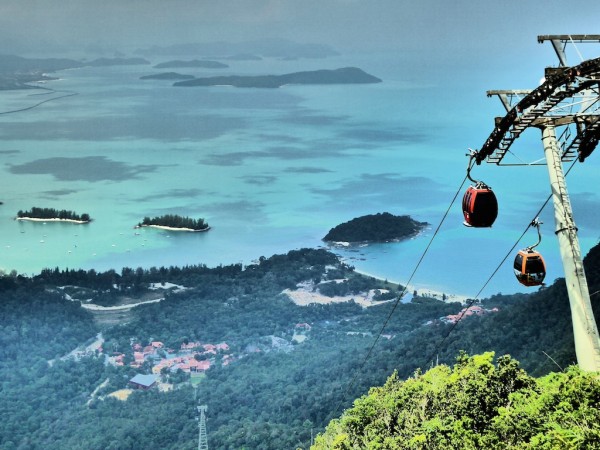 Langkawi's famous cable car, officially called the Panorama Langkawi SkyCab, was one of our most memorable experiences on this tropical island paradise. The views from atop Mount Machinchang took our breath away and at over 700 meters high, the cable car experience itself was a thrill. The 2.2km ride up the mountain gets better and better as you go, just don't look down if you're even a little bit afraid of heights!
---
Geopark and Cave Tour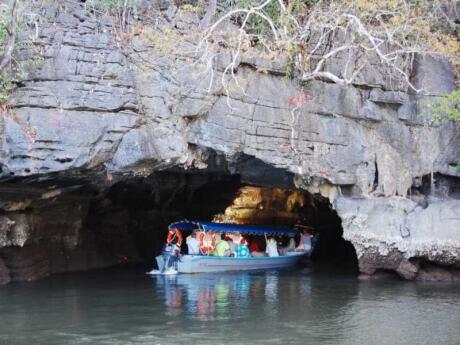 A visit to the UNESCO-protected Mangrove Kilim in Langkawi is an absolute must for any visitor looking to get closer to the island's natural environment. We will never forget the amazing boat tour along the Kilim River and our encounters with wildlife such as stingrays and eagles. With beautiful limestone rock formations and lush hillsides all around, this was one of the most relaxing parts of our trip to Langkawi.
---
Plan your trip to Langkawi
We've put together some handy hints and tips to help you plan your own trip to Langkawi. Read on to find out everything the gay traveller should know before they go.
How to get there: Since Langkawi is an island, you can only reach it by boat or plane. Many international carriers offer very affordable flights to Langkawi, so that's the best way to get there. Once you arrive, there's no public transport from the airport, so you'll need to get a taxi or, our favourite choice, pre-book an airport transfer to your hotel. That way you can skip the often very long taxi lines and head straight to your accommodation with an English-speaking driver.
---
Visa requirements: Citizens of many countries (including the United States, United Kingdom, EU members, Canada and Australia) can visit Malaysia visa-free for up to 90 days as a tourist. Make sure you check your personal visa requirements before making any arrangements to visit Langkawi.
---
Getting around: As we've mentioned, there's no real public transport system on Langkawi, so to get around and explore you'll need to get a taxi, join a tour, rent a scooter or hire your own car.
---
Power Plugs: Malaysia uses the same power plug and socket type as the United Kingdom. If you are travelling to Langkawi from any other country then you will need to bring a travel adaptor with you to charge your devices.
---
Travel insurance: We recommend getting travel insurance to all travellers to Langkawi. You never know when you might need to deal with theft, cancellations or illness, but travel insurance ensures you're protected in the case of mishap. We've been using World Nomads Travel Insurance for years and cannot recommend them highly enough. Their coverage is very comprehensive and it's easy to make a claim online if you need to.
---
Safety and Security: Even though Langkawi is a relatively safe destination, it's always possible you might encounter danger when travelling and need immediate assistance. We like to use the CloseCircle "virtual bodyguard" app when we're abroad, as they can provide support or security alerts wherever you are. Their service covers everything from advice to evacuation in the case of weather emergencies or other unforeseen events. Read more about why we love CloseCircle in our article on how travellers can stay safe.
---
Vaccinations: All travellers to Malaysia should be up to date with routine vaccinations like measles, mumps and chickenpox. Most travellers should also be vaccinated for hepatitis A and typhoid. Some travellers may also need vaccinations for hepatitis B, cholera, Japanese encephalitis, malaria, yellow fever and rabies, depending on what you'll be doing. Check the CDC website for the most up to date info and also consult your doctor or travel nurse before you start making arrangements to visit Langkawi.
---
Currency: The currency used in Langkawi, and the rest of Malaysia, is the Malaysian ringgit. The currency code is MYR and the symbol is written as RM. Currently, $1 USD is worth around RM4.20, €1 converts to about RM4.93 and £1 to around RM5.48.
---
Tipping culture: Malaysia does not have a strong tipping culture so you never need to feel forced to tip. However, if you do want to tip for good service, it probably won't be refused or found insulting as it might in some other countries. Here's a guide on tipping in Malaysia if you do want to tip and wish to know how much.
---
Internet access: Most hotels, resorts, restaurants and bars on Langkawi have reliable WiFi, while there are also free WiFi hotspots all over the island. If you will need reliable internet access for work then we recommend bringing a portable WiFi device with you.
---
Online privacy: While Malaysia is not a particularly gay friendly country overall, you won't find gay dating apps like Scruff or Grindr being blocked. If you do want to keep your online activities private, then we recommend using ExpressVPN. It's an affordable and reliable way to browse the internet anonymously.
---
Accommodation: If you're looking for more accommodation options on Langkawi then we definitely recommend using Booking.com. They have so many great options to choose from, many places with free cancellation if needed. Their online customer service is excellent and available 24/7, plus it's super easy to book online.
---
Sightseeing and adventure: We also recommend using GetYourGuide to find all sorts of fun activities and tours to do on Langkawi. They have a very easy-to-use online booking system as well as attentive 24/7 online customer support.
---
When to visit: Langkawi experiences three main tourist seasons, based on the weather. High season between January and March is the dry season, when there isn't as much rain or storms but it's also the busiest period. The mid season between April and August is also a good time to visit, as there may only be a little rain but prices are slightly lower. The low season is the cheapest time to visit but then you also have to deal with lots more rain and rough seas.
---
Gay map of Langkawi
Here's our gay map of Langkawi so you can see all the places we've written about in this guide. We hope it's useful for you to plan your own fabulous trip to Langkawi!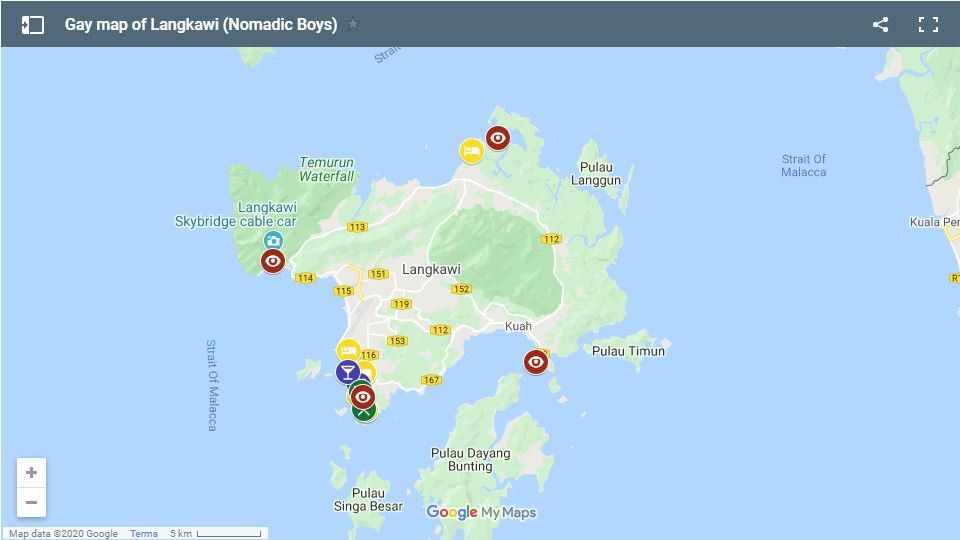 For more about our adventures through Malaysia, please check out our Malaysia travel video:
---