For most gay travellers, Muslim countries like Malaysia are not necessarily high up there of places to visit. Technically, under Malaysian law, we're seen as criminals and this ungodly practice (!) of ours becomes very hush hush and hidden away.
But get to Langkawi and a whole new way of thinking kicks in.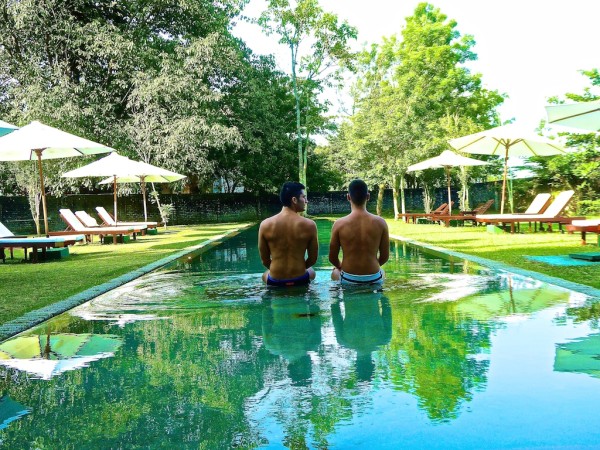 There was us thinking we would not be welcomed if we rocked up as gay travel bloggers promoting pink tourism in Langkawi. But to our surprise, every single place we visited in Langkawi was very enthusiastic and excited to welcome us as a gay couple visiting their shores.
In any case, Langkawi has always had a reputation as being more liberal and relaxed than mainland Malaysia. For example, its politicians have always fought to maintain its duty free status (a savvy move, which has helped boost tourism a great deal over the years).
Following our 2 weeks on Langkawi, here's what we thought of her, in our gay friendly travel guide of Langkawi.
SO WHERE EXACTLY IS LANGKAWI?
Langkawi is an archipelago of 104 islands in the Andaman Sea, located in the state of Kedah, 30km off the mainland coast of Northwestern Malaysia near the Thai border.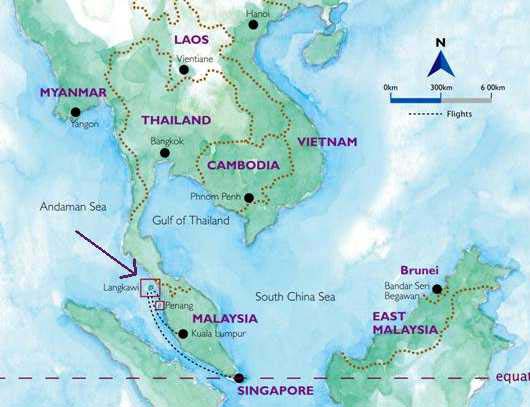 It was officially renamed Langkawi Permata Kedah, meaning Langkawi the Jewel of Kedah, as part of the golden jubilee of the Sultan of the Kedah State in 2008. But on 14th June 2015, this nickname was temporarily hijacked and stolen by Sebastien when he arrived on the island…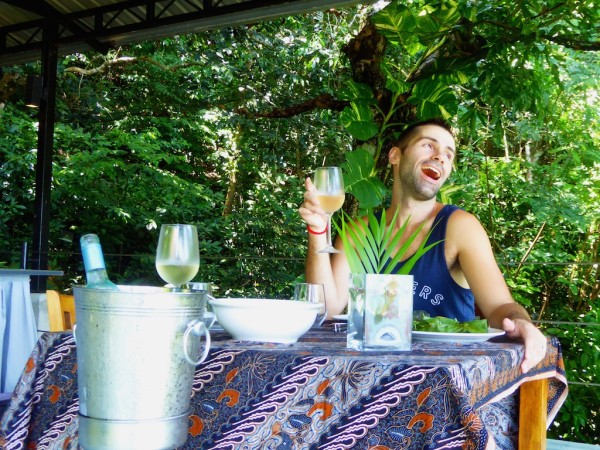 We stayed on the largest island in the Langkawi archipelago called Pulau Langkawi (Pulau means island in Malay), which has some great beaches with some very dramatic waves.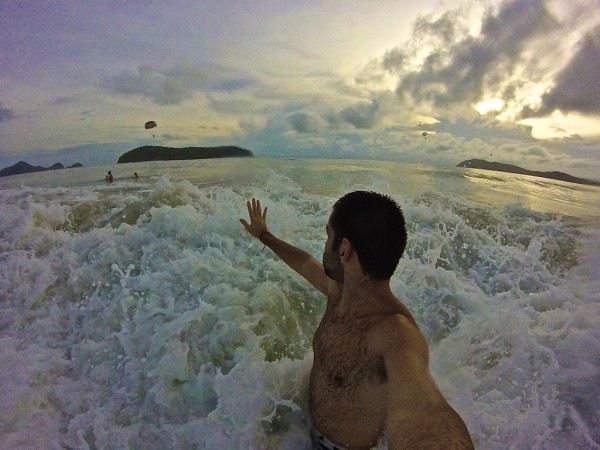 FABULOUS PLACES TO STAY IN GAY LANGKAWI
We stayed at a variety of beautiful and very gay friendly places during our stay on Langkawi island:
The most romantic and gay friendly place to stay in Langkawi.
Located in the middle of the jungle on a hill, the private luxury apartments offer stunning views across the island and the Andaman Sea from their private open-air balconies.
Prices start from $180 / £120 for a private studio.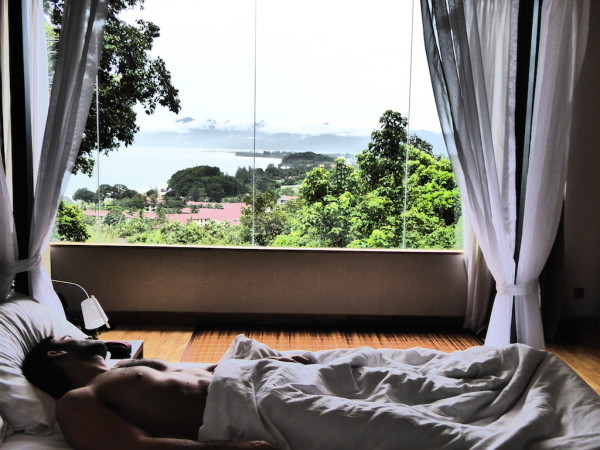 Chic and gay friendly boutique hotel split into two parts and made from antique restored villas.
One of the best outdoor swimming pools we've encountered in our travels. It is made from concrete, giving it an earthy and very natural feel.
Prices start from $110 / £70 for a double bed.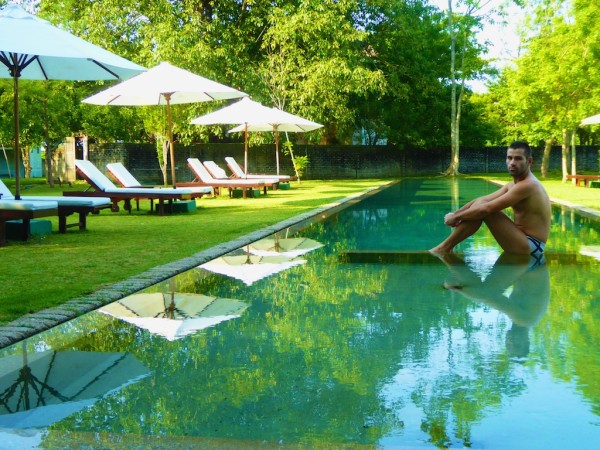 Excellent eco friendly resort, located right by the beach.
Offering both mid range options and luxury suites with a private Jacuzzi:
The Frangipani also has a gym for fitness enthusiasts as well as a chlorine and salt-water swimming pool, great for pre buffet breakfast laps.
Prices start from $120 / £80 for a double bed.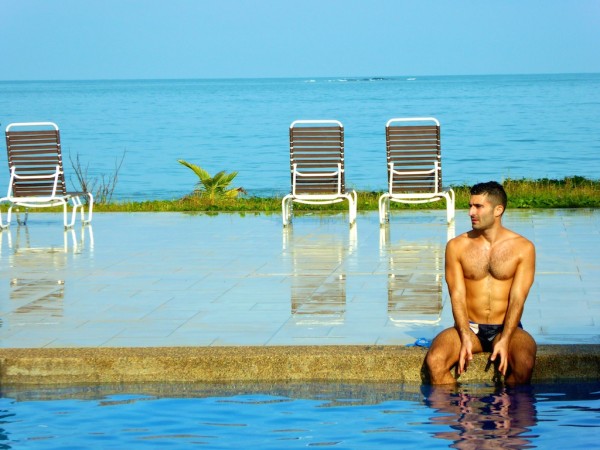 STUNNING luxury hotel on Langkawi – the best and most romantic in our opinion.
Super gay friendly: despite being in Malaysia, staff are accustomed to LGBTQ travellers and we found everyone here to be very welcoming to us.
Massive pool! Both indoor and outdoor. THIS is where you want to be hanging out for your holiday in Langkawi.
A DIVINE spa where they did a uniting spirits lovers ritual ceremony for us. Yes THIS happened in a country where being gay is illegal! That's how gay friendly this hotel is: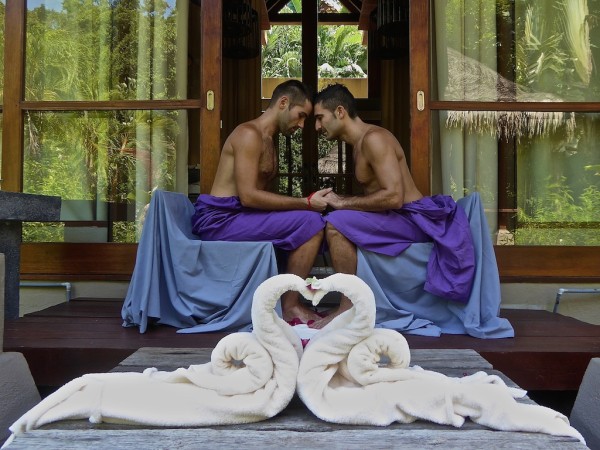 BARS AND CLUBS IN GAY LANGKAWI
There is no official gay scene as we know it, but we encountered a number of local gays, who are out of the closet, living happily and very openly within this island society.
Sunba was the main gay hangout, located on the Southwestern part of the island. It attracts a variety of expats as well as locals. It's not officially a gay bar, but seems to attract the majority of local gays.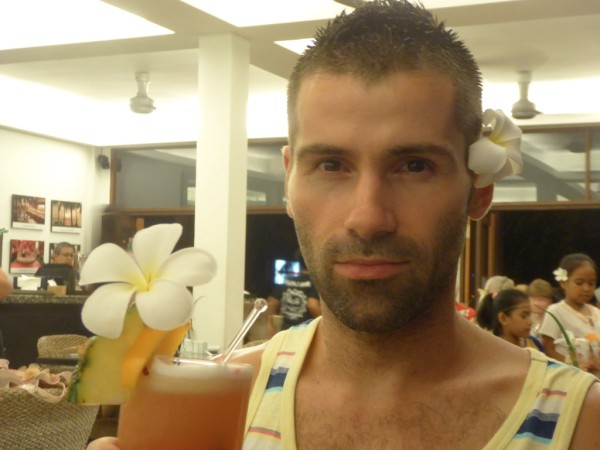 One Love is a bar almost opposite Sunba with very friendly staff and great cocktails. Like Sunba, it's not officially a gay bar, but we noticed many local gays gathering on the dance floor later in the evening.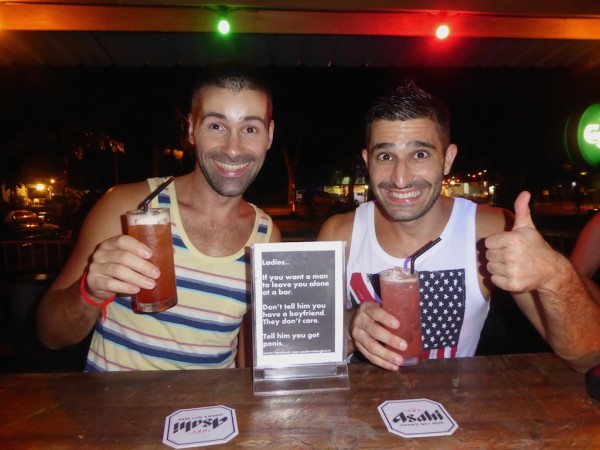 WHERE TO EAT IN GAY LANGKAWI?
Sun Café: the staff here are really friendly and make you feel like family from the moment you set foot in the door. We recommend their Supreme Pizza, Barracuda fillet and delicious chocolate lava cake.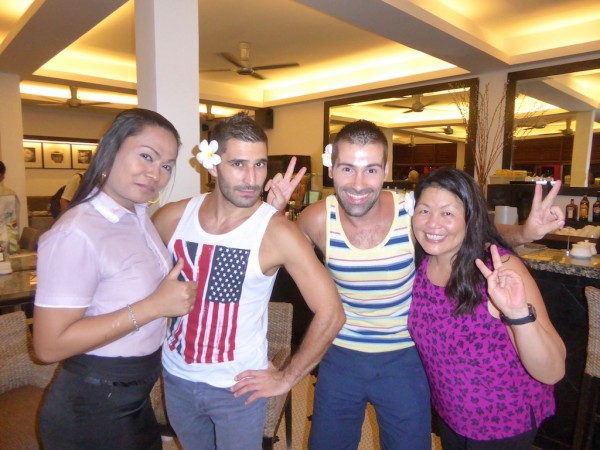 Red Sky: is headed up by the very friendly Chef Ben who specialises in fusion Malay and Western food like durian crème brûlée. The lamb shank is popular and for good reason.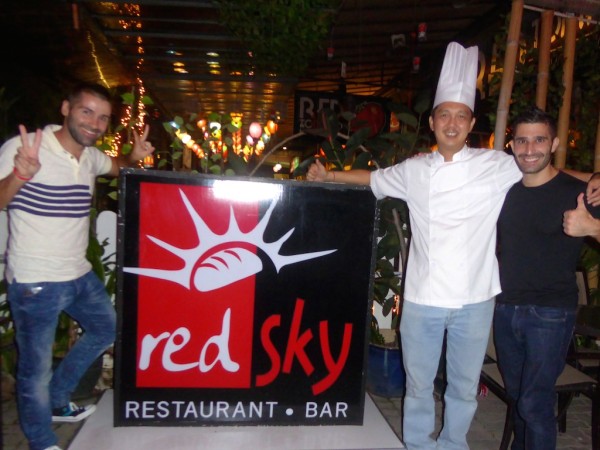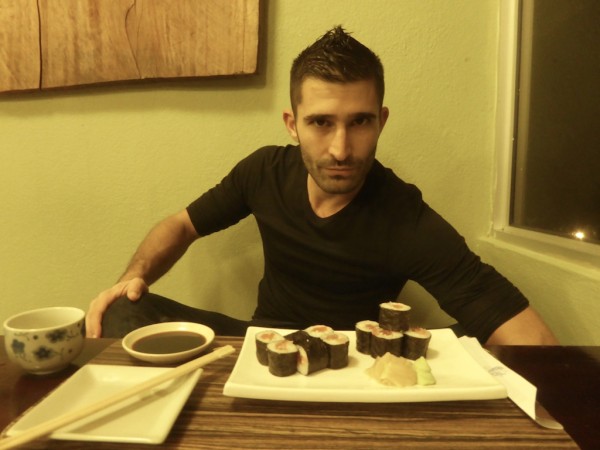 GAY FRIENDLY ACTIVITIES ON LANGKAWI ISLAND
There's so much to do on Langkawi to keep everyone of all budgets and ages entertained.
1. ROMANTIC SUNSET CRUISE
Boat cruises around the island are very popular and there are a number of companies to choose from. The following are the ones we encountered who were willing and open to receive us on board as a gay couple.
Damai Indah sunset cruise: an excellent option for couples looking for a luxury and romantic sunset boat experience. The Damai Indah only takes a handful of people on board and being a small boat, can access more secluded beaches, which the larger tour company boats cannot.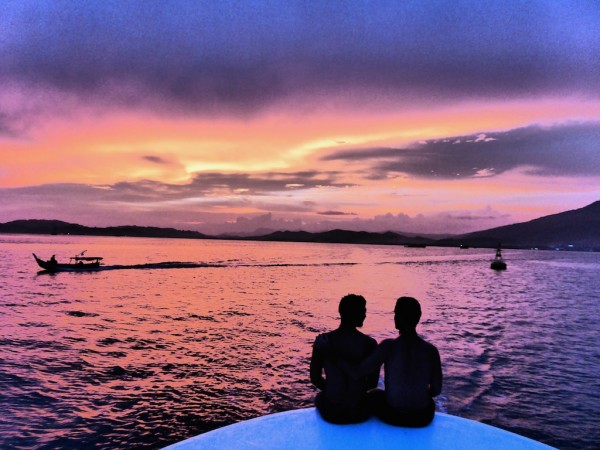 We cannot recommend Damai Indah highly enough: the crew on board are so friendly and welcoming, particular the very charismatic German owner Eva. The food on board was also delicious.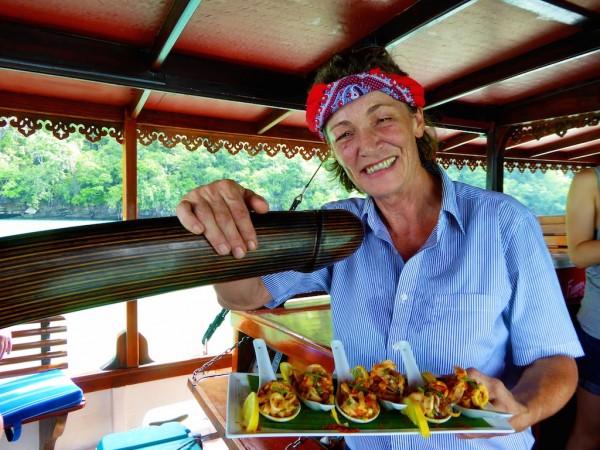 Tropical Charters: offer good budget tours for up to 60 people as well as boarder ferry crossings to our favourite Thai island, Koh Lipe.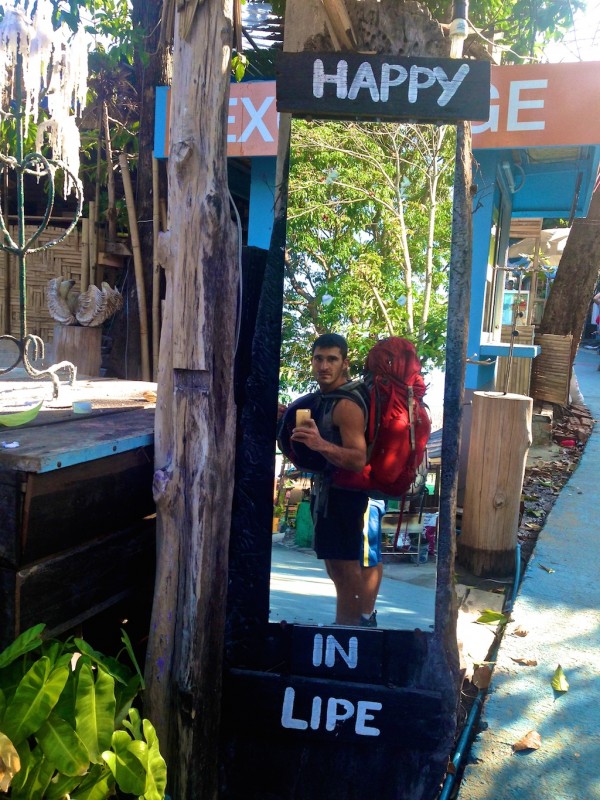 2. LEARN TO COOK WITH THE BEST
Malaysia is all about food. Malaysians of all races will proudly tell you all about the different foods you can go face down in. Naturally, we were only to happy to listen.
A cooking course in Malaysia is a must and while staying at the awesome Ambong Ambong, we did a cooking course with celebrity Chef Anuar Hassan, learning to cook fish cakes wrapped in banana leaves, chicken rendang and pandan pancakes. The ingredients were picked fresh from the herb garden of Ambong Ambong.
This is a must for any foodies travelling to Langkawi.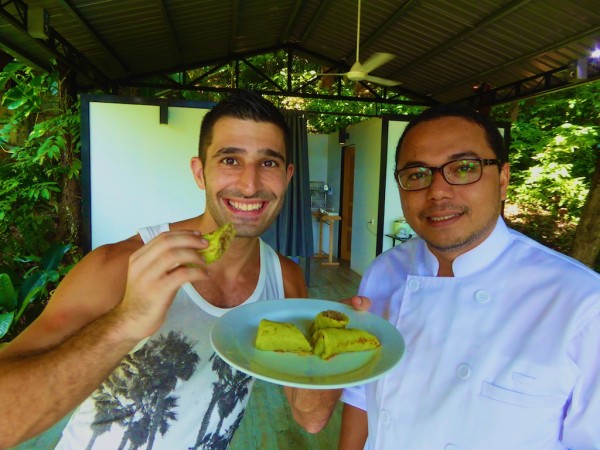 3. CYCLING THROUGH LANGKAWI'S COUNTRYSIDE
Langkawi has a large patch of rainforest and paddy fields. As a tourist it's easy to miss this, staying in your resort or beach and a cycling tour is one of the best ways to see more of the island.
We found Dev's Adventure Tours on Tripadvisor who have mainly excellent reviews and for good reason! Our guide, Khirien is a local, who took us out as a group of 5 people on sturdy mountain bikes.
We cycled through the jungle countryside and paddy fields of Langkawi. It's got some stunning scenery, just begging to be photographed: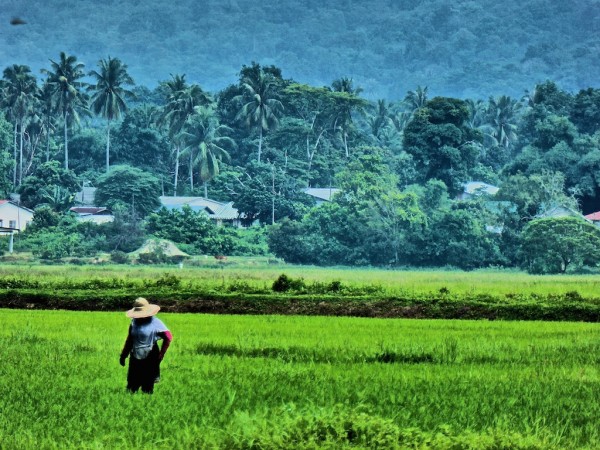 We also stopped at several local markets along the way to try a variety of yummy Malaysian prizes like nasi lemak (rice cooked in coconut milk and topped with shrimp paste), rambutan fruit and other lovely delights: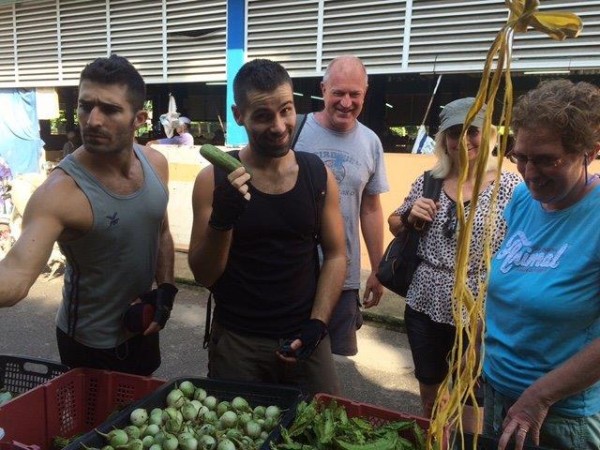 4. PANORAMIC VIEW OF LANGKAWI
The Langkawi cable car and Sky Bridge is a fun day out with some great views across the island and surrounding archipelago from 700 metres high on Mount Machinchang. It is reached by car rental (if using) or taxi.
Admission is 35 ringgits per person (around £6 / $9) and a further 5 ringgits (£1 / $1.5) to cross the sky bridge at the top. It gets quite busy, but the views from the top make it worthwhile.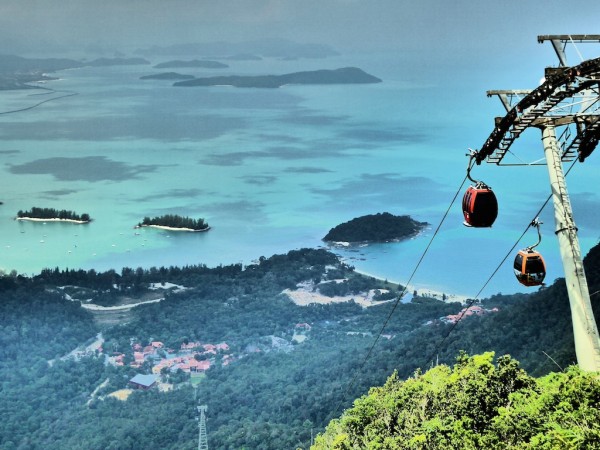 5. A DAY OF ROMANCE AND LUXURY AT THE BEST SPA ON LANGKAWI
The Four Seasons Langkawi Hotel has an excellent Geo Spa offering treatments, inspired by the ancient healing energies of the nearby Geopark.
We tried the signature massage, Urut Melayu. This is an ancient Urut-inspired technique used by Malays for generations to relieve tension and unify the mind with the body.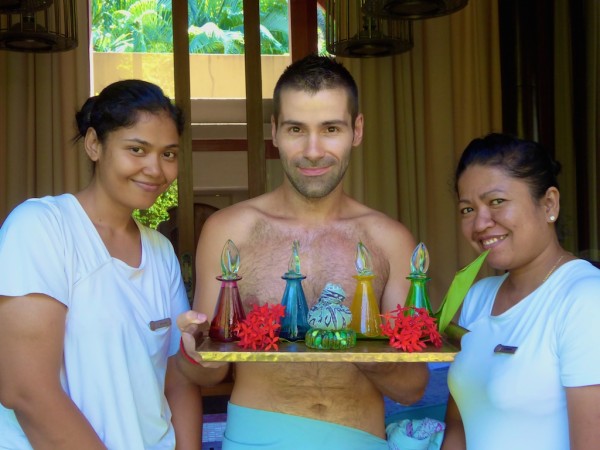 After 60 minutes of pure bliss, the massage was followed by the 'Raja Ratu' (meaning King and Queen) ritual.
The Raja Ratu is a bonding ceremony, where two spirits are unified by the sound of chants, with flower petals decorating the lovers, symbolising their love for each other.
A truly special and unforgettable moment and proof that Langkawi is surprisingly very gay friendly!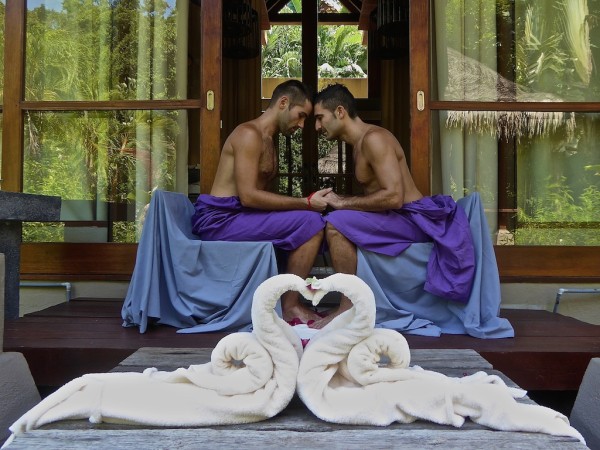 For more about our adventures through Malaysia, please check out our Malaysia travel video:
Happy travels are safe travels
We recommend you always take out travel insurance before your next vacation. What happens if you suffer from illness, injury, theft or a cancellation? With travel insurance, you can have peace of mind and not worry. We love World Nomads travel insurance and have been using it for years. Their comprehensive coverage is second to none and their online claims process is very user friendly.
PLEASE PIN ME: