TERMS OF USE: There is a chance that some of the content on this page has changed since it was last updated. By reading this article, you consent to our Terms of Use and Disclaimer. Happy Travels!
DISCLOSURE: Some of our posts may contain affiliate links which we may receive a commission if you choose to book something through one of our links.
Our complete gay friendly travel guide to Sandakan from our first-hand experience as a couple. Including practical safety tips, places to stay, and top things to do in the area.
"Stefan, if I get one more mosquito bite I swear I'm going to $*!@%$£"
…proclaimed my dear sweet loving Frenchman. It was actually Seby's idea to head to this extreme edge of Malaysia on Borneo Island. He's so passionate about nature and wildlife that a visit to Sandakan and the Kinabatangan River with all its jungle allure was a no-brainer. But with the jungle climate comes the inevitability of all those pesky mosquito bites…
A small price to pay for what is one of the most wonderful places you can visit in Southeast Asia. Sandakan is not only the gateway to the jungle life along the Kinabatangan River, but also to the spectacular tropical underwater world around Turtle Island, and more!
In this blog post, we've set out all our adventures and discoveries in Sabah's second city, Sandakan, following our trip here as a gay couple. Obviously being part of a country with a strong anti-LGBTQ sentiment, safety for us is paramount, which we discuss in more detail. Just don't come here expecting to find parties – save that for Kuala Lumpur or Singapore. This trip is all about nature, wildlife…and fending off all those irksome mozzies!
Gay dating apps in Sandakan
Gay dating apps such as Grindr or Scruff are illegal and blocked in Malaysia. We found the best way to get around this is to use a VPN which will give you full access to the dating apps and will allow you to surf the Net anonymously.
Is Sandakan safe for gay travelers?
We felt safe here as a gay couple. The people of Sabah are so sweet, friendly, welcoming, and curious towards foreigners that whether you're straight or gay, you will feel welcome. That being said, this is still an extremely conservative part of the world. Even straight couples don't express themselves publicly. We always avoid PDAs when traveling in such places and don't go around shouting our love – although we rarely do this anyway back home!
That being said, this is still a country with an anti-gay law in place. Open-minded locals will tell you that this law is a load of rubbish and is rarely enforced. Whilst this is true, the reality as a gay couple walking the streets in a place with an anti-gay law in place is that you always feel like you have to conform, "act straight", and be extra cautious.
So yes it's safe, but as long as you keep certain things to yourself!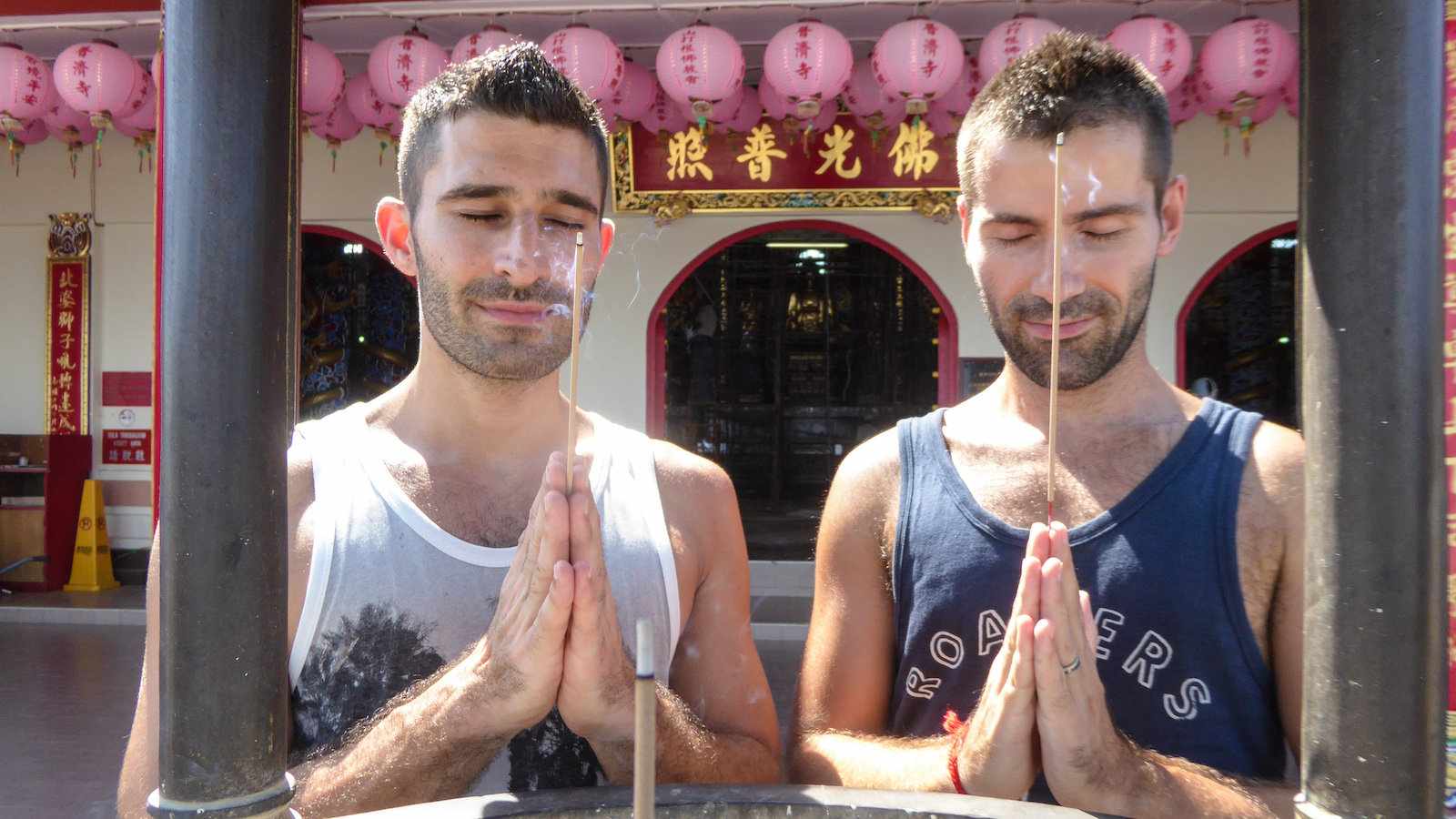 Gay friendly hotels in Sandakan
We'll be honest, when it comes to gay-friendly hotels in Sandakan there are few. This is more to do with demand rather than anything else because most travelers heading here only want to stay for one night and then head over to the Kinabatangan River. The most popular option used to be the Four Points Sheraton – a brand you know welcomes gay travelers – it certainly welcomed us when we came here! However, the building owner for the Sheraton closed the hotel and it's not sure if it will reopen so we've included a few more options that locals gay friends of ours in Sandakan have recommended.
We've also included The Last Frontier Resort, which is where we stayed in the Kinabatangan River. Highly recommended – super gay friendly, and if you reach out to the owner, Jason, he'll help you out with anything you need in Sandakan and beyond.
01
The Last Frontier Boutique Resort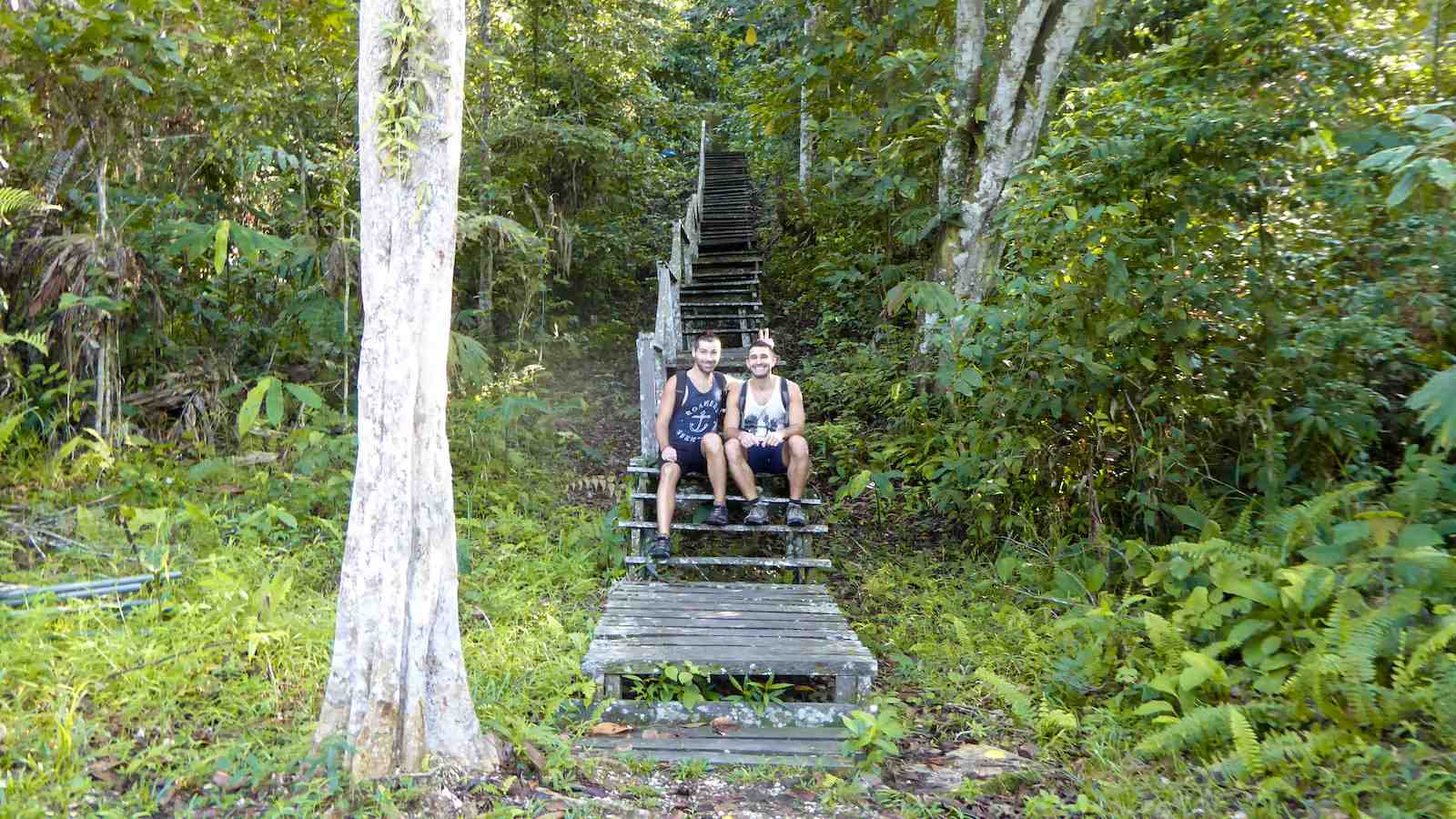 In a nutshell
---
Boutique gay-owned accommodation in the heart of the jungle
Excellent packages to explore the Kinabatangan Forest Reserve
Delicious Asian-Belgian fusion food
See loads of animals up close in the wild!
The Last Frontier Boutique Resort isn't actually located within Sandakan, but we include it because it's an absolutely terrific experience and as a bonus, it's gay-owned. Most travelers to Sandakan will be looking for the best way to experience the Kinabatangan River – and this is it in our opinion!
You can book packages to stay here that include your room, all meals as well as tours of the surrounding Kinabatangan Forest Reserve. It's also owned/run by lovely gay couple Gert and Jason, so we felt totally at ease to be our fabulous gay selves.
When you first arrive you do need to walk up a lot of stairs to reach the resort, as it's located on top of a hill, but the staircase means that the natural terrain of the forest is undisturbed. Lots of care and consideration has been taken to ensure this accommodation doesn't disturb some of the rarest wildlife in Southeast Asia. We love to see it! Being on top of a hill also means you get to enjoy stunning views over the rainforest and river.
The packages at the Last Frontier include relaxing evening boat cruises on the Kinabatangan River, as well as guided jungle treks. Transport to and from Sandakan proper is provided for a small extra fee, which we made use of rather than figure our own way on the two-hour journey.
Staying at the Last Frontier really feels like you are lost in the jungle a thousand miles from 'civilization' – but still with the comforts of said civilization! The rooms are double or twin with ensuite and minimalist decor, perfect for getting a peaceful night's sleep as you listen to the jungle life around you. Delicious meals are provided at the Monkey Cup Café, which serves Asian-Belgian fusion cuisine.
You will see a LOT of wildlife while staying here though, so animal-lovers will be in heaven. Those with an aversion to creepy-crawlies… maybe not so much! Make sure you read our review of staying at the Last Frontier to see all the creatures big and small we met.
Prices at The Last Frontier Boutique Hotel start from $125 per night:
---
STAY WITH A GAY LOCAL
Misterb&b is the Airbnb equivalent for the LGBTQ community. Unlike on Airbnb, you know your host is gay, voiding any nasty surprises when you check-in. It is also a great way to meet gay locals and discover the underground gay scene. Click below to get 10 € (or $10) off our first booking.
02
Sabah Hotel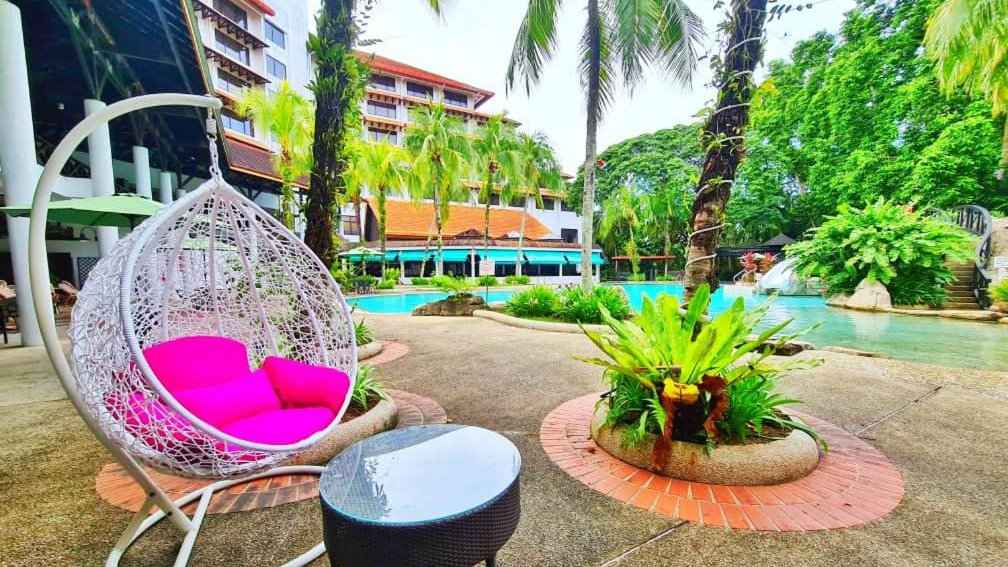 In a nutshell
---
Four star resort surrounded by jungle
Breakfast included
Large swimming pool and excellent gym
Multiple on-site restaurants, café, and karaoke bar!
While it's called the Sabah Hotel, this property is actually more of a resort, perched on top of a hill and surrounded by rainforest, just outside central Sandakan.
There are two swimming pools, one is lovely, large and adults-only while the other is more for kids, with a mini waterslide. Since it does get pretty hot in Sandakan we loved being able to relax beside the pool with a drink in hand, then jump in whenever we needed to cool off!
Sabah Hotel also has a rather excellent gym, with plenty of equipment to work out along with a steam room, sauna and massage center. We like to keep up with our morning workout routine even while traveling, so this was perfect, especially when we could have a relaxing massage afterwards.
There are two main restaurants at the Sabah Hotel, Ming Restaurant serves delicious Chinese cuisine (lots of yummy dim sum and peking duck!) while the Plantation Café does Indian, Asian and western-style dishes for breakfast, lunch or dinner. A big breakfast buffet is included in the rate. We also loved their karaoke bar where we could belt out some Lady Gaga while having a nightcap!
The rooms and suites at Sabah Hotel are very spacious and comfortable, some with these fierce red carpets while others are more muted. The bathrooms are especially nice, with big marble bathtubs and separate shower.
Prices at the Sabah Hotel start from $41 per night:
---
03
OYO 1027 Hotel London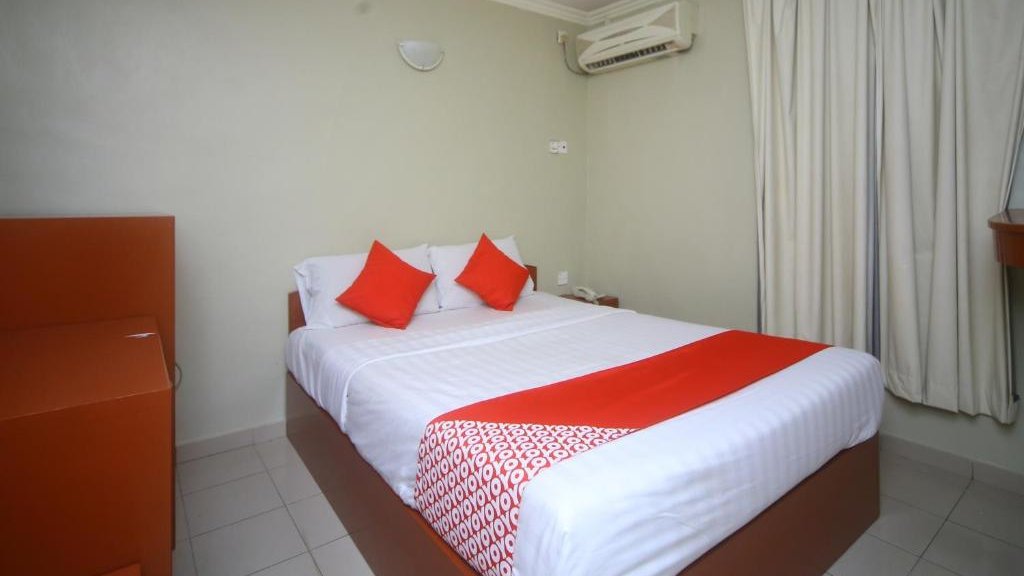 In a nutshell
---
Clean and comfy budget hotel
Located in the heart of Sandakan Town
Basic breakfast included
Small rooftop patio
OYO is a hotel chain which began in India but now runs properties throughout South Asia and the United Arab Emirates. Since they're committed to affordable and comfortable accommodation we found the OYO 1027 Hotel London to be the ideal choice for budget travelers looking to stay in the heart of Sandakan Town.
There aren't any unnecessary frills on offer here, but if you just want somewhere to sleep that's clean, comfortable and private (no dorm rooms or shared bathrooms!) then you will love the bargain prices at OYO 1027 Hotel London.
You can choose between rooms for up to four guests, so this could also be ideal if you're traveling with some friends. Otherwise, the deluxe king suite is perfect when you have a partner who likes to hog the bed *cough cough* like Seby! A very basic breakfast is included in the rate and served on the little rooftop patio where you can see over the town. There's also a little pond up there with some cute terrapins!
We also found the white and red color theme throughout the hotel to be quite charming. The staff are very nice and helpful, offering us maps and recommendations on where to eat, along with directions. Towels and soap are also provided which means you can save some room in your luggage.
The best part about the OYO 1027 Hotel London (aside from the price) is that it's right smack-bang in the middle of Sandakan Town, so you can easily walk to all the main attractions and restaurants. We also noticed a big monitor lizard that likes to hang around the back of the hotel, so we always checked if we could see him before heading out for the day. Don't worry though, no lizards (giant or otherwise) found their way inside while we were there!
Prices at OYO 1027 Hotel London start from $13 per night:
---
Where to eat in Sandakan?
Sandakan is actually a great place for foodies. It's located right by the coast so has some terrific seafood restaurants, which it's famous for. We've set out below a few of our favorites to inspire your culinary Bucket List:
Sim Sim Seafood restaurant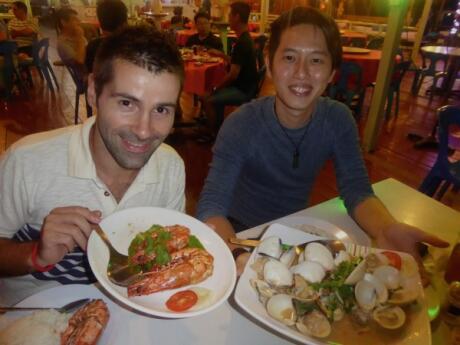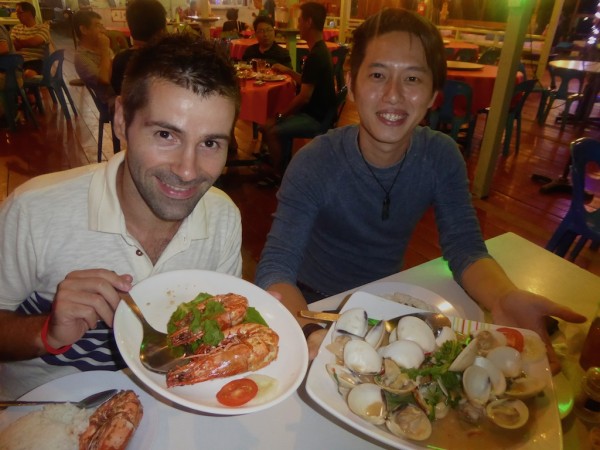 Sandakan is well known for having some of the tastiest seafood in Sabah and the Sim Sim Seafood restaurant is one of the best places for it. It's a short taxi ride away from the town center and serves up some of the most delicious fresh seafood we've ever had. We recommend their soy sauce steamed groupers. You pick the grouper fish when it's still alive then it's cooked and served immediately. THAT'S how fresh it is!
---
My Harbour Restaurant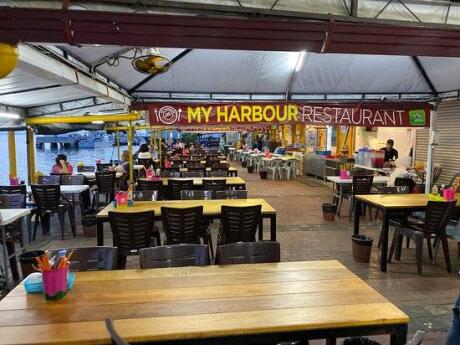 My Harbour Restaurant is another excellent spot for fresh seafood in Sandakan, although they don't only serve seafood. This restaurant is right on the harbor of Sandakan Town, so you can easily walk there if you're staying at the OYO 1027 Hotel London, or get a taxi from further afield. You look directly out onto the water at My Harbour Restaurant and the portions here are really big, so do be warned! The meals are so yummy though, with dishes like spicy fish, nasi goreng, or sweet and sour chicken.
---
Top things to do in Sandakan
Whilst most visitors come to Sandakan as the gateway to the Kinabatangan River, the city has quite a few excellent sites to check out along with fun day trips to see orangutans and sun bears. Here's a summary of some of the best things to do in Sandakan:
The Sandakan Heritage Trail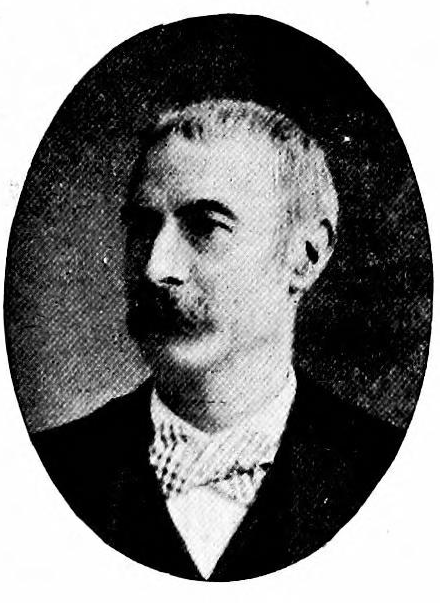 The Sandakan Heritage Trail is a comprehensive walk through the main historical sites of Sandakan, like the 100-year-old Masjid Jamek mosque, the Pryer Memorial statue honouring William Pryer (the founder of Sandakan), and restored colonial buildings like the Agnus Keith House. You can download the map to discover Sandakan's history at your own pace, although it generally takes about an hour, depending how fast you walk and how long you spend at each stop. Our favorite was the "stairs of a hundred steps" which rewards your effort with a stunning view over Sandakan Town. The walk ends at the Sandakan Heritage Museum, which is also worth checking out.
---
The Puu Jih Shih Buddhist Temple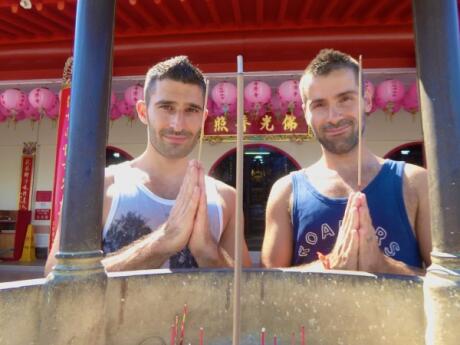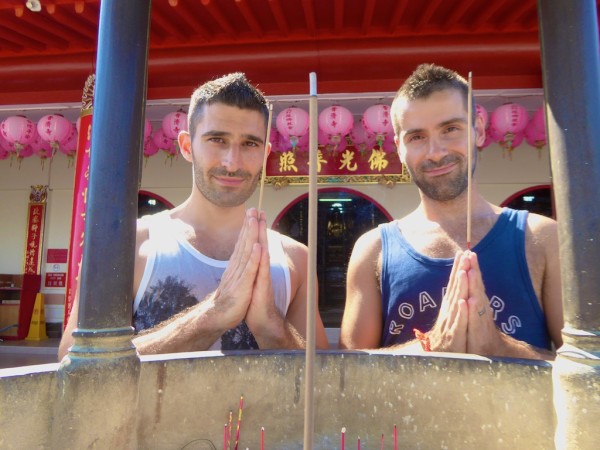 The Puu Jih Shih temple is one of the finest Chinese Buddhist temples in Sabah. It was undergoing renovation when we visited in August 2015, but still had a calm and serene atmosphere. It's located on top of a hill, so even if you have temple fatigue, it's worth visiting just for the views. But make sure you also head inside to enjoy lots of colorful carvings and Buddhas. We also loved seeing some eagles soaring up and down on the air currents while we were there!
---
Sun Bear Conservation Centre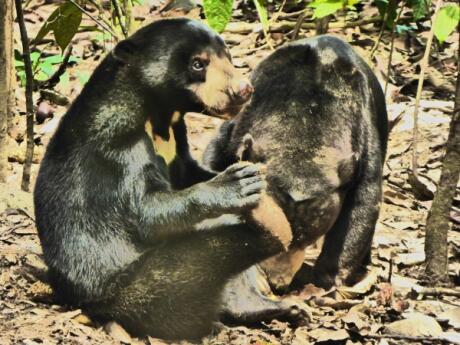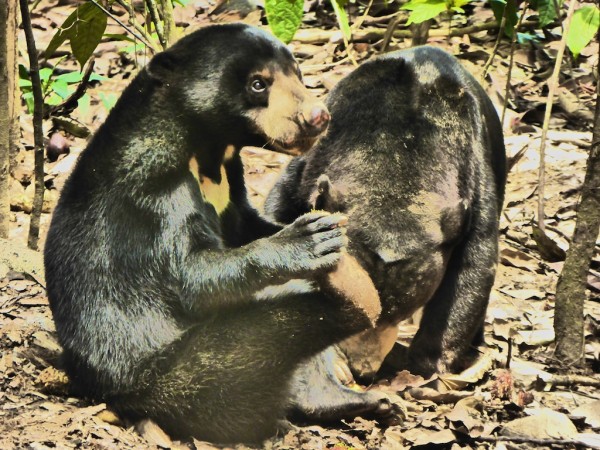 The Sun Bear Conservation Centre is where these very cute small bears are rescued from appalling conditions and treated so they are ready to return to the forest one day. They are the smallest bears known to man and nicknamed honey bears because they love honey so much. This is similar to Sebastien's nickname of Pooh Bear because he's always caught red handed with his face stuck in an empty pot of honey. If you're short on time you can do a tour which combines visiting the Sun Bear Conservation Centre with visits to the Sepilok Orangutan Rehabilitation Centre and the Rainforest Discovery Centre.
---
Sepilok Orangutan Rehabilitation Centre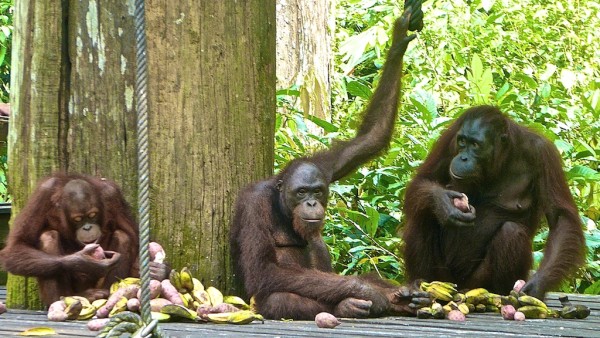 The Orangutan Rehabilitation Centre is a non-profit organisation dedicated to the conservation of wild orangutans and their rainforest habitat. They rescue orangutans which have suffered, been separated from their mothers or lost their home due to deforestation. Like the sun bear centre, they are taught the skills they need to survive in the wild, then released when ready. Join the combined tour we mentioned above to visit both centres with a private guide and no transport hassles.
---
The Rainforest Discovery Centre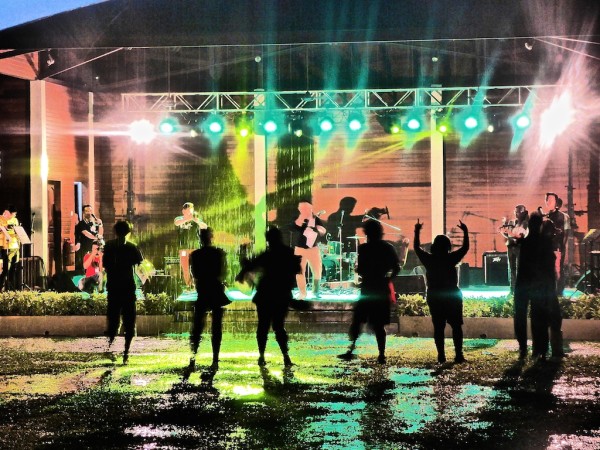 The Rainforest Discovery Centre is excellent for bird watching, with more than 250 species sighted from the canopy walkway. Visiting the centre also gives you a great introduction to how unique and important Borneo's rainforests are. If you're here in August, look out for the annual Rhythms of Rimba Festival, organised by Future Alam Borneo. We attended and had an awesome time enjoying great music in a rainforest environment, complete with the intermittent tropical rain.
---
Plan your trip to Sandakan
We've put together some handy hints and tips to help you plan your own trip to Sandakan. Read on to find out everything the gay traveller should know before they go.
Travel insurance: Travel is wonderful but often messy and chaotic. When things inevitably go wrong (trust us, they will at some point!) you need travel insurance to ensure everything gets sorted out. We always use Heymondo Travel Insurance and recommend them to anyone looking for affordable, comprehensive cover. You can relax and enjoy your trip to Sandakan knowing that even if something doesn't go to plan, Heymondo have got your back. We've also found they have a very easy system to make a claim online if you need to.
---
How to get there: The most practical way to get to Sandakan is to fly into the Sandakan Domestic Airport from Kuala Lumpur or Kota Kinabalu. If you're heading straight to Sandakan from outside of Malaysia you'll need to transit in one of those airports. It's also possible to get to Sandakan via bus from Kota Kinabalu. Once you get to the airport you can reach Sandakan Town via taxi or bus, although we prefer to pre-book a private transfer ahead of time. This way we're not reliant on public transport and don't need to deal with the hassle of figuring it out or haggling with taxi drivers when we're tired.
---
Visa requirements: Travelers from many countries are able to visit Malaysia visa-free for up to 90 days, so long as you have at least six month's validity remaining on your passport. Make sure you check your personal visa requirements before making any travel plans for Sandakan.
---
Getting around: You can easily walk around the main part of Sandakan Town, but to explore further you'll need to get a taxi or bus. Be aware that taxis in Sandakan aren't usually metered, so you will need to negotiate the fare beforehand.
---
Power Plugs: Malaysia uses the same power plug type as the UK, so if you're from there you'll be fine but if you're heading to Sandakan from other countries then you will need to bring a travel adaptor with you to charge any electronic devices.
---
Vaccinations: All travellers to Malaysia should be up to date with routine vaccinations like measles, mumps and chickenpox, as well as Covid-19. Most travellers should also be vaccinated for hepatitis A and typhoid. Some travellers may also need vaccinations for hepatitis B, cholera, Japanese encephalitis, malaria, yellow fever and rabies, depending on what you'll be doing. Check the CDC website for the most up to date info for Malaysia and also consult your doctor or travel nurse before heading to Sandakan.
---
Tipping culture: Malaysia doesn't really have a strong tipping culture, so you will never be expected to tip while in Sandakan. A service charge is often included on restaurant bills and locals will sometimes round up the bill to the nearest ringgit. You can tip if you want – it certainly won't be refused, but don't feel obligated.
---
Online privacy: The Malaysian government monitors internet usage and is increasingly blocking more and more LGBTQ websites and apps. We recommend that all gay travellers to Sandakan get a VPN before visiting. This will not only allow you to access all blocked apps/websites but it will also allow you to browse the internet safely and anonymously as the VPN hides your location.
---
Accommodation: We use Booking.com to find the best and most affordable accommodation in Sandakan. They have the widest choices with many properties offering free cancellation. We love to be spontaneous when traveling so that is a godsend if you suddenly decide to stay longer in a new wonderful destination. Booking.com also provides excellent online customer support that's available 24/7.
---
Sightseeing and adventure: When figuring out which activities and tours to book in Sandakan we head straight to GetYourGuide since they always have an excellent selection for all sorts of interests. Their online customer support is also wonderful and available 24/7, plus it's really easy to book your excursions through the website.
---
When to visit: As part of Borneo Island, Sandakan is pretty much hot, humid and wet throughout the year. March to October is the driest season, when you are most likely to see wild orangutans, but it's also peak tourist season. If you want to visit in the cheaper off-season we just say to avoid December, January, and February as this is when the weather is the worst, with the Northeast Monsoon bringing lots of rain.
---
Gay map of Sandakan
Here's our map of Sandakan which includes all the hotels, restaurants, and sightseeing highlights we've mentioned in this post. Use it to plan your own amazing trip to Sandakan!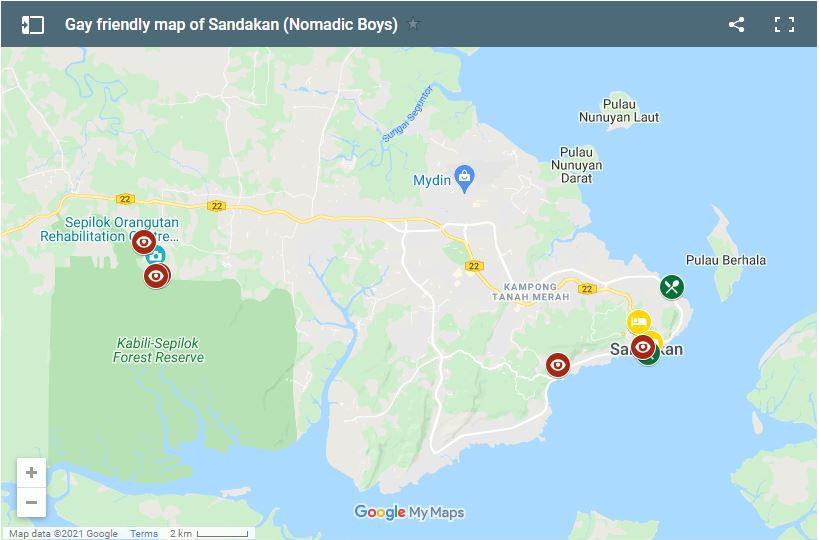 ---