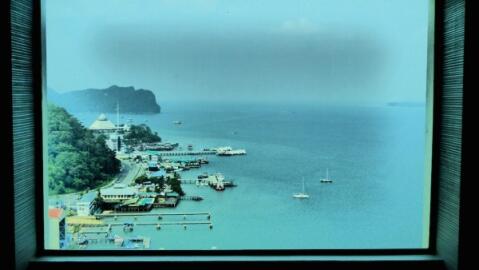 Sandakan is a coastal town in the Sabah region on the Malaysia side of Borneo Island.
We spent a few nights in Sandakan as a base for exploring some of the gems of Sabah and discovered an exciting small city, with a plethora of great seafood!
DON'T MISS OUT!
Receive our latest blog posts…
Get in-depth FREE gay travel guides, along with inspiring stories, savvy planning tips, and exclusive discounts on gay tours. No spam. Never. Not ever. Just fun and interesting blog posts delivered straight to your inbox.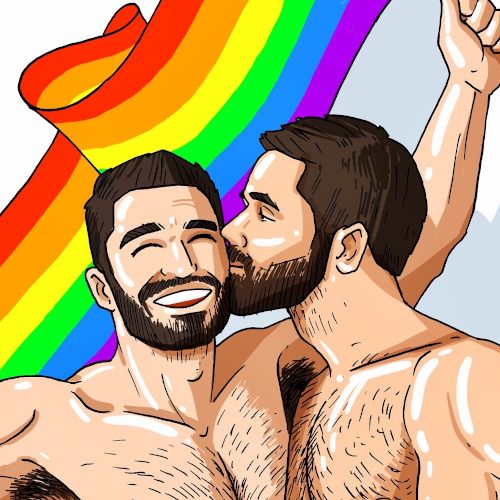 WHERE IS SANDAKAN?
Sandakan is the second largest town (after Kota Kinabalu) in Sabah, East Malaysia on the Northeastern side of Borneo island: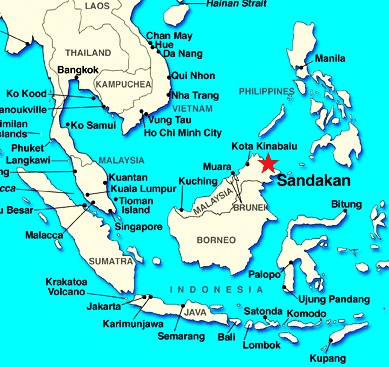 During the colonial times in the nineteenth century, it was the capital of British North Borneo and a strategic commercial and trading centre.
Japan occupied the area during the Second World War and was completely destroyed by Allied bombings. The British got it back after the war and developed the fishing industry as part of the Reconstruction and Development Plan.
Hence the excellent seafood reputation!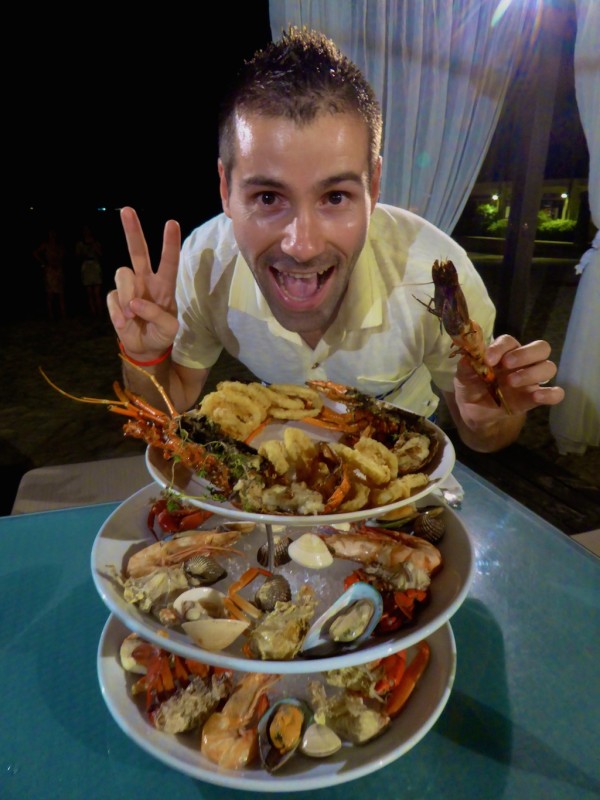 WHERE TO STAY IN SANDAKAN?
There's a variety of decent places to stay in the area, but our favourite was the Four Points by Sheraton (now closed, last updated 16/7/20), a well known landmark and the only international brand. It is located right in the heart of the city, overlooking the sea and only 20 minutes away from the airport.
The view from our window across the Sandakan Bay was a great way to start the day.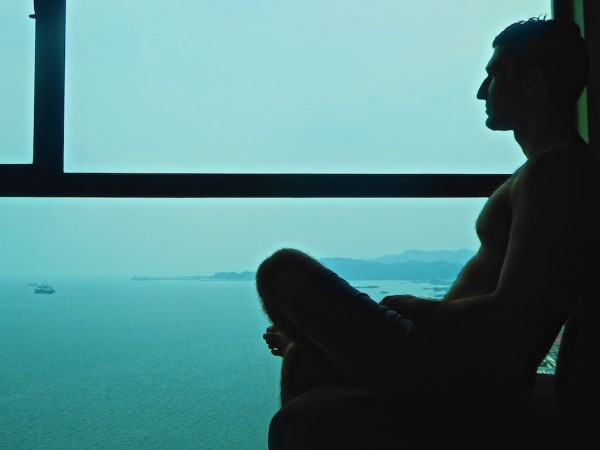 We also enjoyed staying at Four Points because of the 24 hours gym and swimming pool facilities, as well as the excellent buffet breakfast.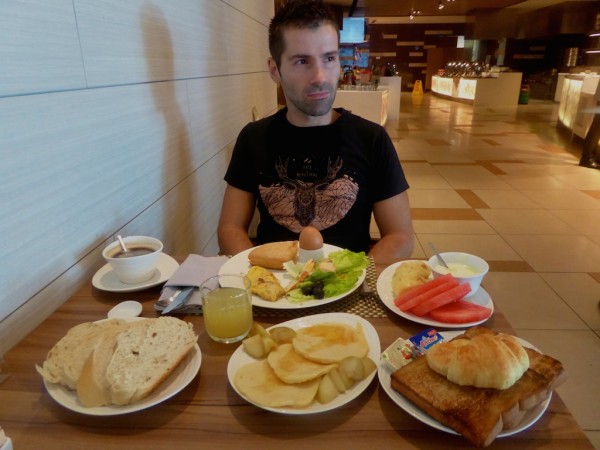 Prices for rooms at the Four Points by Sheraton start from 195 Ringgits (£30/$46) a night. Check prices now.
WHERE TO EAT IN SANDAKAN?
Sandakan is well known for having some of the tastiest seafood in Sabah and the Sim Sim Seafood restaurant one of the best places for it. It's a short taxi ride away from the centre and serves up some of the tastiest fresh seafood we've ever had.
We recommend their soy sauce steamed groupers. You pick the grouper fish when it's still alive and it's then cooked and served immediately. THAT'S how fresh it is!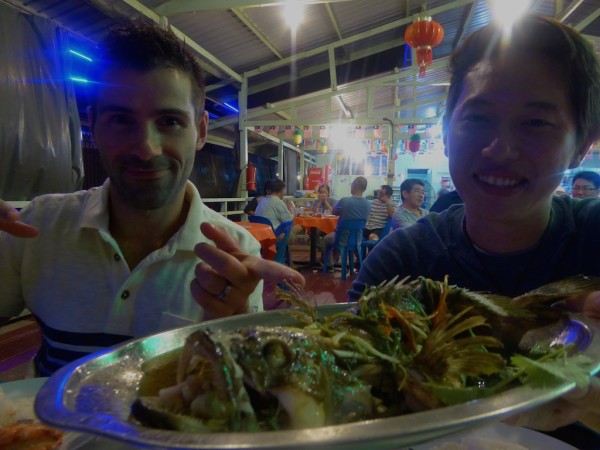 The Best Brew Pub at The Four Points is the only place with a live band. It has some great western food like caesar salad, burgers and beef ribs, with an incredible view of the sunset over the bay.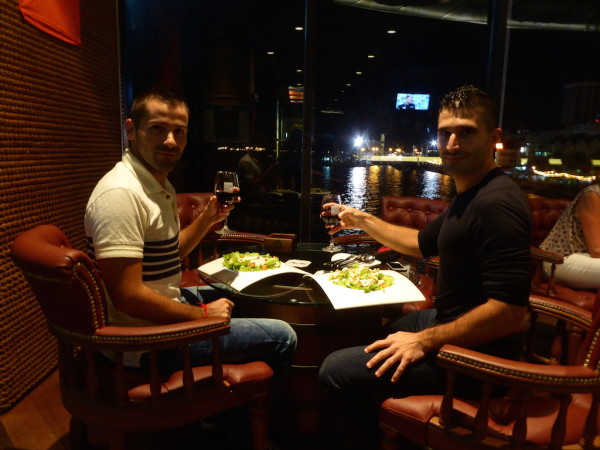 Our favourite dessert in Sandakan was the popular UFO cake, which you can only find here. It's a meringue-like custard tart with a caramel flavour. Check out any of the small eateries in the downtown area for these yummy prizes.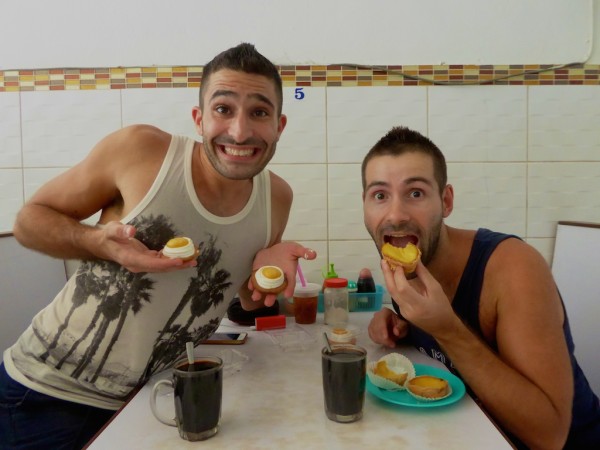 Another local dessert we enjoyed in Sandakan are peanut pancakes, which you can find in the local markets. They are in fact made using actual peanuts as opposed to peanut butter and taste gooooood!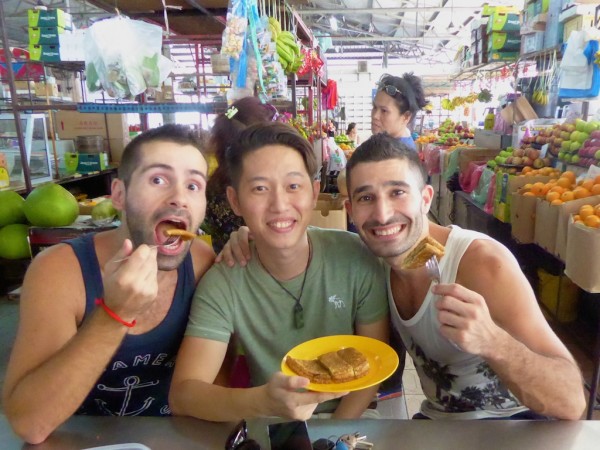 Our foodie adventures in Sandakan also led to a new fruit discovery: the tarap.
Tarap is a fruit you can only find on Borneo Island because they are too fragile to export. They look a little bit like a smaller durian on the outside, but the taste (and smell) once opened is totally different. Tarap are more like a mild jackfruit, with a creamy flavour.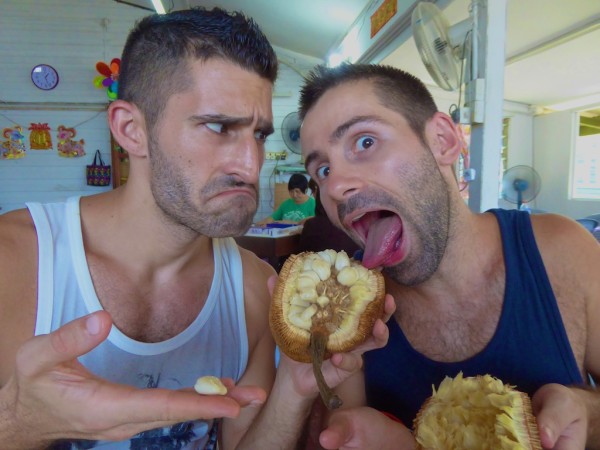 ACTIVITIES IN SANDAKAN
There were plenty of things to do in Sandakan, which didn't involve food! Here's some of our favourites:
DON'T MISS OUT!
For more gay travel inspiration…
Get in-depth FREE gay travel guides, along with inspiring stories, savvy planning tips, and exclusive discounts on gay tours. No spam. Never. Not ever. Just fun and interesting blog posts delivered straight to your inbox.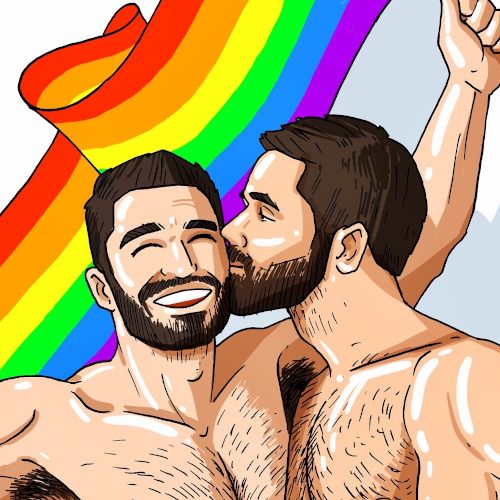 1. Relaxing by the impressive infinity pool of The Four Points
The pool at The Four Points was one of the best infinity pools we've encountered. It is high up and west facing, offering some of the best sunset views across the Sandakan Bay.
It costs 50 Ringgits (£8/$12) for walk in guests to use the pool, which includes 1 drink.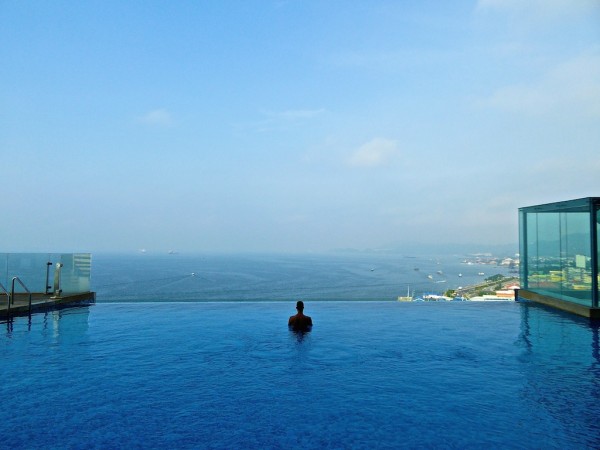 2. The Sandakan Heritage Trail
The Sandakan Heritage Trail is a comprehensive walk through the main historical sites of Sandakan, like the 100 years old Masjid Jamek mosque, the Pryer Memorial statue honouring William Pryer, the founder of Sandakan, restored colonial buildings like the Agnus Keith House, and many more.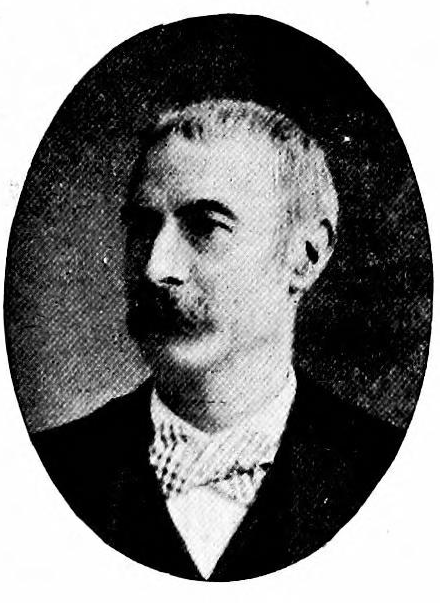 3. The Puu Jih Shih Buddhist Temple
The Puu Jih Shih temple is one of the finest Chinese temples in Sabah. It was undergoing renovation when we visited in August 2015, but still had a calm and serene atmosphere.
It's located on top of a hill, so even if you have temple fatigue, it's worth visiting just for the views.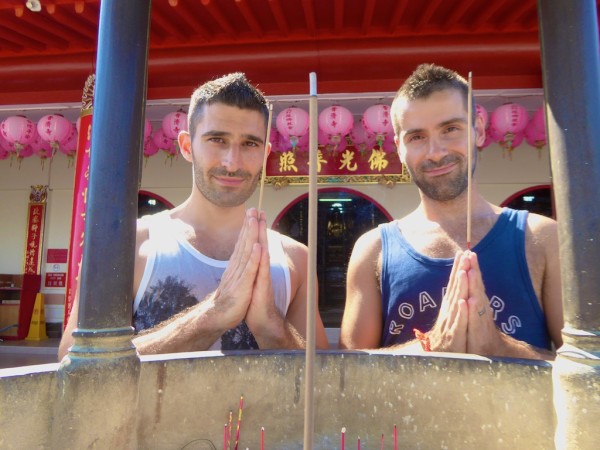 4. Run To Give Marathon
If you're in the city during October, check out the annual Run To Give Marathon hosted by Four Points. It's an excellent charity initiative to raise awareness for breast cancer and funds go to the Sandakan Kinabalu Pink Ribbon.
This year's event is on 11 October, featuring 5km and 10km runs.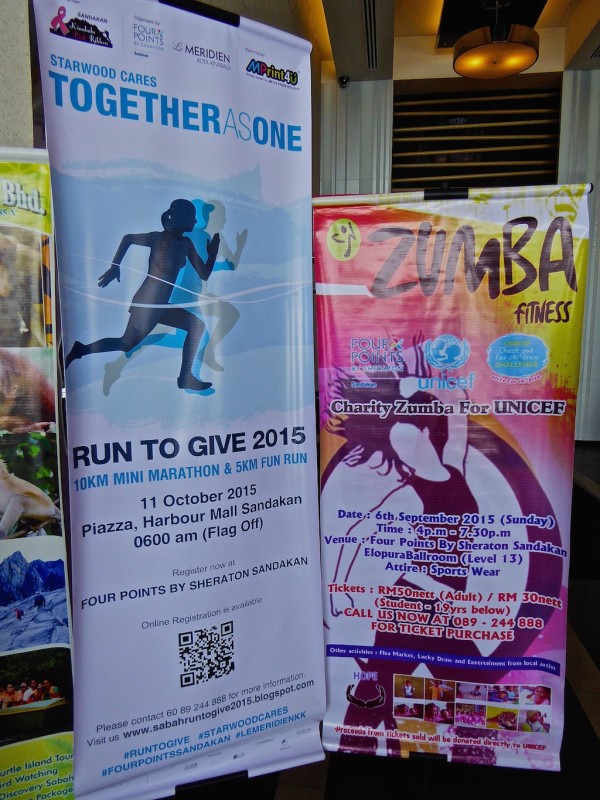 ACTIVITIES AROUND SANDAKAN
There's lots of fun day trips from Sandakan, particularly around Sepilok, which is only around 45 minutes drive away:
1. Sun Bear Conservation Centre
The Sun Bear Conservation Centre is where these very cute small bears are rescued from appalling conditions and treated so they are ready to return to the forest one day.
They are the smallest bears known to man and nicknamed honey bears because they love honey so much. This is similar to Sebastien's nickname of Pooh Bear because he's always caught red handed with his face stuck to an empty pot of honey.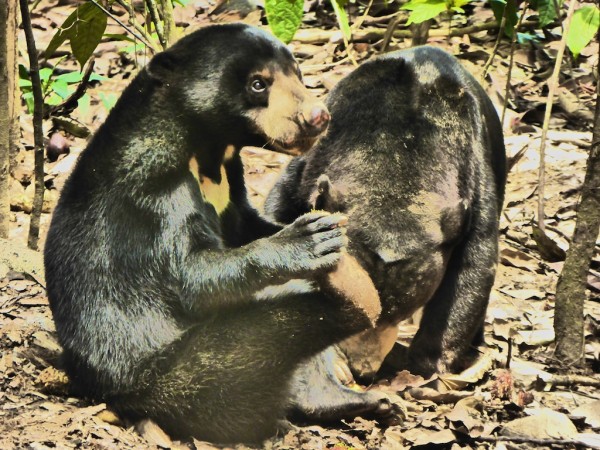 2. Sepilok Orang-Utan Rehabilitation Centre
The Orang-Utan Rehabilitation Centre is a non for profit organisation dedicated to the conservation of wild orang utans and their rainforest habitat.
They rescue orang utans which have suffered, been separated from their mothers or lost their home due to deforestation. Like the sun bear centre, they are taught the skills they need to survive in the wild, then released when ready.
Orang utans are native to Borneo island and the two words, orang utan, literally mean "persons of the forest". They have 98% same DNA as humans: watching them interact whilst eating was astonishing to see how similar they are to us.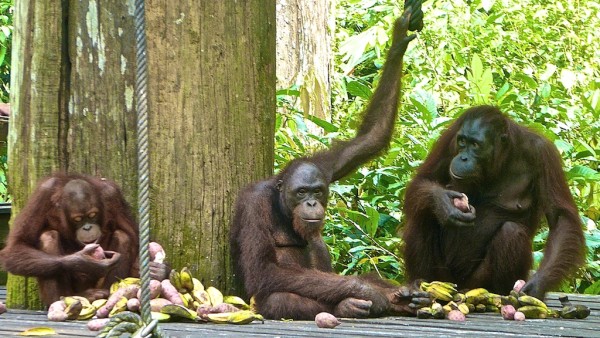 3. The Rainforest Discovery Centre
The Rainforest Discovery Centre is excellent for bird watching, with more than 250 species sighted.
If you're here in August, look out for the annual Rhythms of Rimba Festival, organised by Future Alam Borneo. We attended and had an awesome time enjoying great music in a rainforest environment, complete with the intermittent tropical rain.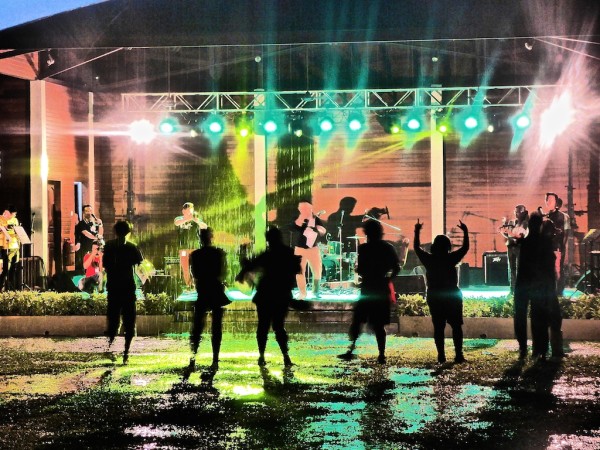 For more about our adventures through Malaysia, please check out our Malaysia travel video:
DON'T MISS OUT!
Need More Gay Travel Inspiration?
Get in-depth gay travel guides, inspiring stories, savvy planning tips, and exclusive discounts on gay tours. No spam. Never. Not ever. Just fun and interesting blog posts delivered straight to your inbox.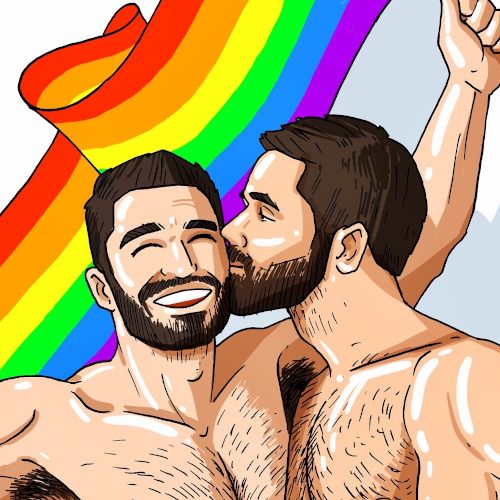 Happy travels are safe travels
We recommend you always take out travel insurance before your next vacation. What happens if you suffer from illness, injury, theft or a cancellation? With travel insurance, you can have peace of mind and not worry. We love World Nomads travel insurance and have been using it for years. Their comprehensive coverage is second to none and their online claims process is very user friendly.