Georgetown in Penang is often regarded as one of the best foodie capitals of Asia.
This city in Northwest Malaysia has taken the best from all the Asian cuisines, created it's own eclectic mix, to produce this foodie paradise. Naturally, we were dead excited to go face down in the many food offerings, so we couldn't wait to set foot here.
We've compiled our favorite places to eat, activities to do, gay friendly hotels to stay, fun bars and clubs in this gay travel guide to Penang. Have a fabulous time in the food capital of Asia!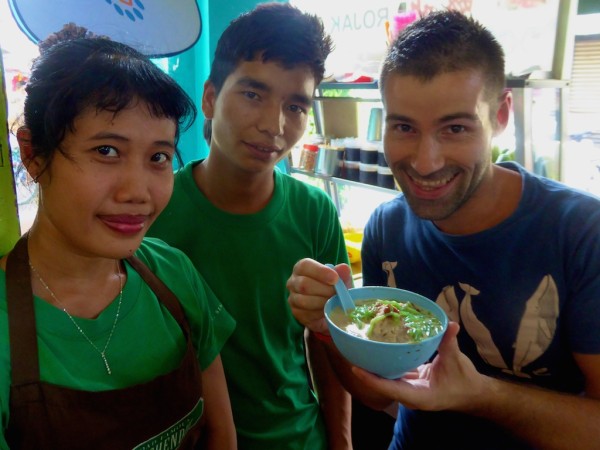 What we cover in this guide
Gay bars and clubs in Penang
We did in fact manage to find a small but vibrant gay scene in Penang. Although there is no official gay bar or club (homosexuality is technically illegal in Malaysia), we discovered a few popular hang outs for the LGBT community:
1. Seventy7 Bar
Seventy7 Bar is well known as the (un)official gay bar of Penang. Fridays and Saturdays are the busiest evenings, attracting a mix of both locals and expats.
Seventy7 is located at 54 Jalan Chow Thye, 10050 Penang in George Town.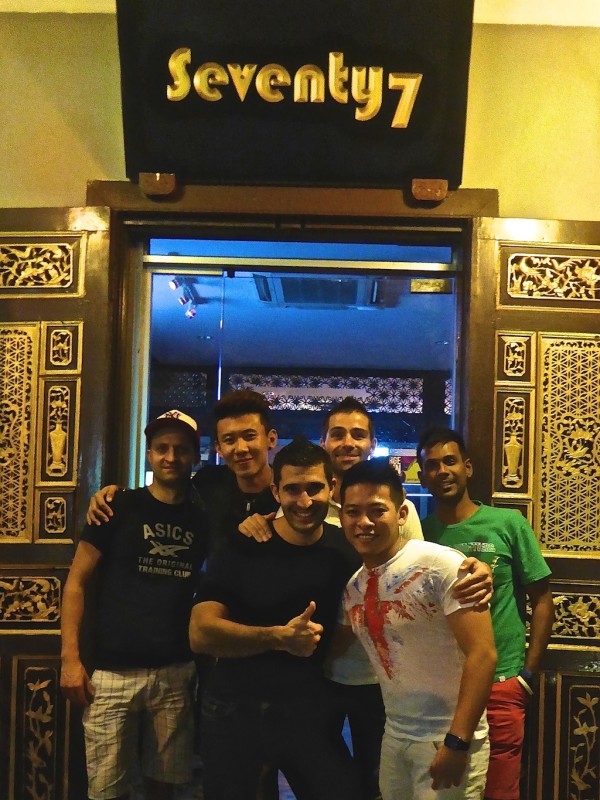 2. China House
China House is an institution in Penang, located in the heart of George Town at 153 Lebuh Pantai street.
It's great for coffee and cakes during the day and becomes a cool hipster and gay friendly hangout later in the day.
It even has a pink tank outside!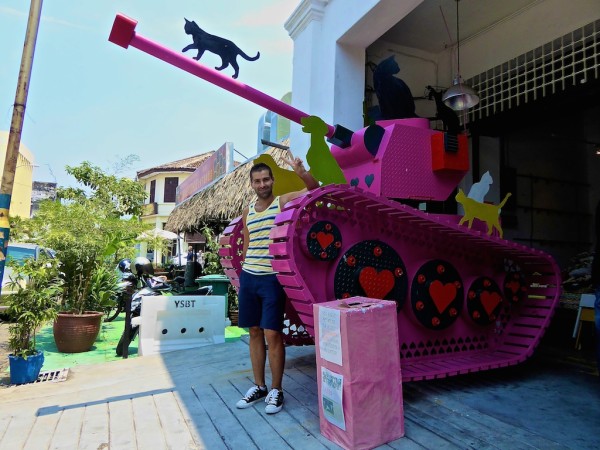 3. That Little Wine Bar
That Little Wine Bar is another gay friendly hangout, great for both food and drinks, located at 54 Jalan Chow Thye.
It is tucked down a side street, a little way out from George Town and attracts a mixed crowd.
Gay friendly hotels in Penang
We stayed in a variety of places in Penang, each catering to a different budget. These were the three we found to be the most accepting, welcoming and open to us as a gay couple, which we highly recommend. All of these places are located in George Town, the heart of Penang.
Gayy friendly luxury boutique hotel, right in the heart of George Town.
Each suite is grandiose and furnished with very expensive and beautiful Peranakan furniture. The staff are super cute and very friendly, and as an added bonus, they have a great outdoor pool, where we tried to re-enact Michelangelo's "The Creation of Adam" fresco.
The cost of staying in one of the suites at Seven Terraces starts from 550 Ringgits (£86/$132) a night.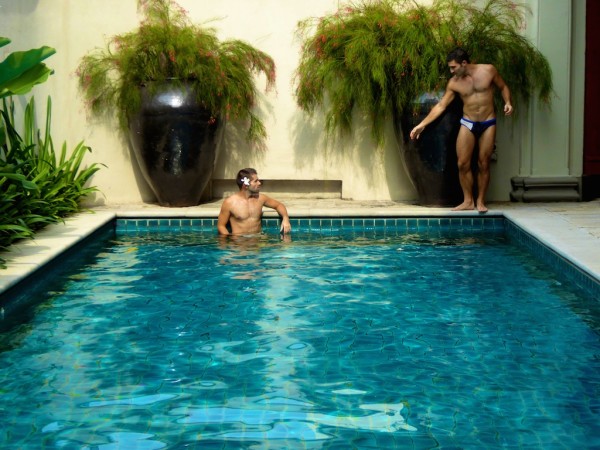 Stylish boutique hotel centrally located and surrounded by food wonders. It is perfect for a romantic stay in Penang.
The service was incredible and the little touches made our stay very special. For instance, every room was equipped with a Nespresso coffee machine and each afternoon, fresh iced tea with home made cake was placed in our fridge.
The cost of staying in one of the 11 suites at Campbell House starts from 350 Ringgits (£55/$84) a night.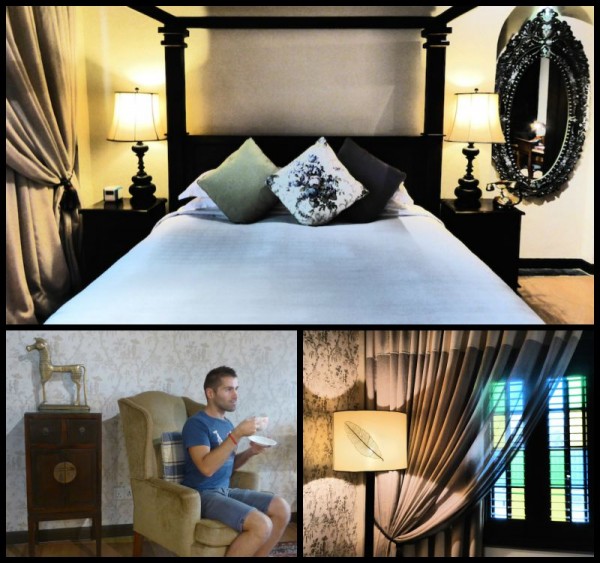 Very cool budget option in which you stay in a pod for around 70 Ringgits (£11/$17) a night.
The pods are split into rows of 2, 4 or 8 and each one is equipped with a TV, mirror, cool purple lights, air con, safe, coat hanger, USB and many more. It's like you've travelled into the future…check out the purple lighting!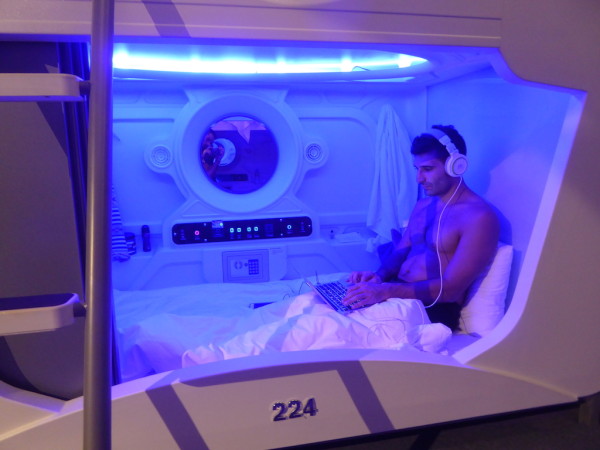 STAY WITH A GAY LOCAL
Misterb&b is the Airbnb equivalent for the LGBTQ community. Unlike on Airbnb, you know your host is gay, avoiding any nasty surprises when you check in. It is also a great way to meet gay locals and discover the underground gay scene. Click below to get 10 € (or $10) off your first booking.
Where to eat in Penang!
Penang used to be a major trading port during the British colonial times, which brought significant Thai, Indian and Chinese influences.
There are so many great places to eat in central Penang, so we've limited this to our favourites: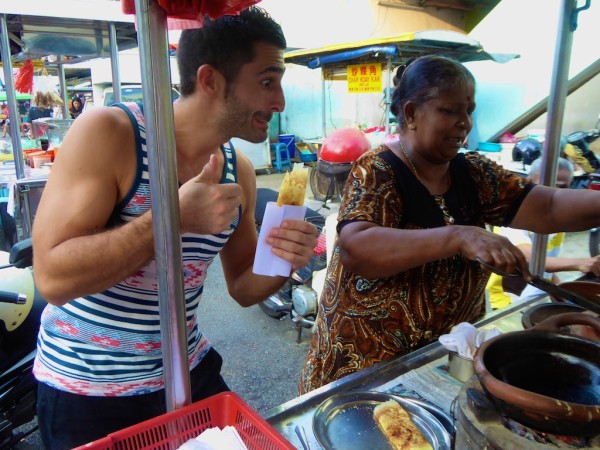 1. RED MARKET
Red Market at 20 Leigh Street is a busy hawker centre selling everything from satay, laksa, dim sum, noodles of all sorts and many many more.
A mix of locals and tourists gather in the communal seating, ordering food from the surrounding stalls, creating an exciting atmosphere.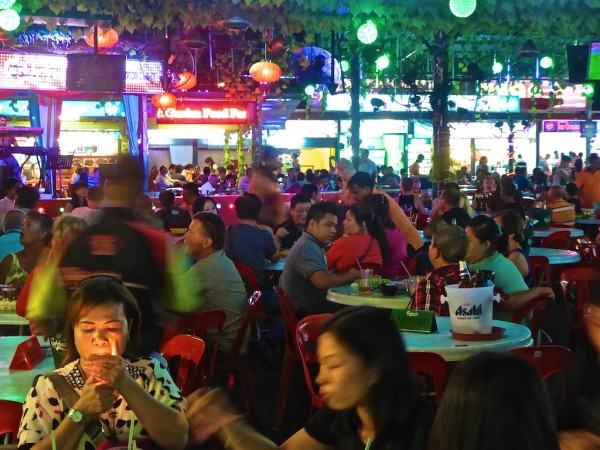 2. TAI TONG RESTAURANT
Tai Tong restaurant is located on 45 Lebuh Cintra, famous for its dim sum and the very cute old ladies (aka "aunties") wheeling around a trolley of these little Cantonese prizes.
You pick which dim sum you want from their trolleys and bon appetit!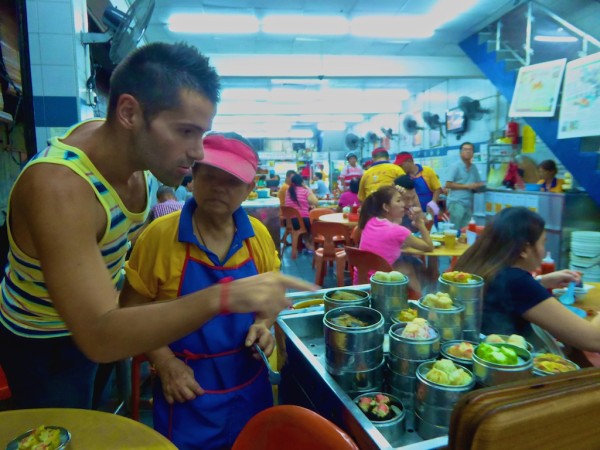 3. HAMEEDIYAH
Hameediyah at 164a Campbell Street is a family run institution, famous for its murtabak, or Indian pizza. It's been going strong for over 100 years.
Stefan tried to play head Chef at Hameediyah with some mixed results…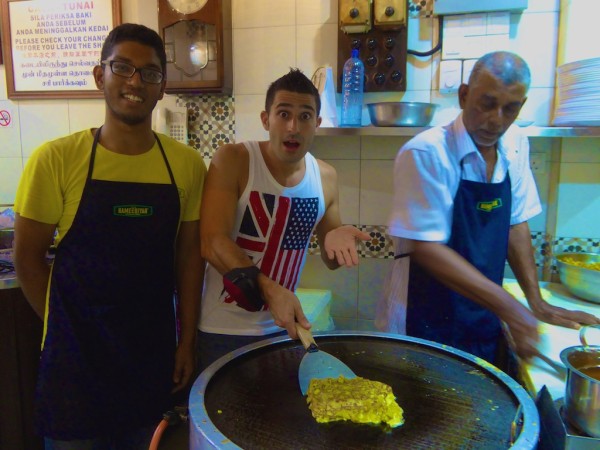 4. TEOCHEW CHENDUL
Teochew chendul at 27 & 29 Lebuh Keng Kwee street was highly recommended to us for Malaysian chendul.
Chendul is a popular dessert of rice flour noodles made green from pandan leaves, coconut milk, shaved ice and red beans. It reminded us a bit of the halo halo dessert we tried in the Philippines.
Sebastien just couldn't help himself and terrorised the poor staff at Teochew until they gave him his chendul: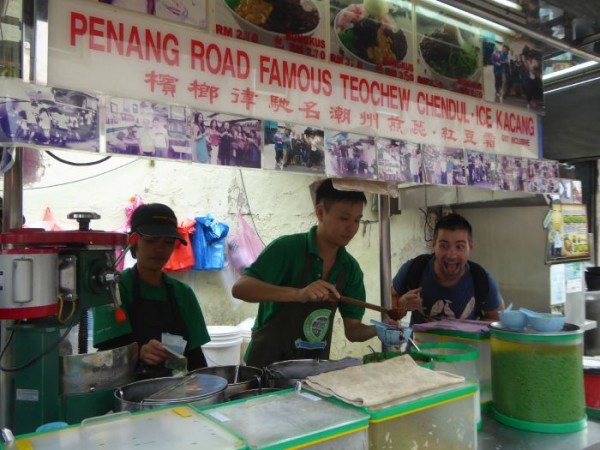 5. KAPITAN RESTAURANT
Kapitan restaurant at 93 Lebuh Chulia street is a 24/7 Indian heaven selling Indian classics, like tandoori and naan bread all hours of the day.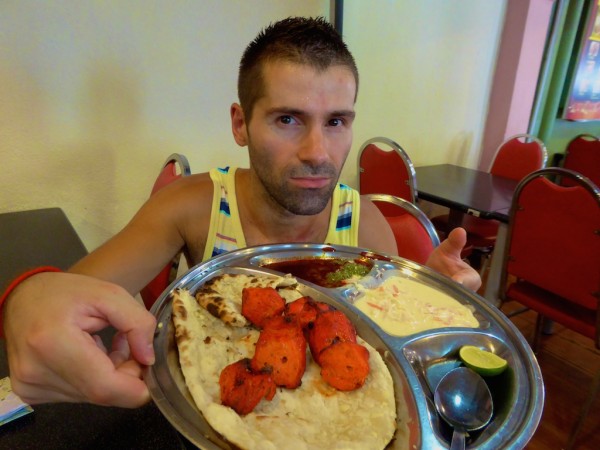 6. IL BACARO RESTAURANT
Il Bacaro restaurant at 106 Lebuh Campbell street is the in-house restaurant of the excellent boutique hotel Campbell House. It is great if you want a break from local food and crave something Western.
This was some of the best Italian food we've ever had, rivalling some of the highly rated restaurants back home in London.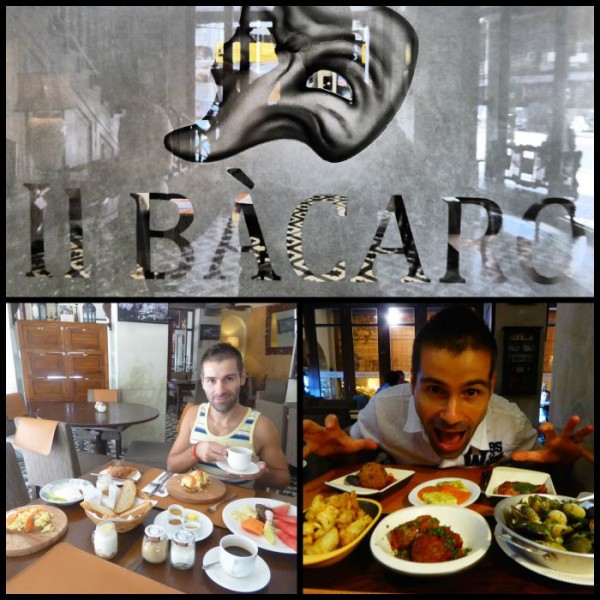 Fun things to do in Penang
Well if you haven't booked a foodie tour or a cooking course, what the hell are you waiting for? Penang is THE place for it!
1. Learn about the food of Penang on a food tour
Food Tour Penang is a company offering excellent food tours taking you to the popular restaurants and hawker stalls in the city.
Our guide was Junie, who drove us around to try Penang's classics like assam laksa (rice noodles with fish broth, soured with tamarind), chendul dessert, ban chan kuih (Chinese crepes), hokkien mee (shrimp broth with yellow noodles, popiah (similar to fresh spring rolls), murtabak and many more.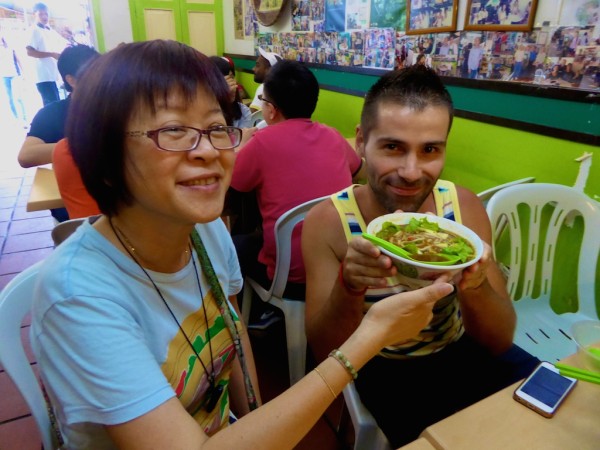 We loved our food tour and were particularly impressed by the way the 3 dominant cultures in Penang (Malay, Chinese and Indian) are so well integrated together, united by food.
A tour with Food Tour Penang cost 275 Ringgits (£50/$62) per person.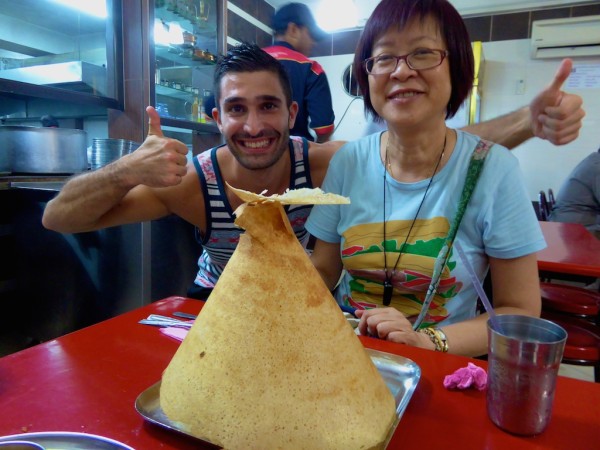 2. Do a cooking course
We did a cooking course with the adorable Pearly Kee, who is world famous for her Nonya style cooking (Chinese influenced).
Pearly is funny, sharp, sassy and very cheeky.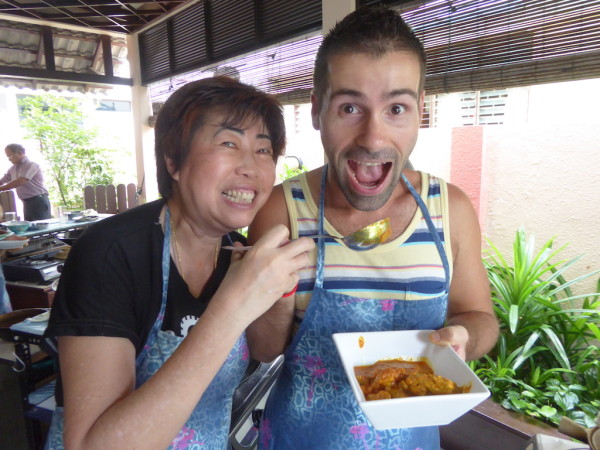 We absolutely fell in love with Chef Pearly and had one of our favourite ever cooking experiences with her.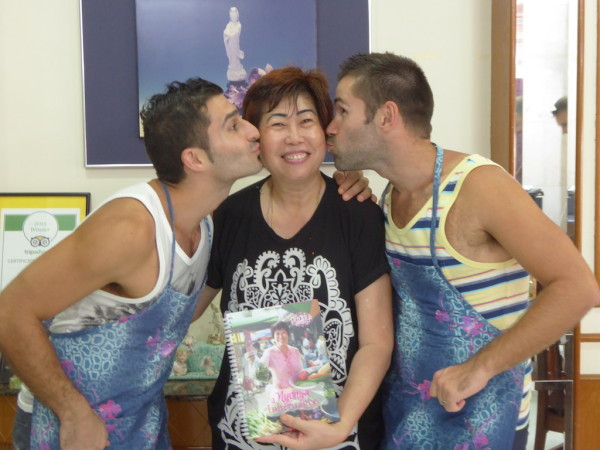 Pearly taught us to make beef rendang (a coconut milk based curry, cooked until it's dried) and Curry Kapitan (a coconut based curry soured with tamarind and lime juice).
Our class with Pearly included a very interesting tour at the local market where Stefan made a new fishy friend: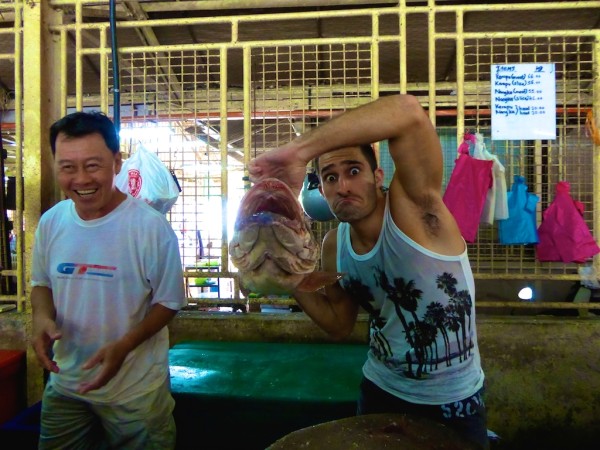 3. Visit the UNESCO buildings and clan temples of Penang
Penang does of course have a great deal more to offer then its impressive mix of food.
The central George Town area itself is UNESCO protected, with a variety of beautiful cathedrals, temples and mosques to visit.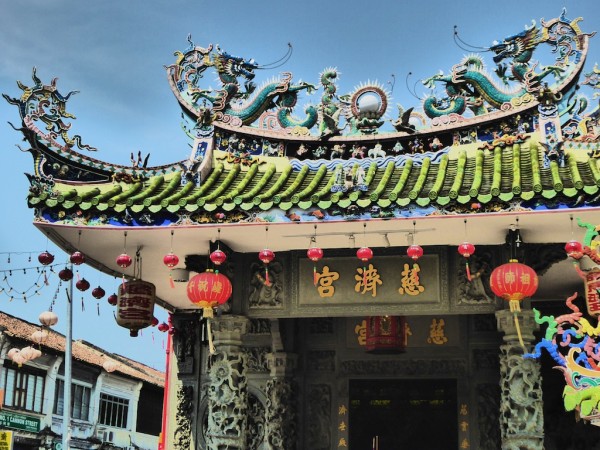 The Khoo Kongsi Clan house is also worth a visit, where our photo got hijacked by this group of very cute school children: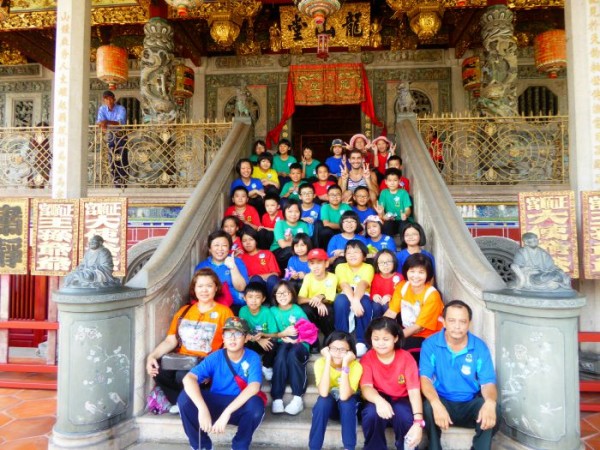 4. The pretty jetties of Penang
The jetties are also popular to visit, forming a mini waterfront society, home to houses on stilts.
The remaining 6 jetties in Penang are over a century old and each named after a Chinese clan (like Yeoh, Chew and Lim). The wooden houses on stilts were literally built on water (ie not on land) so the residents could avoid paying any tax.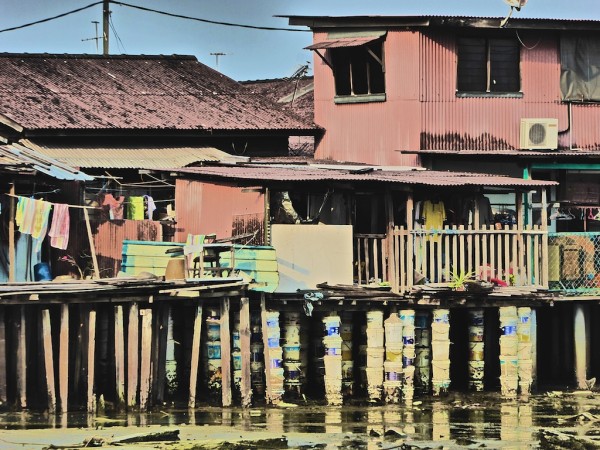 5. The famous street art of Penang
As part of the campaign to obtain the UNESCO status in 2008, the Penang State Government started a competition to install street art around George Town, with a full brochure explaining each one and where they can be found.
Our favourite was "Kids on a Bicycle" (being told off for their recklessness by Mummy Seby):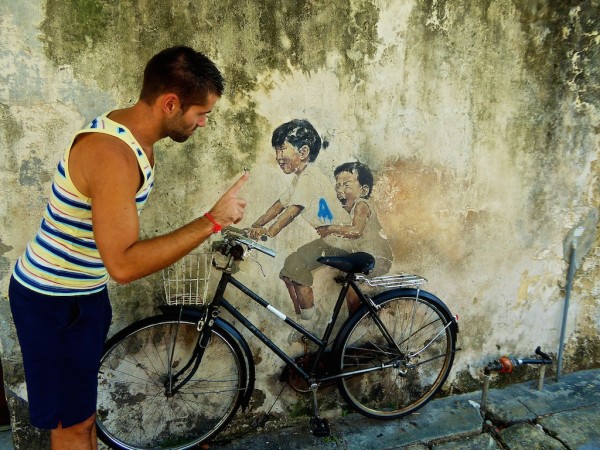 We also thought "Boy on Chair" (reaching for Stefan's iPhone) was quite cute: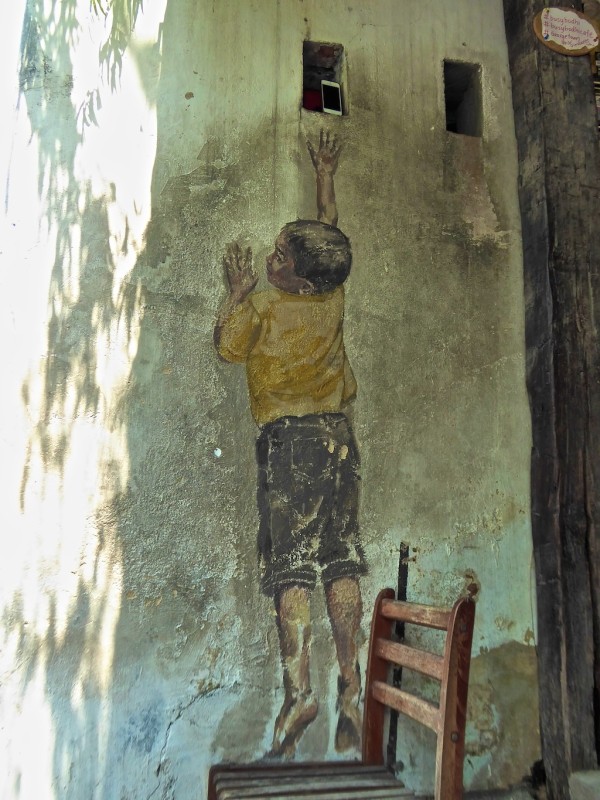 6. Keep fit in Penang
You may want to consider it after taking in all those calories. The newly opened 24 M1 Fitness Club at 12/13/14 Komtar Walk just off Penang Road, is a great place for it.
We each paid 90 Ringgits (£14/$22) for a weekly pass or 18 Ringgit (£3/$5) for a daily pass.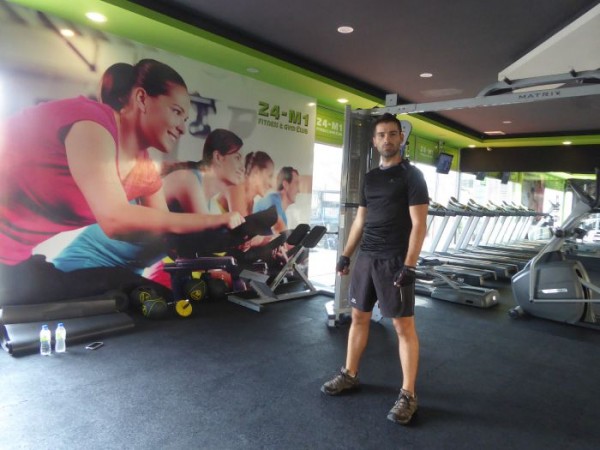 But look let's face it, at the end of the day, as foodie travellers, Penang is THE place you come to for some of the best food…and boy did we go crazy discovering it!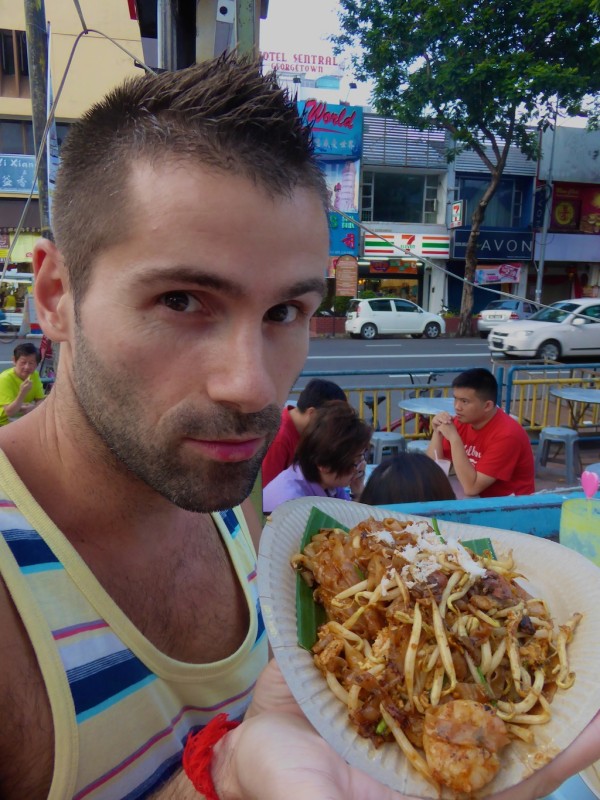 For more about our adventures through Malaysia, please check out our Malaysia travel video:
Happy travels are safe travels
We recommend you always take out travel insurance before your next vacation. What happens if you suffer from illness, injury, theft or a cancellation? With travel insurance, you can have peace of mind and not worry. We love World Nomads travel insurance and have been using it for years. Their comprehensive coverage is second to none and their online claims process is very user friendly.
Some of the links in this post are affiliate links. This means that if you book your accommodation, an activity or your insurance, we'll earn a small commission. There is never an extra cost to you for using these links and it helps us keep the site going.