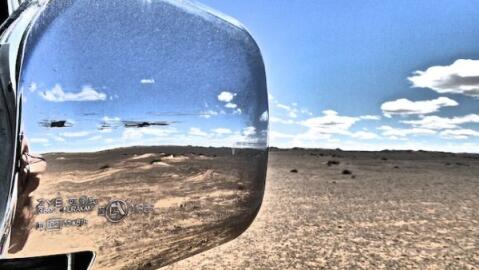 In July 2014 we took a week tour through the Mongolian Gobi Desert, booked through Sunpath Hostel (our base in Mongolia).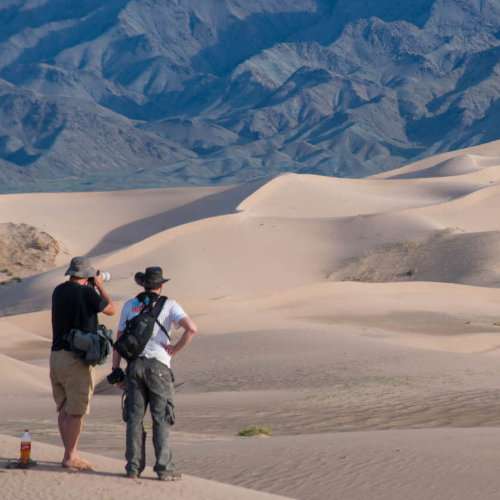 Explore the Gobi Desert on a gay tour
We're so excited to see Out Adventures' new Mongolia expedition spends three full days in the Gobi Desert. If you're looking to hike the Yol Valley, slumber in a traditional ger, make Khongor's sand dunes "sing", and see the Flaming Cliffs (aka the site Roy Chapman Andrews unearthed the first intact dinosaur eggs), this is probably the tour for you.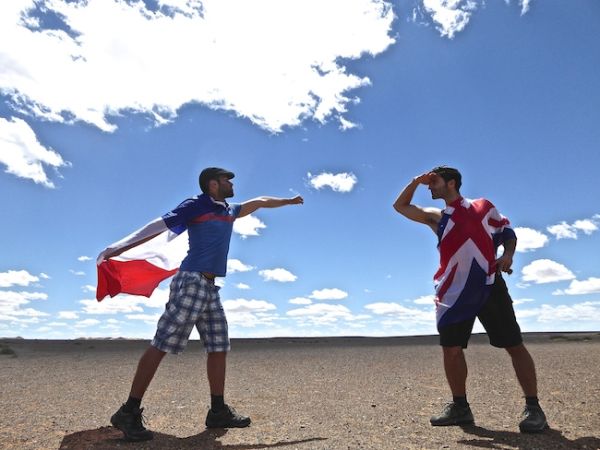 The Gobi desert is the world's 5th largest desert and the largest one in Asia.
It endures extreme temperatures getting the cold Siberian –40°C wind in the winter months rising to as much as +50°C in the summer.
Unfortunately there are no roads, just dirt tracks like the ones behind us in this photo: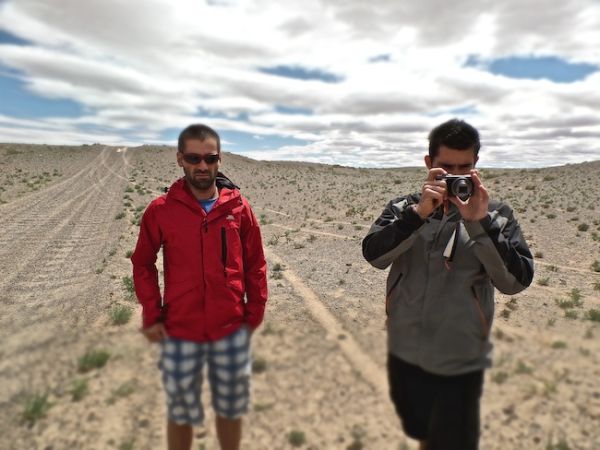 As a result, the only way to see the Gobi desert is by going on a tour with a sturdy car and good driver who knows how to fix the wheel when it falls off: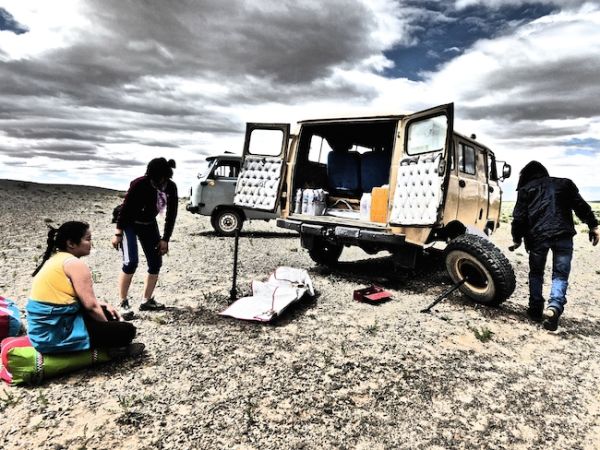 Unlike what we initially thought, the Gobi desert is not just sand dunes and dry terrain (like Sahara desert). It is also a variety of greenery, mountains and rock: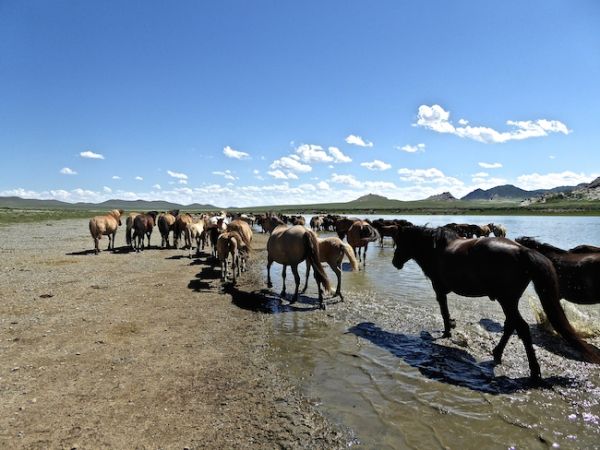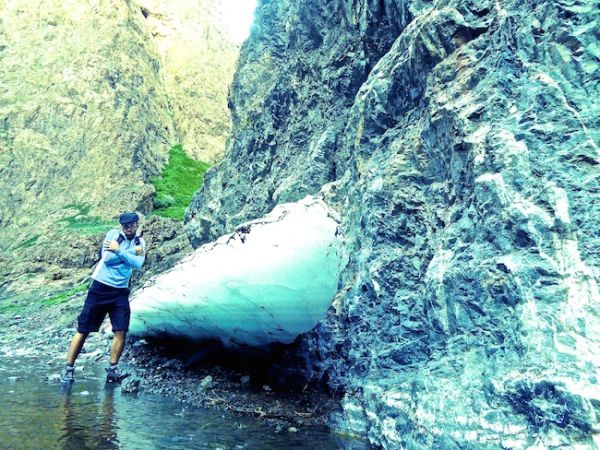 The Gobi desert was one of the highlights of our travels so far because the varied landscape was just incredible.
During our week tour of the Gobi desert, not one day was ever the same.
We enjoyed taking photos of the landscape, learnt a lot about camels and also about how the Mongolian nomadic families live.
The Landscape:
Tsagaan Tsuvraga
The Tsagaan Tsuvraga ("white stupa") is a formation of rocky cliffs that are composed of different ores that when exposed to oxygen turn different colours. There are pinks, reds and oranges in the rocks. The cliffs have been eroded naturally over millions of years giving them many layers.
As a result, the Tsagaan Tsuvraga looks stunning – like something you have never seen before.
For us it looks like what we imagine the surface of Mars to look like: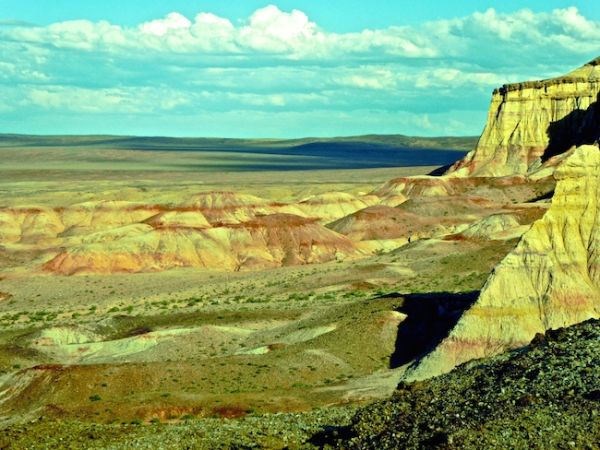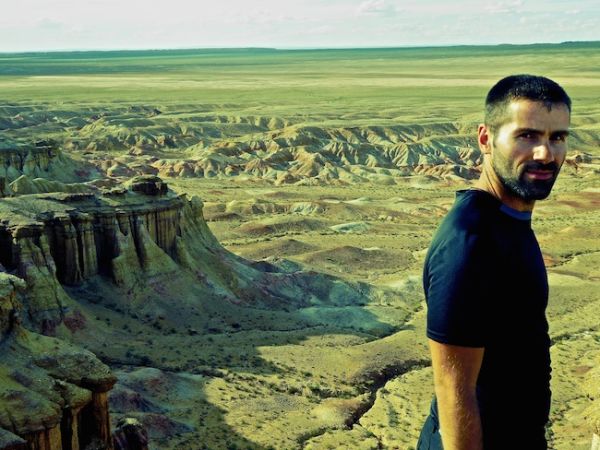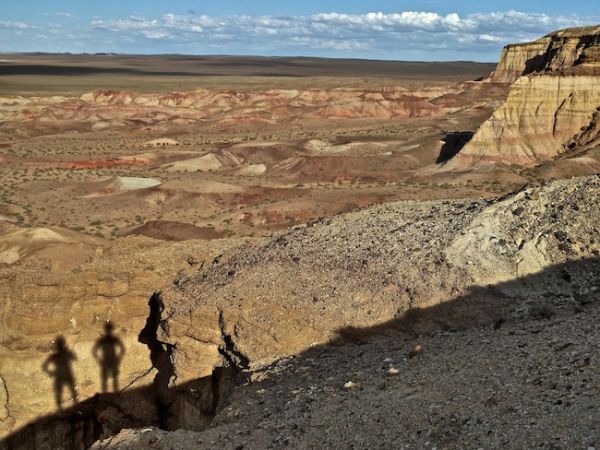 The Bayanzag flaming cliffs
The Bayanzag are a group of red / orange sandstone cliffs famous for the discovery of important fossils. In 1922, the famous American palaeontologist, Roy Chapman Andrew, discovered the first nest of dinosaur eggs here and unearthed over 100 dinosaurs.
This made it particularly interesting – walking around what is effectively, a valley of dinosaurs, and imagining that millions of years ago, these large animals used to roam here: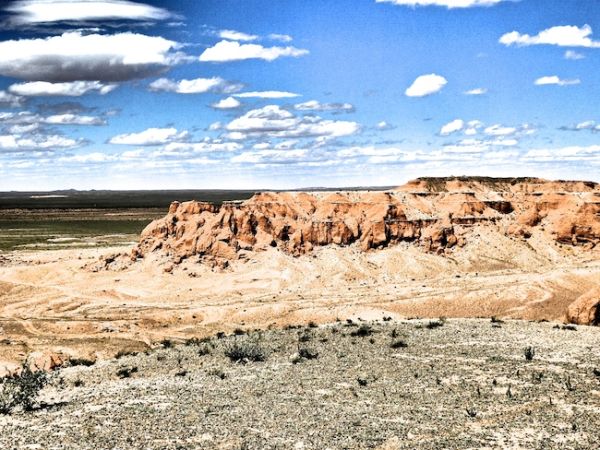 The Bayanzag cliffs are also called the "Flaming Cliffs" because they look like they are on fire when the sun shines on them.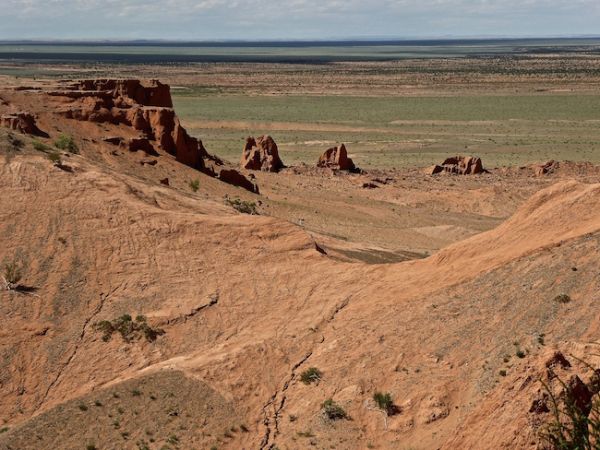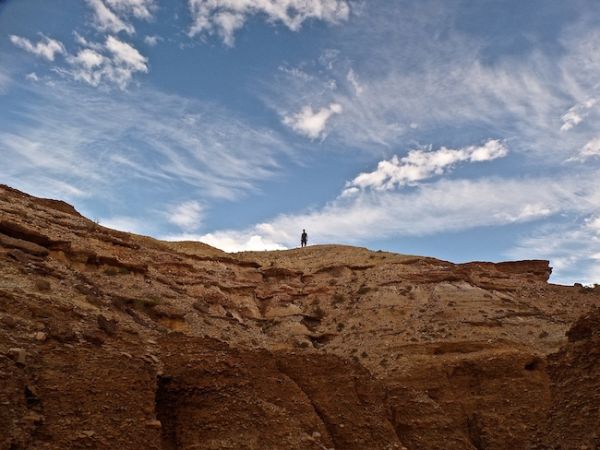 The Khongoryn Els singing sand dunes
The Khongoryn Els are Mongolia's largest group of sand dunes, and one of the few areas of sand dune formations in the Gobi desert. They are up to 300m high and stretch forever.

They are also called, "Duut Mankhan", meaning, "Singing Dunes" because of the sound they make when the sand is moved by the wind.

It's quite fun trying to climb/walk up the sand dune – one step forward, two steps sliding back: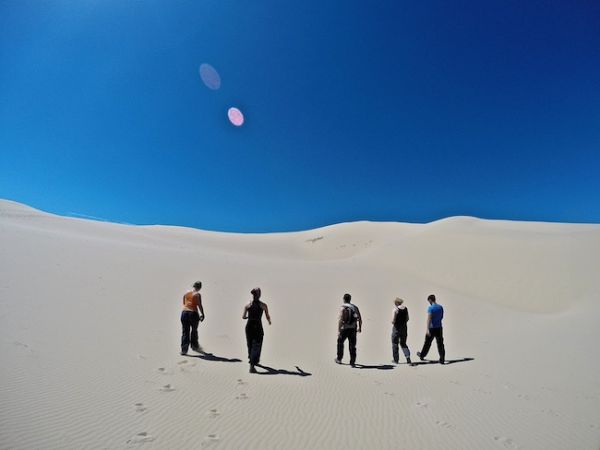 And then running back down them, you land in the really soft sand, feeling like an astronaut in space: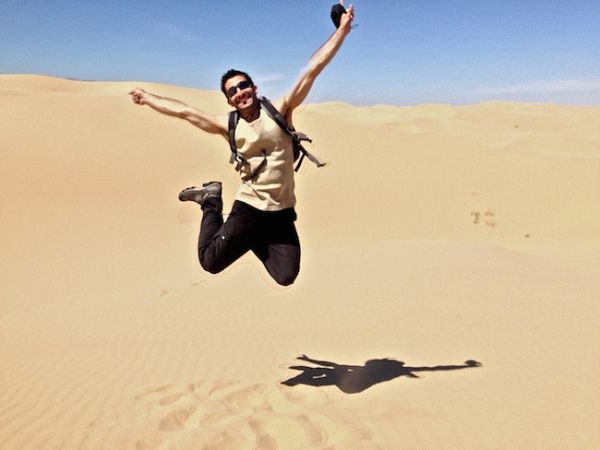 The dunes were also fun for making sand angels: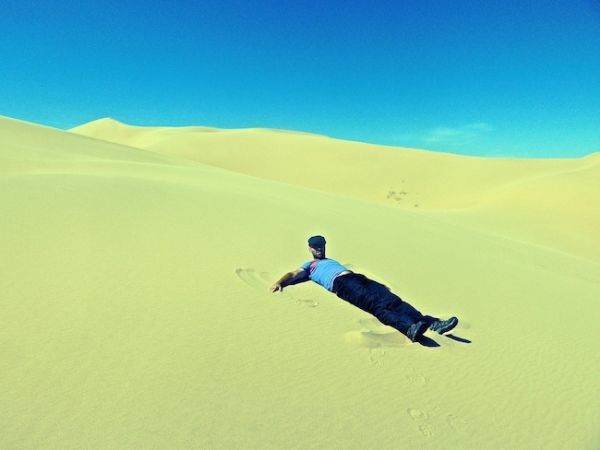 We also found the dunes to be a great backdrop and base for our early morning circuit exercises. And, we even picked up (literally) a fellow travel blogger to join in: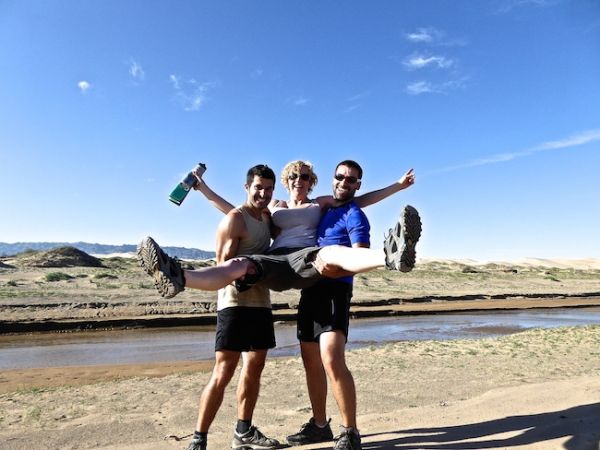 Camels of the Gobi desert
Mongolian nomadic families living in the Gobi desert usually own a small herd of camels.
Mongolian camels ("bactrian") have two humps and are able to tolerate the extreme weather conditions of the Gobi ranging from freezing cold to extreme heat.
The nomadic family we stayed with at Khongoryn Els had a group of camels.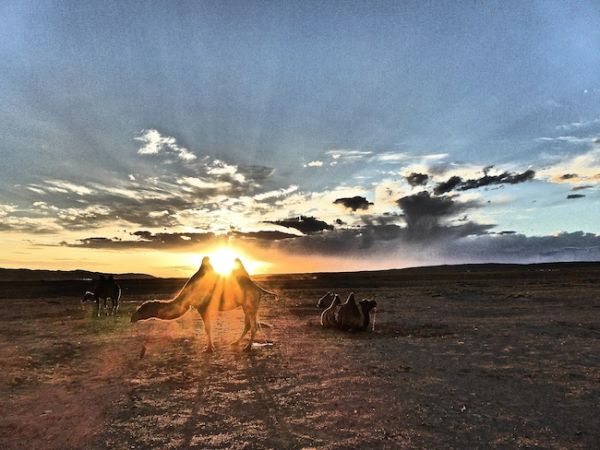 Camels are extremely cute animals (it's the eyelashes and the ears), but they are particularly photogenic with a sunset backdrop: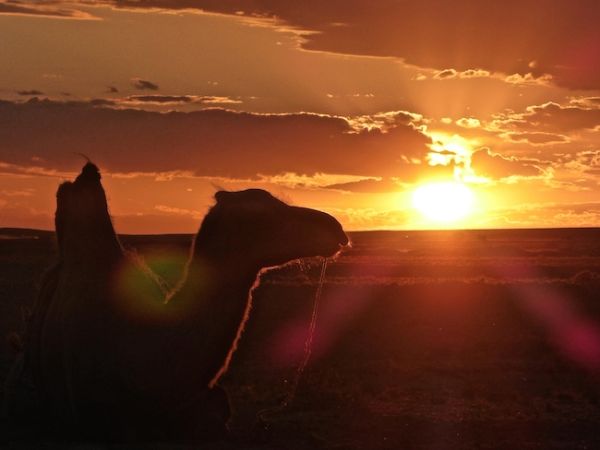 Mongolian camels can go without water for up to 2 months and when water becomes available they can drink up to 57 litres at once. A well fed camel will have plump and erect humps. A hungry camel's humps shrink and lean to the side.
We watched (and highly recommend) the film, "The Story of the Weeping Camel" about a camel rejecting her baby colt and the nomadic family's efforts to reunite the two to prevent the baby colt from dying. This film involves the family trying to find a good violinist to soothe the mother camel to help her accept her colt.
At Khongoryn Els we watched this violinist perform a similar song to soothe the camels and put them to sleep, which also included throat singing:
Camel ride in the Gobi desert:
Naturally, staying with a nomadic family with camels, gave us the opportunity to spend lots of time befriending them and then riding them through the desert: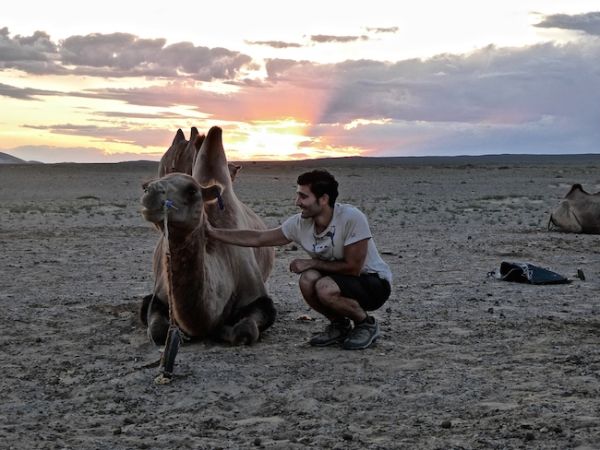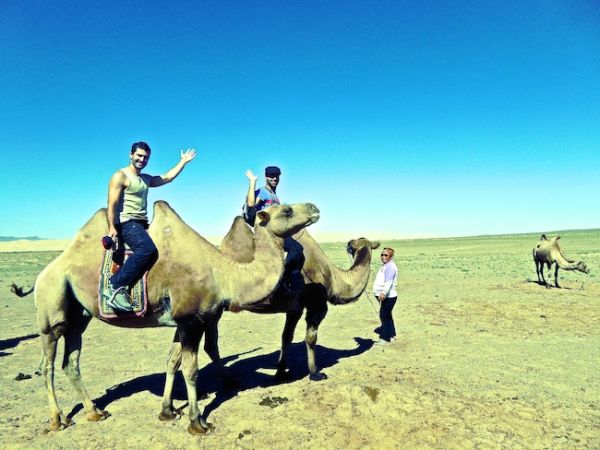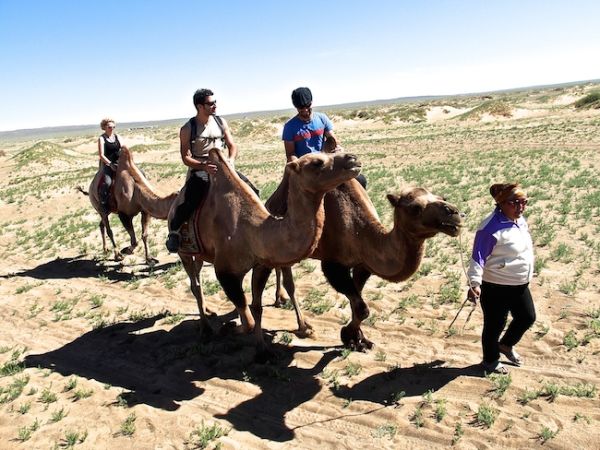 Staying with nomadic families
Mongolia is fascinating because whilst being such a vast area of land, it only has 3 million people, over half of which reside in its capital city, Ulan Bator.
Those residing outside the capital, like in the Gobi desert, usually live in a ger (or otherwise known as a yurt) with their large flock of animals (varying from goats, horses, camels, yaks, sheep and cows).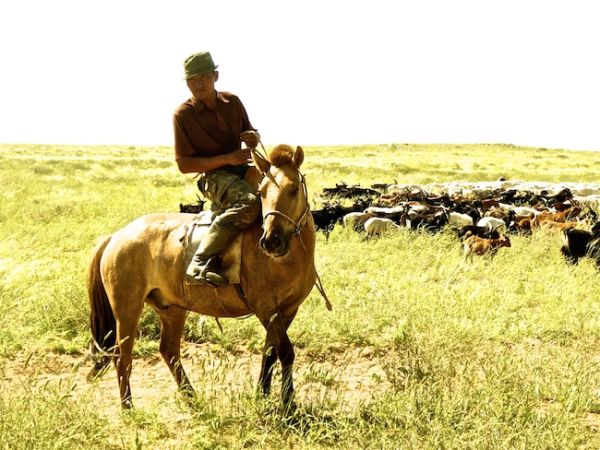 Gers can easily be dismantled to enable the families to move and live somewhere else.
There is gernerally no land ownership in Mongolia so the nomadic families are free to set their gers up wherever they wish.
During our week tour of the Gobi desert, we were fortunate to stay with nomadic families in their gers: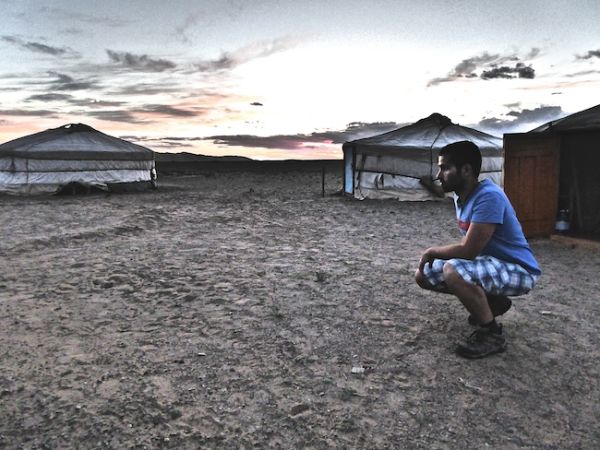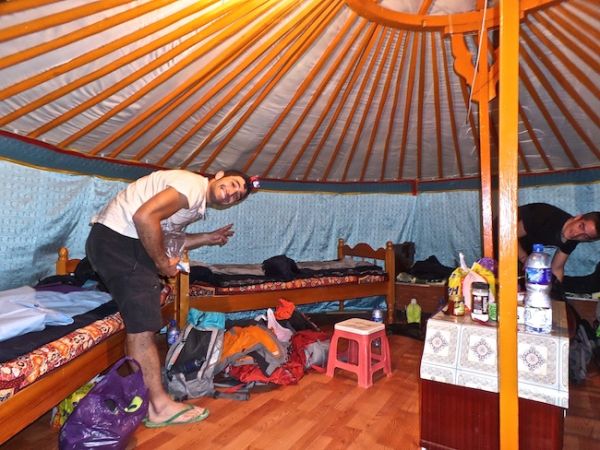 As usual, we made every effort to charm and impress the nomadic families we stayed with: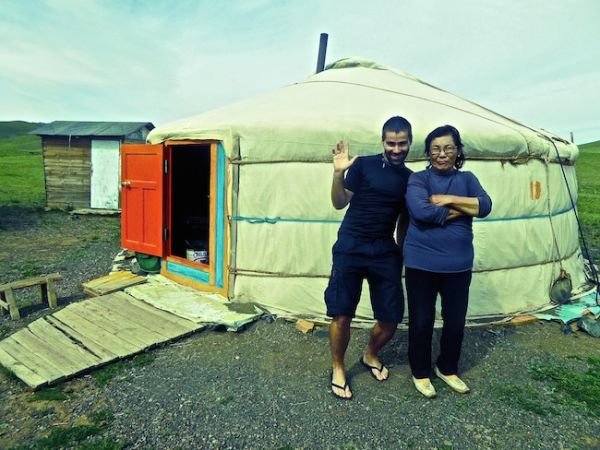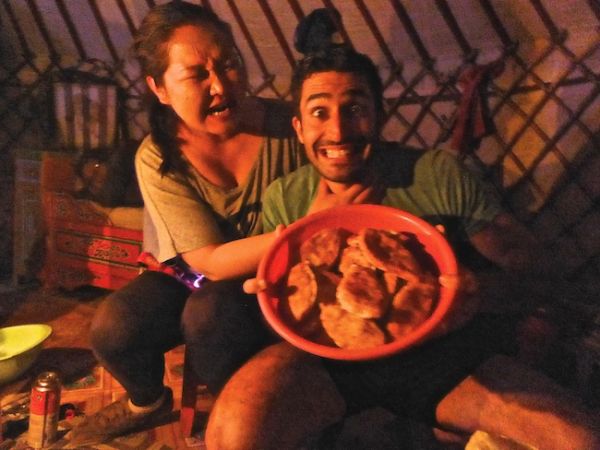 (We had of course attempted to camp but this turned out to be a complete disaster when Stefan tried to set up the tent – a blessing in disguise as it meant staying longer with the nomadic families):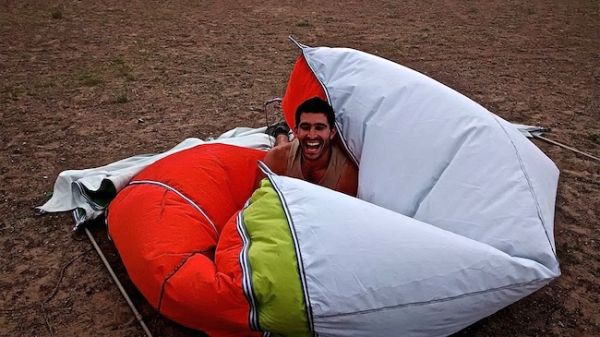 Despite all our efforts to charm the nomadic families we stayed with, we were nonetheless really fortunate to watch this nomadic mother singing this song to us before bedtime:
We really enjoyed admiring the Gobi desert, but by the end of our tour, we welcomed our return to Ulan Bator for a hot shower and to watch Mongolia's famous Naadam festival.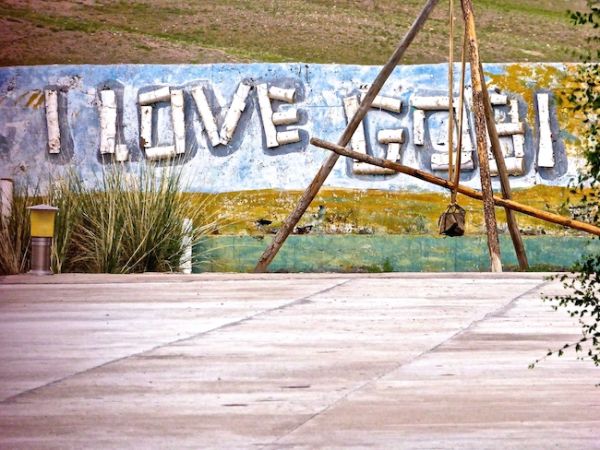 For more from our travels in Mongolia, check out our travel video:
Happy travels are safe travels
We recommend you always take out travel insurance before your next vacation. What happens if you suffer from illness, injury, theft or a cancellation? With travel insurance, you can have peace of mind and not worry. We love World Nomads travel insurance and have been using it for years. Their comprehensive coverage is second to none and their online claims process is very user friendly.