Gay Mongolia: discover Mongolia's only gay bar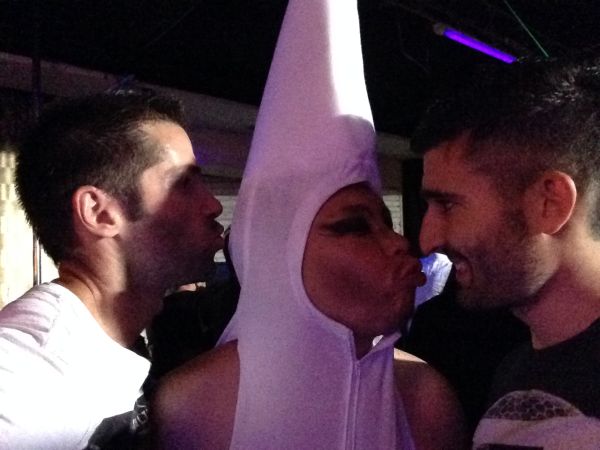 UPDATE AUGUST 2017: Mongolia is set to have its first ever gay pride event. Check this link out for more info.
During our travels in Mongolia, we spent a lot of time in the capital city, Ulan Bator during the popular Naadam festival, where we discovered a subtle gay scene.
Despite being a very traditionally conservative country, we found Mongolia's only gay bar called Hanzo, which has since rebranded and re opened (from June 2015) under the new name of: d.d / h.z.
We met the charming owner, Zorig Alima and picked his brains about owning a gay bar in Ulan Bator and what it was like growing up as a gay man in Mongolia.
#1

Hello hello Zorig!  Tell us a bit about yourself:

Good morning Nomadic Boys. My name is Zorig Alima.

I am a Mongolian gay guy from Ulan Bator, Mongolia and work full time for the Mongolian Railway in Ulan Bator and run the gay bar d.d / h.z as a hobby.
#2

What is gay Mongolia like and the gay scene in Ulan Bator?

Ulan Bator is a fast changing city with 1.5 million people of a total population of 3 million in the whole country. However, the gay life here is still fairly closed. Things are changing, but very slowly and outside of Ulan Bator there is no gay scene. 

My bar, d.d/h.z is the only official gay bar in Mongolia, but we were not the first. 

The first gay bar opened in 2004 called City Life but only lasted a few months due to lack of attendance from the LGBT community. A bar called 100% then opened after 7 years in November 2011 but only lasted for half a year because the homophobic landlords terminated the lease.

I opened Hanzo in April 2012 and in early 2017 rebranded and moved to a new location. The new bar is called d.d / h.z.
#3

 Where is d.d / h.z located exactly in Ulan Bator?

We are opposite the main Mongol Bank, but do also check on Google Maps and also on d.d/h.z's website for more information:
#4 

Did you have any problems when you first opened Hanzo?

Yes we did. The police were so ignorant about gay bars that they thought we were just promoting adultery and prostitution. As a result there were many police raids initially.

As a result of police raids, the LGBT community wanted to remain firmly hidden in the closet, so getting customers was a big struggle in the early years.
#5 

Has the situation for gay life in Ulan Bator since changed or at least improved?

It has improved a lot because overall attitudes in Mongolia towards gays has improved. The police have started to understand that being gay does not automatically mean sex and now cooperate with us on issues like prostitution.

A few years ago Hanzo was one of only two bars mentioned in a popular Mongolian magazine as the "top 50 places you must visit in Ulan Bator", which helped the LGBT community start to appreciate us and gain the courage to come out to us! 

The translated quote in this magazine said:

"Although people have a perception of it being a gaybar, we would vote for it as one of the very few underground places in Ulan Bator, where the most open minded people gather.  Organising many unique and interesting events, and giving pleasant surprises of new music makes it the place to visit".
#6 

How did gays in Mongolia and Ulan Bator meet and socialise before Hanzo and d.d/h.z existed?

Many years ago, we would meet at parks and public toilets and there were sometimes monthly gay nights organised at word by mouth venues.

The growth of the internet over the past 10-20 years has changed things massively for the gay community and made it easier then ever to meet.

But in the old days, it used to be pretty hard to find "one of your kind"!
#7

 Are you openly gay in Ulan Bator and with your family?

I am openly gay to my family and they fully support me and d.d / h.z. 

I have not formally come out to my colleagues but I wouldn't be surprised if they've worked it out by now. 
#8

 What advice to you have for gay tourists visiting Mongolia?

Mongolians welcome foreigners and I definitely recommend trying to meet a few locals using social media apps like Grindr, Hornet or Jack'd and join our gay Mongolia d.d/h.z's Facebook group.
#9

 Can you recommend any gay-friendly hotels or guesthouses in Ulan Bator ?

Gay-friendly accommodation is not so easy to find in Ulan Bator as this is something Mongolians are still waking up to. However, over the recent years, a few hotels have started being more open-minded and accept all sexual orientations:

SUNPATH HOTEL   Book online
this hostel is run by a lovely open-minded woman called Doljmaa, who will also help you with organising a tour around the country.
Foreign gay friends have stayed in this hostel in the past with no problems.
KEMPINSKI HOTEL KHAN PALACE   Book online
This is a big hotel used to dealing with Westerners.
I had a few friends who stayed there when they came t to visit me and they have always felt welcomed and accepted.

#10

 And finally, Stefan found this lovely new hat at Ulan Bator's famous black market. Can he join in at d.d/h.z's next big cabaret evening?

Ha ha!! Of course! In fact finding drag queens in Mongolia is always a struggle because there aren't that many. So in order to have everything in place, you have no other choice than to do it yourself:
Watch our travels through the Gobi Desert and the central country in our Mongolia travel video: