Mongolian food and drinks are influenced by the extreme climate.  Winter temperatures drop to -40°C and then rise to +50°C during the summer.
Due to the extreme climates, it is difficult or impossible to grow anything. Chicken cannot survive the extreme temperatures, so they are imported. Fruit and vegetables are also imported and are generally very expensive. One of the nomadic families we stayed with told us that fruit and vegetables are considered "unmanly" and traditionally used in Mongolia as food for the animals. Not the best destination for vegetarians or vegans!
Mongolia is also landlocked, so no sign of fish anywhere else. And water is sparse. Therefore, milk is often used as a base to create drinks. Here are our top drinks to try in Mongolia!
Salted drink tea – Süütei Tsai
Water in Mongolia is traditionally regarded to be very sacred, and in the arid desert areas, quite scarce. An old tradition from the Mongol empire is not to drink pure water straight. Milk is therefore used more widely as a beverage and the most popular drink is the "Süütei Tsai" meaning, salted tea.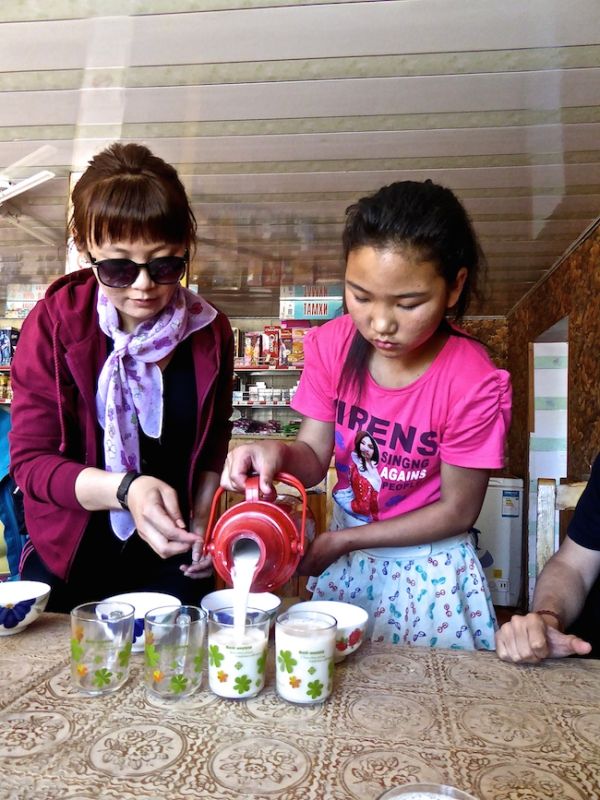 The milk is usually from cows, but can also be from camels, horses, yaks, goats, and sheep.
Süütei Tsai is drunk with meals throughout the day. In addition, upon entering a nomadic family's ger, you will traditionally be offered a plate of dairy products and a bowl of Süütei Tsai.
For Westerners, it is a strange taste as we are not used to drinking tea or milk based beverages with salt.
Airag – Drink made of fermented mare's milk
Airag is fermented mare's milk with a slight alcoholic content. It dates back to the Mongol times when traditionally guests in a nomadic ger would be offered a bowl of airag along with a plate of dairy treats.
In Mongolia, the milking season for horses traditionally runs between mid-June and early October.
We were quite excited to try airag as we had heard a lot about this drink before arriving.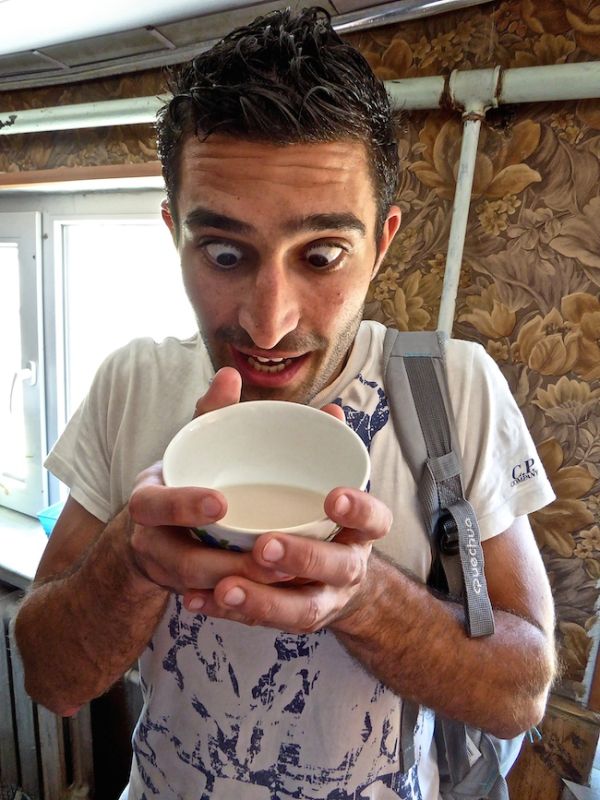 But our excitement for this drink quickly dwindled. Airag is bitter and sour. It is also supposed to have "cleansing" qualities and you are warned to go easy on it. We did not need to be warned as a few sips was more then enough to satisfy our airag curiosity once and for all!
Fermented camel's milk is also made, which we tried in the Gobi desert, but we did not really take to this either.
Mongolian Vodka
As a result of the Russian influence during socialism, vodka has also gained popularity in Mongolia and even has its own local brands. The most famous brand is Chinggis Vodka and accounts for 30% of the spirits market: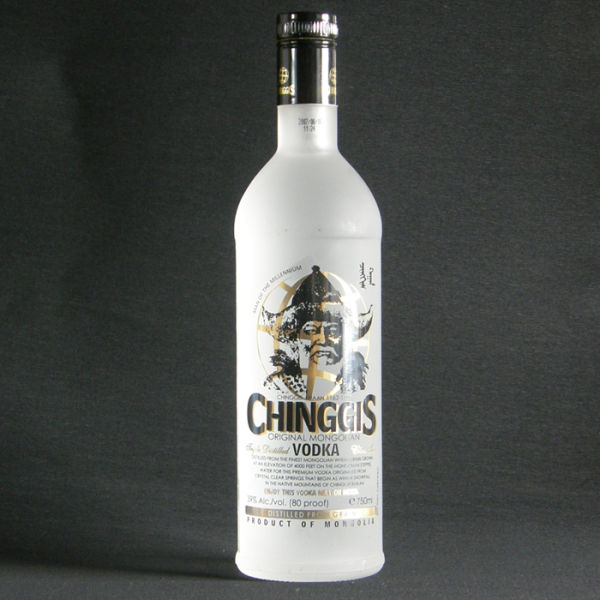 In one ger during our tour of the Gobi desert we tried vodka made from camel milk which was quite nice.
Mongolian Beer
Beer has become the most popular beverage in Mongolia, especially in its capital city, Ulan Bator. Mongolia brews its own different variety of beers and are nicknamed, "shar-airag" or yellow airag.
Fortunately, Mongolian beers taste nothing like airag.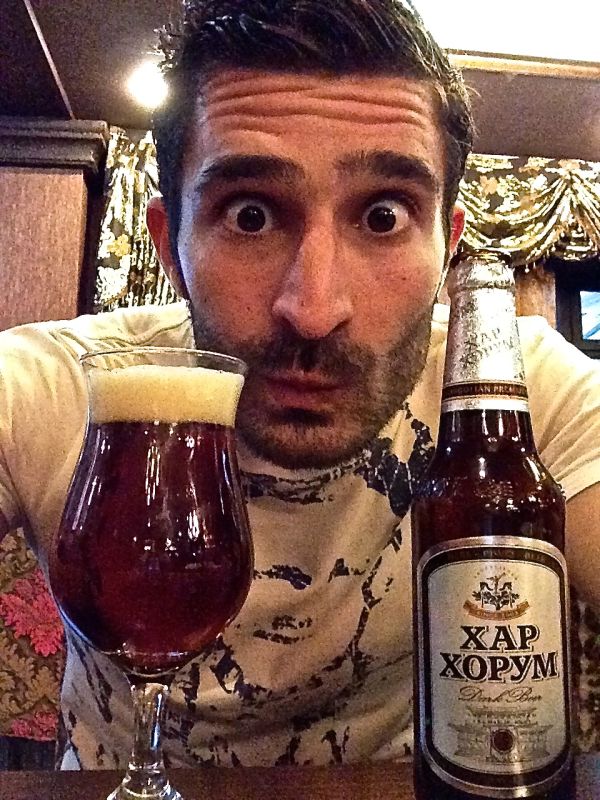 Mongolian dried curd
Mongolian nomadic families usually have a herd of animals, which include sheep, cows, goats, horses and sometimes camels and yaks.  The milk from most of these animals, is used to make a variety of products ranging from butter, cheese, called "byaslag", fried dough biscuits called "boortsog" and dried curds called "aaruul" which could be called the dried Mongolian yoghurt. We've added it to our this article because the curds are often served with drinks.
Traditionally, upon entering a nomadic ger, the family will offer guest a plate of dairy treats such as aaruul with drinks (Airag or salted tea).  During our tour of Central Mongolia, Stefan took a particular liking to the aaruul dried curds: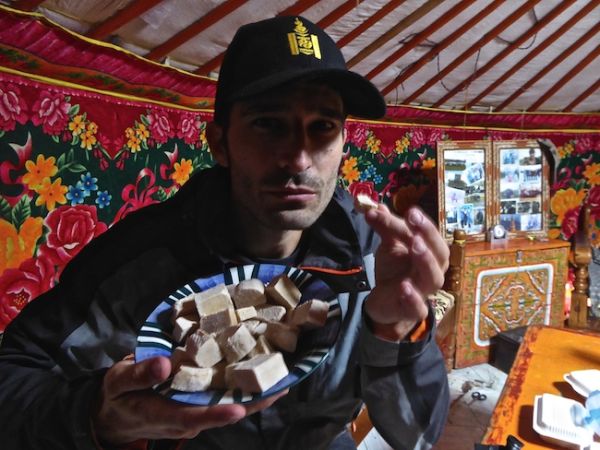 Happy travels are safe travels
We recommend you always take out travel insurance before your next vacation. What happens if you suffer from illness, injury, theft or a cancellation? With travel insurance, you can have peace of mind and not worry. We love World Nomads travel insurance and have been using it for years. Their comprehensive coverage is second to none and their online claims process is very user friendly.