Luang Prabang is a great city to visit in North Laos. We particularly loved it because of the excellent street food in the night market. It reminded us of our street food experiences in Thailand and the yummy street food scene in Xi'An in China.
This is our top 10 favourite street food in Luang Prabang that made us very happy during our week in this city:
1. Barbecued meats
There are many stalls selling barbecued meats. But unlike elsewhere in Laos, the street food in Luang Prabang this has been adapted for foreigners.
In Laos, every part of the animal is eaten, so eating in a more local restaurant was hard for us (congealed pig's blood in your noodle soup anyone? Or chunks of pork fat or other insides…?)
The meat at the night market is by far the best street food in Luang Prabang. It's proper meat and it's damn good.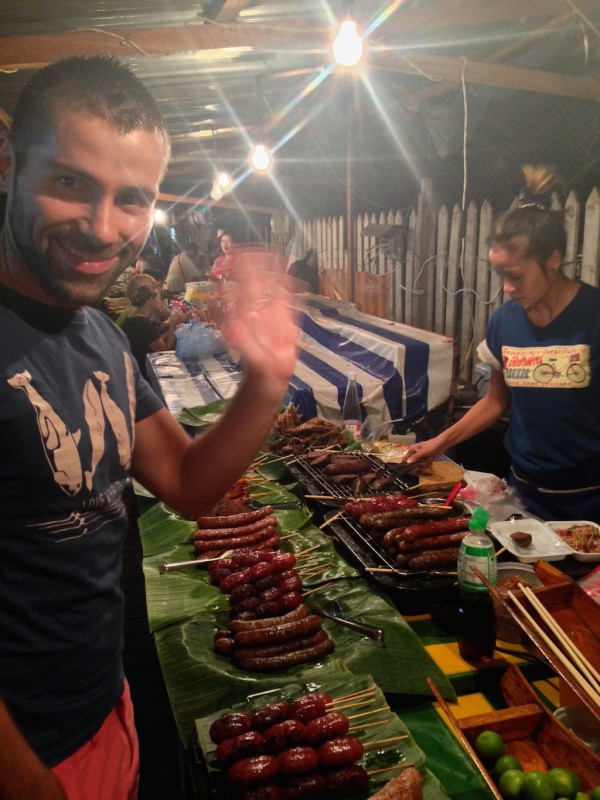 2. Salted barbecued fish
As well as barbecued meats, fish is a very popular street food in Luang Prabang. There is a selection of different sized fish, which have been marinated, salted and are then barbecued in front of you to make a very tasty meal.
It's around 30,000 to 50,000 kips (£2.50-£4 / $4-$6) for a whole fish depending on the size.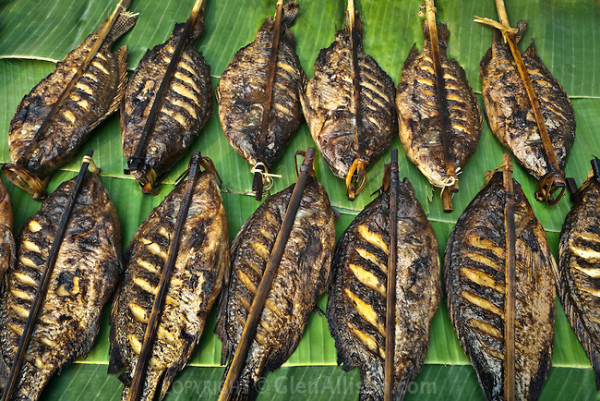 3. Baguette sandwiches
There are many colourful stalls selling various baguette sandwiches for as little as 10,000 kips each (84p / $1.30). This may not seem anything special, but in Asia where the carbohydrate staple is rice and noodles, you do miss good bread.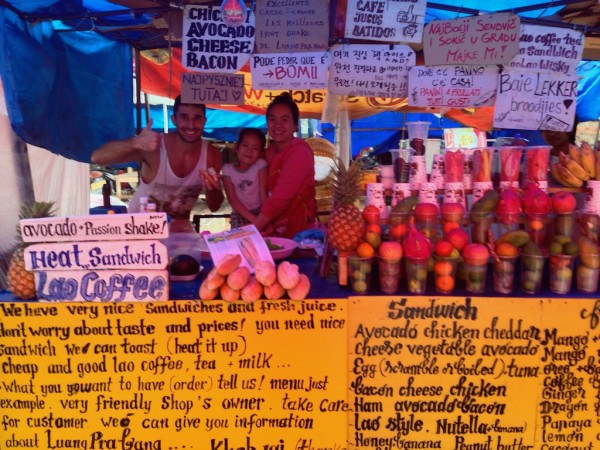 4. Noodle soup
Noodle soup is staple street food in Luang Prabang and in Laos generally.
We struggled at first with it in the local restaurants because of the variety of very questionable meats used. This is not the case at the night market, which has been adapted for foreigners and contains proper meat.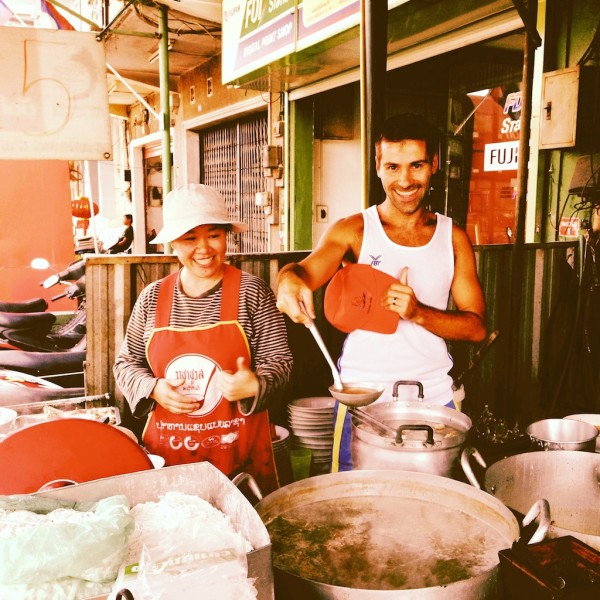 5. Exotic fruits
Tropical fruit is one our favourite foods whilst travelling in Asia and the street food market in Luang Prabang is abundant with them. Mangos were particularly unique as these are home grown in Laos, sweet and plentiful.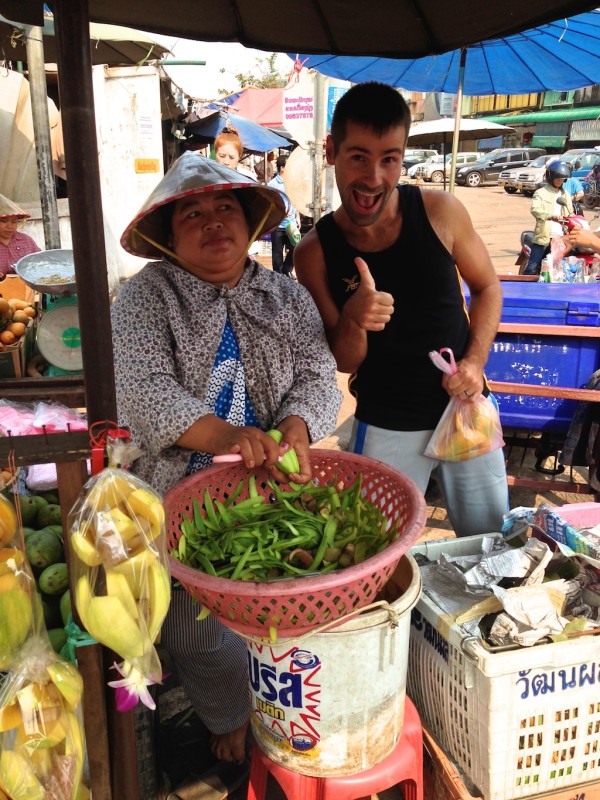 6. Sugar cane juice
Sugar cane was our exciting 'discovery' from the street food in Yangon, Myanmar. It is available everywhere in Luang Prabang street stalls.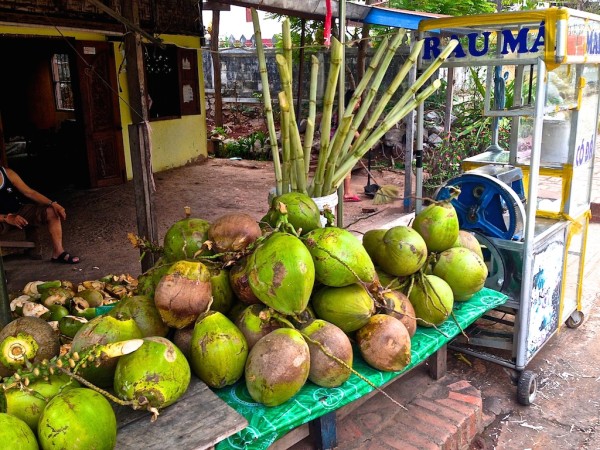 The juice is squeezed out and then served in a small plastic bag with a straw to drink it.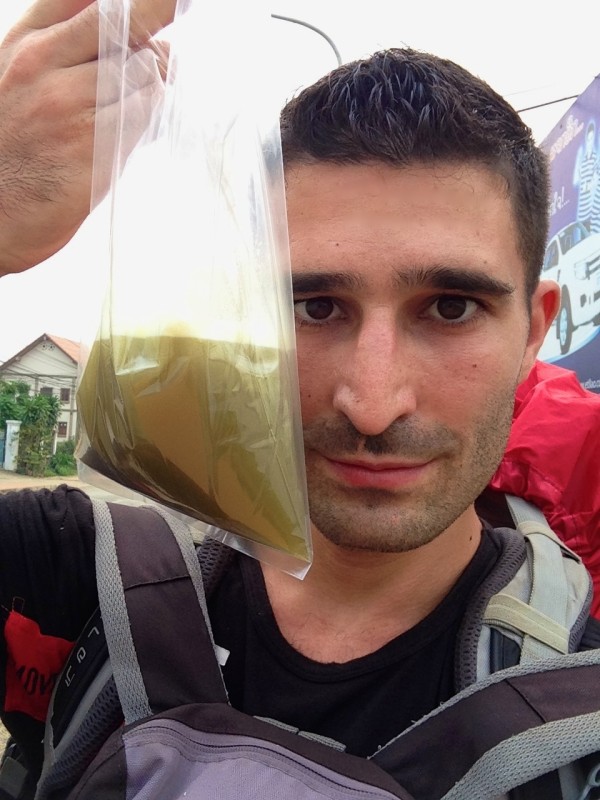 7. Spicy papaya salad
Som tam is the Thai take on the spicy papaya salad. We found out this healthy salad originated from Laos and called tam maak hoong.
Papaya salad is a very popular street food in Luang Prabang, made from green papaya with a cucumber like consistency, lots of lime juice, chilli and fish sauce. There are many stalls dotted around the night market and in Laos generally where it is prepared and sold.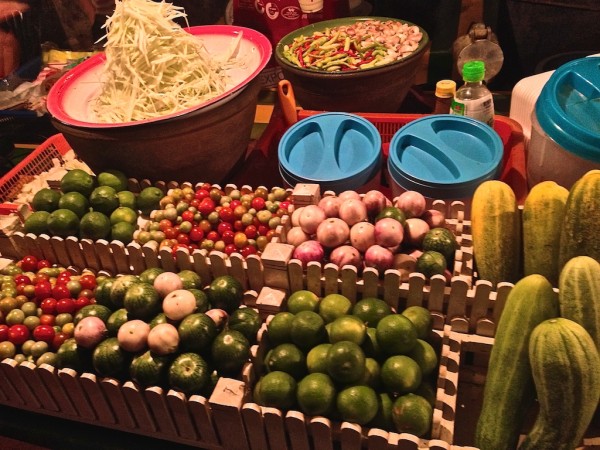 8. Kanom krok (coconut rice pancakes)
Kanom krok are small pancakes like desserts made from coconut milk, sugar, sticky rice and flour. They are cooked in the kanom krok cast iron pans.
They are made by a few stalls at the entrance to the food area of the night market in Luang Prabang.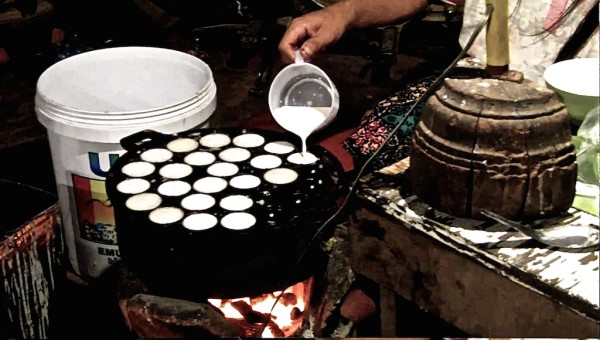 9. Fried spring rolls
There are a few stalls at the night market making freshly made fried spring rolls both meat and vegetarian. They are sold in packets of around 5 for 10,000 kips (84p / $1.3) each.
Spring rolls are popular throughout Asia, but the ones sold as street food in Luang Prabang particularly resonated with us.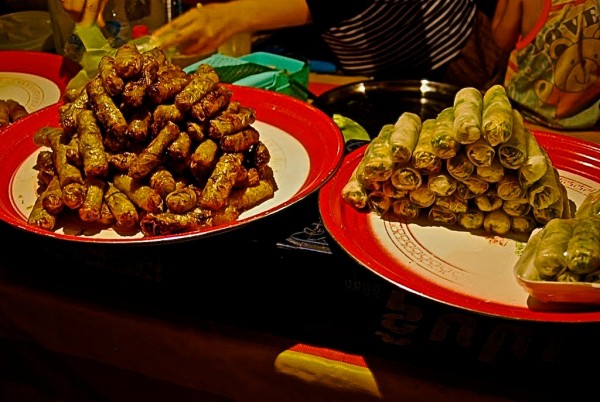 10. Fried dumplings
One very friendly man works alongside his wife at the street food market of Luang Prabang. She prepares the noodle soup and he prepares the fried dumplings.
Just like the spring rolls, meat and vegetarian ones are freshly made and sold. A spicy sauce is given as an accompaniment to give it a kick.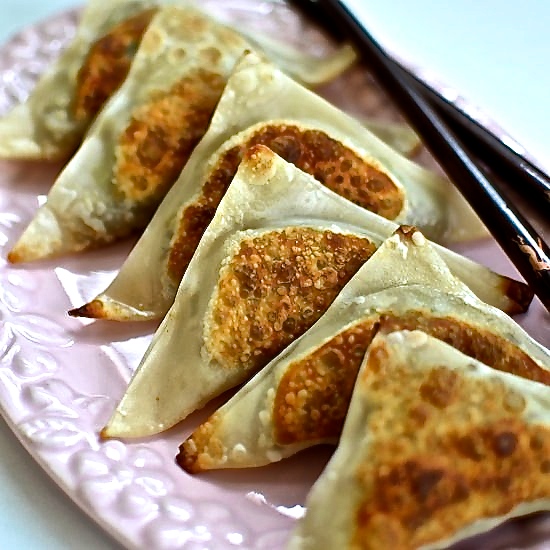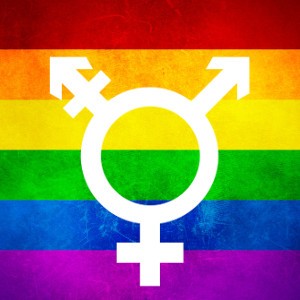 Advice for LGBTQ travellers to Luang Prabang
Laos is generally gay friendly. At no stage did we ever experience any problems anywhere in the country as a gay couple. The Laotians are very respectful, charming, welcoming and curious with foreigners. Luang Prabang is the most touristic part of Laos, full of people from all over the world. Here especially you'll have no issues as an LGBTQ traveller. Getting a double bed was never a problem for us in any of the hotels or guesthouses we stayed at in Luang Prabang (or elsewhere in Laos). For more, read our interview with our dear friend Somphorn (RIP) about what gay life in Laos is like.
You can read more about our experiences discovering food in Laos and watch our Laos travel video.
Happy travels are safe travels
We recommend you always take out travel insurance before your next vacation. What happens if you suffer from illness, injury, theft or a cancellation? With travel insurance, you can have peace of mind and not worry. We love World Nomads travel insurance and have been using it for years. Their comprehensive coverage is second to none and their online claims process is very user friendly.