TERMS OF USE: There is a chance that some of the content on this page has changed since it was last updated. By reading this article, you consent to our Terms of Use and Disclaimer. Happy Travels!
DISCLOSURE: Some of our posts may contain affiliate links which we may receive a commission if you choose to book something through one of our links.
Here's our guide to all the best gay hotels in Bangkok for gay travelers to stay and enjoy the best of Thailand's capital city.
Brash, loud and unapologetically wild, Bangkok is everything a gay capital should be. The gay life of Bangkok is the stuff of legend, particularly along Silom Soi 2 and 4. As the saying goes, you can find just about anything in the "City of Angels". If you know where to look that is.
Luckily, Seby and I have been coming for long enough to know exactly where to look by now. Although the majority of downtown Bangkok is extremely gay-friendly, areas like Silom and Bang Rak have become the city's de-facto rainbow districts. Home to gay bars, clubs and much more besides, these areas are a veritable pleasure zone for visiting gay travelers.
From our experiences in the Thai capital, we have put together a guide to the best gay hotels in Bangkok to help inspire your own trip to one of the gayest places in Asia. Whether you just need somewhere simple to rest your head or you're seeking a full-blown five-star luxury treat, our guide to the best gay hotels in Bangkok will have you covered.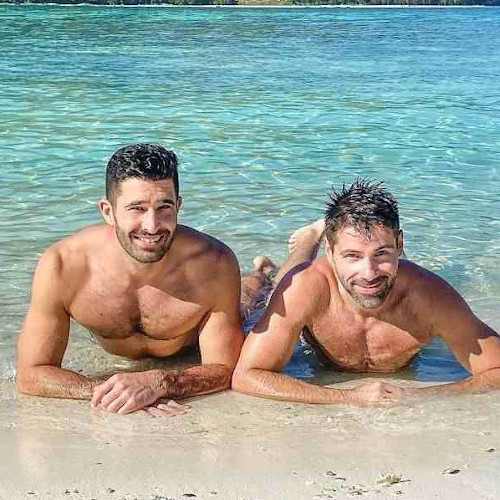 Gay tour of Thailand
Discover how Thailand earned its moniker 'The Land of Smiles' on a this awesome gay tour with Out Adventures. The boys over at OA run four annual departures through the country with stops in Bangkok, Chiang Mai, Krabi and Phuket. Their April departure even aligns with the country's famous Songkran water festival. As the old circuit ditty goes, LET'S GET SOAKING WET!
Where to base yourself in Bangkok
As an enormous megacity, Bangkok is best thought of in terms of small villages within a whole rather than as a single entity. Conveniently for gay travelers visiting Thailand, most of Bangkok's best LGBTQ hubs are located in the heart of the city, so you will be spoilt for choice when considering where to base yourself in Bangkok. We set out the main gay hubs in Bangkok below but for more help planning your trip, be sure to check out our detailed gay guide to Bangkok.
Silom: The cosmopolitan area around Silom Road is a glamorous and vibrant area of downtown Bangkok. Part of the broader Bang Rak neighborhood, Silom has in recent years become known as Bangkok's main gaybourhood. From dive bars to full-blown gay nightclubs to everything in between, you will find it all in Silom. Most of the action takes place around Soi 4, where the neighborhood is at its gayest!
Sathorn: Just south of Silom, Sathorn offers a good selection of gay nightlife with a more polished vibe than its nearby cousin. Expect cocktail lounges and trendy bars as well as some seriously cool hotels.
Bang Rak: The wider neighborhood containing Silom, Bang Rak is a glitzy area of central Bangkok that boasts some of the most upmarket hotels in all of Asia.
Khlong Toei: Home to Sukhumvit Road and a stretch of the Chao Phraya River, up and coming Khlong Toei is ideal for those seeking some refined glamor in Bangkok.
Pathumwan: North of Bang Rak, Pathumwan is perfect for gay travelers who want to blend the nightlife of Silom with shopping and culture. Home to Siam Square, Bangkok's busiest mall, and the hip Bangkok Art and Cultural Centre.
Khlong San: Located across the river from Bang Rak, this up and coming district is home to an increasing number of five-star luxury hotels.
Budget gay travelers fear not, we've got you covered in our guide to our favourite gay hostels in Bangkok.
How to get WiFi in Thailand?
Before heading off, don't forget to pre-order your pocket WiFi so you can stay online throughout your trip to Bangkok. You can choose to pick it up at the airport or get it delivered to your hotel room. Pocket WiFi will save you a lot of money on roaming fees. For more info, check out our comprehensive guide to renting pocket WiFi in Thailand.
01
W Bangkok
Silom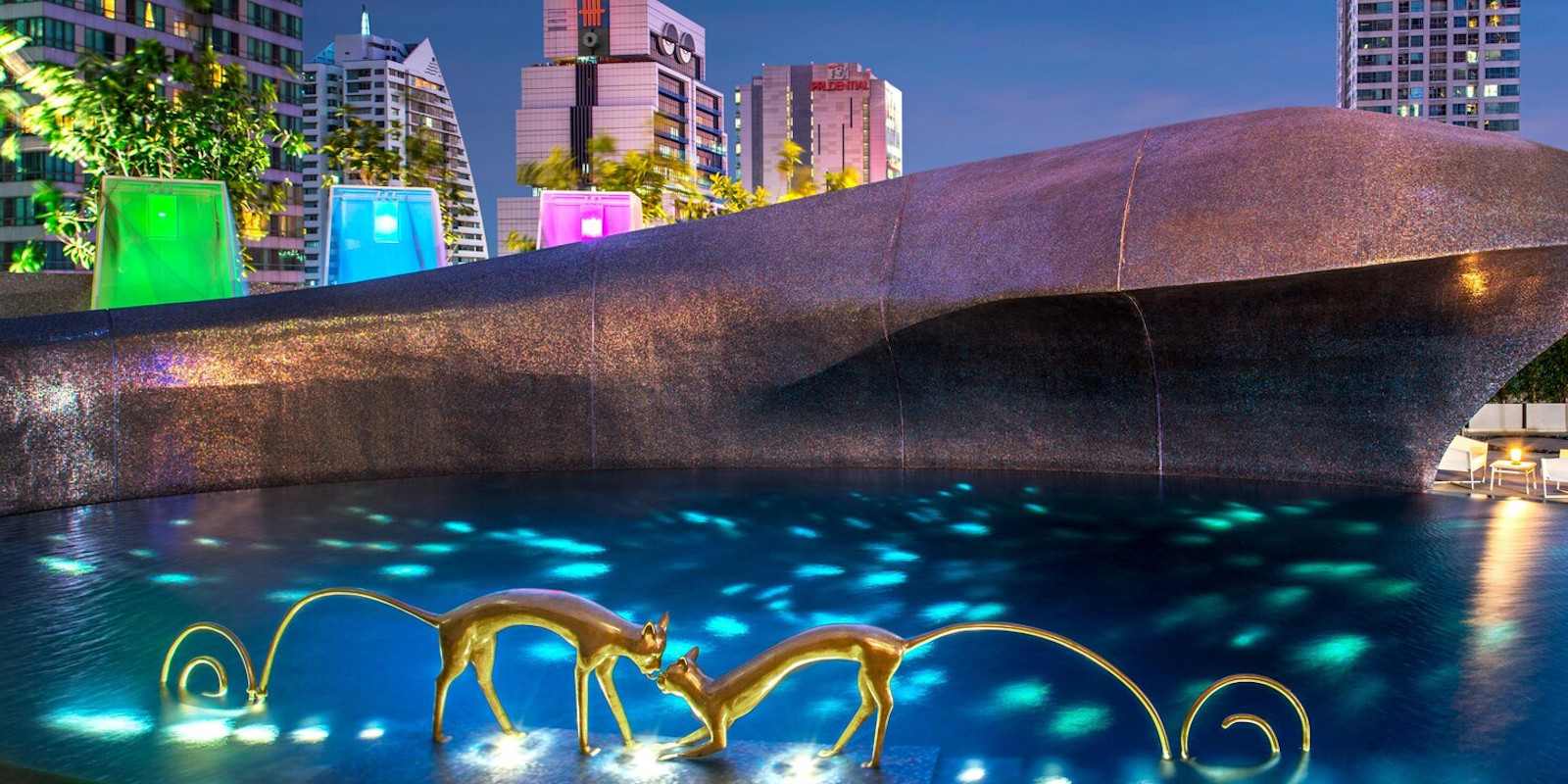 Why we love it
---
Wonderfully weird luxury hotel
Stunning and relaxing spa
Multiple pools and jacuzzi
Excellent on-site restaurants
Close to the heart of Bangkok's gay scene in Silom, the W is one of our favorite places to stay in the Thai capital. This luxurious gay friendly hotel delivers on so many levels, with incredibly luxurious rooms that made us feel like a pair of superstars.
The outdoor pool and fitness center allowed us to keep fit in between wild nights out in Gay Silom, not to mention all of the delicious Thai food we ate. The restaurants at W Bangkok are amazing too.
With everything from French to Thai to Japanese food served at different restaurants throughout the space, we certainly never went hungry during our time at the W!
Then there was the spa area, where we enjoyed lavish treatments that left us looking and feeling like a million dollars before our nights out on the town. We also spent plenty of time at the rooftop pool, which is one of the most beautiful of any in Bangkok as far as we are concerned. With a cocktail in hand, there's no better place to while away a few hours before heading out for dinner.
Our stay at W Bangkok was one of pure luxury. The amazing staff were as gay-friendly as any in town, whilst the location of this hotel meant we were never more than a stone's throw from the Thai capital's awesome LGBTQ hub in Silom.
STAY WITH A GAY LOCAL
Misterb&b is the Airbnb equivalent for the LGBTQ community. Unlike on Airbnb, you know your host is gay, voiding any nasty surprises when you check-in. It is also a great way to meet gay locals and discover the underground gay scene. Click below to get 10 € (or $10) off our first booking.
02
Mandarin Oriental Bangkok
Bang Rak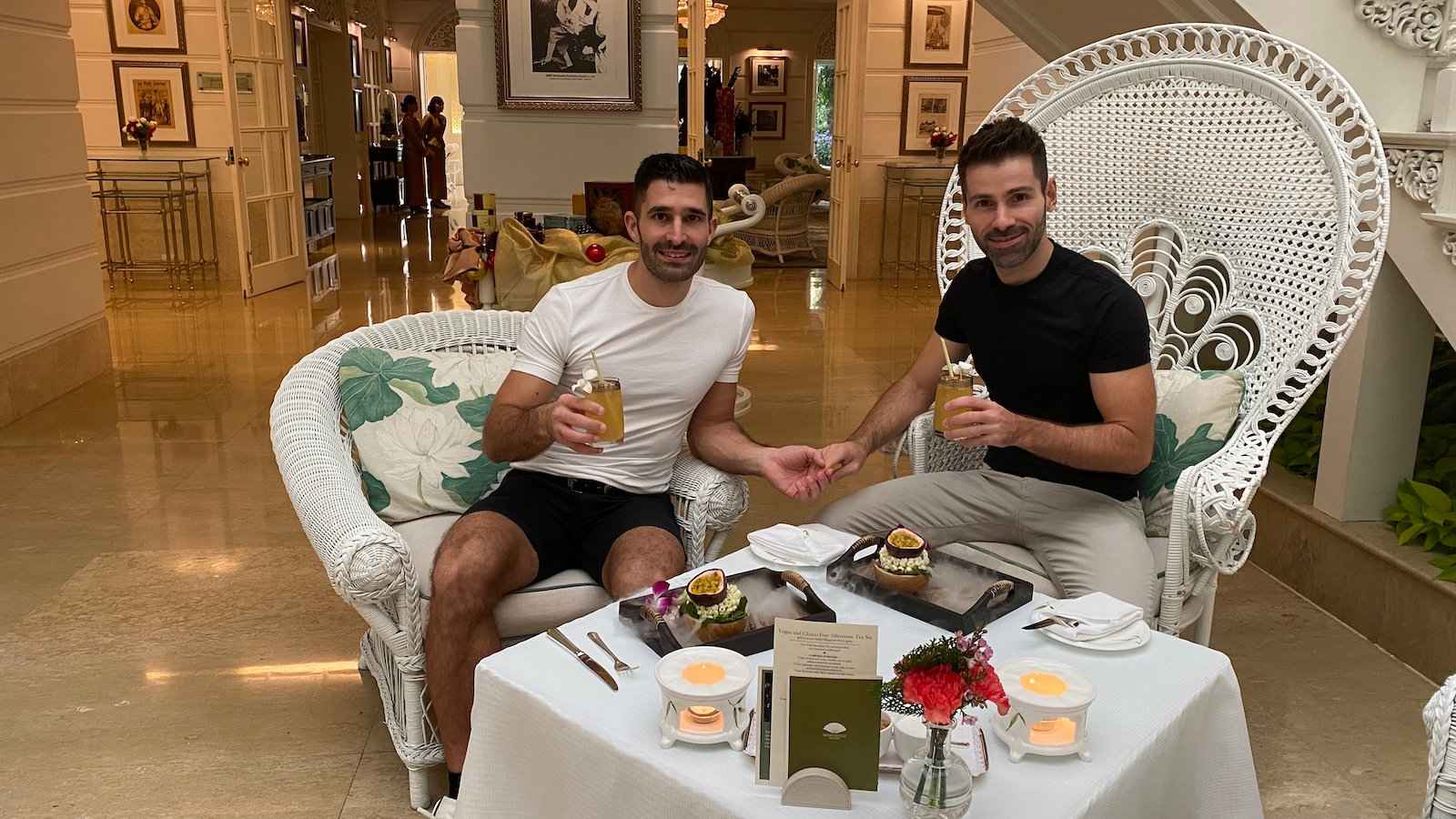 Why we love it
---
Very swanky luxury hotel
Two Michelin-starred restaurant on site
Close to Bangkok's gay scene
Makes you feel like royalty
This gay friendly hotel is the epitome of five-star luxury in Bangkok. The Mandarin Oriental might just be the swankiest hotel in the Thai capital and our time here was one packed with pampering.
For starters, the rooms are decked out in rare teak woods and fine Thai silks. On top of that, the unbeatable views through our floor-to-ceiling windows were maybe the best we enjoyed in Bangkok. We really felt like Thai royalty!
During our stay at the Mandarin Oriental Bangkok, Seby was missing the flavors of his native France and so we thought we would treat ourselves. Le Normandie is a two michelin-starred restaurant located inside the hotel that serves some of the most sophisticated Gallic fare this side of the Seine. Indulging in foie gras and Bordeaux wines, our resident Frenchman never looked so happy!
Located in Bang Rak, the Mandarin Oriental makes a top choice for gay boys in Bangkok as it is just a hop, skip and a jump away from the vibrant LGBTQ scene in Silom. We partied all night before making the short stroll back to our sanctuary at this luxurious five-star palace. Also, make sure you try out the Afternoon Tea at the Authors' Lounge – it's goooood!
03
The Tarntawan Hotel Surawong Bangkok
Bang Rak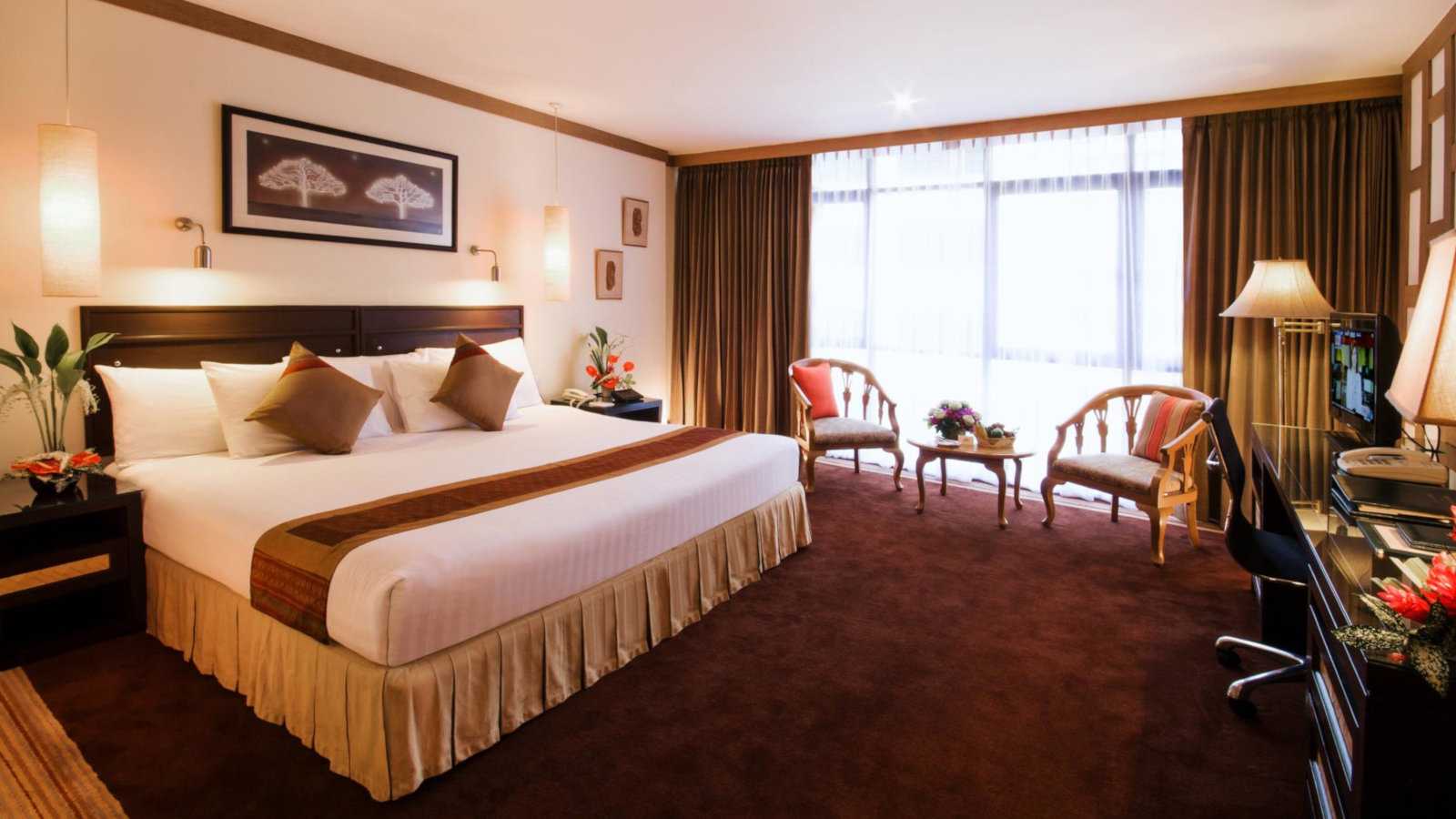 Why we love it
---
Complimentary breakfast available all day
Cocktail party for guests on Tuesdays
Cool lobby lounge bar and restaurant
Short walk to Bangkok's gay scene
Just a short walk to the gay scene at Silom, the Tarntawan Hotel is one of our favorite gay hotels in Bangkok. Offering amazing value for your money, The Tarntawan is ideal for those seeking luxury on a budget in Bangkok.
We adored the rooms at this hotel, which blend the best of Thai traditions with all of the comforts you would expect from a modern four-star hotel.
The bed was one of the comfiest we slept in during our time in Thailand whilst the complimentary bathrobes were a lovely little touch of star treatment. Lumphini Park is just down the street from this hotel, a blessing in this concrete jungle of a city! Seby and I spent plenty of time strolling amid the lush gardens before heading back to our hotel to get ready for a night out on the tiles in Silom.
Due to its proximity to the gay scene in Silom and Soi 4, this is known to be one of the most gay-friendly hotels of any in Bangkok, so we felt super-comfortable throughout our stay here. We also loved how quiet this hotel was even though it is in a bustling neighborhood, a perk of its location set back from the busy main street.
04
Banyan Tree Bangkok
Sathorn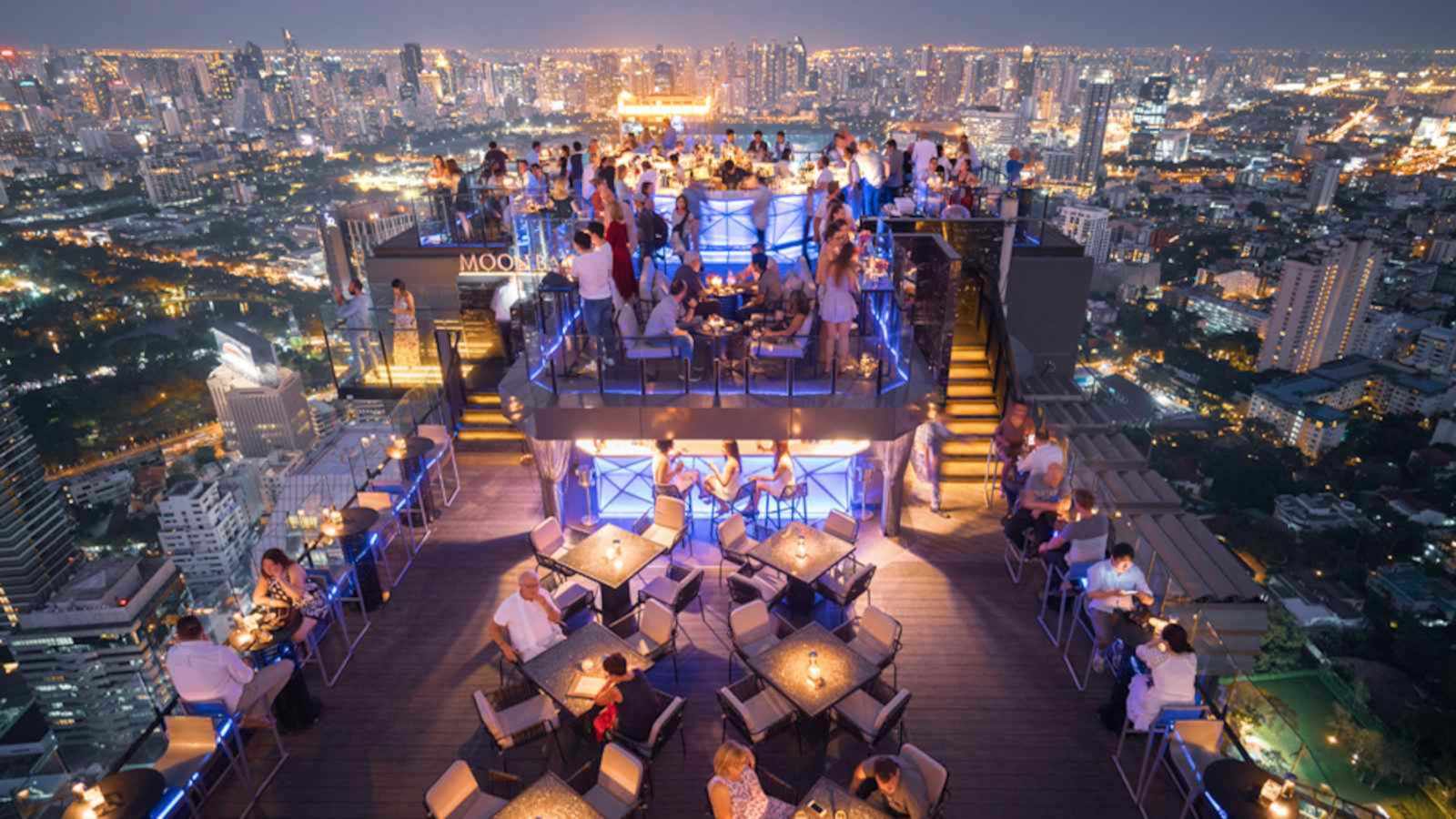 Why we love it
---
Peaceful and zen hotel
Incredible rooftop restaurant and bar
Lovely swimming pool and spa
First-class restaurants in house
This deluxe five-star gay friendly hotel in Sathorn is as plush as they come. A stay here will leave you feeling like a true VIP, whilst the delights of Silom are just a short trip away.
Banyan Tree is one of the most high-end hotels in Bangkok. From the incredible rooms offering guests unparalleled views of the Thai capital to the first-class restaurants located on-site, everything about Banyan Tree screams exclusivity.
The decor at this hotel has to be one of its major plus points. Classy without ever going too far and entering tacky territory, there is a perfect balance between classic and modern throughout Banyan Tree Bangkok. This hotel is also a top option for gay boys who like to stay in shape, with one of the best gyms of any luxury Bangkok hotel. Throw in the sauna and steam facilities and you'll be more than prepared for a night out enjoying the nearby gay scene in Silom.
We enjoyed one of the most memorable drinks of our trip to Bangkok at Banyan Tree's Vertigo Bar. True to its name, this section of the hotel sits atop the roof and provides perhaps the finest views of any place in the entire city. Not for the faint of heart, or stomach!
05
SO Sofitel Bangkok
Sathorn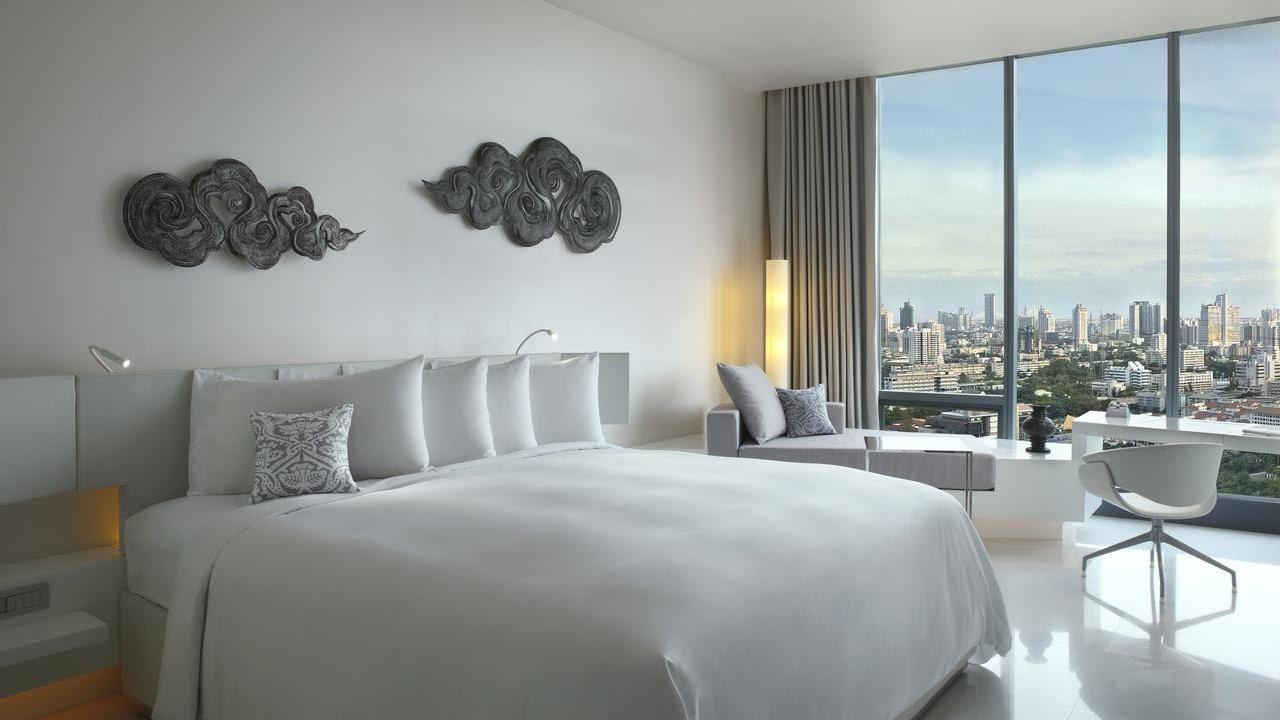 Why we love it
---
Tastefully luxurious
Romantic rooftop bar
Incredible SO Spa
Best sunset view in Bangkok
Offering the utmost in modern luxury at the heart of Sathorn, SO Sofitel is one of our top picks for gay-friendly hotels in Bangkok. Not only will you be close to all of the action at the city's top gay nightlife zones, yet a stay at this luxury hotel will leave you feeling oh so special.
Like so many of the city's luxury hotels, SO Sofitel Bangkok boasts an awesome rooftop bar that should not be missed.
Towering over Bangkok, the thirty-storey SO Sofitel is a study in contemporary style. Taking inspiration from the five elements, this is one of our favorite modern hotels in Bangkok. For us, the true highlight of this hotel is the amazing SO Spa, an enchanted forest of a place were all manner of treatments and experiences await. Along with a pool and fitness center, guests have some serious options when it comes to pampering at SO Sofitel.
The staff here are amazing, friendly yet professional and always gay-friendly. In fact, due to the fact that SO Sofitel sits just a ten-minute stroll from Bangkok's gay hub of Silom, the hotel is often packed with cosmopolitan gay boys enjoying this calm urban oasis in between soaking up the city's vibrant LGBTQ scene.
06
VIE Hotel Bangkok, MGallery
Ratchathewi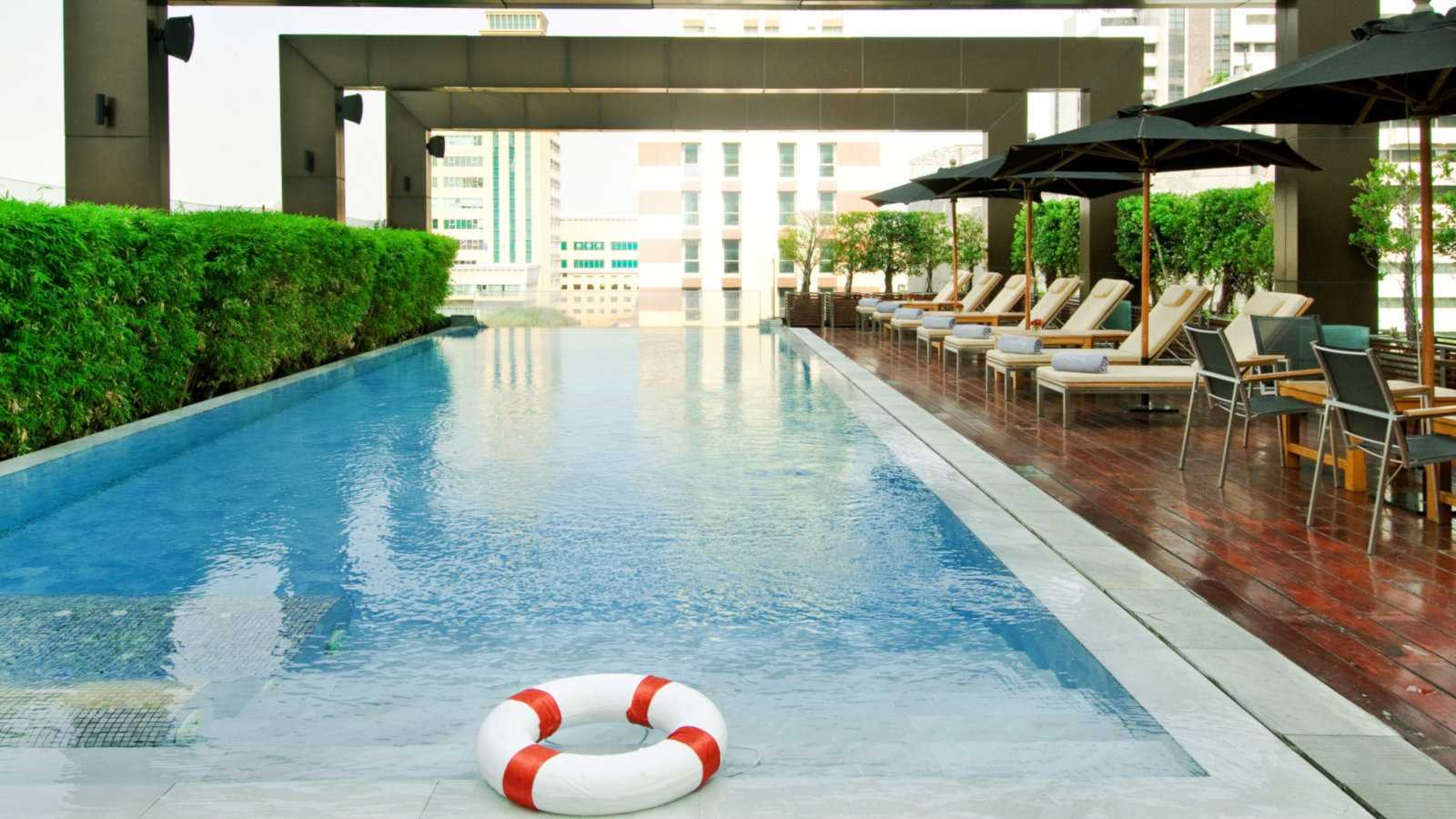 Why we love it
---
Groovy art hotel
Fabulous rooftop pool
Sexy on-site bar and yummy restaurant
Gorgeous views of Bangkok
This hotel is one of our top picks for culture vultures in Bangkok. VIE Hotel Bangkok, MGallery is packed with highbrow charm thanks to original art, sculpture and incredibly tasteful decor throughout.
Located in Ratchathewi, it's conveniently located close enough to the gay hubs of Silom, Sathorn, and Bang Rak, allowing you to dip in and out, to our heart's content!
There is a rooftop pool, spa, and fitness center to get you in tip-top shape for a night on the town. What a way to top up your tan around the pool while sipping the expertly mixed cocktails from the adjacent bar right?! The rooms are super-stylish and without a doubt one of the most original we've seen from all the hotels we researched in Bangkok. The views through the floor-to-ceiling windows are to die for – reason enough to return to the VIE Hotel!
Our gay friends who stayed here loved the fact that the staff is discreet yet friendly, without so much as a raised eyebrow as they checked in a gay couple. With such a convenient location to Bangkok's gay hotspots, you can guarantee that the VIE Hotel Bangkok, MGallery hosts plenty of gay boys week in, week out!
Another top highlight here is the chic La VIE restaurant, which is home to one of the best wine lists in Thailand and a unique interpretation of traditional haute cuisine. For originality and style in the Ratchathewi area, you need not look any further than the excellent VIE Hotel Bangkok, MGallery.
07
Siam@Siam, Design Hotel Bangkok
Pathumwan
Why we love it
---
Very unique and quirky décor
Lovely rooftop infinity pool
Gay friendly and helpful staff
Rooftop bar and in-house restaurant
Siam@Siam, Design Hotel Bangkok is a truly unique place to stay in the Pathumwan neighborhood just south of Ratchathewi. Close to all of the top gay hubs, this hotel is an oasis of art and culture in one of the city's busiest districts.
Each room here is unique yet they all have a common thread. They're all wonderfully dramatic, decked out in the most luxurious of materials and never, ever boring!
Without a doubt, the rooftop infinity pool that overlooks the city is a major draw to spending a few days here. You'll just love unwinding here after a long day of shopping or sightseeing with a few leisurely lengths of what has to be one of Bangkok's most ideally situated swimming pools!
Siam@Siam, Design Hotel Bangkok is one of the coolest hotels in Bangkok and as such, it is a magnet for gay guys. This means that the staff at this city center hotel are incredibly gay-friendly and they were totally chilled whenever two men cozy up at the bar or anywhere else in the hotel.
08
Le Meridien Bangkok
Bang Rak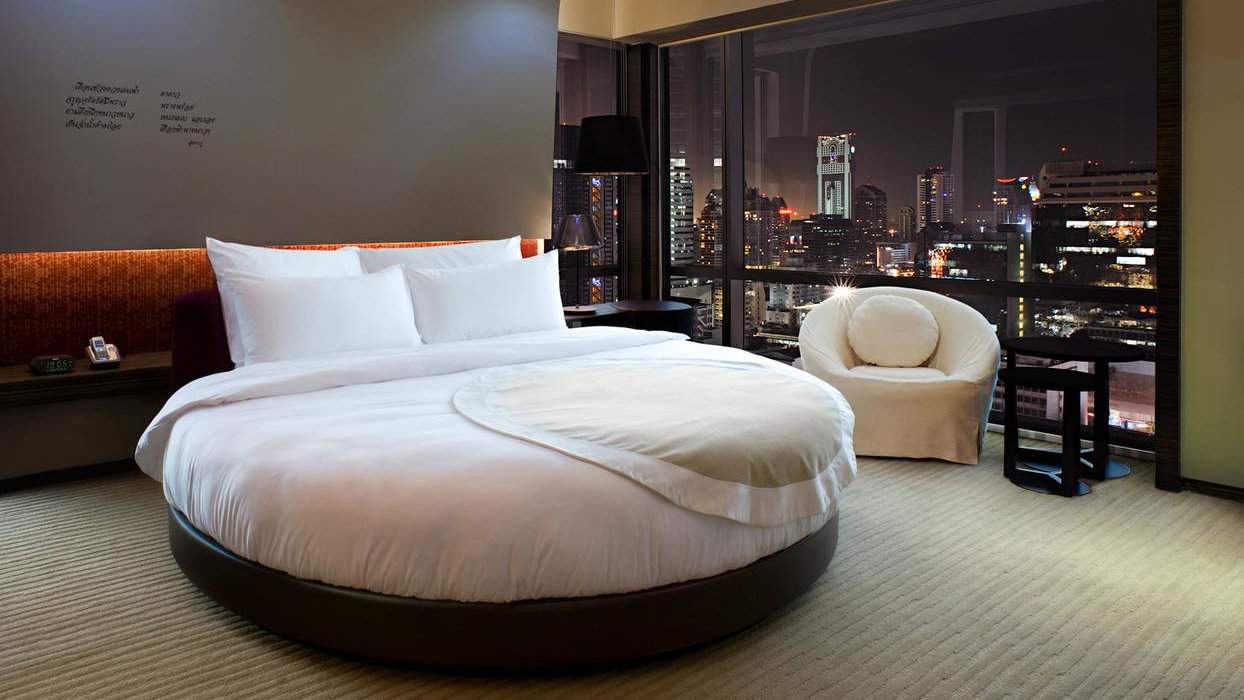 Why we love it
---
Luxurious 5-star hotel with incredible views
Stunning outdoor pool
On-site restaurant, cafe and bars
Excellent fitness centre and relaxing spa
By now, anybody who knows a thing or two about hotels around the world will tell you that Le Meridien has become a byword for class and quality everywhere. Well, the group's Bangkok offering is no different.
This five-star gay friendly establishment at the heart of the city's plush business district is as luxurious as they come.
Le Meridien Bangkok features some of the swankiest rooms anywhere, with impeccable style and every kind of convenience one could ask for. It's just a few minute's stroll to the city's wildest gay nightlife zones, whilst the hotel itself remains a beacon of calm. You'll love returning to your plush room after a night of partying and feeling soothed, safe, and secure in every way.
The rooftop pool and bar offered up some serious relaxation throughout the day, ideal for restoration of body and mind after a night out in Silom! It's also worth mentioning that the breakfast at Le Meridien Bangkok is rated as one of the best in the city, famed for its offering of variety and quality. When it comes to fuelling-up for a day of shopping or sightseeing, this place is the perfect recipe!
What to do in Bangkok?
Aside from partying in the gay bars and clubs, there is a LOT to explore while you're in Bangkok. From shopping to dining, live shows and ancient architecture – this is a city crammed with fun activities!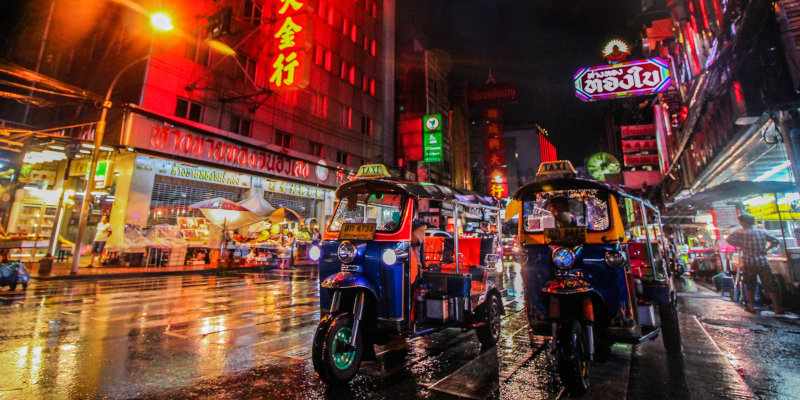 09
The Peninsula Bangkok
Khlong San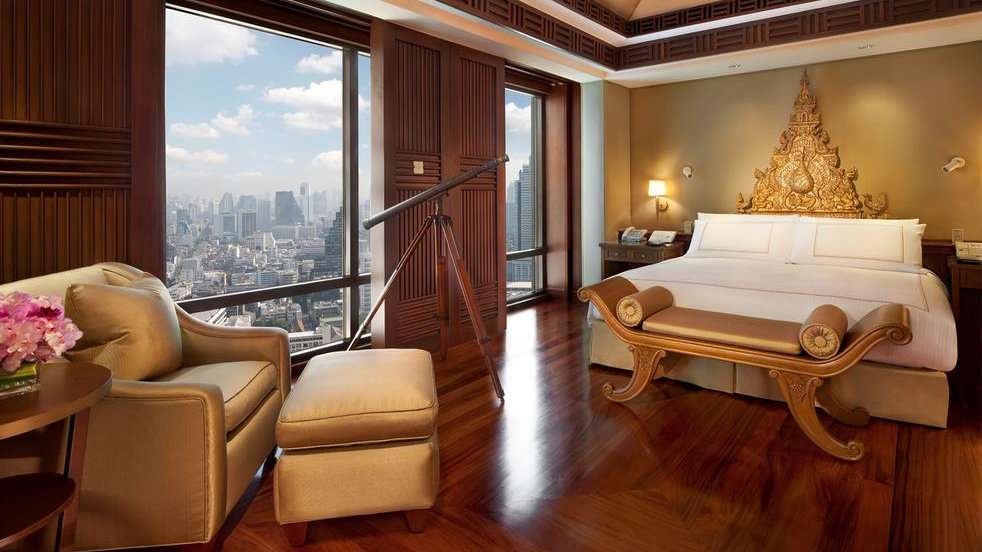 Why we love it
---
Beautiful traditional design rooms
One of the top luxury hotels in Bangkok
Gorgeous pool and poolside bungalows
Three different restaurants in the hotel
Plush five-star gay friendly luxury at the heart of Khlong San? It could only be The Peninsula Bangkok. During our visit to this first-class hotel, you can't help but feel impressed by the stunning riverside location, extensive facilities, and classy restaurants.
The Peninsula Bangkok has carved out a reputation as one of the city's top luxury establishments down the years and it's not tough to see why.
The staff is well known for being welcoming to everyone, especially gay travelers. As for the rooms at The Peninsula Bangkok, these too are impeccable in more ways than one. Check out the dramatic use of dark woods and marble throughout the rooms, which adds to the luxurious vibe of the hotel, making it feel almost refreshingly classical.
There's a gorgeous outdoor pool area for chilling at The Peninsula, whilst the fitness center boasts absolutely everything you might need to pump up those pecs before heading for a big night out in nearby Silom. When you're peckish, The Peninsula offers guests a range of dining options including Thai, Cantonese and Western. Of course, because this is The Peninsula, all of these are executed in a unique and elegant way that will provide a memorable eating experience for any guest lucky enough to stay at this hotel.
10
Le Siam Hotel
Bang Rak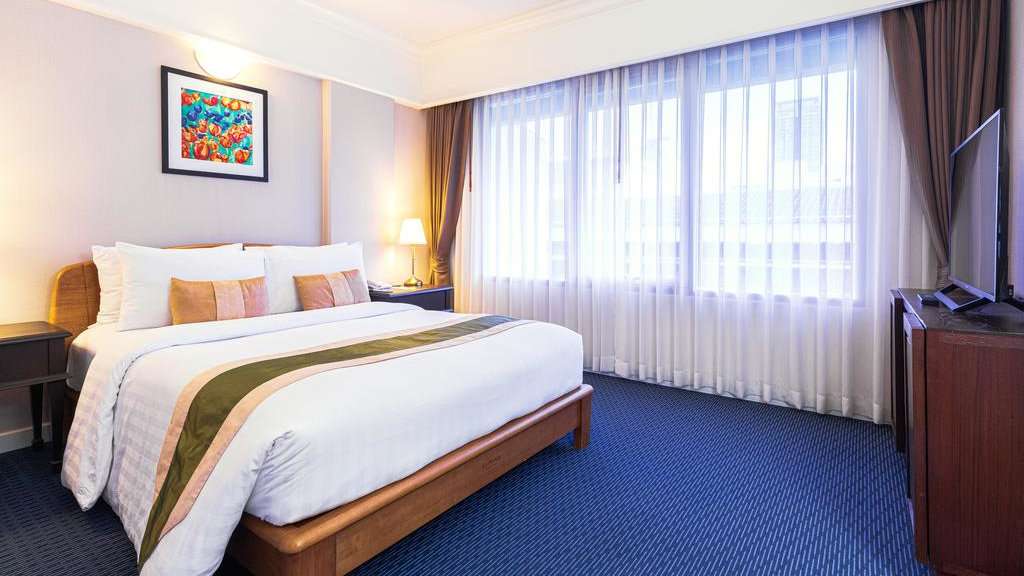 Why we love it
---
Comfy and affordable
Close to Silom and the gay scene
Outdoor pool and hot tub
Relaxing in-house library and bar
The Bang Rak neighborhood is a favorite with cosmopolitan gay boys visiting Bangkok. Not only is Bang Rak close to Silom and all of its many delights, the area itself is a vibrant, polished zone filled with things to do.
Le Siam Hotel sits at the heart of Bang Rak and Silom, making it an ideal choice for visiting gay guys. This boutique hotel is pure class and a more affordable alternative to the big-name chains.
Le Siam Hotel is frequented by many gay guys thanks to its unbeatable location. The rooms at this hotel are pleasantly decorated in an airy style with plenty of natural light streaming in through the windows, which offer views across Silom.
Yet Le Siam is much more than a pretty face! During your stay here, you'll love those lazy afternoons around the pristine pool area, ideal for unwinding after a big night out in Silom. On quiet evenings, you can head over to the in-house library to curl up with a book and a freshly made cocktail from the bar. Whether you're in town for rest, fun or a bit of both, Le Siam's definitely got you covered.
11
The St. Regis Bangkok
Pathumwan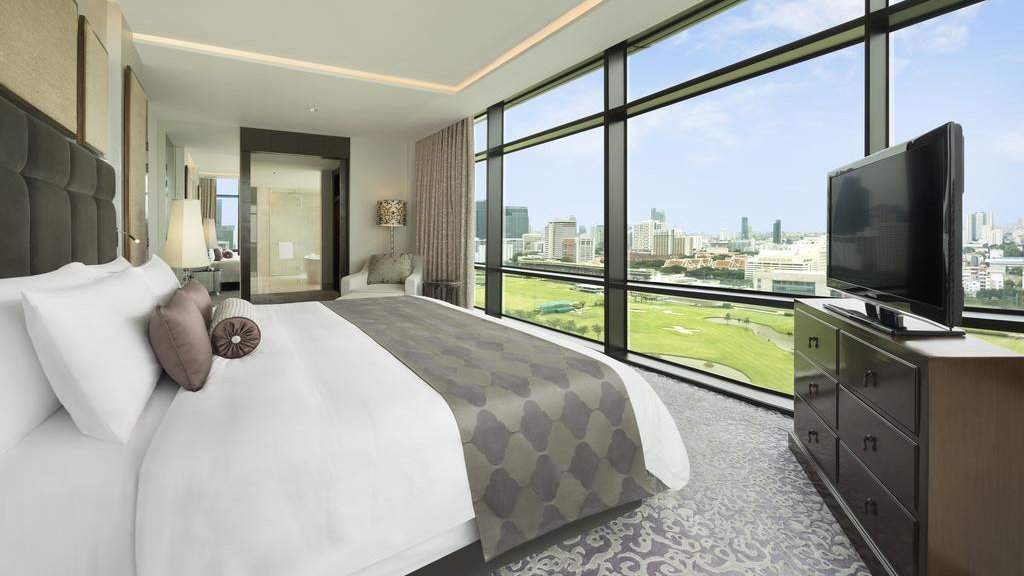 Why we love it
---
Stunning views
Very luxurious
Huge and gorgeous pool area
Gym and spa available
The St. Regis Bangkok is located in the Pathumwan neighborhood close to the gay hubs of Silom, Sathorn and Bang Rak. A study in luxurious elegance, this hotel provides gays with a friendly place to rest their heads.
You'll love the location of this hotel, which sits at the heart of the city's most exciting district. By day you can sightsee until you drop before hitting the nearby gay bars and nightclubs.
For those looking to keep fit, there's a well-equipped gym whilst the pool is ideal for either exercise or simply a dip in between sipping cocktails! The Elemis Spa at The St. Regis Bangkok offers some of the finest wellness treatments in town, just in case you fancy a bit of pampering.
The entire hotel sings with the kind of refined chic style that you just don't see every day. Rooms are warm yet modern, with gorgeous touches like locally made art and Thai teak furniture adding a dash of authenticity. Make no mistake, The St. Regis Bangkok is a rare breed of luxury five-star hotel that will leave you feeling like a true VIP from start to finish.
12
Millennium Hilton Bangkok
Khlong San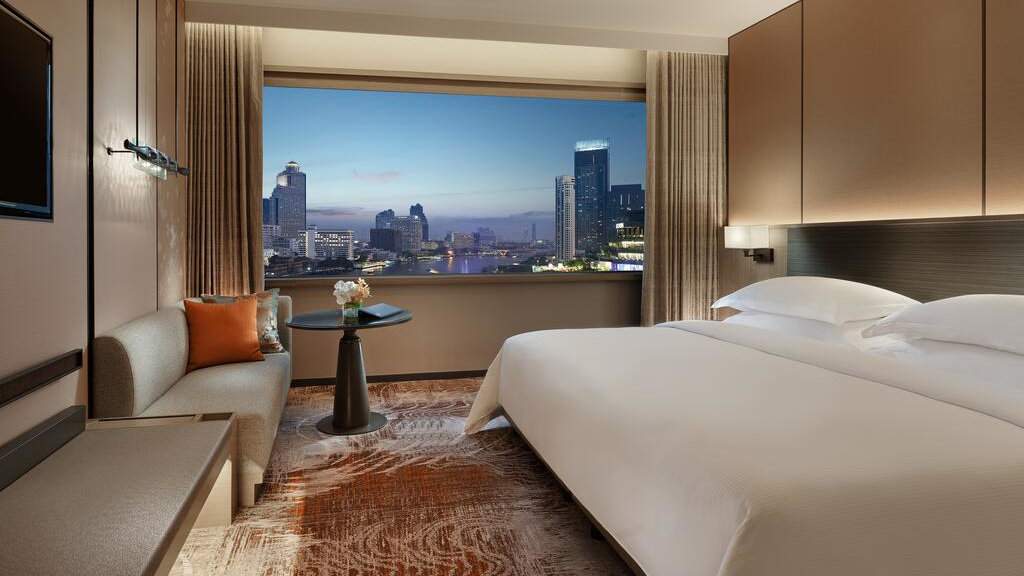 Why we love it
---
Incredibly luxurious and decadent
Beautiful rooftop bar
Amazing spa for pampering
Stunning pool and 24-hour gym
One of the most luxurious hotels in town, Millennium Hilton Bangkok is a true treat for gay boys visiting the Thai capital. In fact, the hotel's location just across the river from Bang Rak and Silom makes it totally perfect for LGBTQ people coming to Bangkok.
The brand of Millennium Hilton commands respect and it is through the sheer luxury of their establishments that they have earned this.
Millennium Hilton Bangkok is pure decadence, offering guests the opportunity to feel like a superstar during their stay in town. The rooms at Millennium Hilton Bangkok are fabulous, with modern decor and some of the finest views of the city to be found at any hotel. The public areas of the hotel are jaw-droppingly gorgeous. On top of this, the spa and beauty treatments at Eforea are renowned for making you feel meltingly relaxed.
Then there's the pool area here, which is known as The Beach, a stunning section of the hotel featuring an infinity-edge pool and spa pools. Home to three gourmet restaurants, a panoramic bar, and a cafe, Millennium Hilton is the kind of place that will live long in the memory of everybody who comes to stay.
13
Capella Bangkok
Yan Nawa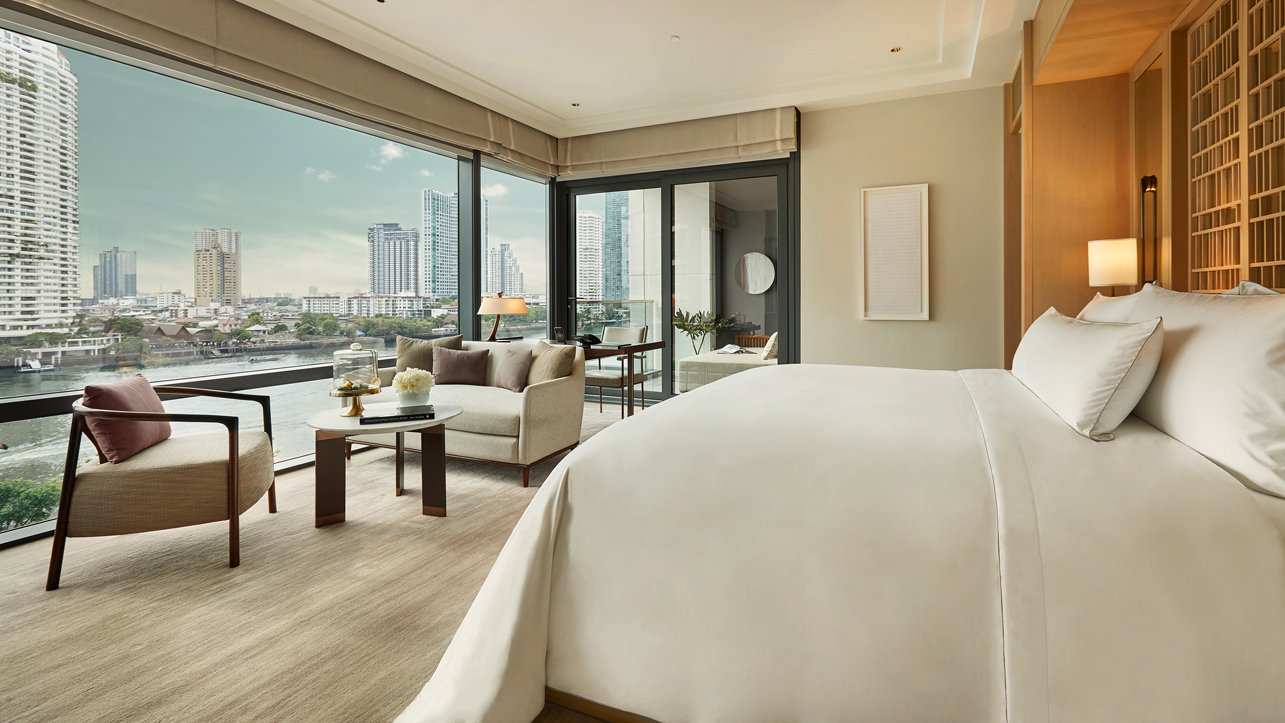 Why we love it
---
Unique and dreamy luxury hotel
Amazing spa with so many treatments
Delicious restaurant
Choose from rooms and villas
This brand-new gay friendly luxury resort on the banks of the Chao Phraya River might just have changed the game for five-star accommodation in Bangkok.
As far as we are concerned, Capella Bangkok is the most unique luxury hotel in the Thai capital right now. Your stay here is bound to be dreamy. From the waterfront villa to the sheer pampering at the spa, Capella is bound to surpass all expectations.
Hotels simply don't come much better than this. The food at Capella, for example, comes courtesy of a three Michelin-starred chef and changed the way we thought about Thai cuisine forever. Plain old curry and rice this is not! As for that stunning villa we mentioned? Sheer luxury! One of our gay friends who stayed here raved about the softness of the sheets and the quality of the furniture, which made him feel like a true celebrity!
At Auriga Wellness, you are treated to a dizzying array of treatments and therapies that are inspired by traditional Thai and Asian methods. Afterward, you'll feel so relaxed that you'll have to cancel your night out and spend the evening soaking up the vibe in that stunning riverside villa. With a location not far from the gay hubs of Silom and beyond, we think that Capella Bangkok, although brand new, might just be the most exciting luxury hotel in the city.
14
Centara Grand at Centralworld
Pathumwan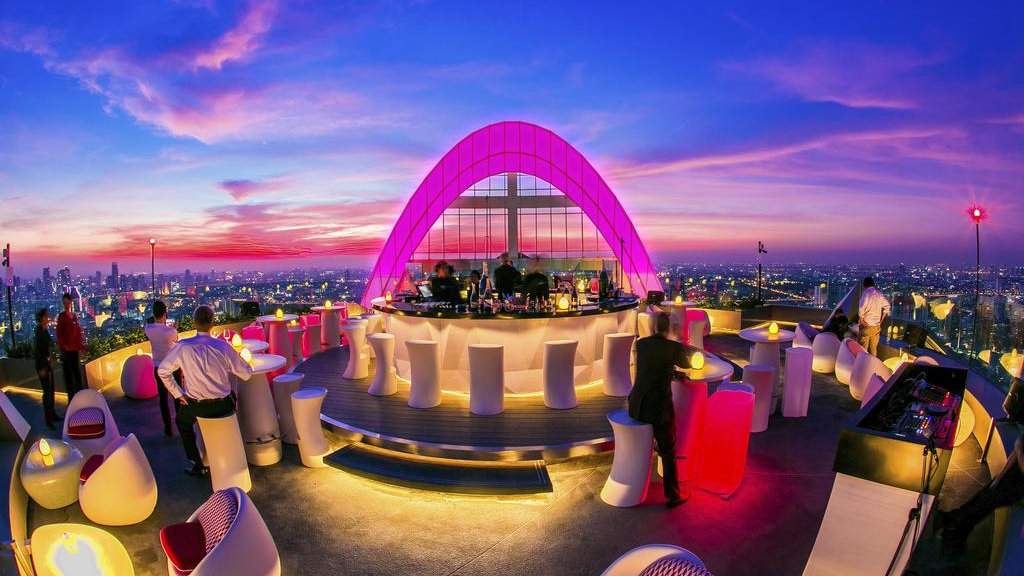 Why we love it
---
Amazing skyscraper hotel
Award-winning spa with spa pools
Incredible rooftop bar and swimming pool
Discreet and gay friendly staff
Pathumwan has long been a prized destination for gay boys visiting Bangkok and Centara Grand at Centralworld only strengthens that bond. This five-star skyscraper hotel offers a truly swanky experience that we think ranks among the very best that Thailand has to offer for gay travelers.
With such a great location close to Bangkok's top LGBTQ hubs, the staff here are gay-friendly and discreet in the very best of ways.
The rooms have some of the most dramatic floor-to-ceiling windows, making for some stunning panoramic views. The design blends modern convenience with traditional Thai elegance to make for a perfect balance.
The spa here is award-winning, so you know you'll have the perfect opportunity for some R&R the morning after the night before. Enjoy private massage rooms and pampering spa pools at Spa Cenvaree, where the staff will cater to your every whim.
As if you might need any further confirmation that this hotel is a million miles away from your run of the mill Bangkok accommodation, there are a slew of luxury food and drink options at your disposal. Head to CRU Champagne Bar, Uno Mas and Red Sky Bar for delicious drinks and panoramic views of Bangkok. When you're ready to eat, The World International Restaurant offers all manner of global fare whilst Dynasty specializes in refined Cantonese cuisine. Then there's Zing Café which is ideal for light bites at any time of the day.
15
Well Hotel Bangkok Sukhumvit 20
Khlong Toei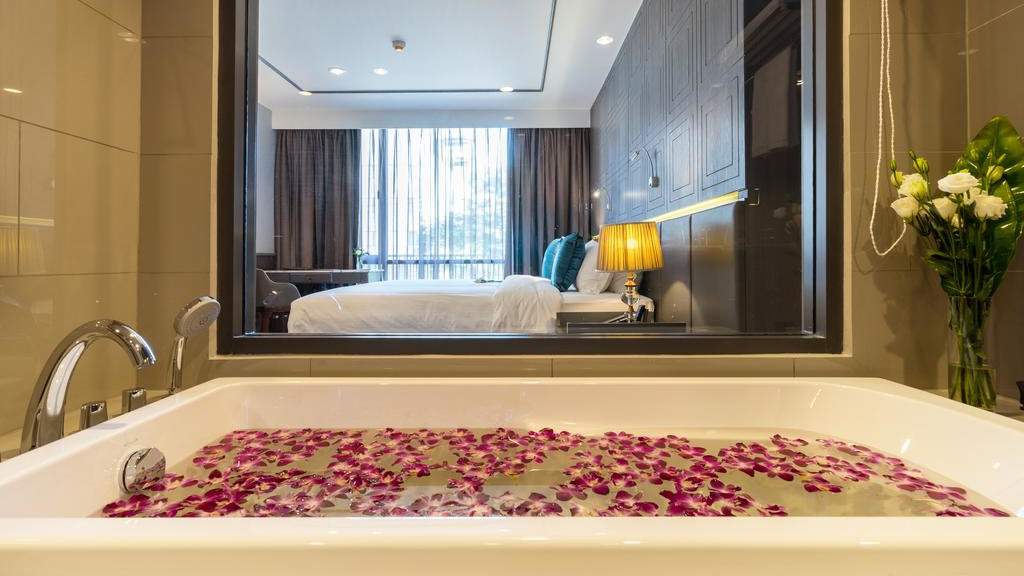 Why we love it
---
Luxurious and pampering hotel
In the heart of Bangkok's shopping district
Array of wellness options
Stunning rooftop pool and a gym
Sukhumvit is the city's premier shopping destination. This means that Well Hotel Bangkok Sukhumvit 20 is the perfect spot for gay boys looking to blend retail therapy with some serious partying!
In fact, Terminal 21, one of the city's top malls, is just a short stroll from the hotel. Inside Well Hotel Bangkok Sukhumvit 20, you will be in for some serious star treatment.
This luxury five-star property is packed with elegance and style. The rooms here provide a modern, chic place to relax after days spent shopping and nights spent soaking up Bangkok's legendary nightlife around Silom, Bang Rak and beyond.
As you might expect from a hotel of this quality, the array of wellness options on offer includes treatments like traditional massage and more. In addition, be sure to take full advantage of the stunning rooftop pool area, swimming lengths, and soaking up all that Vitamin D. The gym at the Well Hotel is famous for being one of the best hotel gyms in Bangkok…pumping up those biceps before heading down to Silom is non-negotiable when staying here!
The food at Well Hotel Bangkok Sukhumvit 20 is well-rated, with Twist Bar and Bistro offering all sorts of international goodies. Beyond the restaurant, Sukhumvit's swanky eateries are just a few short steps away.
---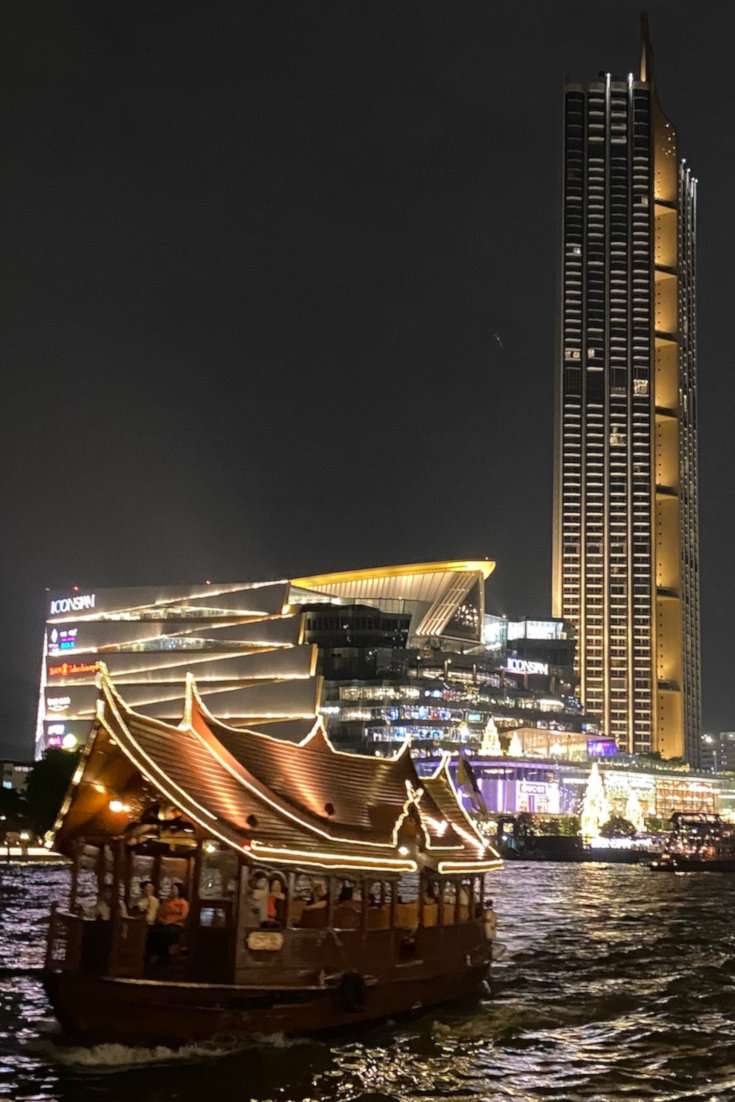 Happy travels are safe travels
We recommend you always take out reputable travel insurance before your next vacation. What happens if you suffer from illness, injury, theft, or a cancellation? Many gay travelers forget about it and regret it when something happens. Better to pay a small price and have peace of mind and not worry.