Palawan island in the Philippines has some of the most stunning marine wildlife we've seen on our trip in Asia, which made snorkeling in El Nido a particular highlight.
The surrounding limestone karsts with hidden lagoons and coves also makes snorkeling around El Nido an activity you will never forget. Snorkeling in El Nido is best done on a tour as you need a boat to go to the snorkeling sites. We highly recommend El Nido Boutique & Artcafe to book your tours in El Nido, they have the best snorkelling and kayaking excursions.
What snorkeling tours to choose?
When you arrive in El Nido, you will quickly get accustomed to the 4 snorkeling tours offered by all agencies in town: A, B, C and D (D sometimes called the Cadlao Kayak tour) with A and C being the most popular ones. You can book the snorkeling tours online to secure your spot, especially during high season: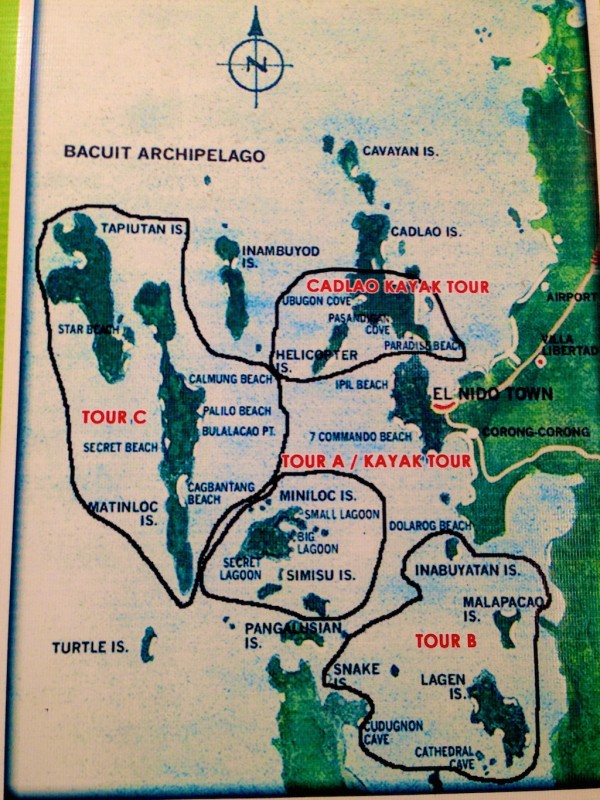 All tours include pickup from the hotel which is very convenient. If you are limited with time, you can combine Tour A and C together which also includes a picnic for lunch.
If you prefer to book your snorkeling tours in town, we highly recommend El Nido Boutique & Artcafe, their staff is very helpful and they offer competitive prices for the snorkeling tours.
Tour C: best snorkeling tour in Palawan
Tour C is by far the best tour for snorkeling in El Nido as it takes you around the most beautiful islands and snorkeling sites in Palawan.
One of the highlights of the tour is snorkeling at Matinloc Island where a 100m beach strip of white powdery sand awaits surrounded by healthy coral and busy fish scene going on. The sea floor surrounding the beach slopes down gradually and the water deepens only after about 10 metres in. The snorkeling here is perfect for diving down, swimming with the marine life and of course for more funky dance moves: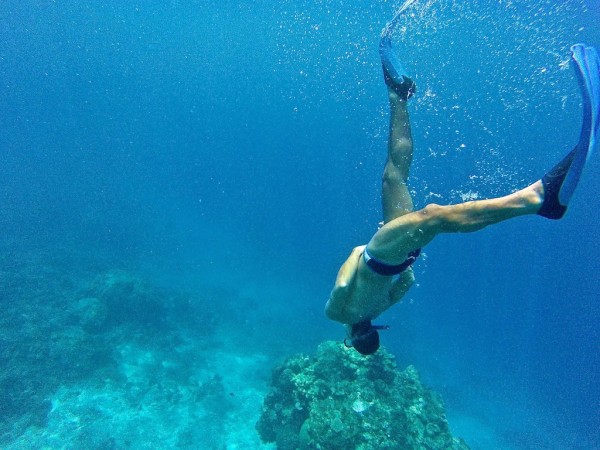 The last stop, Tapiutan Island is rich with healthy coral and marine life, making it ideal for snorkeling. We saw a variety of colourful coral, lots of blue starfish, Clownfish (Nemo), Bannerfish, sea urchins and many more: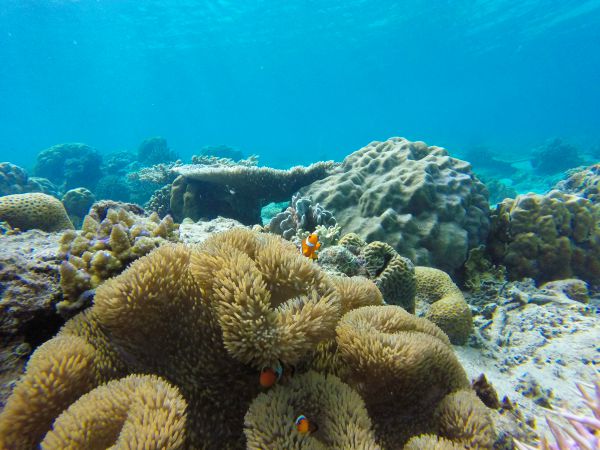 Tour A: combining kayaking and snorkeling
Tour A combines kayaking and snorkeling together. It is a great option as you can enjoy the beautiful scenery on a kayak and still discover the underwater world when snorkeling.
Tour A takes places mainly around Miniloc island, where you're surrounded by limestone karsts protruding up from the sea. It's like something from a movie scene and incredible to kayak through. You will discover The Small Lagoon which is located on the cove of Miniloc island and can be accessed through a small entrance with 2 giant limestone rocks which you can swim or kayak through.
The area inside is fun for swimming or kayaking and although gets quite crowded, the tranquil turquoise-green waters surrounded by limestone karsts make it memorable.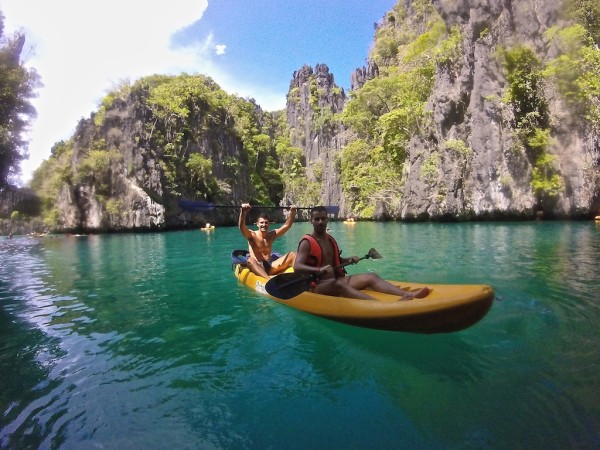 What about Lunch?
All tours usually include lunch. For example during our snorkeling tour C, we had lunch on Shimizu island, surrounded by a healthy coral reef with a dramatic drop into the deep blue. We had BBQ fish which was meant to be shared by everyone in our group, but greedy Sebastien was just too quick for everyone…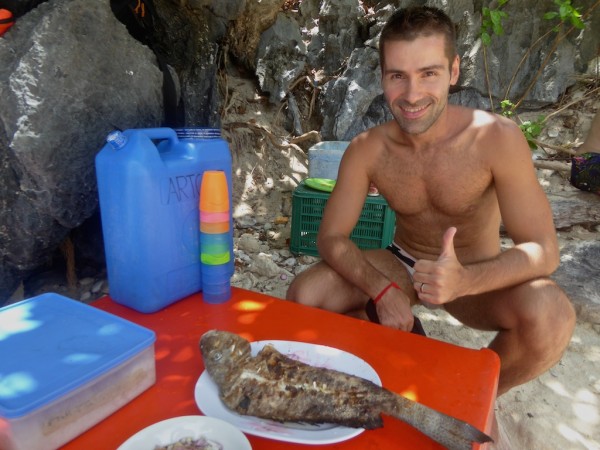 It also makes a nice spot for a Halo Halo, one of our favourite Filipino traditional foods.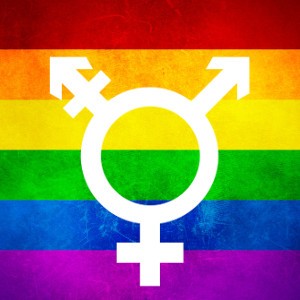 Advice for LGBTQ travellers to Palawan
We love the Philippines. It's one of our favourite places in Asia and definitely ranks as one of the most gay friendly countries on the continent. The Filipinos are warm, welcoming and extremely friendly. Palawan is one of the touristic hotspots of the country so locals are more accustomed to LGBTQ foreigners here than anywhere else in the country. As such you will have no problems booking a double bed here. For more, check out our gay guide to Palawan.
For more, watch our video about our adventures travelling in the Philippines as a gay couple:
Happy travels are safe travels
We recommend you always take out travel insurance before your next vacation. What happens if you suffer from illness, injury, theft or a cancellation? With travel insurance, you can have peace of mind and not worry. We love World Nomads travel insurance and have been using it for years. Their comprehensive coverage is second to none and their online claims process is very user friendly.