Learn about the main snorkeling tours to choose from in El Nido in Palawan, and how to pick the best one for you.
Is this Paradise? Yes, it is. We've found it. Right here at the northern tip of Palawan Island in the Philippines: El Nido!
We came to El Nido during our big trip in the Philippines and ended up staying for a few weeks. It turned into a big underwater adventure – we went one time and wanted more and more. It is an underwater lover's wet dream. It has many healthy coral reefs, underwater landscapes and an abundance of marine life with over 800 fish species. Almost every time we dipped our head into these turquoise waters it was like we were entering a whole new world – so many colors, fish and even a few turtles and rays passing by!
Joining one of the four famous snorkeling tours in El Nido (A, B, C or D) is the most accessible way to get a flavor of this magical underwater world: no diving experience is required, it's fully guided and very secure.
In this article, we've summarised our experience with each of these four snorkeling tours of El Nido to help you pick the best one for you.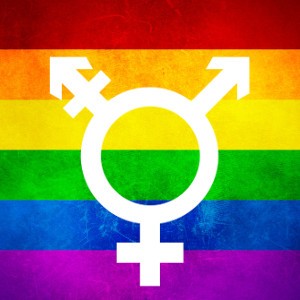 Advice for LGBTQ travelers to Palawan
We love the Philippines. We rank it as one of the most gay friendly countries in Asia. The Filipinos are warm, welcoming and extremely friendly. Palawan is one of the touristic hotspots of the country so locals are more accustomed to LGBTQ foreigners here than anywhere else in the country. As such you will have no problems booking a double bed here. For more, check out our gay guide to Palawan.
Overview of the snorkeling tours in El Nido
When you arrive in El Nido, you will quickly get acquainted with the 4 snorkeling tours offered by all agencies in town: A, B, C and D (D sometimes refered to as the "Cadlao Kayak" tour). The most popular ones are A and C, the latter our personal favorite. Here's a brief summary of each to give you an idea:
Crystal blue waters, white sandy beaches, stunning lime karsts…is this paradise?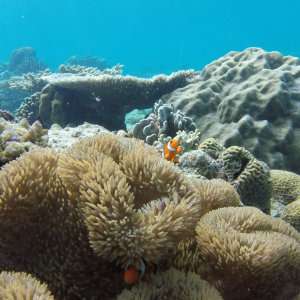 Our top pick? Tour C!
We love snorkeling, so tour C was our favorite since it visits multiple islands that are great for swimming with the fishes. We saw a variety of colourful coral, lots of blue starfish, clownfish, bannerfish, sea urchins and lots more sea-life.
If you're heading to El Nido during the peak months of March/April, we strongly advise pre-booking your tour online. It gets super busy here during this period and tours quickly sell out.
If you prefer to book your snorkeling tours when you arrive in El Nido, we highly recommend El Nido Boutique & Artcafe. They have the most competitive prices and best guides. We also love them because the owners Judith Distal (originally from Switzerland) and her husband Tani Distal (an El Nido local) are passionate environmentalists. They are leaders within the El Nido community, always encouraging and promoting sustainability campaigns aimed at keeping El Nido green and clean.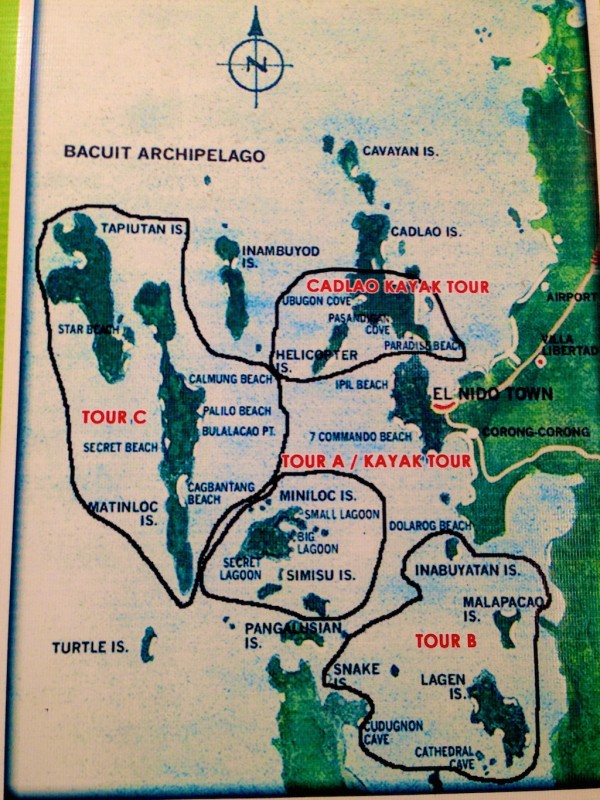 1. Tour A: Kayaking and Snorkeling
Tour A combines kayaking, swimming and snorkeling together. It is a great option as you can enjoy the beautiful scenery on a kayak and still discover the underwater world when snorkeling.
The tour takes places mainly around Miniloc island, where you're surrounded by limestone karsts protruding up from the sea. It's like something from a movie scene and incredible to kayak through. You will discover the Small Lagoon, which is located on the cove of Miniloc island and can be accessed through a small entrance with 2 giant limestone rocks which you can swim or kayak through. The area inside is fun for swimming or kayaking and, while it does get quite crowded, the tranquil turquoise-green waters surrounded by limestone karsts make it very memorable.
A visit to the Big Lagoon is also included, if you get in early with your booking as the government limits entry to protect the environment. Other highlights include snorkeling around Shimizu Island and sunbathing on Seven Commando Beach.
You will need to hire the kayak and snorkeling gear separately from the tour price, but a sumptuous BBQ lunch (with vegetarian options) is included in the price, along with pickup from El Nido town and the nearby Corong-Corong areas.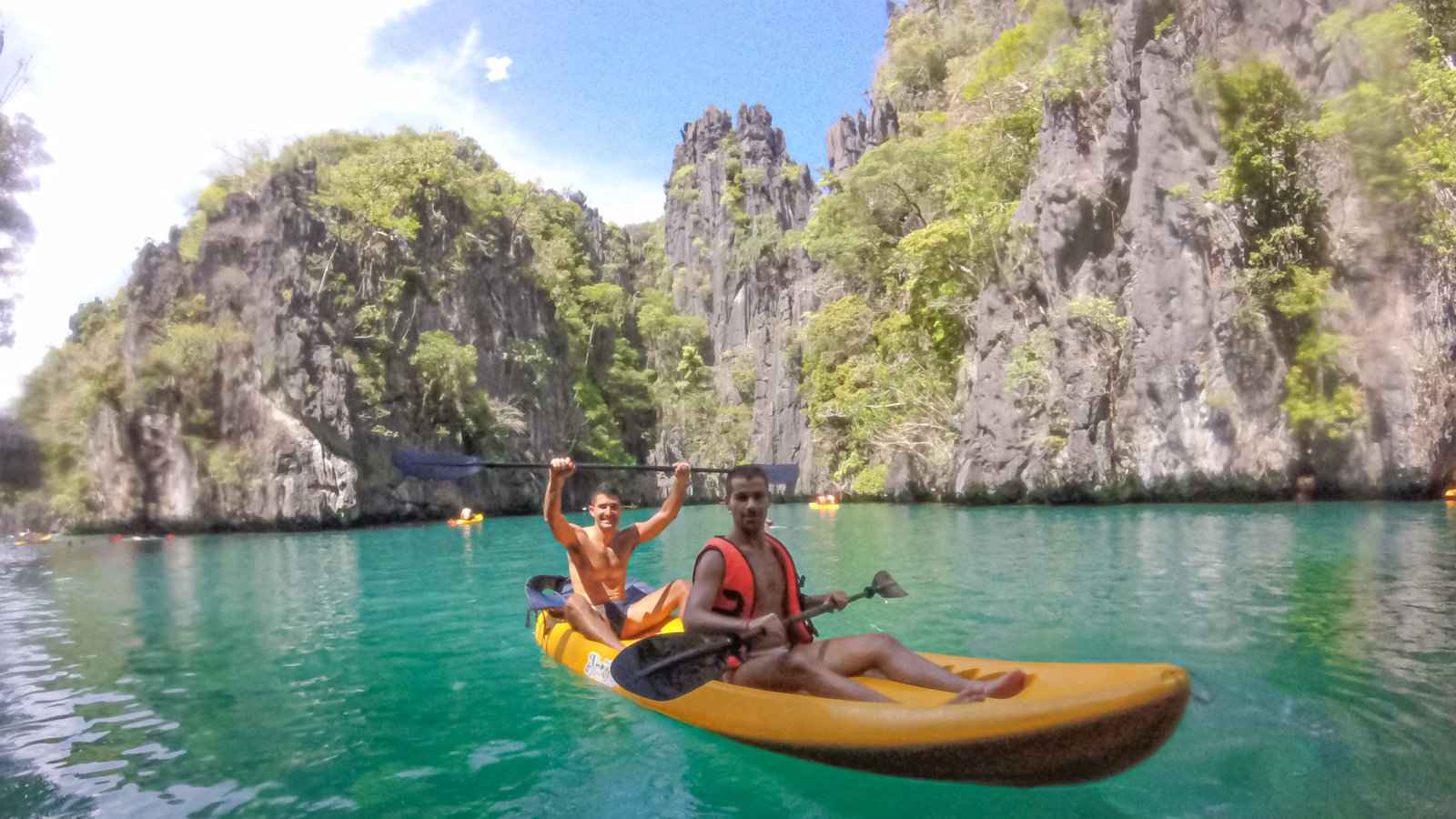 2. Tour B: Deserted Islands and Caves
Tour B might be the most underrated of the island hopping tours in El Nido. Most travelers flock to tours A or C but that just means that tour B is guaranteed to give you those 'deserted island' vibes without all the crowds but still all the stunning views.
Beach bums will love tour B, as it heads to multiple gorgeous islands like Pinagbuyutan Island (which we had pretty much all to ourselves!), Popolkan Island, and Snake Island – with options for snorkeling, swimming or just working on your tan. You'll also get to swim or kayak inside the stunning Cathedral Cave, which has stalactites hanging from the ceiling and stalagmites reaching up from under the water. The water here even has some luminescence, so we definitely recommend doing some snorkeling to see it from underneath.
While most of the tours in El Nido focus on lagoons and secret beaches, we like that this one heads to Snake Island, which is a tiny island attached to a sandbar that has a natural S-shape like a snake to it. Don't worry, there aren't any actual snakes there!
This tour includes a yummy lunch, free pickup from El Nido town and free use of snorkeling gear.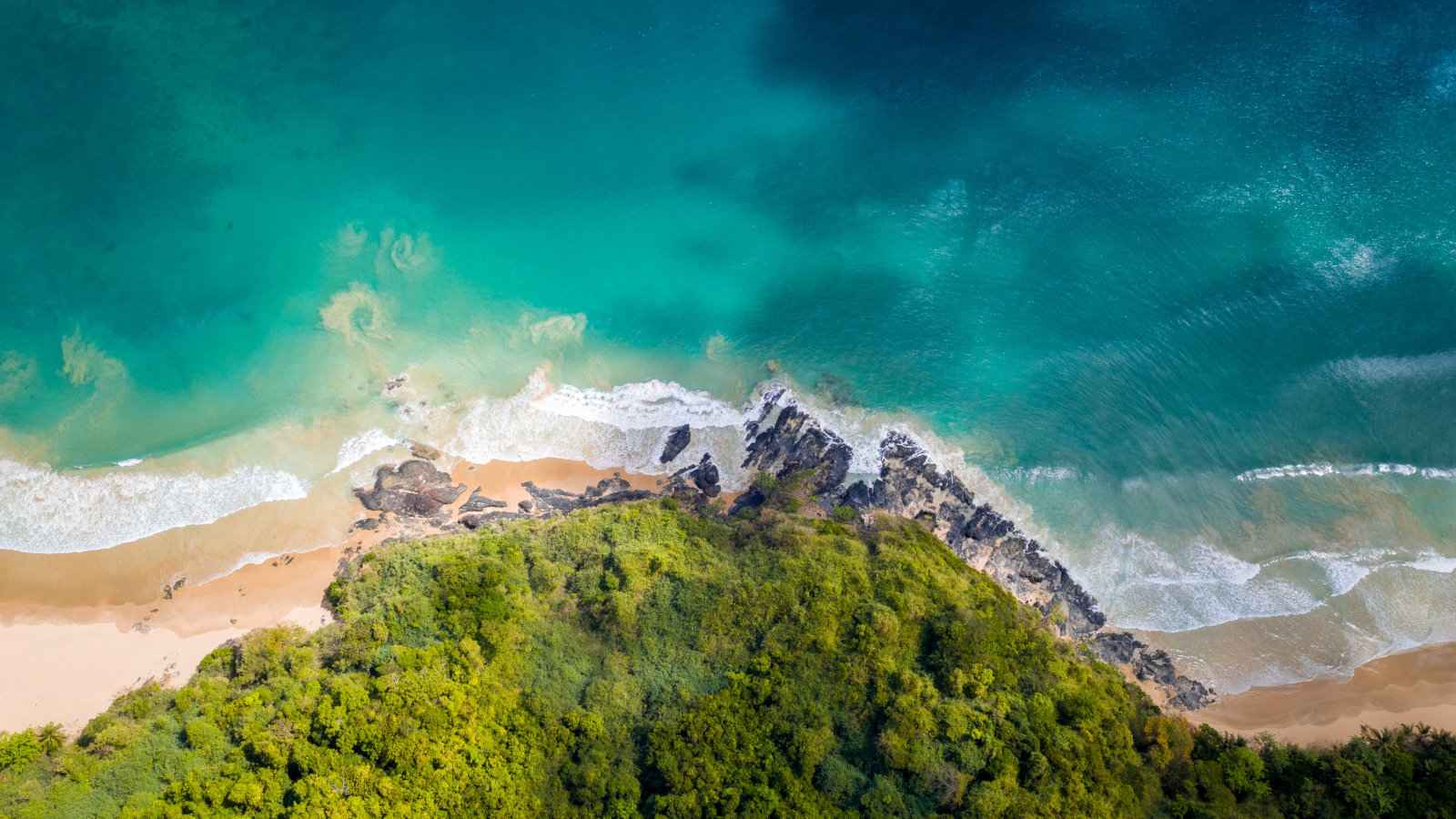 3. Tour C: Finding Nemo!
Tour C is by far the best tour for snorkeling in El Nido as it takes you around the most beautiful islands and snorkeling sites in Palawan.
One of the highlights of the tour is snorkeling at Matinloc Island where a 100m beach of white powdery sand awaits surrounded by healthy coral and busy fish scene going on. The sea floor surrounding the beach slopes down gradually and the water deepens only after about 10 metres in. The snorkeling here is perfect for diving down, swimming with the marine life and of course for more funky dance moves.
The last stop, Tapiutan Island, is rich with healthy coral and marine life, making it ideal for snorkeling. We saw a variety of colourful coral, lots of blue starfish, Clownfish (Nemo), Bannerfish, sea urchins and many more.
It also makes a nice spot for a Halo Halo, one of our favourite Filipino traditional foods.
This tour includes lunch. We had lunch on Shimizu island, surrounded by a healthy coral reef with a dramatic drop into the deep blue. We had BBQ fish which was meant to be shared by everyone in our group, but greedy Sebastien was just too quick for everyone…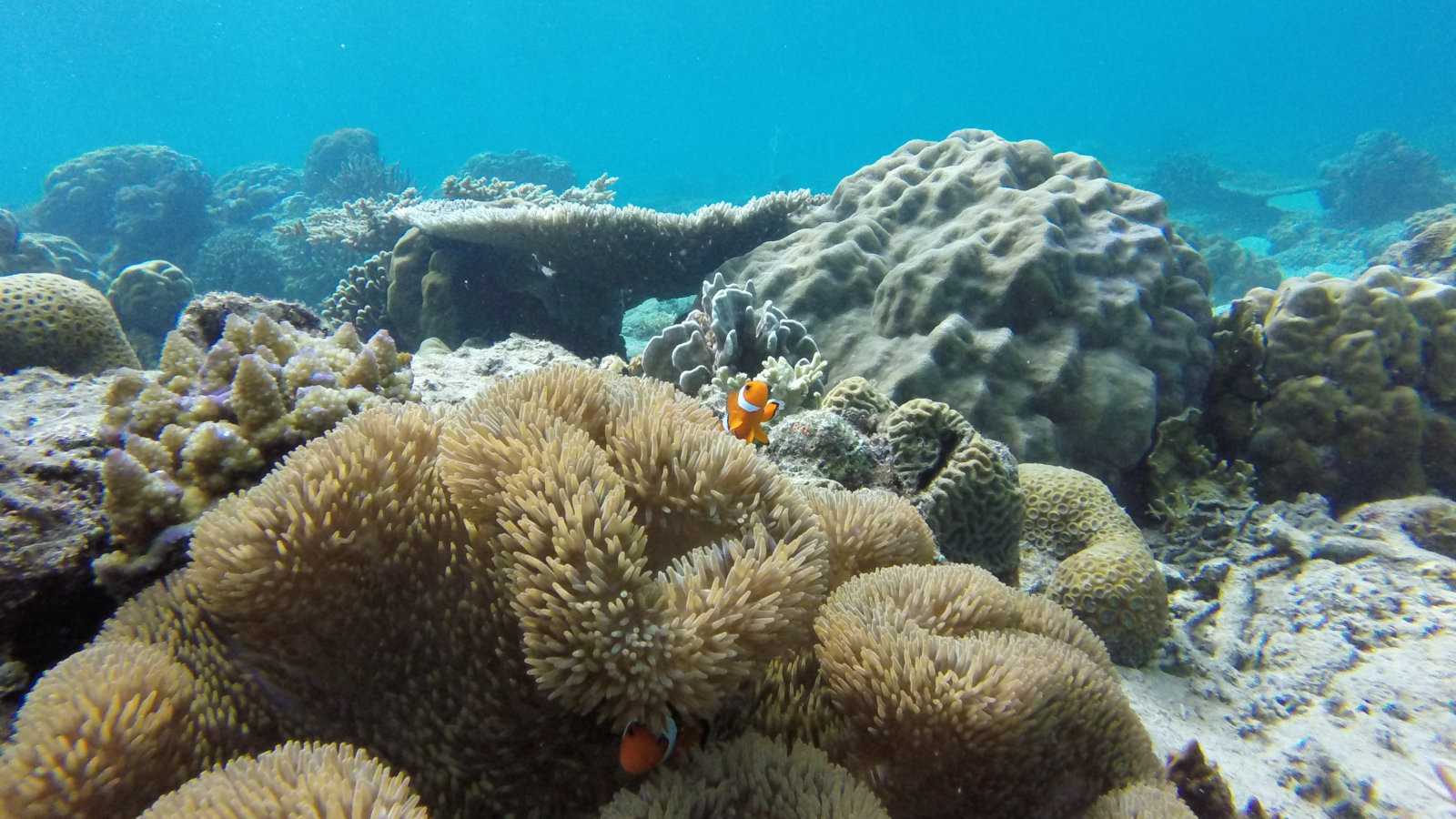 4. Tour D: Don't Write it Off
Tour D is probably the least popular of the tours from El Nido, but that definitely doesn't mean you should skip it. Most people don't do this one because it heads to Cadlao Island, which is really close to El Nido and maybe seems pointless when you can literally see it from El Nido town.
But tour D is perfect if you want to skip the crowds and head to the most stunning, deserted beaches. This tour also spends time at Cadlao Lagoon, which is smaller than the more famous lagoons in Miniloc Island, but just as beautiful and far less crowded. You still get to see the stunning limestone karst cliffs towering over you as you enjoy the water, sometimes with hardly any other people with you.
Other stops on the tour include the aptly named Paradise Beach and, our personal favorite, Natnat Beach. With karst cliffs leading down to palm trees and the softest white sands ever it's literally a tropical version of heaven. This whole day was the most relaxing and quiet of our time in El Nido, since at most of the places we visited we saw hardly any other travelers.
The tour includes free pickup and free use of snorkeling gear, which you'll also have plenty of time to do at the deserted beaches.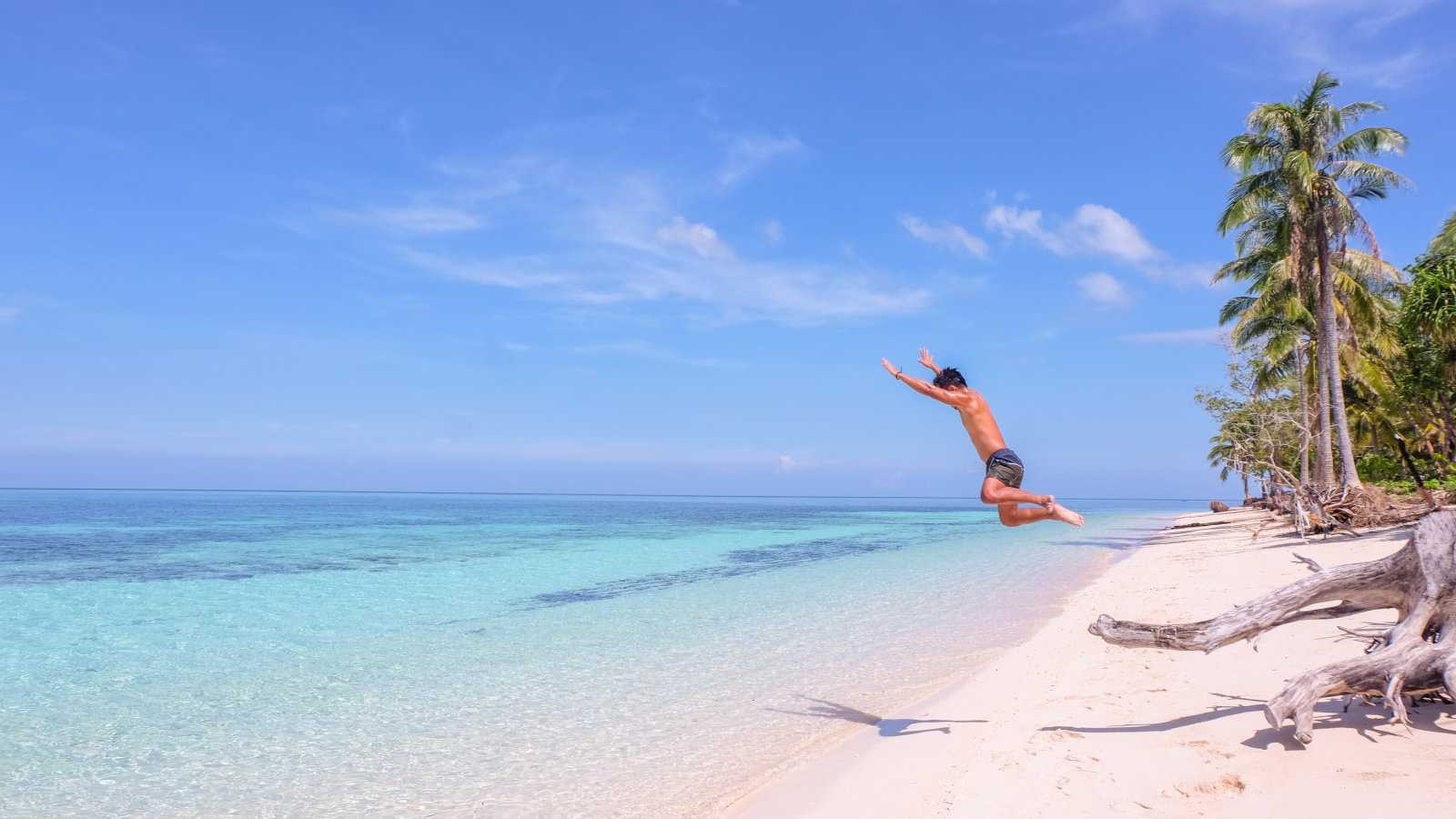 Where to stay in El Nido
El Nido is one of the most touristy parts of the Philippines, so there are plenty of places to stay here to cover all budgets. We tried several places during our big trip here and summarise some of our favorites below:
01
Vellago Resort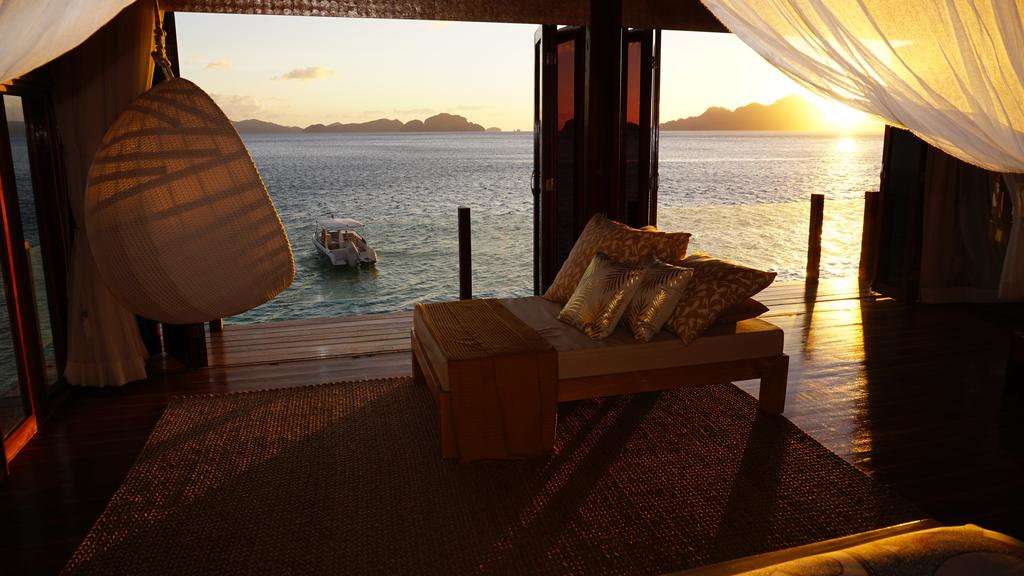 In a nutshell
---
Adults-only and gay friendly
Stunning luxurious beachside resort
Just six villas/rooms/suites so very intimate and romantic
Solar-powered and environmentally conscious
Vellago Resort is a stunning and romantic beachfront resort that's super intimate with just six private villas, suites and rooms. There is nothing more incredible than looking straight out of your bed to the ocean then taking a step outside into the soft white sand.
The staff here are very gay friendly and pay close attention to every little detail to make your stay perfect. Since this is an adults-only resort you can bet it will be totally peaceful, just you and your loved one enjoying the sun setting over the waves…
Breakfast is included in the rate and delivered to your balcony each morning. What a delightful way to wake up! In the evening they pull out all the stops, setting up candles, torches and other pretty lights all over the beach for dinner, which is scrumptious. We even saw a wedding proposal while we were there, which the staff helped to organize and was so delightful to witness!
Of course, in between all the yummy food and time spent on the beach, Vellago Resort is just lovely for hanging out in your room, villa or suite. They are finished with wooden furniture and the beds all have those gorgeous drapings that make everything just a touch more special. Some of them even have bathtubs on the balcony overlooking the sea. Oh, so that's why it's adults-only…
Prices at Vellago Resort start from $574 per night:
---
02
Alternative Beach Cottages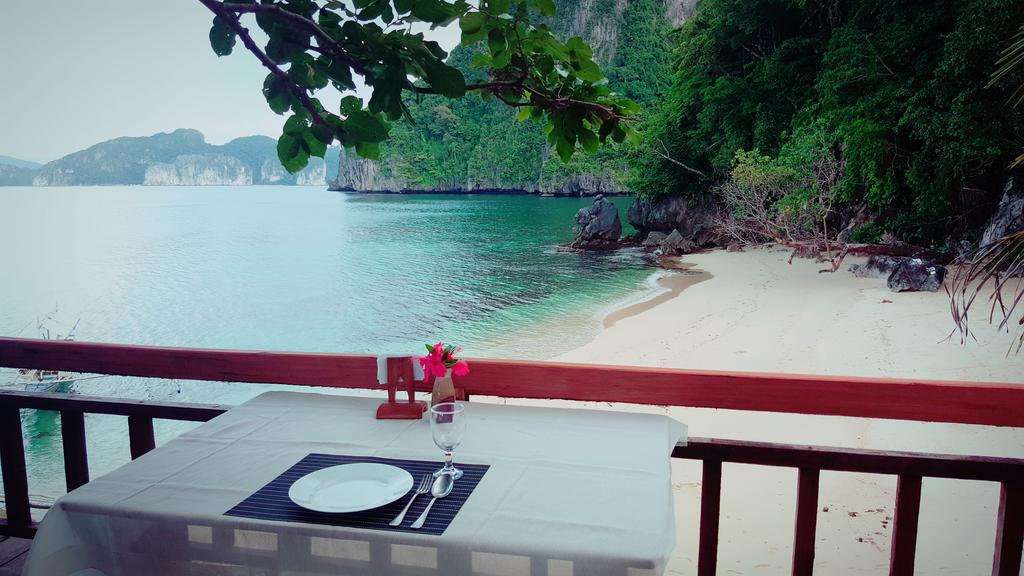 In a nutshell
---
Secluded beach cottages away from El Nido town
Solar powered and environmentally friendly
Excellent restaurant on site
Great snorkeling right on your doorstep
For the ultimate secluded beach getaway, you can't beat the Alternative Beach Cottages. They're located down in the Pagauanen area, which is a fair way away from El Nido town and hard to reach by road, so you get there by boat. But that just makes it feel even more like your own personal paradise.
Originally this business was an alternative-style restaurant, which is still part of the operation, but they have also added on accommodation for guests to have more time enjoying the stunning location. The food is excellent, of course, with options for vegetarians, vegans and those who can't eat gluten.
The cottages are very comfortable, with a spacious bedroom, private bathroom and charming balcony looking out over the beach. We especially love how environmentally friendly the Alternative Beach Cottages are. There's no electricity during the day, which means you are forced to completely unplug and enjoy the serenity of hanging out on the beach or doing island-hopping tours.
You can even visit the nearby Cudognan Cave independently of a tour, as well as being able to rent snorkel and kayaking gear from the cottages. The beach out the front features beautiful coral and fish just a few meters offshore, so definitely make sure you explore it.
Like Vellago Resort, there are only a few cottages at the Alternative Beach Cottages, so there will only be a few other guests, and plenty of the gay friendly staff to cater to your every whim. In fact, there's always more staff than guests here, which makes the service next level!
Prices at the Alternative Beach Cottages start from $211 per night:
---
STAY WITH A GAY LOCAL
Misterb&b is the Airbnb equivalent for the LGBTQ community. Unlike on Airbnb, you know your host is gay, voiding any nasty surprises when you check-in. It is also a great way to meet gay locals and discover the underground gay scene. Click below to get 10 € (or $10) off our first booking.
03
Where2Next Nacpan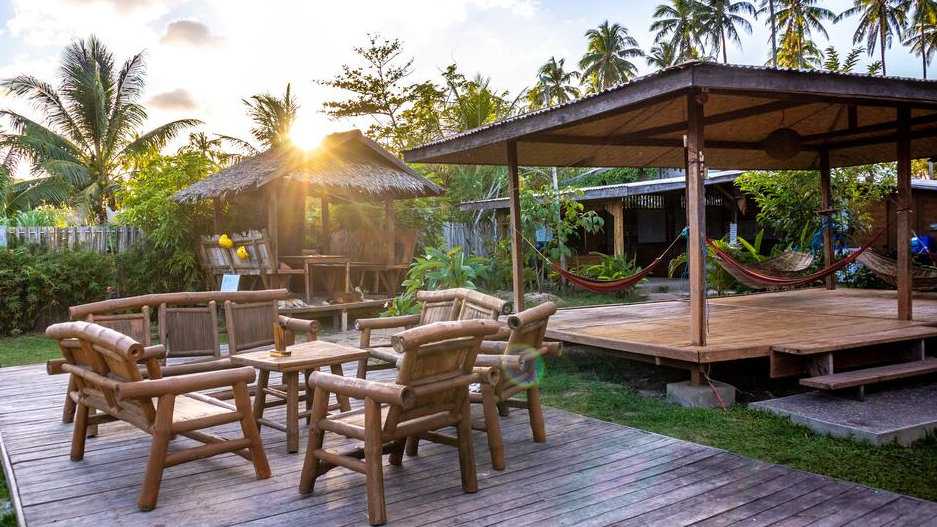 In a nutshell
---
Budget option right on Nacpan Beach
Free 15-minute hair and scalp treatment on arrival!
Solar-powered and serene
Dorm beds or private rooms available
For budget travelers, we recommend the lovely Where2Next hostel which is located in Nacpan, a little way north of El Nido town.
It's right by the famous Nacpan Beach, which is stunning, and the hostel itself features a lot of rustic wood to make you feel like a survivor on a deserted island. The hammocks strung about just add to the relaxed vibe, and we loved swaying in the breeze in one during our down-time.
One of the best parts about staying here is the FREE hair and scalp treatment you receive upon checking in. For 15 minutes I was in heaven as the lovely staff member massaged my head, which was just the first taste of how serene it feels staying here. The whole place is solar-powered, which is great for the environment obviously, but also means the WiFi connection may be sporadic. We just took this as an opportunity to go totally offline and enjoy being present with nature.
Yes, this is a hostel, so you'll probably be sleeping in bunk beds in a dorm, but they all come with privacy/mosquito nets that make it rather romantic-looking. You can also book a private double room if you just can't handle listening to strangers snoring all night, or rent a camping spot if you have your own tent and really want to go rustic.
Prices at Where2Next start from $10 per night:
---
Happy travels are safe travels
We recommend you always take out a reputable travel insurance before your next vacation. What happens if you suffer from illness, injury, theft, or a cancellation? Many travelers forget about it and regret it when something happens. Better to pay a small price and have the peace of mind and not worry.
For more, watch our video about our adventures traveling in the Philippines as a gay couple:
---