TERMS OF USE: There is a chance that some of the content on this page has changed since it was last updated. By reading this article, you consent to our Terms of Use and Disclaimer. Happy Travels!
DISCLOSURE: Some of our posts may contain affiliate links which we may receive a commission if you choose to book something through one of our links.
We've picked the best and COOLEST gay hostels in Barcelona all located in and around the heart of the gay area of Barcelona – the Gaixample!
For a lively city like Barcelona, it can be easy to get tangled up with all the different options for hostels to stay. Should you go cheap and single? Splurge and treat yourself? Go central? Find a remote hideout on the fringes? Do you want to be close to clubs? Or maybe by one of the fabulous gay beaches…
We're no strangers to the city. After all, it is one of the friendliest gay cities in the world, so we feel we know it as well as we know our hometowns. Whenever we visit we like to base ourselves near the Gaixample area – a fabulous neighbourhood in the Eixample district. There are so many gay clubs, shops, LGBTQ-themed and owned businesses to explore that you feel super comfortable engaging in PDA. It even rivals the likes of Greenwich Village in New York City, Soho in London, and well, all of Amsterdam!
The busiest months tend to be the summer. Not only do you have the sun, beach parties and bars staying open later in the evenings, but you also have a little thing called… Pride! Plus, Barcelona doesn't just have regular Pride, but a beach Pride party in Sitges as well. These factors mean that bookings can be filled months in advance. So we strongly recommend booking your hostels ahead of time to avoid any disappointment!
In this article, we've compiled a list of the best gay hostels in Barcelona for all travel group sizes. Each one has a unique style and offers a completely different experience. So if you're travelling to Barcelona on a budget, or you simply enjoy the camaraderie a hostel provides, then keep on reading! And if you prefer the comforts of a hotel, make sure you also check out our guide to the best gay hotels in Barcelona.
Smart shortcut
01
The Hipstel Paseo De Gracia
Eixample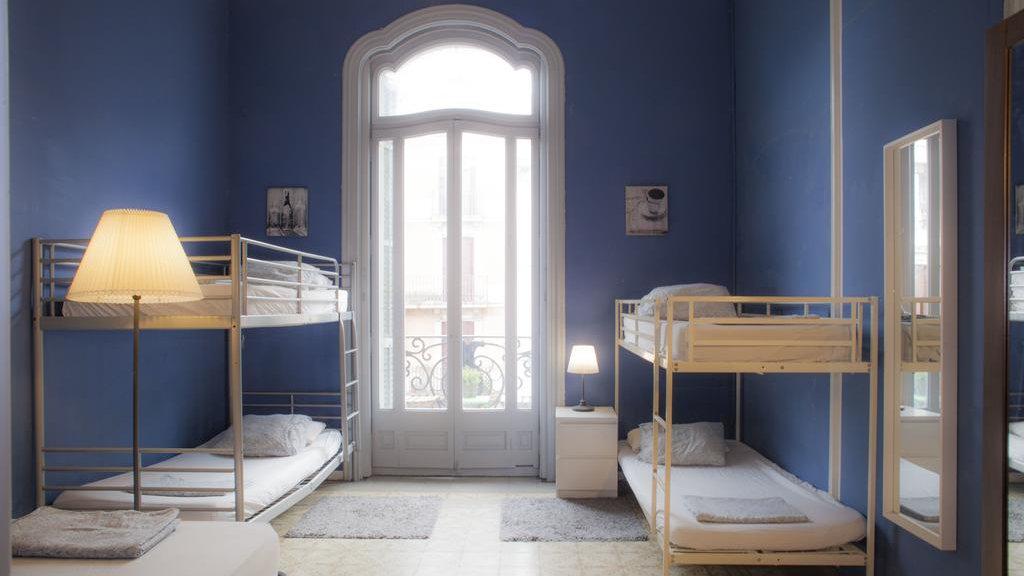 Why we love it
---
Very hip and stylish hostel
Located in the middle of the gay scene
Free walking tours provided
Bikes available for rent
Bringing together elements of Victorian charm and modern furnishing, the Hipstel Paseo De Gracia is bright, spacious, and definitely hip!
With the Passeig de Gracia and Casa Batllo located a mere 100m away, the surrounding site of this gay friendly hostel is bursting with life. You're ideally situated for visiting all the gay bars and clubs of Eixample, so for those who thrive being in the centre of all the action (*cough* us!), this place is a total win.
Whether you are travelling solo, or in a group, there are plenty of options for you. You can choose between a private room (albeit with a shared bathroom) or a dorm for up to 10 people. There is also a lounge area where you can chill, watch TV, play games and meet new people. There are basic kitchen facilities for you to cook for yourself, while a buffet breakfast and dinners are also provided for a small cost.
The staff are super-friendly and love to chat with all of their guests. No one gives a hoot who you are or who you sleep with, so long as you have a good heart. There's an outdoor terrace to enjoy, and we really loved the dining area where breakfast is served, with its pretty mosaic floors. The hostel also provides bikes you can rent to get around the city, as well as free walking tours!
02
Vrabac Guesthouse
Gothic Quarter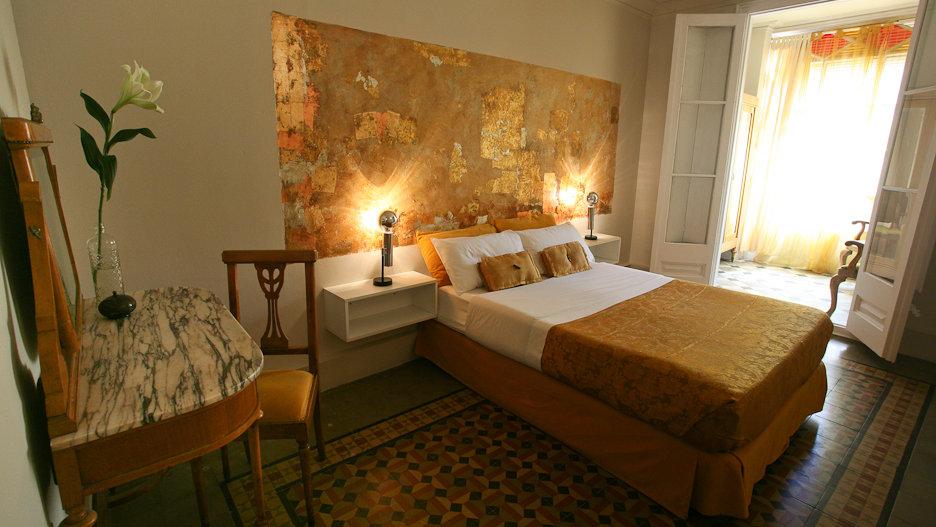 Why we love it
---
Stunning guesthouse in the Gothic Quarter
Close to attractions, gay bars and clubs
Free breakfast every day
Shared kitchen for cooking your own meals
Are you still stuck in your Twilight phase?
Or maybe you're just a lover of the classic Dracula novel by Bram Stoker?
Either way, you're in luck because the Vrabac Guesthouse thrusts you into the Gothic heart of Barcelona. With Dracula-Esque decor, you'll feel totally spooked but also charmed when roaming through these halls.
Since it's located in the Gothic Quarter of Barcelona, Vrabac Guesthouse is just a short walk to Plaza Catalunya and Las Ramblas. Not to mention that the area is filled with narrow, winding streets, darkly lit bars and soft jazz music oozing from the clubs. Vrabac itself is gorgeous, with high ceilings, stone walls and lots of gold decor in the bedrooms. It's not the kind of opulence you usually get at a budget guesthouse! You can use the shared kitchen for cooking and also enjoy free breakfast each morning, perfect for the economically savvy traveller on the move.
Vrabac Guesthouse is very gay-friendly too, you won't need to explain your booking if travelling as a couple – a refreshing change! The owners are committed to ensuring all guests feel welcome. It's also just a 15-minute walk from the LGBTQ capital of Barcelona, so you won't be too out of reach from all the gay ole' fun that the city has to offer. So if you've had it with all the vampires around the hostel, you can hop on over to Gaixample and hang out with some bears instead!
STAY WITH A GAY LOCAL
Misterb&b is the Airbnb equivalent for the LGBTQ community. Unlike on Airbnb, you know your host is gay, voiding any nasty surprises when you check-in. It is also a great way to meet gay locals and discover the underground gay scene. Click below to get 10 € (or $10) off our first booking.
03
Casa Kessler Barcelona
Eixample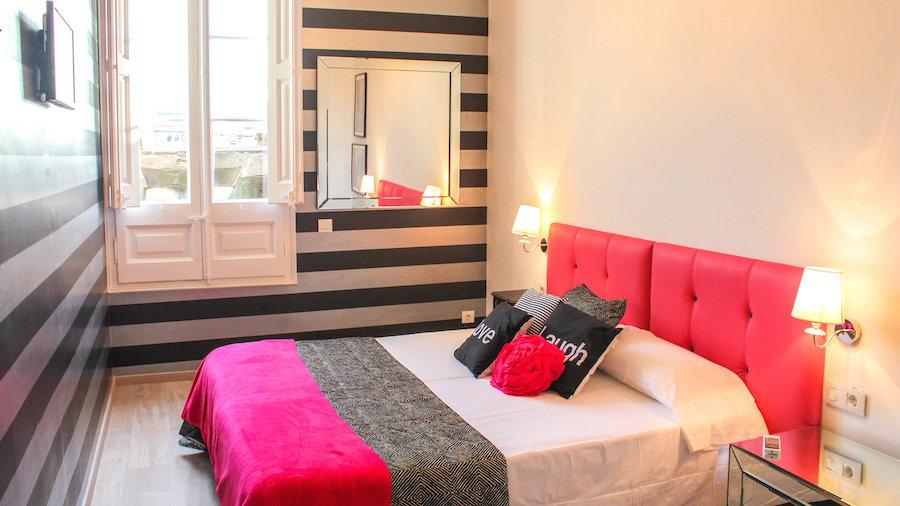 Why we love it
---
Elegant designer boutique hostel
Lovely colours and quirky details throughout
Private rooms or small dorms available
Gorgeous terrace to chill out
Bright, colourful, and spacious – three things you would never expect from an inner-city hostel, yet Casa Kessler manages to deliver.
Quaint and humble, the Hostel Casa Kessler boasts just seven rooms, plus one apartment, meaning the place feels more like a family home than a holiday getaway.
Each room has its own unique design and colour scheme, but they all ooze comfort and style!
The halls and common area spaces are decorated with cute paintings, botanical plants and plush decor. It feels like you are sitting in the living room of a sophisticated boutique hotel when really it's a hostel and all the fellow guests will become your extended family. The cross between old and new work so well, with the mezzanine's floors and ceilings having been restored from the 19th century and stylish, modern decor throughout the building.
With private rooms, dorms and even an apartment, Hostel Casa Kessler suits all sorts of traveller types. We love the quirky details here, like how one of the double rooms features a 'hanging' style bed and all the grandiose wallpaper throughout the building. There's also a gorgeous terrace where you can chill out in the sun, surrounded by leafy plants. Located in the heart of Eixample, the Plaza Catalunya, Las Ramblas and Paseo de Gracia are walking distance away, as is all the fantastic gay nightlife!
04
Casa del Mediterraneo
Eixample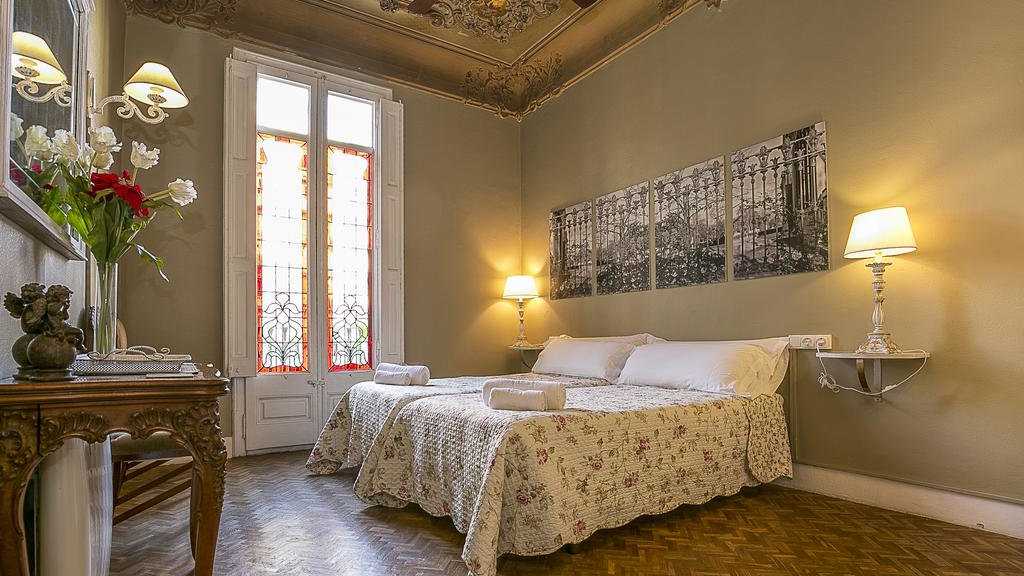 Why we love it
---
Gorgeous guesthouse filled with art
Located in a quiet street but still close to the action
Hypoallergenic room available
Absolutely lovely and helpful hosts
Though the surrounding areas are bursting with life, the street where the Casa del Mediterraneo guesthouse is located is surprisingly quiet. Lined with trees and charming buildings, it's like a little secret tucked away in the beating heart of the city.
Guests can enjoy a heavily discounted meal for breakfast at a nearby cafe, so you save on money and time in the mornings. Though they offer plenty of free coffee and tea in the guesthouse as well.
Owned by the ever so charming Juan and Carlos, the building is decorated with fine art pieces – from modern style paintings to chic furnishing, this place is an art lovers paradise! It's also a real gem for those looking to escape the hustle and bustle of the city. It's located on a peaceful and quiet street, and the place itself is quite small, so there isn't as much fighting over the shared bathrooms one would face in a bigger hostel. There's also a daily housekeeping service and the whole place is spotlessly clean. You can even stay in a special hypoallergenic room if you need to.
Other facilities include the shared lounge/TV room as well as a beautiful dining area which features stained-glass windows and comfy window seating. Some of the rooms have lovely little private terraces as well. The hostel's reserved location doesn't mean it is disconnected from all the fun action though. You're still within walking distance to loads of terrific must-see sights across the city, from the main shopping street to Gaudí's Casa Batlló and Casa Milá. After a night of experiencing the best gay bars and clubs in the Gaixample, you'll love being able to come back here for a quiet sleep!
05
Barcelona City Centre Hostal
Eixample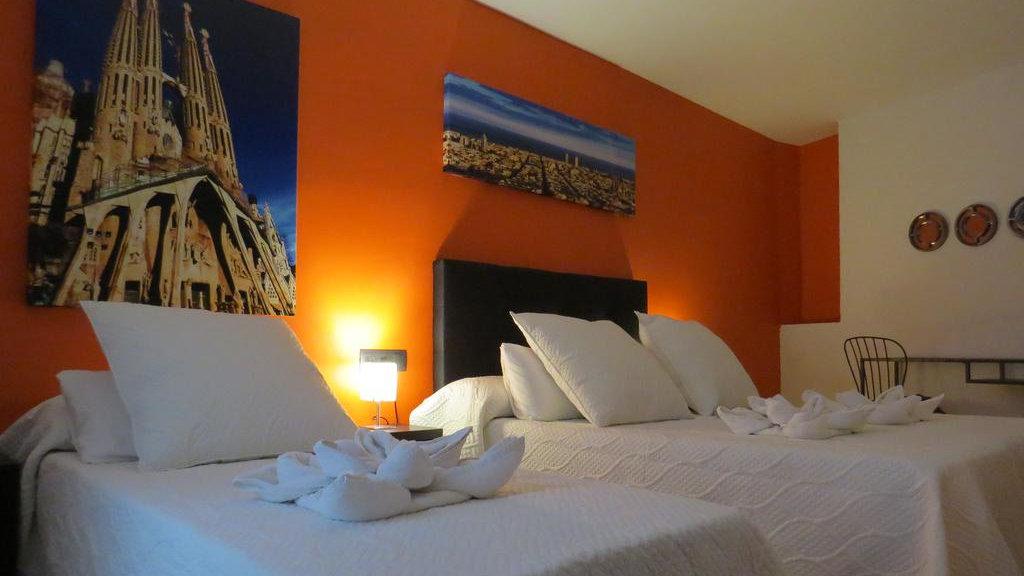 Why we love it
---
Affordable, cosy and bright accommodation
Excellent location close to gay bars and clubs
All rooms have private bathrooms
Yummy breakfast available for a small fee
With the Plaça Catalunya, Las Ramblas, and Passeig de Gràcia close at hand, it is hard to refuse the Barcelona City Centre Hostal. Not only is it close to all of the city's main tourist hotspots, but it is also super cheap, clean and fabulous!
After all, it is located in the heart of the Eixample area, meaning you can walk to all the best gay bars and clubs. The metro line is also just around the corner – so the whole city is at your disposal.
Each room is comfortable, modern and well-equipped for the gay traveller's needs. The rooms are generally quite spacious, so you don't even feel as if you are staying in a hostel, especially since they all have private bathrooms. The staff are super friendly and chatty – always willing to tell you about the must-do items throughout the city. Plus, they serve up a basic, though delicious, breakfast for a small fee.
If you're looking for luxury then this isn't it, but if you want a clean, comfortable and very affordable place to base yourself while exploring Barcelona, then it's excellent! The beds are so comfy and the showers offer excellent water pressure – which is definitely not always the case in hostels. Bear in mind that the hostel is just double and twin rooms, so it will mostly be filled with couples and small groups, but maybe that's what you'd prefer!
06
Hostal Absolut Stay
Eixample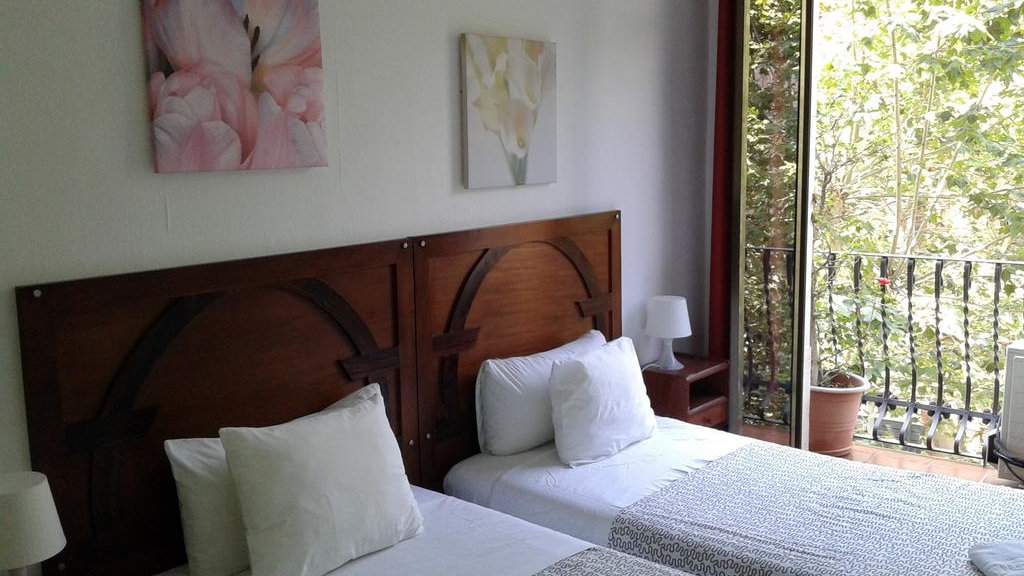 Why we love it
---
Lovely clean and cosy hostel
Simple and comfy rooms, some with balconies
Fantastic location close to all the sights
Private or shared bathrooms available
Hostal Absolut Stay is just what you need whilst passing through the city of Barcelona. The rooms are simple and fitted with all the furnishings a modern gay traveller needs.
It's a simple gay friendly hostel, but very clean and comfy. Rooms are available as either a double or twin, so it's perfect if you are part of a couple or just don't want to be in a dorm. The spacing can feel a bit tight, but there's great character and charm that fills up the rooms.
You can choose from rooms with private or shared bathrooms, and some of them have really cute little private balconies to sit outside while watching the world go by. Even though it's a hostel you can still expect daily housekeeping, which is partly why the place is always spotless. The building of the hostel itself is restored from the 19th century, so it adds a little Victorian twist to your getaway.
Take a step aside, and you'll be blown away by the sheer energy and buzz of the city. You're just a couple of blocks away from Passeig de Grácia and the Museum of Modernism, as well as being right on the doorstep of the Gaixample. From the architecture to the string of fabulous gay bars and clubs dotted across the district, the Absolut Stay is a little nugget centred in the midst of gold!
07
Harmony Hostel
Eixample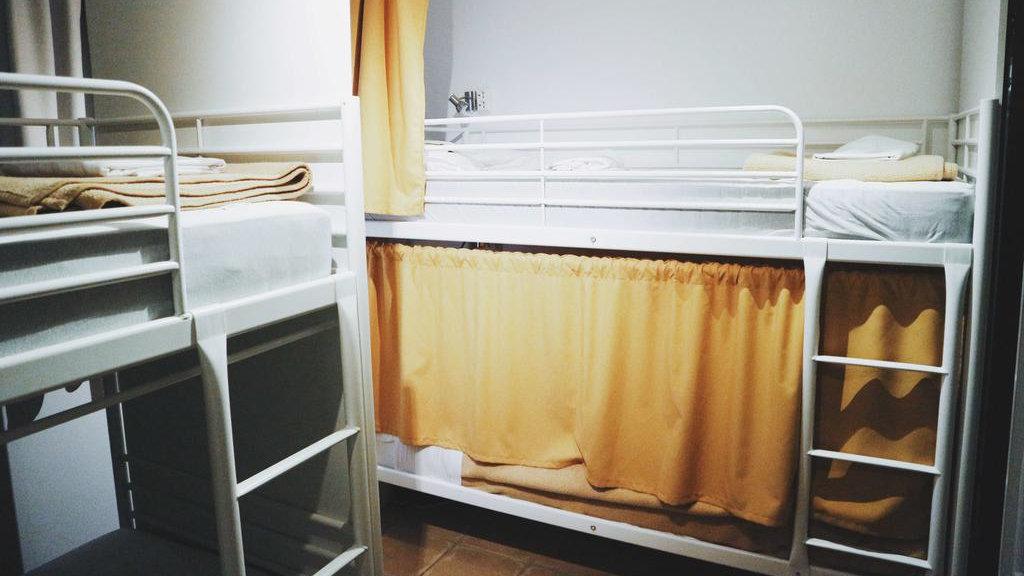 Why we love it
---
Intimate hostel with just 37 beds
Free breakfast in summer
Great location close to many attractions
Comfy library to borrow and exchange books
Busy few months at work? Then you are in desperate need of some harmony, which you can get right here at Harmony Hostel!
With shared kitchen facilities and living areas, everything is done up in muted colours to enhance your feelings of relaxation. We especially love the reading area, with books to borrow or exchange and comfy seating for you to enjoy a good story. Each bunk in the dorms has a reading light as well.
This gay friendly hostel is charming and small, with just five rooms – one mixed room with nine beds, two mixed rooms for eight people, one mixed room for six people and one of six just for girls. The rooms can be quite tight on space, but let's face it, you're not going to Barcelona to stay in your room! The beds are cosy, the staff are helpful, and the atmosphere is very chill so you can get to know the people you are staying with. The common spaces are delightfully snug and great for chatting with fellow guests.
A free breakfast is offered between the months of May and August so for those on a budget, it's an excellent choice. Harmony Hostel is also close to lots of cafes, restaurants, gay bars and clubs so you have plenty to explore. Nothing beats the feeling of just stepping out of your hostel and being in the centre of everything. With the city at your doorstep, you will save money on transport and can easily check off all the items on your to-do list. Though if you crave adventure outside the Gaixample area, there is also a Metro line in walking distance.
08
TOC Hostel Barcelona
Eixample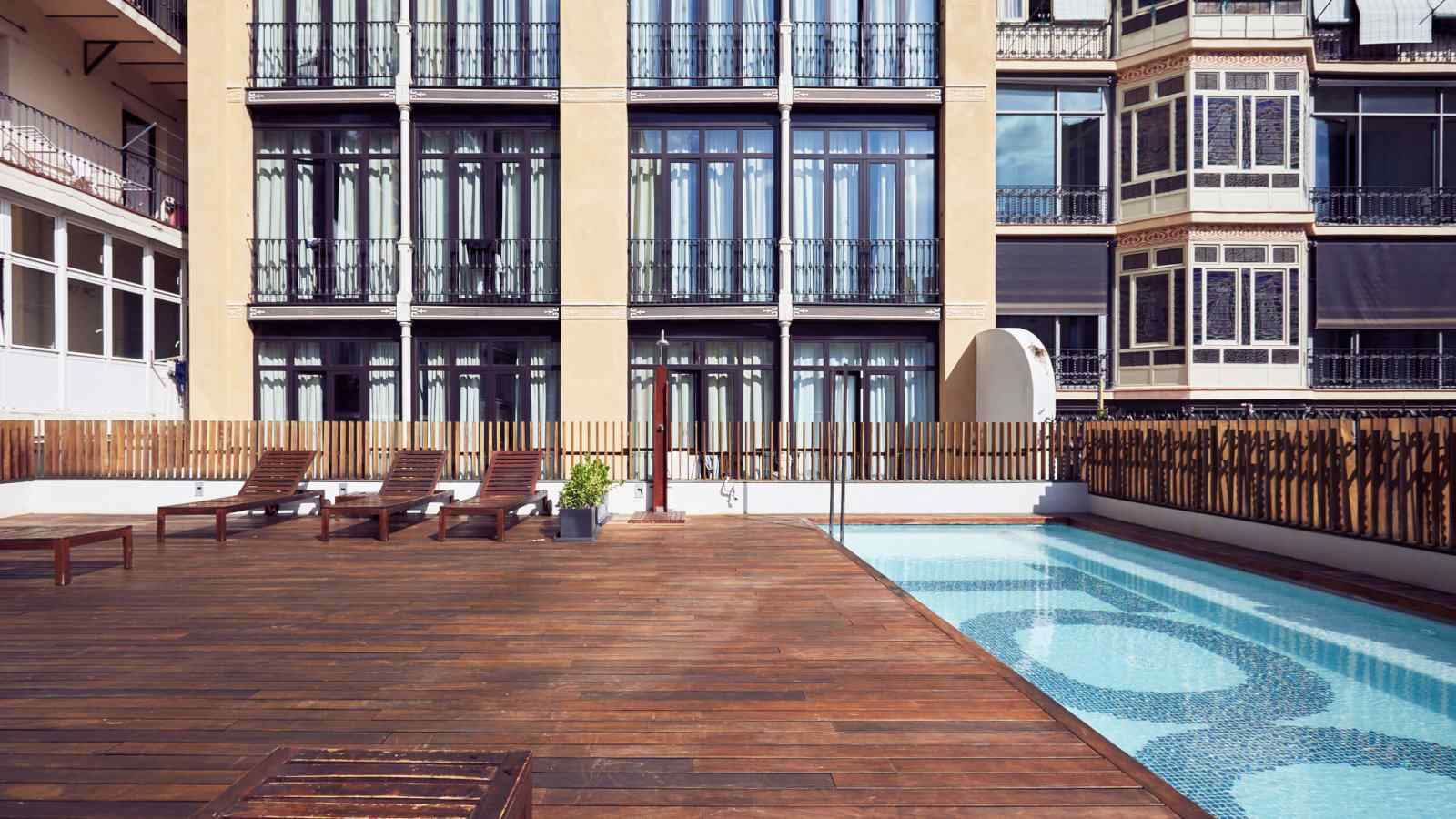 Why we love it
---
Chic and stylish boutique hostel
Rooftop terrace with swimming pool
Lovely bar with regular fun events
Buffet breakfast for just €6
Right by the iconic Plaza Catalunya Square, the TOC Hostel is a boutique-style hostel with excellent amenities and a wonderful location.
The stunning interior design is modern, bright and spacious. Plus there's a rooftop terrace and swimming pool which you don't often find at a budget hostel! You can't beat access to a pool, and this one is always abuzz with a fun crowd. Picture a salty margarita in your hand as you map out what your adventure for the day will be.
Another place where TOC really shines are the super comfy bunk beds in the dorms. Since they're built into the walls you won't be jostled by other guests climbing up or down. There are also stylish private suites available to book that look basically the same as what you'd get in a hotel, with a private bathroom. As well as the rooftop terrace with the swimming pool, there's a fun bar with regular live music and events. This is also where you can enjoy a delicious buffet breakfast each morning for just €6.
There's a shared kitchen where you can cut costs by cooking for yourself, although there are also plenty of excellent restaurants and cafes nearby. Whilst is mostly a younger crowd that tend to frequent this hostel, it's also accommodating to families, solo travellers and couples. The proximity to loads of hip clubs and bars would be appealing to everyone, but it is particularly popular for students travelling on their summer vac-ay. So if you are looking for a lively and upbeat gay friendly place to stay, then definitely check TOC Hostel out!
09
Sant Jordi Hostel Rock Palace
Eixample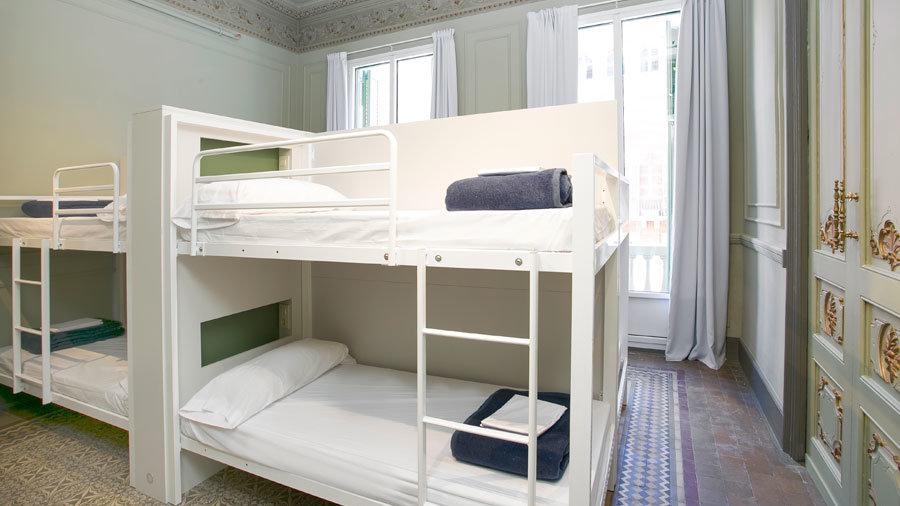 Why we love it
---
Really cool rock n' roll-themed hostel
Rooftop terrace and pool
Located right in the heart of Eixample
Shared kitchen and laundry facilities
'When you're alone, and life is making you lonely, you can always go… downtown!'
The gorgeous Sant Jordi Hostel Rock Palace earns its name, for it oozes rock! And, yep, it's situated in the funky downtown part of the city. Surrounded by bespoke cafes, Catalonian restaurants, art galleries, quirky nightclubs and intimate bars, this gay friendly hostel is perfect for the keen, bug-eyed traveller who wants to really experience the city.
It has a fabulous common area for chilling out in and getting to know other guests from all around the world. The rock and roll theme also sees the place decked out with a groovy mix of vintage guitars encased in glass, iconic portraits of musicians and a constant loop of rock classics being played. There's a shared kitchen area where you can do your cooking as well as laundry facilities and computers for guests if free WiFi on your phone isn't enough.
Plus, the rooftop terrace and plunge pool doesn't hurt its appeal with the younger crowd or those who just like to spend the day lazing by the pool. The hostel offers two-bed private rooms as well as three, four, six, eight and ten-bed dormitories. So whether you are in a couple or having a wild friend holiday, there's space for you. The Hostel Rock Palace is also right in the heart of Eixample, within walking distance of the Passeig de Grácia and all the gay hangouts.
What to do in Barcelona?
There are so many cool and fun activities to do in Barcelona. It's filled with beautiful art, a thriving foodie scene and lots of beautiful spots worth exploring…
10
Hostel Friends Barcelona
Eixample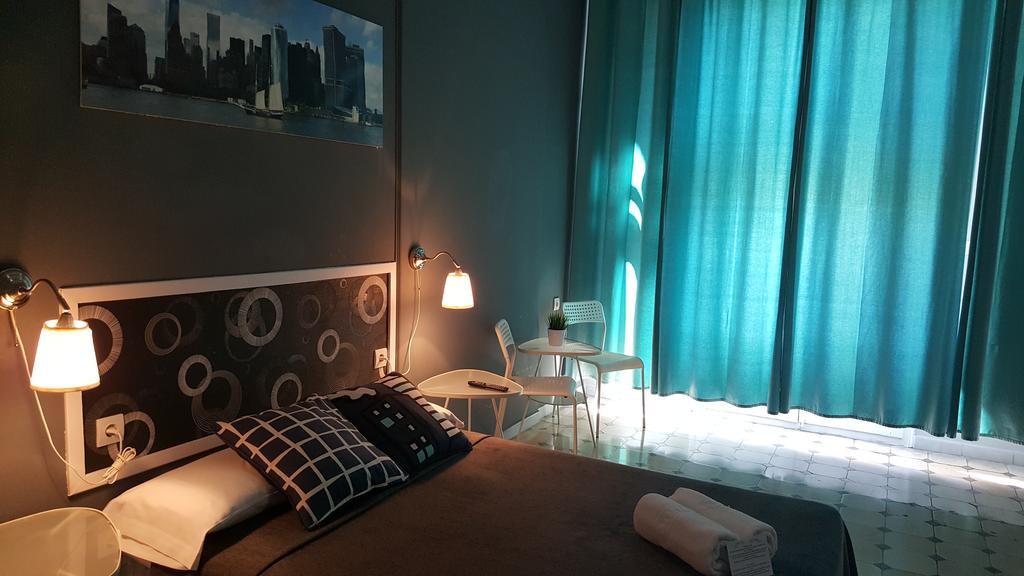 Why we love it
---
Intimate hostel with max. four guests to a room
Shared or private bathrooms, some with spa baths
Directly next to a metro station for getting around
Bike rental also available for exploring
PIVOT!
Ok, so you won't bump into Ross and Rachel or any of the other characters from the hit TV show, but with a name like Hostel Friends, you are bound to make a few new pals here.
Whilst this is not a party hostel, there are plenty of options for shared rooms, so for couples who like to meet new people, this place is worth checking out.
The rooms at Hostel Friends are small and intimate, with a maximum of four guests sharing, so it's great for couples or small groups of friends. They provide all the basics you would need for the night, like comfy beds, shared or private bathrooms and even spa baths in some of them! Some of the rooms also have private balconies, while the friendly staff are on the front desk 24 hours a day and are always very happy to give recommendations for what to do in Barcelona.
While it is located in Eixample, the hostel is kind of on the outskirts of the gay area but it's also directly next to a metro station so you can easily get around the city. There isn't an on-site restaurant but you can order room service, or explore the many great restaurants and cafes nearby. There are also vending machines for snacks, daily housekeeping and even bike rental if you want to explore the city on two wheels.
---
Like this post? Pin it