"You want to go to a gay bar in Malta? Pick anyone you come across and you'll be just fine!"
So said our Maltese gay friends when we asked them about the gay scene. But we get their point. When it comes to gay friendliness, Malta is killing it! This tiny island nation in the middle of the Mediterranean Sea is frequently named one of the most gay friendly countries in the world and we can totally see why!
What used to be one of the most religious places in Europe (for example, up until 2013, divorce was illegal in Malta!) the country did a 180-degree turn to pass some of the most LGBTQ progressive laws in the world, quickly becoming THE gay haven in the Mediterranean region.
We visited Malta to discover the gay scene and what makes it so appealing to LGBTQ travelers. We left with a strong thirst to return and see more. The people are open-minded, super friendly (Maltese guys – heLLO!), the queer community is very visible and even though it's such a small nation of just 400,000 people, it still has a vibrant gay scene to check out.
We've put together all our findings in this gay guide to Malta as we explored the country from Valletta to Mdina, Gozo to Camino, and Dingli to Xlendi.
Gay rights in Malta
They are extremely progressive!
…or to quote the United Nation's Equality and Non-Discrimination team:
"Malta has become the gold standard of LGBTQI reforms – a beacon of human rights for LGBTIQ issues!"
This says a lot for a country where up until 2013, divorce was illegal. This gives you an idea of just how Catholic and religious Malta used to be. It all began in 2013 when the progressive center-left Labour Party came to power and prioritized gay-friendly policies led by the proactive Minister for Equality, Helena Dalli. They began by passing a full range of anti-discrimination laws, recognized civil unions, and also passed adoption laws within their first year in power.
The progressive Labour Party then went on to ban conversion therapy in 2016, becoming the first country in Europe to do so. Then in 2017, the Maltese government gave the LGBTQ the ultimate prize: gay marriage!
In relation to transgender rights, Malta is also ahead of the pack. The right to change legal gender was introduced in 2015, and since 2017, a third gender option "X" is permitted/recognized in identification documents. In addition, the government has changed the language used to refer to domestic and family relationships in legal documents, making them gender-neutral.
Is Malta safe for gay travelers?
A big HELL YEAH!
There is a good reason why we rate Malta as one of the most gay friendly countries in the world. This is one of the few places in the world where we felt comfortable with public displays of affection almost everywhere. And that's saying a lot: we rarely do this unless we're in a "known" gay part of town like in Chueca in Madrid or Soho in London. Yet walking through the streets of Valletta, we felt totally comfortable with public displays of affection and frequently saw other gay couples also doing the same.
Of course, as with anywhere in the world, you do need to be cautious, especially when heading to more remote/rural areas outside of the big cities where attitudes are more conservative.
The gay area of Malta
There is no official gay area in Malta. That being said, there are a handful of bars/clubs spread out across the island, though most of them can be found in Valletta, which is itself a tiny city (just 900 by 600 meters!) with a population of fewer than 6,000 people.
We would argue that Malta is generally such a gay friendly place that it doesn't really need a gay area. Though the frank reality is that it's just too tiny to have one. By way of comparison, other gay friendly destinations with official gay neighborhoods are usually large cities: London: 8.9 million, New York: 8.6 million, Barcelona: 5.5 million, Toronto: 3 million, Montreal: 1.8 million, Amsterdam: 850,000…Valletta's population? A mere 5,800!
Yet despite its small size, Malta packs a punch when it comes to its gay scene. Public displays of affection were never an issue for us in any of the bars we visited on the island.
Gay hotels in Malta
Depending on where you want to base yourself, there are plenty of gay friendly hotels in Malta to pick from. If you want to be right in the middle of everything, we suggest booking a place in Valletta. Otherwise, Sliema or St Julians just outside of Valletta are also excellent bases with more local life.
Further afield there are also a handful of excellent gay friendly hotel options in Mdina, Rabat, and Gozo, which although further away, are more secluded and less touristy.
01
Rosselli
Valletta
The rooms are spacious and elegant, decorated with marble or floral wallpaper. If you splurge on one of their executive rooms you'll even have your own private sauna and rain shower in the luxury bathroom. Some of the superior rooms also have luxurious round bathtub in the rooms which are oh so romantic! The staff is incredible: offering a glass of prosecco and fresh facecloths when you arrive, as well as giving detailed advice and helping you plan out your holiday in Malta.
The hotel's restaurant, Grain, is rated for its delicious Mediterranean cuisine. As well to the rooftop, there's also a relaxed 'street' section (where breakfast is served) and the more formal 'under' Grain which offers a menu inspired by classic French cuisine. Rosselli is conveniently located right in the heart of Valletta, making it an ideal base to explore this super cute city.
02
The Waterfront Hotel
Sliema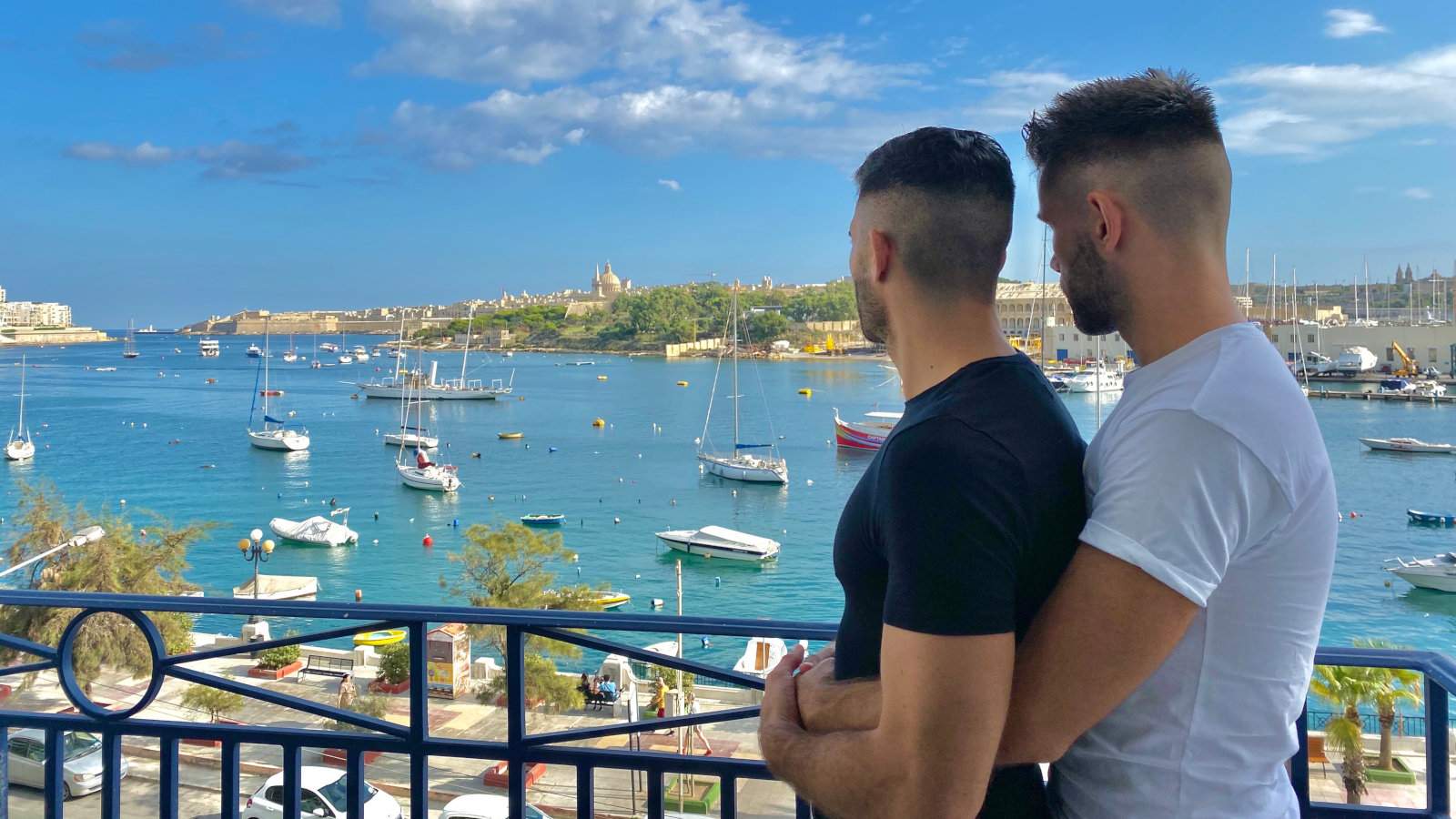 This is also a great place to go for morning runs, especially to the nearby remote Manoel Island, which has a direct view of Valletta's fort and a few hidden rocky beaches.
The Regatta Restaurant serves up a pretty decent buffet breakfast as well as a very popular buffet lunch that attracts patrons who aren't staying at the hotel. The lobby bar is also a wonderful spot for a cocktail before heading out to party. The staff here are so friendly and helpful that they'll make you feel right at home from the moment you arrive.
All the rooms at the Waterfront Hotel feature balconies to enjoy, but you do need to book specifically for harbor views for a sea view. There's also a big indoor swimming pool to get some laps in, as well as an upstairs outdoor terrace to sunbathe and enjoy the views across the harbor.
03
La Falconeria
Valletta
The rooms are finished with traditional Maltese flooring and all the mod-cons. We love the little extras for luxuriating, like the free slippers, bathrobes, and toiletries. There's a small plunge pool inside an underground cave, which is perfect for cooling off after a day of wandering around the city. Next to the pool area is a small fitness center for getting in a few push-ups.
We loved having a drink in the bright lobby bar before heading out for the night. The in-house restaurant L'Artiglio serves exquisite fresh and seasonal Mediterranean cuisine, plus the restaurant itself is divine! Everything is deep blue with gold accents, elegant and sleek. You can either enjoy your breakfast at L'Artiglio, or in the hotel's cute interior courtyard.
04
Marco Polo Hostel
St. Julian's
The Marco Polo Hostel is one of the best gay-friendly budget hotel options in Malta with a choice of dorm beds or affordable private rooms to choose from. Since it's located in the St. Julian's area, you'll also be close to lots of excellent nightlife as well as one of our favorite resto-bars: the Two Buoys (see more about this below). The Marco Polo helps encourage guests to socialize with some pretty fun and raucous pub crawls.
The staff at the Marco Polo Hostel are so lovely and welcoming, working hard to make the vibe super-chilled. You can keep costs down by using the hostel's kitchen and laundry facilities, plus you can hire bicycles to explore the island.
Gay bars in Malta
Remember Malta is a teeny tiny nation of just 400,000 people. This is not the place to come expecting tons of gay bars clustered together as you'd find in Barcelona's Gaixample or Fort Lauderdale's Wilton Manors. However, there are a handful of places we loved and think you need to check out. Note that the iconic Birdcage Lounge gay bar in Malta did not survive the Pandemic and has since shut its doors for good.
The Brunch Bunch
This is a Sunday all-day monthly event that takes place at various locations. The one we attended was at the Aussie-inspired Two Buoys restaurant run by cutie Jessie from Melbourne. If you're in Malta during one of these events, then make sure you go. We spend the entire day with the cream of the crop of the island's LGBTQ community, complete with a drag show, live music, cuuuute Maltese guys, and plenty of banter. For the latest info about their next event, check their Facebook page.
Maori is a cool lesbian-owned bar located right on the waterfront of St Elmo Bay overlooking (and named for) the wreck of the HMS Maori. They host monthly queer dancing nights like LipGloss Chrome, which usually takes place on Saturday. It's a popular hangout for local artists, poets, and musicians who come to drink, dance, and trade inspiration. Seby, in particular, loved lazying in the hammocks they have outside right beside the ocean attracting a few of the resident cats… Located at Maori Triq il-lanca, Maori is open Wednesdays to Sundays and is open….(in the words of owner Simone Falzon): "from around sunset 'til whenever".
We loved this bar! The staff are super sweet and love having a bunch of gays take over the place! They have one of the largest collections of gins we've ever seen. They're very passionate about their gin and will tell you everything about it. It's definitely worth a visit for this alone. We also love the cute peacock decor, like the Katy Perry song: "wanna see your peacock-cock-cock"! Located at 32 Strait Street in Valletta, Yard 32 is open Wednesday-Sunday from 6.30pm until 1am.
This is a very unique lounge in Valletta, serving up some pretty magical cocktails. Alchemy has a modern and sleek style, while the cocktails are served in quirky-shaped glasses. It ain't cheap though, but the drinks are absolutely impeccable! They are made from the finest ingredients, some of which are really unique mixtures. Our favorite was the Elements cocktail, which combines cognac, Alchemy's eucalypt bitter, beetroot juice, and mandarin ash…bet you've never encountered all that lot before in a cocktail! Located at 92-94 Strait Street, Alchemy is open daily from 2 pm until 2 am.
Gay Clubs in Malta
Lollipop and S2S lead the way when it comes to gay parties in Malta. Look out for their monthly dos 'cause they are a ball! Otherwise, the other main gay club in Malta is Michelangelo.
We love the Lollipop parties! They always attract a fun crowd of both locals and foreigners. They are definitely our favorite gay parties in Malta but sadly only happen 1-2 times each month. If you're in town during one of them, then just go to it. They're FABULOUS! Think a colorful swirl of pop music, glitter, and loads of sequins, with the odd leather body harness thrown in for good measure. For Lollipop updates check out their Facebook page or Instagram.
Every few months, S2S throws a huge themed gay party. Some of the best are for Pride in September, the Dia de los Muertos in early November, and the parties in Rabat during the summer months like Super Bordello in mid-August. Check the events section on their Facebook page for details of the next event.
Michelangelo Club Lounge
Located in St. Julian's, Michelangelo is the official gay club of Malta open every night from 10 pm. It's around 20 minute drive from Valletta and gets particularly popular on weekends, especially with its themed nights. Michelangelo is located at Qube Level 1 on St. Rita Steps, a pedestrian-only alley off St. George's Road.
Gay Pride in Malta
Just when the summer Pride season across Europe and North America has quietened down, along comes Malta Pride in September to keep the party atmosphere alive. From its humble beginnings, Malta Pride has grown to become one of the country's best events, with more and more people attending each year. It reached a pinnacle in 2023 when it hosted EuroPride.
Malta Pride takes place in mid-September each year. It is a week-long event featuring street parties, pool parties, stand-up comedy, concerts, film nights, talks, workshops, and lots more fun-filled activities. Of course, there's also a fantastic parade, which fills the streets of Valletta with colorful floats and music.
The after-pride dance party is also a must, featuring top local & international DJs and performers.
Gay Beaches in Malta
There are no official gay beaches in Malta, but there are a handful of secluded ones that are popular with nudists and the LGBTQ community. One thing to point out is that there are no facilities at any of these, so bring your own food and drinks.
Pembroke Beach
Located in the town of Pembroke (north of the St Julian's area) this beach is known as the main gay/nudist beach in Malta. It's a very rocky beach, so don't expect soft sand, and do bring a thick towel to sit on. But it's a beautiful spot to relax, swim and make new friends! It's located in the rocky area, just behind Madliena Tower.
Riviera Beach
Riviera Beach, also known as Għajn Tuffieħa Bay, has a smaller secluded beach located to the left of the main cove, which is where local nudists and gays often go to relax. Although it's not officially a gay or nudist beach, the authorities don't worry about it so you won't be disturbed. Be aware that you'll need to walk down quite a few steps to reach the beach area.
Ras il-Qarraba
Ras il-Qarraba isn't actually a beach but a rocky outlook nestled between Gnejna Bay and Ghajn Tuffieha Bay. Gay locals like to hang out on the west side where big fallen rocks provide privacy for a spot of nude sunbathing. You can only get there by hiking from Ghajn Tuffieha Bay, but you'll also be treated to some fantastic views.
Mġiebaħ, Selmun
Mġiebaħ (or Imġiebaħ Bay) is a gorgeous sandy beach near Selmun which is quite hard to reach. The upside is that it's quite secluded, with few visitors. You will need a car or a taxi to get there though, as you need to drive down a narrow country road, then walk a bit.
Gay saunas and spas in Malta
Malta does not have any gay saunas as you'd find in big cities like Berlin or Barcelona. And, as we've found in most places we've been to, the gay bathhouses of Malta and outdoor "play" areas(!) have taken a massive nose-dive in recent years, mainly due to Covid and the rise in popularity of gay dating apps. However, we did find one gay spa in Malta still holding on strong:
Just Men Center
A popular spa for men located just outside of Valletta. They offer a full range of man-to-man massage services, including massages for relaxation and even erotic massages. It is stunningly designed, with opulent furnishings and marble floors. With all-natural ingredients and guaranteed discretion, this is a must for anyone with sore muscles who wants a relaxing experience with a professional male masseuse!
Things to do in Malta
With eerie underwater caves, stunning temples, and medieval architecture everywhere you look, there's definitely no shortage of fun things to do in Malta. These are some of our favorite things to do in Malta:
Get lost in the streets of Valletta
---
Upper Barrakka Gardens
---
St John's Co-Cathedral and Museum
---
Fort St. Elmo War Museum
---
The Three Cities
---
Harbour Cruise
---
Mdina
---
Explore Valletta on an eco-friendly scooter
---
Discover Dingli on a Segway
---
Scuba Diving
---
Dingli Cliffs
---
Comino and the Blue Lagoon
---
Riviera Beach
---
Gozo
---
Popeye Village
---
Where to eat in Malta
Maltese cuisine reflects the diverse influences on this archipelago of islands located at the crossroads of Europe, Africa, and the Middle East. We experienced some excellent gay friendly restaurants during our visit, which we've set out below:
Balance Bowl
---
La Sfoglia Restaurant
---
Two Buoys
---
TemptAsian
---
Rampila Restaurant
---
Dinner in the Sky Malta
---
Rubino
---
No. 43
---
Plan your trip
We've put together some handy hints and tips to help you plan your own trip to Malta. Read on to find out everything the gay traveler should know before they go.
---
---
---
---
---
---
---
---
---
---
---
---
---
Gay map of Malta
Here's a gay map of Malta which includes all the gay bars, clubs, hotels, and sightseeing highlights we've mentioned in this post. Use it to plan your own amazing gay trip!
---