TERMS OF USE: There is a chance that some of the content on this page has changed since it was last updated. By reading this article, you consent to our Terms of Use and Disclaimer. Happy Travels!
DISCLOSURE: Some of our posts may contain affiliate links which we may receive a commission if you choose to book something through one of our links.
Our favorite gay hotels in Malta, ranging from luxurious Relais & Chateaux properties to gay friendly guesthouses and hostels.
Magnificent, marvellous, mind-blowing Malta!
For such a small country, Malta sure packs a big punch in terms of charm, gay friendliness and having a rich cultural history. This teeny, tiny, unassuming and super Catholic nation has undergone such a huge transition over the past decade that it's now famously recognised as being one of the most gay friendly countries in the world.
And we are living for it. We loved travelling around Malta. It's one of the few places in the world where we felt comfortable with PDAs. In addition, the country has so much history to discover, ruins to explore, gorgeous landscapes and some pretty stunning west-facing beaches where you'll feel inspired to renew your wedding vows at sunset.
In this article, we've rounded up the best gay hotels in Malta to check out based on our first-hand experience, recommendations from LGBTQ locals and from other gay travellers. We've included everything from five-star luxury resorts to intimate guesthouses for the more budget-savvy traveller. To read more about experience travelling in Malta, including the country's gay scene, check out our comprehensive gay guide to Malta.
Smart shortcut…
Where to base yourself in Malta?
Valletta is our hands-down favourite place in Malta. It's a city bursting with culture and history everywhere you step! Fortified walls, medieval castles and winding streets filled with unique shops and bespoke eateries, you'll easily lose yourself in the sheer charisma of Valletta. This is also where the majority of the gay hangouts are with many delightful gay hotels to choose from, which are mainly on the luxury end, like The Phoenicia, Rosselli and La Falconeria.
Another area worth considering is Sliema, which is just a short ferry ride across the harbour from Valletta. It was once an old fishing village, which has now transformed into a thriving commercial centre, with loads of shops, restaurants, cafes and hotels. Sliema also has our favourite budget option: the Two Pillows Boutique Hostel.
St Julian's right next door to Sliema is also worth checking out. It's less hectic than Sliema, with a more local scene and lots of cool bars.
For a quieter, more off-the-beaten-track experience, we recommend checking out the sleepy fishing village called Marsaxlokk or even the unique medieval walled city of Mdina, which is famous for being one of the many locations used for filming Game of Thrones in Malta.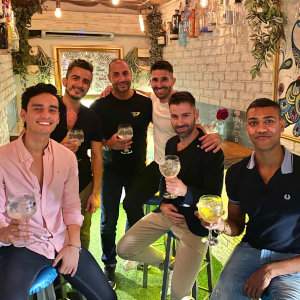 Join a Valletta Queer history tour
One of the best ways to discover the gay scene of Malta is by booking the Q Travel Malta Valletta Queer History walking tour. We highly recommend it!
With a local gay guide showing you around, you'll get the inside scoop on gay life in Malta and a deeper understanding of the island's history from their perspective, whilst having a really fun time!
01
The Phoenicia Malta
Valletta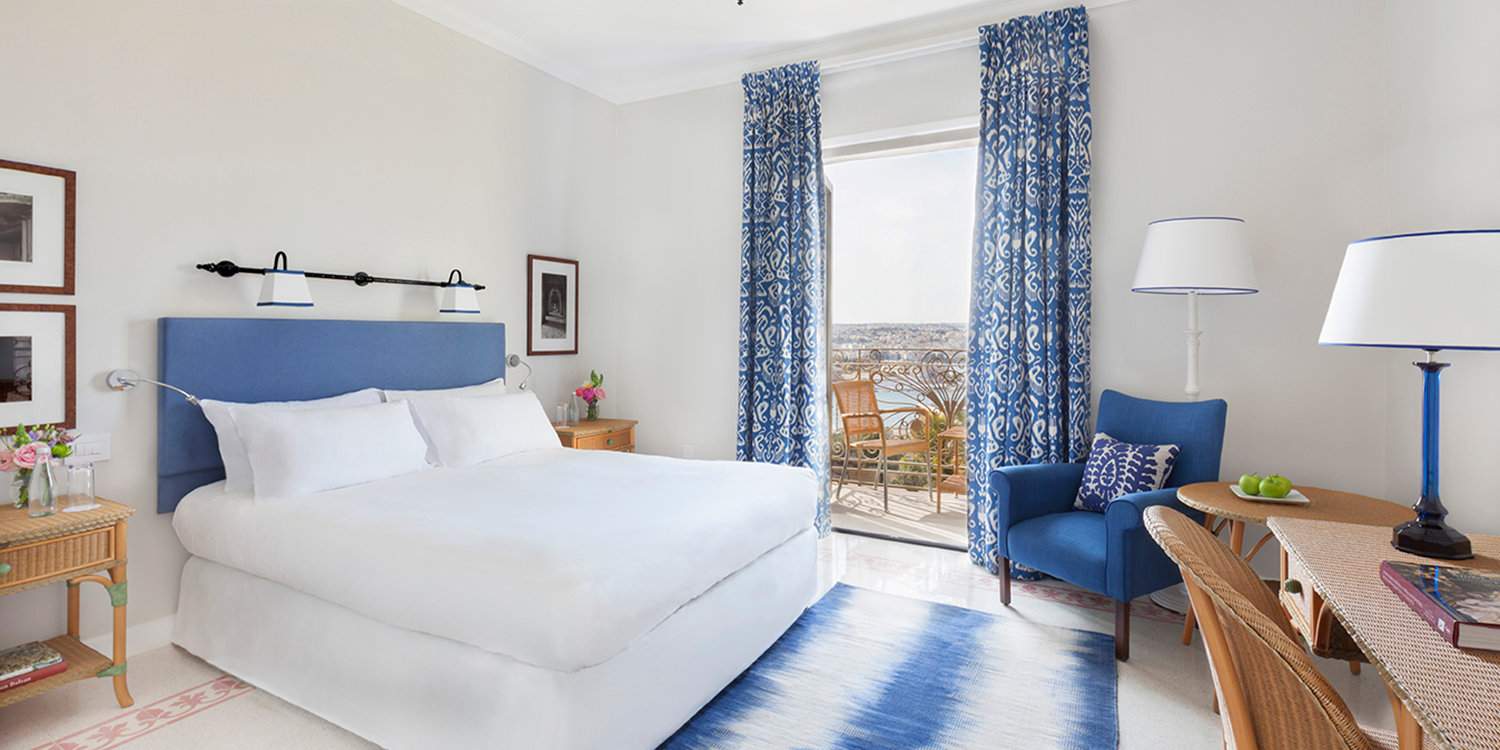 Why we love it
---
Beautiful 1920s style 5-star hotel
Infinity pool overlooking the harbour
Highly rated on-site restaurant
Ideally located for exploring Valletta
As soon as we set foot inside The Phoenicia, it felt like we'd been transported to another world. It's the epitome of luxury here, with live piano music welcoming you as you sashay your way in through the main lobby.
The gay friendly hotel is designed in a 1920s style, with everything you can imagine from the era (though minus Leo Dicaprio as Gatsby).
Spread across 7 acres of lovely gardens, the Phoenicia is the gay ultimate romantic getaway. It's a looming presence within Valetta – the hotel's temple-like structure is imposing and simply stunning. Every space throughout the hotel feels like it has been touched by angels!
The rooms at the Phoenicia are spacious and soothing with Mediterranean decor. Many of them feature a private balcony with views of the city or harbour. Up at the top, there's a gorgeous sundeck area to top up your tan as well as a ravishing infinity pool with views of the harbour and the city's bastion walls. This is the perfect backdrop for your Instagram feed; let's just say we saw lots of Instagram husbands here being ordered about!
The Phoenicia also has a highly rated on-site restaurant we recommend booking for a date night, but note it's only open between May to October.
02
Hotel Rosselli
Valletta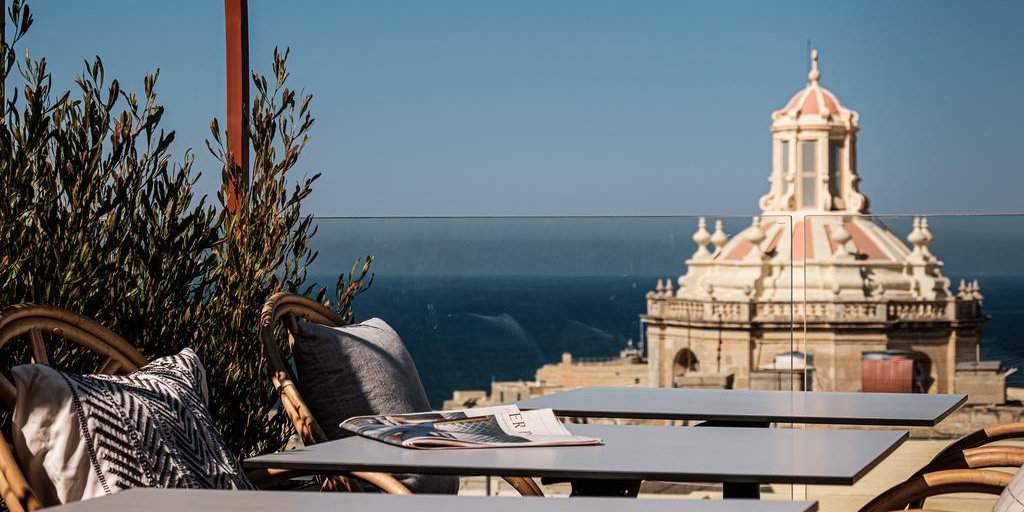 Why we love it
---
Luxury hotel in a historic building
Rooftop restaurant with magnificent views
Rooftop pool with views
In-room massage service available
In what was the first 5-star luxury hotel of Valletta, the Rosselli is the embodiment of elegance and sophistication. Seby was in his element here, feeling like the true Princess he is!
The gay friendly hotel combines Baroque architecture with modern facilities. Not to mention the views! There's a roof garden terrace where you can enjoy food and drink from the restaurant while you admire the panoramic views over Valletta. The outdoor pool also features stunning vistas of the city skyline.
The building itself dates back to the 1600s, with its Renaissance influence still evident today. We love how the original architecture design was preserved and touched up with Baroque styles and modernist inspiration. There are six designer room categories to choose from, each one named after members of the original Roselli family. For the ultimate in luxury and relaxation, you can stay in one of the Don Pietro rooms, named after the master of the house. These rooms have private saunas and indoor wellness terraces – the perfect relief from any stress in your life.
We love that you can request an in-room massage. Our pampered inner-divas couldn't refuse this…expert masseurs arrive at your door, and honey, those hands will rock your world! Plus, the Rosselli's lounge, filled with plush sofas, a trickling, ancient Greek style fountain and cocktails arriving at your request, you'll truly feel like the Queen of the castle.
STAY WITH A GAY LOCAL
Misterb&b is the Airbnb equivalent for the LGBTQ community. Unlike on Airbnb, you know your host is gay, voiding any nasty surprises when you check-in. It is also a great way to meet gay locals and discover the underground gay scene. Click below to get 10 € (or $10) off our first booking.
03
The Waterfront Hotel
Sliema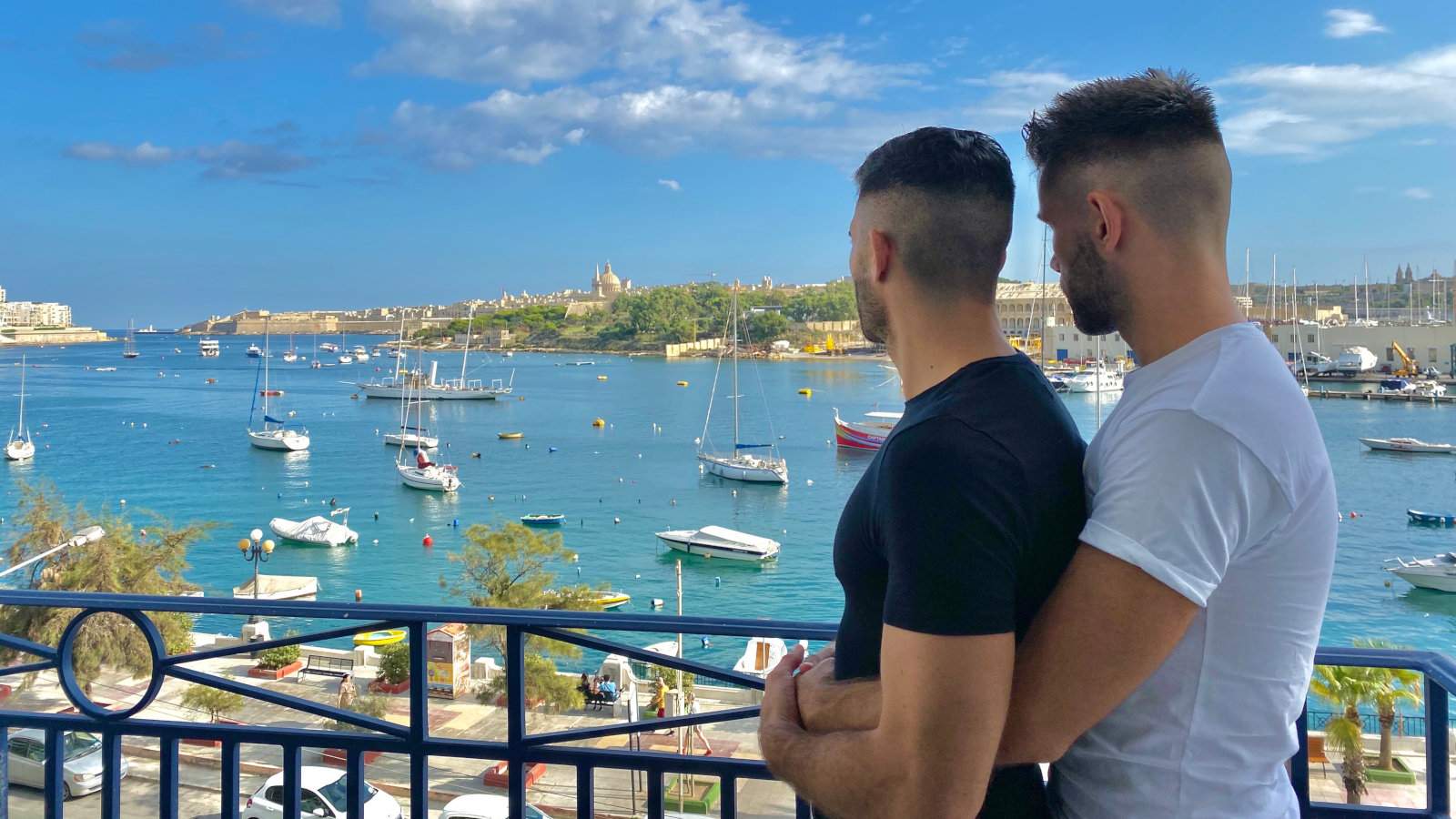 Why we love it
---
Lovely 4-star hotel with harbour views
All rooms have balconies
Indoor swimming pool and rooftop terrace
On-site restaurant and bar
Overlooking the sea promenade of Sliema with stunning views over Valetta, the Waterfront Hotel is a prime spot for a gay romantic getaway. This is our favourite gay friendly hotel to stay in Malta in the medium-budget range .
Sliema is just a short 5-minute ferry ride to Valletta. The ferry ride is itself a highlight we highly recommend doing, particularly in the evening when the city is all lit up. We also love the location because it's perfect for morning runs, particularly to nearby remote Manoel Island, which has views over Valletta and a few hidden beaches.
Keeping in line with the water theme, the use of deep blues and bright whites throughout the hotel helps give the illusion of wide-open spaces. The rooms are a decent size and conducive to a romantic experience, particularly rooms with balconies facing the harbour (with Valletta beyond that). One of our favourite evenings in Valletta was just getting a take out, with a bottle of white and enjoying it together on our balcony – a true highlight of our trip! The water under the moonlight is captivating and the sounds of the city humming through the air make the atmosphere feel truly alive.
If you don't book a room with a view, you can also head up to the rooftop terrace, which is the ideal spot to chill out and soak up a few sun rays during the day. There are several bars and restaurants surrounding the hotel, which cater mainly to tourists. However, look out for their drinks offers – a great way to get a night out started! For the best gay friendly bars, you'll need to hop on the ferry and head into Valletta. You can easily get a taxi back in the evening using the Bolt app.
What to do in Malta?
Once you've got your hotel sorted it's time to start planning all the fun things you're going to see and do in Malta, and trust us, there are plenty of choices!
04
AX The Palace
Sliema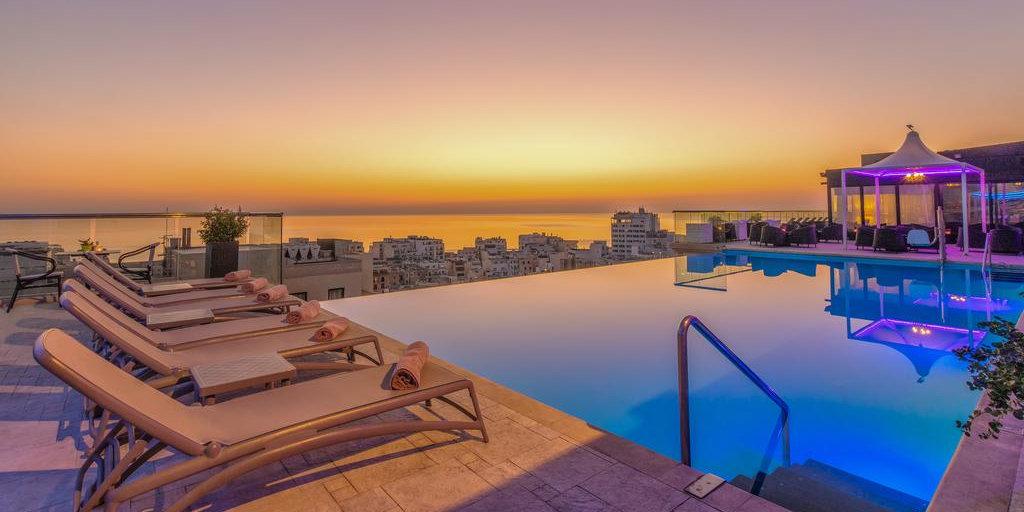 Why we love it
---
Gorgeous 5-star luxury hotel
Rooftop infinity pool and bar with stunning views
Indoor swimming pool, sauna, spa and fitness
Multiple delicious dining options
Where hospitality meets fashion!
That's what they say, and we completely agree! The AX Palace offers five-star luxury in the midst of Sliema.
We loved the rooms! Think bright peacock-and-flowers wallpaper with a drum kit next to the bed in the "Music Suite"!
The best rooms also feature a private balcony, with stunning views overlooking Valetta harbour.
Another place to kick back and take in those views is from the rooftop infinity pool, particularly at sunset. Next door to the infinity pool is the highly-rated TemptAsian restaurant – famous for being one of the best Asian restaurants in Malta! There's also an alfresco Italian courtyard for pizza and pasta during the summer months.
Gym bunnies fear not, there's an excellent fitness centre at the AX Palace to burn off those calories before heading off to one of the Lollipop gay parties! Also, be sure to try out the Marion Mizzi Wellness Centre, which offers a variety of treatments and massages.
Just when we thought we couldn't love this gay friendly hotel more, we found out that they were recognised as a leading hotel for sustainable tourism. All efforts are made to reduce their carbon footprint and strive towards a more eco-friendly future. Yas, come through AX Palace!
05
La Falconeria
Valletta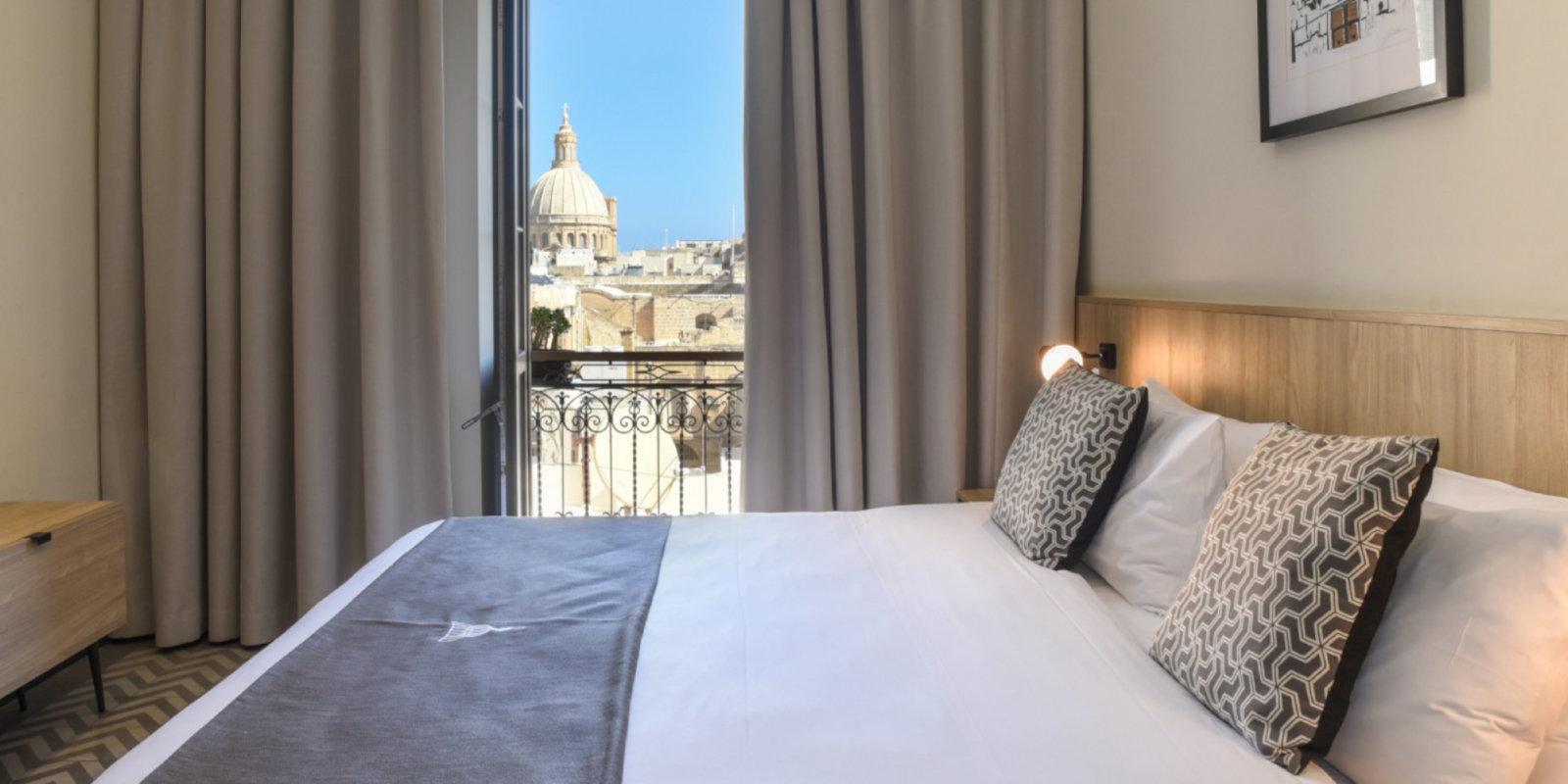 Why we love it
---
Beautiful historic hotel in Valletta
Balcony and terrace rooms have stunning views
Underground plunge pool and fitness centre
Delicious restaurant on-site
Pulling together influences from different styles and cultures, La Falconeria is bursting with soul, elegance and uniqueness right in the heart of Valletta.
History buffs like Stefan will particularly love La Falconeria. The front half of the building is hundreds of years old, dating back to the Renaissance days. The other half of the building, having been destroyed during World War II, has been refurbished in a modern style with marble flooring.
Located just 300 metres from the beautiful Upper Barrakka Gardens, La Falconeria has some impressive views over Valletta, particularly the rooms with a private balcony. With 43 rooms split between seven categories, guests can unwind in an enclosed courtyard, breathing in the fresh air and absorbing the sunlight. The best splurge here is the superior rooms as well as the executive suite, both of which have a private rooftop terrace.
There's a small plunge pool located inside an underground cave, which is perfect for cooling off after a day exploring Valletta. Next to the pool area is a small fitness centre, perfect for getting in a few push up sessions to pump up. The in-house restaurant, L'Artiglio, is famous locally and one of the best restaurants in the city to check out.
Whilst La Falconeria is located right in the heart of busy, touristic Valletta, the actual location of the gay hotel is down a quiet side street, so it's always surprisingly calm and peaceful here.
06
Two Pillows Boutique Hostel
Sliema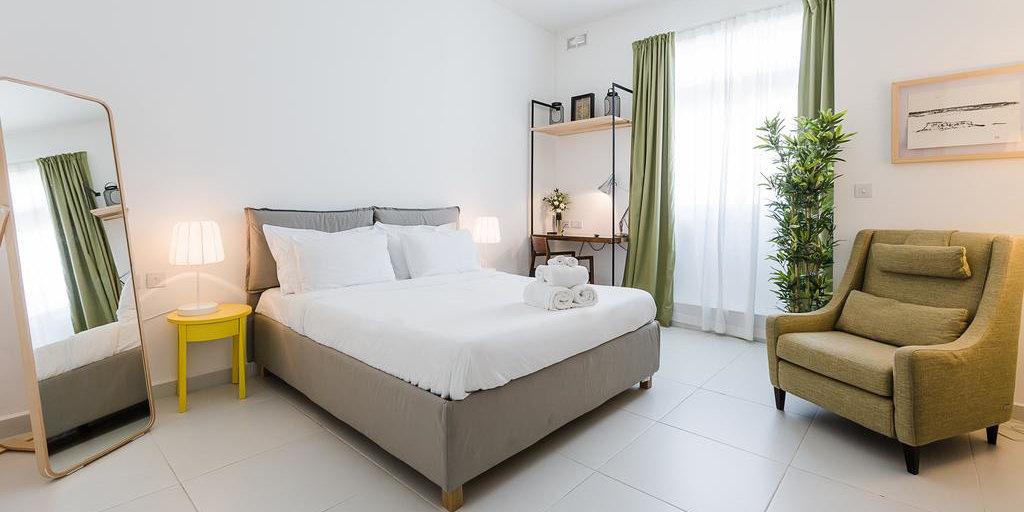 Why we love it
---
Gorgeous boutique hostel
Dorms, suites and even apartments for low prices
Jacuzzi and sauna on-site
Shared kitchen for cooking
The first boutique hostel to open its doors in the whole of Malta, Two Pillows has just one goal: to make guests feel fabulous – and boy do they succeed!
We can't remember the last time we found a gay friendly hostel that was this beautiful, impeccably clean and well-designed. If it wasn't for the fact that some rooms have bunk beds, we wouldn't have even believed it is a hostel. If you're looking for a charming private room at a hostel price, we highly recommend checking out this hidden gem!
Planted right in the beating heart of Sliema, the gay boutique hostel is housed in a fabulous townhouse on a quaint street that leads up to the harbour. It oozes traditional Mediterranean design, whilst still boasting ultra-modern amenities. There's a shared lounge room with a TV and book exchange, which we love! There's also a Jacuzzi, sauna and a gorgeous outside terrace. In terms of rooms, Two Pillows has luxurious suites you can book as well as dorm beds for those on a budget.
Two Pillows is walking distance to the sea, meaning you can enjoy romantic moonlit walks with that Grindr date at night! The public ferry terminal is also close by, which makes Valletta very accessible. But if you're out late in Valletta, you'll need to factor in the cost of a local taxi or Bolt ride back, which is around €10.
07
Marco Polo Party Hostel
St. Julian's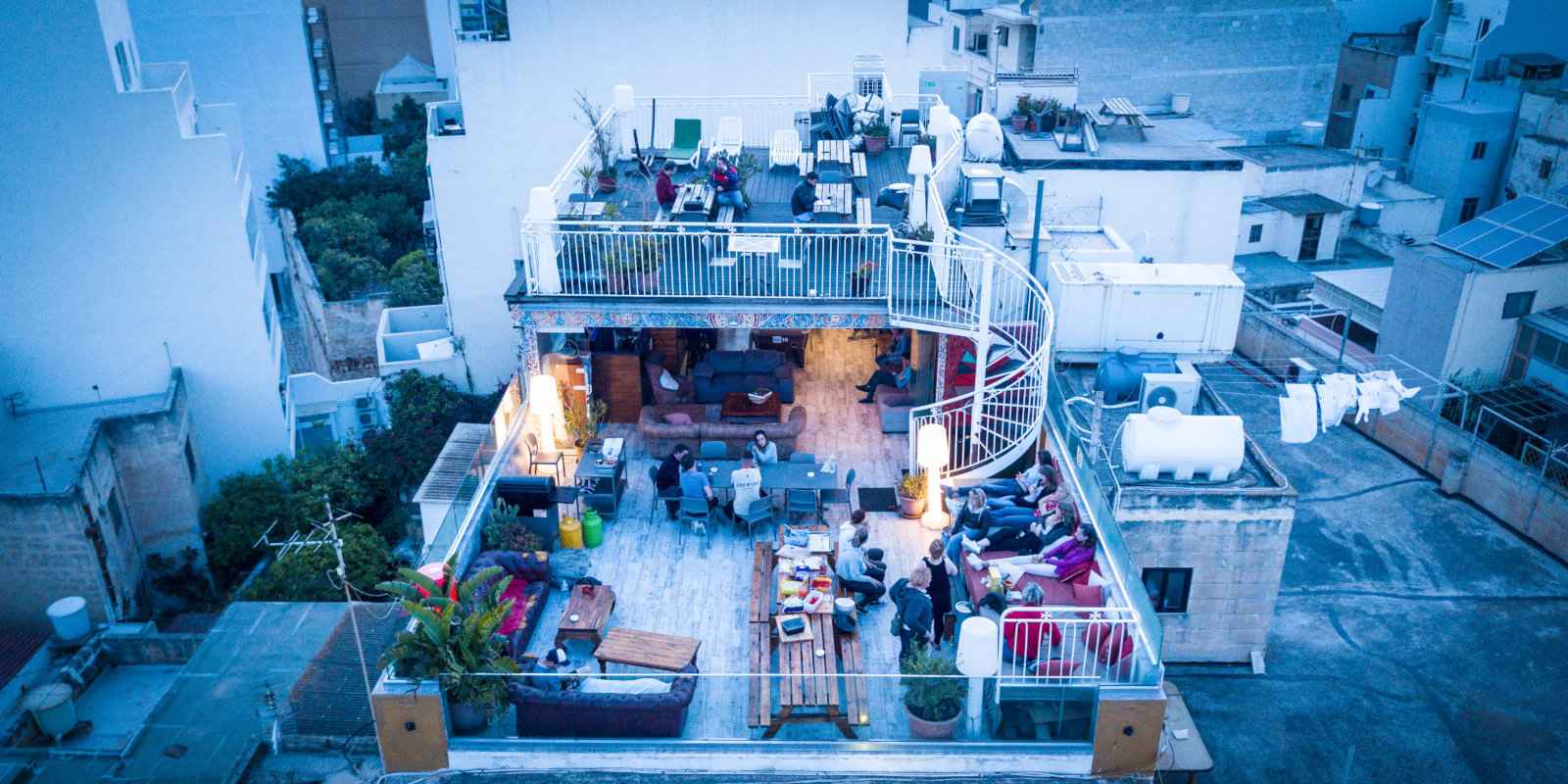 Why we love it
---
Fun hostel with regular events and activities
Amazing rooftop terrace
Good location close to bars and clubs
Shared dorm or private rooms available
With a motto like 'expect the unexpected', you really don't know what you're in for when staying at the Marco Polo Party Hostel, but we can guarantee it'll be heaps of fun! After opening its doors back in 2016, the gay friendly hostel is still brimming with youth and life.
One of the things we love most about the Marco Polo Party Hostel is that it's a fantastic place to come and meet other travellers. This place is all about community spirit and having fun. There's no issue here about gay friendliness – everyone is welcome!
The rooftop bar of Marco Polo is the place to hang out. Whilst it's a predominantly straight crowd, we had a great time – perhaps sweetened by the free drinks offered to guests every night!
In terms of sleeping options, you can choose between having a private room or sharing with anywhere between 2-12 people in the dorms. It all depends on your budget or the kind of experience you want to have! You can keep costs down by using the hostel's kitchen and laundry facilities, plus you can hire bicycles to explore the area surrounding St Julian's – highly recommended!
Generally, St Julian's is one of our favourite neighbourhoods in Malta. It's chilled, less touristy and has more of a local scene. One of our favourite gay friendly resto-bars is located right here by the waterfront – Two Buoys.
08
Port View Guesthouse
Marsaxlokk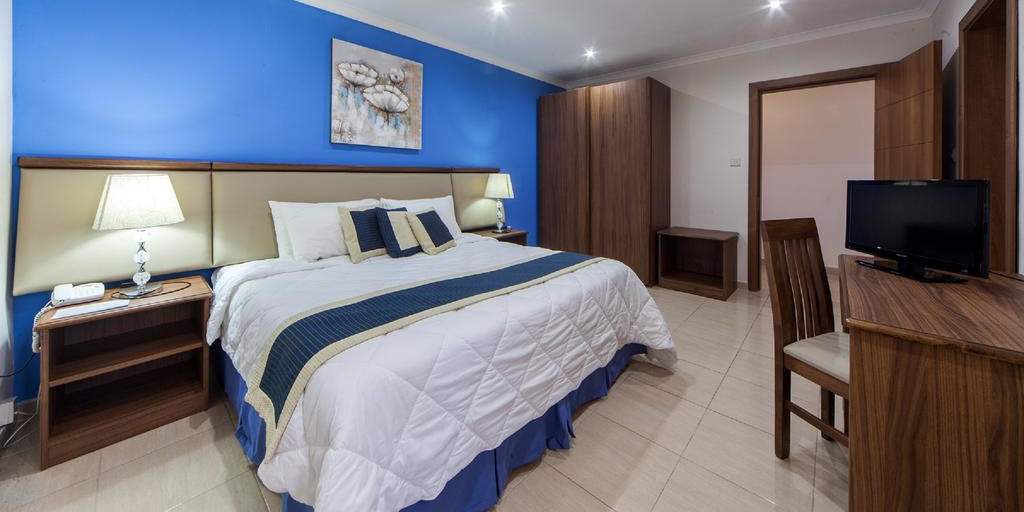 Why we love it
---
Family-owned B&B guesthouse
Lovely breakfast on the rooftop terrace
Spacious, clean and comfy rooms
In a quiet fishing village but close to Valletta
Owned by a local family, the Port View Guesthouse is a fabulous gay friendly guesthouse right by the seaside. It's located in Marsaxlokk, which is a tranquil fishing village, famous for its Sunday morning market.
People come from all over Malta to head to the Marsaxlokk Sunday market. Put it this way, it is one of "the" highlights of Malta that almost every local we met recommended to us, and we completely agree!
We love this place due to its familial touch. The staff speak fluent English, have a confident level of Italian, and above all else, love chatting with their guests. We quickly felt like their adopted sons over the course of the time we spent here!
All the rooms are spacious and clean, with private bathrooms. Many of them also have small private balconies with gawgus views! If you don't get a room with a view, fear not because the yummy continental breakfast is served on the rooftop terrace overlooking the port below. Definitely one of the best ways to start off a new day on your holiday.
The area around Port View is super quaint, buzzing with local life. Lots of cute restaurants and cafes beside the seaside to check out, which makes it perfect for an evening stroll. However, if you're staying here, we highly recommend renting a car or scooter. It's roughly a 15 minutes drive from Valletta, otherwise a slightly longer public bus ride or pricey Bolt/taxi ride. Renting a vehicle also means you can visit the more remote areas of Malta like Gozo.
09
The Xara Palace Relais & Chateaux
Mdina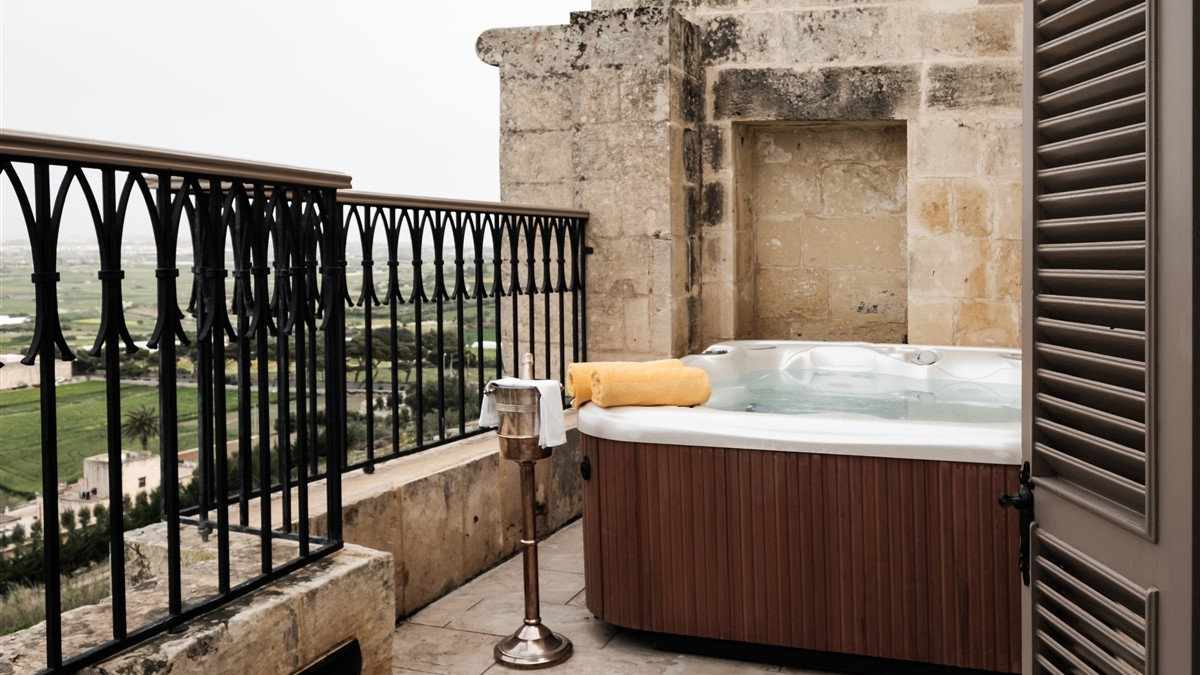 Why we love it
---
Luxurious hotel in Mdina
Some rooms with private terrace and hot tub!
Fantastic restaurant on-site
Mini-gym, sauna and in-room massages
ABSOLUTELY DIVINE!
A hidden gem to die for! If you're looking for a romantic gay friendly place in Mdina to splurge on, we strongly recommend the Xara Palace.
The Xara Palace is a Relais & Chateaux property, so you know you're going to be staying in five-star luxury. And what better place than in a fortified city which has a 4,000-year-old history! Mdina is the former capital of Malta and according to legend, the place where Apostle St. Paul is said to have lived here back in n 60 A.D.
Throughout the hotel are beautiful pieces of art and antique furniture. The 17 rooms/suites have been lovingly restored from their 17th-century beginnings to be luxurious and tasteful. With jewel-tones, marble bathrooms and opulent fabrics, Seby was completely feeling his Medieval Princess here! Some of the deluxe suites even come with a Jacuzzi on your private terrace.
The other reason we love Relais & Chateaux properties is because their properties also feature world-class gourmet restaurants. The Xara Palace's restaurant, the de Mondion is, in fact, one of the most highly rated restaurants in all of Malta. From the 180-degree view of the countryside beyond Mdina to the luxurious dining experience, it's super romantic! Of course, it ain't cheap here; definitely one to save for that special occasion. But it's completely worth every penny!
10
Stay with a gay local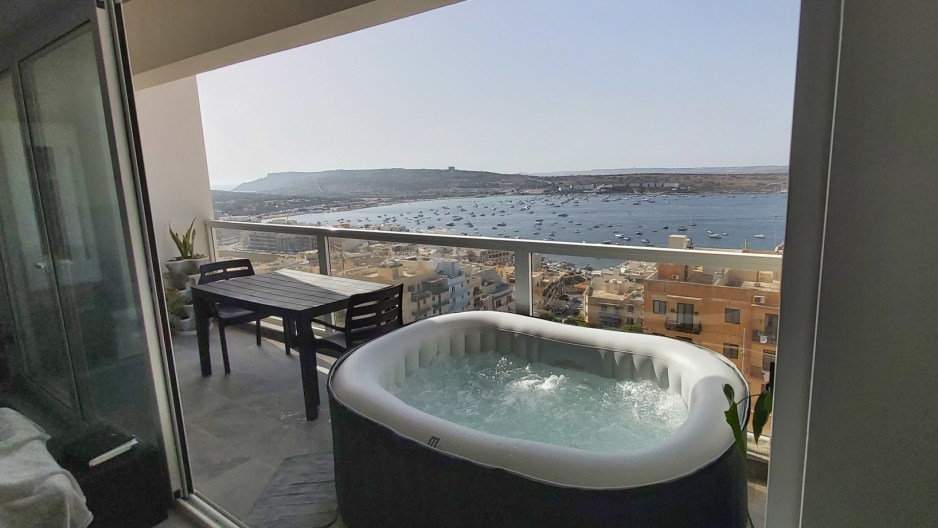 To experience the real Malta, we highly recommend staying with a Maltese. We know, we know, this piece here is all about the best gay hotels of Malta, but at the end of the day, to really get to know a new place, you need to go and view it from a local's perspective. This is one lesson we've learnt from our many travelling experiences and always try to do this in every new destination we visit.
Since Misterbnb only features LGBTQ hosts, you know you'll feel completely comfortable being open with your sexuality. And the bonus, you'll instantly have a gay local/new friend, who can tell you where the best gay bars and parties are happening across Malta.
One particular listing that stood out was Staydar's listing in Mellieha, who offers his private room with incredible views AND a hot tub on the private balcony. Is there anything more romantic than sitting among bubbles while drinking some bubbly with your love and looking out over the bay? The hosts are friendly and relaxed, plus the property is clothing-optional for those who like to hang out au naturel.
STAY WITH A GAY LOCAL
Misterb&b is the Airbnb equivalent for the LGBTQ community. Unlike on Airbnb, you know your host is gay, voiding any nasty surprises when you check-in. It is also a great way to meet gay locals and discover the underground gay scene. Click below to get 10 € (or $10) off our first booking.
---
Like this post? Pin it