TERMS OF USE: There is a chance that some of the content on this page has changed since it was last updated. By reading this article, you consent to our Terms of Use and Disclaimer. Happy Travels!
DISCLOSURE: Some of our posts may contain affiliate links which we may receive a commission if you choose to book something through one of our links.
Our pick of the most gorgeous gay resorts in Hawaii, from clothing optional resorts, gay owned guesthouses, gay hotels, and more.
Beaches beaches and more beaches…that's Hawaii in a nutshell!
You want a gorgeous white powdery sandy beach? Tick!
Green beach? Tick tick!
Black beach? Tick tick tick!
But what about a PINK beach? Quadruple tick!
No joke, this famous archipelago out in the Pacific Ocean is a paradise gay vacation spot for beach lovers. As if the golden white sandy beaches aren't enough, its history of volcanic activity and unique rock formations have both left a unique tint on some of its beaches, especially Papakōlea (the green sandy beach), Punaluʻu (the black sandy beach), and our favorite, Kaihalulu (the pink, yes PINK sandy beach).
As a huge bonus, Hawaii is a state within the USA making it one of the hottest USA gay destinations – especially in 2023. In this article, we've set out some of the best gay resorts in Hawaii to help you decide where to base yourself during your gaycation in the gorgeous "Aloha State".
🏳️‍🌈 OUR GAY RESORT PICKS IN HAWAII 🏳️‍🌈
Is Hawaii safe for LGBTQ travelers in 2023?
Oh god yeah!
Hawaii has a history of being super gay-friendly. Back in 1973, it was one of the first 6 states in the US to legalize homosexuality. It was also the first state to consider legalizing gay marriage as far back as 1993, which led to the Supreme Court of Hawaii passing the "Hawaii Marriage Equality Act" in 2013.
This has allowed LGBTQ tourism to flourish here over the past few decades, particularly for couples looking for a romantic beach getaway or a unique destination wedding. In addition, Hawaii has progressive LGBTQ rights, especially since June 2022 when its Governor signed into law three very progressive LGBTQ laws including a new law on gender-affirming treatment.
Hawaii also has a fun gay scene in and around the capital city – Honolulu, with places like Scarlet Honolulu and Bacchus Waikiki hosting weekly parties and drag nights. And, of course, a ton of gay resorts and guesthouses, the best of which we review in this article. For a more comprehensive guide on where to base yourself, we also recommend checking out some of the many cool places to stay in Maui.
Entry requirements for Hawaii in 2022
Hawaii's Covid entry restrictions ended on the 25th of March 2022. You are no longer required to complete a "Safe Travels" application to enter Hawaii and there are no Covid-related requirements for domestic travelers. Travelers entering Hawaii directly from international airports still need to comply with US federal requirements – check with your airline for specific information. Find out more detailed information about this on the Hawaii Covid19 website.
All-inclusive gay resorts in Hawaii
Hawaii has a handsome selection of gay hotels to stay. However, remember that Hawaii is not your traditional gay party destination like Fort Lauderdale, Key West, or Puerto Vallarta. Therefore, when it comes to gay resorts in Hawaii, they tend to be much smaller and more intimate here by comparison. The closest we found to a gay resort in Hawaii (similar to those you'd find in FL, KW, and PV) is the Gay Hawaii Guest House in Pāhoa (see below), which is both an all-male gay guesthouse and fully clothing-optional.
01
Gay Hawaii Guest House
Pāhoa, Hawai'i (Big Island)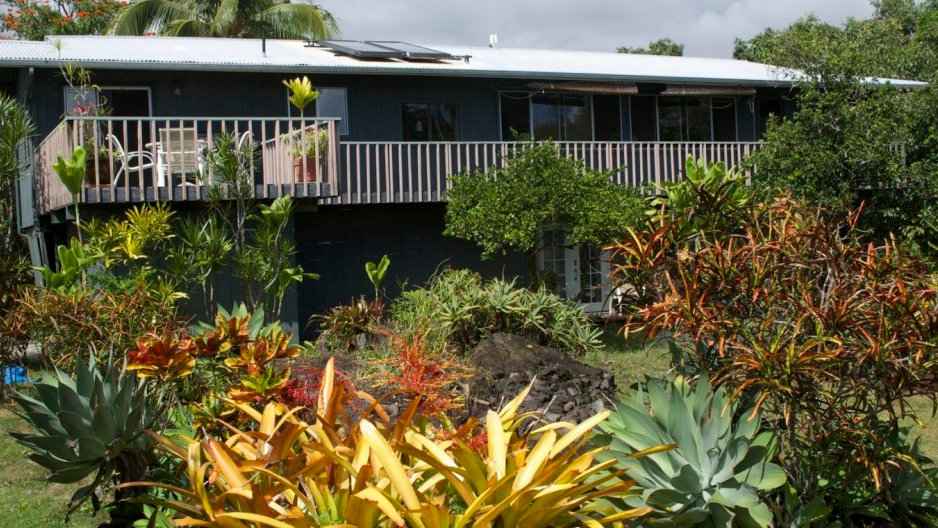 In a nutshell
---
Large gay owned guesthouse in Kalapana on Big Island
Entire house is clothing-optional
Heated AquaNirvana therapy pool and massage studio
Around 20 mins drive to the Kehena clothing optional black sand beach
"Exotic Paradise Adventure" in Dwight's own words…we'll leave the rest to your imagination!
Dwight is the fabulous owner of this large gay guesthouse, spread over two houses on an acre of oceanfront land. The water is a block away – you can see the waves from your bedroom. Dwight's gay Hawaii Guesthouse is arguably the most popular gay resort in Hawaii. It's certainly the biggest and in our humble opinion, the gayest!
The entire gay B&B is decorated in Balinese style and includes a mix of comfortable, spacious rooms. There is a heated AquaNirvana therapy pool, sundeck, massage studio and immaculate tropical garden. Dwight even grows his own fruit here, which he serves to guests for breakfast.
As well as being fully clothing-optional, Dwight's "Exotic Paradise Adventure" is on the doorstep of one of the best gay nude beaches of Hawaii: Kehena Black Sand Beach. Unlike any other beach we've ever been to, Kehena has its own assigned, "Gay Day". Yup, you read right, every Monday, all the local Big Island gay boys gather at Kehena to hang out, play some volleyball, let it all hang out, and marvel at the ocean.
Prices at Gay Hawaii Guest House start from $150 per night:
---
STAY WITH A GAY LOCAL
Misterb&b is the Airbnb equivalent for the LGBTQ community. Unlike on Airbnb, you know your host is gay, voiding any nasty surprises when you check-in. It is also a great way to meet gay locals and discover the underground gay scene. Click below to get 10 € (or $10) off our first booking.
02
Kehena Mauka Nui Club
Pāhoa, Hawai'i (Big Island)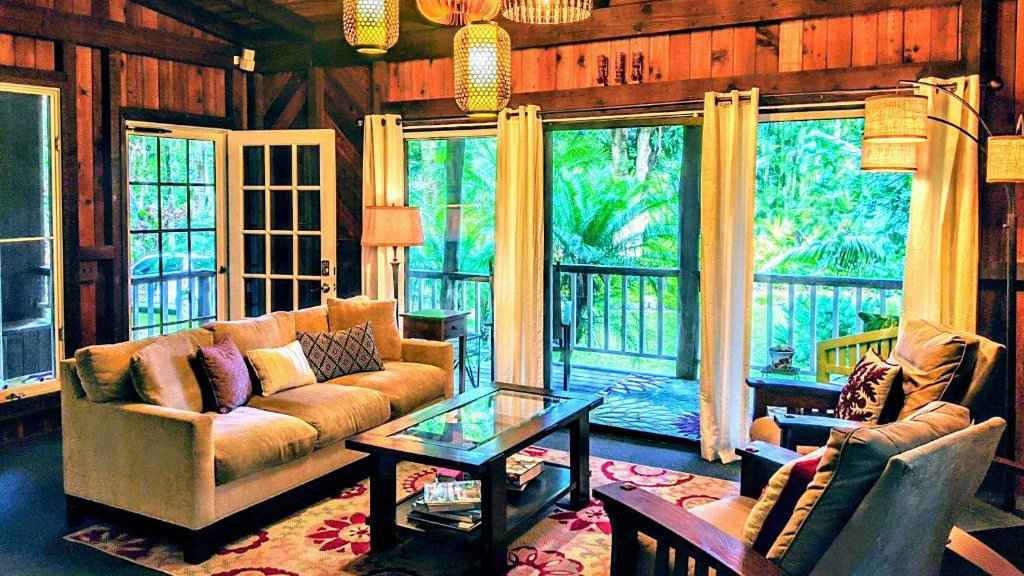 In a nutshell
---
Sustainable LGBTQ guesthouse on Big Island
Entire property is clothing-optional
Large cedar outdoor hot tub and outdoor shower
Walking distance to Kehena Black Sand Beach
Let it all hang out in paradise at Kehena Mauka Nui Club!
Located on a lush and secluded plot of land, within walking distance of a stunning black sand beach (that's also clothing-optional), Kehena Mauka Nui is the perfect choice if you want intimacy and privacy.
There are just five suites on the property, all unique and offering a comfortable place to rest your head at night. Most share bathrooms although one has a private ensuite. The "Ladder loft room" is like sleeping in the attic above the living room, so it's a bit more open and probably not for the 'noisy' sleepers!
This is a proper bed and breakfast, so you can choose from a classic American breakfast along with vegetarian or vegan options. There's also a wealth of fun things to do during your stay, from yoga classes to going fishing or hiking around the island. Of course, you can also just relax and make friends in the huge outdoor hot tub.
The nearby black sand beach is known for its spinner dolphins, and the property is just a short drive from the Volcano National Park, where you can hike through lava fields and see active volcanoes! Host Matt goes above and beyond to ensure all guests have a wonderful time, with a weekly social event in the garden that sometimes includes karaoke or drag performances.
Prices at Kehena Mauka Nui Club start from $88 per night:
---
03
Gay clothing-optional private cottage
Waikiki, O'ahu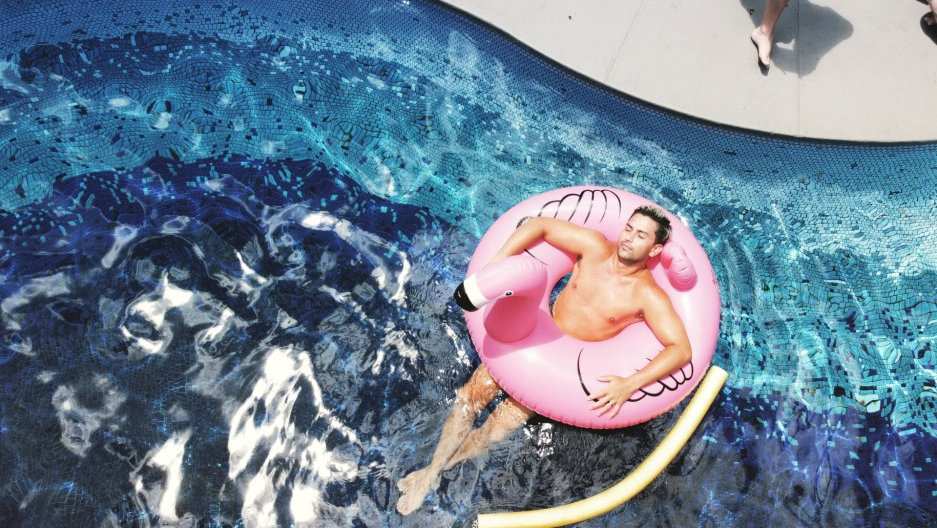 In a nutshell
---
Gay owned cottage B&B
Clothing optional
Pool and patio areas shared with hosts
Walking distance to Kahala Beach + short cab ride to gay Waikiki Beach
Victor and Rick are the gay hosts who rent out their beautiful and stylish cottage, located minutes walking distance from Kahala Beach on the island of Oahu (also home to the capital city, Honolulu).
In terms of location, this is probably our favorite pick. It's close to the gay scene of Honolulu as well as Waikiki Beach – both around 15 minutes away by cab. Let's be honest, you'll most likely want to be spending most of your gaycation on Waikiki Beach, which is what makes this remarkable cottage a top pick!
Victor and Rick are also super chilled. They welcome nudists and have a clothing-optional policy throughout the cottage including the communal spaces they share with guests – the pool and patio. For complete privacy, the cottage has its own enclosed private garden area in the back. Pup lovers, you'll be in paradise here – Victor and Rick have two adorable playful pooches that also love welcoming all guests!
Prices at this private cottage start from $149 per night:
---
04
Isle of You Hawaii Naturally
Pāhoa, Hawai'i (Big Island)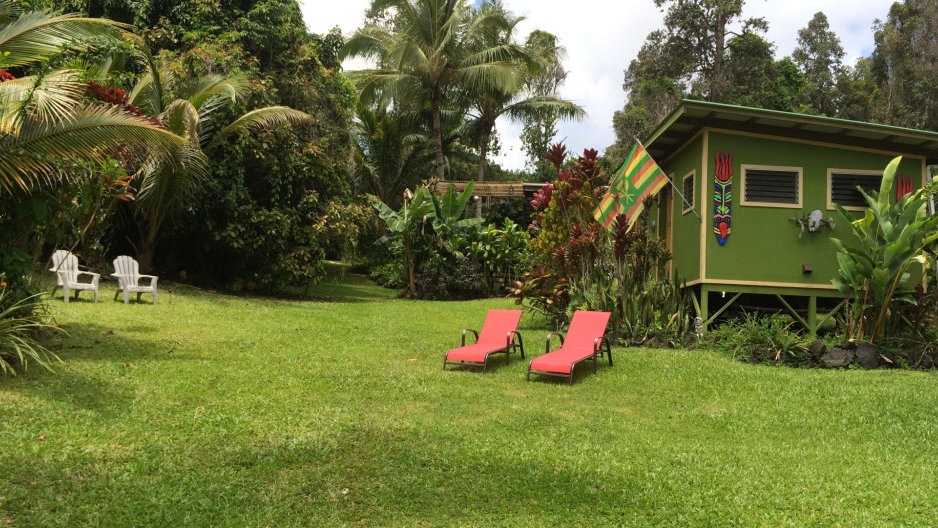 In a nutshell
---
Gay owned eco-farm and retreat
Fully clothing optional
Book a cabin or a Yurt
Walking distance to Kahala Beach + short cab ride to gay Waikiki Beach
The Isle of You Hawaii Naturally is a gay-owned naturist eco-farm and retreat spread over 70 acres of lush rainforest and banana groves. It's massive – the ideal place to live out your Tarzan jungle fantasy, except here you don't even need to wear a loincloth to cover up the Crown Jewels because it's all completely clothing optional!
The owners are gay couple Normand and Kelly who just want guests to feel free to be themselves here – the name Isle of You Naturally is a play on the phrase "I Love You Naturally"… see what they did there? The guys are particularly proud of their (ahem!) bananas, which they grow fresh on their farm – SO proud, they are nicknamed "Da Banana Boys" locally!
Accommodation options here include a choice of a cabin with a full kitchen + two lanais (patios), or, one of the more private yurts (yes, a YURT in the middle of Hawaii!) for a bit of upmarket glamping.
Normand and Kelly encourage a communal feel amongst guests by putting on some hilarious events which are also popular with the local gays who attend as well. Their most famous is the clothing-optional non-competitive volleyball every Saturday afternoon (affectionally named – "Big Girl Volleyball"), which turns into a big fun gay farm party afterward…
Prices at Isle of You Hawaii Naturally start from $100 per night:
---
05
Kane Plantation
Honaunau, Hawai'i (Big Island)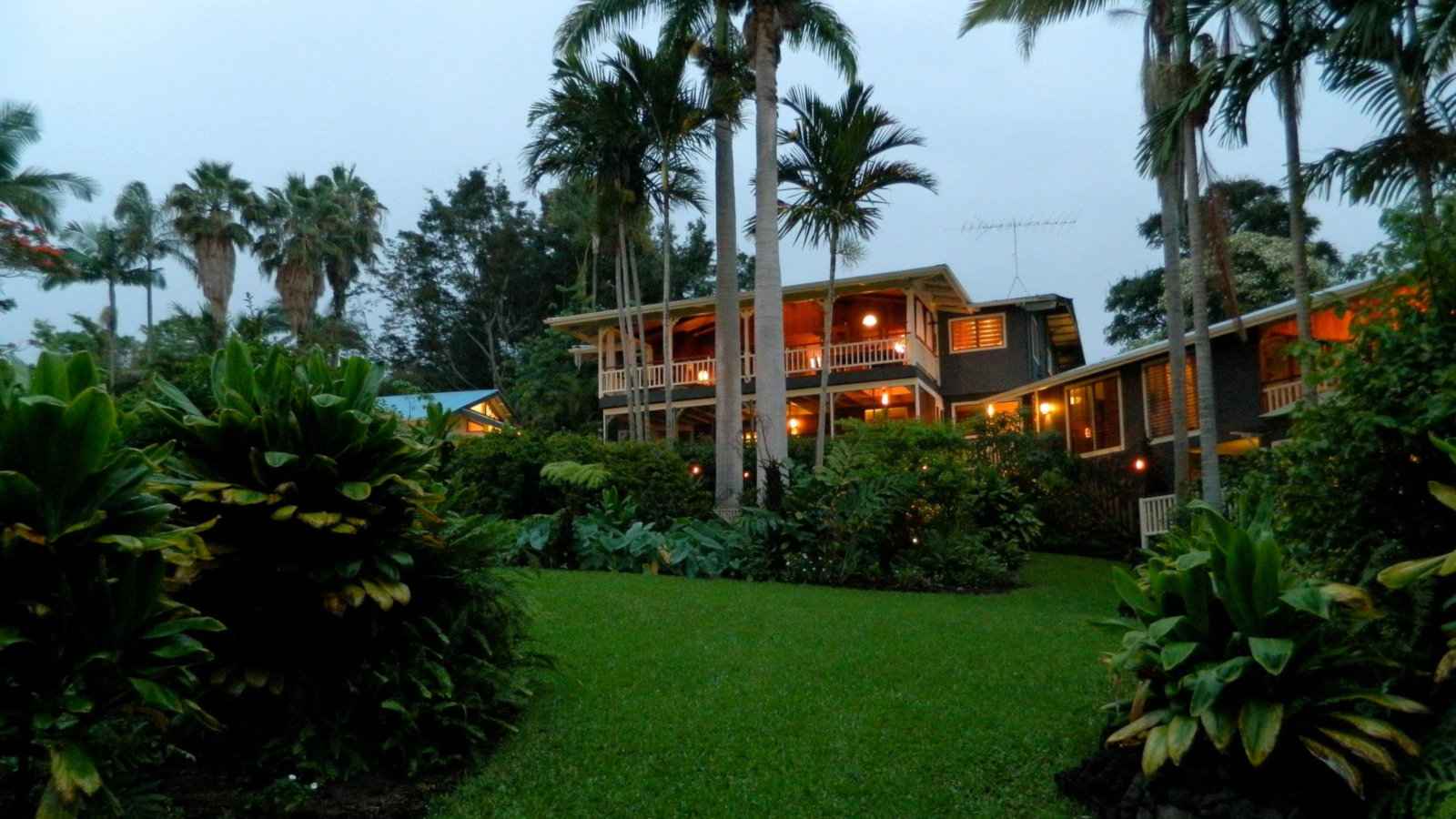 In a nutshell
---
Luxury gay owned B&B
Not clothing-optional
Sauna, hot tub and large private gardens
Stay in the guesthouse on a 16-acre avocado farm!
As gay vacations go, this one's a steal! Located on a massive 16-acre avocado farm, gay couple Michael and David established this impressive tropical plantation on the west side of Big Island.
The guys offer a choice of 3 luxurious suites – the magnificent Kane Suite (includes water garden + private terrace with hammock), the grand Kanaloa Suite (outdoor shower, private Lanai with hammock and coastal views), and the elegant Kawainui Suite (large private Lanai with sun lounges and hammock). A sumptuous gourmet breakfast is served every morning to guests – it's so good that it's become famous throughout Hawaii – it includes 100% Kona coffee, espresso, leaf teas, and fresh, organic produce from the farm itself!
The owners have a super cute story – originally from Canberra, Australia, they moved to Washington DC back in 1995 to begin a diplomatic assignment at the Embassy of Australia. The 2-year assignment turned into a 16-year lifestyle change over to their new home in Hawaii where they purchased the Kane Plantation – the former home of the famous artist and historian Herb Kawainui Kane.
Prices at Kane Plantation start from $265 per night:
---
06
Horizon Guest House
Captain Cook, Hawai'i (Big Island)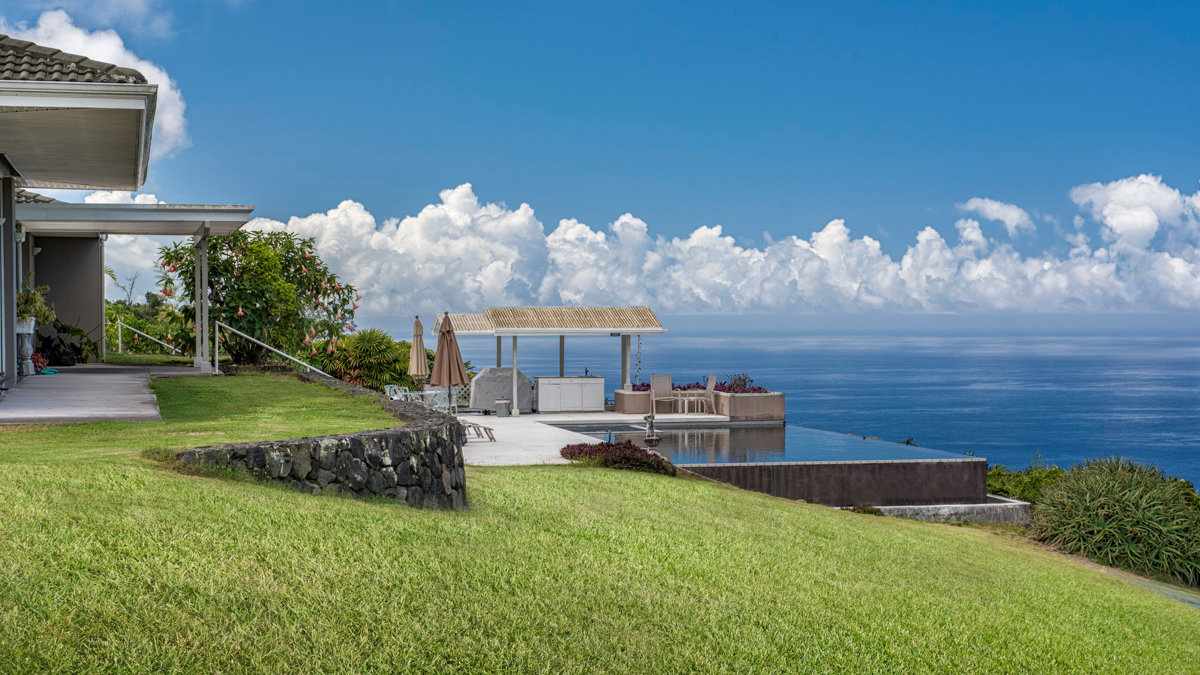 In a nutshell
---
Gay-owned B&B on 40 acres of land!
Not clothing-optional
Infinity pool + solar heated pool with Jacuzzi
Impressive coastline views looking out to the Pacific Ocean
A hidden gay gem in Hawaii with arguably the most spectacular view ever – right by the gorgeous infinity pool. Quiet, peaceful – the ultimate relaxation retreat and perfect back shot for your Insta feed.
Clem is the handsome gay owner of Horizon Guesthouse, an upscale B&B situated on 40 acres of land right by the Kona Coast in Captain Cook on Big Island. Surrounding Horizon is the historic McCandless Ranch, which therefore lends the guesthouse a great deal of privacy and tranquility. The big highlight here are the views. The reason is that the guesthouse is situated at a 1,100 ft (335m) elevation, which gives uninterrupted panoramic views over the Pacific Ocean.
The gay guesthouse includes a choice of 4 aptly named King and Queen Suites. Each one is lavishly decorated and also comes with a refrigerator, coffee press, electric kettle, ceiling fan, and even electric blankets, should you need them. Horizon also includes a custom-designed infinity swimming pool with a built-in Jacuzzi hot tub. The ultimate romantic highlight: use the outdoor BBQ in the evening and then look up in awe at the magical night sky!
Prices at Horizon Guest House start from $295 per night:
---
07
Hilo Bay Oceanside Bed & Breakfast
Hilo, Hawai'i (Big Island)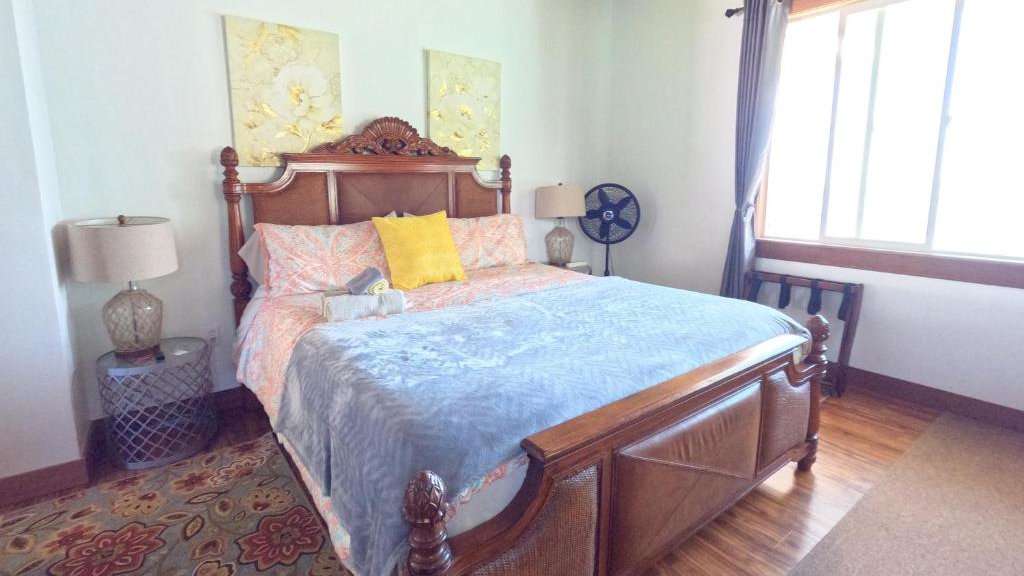 In a nutshell
---
Super homey gay-friendly accommodation
Not clothing-optional
Right by the beach, fall asleep to the sound of frogs and waves
Located in downtown Hilo on the east side of Big Island
Hilo Bay Oceanfront Bed and Breakfast is one of the homiest and most delightful B&Bs we've ever stayed at!
The friendly hosts go out of their way to make you feel at home, from suggesting what to see nearby to dropping you off and even gifting us freshly made banana bread to take with us when we left.
The property has been beautifully restored, from a 100-year-old building to a home away from home for anyone traveling to Hilo Bay. It's right by the beach and surrounded by a lush garden so each night we were lulled to sleep by the sound of waves and frogs. The rooms are all very cosy and comfy, but if you can, you'll want to book an ocean-view suite.
Breakfast each morning here is amaaaazing, with many of the ingredients grown on the property. Make sure you try the macadamia nut and coconut pancakes with maple syrup and bacon – they are divine! You can also have delicious omelettes, eggs made to order, waffles, juice, fruit, and coffee, plus they can accommodate gluten-free or vegetarian diets.
Hilo Bay Oceanside Bed & Breakfast is perfectly situated for exploring the town (and beaches) of Hilo Bay, plus the owners have recently started offering private tours to nearby attractions as well.
Prices at Hilo Bay Oceanside B&B start from $264 per night:
---
What to do in Hawaii?
There's plenty to keep you entertained in Hawaii, once you've had your fill of lazing by the pool or on a beach. From spotting turtles on black sand beaches to learning to surf or hiking in the jungle, you will find the ideal mix of relaxation and excitement here!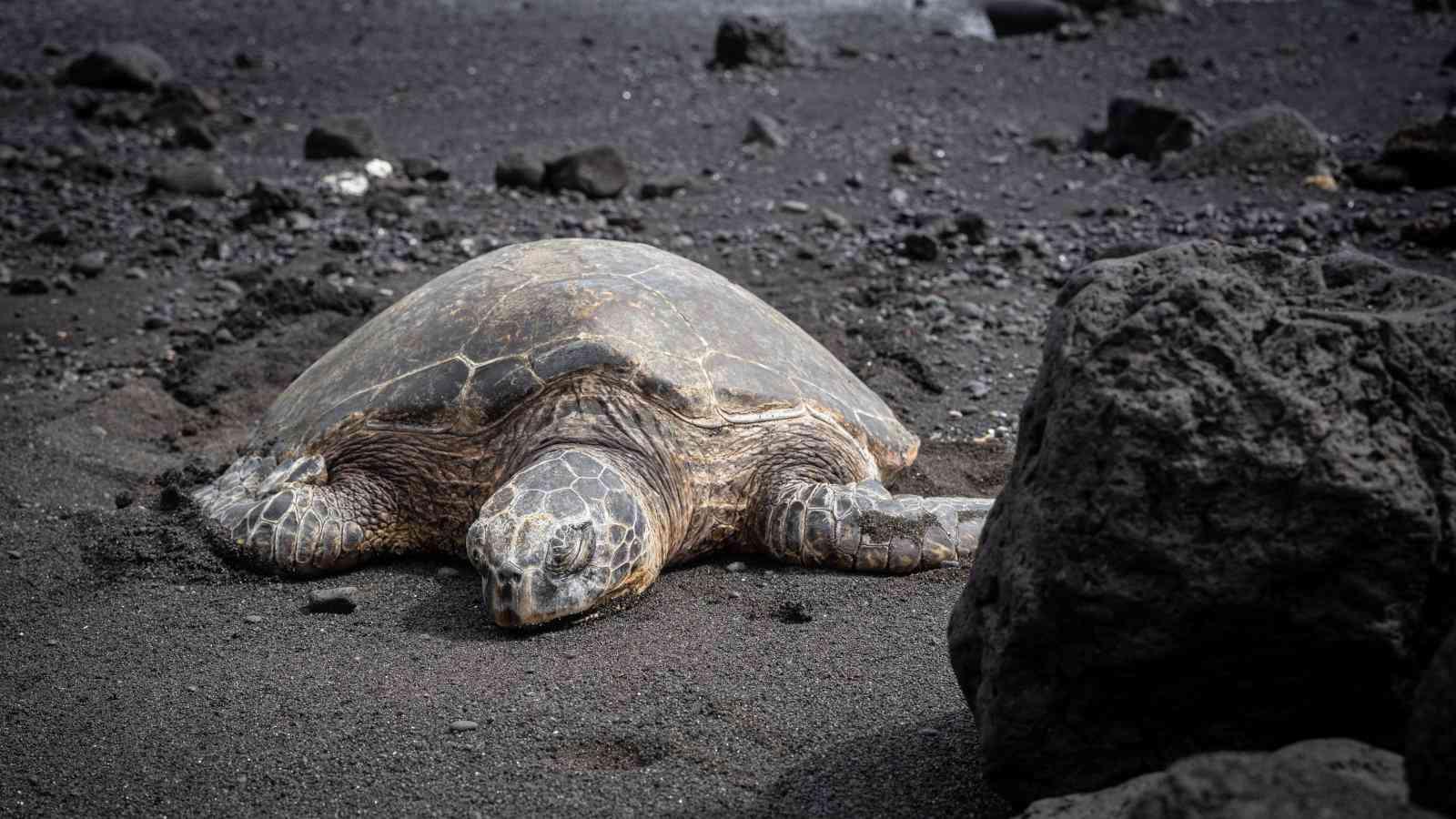 08
Aloha Guest House
Captain Cook, Hawai'i (Big Island)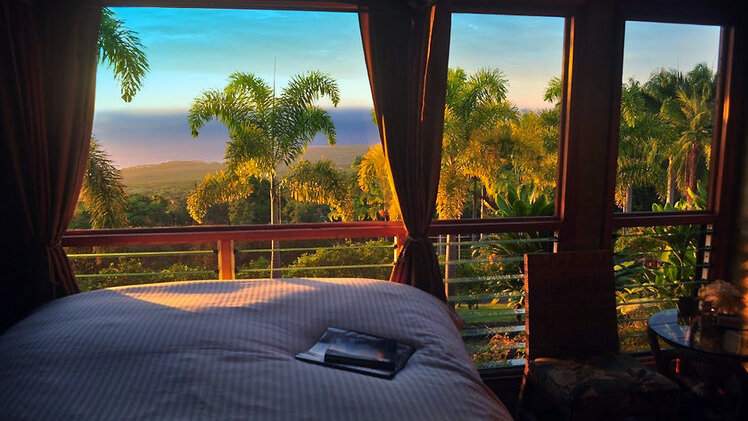 In a nutshell
---
Eco-friendly gay-friendly guesthouse
Not clothing-optional
Large shared lanais with spectacular ocean views
Located on a 5-acre organic tropical fruit farm at 1,500 ft!
Lee and Svetlana are a gay-friendly couple who welcome everyone to their eco-friendly B&B in Captain Cook on Big Island. The most eye-catching thing about this place is its location on a small cliff, around 1,500 ft (457m) elevation, which gives it some breathtaking coastal views of the South Kona coastline.
The gay friendly B&B is also part of an impressive 5-acre organic tropical fruit farm, and nowhere is this more prominent than in the divine breakfast served every day at 8 am with immaculate attention to detail! Get this: everything they serve is freshly picked from their farm or purchased from local health food stores and farmer's markets. It includes high omega-3 organic eggs from their own free-range, pasture-fed, very happy chickens! Coffee lovers, listen up: their coffee is organic, 100% Kona, and freshly roasted on demand by Hala Tree Coffee Farm.
The Aloha guesthouse has a choice of 4 rooms: the Kohola Whale Room (with King-sized memory foam bed + ocean view), the Halawai Horizon Room (with a view of the South Koa coastline), the Honu Green Sea Turtle Room (the largest and most opulent room here), and finally, the smallest, the Nai'a Dolphin Room (the smallest room here – ideal for budget travelers).
Prices at Aloha Guest House start from $145 per night:
---
Happy travels are safe travels
We recommend you always take out reputable travel insurance before your next vacation. What happens if you suffer from illness, injury, theft, or a cancellation? Many gay travelers forget about it and regret it when something happens. Better to pay a small price and have peace of mind and not worry.