You know us, we love being on vacation (I mean, who doesn't?) but we really get our gay lives on the world's many stunning beaches. If it's a gay beach, all the better. If it's clothing-optional… Well, we couldn't possibly comment on that in such polite company, could we? *wink emoji*
Often overlooked in favour of Fort Lauderdale's and gay friendly Key West, Miami is one of the more underrated gay vacation destinations in the Sunshine State. With a relaxed live-and-let-live attitude and a devilish twinkle in its eye, Miami is a great place to celebrate your queerdom in all its gay glory.
So, slap on the factor 50 and slip into your skimpiest swim trunks – last one in the sea is a banana! Oh and while we have you here, be sure to check out our detailed gay guide to Miami for the full low down on the scene!
12th Street Gay Beach
The 12th Street Gay Beach near Ocean Drive is the best gay beach of Miami. Put it this way: you will never see so many beautiful specimens of manhood anywhere else in the world. We almost gave ourselves whiplash checking out the stunning procession of perfect physiques parading across the gorgeous white sands. Don't worry about packing a load of things, as you can rent chairs and umbrellas for a small fee when you get there. As ever, all you beach babes remember to stay hydrated and top up your sun protection regularly. We're on vacation – the only place for lobsters is in a cobb salad!
The best time of year to visit 12th Street Gay Beach
Miami is warm all year round, which makes it a 365-day destination. Springtime in Miami tends to have the best weather on the right side of hurricane season, so anytime from February to May is a good shout.
How to get to the 12th Street Gay Beach
The clue's in the name! Follow the streets north or south until you reach 12th Street and then turn and head east towards the coast. Once you hit Ocean Drive, cross over and you'll see the gay beach right in front of you. Head left and look out for the rainbow flags – and all the hot menseses…
Eating and drinking at 12th Street Gay Beach
You don't even need to worry about packing any sustenance for your trip to 12th Street Gay Beach, as there's a cute little kiosk selling all sorts of drinks and snacks to help keep your strength up for all that… sightseeing! And of course, if you fancy something a little more substantial, you're a hop, skip and a jump away from Ocean Drive, home to some of Miami's most fabulous bars, cafes and restaurants.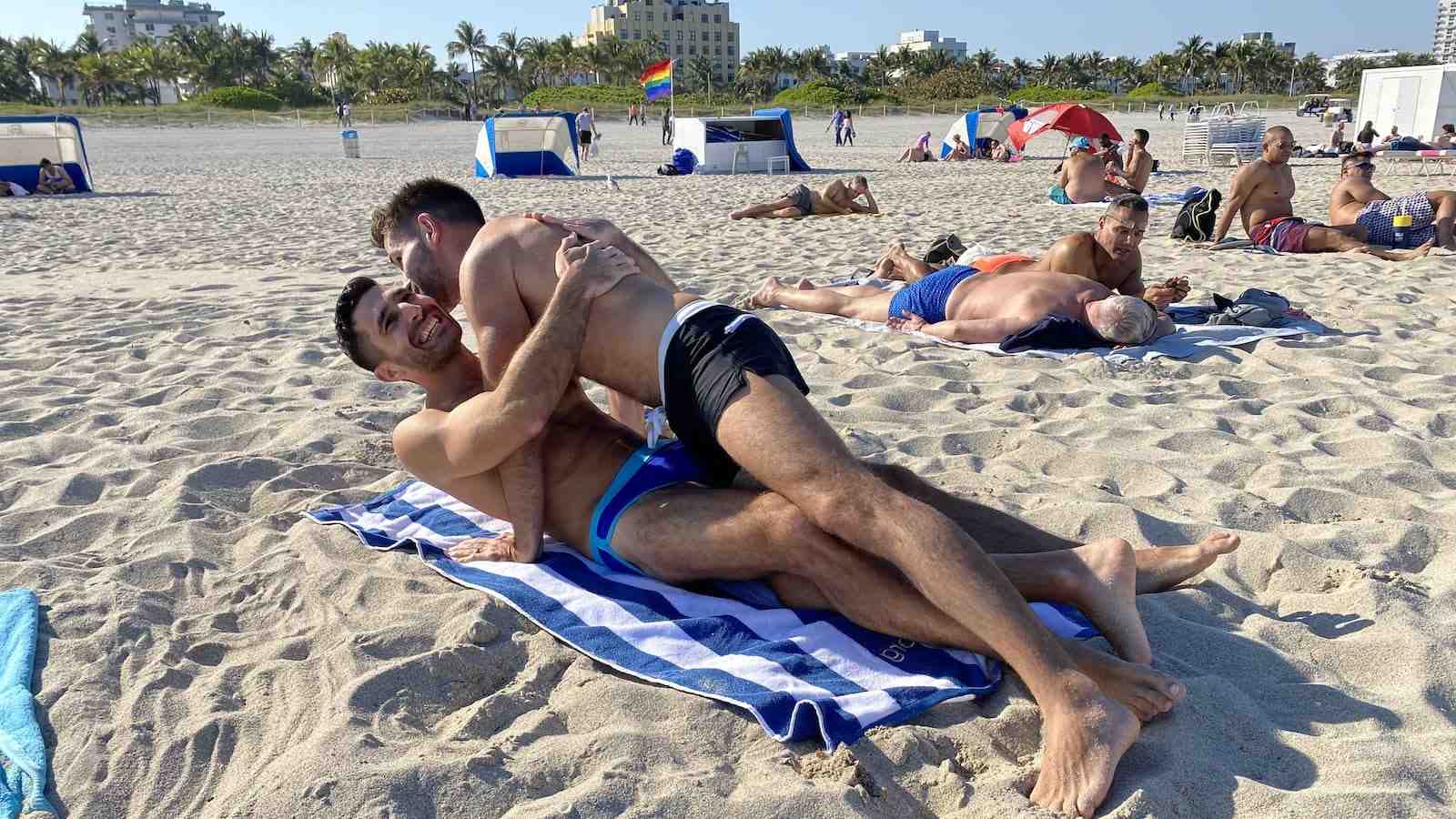 Haulover Beach
The stunning Haulover Beach is the only legal clothing-optional beach in the whole state of Florida. There is a gay section in the northern end that is so popular with the Miami boys that the Hotel Gaythering offers a free shuttle service there and back. Haulover Beach is usually quieter overall than 12th Street Gay Beach and more mixed in terms of the kinds of guys who visit, which we love. Let's be real, everyone should feel free to let it all hang out in the sunshine, whatever their body type or inside leg measurement!
The best time of year to visit Haulover Beach
Of course, the best times to be had on any gay nude beach is when the weather is at its finest. A nice summer breeze on your junk is one thing, but if it's too chilly, you might need a fluffer to help you display your…assets, as proudly as possible! You can't go wrong with a spring trip to Miami. Any later, and you'll be encroaching on hurricane season and its wetter, windier weather – not conducive to feeling all your oats on Haulover Beach, for sure!
How to get to Haulover Beach
This beach is a little off the beaten track for those of you staying in the Miami South Beach area, but we're only talking about a 20-minute taxi drive north, but totally worth the trip! Once you arrive, follow the lifeguard towers north for a little while – the nude area is nestled between towers 12 and 16.
Eating and drinking at Haulover Beach
Like the 12th Street Gay Beach, sunbeds and umbrellas are available to hire. There are also a decent number of places to grab a drink and a bite to eat. However, as Haulover Beach is a little bit off the beaten path, you won't have many other options to get yourself fed and watered, so you may want to pack a few bits in a cooler if you plan on spending a full day here.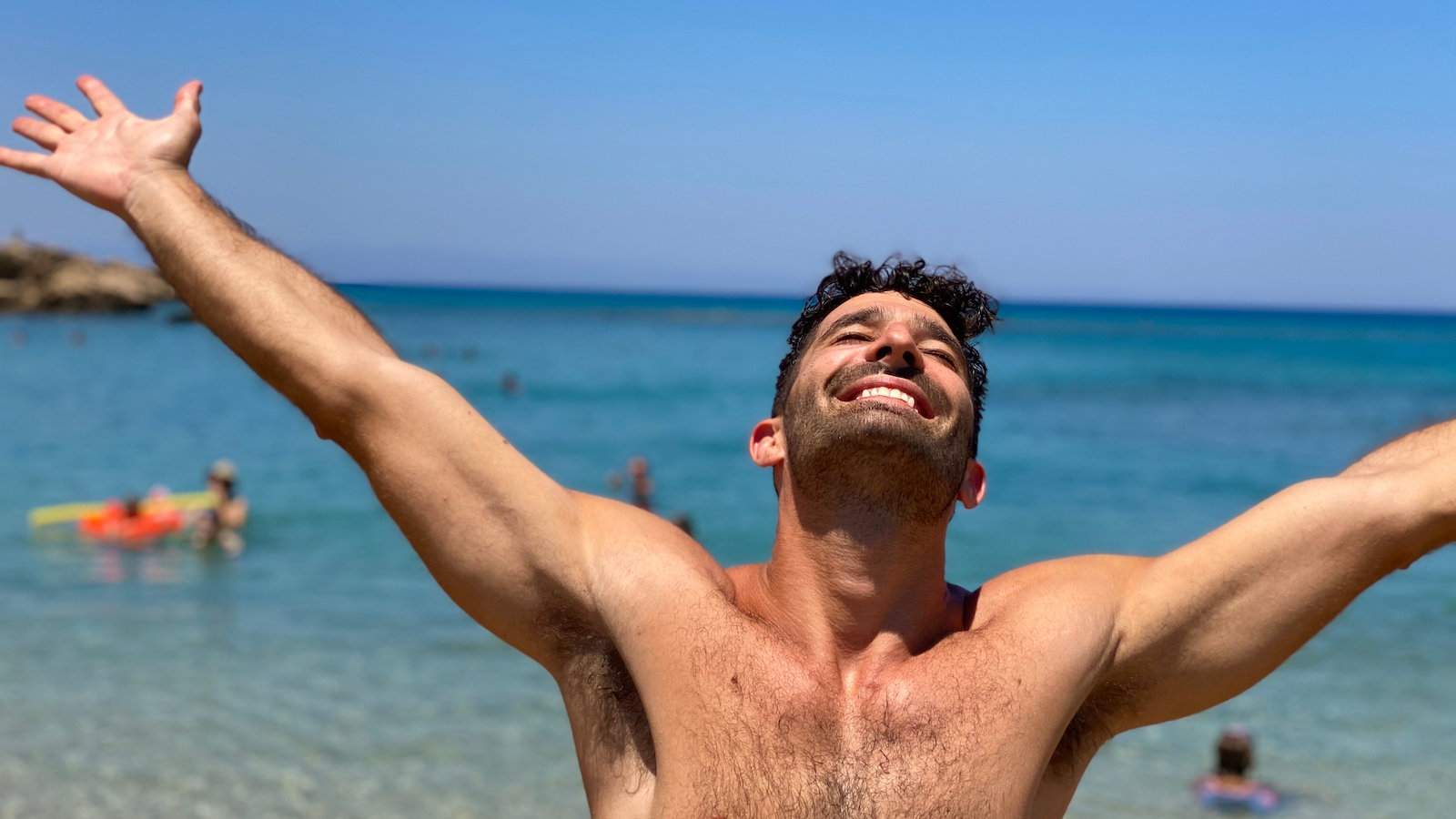 Axel Gay Beach at 15th
When vacation time rolls around, the name "Axel" is on the tip of most gay tongues. This men-only, "hetero-friendly" hotel chain has properties in all the hottest gay vacation spots. AxelBeach Miami is unique in that it opens out directly onto the beautiful South Beach and has claimed its very own section where both guests and non-guests can meet up for some fun in the sun.
The best time of year to visit Axel Gay Beach at 15th
Axel has a pretty small section of South Beach, so if the hotel's busy, you can bet the beach will be packed with hotties too. If you live by a philosophy of "the more the merrier", check it out during White Party Week in November, the Winter Party Festival in March or Miami Beach Pride in April.
How to get to Axel Gay Beach at 15th
Axel Gay Beach at 15th is nice and easy to find. Considering it's located right in the beating heart of all things gay in Miami, you probably won't have to go very far! Simply find 15th Street and head east until you reach the coast. You should be able to see AxelBeach Miami right in front of you. As you step onto the beach, the Axel section is signified by an abundance of rainbow flags – hey gays!
Eating and drinking at Axel Gay Beach at 15th
There are no bars on the beach itself, but Ocean Drive is less than a minute away, which has some of South Beach's best places to dine out – what more could you ask for?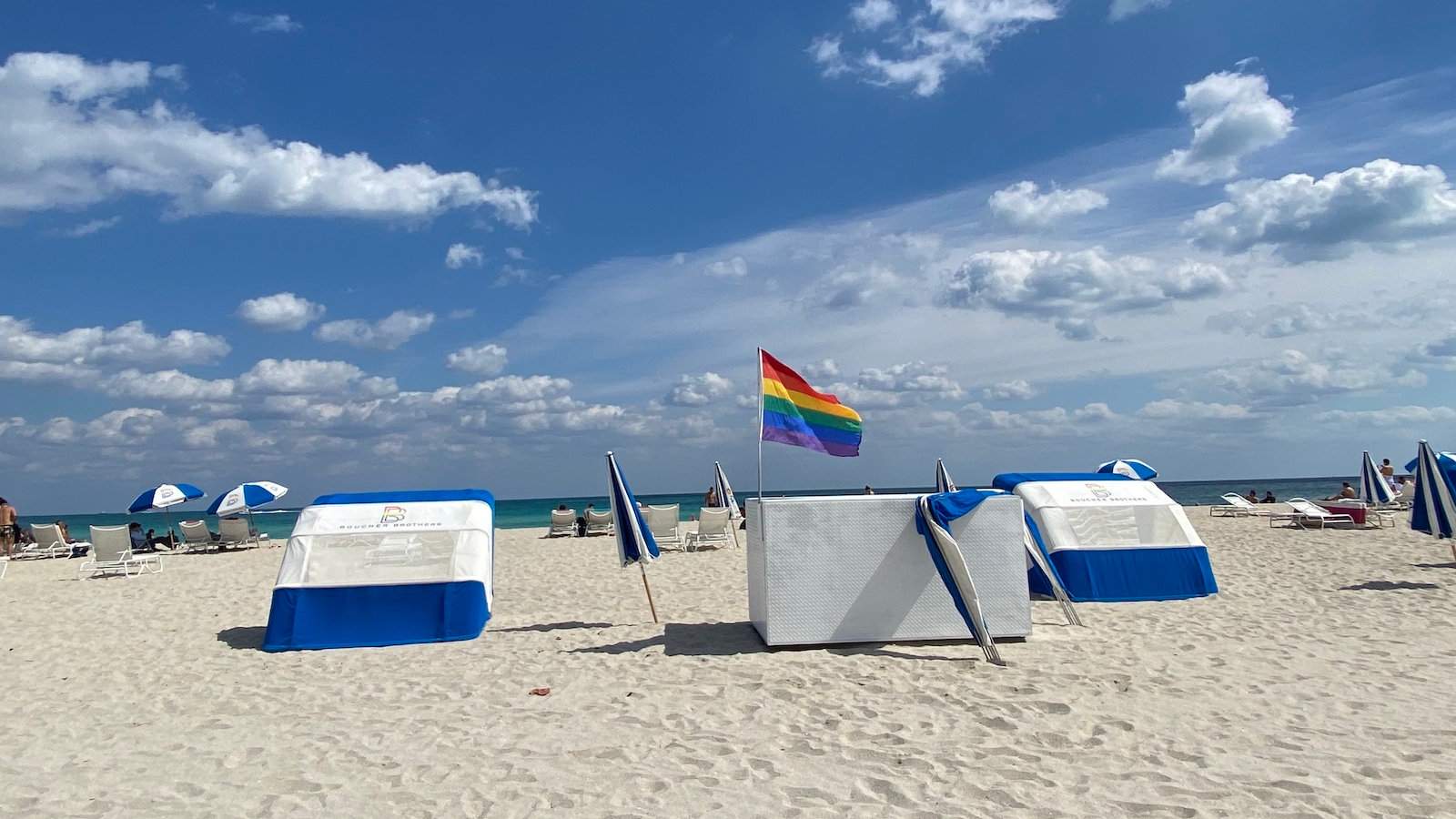 Sebastian Street Beach in Fort Lauderdale
Okay, technicality. Your eyes do not deceive you – Sebastian Street Beach is indeed in Fort Lauderdale, not Miami. But it's utterly wonderful and only a 45-minute drive away, so we just had to include it as one of the best gay beaches in the area. For us, Sebastian Street is one of the best gay beaches in the world.
The best time of year to visit Sebastian Street Beach in Fort Lauderdale
Judging the Florida weather can be a bit of a crapshoot. The state's hottest, sunniest months are also usually its rainiest. It's safer to visit during the spring when the weather is certainly warm enough to enjoy the beach with a far lower chance of rain. This also when the gay scene of Fort Lauderdale is the most fun because everyone os wearing tight shorts and put in display their beautiful legs… Alternatively, you can risk it for a biscuit and hit Florida in the height of summer – but pack an umbrella just in case!
How to get to Sebastian Street Beach in Fort Lauderdale
If you're driving, head north on the I-95 Express for about 40 minutes. Once you arrive in Fort Lauderdale, keep heading past the airport and come off the freeway by the Museum of Discovery and Science. Then head east along the 842 towards the coast until you reach the main beach – Sebastian Street Beach is at the north end near the Ritz Carlton Hotel. Or you can ignore everything I just said and get an Uber!
Eating and drinking at Sebastian Street Beach in Fort Lauderdale
This beach has it all – plenty of parking, parasols and loungers to rent and cute little places to grab a snack and a drink. And if a snack isn't going to cut it, Sebastian Street Beach is near a ton of the city's finest restaurants where you can bite off a chunk of something more satisfying. Make sure you also check out our guide to Fort Lauderdale's best gay bars and clubs!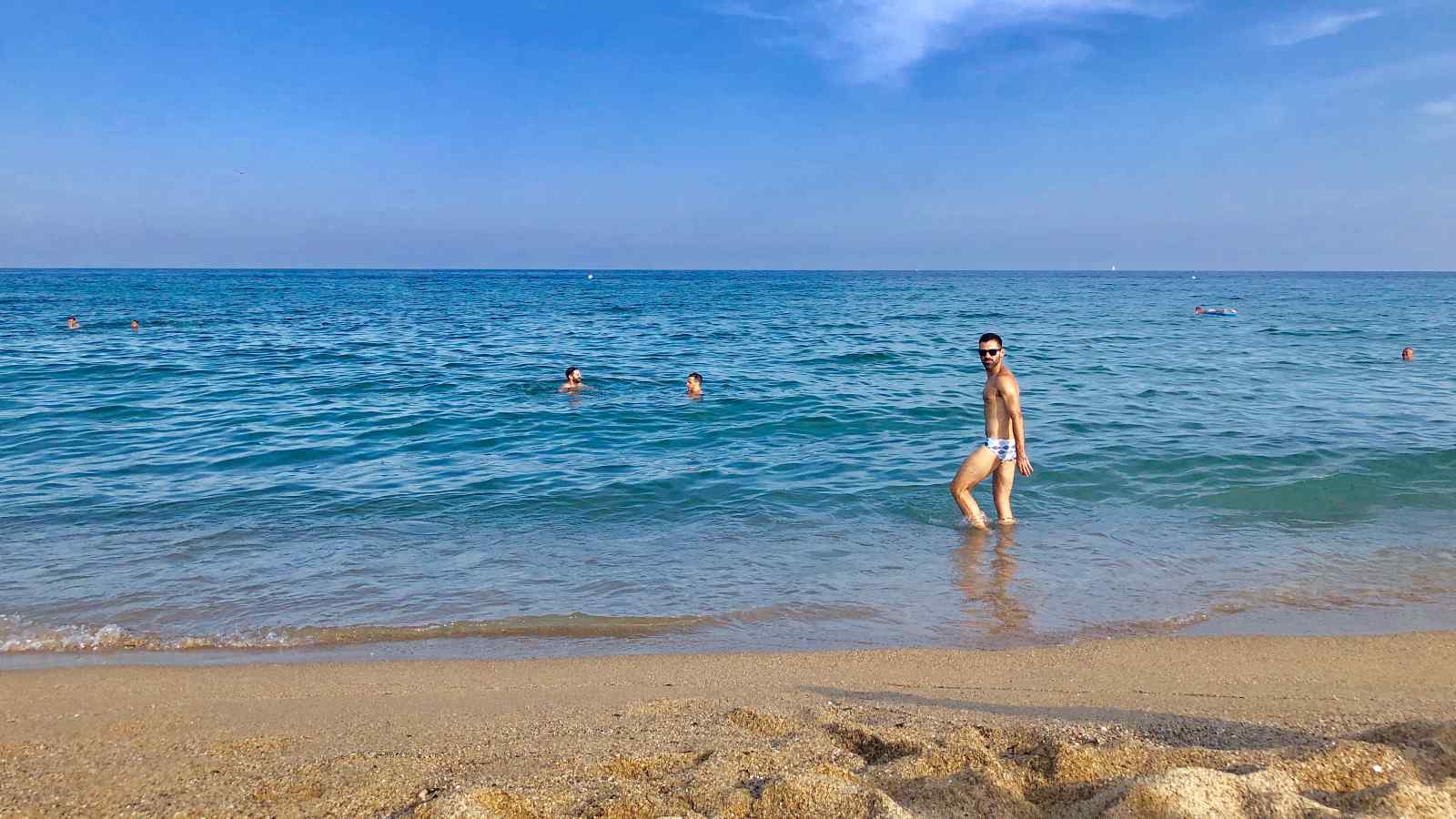 ---