These are the best Axel gay hotels around the world, and why we love the 'hetero-friendly' hotel chain so much!
You know that one friend you can always count on? That friend who picks you up off your feet and buys you an entire store's worth of snacks when your boyfriend dumps you? That friend who you can call at four in the morning when you're completely wasted and can't stop crying about how much you love dogs? Well, in the hospitality business, that friend would without a doubt be Axel Hotels.
No matter our destination, I always find myself longing to stay at an Axel hotel because nobody does service quite like them.
Sebastien can vouch, if we're ever traveling somewhere without an Axel nearby, I will spend at least five minutes whining about it because they're just that good at what they do. I mean, have you heard of any other hotel chains that brand themselves as providing a "hetero-friendly" environment for their guests? Me neither!
And as exciting as it is to be prioritized and treated as a highly valued patron, it's mostly a huge comfort to know that a genuinely safe space for the community exists on such a widespread, international scale. Axel Hotels puts people first every step of the way. They tirelessly advocate for LGBTQ+ rights, of course, but they also work hard to provide everyone with a luxury experience at an affordable price. With their incredible staff, outstanding amenities, and immaculate rooms, Axel proves their dedication to their craft, time and time again, across the board.
I love to complain about petty things as much as the next primadonna, but I really have only positive things to say about Axel. The world deserves to know about their sky bars and their wellness centers and their gardens and their… Well, I don't want to give it all away just yet, do I? You almost got me, but not this time! Don't you worry… Follow along with me as I describe the finest aspects of each Axel hotel, and I'll be sure to give you all of those juicy little deets my darlings!
Heads up: We just wanted to let you know that this post contains affiliate links. That means if you book something through one of those links, we'll get a small commission, at no extra cost to you. It helps us keep our blog going – so thank you in advance for your support! ♥
What is the Axel Hotel brand?
To better understand Axel Hotels on an individual level, you must first look at them from the corporate level. Before founding Axel Hotels, President Juan Juliá envisioned a paradise that would cater specifically to his needs as a gay man. Though, more than that, he desperately wanted to create a special safe haven for the entire queer community. He started his business with the goal of developing a diverse meeting ground for LGBTQ+ people where they could always expect to be treated with respect and dignity.
In 2003, Axel Hotel Barcelona opened to widespread praise and acclaim. Since then, Axel Hotels has grown extensively and stands as the world's first LGBTQ+ hotel chain. It's easy to say that Juliá's objective has changed now that Axel is well-established as an inclusive, tolerant retreat for everyone. He now aims to continue holding a spot as a world leader in businesses that provide for the gay community whilst also paving the way for other companies to follow in his footsteps.
We have personally experienced the sheer, overwhelming joy that comes with entering an Axel hotel as a gay couple. You feel as though you're a member of an incredibly warm and loving family who want nothing more than to support and guide you through your stay. It feels like they care about you as a person first and a customer second, which is a great change of pace. We desperately hope that more businesses will follow the lead of Axel Hotels, but until then, we are going to continue living our best life at these fabulous sanctuaries!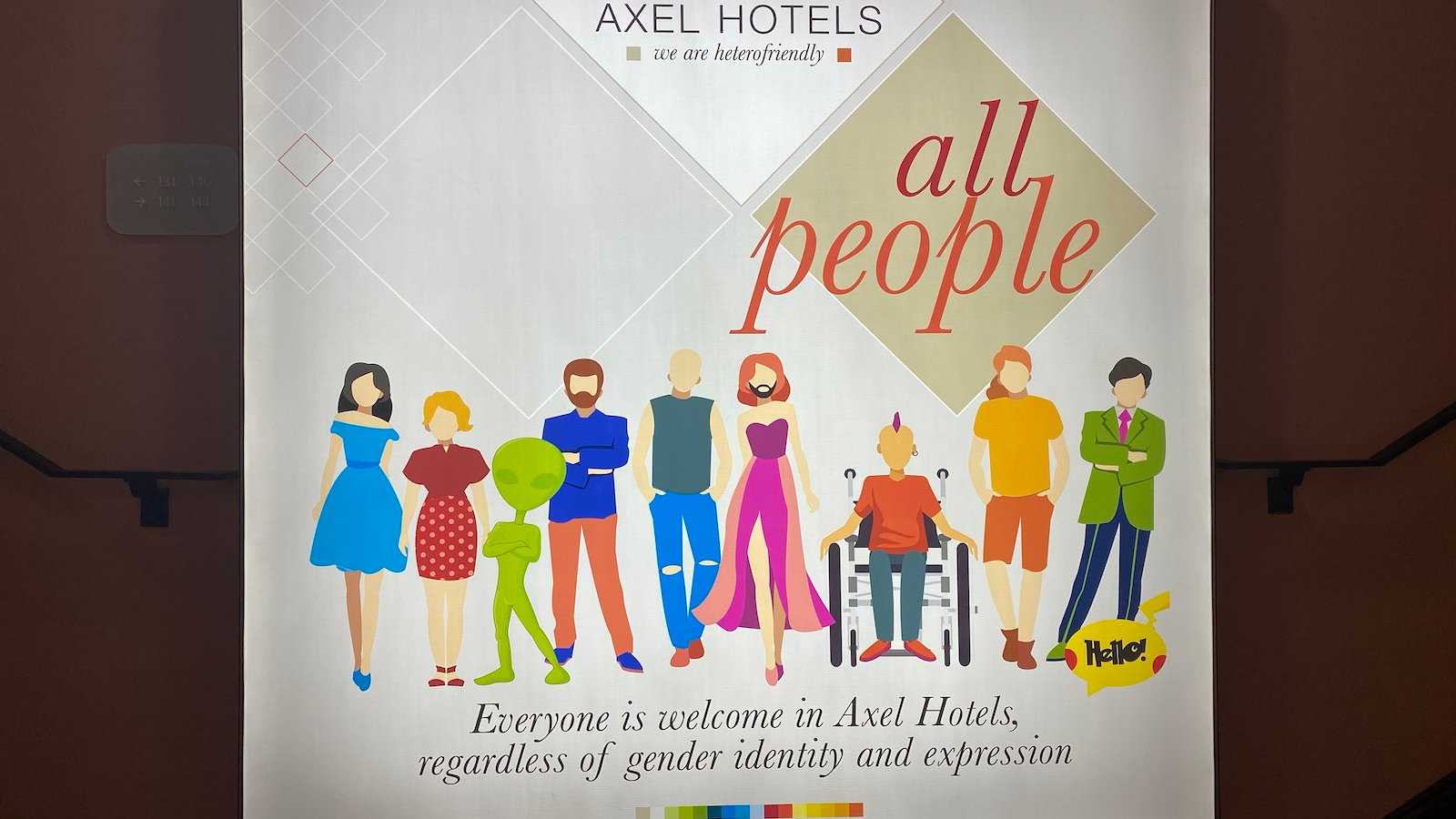 01
Axel Hotel Barcelona
Spain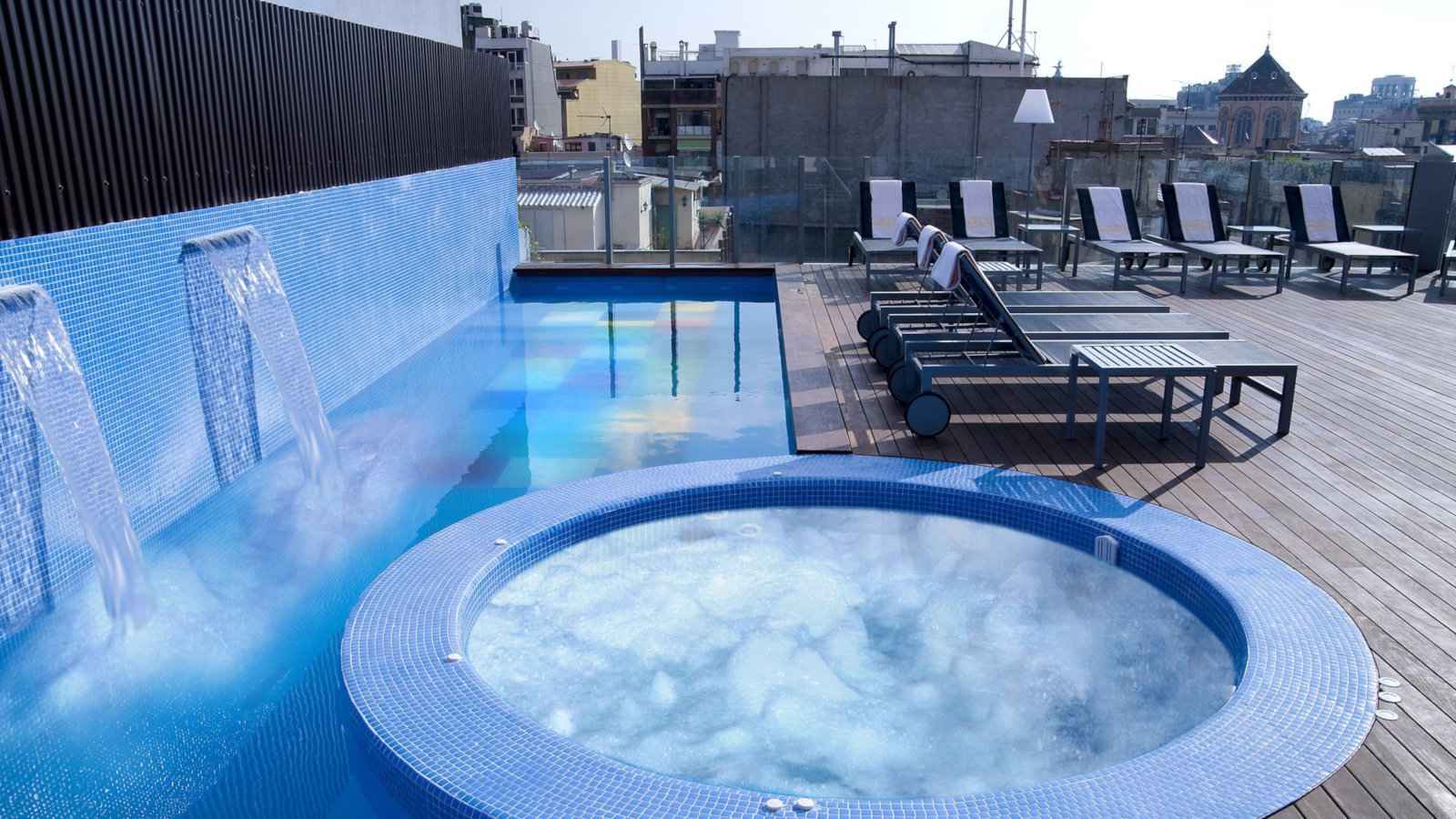 Why we love it
---
Who doesn't love a stained glass window?
It is a piece of LGBTQ history
The Sky Bar is perfect for photo ops
Delicious food at the in-house restaurant
Every great hero has their origin story. A radioactive spider bit Peter Parker, giving him incredible powers and transforming him into New York's friendly neighborhood Spider-Man. To save him from the destruction of his planet, Superman's parents sent him away as a newborn, unknowingly granting the citizens of Earth their strongest ally. In the year 2003, Axel Hotel Barcelona opened to phenomenal success and changed the course of history forever.
Without that first Axel, the brand as we know and love it today, might not exist. I don't know about you, but I would be absolutely lost without these little slices of gay paradise scattered across the globe. Undoubtedly a major component that skyrocketed this hotel towards its rousing claim to fame is the location – Beautiful Barcelona! We personally believe it is one of the most gay friendly cities in the world, which is why we continually flock back to those fabulous streets year after year like we're venturing on a grand, queer pilgrimage. Axel Hotel Barcelona is right in the sweet spot, too. While Barcelona is obviously stunning from any angle, us gay boys want to be at the center of the action in Gaixample – the gay scene of Barcelona.
I know we said that the trip to Barcelona is like a pilgrimage, so with that being the case, Gaixample would definitely be our mecca. At the absolute epicenter of the neighborhood stands Axel Hotel Barcelona, tall and proud. Unironically enough, Axel Barcelona actually resembles a cathedral of sorts. Though far more modern than any of the ancient buildings in the nearby area, the dark brick exterior accompanied by luxurious white marble in the lobby and stained glass windows up in the superior bedrooms screams church to me. And I'm ready to sing her praises… Hallelujah, amen!
When you stay at Axel Hotel Barcelona, you will feel right at home. Since it stands as an LGBTQ monument in its own right, with wonderful amusements lurking around every corner, we cannot recommend enough that you stay at this Axel at least once in your lifetime. For more, be sure to check out our guide to the best gay hotels in Barcelona.
02
Two Hotel Barcelona by Axel
Spain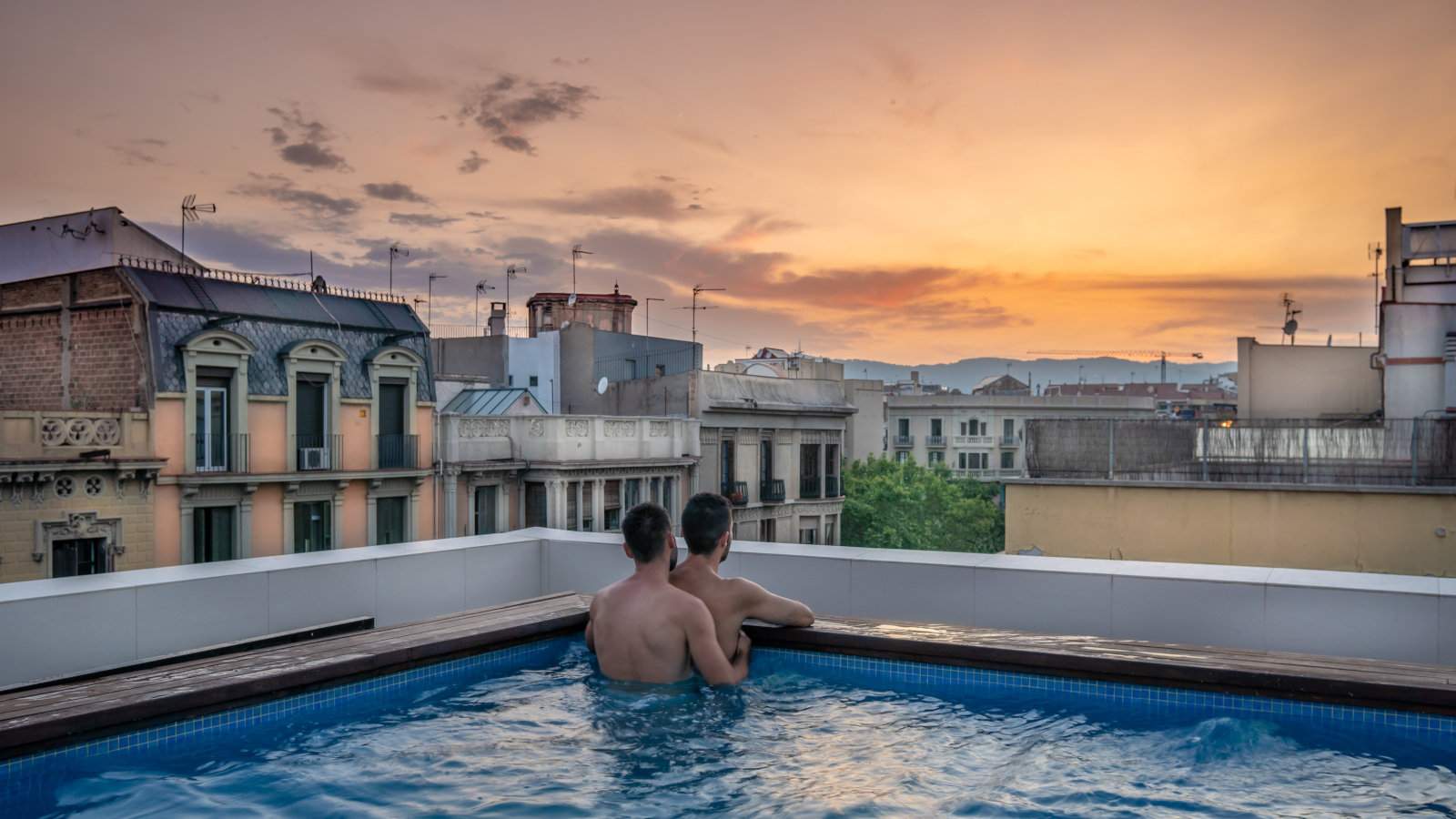 Why we love it
---
Amazing rooftop bar with a hot tub and pool
Huge glass showers in the bedrooms
Well located close to the gay scene
Friendly kind staff with smiles all round!
The downside of wanting to stay at the OG Axel Barcelona is the fact that they remain at about 95% capacity every year (2020 a marked exception obviously!).
But before you start feeling like the glass is half empty, know that there is still hope! To adjust for the high demand, Two Hotel Barcelona by Axel opened its doors to the public in 2015.
With a swift fifteen-minute walk separating the hotels, you lose nothing by staying at Two Hotel as opposed to Axel Hotel Barcelona. In fact, I'd say that in the years since the first Axel began serving the public, they have only improved on their accommodations. The rooms at Two Hotel Barcelona, for example, really step up the game in terms of modernity. With large windows scattering delightful bursts of natural sunlight across dark, patterned walls, all 87 bedrooms walk the delicate line between elegance and nonconformity.
What's truly fascinating about the hotel is how the building's exterior so greatly differs from its interior. The Sky Bar and rooftop gym especially stand out for their ultra pink aesthetic. The combination of hot pink sun loungers with bright green astroturf and light wood planks will seriously have you feeling as though you can live out all of your Barbie girl fantasies! Who knows, with all of the people socializing outside, perhaps you'll lock eyes with your own personal Ken from across the dazzling waters of the pool?
If you do, I highly recommend that the two of you grab some yummy cocktails and enjoy the breathtaking Barcelona skyline together. Maybe from there, you'll head out to the Gaixample gay bars or sneak back to your room for a naughty rendezvous… I'll refrain from writing your story on your behalf, but trust me when I tell you that the possibilities are endless at Two Hotel! For more, check out our detailed gay travel guide to Barcelona.
03
AxelBeach Ibiza
Spain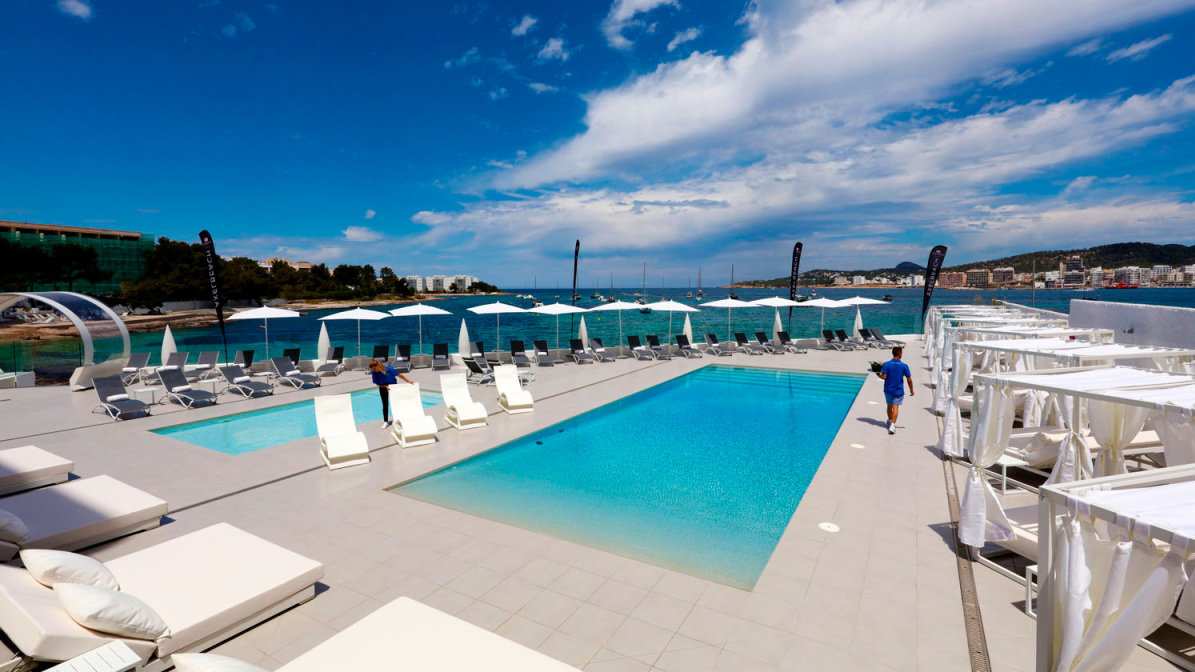 Why we love it
---
Decor combines two contrasting aesthetics
More space with apartments rather than rooms
Location: right against the shore!
Customized treatment menu at the Spa
Despite being located in familiar Spain, AxelBeach Ibiza gives off extremely otherworldly vibes. Upon setting foot into the hotel, you feel like you're stepping into a bizarre, alien club as opposed to the place you plan on resting for the evening.
The lobby is the major driving factor behind this supernatural effect. Stark white surfaces refract glowing, colorful lights from the balcony where countless mannequins are posed precariously.
The way the mannequins shine an almost radioactive blue gives the impression that they are being abducted and sent away to a foreign planet. Or perhaps they're simply beaming in to join you on the mothership – the center of the party! The clean, contemporary furnishings make the lobby feel like a spaceship well enough, but the neon arches that guide your way into the building emulate portals that welcome you into this strangely fantastic scene. Overall, it truly seems as though Axel absorbed the wild, fun atmosphere of gay Ibiza in its entirety and then did everything in their power to personify that aspect of the city.
However, if the party scene is not for you, AxelBeach Ibiza still has so much to offer! With vast apartments that sport a living room, kitchen and private terrace, you will have plenty of space to unwind either by yourself or with a group of loved ones. Looking to spend time out of your room? The ocean is literally right on your doorstep! Stroll along the beach and then return to Ibiza Posidonia, the hotel's wellness center. In the glass spa, you can enjoy a relaxing evening sunset as it washes over the clear sea. Maybe once you're done there, you can head to the in-house restaurant, the Hawker Beach Club, to entertain your tastebuds with a mix of Asian and Latin American inspired dishes.
This is basically my perfect hotel. One building that creatively combines passionate nightlife with sophisticated comfort. BRB, currently sobbing because I can't book a room right now…
04
AxelBeach Maspalomas
Spain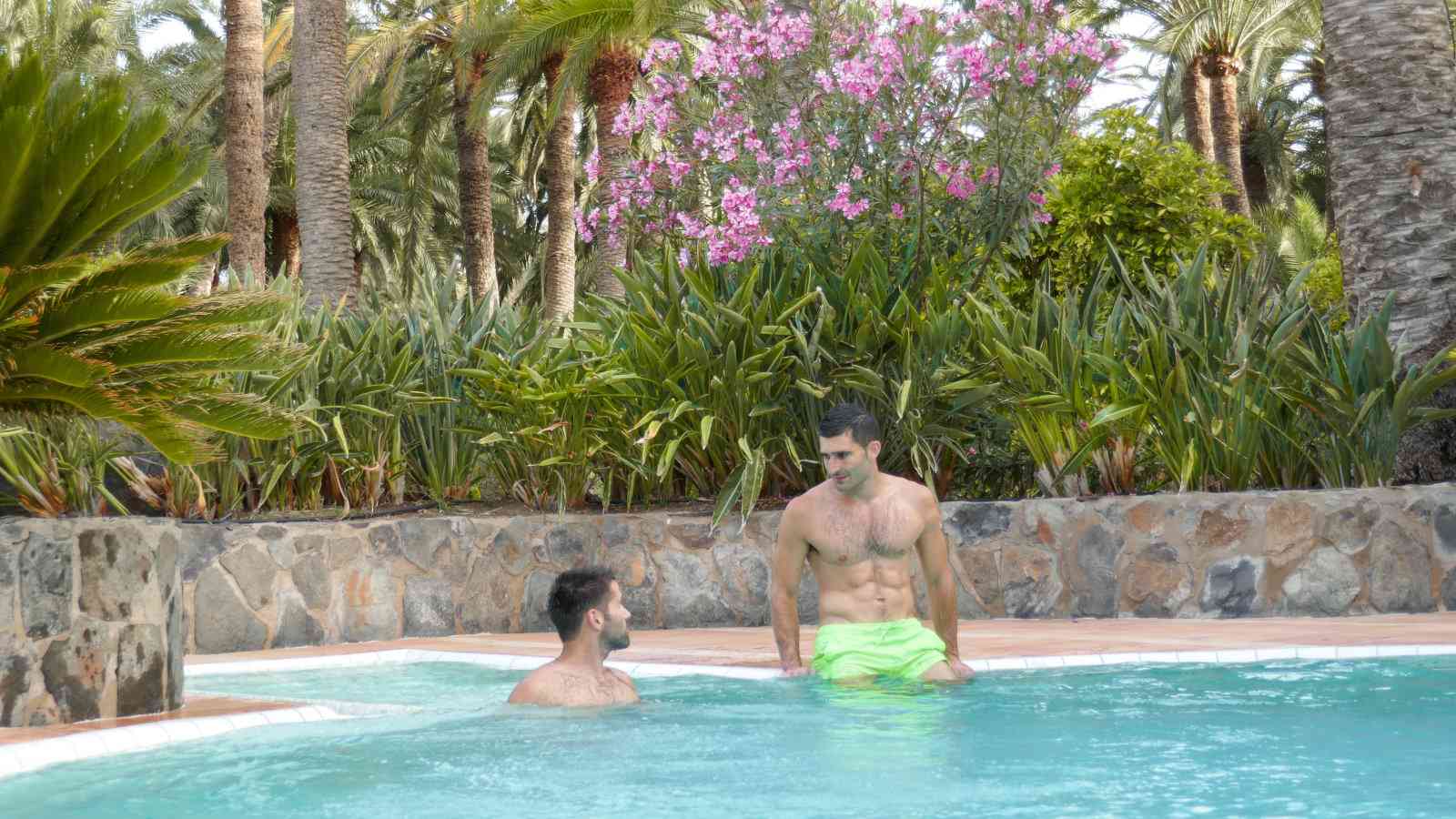 Why we love it
---
Just a 10-minute walk from the Yumbo Centre
Outstanding tapas at the sky bar
Hawaiian hammocks in the lounge garden
Comfortable, warm, and bright rooms
I would apologize for getting emotional about these hotels, but I can't. I know my tears will only continue flowing now that I've started talking about Axel in earnest.
Actually, go ahead and pass me a tissue, will you? Because AxelBeach Maspalomas is without a doubt one of my favorite places on this list, and I can already tell I'm going to lose it.
What's not to love about AxelBeach Maspalomas? Centred in alluring Gran Canaria and a quick ten-minute walk from both the famous Yumbo Center and the spectacular Playa del Ingles… It's any gay man's dream! I mean, the first image you see when you approach the hotel is a larger-than-life collage of mouthwatering men! That's not even mentioning the apartment-style rooms or the wellness center. I cannot exaggerate enough just how much we treasured our time here.
But my favorite spot in all of AxelBeach Maspalomas has got to be the sky bar area. For me, nothing was better than grabbing some tapas with my Seby and reclining on a round sun lounger before taking a dip in the pool. Then, once we eventually tired ourselves out with snacks, drinks and great company, we could take an easy stroll over to the neighboring lounge garden. As much as I love sunbathing, it is undeniably nice to rest in the serene shade of giant palm trees. Especially in the hotel's Hawaiian hammocks. Whenever I'm feeling stressed and need to find a happy place, I like to picture myself reclined in one of those hammocks, snuggling close with my man.
Even on the days when we ventured outside of the hotel to explore the surrounding area, I found myself returning to my room pleased as punch! The Gran Canarian nightlife is to die for, but thankfully, heaven is waiting for you right next door at AxelBeach Maspalomas. Find out more in our gay guide to Gran Canaria.
05
Axel Hotel Berlin
Germany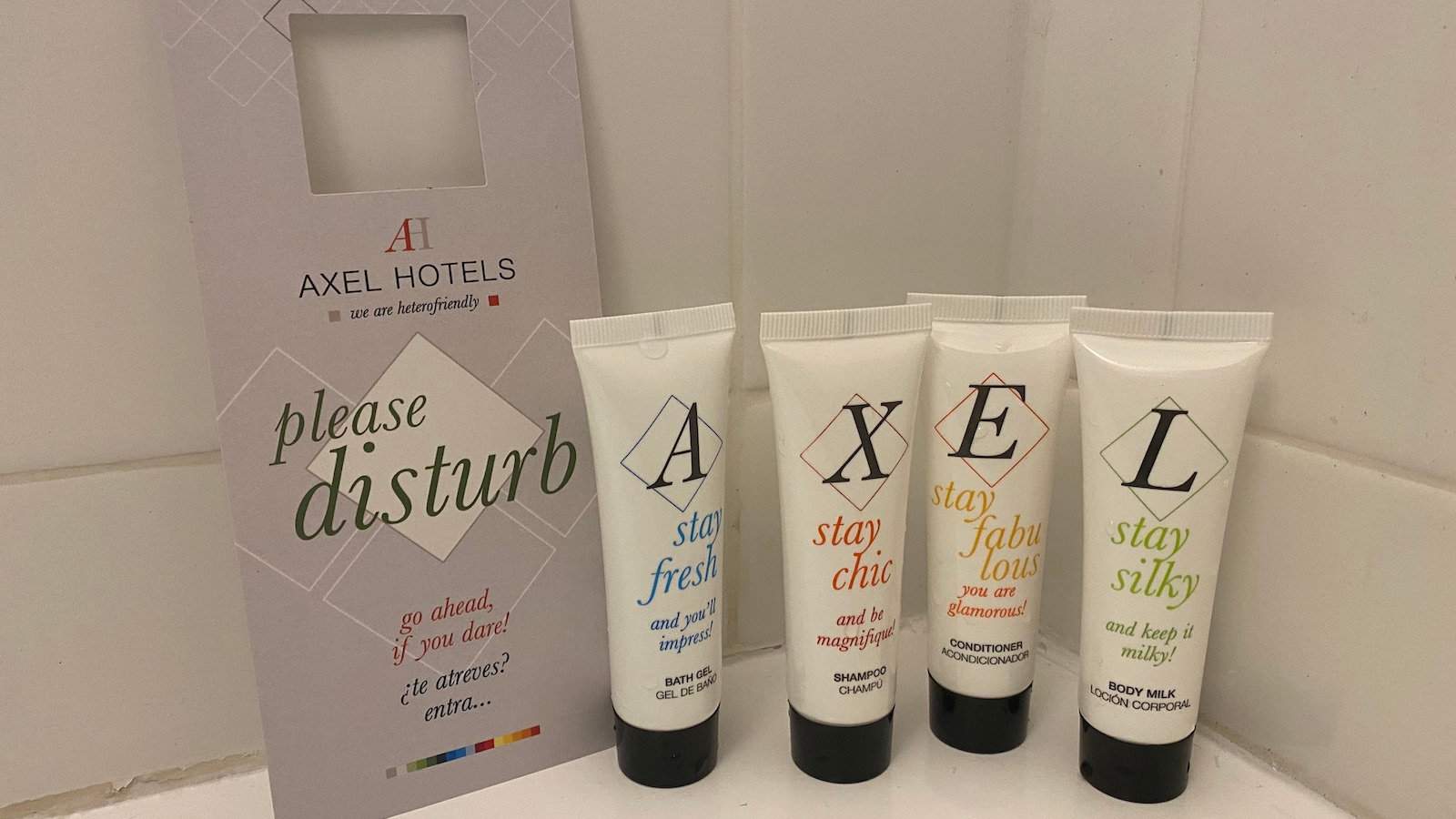 Why we love it
---
Located in the Schöneberg gay neighborhood
Stunning rooftop jacuzzi
Highly rated in-house restaurant
Comfortable beds and soundproof rooms!
Now, while most Axel hotels openly flaunt the fact that they are adult-only establishments, only one will really fit the bill if you're looking for a raunchy escapade during your holiday. Axel Hotel Berlin, known to some guests as "the Grindr hotel", is here to provide for every last one of your needs!
Axel Berlin exudes sensuality from the lobby to the rooftop. The decor is smooth and modern, accentuated by striking hues of red and black.
The rooms come equipped with "DO DISTURB" signs to show other guests that you might be looking for attention! And let's not forget the play palace on the top floor, complete with a gym, jacuzzi, sauna, and steam room that are well-known stops for a little bit of rompy pompy. If you're looking to pre-game in preparation of a fun evening, or if you're looking to find a heartthrob to bring back home, then you're in luck! Axel Hotel Berlin is located in the heart of Schöneberg's primary gay hotspot, so there will be plenty of opportunities for you to enjoy yourself. And if you are fortunate enough to snag yourself a hottie who can entertain you for the night, let it be noted that the beds are soft and the rooms are soundproof. Go nuts, my dears!
Though Sebastien and I love cheeky little spots like Axel Hotel Berlin, what makes it stand apart from the competing queer hotels in our eyes is the rooftop jacuzzi. Surrounded by a golden lattice structure, the twinkling view of Berlin lights poking through the holes, with warm water bubbling against your legs as you sip on a cool glass of wine… Nothing beats that. Especially when you can head back inside to the lounge bar for more drinks afterward!
If you're looking to be seduced by a glamorous city, a cosmopolitan spirit, and five-star service (if you know what I mean!), then Axel Hotel Berlin will ultimately be the best place for you. Use our gay guide to Berlin to find out more and to help inspire your trip.
06
Two Hotel Berlin by Axel
Germany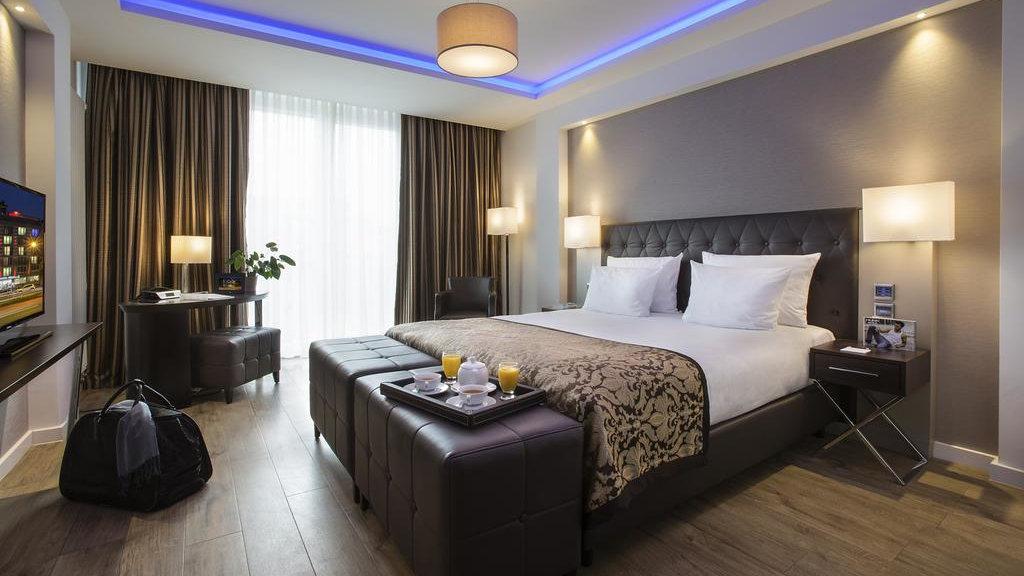 Why we love it
---
Close to Schöneberg and shopping malls
The bathrooms – fabulous amenities galore!
Delightful breakfast buffet every day
Offers guests bikes to rent
Since Berlin is such a popular city for gay travel, Axel Hotel Berlin suffered the same exact fate as Axel Hotel Barcelona and inspired the creation of another Axel in the same city.
Two Hotel Berlin by Axel is a twenty-minute walk from Axel Berlin and a five-minute walk to the Schöneberg area, which means that no matter where you stay, you are going to be close to all of the action.
In the vein of being honest with you, I will admit that from the outside, Two Hotel Berlin is very unassuming. If I were to randomly pass the building while walking along the street, I would likely believe that the windows belonged to a series of apartments and give it no other thought. However, looks can be deceiving! The inside of Two Hotel astounds with luxurious decor in every room. The entire place is adorned in elegant shades of black and gold with abstract murals of the cityscape lining the walls. Even the in-house restaurant carries the same level of sophistication with its soft, romantic lighting and exquisite furnishings.
The most impressive aspect of Two Hotel Berlin, far above any of their outstanding design elements in my opinion, is the technology they integrated into the rooms. I know, I know – that sounds incredibly nerdy, but hear me out! The bathrooms provide guests with anti-fog mirrors, a built-in radio, and heated floors. Combine those features with an impressive shower, and you have made me a very happy man. The bedrooms themselves also offer completely adjustable air, heating and lighting so that all of your standards will be met throughout the duration of your stay.
If you try to judge books by their cover, you may end up missing out on gems like this one. Be sure to take your time and do thorough research. Or you can always just listen to us. We've got your back!
07
Axel Hotel Madrid
Spain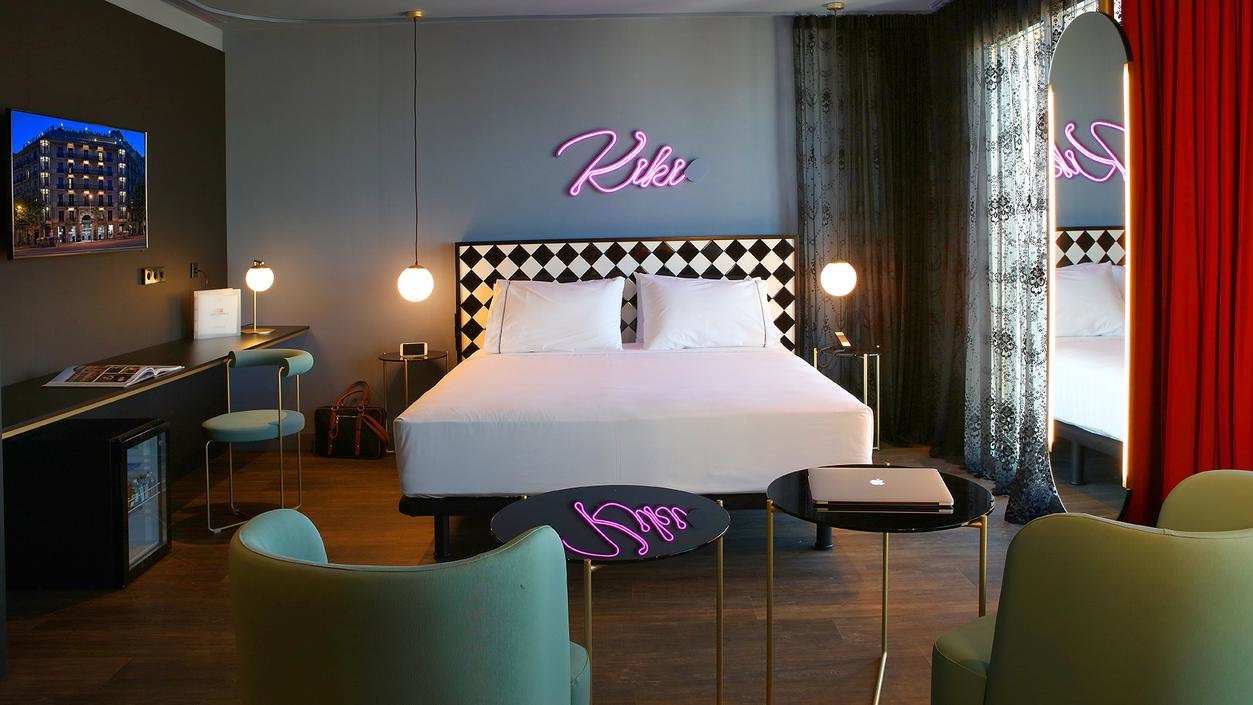 Why we love it
---
The furnishings: everything Avant-Garde!
Beautiful restaurant serving delicious meals
The incredible hidden Bala Perdida Club
Only a short walk to the gay bars of Chueca
After hearing about Two Hotel Berlin, I'm hoping that you've learned a thing or two because Axel Hotel Madrid follows in a similar suit. With a plain brick exterior, it definitely hides the stunning complexities of its interior.
Inspired by the sociocultural movement that dominated Madrid in the 1980s, Axel decorated this building in trappings fit for any enthusiast of Avant-Garde style.
Overall, Axel Hotel Madrid mixes the aesthetic of a 1950s American diner with a regal castle, plus a small sprinkling of a tacky shopping mall. Somehow, it works! I'm not sure why. I'm not sure how. But I think it's simply adorable! The 50s themed bedrooms are a hot mess of checkerboard patterns, black lace curtains, and glaring neon lights, yet there's something so endearing about it when you see everything come together. Meanwhile, the deluxe bedrooms feel like they've escaped from the pages of a fine art textbook. With gold trim, light blue ceilings and a huge bathtub, you probably won't ever want to leave your extravagant abode.
However, the rest of the hotel will beckon to you with plenty of exciting amusements! The Bala Perdida Club will definitely be a spot you'll want to visit while you're staying at the Axel Madrid. This hidden bar is located underneath the rest of the hotel, so you may have to work to find it. I promise, it will be worth the search once you feast your eyes on the bright lights, tasty cocktails, and succulent snacks. Or, if you'd rather leave the hotel to get your taste of the Madrid gay nightlife, you're just 15 minutes walking distance to Chueca.
When staying with Axel Hotel Madrid, you will have so many options! From the type of room you prefer to the establishments you intend to visit, there will be no shortage of choices. Just know that no matter what you end up picking for your stay, you will not be disappointed!
08
AxelBeach Miami
USA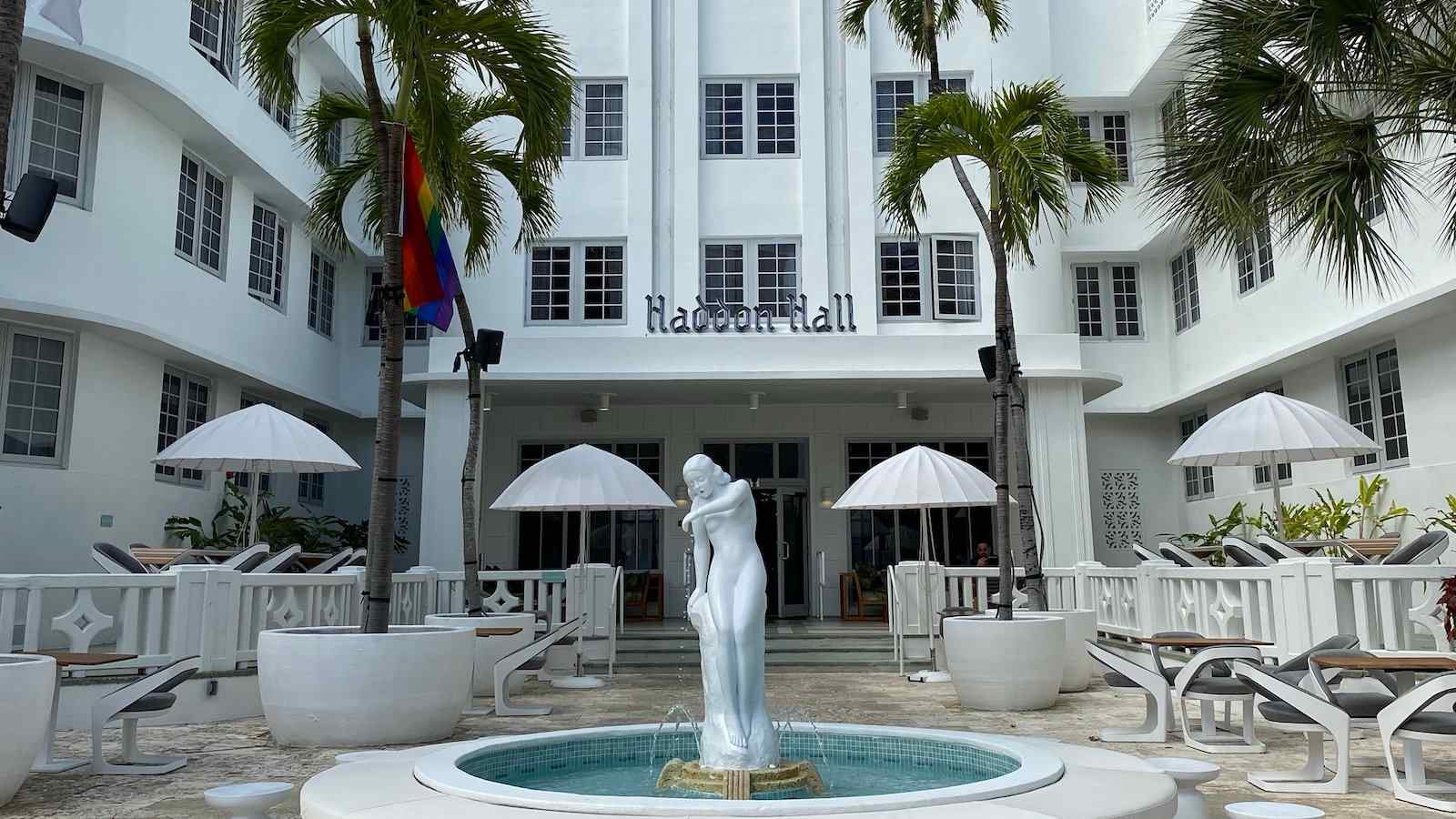 Why we love it
---
Morrofino restaurant serves yummy food
Palm trees at the sky bar? Yes, please!
Rooms with pops of color and Art Deco style
Staff go out of their way to help
AxelBeach Miami is another hotel greatly influenced by the predominating artistic movement of its local culture. Based in the center of South Beach's Art Deco district, it would be a shame if they failed to mirror their surroundings, would it not? By highlighting sleak, clean modernity and adding in small, simple elements that are characteristic of Art Deco design, AxelBeach Miami develops a beautiful balance for the decor of this unique, beachfront paradise.
Personally, my favorite abstract touch exists outside of the building. Lining the front of their ground bar are clear tiles filled with shimmering water. In the evening, the tiles reflect radiant blue and orange light, giving guests the impression that they've left their hotel for an extravagant club! I wouldn't be surprised if the spot serves as a makeshift dance floor when the sun sets on those gorgeous sandy beaches and the livelier crowd comes out to play. I mean, I know that I'd be out there, drink in hand, partying the night away!
But I, like most of you, do need days off to rest and recuperate after spending long hours attending chaotic parties. Thankfully, Axel Miami delivers just as well when it comes to its leisure activities! Their pool, surrounded by stunning palm trees, is actually wonderful for getting away and enjoying the hot Miami sun. Or you could take a quick three minute walk and find yourself strolling along the salty shores. After exploring the area, I highly recommend stopping in at their Morrofino restaurant for a taste of their striking Spanish cuisine.
Whether you're traveling to learn about the SoBe lifestyle, to shake your booty in front of a crowd, or to relax by the sea, staying at AxelBeach Miami will make for the perfect Floridian getaway!
09
Axel Hotel San Sebastian
Spain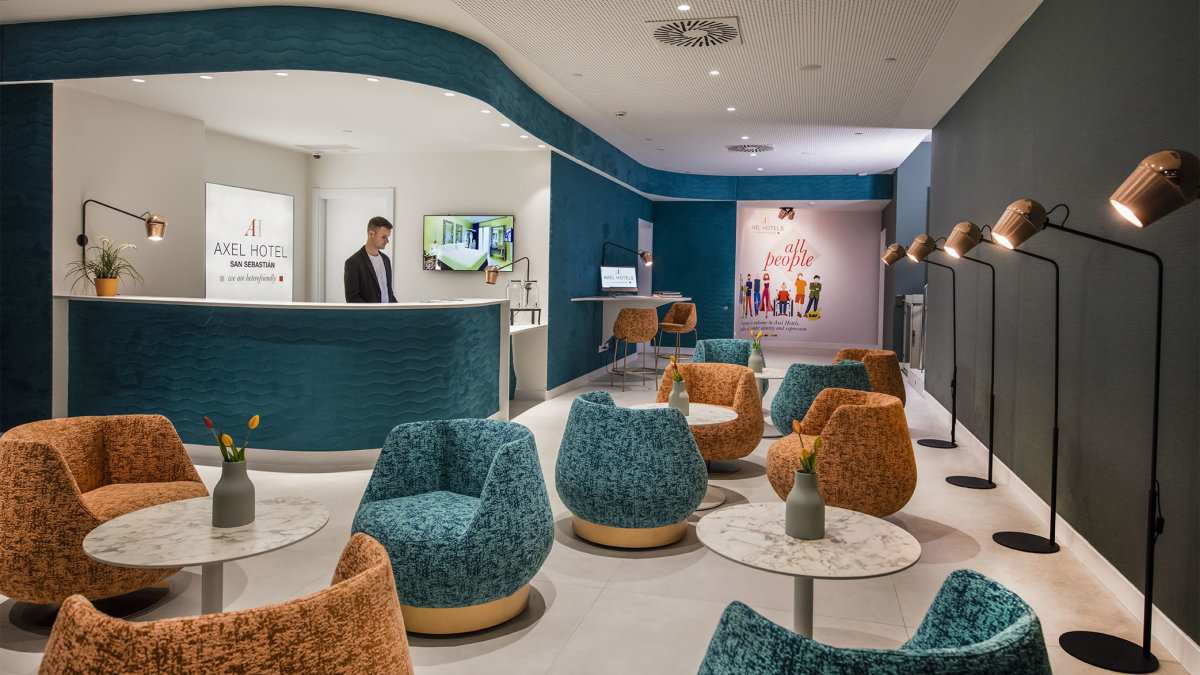 Why we love it
---
Close to La Conca Beach and the Old Town
Mindblowing commitment to their aesthetic!
The overhead rain showers are incredible
Two in-house bars to hang out
Feeling a little blue as we approach our last hotel on the list? Judging by its furnishings, I'd say the place in question is looking pretty blue, too!
With a strong commitment to their color scheme of blues and coppers, Axel Hotel San Sebastián serves deep ocean vibes and makes you feel as though you've stepped aboard a finely-crafted, antique ship.
It all starts with the ground bar. With curvy, dark blue walls and chairs, you might think that you've been transported to the bottom of the ocean floor. Except, rather than being swarmed by strange sea creatures, you're instead greeted by the friendly faces of staff and visitors as well as scrumptious breakfast foods and drinks. The rooms, on the other hand, bring you above the sea and into the helm of your boat. Soft white linens contrast with weathered copper and dark wooden planks to form a calm oasis. Despite the ultra contemporary appearance, the rooms still feel familiar and intimate, like the home of an old friend.
If a beachy atmosphere isn't your thing, then you can always escape to the rooftop pool and bar to enjoy a lovely 360-degree view of the city. You can also step into the refreshing wellness center to give yourself a moment of peace and tranquillity with a gym, sauna, Turkish bath, jacuzzi and masseuse.
When you stay at the Axel Hotel San Sebastián, you're only a ten-minute walk from La Concha Beach. In addition, the winding Spanish streets full of fascinating gastronomy and diverse crowds will wait right outside your doorway. Sebastien and I love this hotel for its simplicity. You arrive hoping for a peaceful trip, and you leave with a sense of relief, like one you've never known before!
New Axel hotel openings coming soon
If I haven't been explicit enough throughout the rest of the text, allow me to say outright that I stan the Axel Hotels brand. As a person who has dedicated his life to gay travel, I will always feel a connection to each hotel they have constructed over the past decade as well as their commitment to providing comfortable spaces for LGBTQ people. I am thrilled to know that Axel is continuing with their expansion, and I guarantee that I will want to be first in line at every upcoming grand opening.
The big upcoming Axel hotel openings to look out for include:
Axel Hotel Bilbao, Spain: due to open in early 2021
Axel Hotel Valencia in Spain: due to open in 2021
Axel Hotel La Habana – Telégrafo, Cuba: due to open in 2021
Axel Hotel Madeira, Portugal: due to open in 2022
---