Lake Baikal contains 20% of the world's unfrozen surface fresh water. It is the world's deepest fresh water lake – 1,642 m (5,387 ft) at its deepest point. It also claimed to be the world's oldest lake at 25 million years old.
Our stay on Olkhon Island
We stayed at Olkhon island on Lake Baikal for a week and a well needed rest from all the long train travel.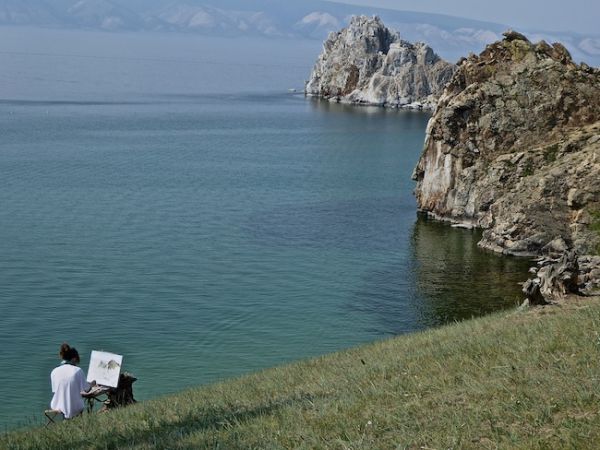 Naturally, our location on Olkhon island on Lake Baikal gave us lots of opportunities for sunset pictures: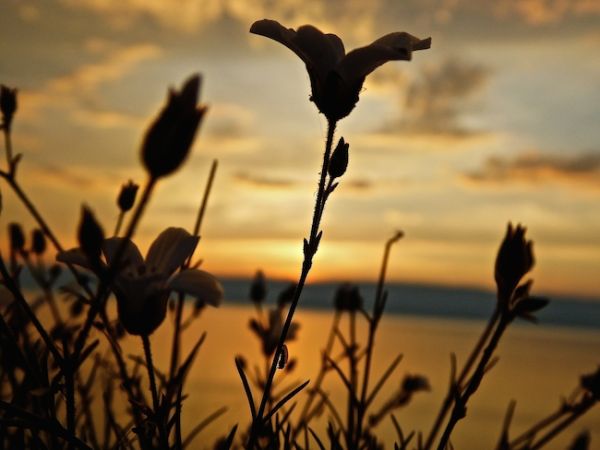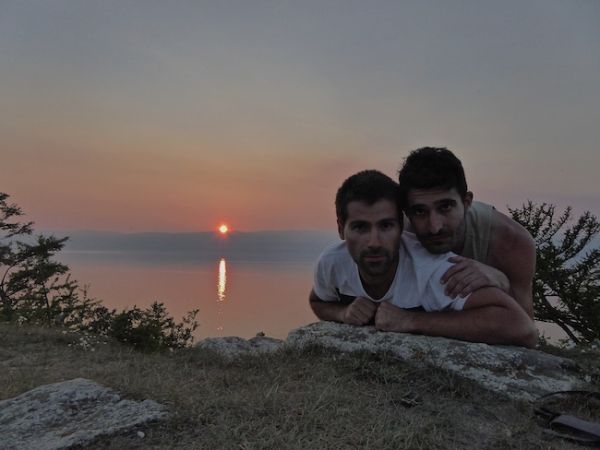 At one point during one of the many sunsets, the clouds made this strange formation, which looked like an alien invasion:
Lake Baikal is frozen for most of the winter. But during the summer months the water is almost zero degrees celsius.
Braving a dip in the big lake is supposed to have healing qualities.
We had to give it a try and certainly found it – *refreshing*: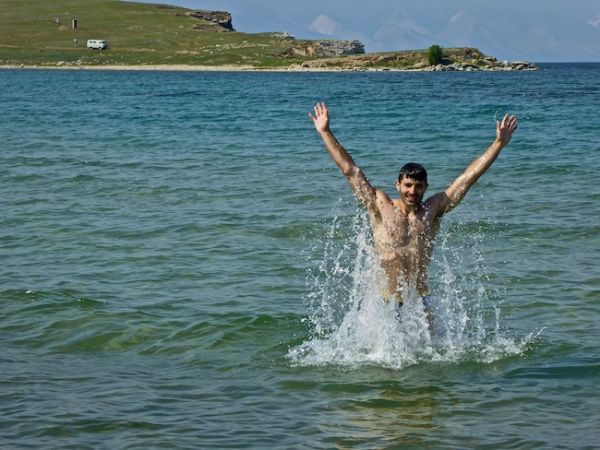 Cape Khoboi is the Northern tip of Olkhon island.
It is picturesque and therefore attracts a large number of tour groups: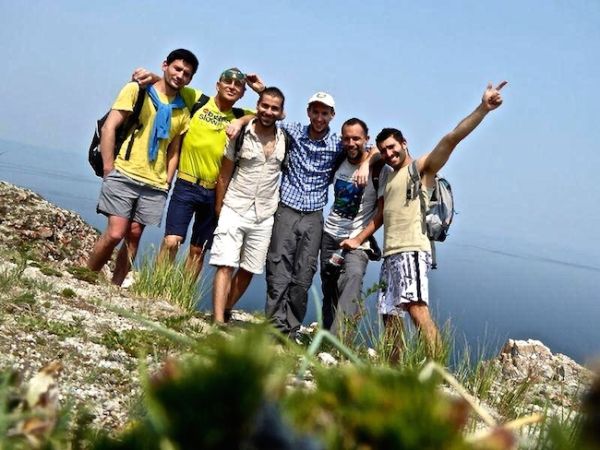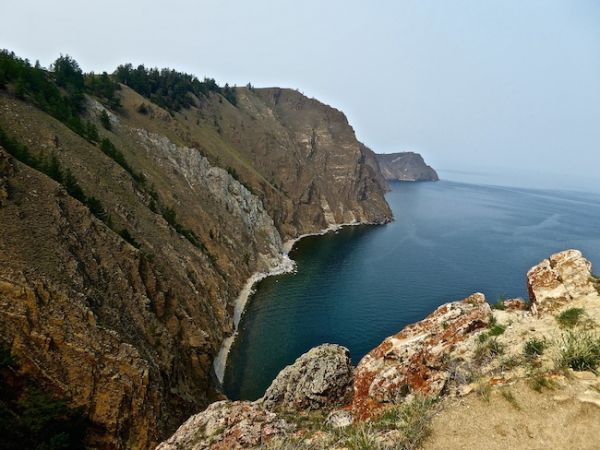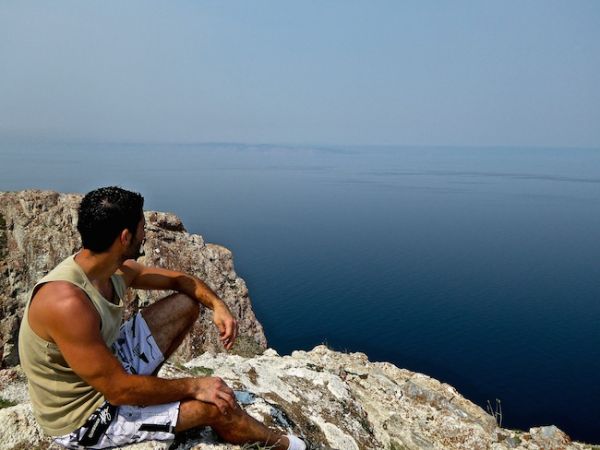 Lake Khoboi is also the ideal spot to observe the 'Nerpa seals" sunbathing: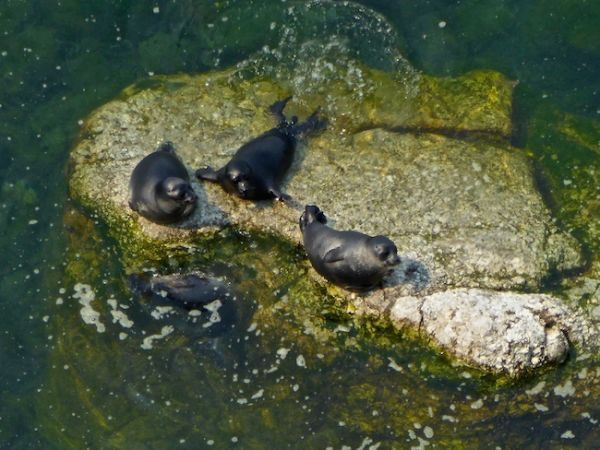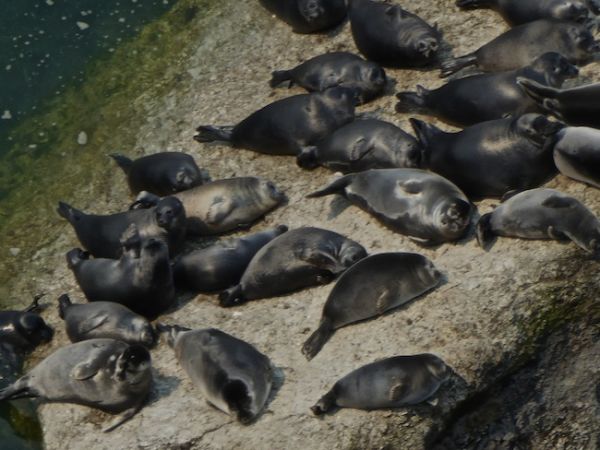 Buryat people on Lake Baikal
The Buryat people live in this part of Siberia. They are spread over this part of Siberian Russia and also throughout Northern Mongolia.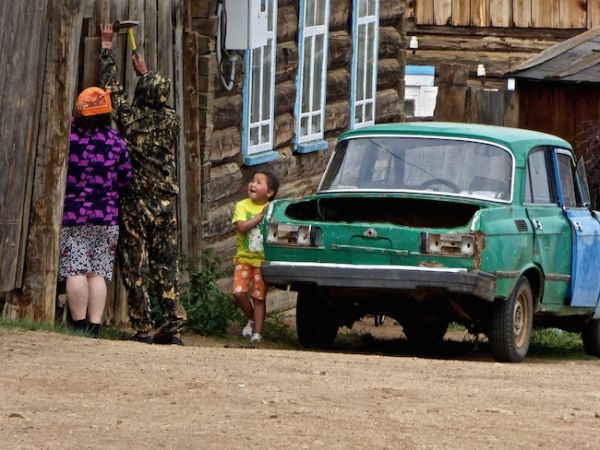 The Buryats practise Tibetan Buddhist and or shamanism.
It is a common sight in these parts to see a large colourful sacred monument (called a "sergei") where people can donate gifts to their gods for a wish. Gifts to the gods include coins, cigarettes or even body hair (no really!)
At Cape Khoboi, Sebastien took this opportunity to request a few wishes to this sergei statue: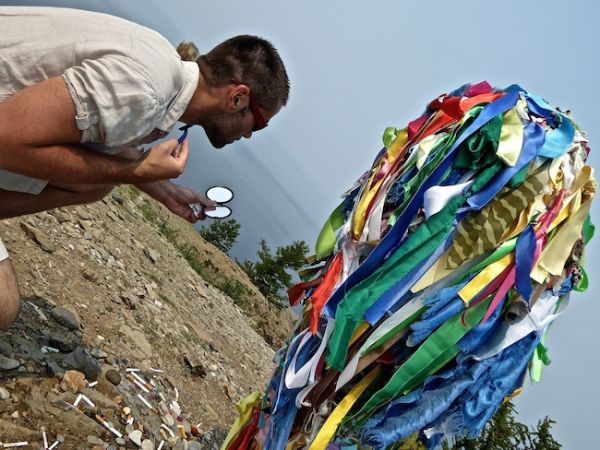 Khuzir village:
On Olkhon island we stayed at Khuzir village at the highly regarded (by Lonely Planet and Tripadvisor) Nikita's Homestead.
At Nikita's we were fortunate to see a live Russian performance:
https://www.youtube.com/watch?v=p1W13O6eX_E
Another highlight of our stay on Olkhon island was of course delving more into Russian food and taking a course on how to make vareniki (Russian / Ukrainian dumplings).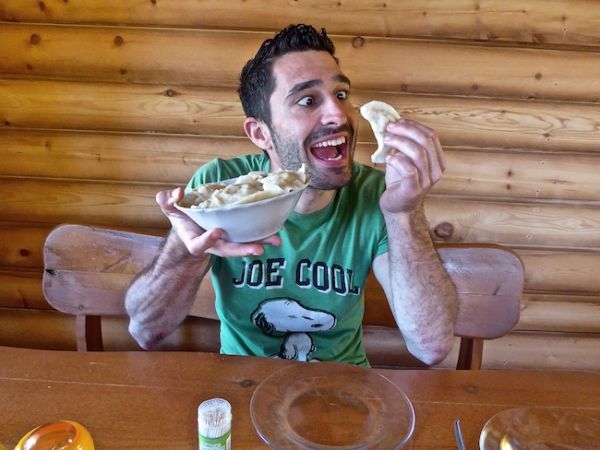 The local Russians in Khuzir village were quite friendly.
When we visited the local discobar, this youthful bunch invited us to join them to drink vodka shots with them: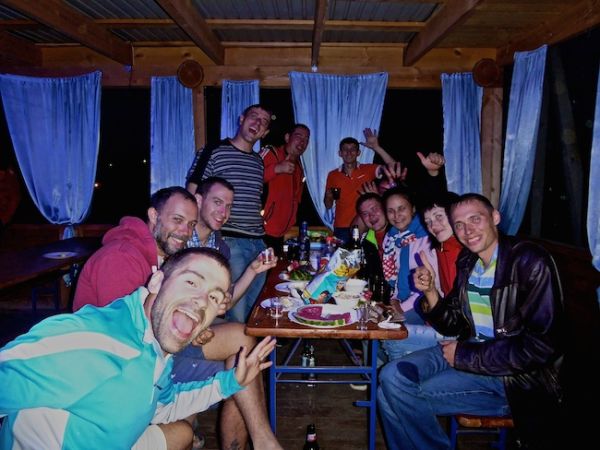 But important life lesson learnt – never try to take on a Buryat in an arm wrestling match, no matter how many vodka shots you have consumed:
https://www.youtube.com/watch?v=TEkEQBMQh98
Back on the Trans Siberian train:
After our week respite at Lake Baikal, we were back on the train aiming for Ulan Bator in Mongolia.
The train ride between Irkutsk and Ulan Ude is usually regarded as the highlight of the Trans Siberian journey.
After days of the same Siberian taiga scenery over and over, you are suddenly rewarded with a beautiful view across the Lake Baikal: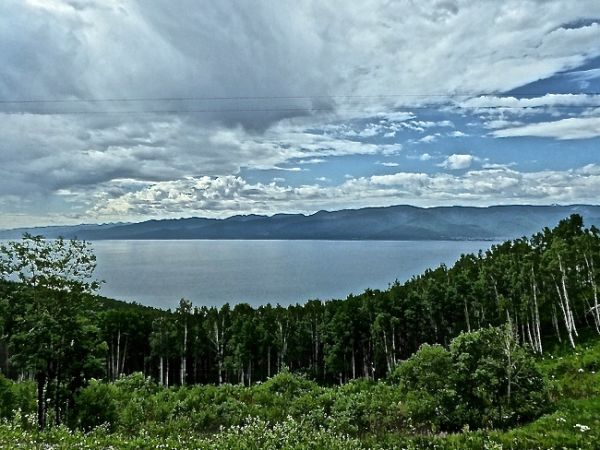 But all this time spent admiring the beautiful scenery quickly meant our food supply ran very low…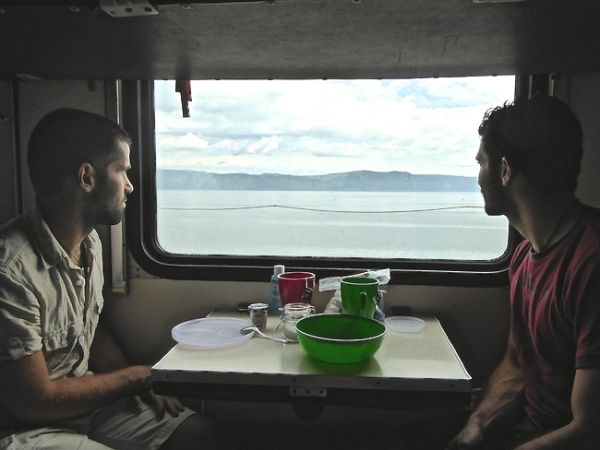 Urgent pressing action had to now be taken to feed these two hungry boys:
Purchasing and eating smoked omul on board the Trans Siberian:
Omul are freshwater fish living in Lake Baikal.
They are fished, cooked and eaten. Local babushkas in towns surrounding Lake Baikal will smoke them to then sell them to passengers on board the Trans Siberian – to the delight of these two hungry boys: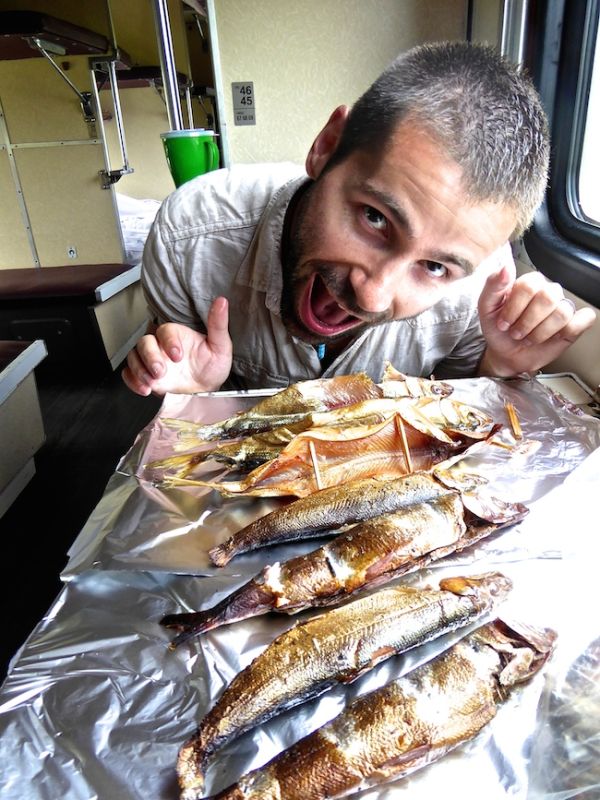 However, selling smoked omul is big business on the trains. The babushkas now need a licence to sell them, most of them don't have it.
So on our train, the only way we could get smoked omul was to hunt down the babushka on board who was selling them "illegally".
With the Russian family we befriended on board, we tracked down illegal dealing babushka and had to discreetly visit her in her carriage to purchase the smoked omul.
We then sneaked them back to our carriage to have a grand feast of smoked omul: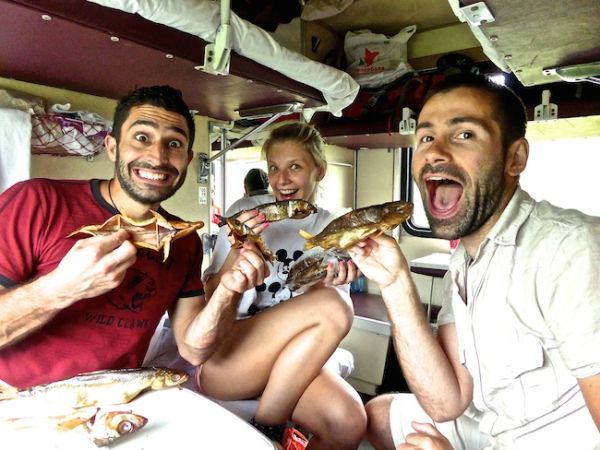 This marked the end of our trans siberian adventure through Russia. Read more in our article about whether Russia is safe for gay travellers.
The Mongolian steppe, yak milk and mutton was next.
OUR FAVOURITE TRAVEL TIPS
⭐️ TRAVEL INSURANCE — We recommend you always take out travel insurance before your next vacation. What happens if you suffer from illness, injury, theft or a cancellation? With travel insurance, you can have peace of mind and not worry. We love World Nomads travel insurance and have been using it for years. Their comprehensive coverage is second to none and their online claims process is very user friendly.
⭐️ SAFETY & SECURITY — All travelers can sometimes encounter danger when traveling. CloseCircle is your "virtual body guard" mobile app which provides security alerts and support wherever you are in the world. They have a 24/7 emergency response team monitoring their users who will contact you immediately if the SOS swipe button is activated. Support can include anything from practical advice, to free evacuation from areas with extreme weather or security risks. You can read more about CloseCircle in our article about how to stay safe whilst traveling.
⭐️ ONLINE ANONYMITY — A VPN (Virtual Private Network) is a must in many countries: it allows you to surf anonymously and maintain your privacy whilst traveling. You'll particularly need it in countries where dating apps are blocked by the government. We recommend ExpressVPN, a reliable and cost effective service which we used and loved during our travels.
⭐️ HOTELS or APARTMENTS — When we plan a trip, we always look for the best hotel deals. We love Booking.com because not only do they have a comprehensive listing of accommodation options, they also offer the best prices. Added bonus: they provide 24/7 support and free cancellation for most listings.
⭐️ SIGHTSEEING and ADVENTURES — When we travel somewhere, we like to seek out the best experiences, whether it is cooking with locals in Bangkok, hiking on a glacier in Patagonia, or going on a wildlife safari in Sri Lanka. Our favorite place to look is GetYourGuide because they have over 30,000 highly rated activities, a user-friendly booking process with free cancellation and a 24 hour customer support.
This article contains affiliate links. If you click on them, we may receive compensation which keeps our website alive and helps us bring you to more destinations.