Yala or Udawalawe for your Safari in Sri Lanka?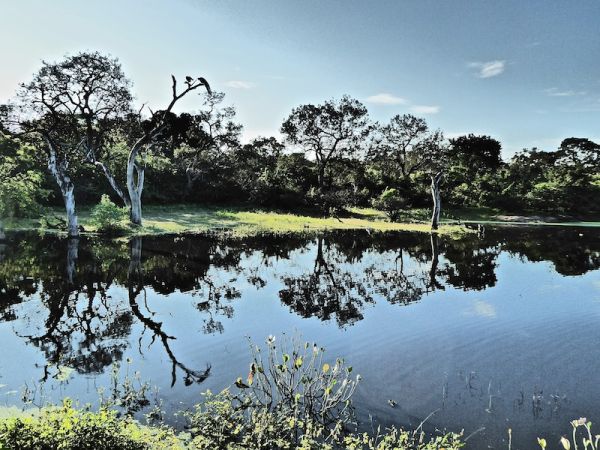 A safari is usually associated with the savannahs and national parks of East Africa. But Sri Lanka has many national parks with a variety of wildlife to rival the safaris of Kenya and Tanzania.
The most popular national parks for a safari in Sri Lanka are Yala National Park in the south east, Wilpattu in the north west and Udawalawe in the south.
We wanted to do a safari in Sri Lanka but at first found it very hard to pick the best national park. We eventually booked a 3 days safari, which included visits to both Yala and Udawalawe. We decided to share our experience of visiting these two parks to help you decide where to go.
YALA AND UDAWALAWE NATIONAL PARKS
Crowded Yala National park
Yala National Park was one of the first national parks of Sri Lanka, opened in 1938 and the most popular. It covers an area of 979 square km (378 square miles) and has a large variety of birds and 44 different types of mammals. It is one of the most famous places in the word to spot leopards in the wild.
Yala's popularity however is its downfall in our opinion as it got too crowded. It is not uncommon to see hundreds of Jeeps queuing in the park to see the animals.
Small Udawalawe
Udawalawe on the other hand is smaller, a third of the size of Yala, covering 308 square km / 119 square miles and far less busy. Nonetheless, given its smaller size, it has a greater density of animal to size ratio, particularly elephants.
COSTS OF VISITING YALA OR UDAWALAWE
If you wish to visit the parks independently, you will need to pay for your entry fees, as well as hiring a safari Jeep before hand or once you arrive at the park. In both cases, a "tracker guide" will be assigned to you,who expects a tip at then end (whether he does a good job or not).
Entry fees for Yala National Park
The park entry ticket in Yala National Park for foreigners is $15 for one day or $30 for two days. On top of that, hiring a Jeep in Yala for half a day will cost you around 4000-4,500 Sri Lankan Rupees (£20-22 / $30-34).
If you want a luxury Jeep with levelled seats, you can pay up to 6,500 rupees ($45).
Entry fees for Udawalawe National Park
In Udawalawe, the park entry fees are the same: $15 for one day or $30 for two days. However, hiring a jeep for half a day should be a bit cheaper, around 3,500 rupees ($24 / £16).
A safari Jeep will fit around 4-8 people (depending on the size of the vehicle), so when you share the cost between the number of people, it is not so expensive.
ANIMALS OF YALA AND UDAWALAWE
Yala is famous for its variety of animals and Udawalawe for its elephants. Both have leopards but Yala is more popular and crowded. With hindsight we found it much easier and more enjoyable spotting animals at Udawalawe then Yala.
#1

THE JEEPS (!)

Well ok, the jeeps were not really one of our favourites and neither are they animals.

But at Yala, this is the most common site you will see. As the most visited national park, this is its major downside: many many many jeeps everywhere.

This was not the case at Udawalawe at all, which is far less touristy.
#2

LEOPARDS

Ahhhh the leopards! The main reason why most people do a safari in Sri Lanka.

Leopard spotting is the big game at the parks. Unfortunately, leopards are very hard to spot because they are solitary and elusive mammals, hunting at night and sleeping during the day. We got very lucky though in both parks, particularly when we saw leopards playing at Udawalawe.

Yala is famous for having the highest density of leopards in the world (around 20-40) and at one point we were very lucky to see this young leopard taking a rest on a tree branch.

At Udawalawe we spent an entire afternoon almost alone watching a leopard family playing.

At Yala however, we had to fight with a whole bunch of other jeeps racing from all ends of the park for space to see the above young leopard sleeping peacefully in the tree. When you zoom out of the above photo, you get a taster of the jeep Disneyland feeling of Yala:
#3

 ELEPHANTS

We love elephants. They seem so peaceful and just want to munch as much food as possible. Yet threaten them or their young, and these 3000kg bad boys will simply flatten you!

Udawalawe is well known for its elephants because they are attracted to the Udawalawe reservoir. Yala has many waterholes and rock pools capable of containing water year-round, hence an important source of water for elephants.

There are around 250 elephants at Udawalawe compared to around 300-350 at Yala. But as a smaller park, you have better chances of seeing the elephants close up at Udawalawe compared to Yala.
#4

PEACOCKS

Both parks are a heaven for bird watchers, particularly for peacocks.

You won't get bored of peacocks at either park. They're everywhere and they don't just erect their feathers to court the peahens either – they'll do it to anyone who'll stop to notice:

The peacocks made us smile as they seem quite useless animals. They prefer to crawl on the ground rather then fly away. And if they do fly, it's only up a few metres in a tree to sit for hours making their "pia-ow" sound all day long.

Yet the peacocks and their distinctive sound adds to the beautiful and peaceful atmosphere of both parks.
SO WHO WINS: YALA OR UDAWALAWE?
We loved our safari experiences at both Yala and Udawalawe. The scenery at both, along with the wildlife we saw made them particularly memorable.
However, we preferred our safari at Udawalawe. Yala is too touristy and the large number of jeeps everywhere makes it feel crowded at times. Udawalawe is smaller and not as busy, so you are not competing with jeeps for space to spot and admire the animals.
Udawalawe has less dense vegetation then Yala, which makes it is better for spotting the animals. And, even though Udawalawe is a third of the size of Yala, the percentage of animals to space is far higher, increasing your chances of seeing more animals.
So for us, Udawalawe wins.
WHICH TOUR COMPANY FOR YOUR SAFARI
Most people (like us) will prefer let someone else arrange the safari for them. But whichever park you decide to visit, we cannot recommend enough the importance of going with a good and experienced company.
When it comes to organising your safari, you have several options. You can go on a private tour for half a day or a full day safari, and spend a night in one of the lodges near the parks. Or you can treat yourself to an overnight or two nights luxury safari experience.
#1 Luxury Safari experience
MASTER CAMPERS
Luxury Camping experience with All-inclusive options.
We recommend a 2 nights stay at least to fully enjoy Udawalawe (which is what we did).
Prices start from $356 / £247 per person All-inclusive.
Since we've published this article, we've had many readers asking us to introduce them to Master Campers. Since we love you, we've negociated an exclusive 5% discount for all our readers organising their safari with Master Campers:
We learnt that to make the most of a safari in Sri Lanka, it pays to invest in an experienced company. This is because everyone has to have one of the park's volunteer 'tracker guide" in their jeep. We found these tracker guides to be completely underwhelming, didn't speak any English and it was our guides from Master Campers who spotted the animals not the tracker guides.
We would have been disappointed if we were reliant solely on the tracker guides and now understand the value of doing a safari with a highly rated and experienced company like Master Campers.
…and it was also a welcomed change from our day to day budget backpacking (!)
#2 Half or full day private tours
FULL DAY SAFARI IN YALA   Book online
12 hour Safari in Yala National Park with a very early start (5.30am).
They pick you up from the hotel and drop you off.
Up to 6 people per booking.
FULL DAY SAFARI IN UDAWALAWE   Book online
Private tour in a safari Jeep in Udawalawe with an experienced guide.
Can take up to 5 people per booking.
#3 Where to stay near Udawalawe
GRAND UDAWALAWE SAFARI RESORT   Book online
Great pool, big rooms, delicous buffer dinner and breakfast.
They can organise a safari and arrange a visit to the elephant orphanage nearby.
Prices start from $110 / £76 a night with breakfast included.
MANSALA SAFARI RESORT   Book online
Great budget option, very comfortable with excellent breakfast and dinner.
The friendly owner will arrange a safari to Udawalawe at a very good price.
Prices start from $22 / £15 a night.
#4 Where to stay near Yala National Park
CINNAMON WILD YALA HOTEL   Book online
Located beside a crocodile and buffalo filled lake in the jungle, you feel close to nature but with the all the luxuries of a 5 star hotel.
They will also arrange a day safari for you.
Prices start from $205 / £141 a night with breakfast.
BLUE TURTLE HOTEL   Book online
Close to Yala, it has a big garden, a swimming pool and a delicious buffet dinner.
Prices start from $71 / £49 a night with breakfast.
RIVER SIDE CABANAS YALA HOTEL   Book online
Unique place to stay close to Yala, with tree house overlooking the river.
Great budget option. Prices start from $26 / £18 for a double bed with breakfast.
Our safari in Sri Lanka's national parks were one of our most memorable experiences in our travels and well worth every penny.
Watch our travel video diary of our adventures through Sri Lanka as we ate our way through this tropical island, took some beautiful train journeys and enjoyed excellent safaris and spotting blue whales at Mirissa.
Sri Lanka travel recommendations
Transportation: First, there is no need to stress about getting taxis around the capital. Uber is heavily used in Colombo airport as well as Colombo city and if you've never used it before, we give you your 1st ride for free using this link. To go to Kandy, Nuwara Elya or Ella, just take the train: the landscapes are stunning, tickets are cheap and it is an amazing adventure.
Travel insurance: Whether you go on a safari in Yala National Park, scuba diving in Unawatuna, hiking in Ella or just lay on the beach all day long in Negombo, you need travel insurance. We use World Nomads because they offer considerable coverage especially for adventure travellers. They also make it easy to make a claim as it's all done online.
Flights: Flying domestically in Sri Lanka doesn't make much sense, you're better off taking the train. For international flights, flying to Sri Lanka can be expensive, Google flights can help you find cheap fares and Momondo is our favourite website to book airfares. In addition, flights from Sri Lanka to India and The Maldives are cheap so don't miss out on the opportunity.
Hotels: Sri Lanka has a huge diversity of accommodation options. Make sure you check out our Sri Lanka content for hotel recommendations first. Tripadvisor is also a good place to start researching places to stay and activities to do. Going to the hotel in person and negotiating the price face to face will most of the time result in cheaper prices compared to what you would get online. But if like us, you're a bit of a control freak and like planning ahead, we recommend using Booking.com to find the best deals and book your accommodation online.