TERMS OF USE: There is a chance that some of the content on this page has changed since it was last updated. By reading this article, you consent to our Terms of Use and Disclaimer. Happy Travels!
DISCLOSURE: Some of our posts may contain affiliate links which we may receive a commission if you choose to book something through one of our links.
Here's our guide to doing a safari in Sri Lanka at Yala and Udawalawe National Parks, so you can decide which best suits you.
When we visited Sri Lanka, we did a safari at both Yala and Udawalawe, which are the most popular national parks in the country. The reason why we decided to explore both parks is because we just couldn't choose between one or the other. Online research led us to believe that Yala is the best park for a safari in Sri Lanka, especially for spotting leopards. However, we also found a few forums where people raved about their experiences at Udawalawe, which included spotting leopards.
Therefore, based on our experiences visiting both parks, we've put together our comparison of Yala and Udawalawe National Parks side by side, to answer a simple question: which is the best safari in Sri Lanka?
And the answer might surprise you!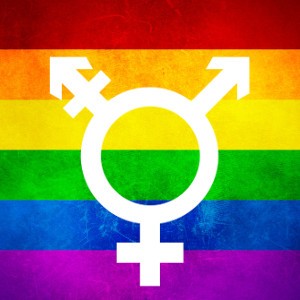 Advice for LGBTQ travellers to Sri Lanka
It is illegal to be gay in Sri Lanka! Sadly the country has insisted on retaining its archaic Colonial anti-gay laws. Whilst it's not really enforced, it is used more by corrupt policemen to harass and elicit bribes from LGBTQ locals. However, as an LGBTQ foreigner, you are treated differently to locals. The police want to avoid any problems with the Embassy and therefore leave us alone. Also, you'll have no problem getting a double bed in any of the large chain hotel brands who are accustomed to dealing with LGBTQ travellers. Having said that, even the smaller guesthouses we stayed at across the country were fine about hosting a gay couple. For more, we recommend checking out our detailed gay guide to Sri Lanka.
---
Yala vs. Udawalawe: a few facts!
Yala National Park is the most visited park in Sri Lanka and also one of the biggest in terms of size. It was the first national park created in Sri Lanka in 1938 along with Wilpattu. It covers an area of 979 square km (378 square miles) and is divided in 5 blocks. Only blocks 1 and 5 are open to tourists, with number 1 being the most popular for sightings (and the most crowded by jeeps). The other blocks cannot be accessed by the public because they are used for research and documentaries.
Udawalawe National Park is smaller, a third of the size of Yala, covering 308 square km (119 square miles). Nonetheless, given its smaller size, Udawalawe has a greater density of animal to size ratio, particularly with Sri Lankan elephants. Being a less popular safari destination than Udawalawe, it is also quieter, which makes it a more enjoyable safari experience in our opinion.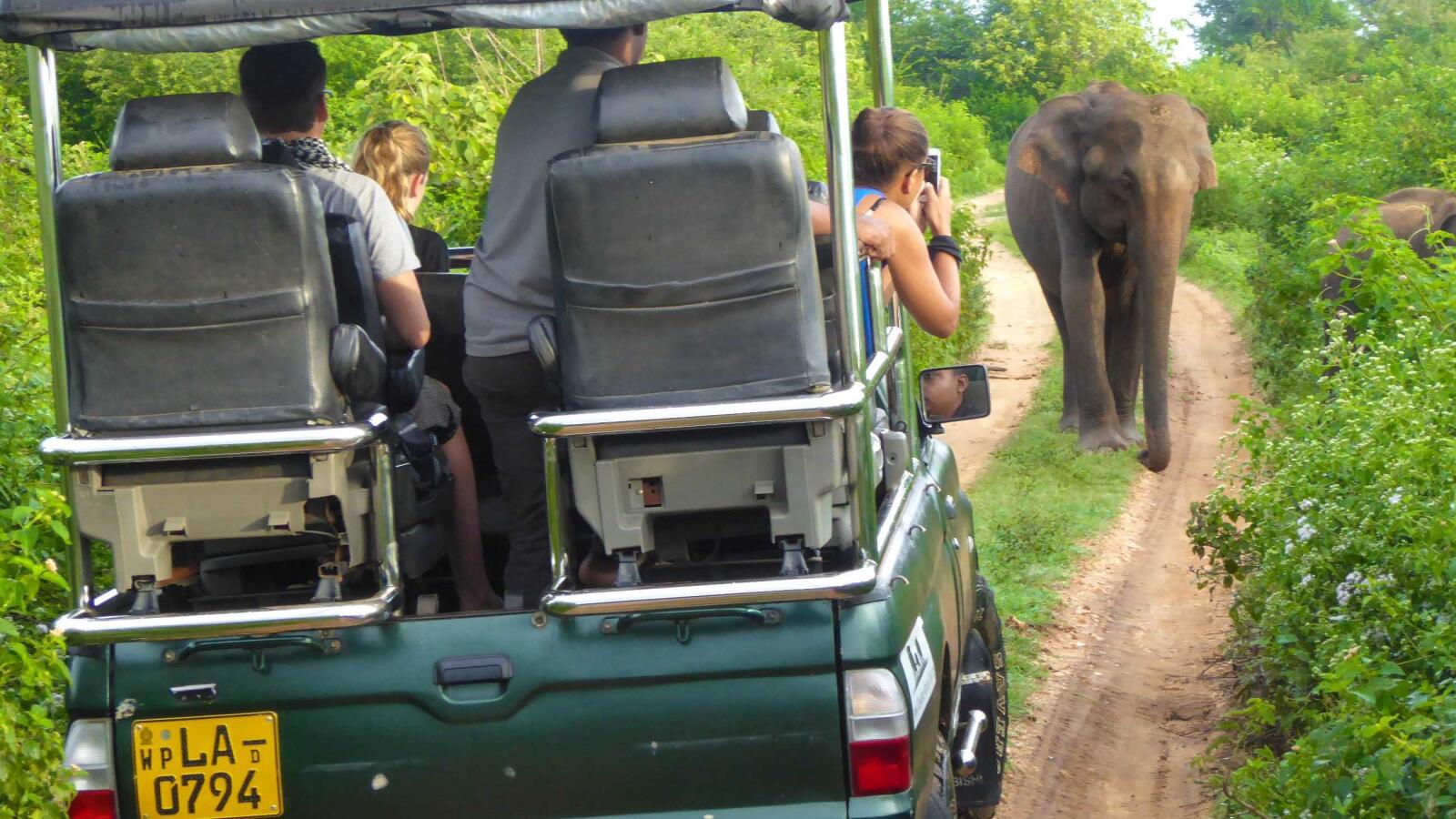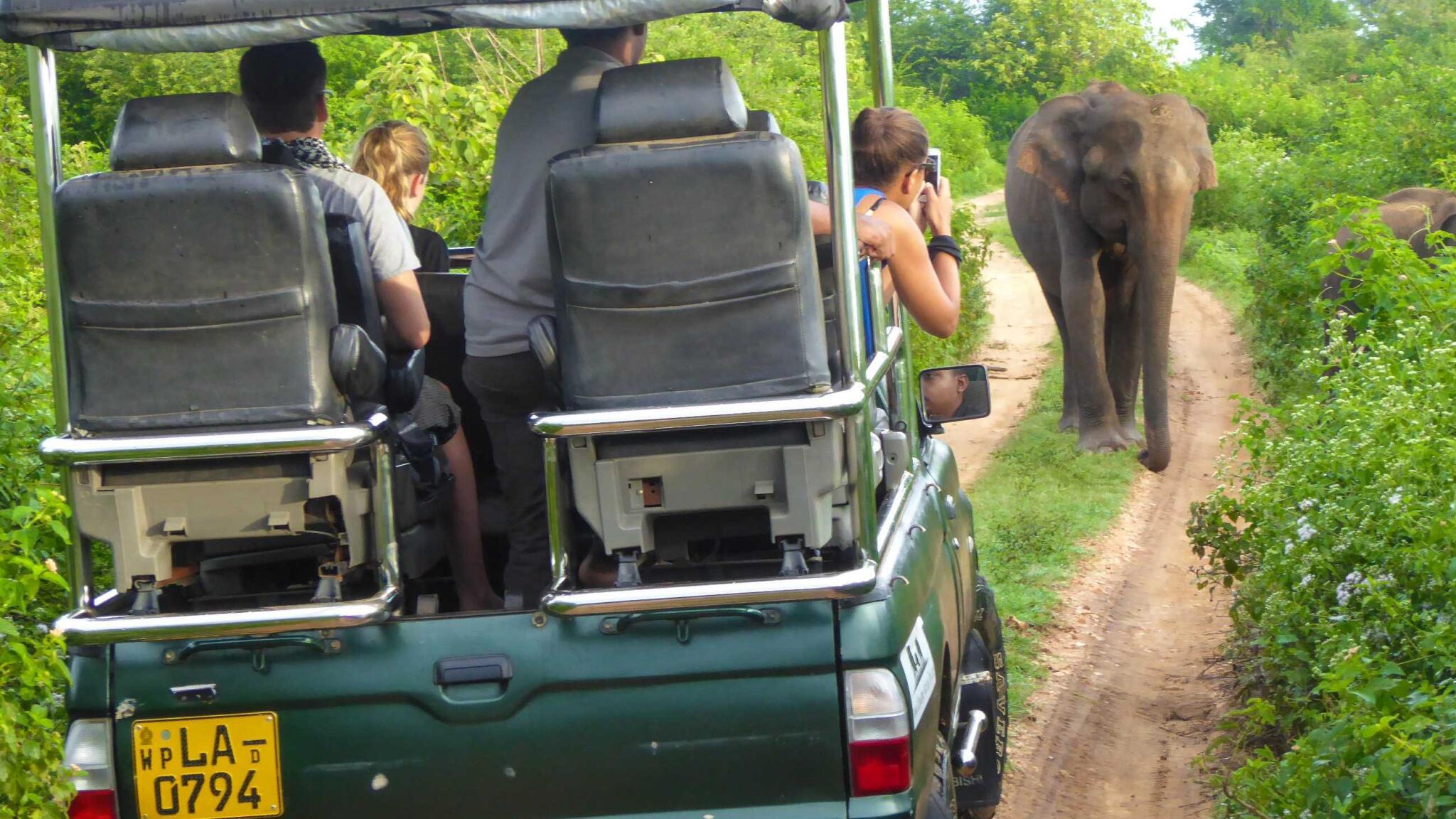 Yala vs. Udawalawe: best time to visit
Yala National Park: can be visited all year round except in September and October, when the park is closed for maintenance. All animals can be seen throughout the year with your best chances to spot wildlife at Yala during the dry season, which runs from February to September when the water levels are low, and the animals gather around the lagoons to drink.
Udawalawe National Park: does not have an "ideal" time to visit as animals at Udawalawe can be spotted at any time of the year, including leopards. The park has the biggest concentration of Asian elephants in Sri Lanka, so your probabilities to see them are very high. Udawalawe is always open for safaris even during the dry season in September / October. This is when the water levels are at the lowest and when most of the mating occurs for the Asian elephant. If you want to spot baby elephants, come from October to January during the rainy season when most births are occurring.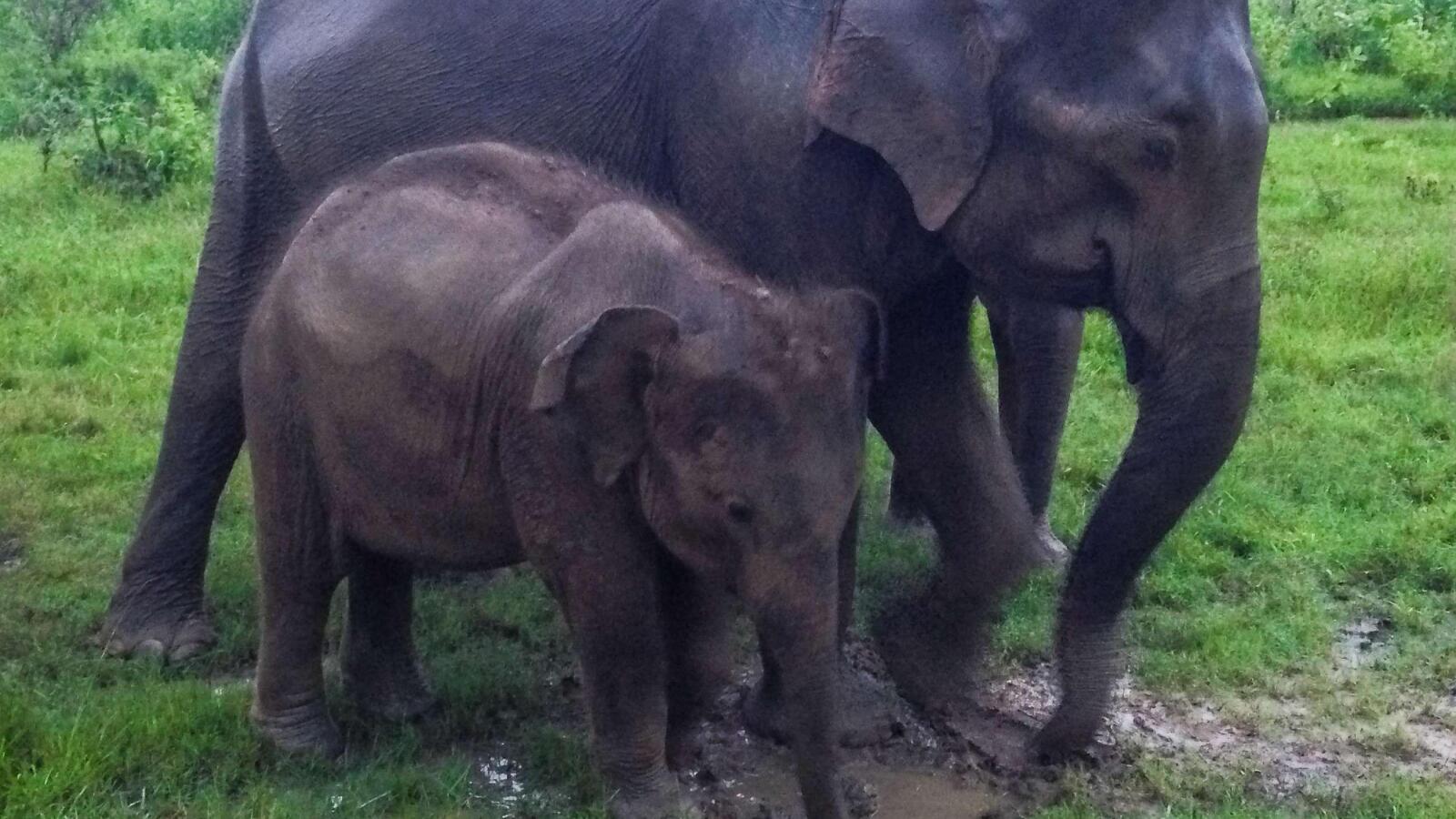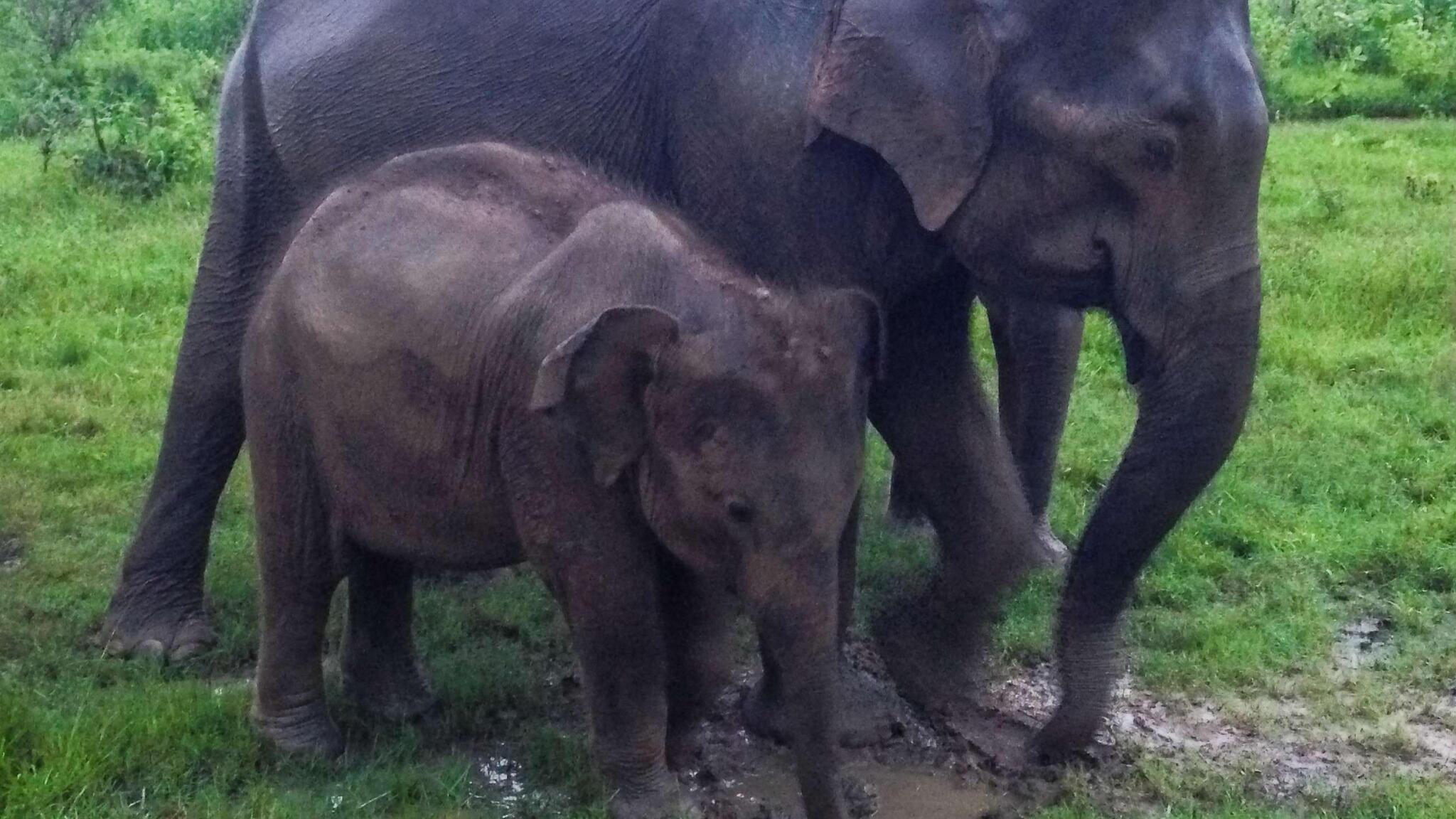 Yala vs. Udawalawe: the landscapes
Both Yala and Udawalawe have stunning landscapes, so whichever park you decide to visit for your safari, you will find the landscapes very enjoyable and unique.
Yala National Park: has a huge variety of landscapes from forests, grasslands, lagoons to sandy beaches. Block 1 which is the most visited part at Yala is mainly covered by forest and grasslands. You will also see loads of waterholes where wild water buffaloes like to bath. There are also a large number of metamorphic rocks scattered around Yala with Elephant Rock one of the most popular and Instagrammable.
Udawalawe National Park: is equally amazing as Yala, with a multitude of landscapes such as marshes (wetlands), scrublands, forests, mountainous areas and open grasslands. We found grasslands to be more abundant at Udawalawe than Yala, which gave us more opportunities to spot wildlife and make our safari more enjoyable. At the centre of the park lies the Udawalawe Reservoir, a vast body of water which is the perfect backdrop for photos.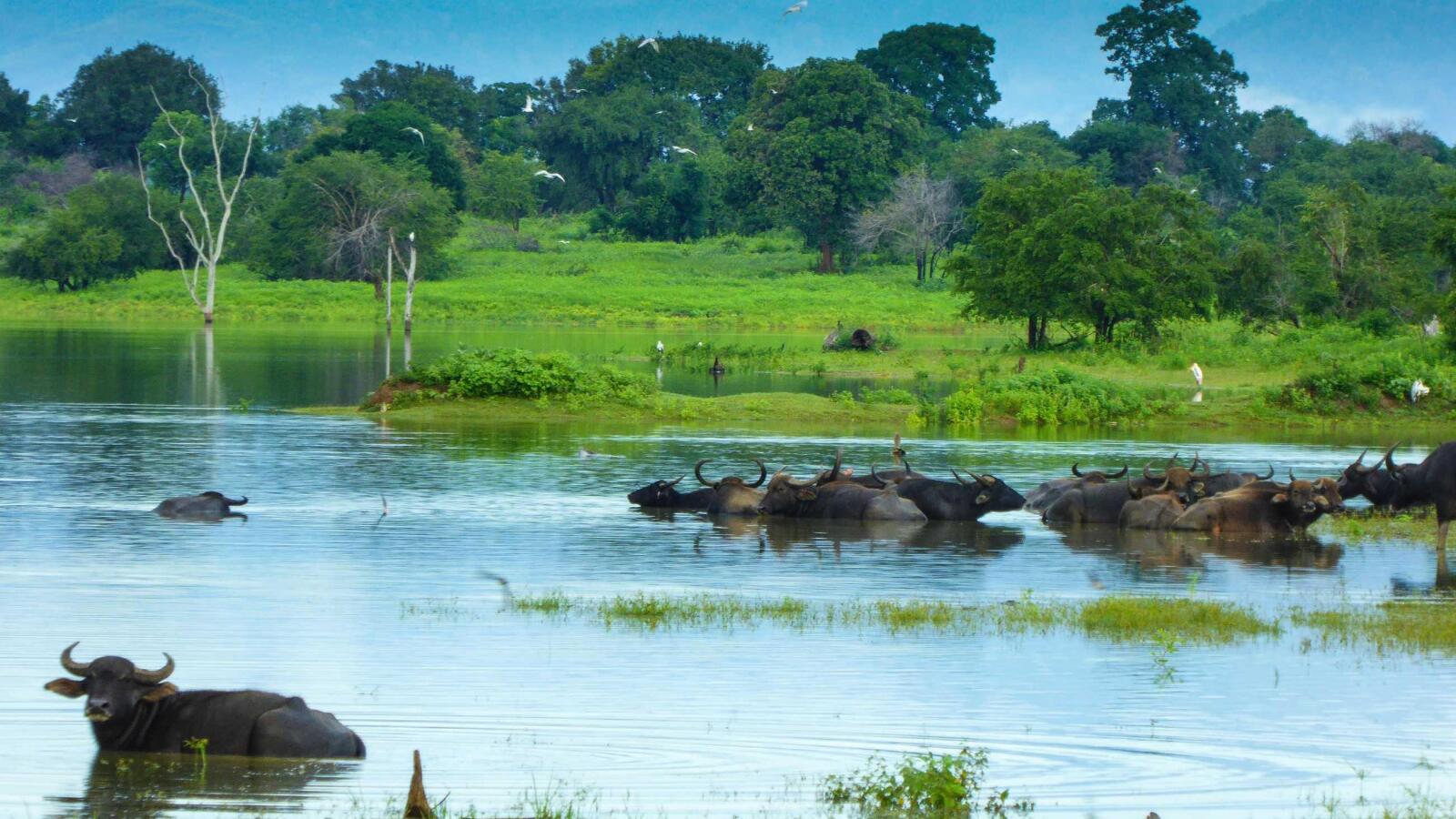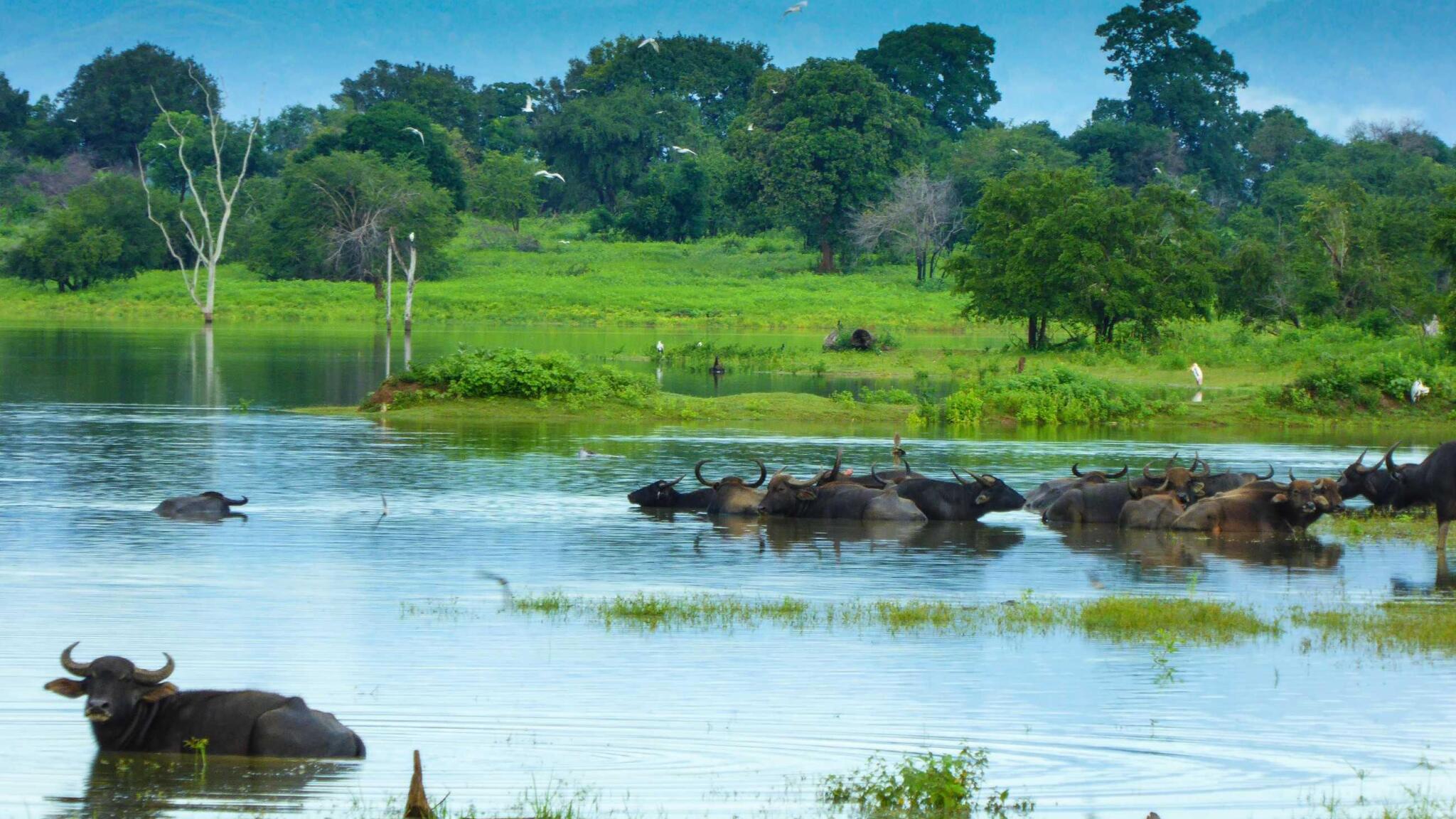 Which has the most leopards?
Yala National Park: has a higher density of Leopards compared to Udawalawe and is well known for being one of the best places in the world to spot leopards in the wild. The most popular area at Yala open to tourists is block 1, which has an estimated 25-30 leopards. However, leopard-spotting cannot be guaranteed at Yala and you should only go with the mindset that among all the amazing wildlife you will see, spotting the leopards is more like the icing on the cake. Alas, even if you see them, you will quickly be put off by the sheer number of jeeps queueing (almost climbing on top of each other) to get a good look at these elusive animals. Continue reading below about the crowds at Yala for more insight.
Udawalawe National Park: has fewer leopards, it's a fact. The population is around 10-12, so the chances of spotting them are quite rare. We were extremely lucky to be able to watch two cute young leopards playing with their mother for about 45 minutes at Udawalawe National Park. It was just us and them, and no other jeeps! We were told this particular family of leopards at Udawalawe had grown used to the jeeps so were not shy to make an appearance for us. However, this experience is probably more the exception than the rule. Nonetheless, there is so much wildlife to see at Udawalawe, that we would have found the experience amazing even without spotting the leopards.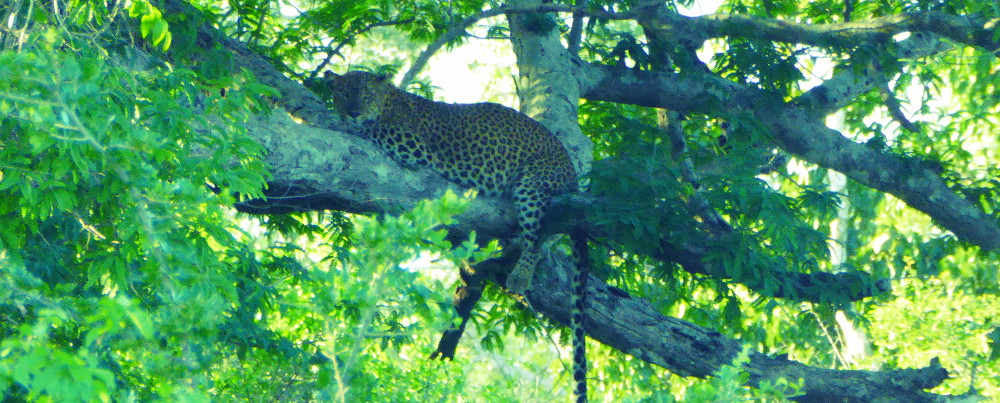 Yala or Udawalawe: the wildlife
Yala National Park: is famous for its population of leopards, but sightings are not so frequent, so make sure you don't plan your safari just on this. Yala boasts a high biodiversity of wildlife, including 44 species of mammals, 215 kinds of birds and many reptiles. During our safari at Yala, we spotted the beautiful red-spotted deers, a dozen of crocodiles, serpents, water buffaloes and many birds. And, we were fortunate enough to spot 2 leopards resting on a tree branch.
Udawalawe National Park: is well known for its Sri Lankan elephant population because they are attracted to the Udawalawe reservoir, an important source of water for them. There are around 500-700 elephants at Udawalawe, so your chances of spotting this beautiful creature on a safari are close to 100%! Udawalawe is also famous for its rich diversity of species, which includes 33 reptiles, 184 birds, 43 mammals and 135 species of butterflies. Udawalawe also has some leopards (as explained above). During our safari at Udawalawe, we saw lots of spotted deer, water buffalos, crocodiles, wild boars, and peacocks.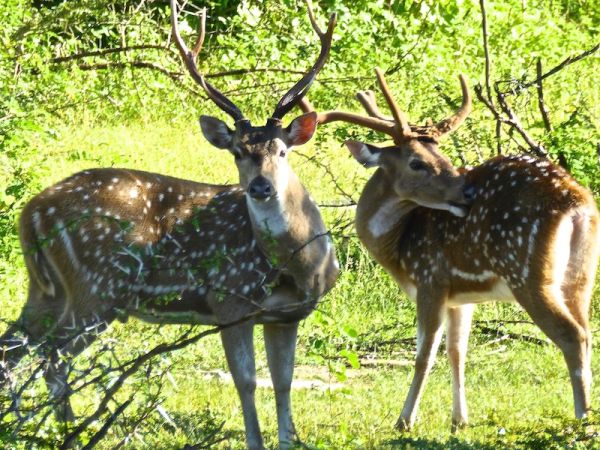 Yala or Udawalawe: the crowds
This is probably the most decisive argument when deciding whether to go to Udawalawe or Yala National Park.
Yala National Park: its popularity is also its downfall. Yes, your chances to spot leopards are higher than anywhere else in the world but in our opinion, Yala gets so crowded, that it completely ruins the experience. It is not uncommon to see hundreds of jeeps queuing in the park to see the animals. All the drivers communicate with each other via walkie-talkies, so if a leopard is spotted, within minutes you'll see a colossal migration of jeeps gathering to see spot the animal. Trying to feel the connection with nature in this context is quite a challenge! Make sure you have a good pair of binoculars to hand so that you can clearly see the leopard(s).
Udawalawe National Park: is far less crowded than Yala, which completely changes the experience, making Udawalawe a more satisfying safari. When we were there, we barely saw more than one or two jeeps. Whenever we spotted animals, we were by ourselves and felt so immersed and captivated by the moment. At one point, a small group of elephants with 2 babies crossed the path just in front of our jeep. They were so close, we could almost touch them. They stayed there for around 20 minutes, just eating and socialising with each other. This was one of the most magical moments of our safari at Udawalawe.
Yala or Udawalawe: which is best?
Udawalawe is in our opinion the best safari in Sri Lanka because it provides a truly gratifying experience. You can get very close to animals, particularly the elephants, and you're never bothered by other jeeps and tourists. Whilst your chances of spotting leopards at Udawalawe are less than at Yala, there is nonetheless a healthy leopard population in Udawalawe that sightings do happen, for example when we saw the two cubs playing. You're also almost guaranteed to spot Sri Lankan elephants as well as red-spotted deers, wild water buffalo, sloth bears, crocodiles, monkeys and many different species of birds.
If you have children, Udawalawe is a more child-friendly safari because they get to see the animals close up, especially the elephants. When your only goal is to spot leopards, you will have to wait and be patient, which can get tedious and boring for children. And even if you do manage to spot leopards, they might be quite far away, so binoculars are a necessity.
Can I visit both Yala and Udawalawe in one safari?
Yes, you sure can!
If seeing leopards is a must for you, and you feel Yala will increase your chances of spotting them, there is the possibility of organising a safari that combines both Yala and Udawalawe National Parks.
You will get the best of both worlds as you explore 2 different National Parks and increase your chances of spotting leopards, bears , Elephants and many others.
Where to stay
Whichever park you decide to visit, we cannot recommend enough the importance of going with a reputable and experienced company. You should consider 2 nights as the minimum in order to maximise your animal sightings and to get the most out of your safari. In our opinion, the best option is to stay 2 nights in a luxury safari camp, or if your budget does not allow for this, stay in a hotel nearby and book full-day tours from there.
In Udawalawe, we stayed 2 nights in a luxury camp safari like this. It was the best decision we've ever made! From the moment they picked us up, till they dropped us off in Colombo, we were treated like royalty and had the most amazing time with our guide Roy. Their all-inclusive package starts from $325 per person and includes a luxury tent with private bathroom, lunch, 5 course dinners, soft drinks, wine, transportation to/from the parks, a driver and an awesome guide.
Located within a 10-minute drive from Udawalawe National Park and the Elephant Transit home (an orphanage for Sri Lankan elephants). This is the best hotel close to Udawalawe, with an outdoor swimming pool, spacious rooms with views of the surrounding nature. The in-house restaurant serves delectable local and international dishes. The hotel is set in a quiet environment and the staff are extremely friendly.
The location is right in the middle of Yala National Park with a view of the reservoir where you can see water buffaloes chilling and crocodiles resting. The rooms are luxurious jungle chalets and there is a beautiful pool with native trees for shade. The buffet breakfast and dinner are fantastic. The chef is full of charisma and the staff are very friendly. Make sure you take a full board offer to enjoy the place to its fullest. The absolute icing on the cake is the rooftop bar where you can enjoy sunset cocktails with a view of the beach, the jungle and the tropical storm in the distance.
Charming lodge located 10 minutes away from Udawalawe. The rooms are basic, but comfortable with a private bathroom. The hospitality is what makes Mansala Safari Resort so special. The owner often cooks for its guests and offers day safaris at a very good price. Prices for a room with a double bed start from $22/£15 a night.
Have you ever stayed in a tree house? If not, now is your chance! River Side Cabana Hotel is a very unique lodge close to Yala National Park, with a beautiful tree house overlooking the river. The rooms are spacious and each have a fan and private bathroom. Hammocks are dotted around the property to chill in, and in the morning you can watch the monkeys playing in the trees. This is a great budget option for solo travellers and couples. Prices start from $15/£12 for a room with double bed and breakfast.
Visiting the parks independently
We strongly recommend booking a private tour with an English speaking guide to maximise your safari experience. The cost is not that much higher when you share this between 2 or 3 people. If you wish to visit the parks independently, you will need to pay for the National Park entry fees yourself. In addition, you will need to hire a safari jeep when you arrive at the park. At this point, a driver (with very limited English) is assigned to you, who expects a tip at the end whether he does a good job or not.
Udawalawe National Park entry fee is $15/£11.50 for one day or $30/£23 for two days. Hiring a jeep should cost around $24/£16 for half a day and $45/£30 for the full day. This does not include a guide, only a driver with very limited English. A safari jeep will fit around 4-8 people (depending on the size of the vehicle), so when you share the cost, it's not that expensive.
Udawalawe private tour
A private tour to Udawalawe is cheaper than Yala with prices starting at $33 person for half a day. This includes hotel pickup and drop-off within 5km of the park entrance gate, a private safari jeep and an English speaking guide.
Yala National park entry fee for foreigners is $15/£11.50 for one day or $30/£23 for two days. Add to that the cost of hiring a jeep for half a day which is around $30-34/£20-22. For a full day, the cost is around $55-$60/£40-£45. If you want a luxury jeep with levelled seats, you can pay up to $100.
Yala private tour
A half day tour of Yala National Park starts at $40 per person. This includes hotel pickup and drop-off, a private safari jeep and an English speaking guide.
How to get there?
If you decide to stay in a safari camp as we recommended above, transport will be arranged for you. If you stay in one of the lodges, you will need to organise your own transportation. There are several options to get from anywhere in Sri Lanka to Yala and Udawalawe. Use the tool below to plan your travel and transportation:
---
Like this post? Pin it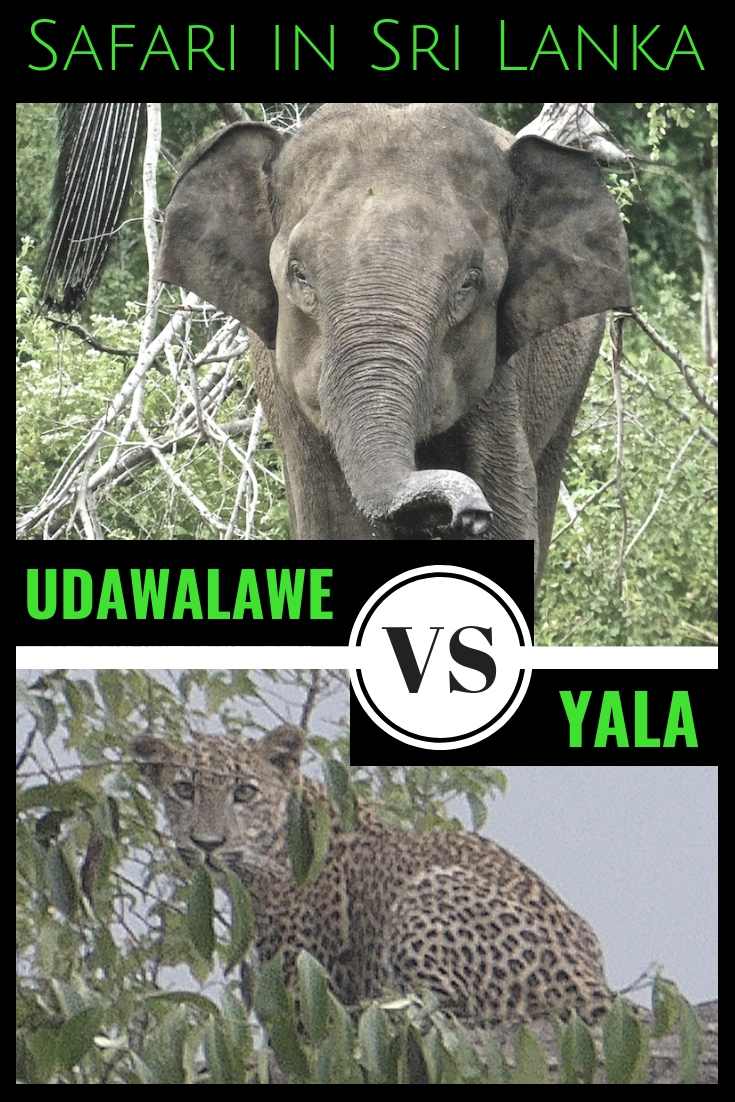 Happy travels are safe travels
We recommend you always take out a reputable travel insurance before your next vacation. What happens if you suffer from illness, injury, theft, or a cancellation? Many travelers forget about it and regret it when something happens. Better to pay a small price and have the peace of mind and not worry.