Serving you Nomadic Boys Lara Croft realness…tight tank-top, cargo shorts, combat boots, black fingerless gloves, teeny backpack…(basically just another one of our Pride outfits)…
Angkor Wat is the reason why most people visit Siem Reap. This ancient UNESCO listed religious complex dates back to the 1100s and is regarded as one of the seven wonders of the world. It's a massive circuit of really impressive temples in the middle of a jungle where nature has taken over. The Ta Prohm Temple is the most recognisable thanks to Angelina Jolie sashaying her way through it as that famous video game movie character back in 2001, earning it the nickname the "Tomb Raider Temple".
Siem Reap is the base for visiting Angkor Wat. We stayed here for 1 week to allow us ample time to explore the magnificent temples as well as spend some time discovering the city and the gay hangouts. It's super touristic, international with plenty of restaurants, hotels and even a small and fun gay scene based around the aptly named Pub Street.
In our gay travel guide to Siem Reap, we set out practical tips for LGBTQ travellers based on our experience, including the most gay friendly hotels to stay, bar/clubs to check out, inspiration for things to do including Angkor Wat, and more.
Siem Reap gay area
Siem Reap doesn't have a defined gay neighborhood. Instead, the main gay hangouts and hotels are spaced out in and around the city centre.
We always started our evening in the touristic area called "Pub Street" because this is where the best restaurants can be found (as well as all the souvenir shops and markets for us to top up our Lara Croft inspired outfits)…
In terms of gay bars/clubs in Siem Reap, there are 3 to check out. The most central are Barcode and the Miss Wong Cocktail Bar both located in and around the Pub Street area. Further afield, around 15 minutes walk southeast from Pub Street is DreamBoys.
The main "gay sauna" of Siem Reap is provided courtesy of the Men's Resort located around 5-10 minutes' tuk-tuk ride north from Pub Street (or a 25-minute walk). See below for more detailed information about each of these places.
Gay Hotels in Siem Reap
When it comes to welcoming LGBTQ travellers, you're sorted in Siem Reap. Not only it is a super touristic, tolerant and international city but the country as a whole is one of the most gay friendly countries in Asia. Plenty of LGBTQ travellers visit hotels in Siem Reap on a daily basis without any issues.
We felt welcomed as a gay couple in the hotels we tried during our visit in Siem Reap. No awkwardness from anyone. Booking a double bed certainly didn't raise any eyebrows. In fact, Siem Reap has become so gay that a handful of hotels catering solely to LGBTQ travellers have recently opened. We've set out some of the best ones right here:
01
The Privilege Floor by Lotus Blanc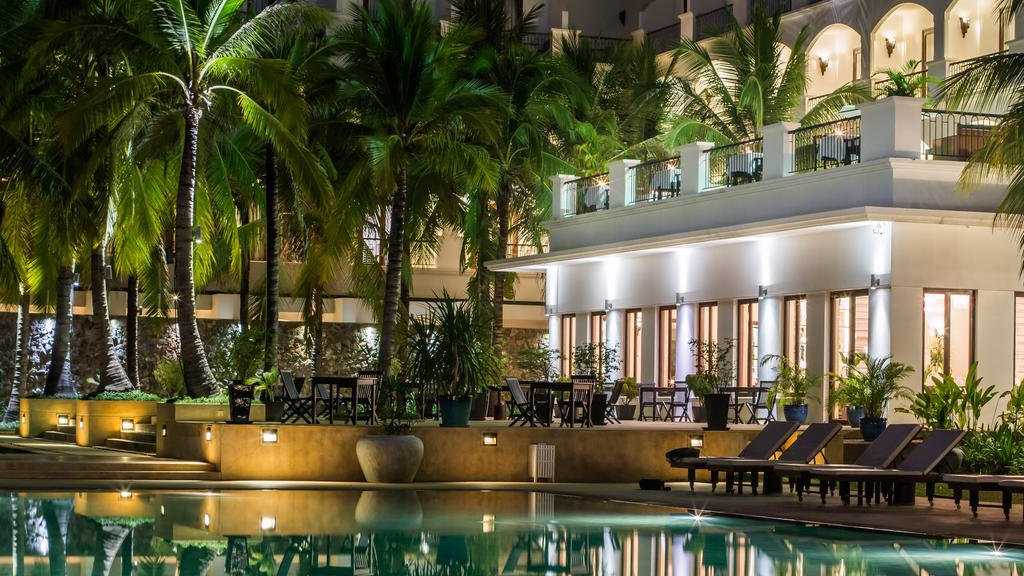 Why we love it
---
Luxurious boutique hotel in Siem Reap
Stay in one of 23 immaculate and spacious rooms
Butler and chauffeur service available
Large 25-metre pool surrounded by coconut trees
We both agreed that if Lara Croft got hitched, this is where she'd stay with her beau to celebrate. She's a classy girl after all, as well as a smart one… This is one pretty impressive splurge for a romantic getaway.
The Privilege Floor in Lotus Blanc is our top pick for gay couples looking for somewhere special to stay in Siem Reap. It is set on the first floor of the super-posh Lotus Blanc Resort made up of only 23 rooms and a classy restaurant: the Damnak Lounge.
The decor is inspired by turn of the century colonial French Architecture with minimalist design and partly wood-panelled corridors.
You can book one of their rooms, but we recommend trying out their comprehensive holiday packages. For example, the Privilege Landmark Package includes a round-trip airport transfer, 24-hour check-in and all-day breakfast. More extravagant is the Suite Package which also comes with a private 24-hour chauffeur, tour guide, two hours of unlimited cocktails, a complimentary minibar and free laundry – a blessing as it's hot and humid here and, believe me, you will be changing outfits frequently!
The 25-metre pool is the perfect spot to lounge in when you're templed-out. Temple fatigue here is a thing – usually caused by waking up at the crack of dawn two days straight trying to get your perfect sunrise shot… The pool is surrounded by coconut trees with hammocks strung up in between them. It's lush! They also have a gym, spa and an excellent inhouse restaurant, the Damnak Lounge serving delicious fusion Khmer food.
Gay bars and clubs in Siem Reap
The gay scene of Siem Reap is small with places quickly shutting down and reopening. Thankfully there is always a handful of gay hangouts in Siem Reap to check out. With the help of our local friends based in Siem Reap we strive to always keep this information as updated. These are the main gay bars and clubs to check out in Siem Reap:
Gay spa and sauna in Siem Reap
There aren't any official gay saunas in Siem Reap. However, there are a few places to check out for some hanky panky, particularly at the cruisy Men's Resort:
The gay sauna inside Men's Resort is your best bet if you're seeking out a gay sauna in Siem Reap. Whilst it's free for guests to use, locals and guests are allowed to enter on a $5 day pass. As it's the only safe gay cruising spot in the city, it gets pretty popular with locals. It's open only from 5-11pm and located north of Pub Street, roughly 25 minutes walk or a 5-10 minute tuk-tuk ride,
Sokkhak is a gay friendly spa in the Pub Street area, a tranquil haven – Sokkhak is the Sandskrit word for tranquillity. This is not a place you'd come to cruise other guys, more a place to chill, relax and get in a few treatments. It is located at Pokombo Avenue along the Siem Reap riverside, 50 metres (164ft) before the Preah Prum Rath Pagoda. It is open every day from 10am until 11pm.
Gay Pride and events in Siem Reap
There are two main events in Siem Reap that draw in the gay crowds – Songkran in April and Pride in May:
Songkran (April)
Whilst not an official gay event, we mention it because around this time, the entire country goes crazy! Songkran is the Buddhist New Year and is one of the biggest public holidays in Cambodia. The tradition is to throw water (also talcum powder for good measure!) on each other to symbolise the washing away of bad spirits before the new year starts. Cue: cute hunky gay locals clad in speedos parading the streets Siem Reap waiting to catch your eye… We were here during Songkran and it was raucous(!) – see photo below.
The Siem Reap Pride takes place in early May. It's a 3 day festival where the gay scene of the city unites to host a variety of different events – for example an exciting opening party at Barcode, cocktail parties at Miss Wong and pool parties at the Rambutan Resort. The festival also includes events like the "Gay-mazing Tuk Tuk Race" and a morning "Fabulous Flow Yoga" event.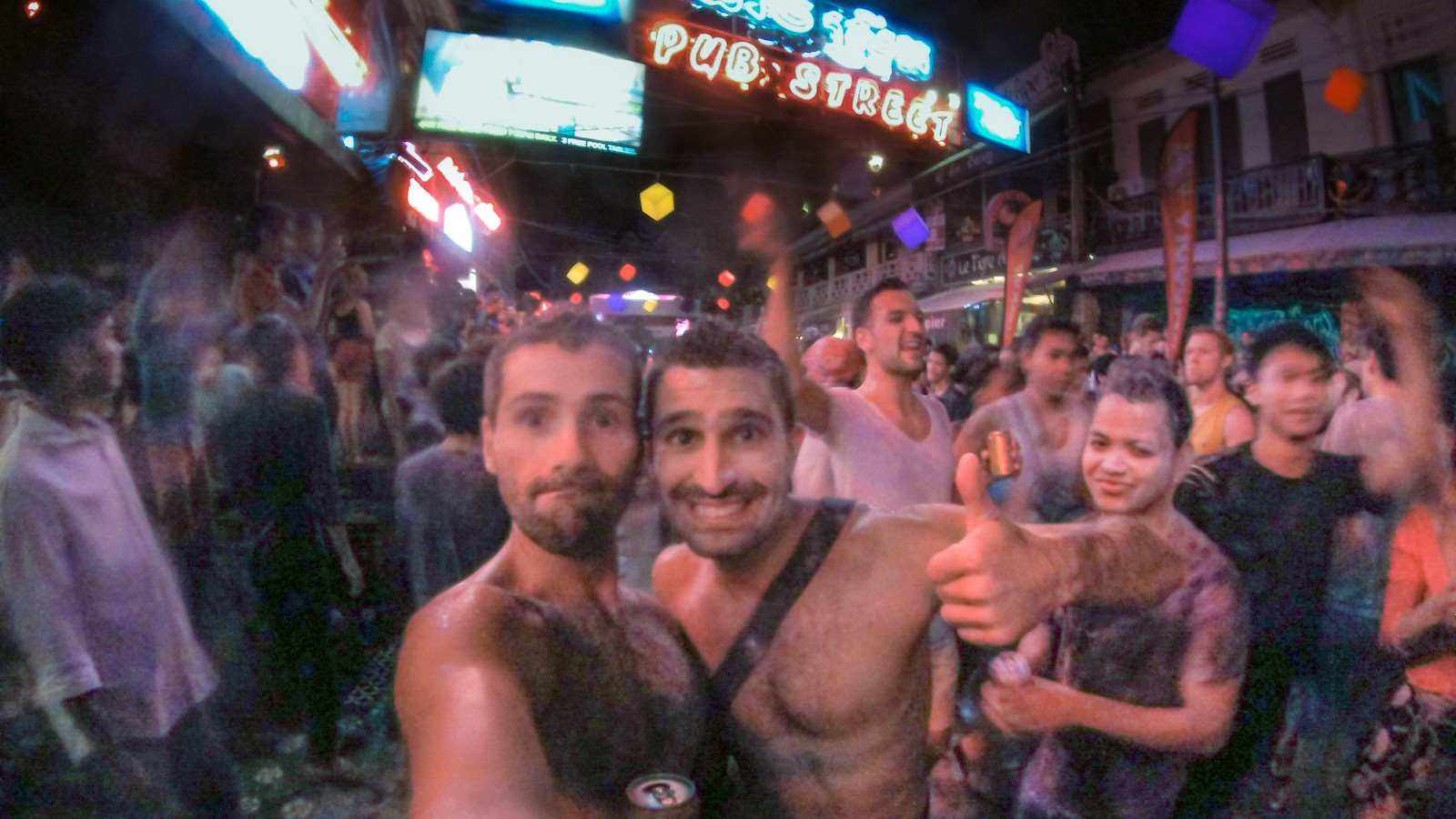 Gay friendly restaurants in Siem Reap
BUGS cafe…enough said! The most unique restaurant we've ever been to. The Siem Reap foodie scene will forever remind us of this. The Pub Street area also has plenty of top-notch and highly rated restaurants to try out. We've set out a few of our favourites below:
Top things to do in Siem Reap
It's all about Angkor Wat. That's the main reason most come to Siem Reap – and for good reason. It's pretty breathtaking! Amongst all your temple activities, we highly highly recommend making the time to watch the Phare Circus – we were left spellbound with tears in our eyes by the incredible talents of these young Cambodians! Here is our summary of some of our favourite things to do in and around Siem Reap to help inspire you with your travel planning:
Plan your trip
Gay map of Siem Reap
Here's our gay map of Siem Reap showing you where to find all the gay bars, clubs, hotels and sightseeing highlights we've mentioned in this post. Use it to plan your own amazing gay trip to Siem Reap!