TERMS OF USE: There is a chance that some of the content on this page has changed since it was last updated. By reading this article, you consent to our Terms of Use and Disclaimer. Happy Travels!
DISCLOSURE: Some of our posts may contain affiliate links which we may receive a commission if you choose to book something through one of our links.
Our roundup of the top male-only clothing optional resorts in Gran Canaria, including gay bungalows to rent and all inclusive gay hotels.
Who could possibly say no to a travel destination that is filled to the brim with attractions that specifically cater to gay boys who love to play?!
In Gran Canaria, exciting adventures and gorgeous scenery await around every corner, which is why we find ourselves continually crawling back year after year. We just can't stay away! From the hot gay beaches to the always popping (and I mean, truly, it is popping off 24/7) Yumbo Centre…
The mouth-watering, exquisite cuisine and the thrilling gay bars that somehow transform into glittering, fantastic nightclubs at the stroke of midnight à la Cinderella… The year-long, seemingly endless stream of pride events and the countless outdoor activities… And that's not even to mention the fabulous range of hotels offered to gay travelers!
The fact of the matter is that Gran Canaria is an absolute dream for any gay man who is searching for his perfect island getaway vacation, and dear lord, I'm ready to book a trip right now! If only… At the very least, let me paint you a picture of what my fantasy stay would look like as I describe our top picks for the best gay hotels and resort stays that Gran Canaria provides across all budgets and all desires (wink, wink)!
Be sure to also check out our detailed gay guide to Gran Canaria for the latest info of the island's gay scene and also read why we rate Spain as one of the gayest countries in the world.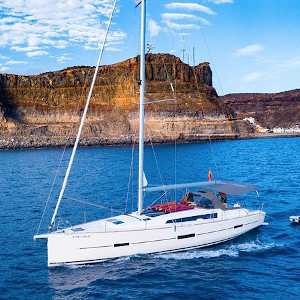 Must do in Gran Canaria: gay sailing!
Grab a group of friends and book this gay (clothing-optional!) sailing excursion. The very handsome Captain Juanvi takes you sailing around the south of Gran Canaria to the remote Gui-Gui beach. It's incredible because you have the entire beach all to yourself as it's hard to reach on foot so no one comes here unless by boat. The excursion includes unlimited drinks, lunch and hotel pick up.
This is definitely our top pick for a day trip outing in Gran Canaria!
01
Paso Chico Gay Bungalows
gay male-only and clothing-optional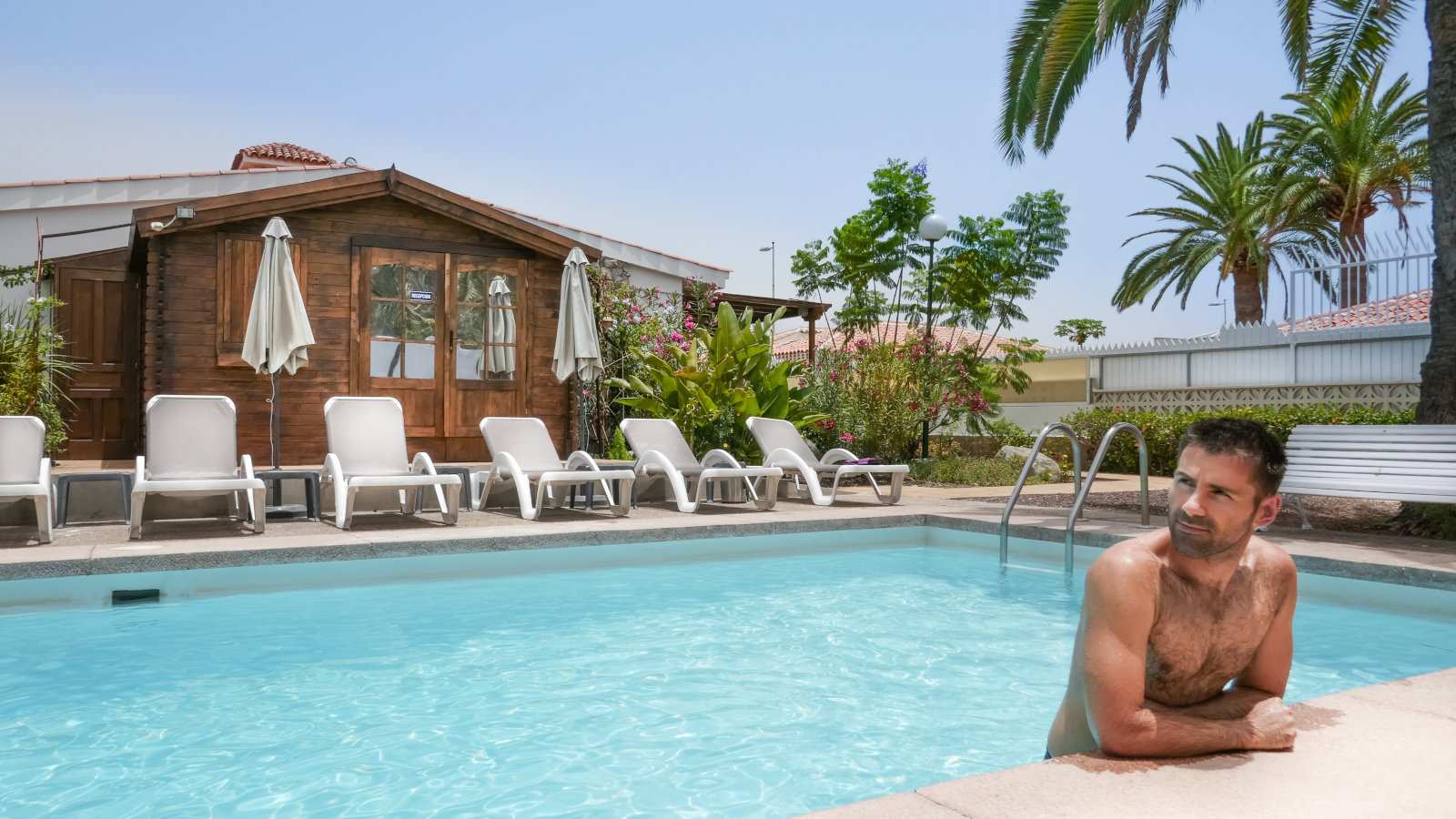 Why we love it
---
Male only, clothing optional
Perfect for a large group of friends
Location, location, location: opposite Yumbo!
Private, secluded area with pool + garden
You might find yourself asking, "What makes the Paso Chico Gay Bungalows such an oasis?" I have two answers for you: adult-only and gay-men-only.
But perhaps the cherry on top of this already delectable treat is their clothing optional policy. Everyone is free to romp around the property however they please, and it's incredibly comfortable!
The staff don't hover or linger and the fences are high, so you and the boys can have an incredibly secluded, private stay. Essentially, Gay Paso Chico is the perfect place to refine your tan lines and enjoy some lengthy skinny dipping sessions in a luxurious swimming pool.
When Seby and I weren't living our best life at the resort, we were skipping over to the Yumbo Centre. Yes… Allow me to repeat myself… The bungalows are right across the street from the hub of gay activity in Gran Canaria, which means you can relax throughout the day and then party the night away before sneaking some boys over to the pool for a late-night rendezvous! However, if you find yourself tiring of the pool at any point, you can also make the quick 25-minute walk to Kiosk #7, AKA Gran Canaria's gay beach. The possibilities are endless!
And for anyone who is more of a homebody, the bungalows themselves are just lovely! Each of the six bungalows has its own kitchen and living space as well as a bedroom with an ensuite, all sporting a modern aesthetic with plenty of gay decor. Also, did I mention the terrace? It's all too easy to have a romantic evening when you can have dinner with a view!
Gay Paso Chico offers a little bit for everyone and is inexpensive without being cheap, which is why it is one of our all-time favourite places to stay in Gran Canaria.
DON'T MISS OUT!
Join our newsletter
Subscribe now to receive in-depth FREE travel guides, along with inspiring stories, savvy planning tips, and exclusive discounts on gay tours.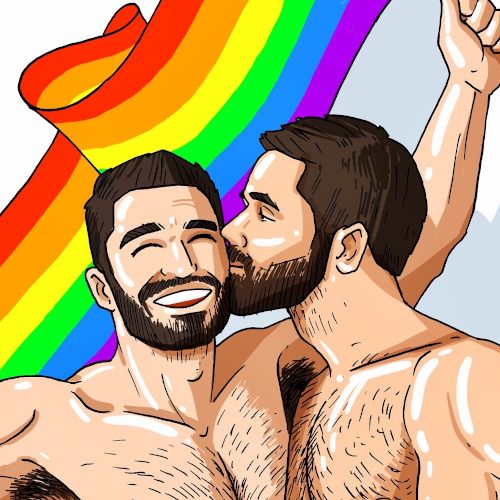 02
Hotel Riu Palace Maspalomas
separate areas for adults-only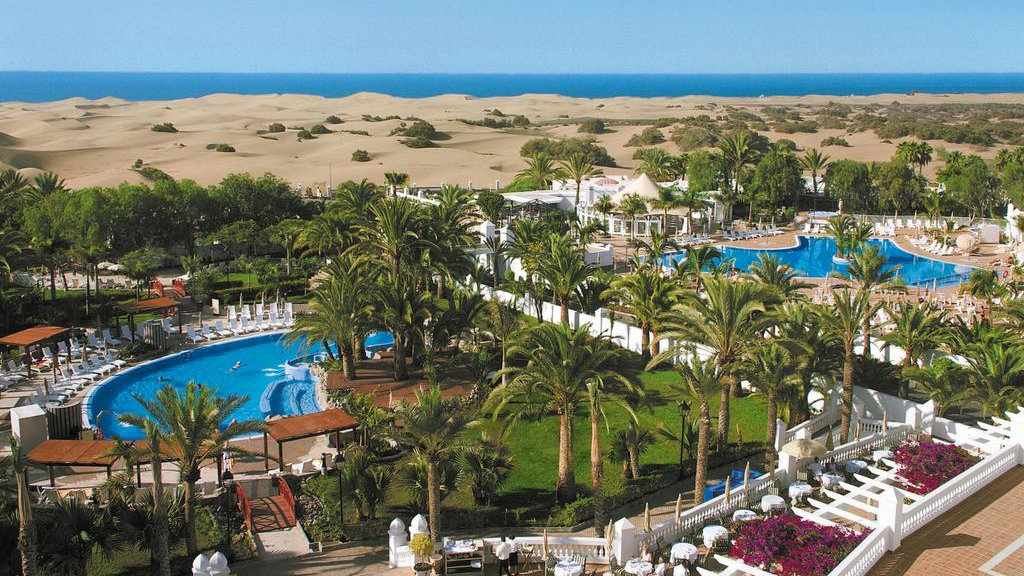 Why we love it
---
Comfortable rooms with attentive staff
Located right by the Maspalomas sand dunes
Includes multiple restaurants
Several adult-only areas
Sebastien and I love finding a good base for our travels, and the Hotel Riu Palace Maspalomas provides everything we could ever want.
It's in a central location, rooms with a sea view, two pools (plus a separate pool for children so that the adults can have their alone time), and multiple restaurants and bars within the building. However, the biggest draw to this hotel by far is the surroundings.
When we say the location is central, we mean that it accounts for everything a gay man could want from his trip to Gran Canaria! A five-minute walk gets you to Kiosk #7, and a fifteen-minute walk will have you at the doorstep to the Yumbo Centre. Not looking to leave the hotel? Then attend one of their live shows or enjoy a fine dining experience at their Krystal Fusion restaurant.
A breathtaking subtropical garden also borders the hotel grounds, and just beyond the garden, the main attraction awaits: the Maspalomas sand dunes. The dunes greatly contribute to the atmosphere of the entire location. It becomes all too easy to imagine that you are a prince living in a gorgeous castle, waiting for your brave knight to come galloping across those sandy planes just to fulfil your every need! Though, the dunes are also a popular cruising spot, so maybe you can venture out to meet that knight of yours for a little bit of rompy pompy in the desert…
Whether you're searching for a quiet trip within a colonial style paradise or a wild adventure full of parties and exploration, the Hotel Riu Palace Maspalomas has it all.
STAY WITH A GAY LOCAL
Misterb&b is the Airbnb equivalent for the LGBTQ community. Unlike on Airbnb, you know your host is gay, voiding any nasty surprises when you check-in. It is also a great way to meet gay locals and discover the underground gay scene. Click below to get 10 € (or $10) off our first booking.
03
Seven Hotel and Wellness
gay men only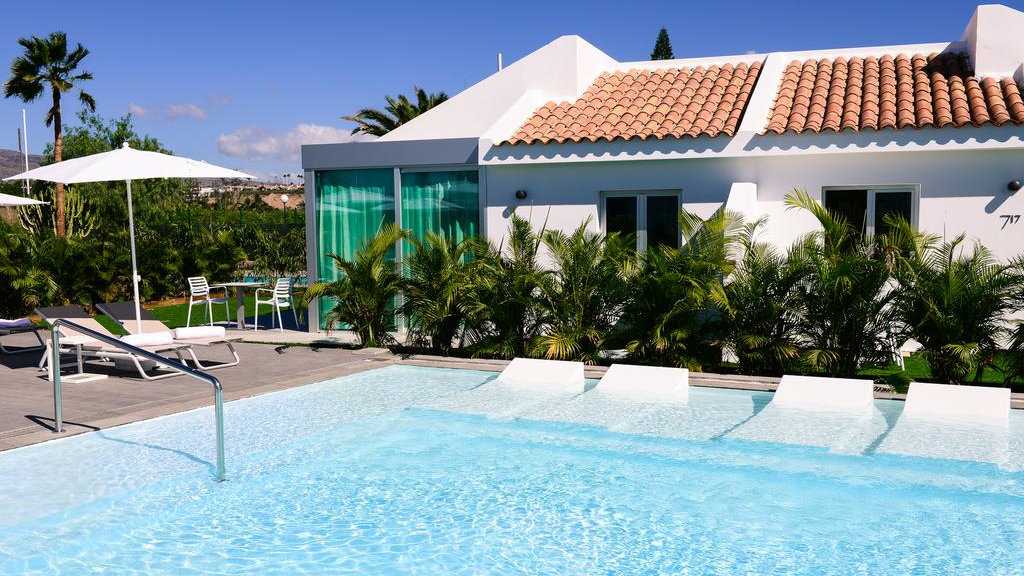 Why we love it
---
Lounge chairs inside the pool!
Extremely modern rooms with stunning views
Offers activities like windsurfing and sailing
Located 20 minutes walk to Maspalomas centre
Now what do you do if you want a compromise? Where do you go when you crave that modern, sociable vibe of Gay Paso Chico, but you also long to enjoy a tranquil, tropical environment similar to that of the Hotel Riu Maspalomas? Look no further than Seven Hotel and Wellness!
A quick glance at its opening date of 1997 might make you gag. It's super easy to assume a hotel this old will have fallen by the wayside…but wait!
When you arrive to your room and see the chic, crisp interiors and the gorgeous, mountainous view right outside your window, you won't be able to stop yourself from screaming, "Oooooh, honey!" Seven Hotel may be old, but that just means she's experienced…she's definitely still got it for her age!
This queen's crown is supported by its lovely staff who treat the guests with the utmost care. The size of the hotel is smaller than most, but that's honestly part of what makes Seven Hotel and Wellness so endearing. You go there for a peaceful vacation, but you leave with tons of new friendships, often formed over a delicious breakfast, might I add! Or at least, that's usually how I walk away from places like this. I'm a huge chatterbox, and I'm not sorry about it…
However, if you're not like me, one of my absolute favourite parts of this hotel is the pool. Not only is it heated, but it also has these incredible built-in lounge chairs. It's something you've honestly got to see to believe. Having the warm, gentle water of the pool lap at your legs while you're soaking up that bright, Canarian sun is absolutely to die for!
Though it is a 20-minute walk from the centre of Maspalomas, Seven Hotel and Wellness still stands as a wonderful retreat for gay boys seeking some casual fun.
04
Club Torso Gay Hotel and Resort
men only and clothing-optional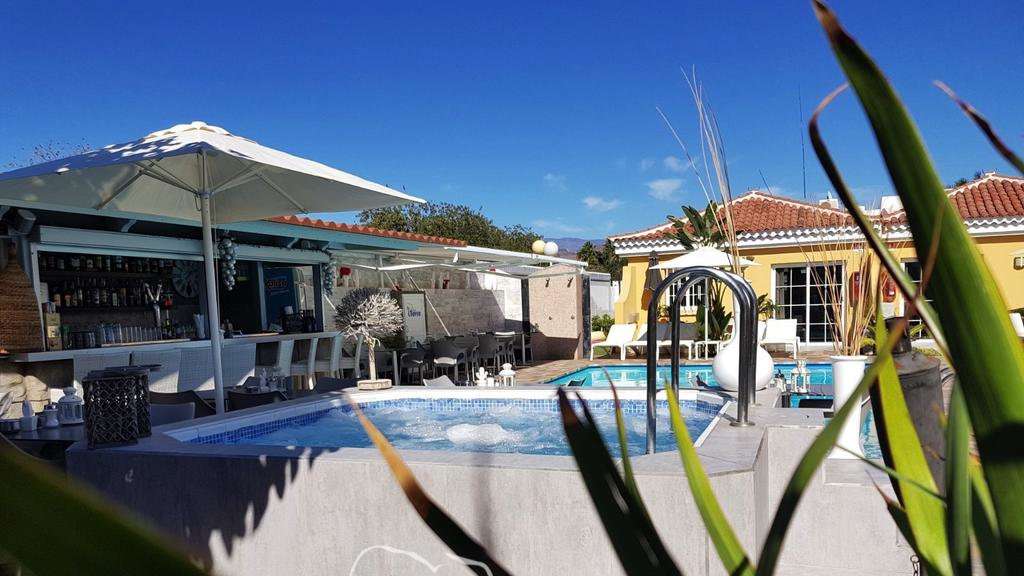 Why we love it
---
A 24/7 basement of fun, fun, and more fun!
The array of food and drink options
Fully screened in to guarantee privacy
Reduced rates at an open-air sports centre
Tropical La Zona sound a little too intense for you? Seeking an exciting all-inclusive gay hotel that exudes sophistication while still setting aside plenty of room for hanky panky? The Club Torso Gay Hotel and Resort may be the ideal spot for you!
The name of the hotel really says it all. Club Torso is here to provide a spot for gay men to unwind however they see fit.
For some, that will certainly mean taking a trip to the basement… Though the word "basement" may conjure up images of dark, dank, spider-infested corridors, it is far from a nightmare down there. In fact, many would call Club Torso's basement a place where dreams and fantasies become reality! So if you wander down there and find yourself entrapped in a web, don't worry! A mysterious, handsome friend will emerge from the shadows to welcome you soon enough…
As for other amenities, Club Torso is clothing optional, has a heated saltwater pool, and allows guests to visit a neighboring open-air sports center that provides professional guidance to any and all gym rats who choose to enter. On top of that, their pool bar is packed to the brim with options! Let me give you a sample of what you can order… Ready? They have cocktails, wine, beer, sangria, soft drinks, coffee, fresh juice, and smoothies! And that's not even mentioning the food they serve at their bistro.
Club Torso truly lives up to every standard they set. Their twelve bungalows are spacious and radiant, and the entire property gives off the energy of a refined home away from home.
05
Parador de Cruz de Tejeda
gay friendly and romantic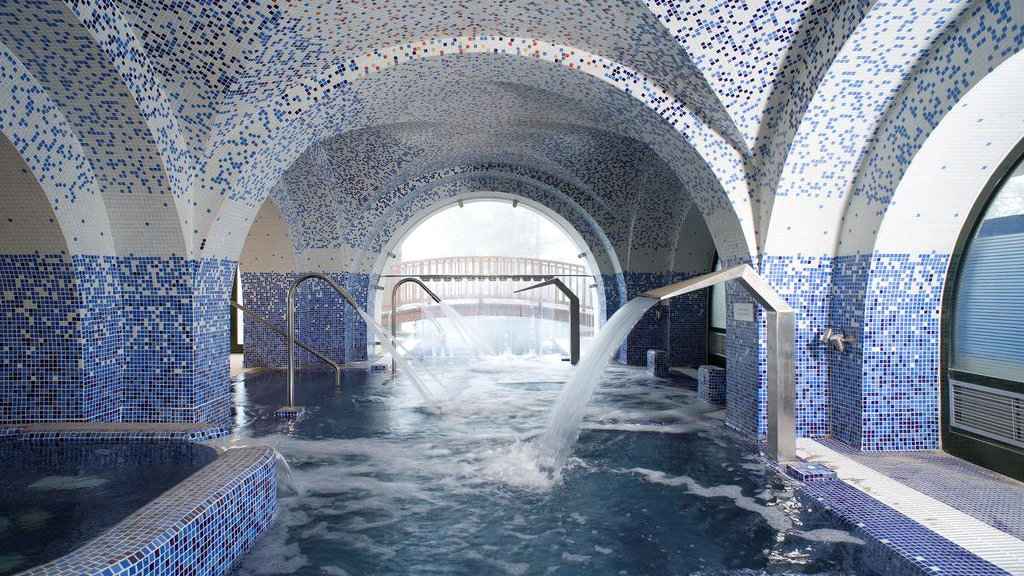 Why we love it
---
An exhilarating contrast to the other hotels in Gran Canaria
Chances to explore different cultural settings
Do I need to mention the infinity pool again?
A refreshing chance to disconnect from the outside world
Throughout the course of this list, we've barely strayed outside of the always entertaining city of Maspalomas, but I think it's time to showcase another aspect of the diverse landscape that makes Gran Canaria the alluring destination that we love and adore. The best place to do that, of course, is the Parador de Cruz de Tejeda.
Despite being known for its beaches and sand dunes, Gran Canaria also has some of the most amazing cliffs and ravines and is home to some very impressive hiking trails.
The Parador de Cruz de Tejeda is a natural paradise set deep into the mountains and located about 4,920 ft (1,500 meters) above sea level; if you're a water bug like me, do not let this new environment deter you! The rooms supply a grand view of a caldera, which is a hollow spot formed by a volcano and carved out by water. The hotel also has the most beautiful infinity pool. I obviously have no idea what heaven might look like, but swimming while surrounded by a vast pinewood forest sounds like the ideal to me!
The town of Tejeda offers its own unique opportunities that can't be found elsewhere on Gran Canaria. Tejeda is deeply entrenched in its art and culture, and it would be wasteful to not visit some of its museums and galleries, such as the Bentayga Archaeological Park or the Abraham Cardenes Sculpture Museum while visiting.
The Parador de Cruz de Tejeda is without a doubt a hidden gem in Gran Canaria. While it deeply contrasts the party culture buzzing about the Playa del Ingles, and the hotel is not strictly for gay men, it remains a wonderful, romantic getaway spot or for a gay honeymoon that we definitely recommend visiting at least once.
DON'T MISS OUT!
Join our newsletter
Subscribe now to receive in-depth FREE travel guides, along with inspiring stories, savvy planning tips, and exclusive discounts on gay tours.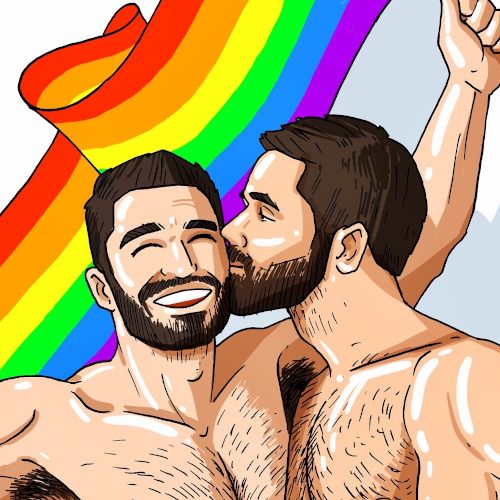 06
Seaside Grand Hotel Residencia
very gay friendly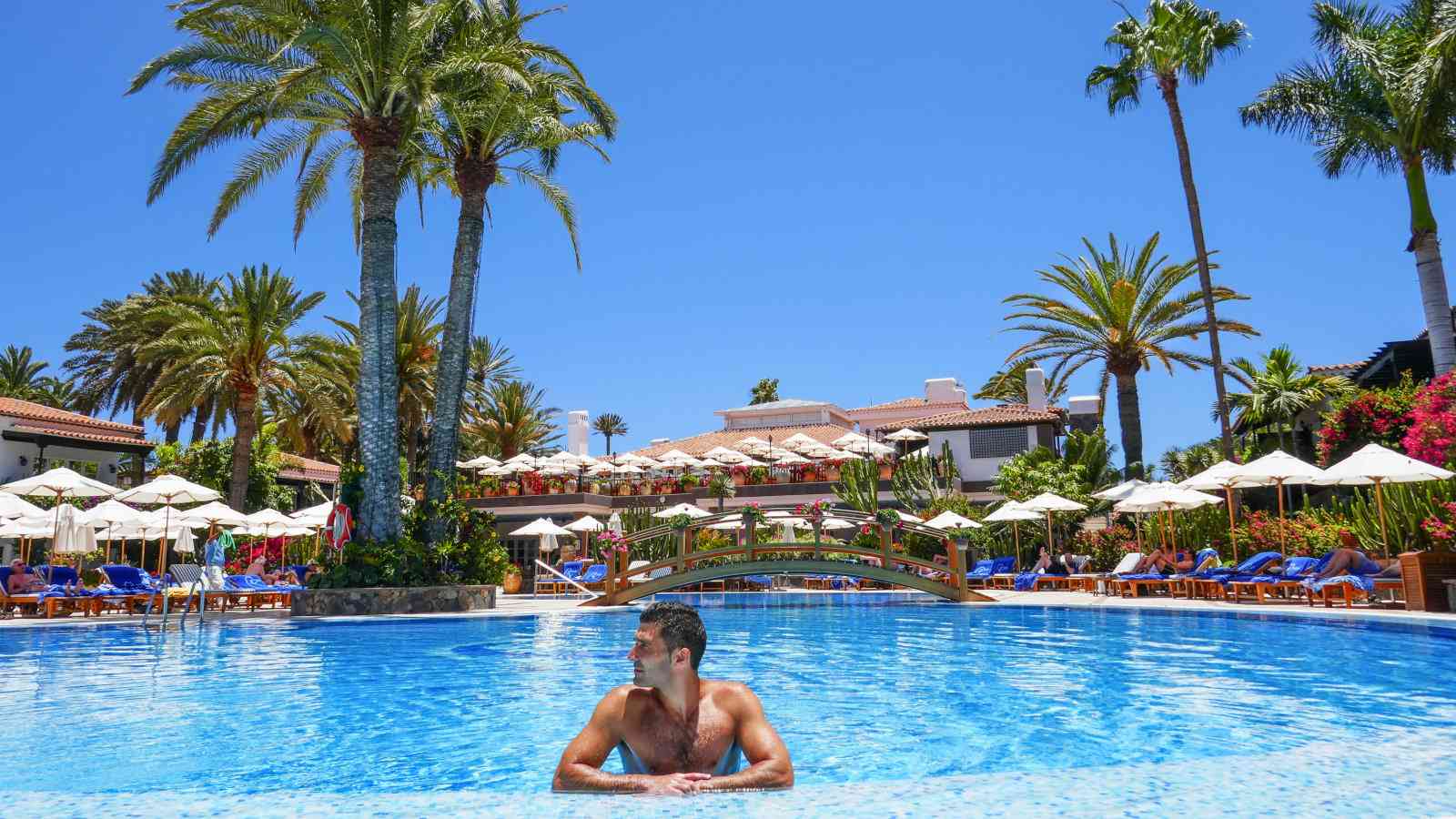 Why we love it
---
Stunning views of the ocean and the sand dunes
An amazing tub inside the huge rooms
Honeymoon packages available
Always a quiet spot available
If you find yourself missing the ocean too much while visiting the Parador de Cruz de Tejeda, but you're still hoping to stay in a relatively remote location, then perhaps the Seaside Grand Hotel Residencia will be your cup of tea!
And, let me tell you, the tea is hot with this one, so I hope you're prepared to hear about all of the fabulous goodies it has to offer!
Allow me to set the scene…
Seaside Grand Hotel Residencia resides just south of Maspalomas, so if you want to visit the Yumbo Centre during your island excursion, you'll need to be prepared for at least a 10 minute drive to town.
However, what this hotel lacks in city life, it makes up for with natural luxury. Aside from being directly adjacent to stunning, beachy shores, the hotel itself is incredibly large, which means there will always be a quiet spot for you to retreat and enjoy a moment for yourself.
The hotel consists of 94 guest rooms situated within a two-story villa. Each room has its own private terrace or balcony, and from our experience, we loved staying on the second floor. To be able to come back to our room after spending the day frolicking in the salty seawater (or sometimes taking a dip in the giant saltwater pool) and watch the sunset falling over the waves… It was, in a word, magical! We often followed up our evenings with a trip to Seaside's in-house restaurant, and if you get a chance, you have got to stop in for their bi-weekly barbecue buffet…Yuuuuum!
Overall, the atmosphere at Seaside Grand Hotel Residencia is warm and welcoming for everyone. Staying at this 5-star establishment is a truly romantic experience to indulge that you will undoubtedly talk about for years to come.
07
Vista Bonita
male-only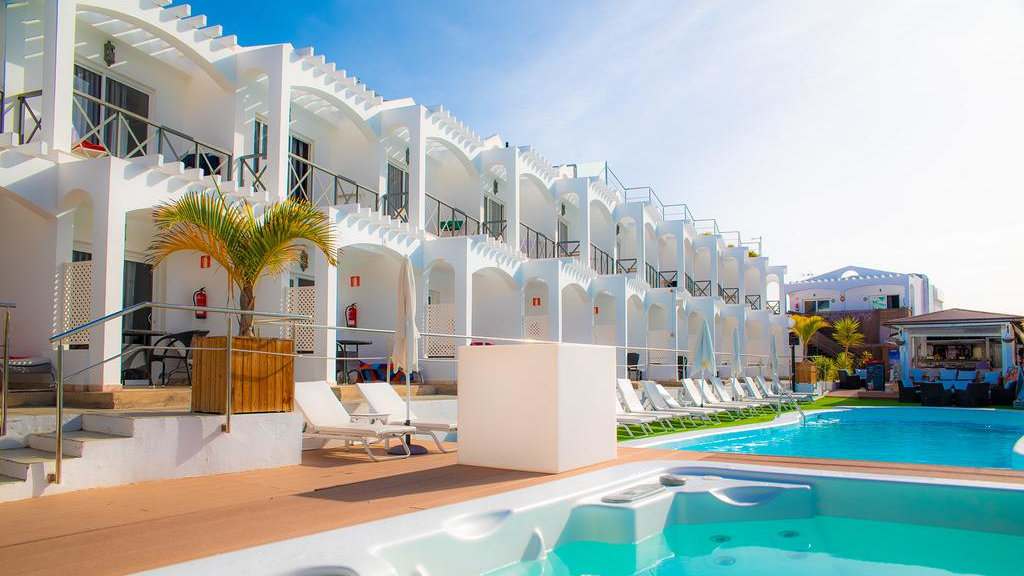 Why we love it
---
Just 20 rooms available to book
Many different activities available
Easy to rent cars and bikes
Expansive pool area
If vacation to you means less relaxing and more adventuring, then may I suggest staying at Vista Bonita?
Vista Bonita keeps their decor simple yet clean, which is a power move that we can support! They know what they're about, so they don't have to flaunt extravagant features or intricate furnishings when what they do have just really speaks for itself.
To any potential guest wondering about the benefits of staying at this hotel over any of the other amazing facilities on this list, keep in mind that fancy bells and whistles are sometimes just a sign of over-compensation… Have you ever met an incredibly attractive man, then taken him back to your place for some sweet loving only to be let down? Think of it like that!
All of this goes to say that Vista Bonita is the place to be when you're seeking to leave your dwellings to brave the Gran Canarian terrain. They will go out of their way to help you rent out cars and bikes to encourage you to explore all parts of the island. It's also worth mentioning the array of activities you can partake in on behalf of the hotel. From windsurfing to diving, tubing to hiking, and bowling to golfing, Vista Bonita has plenty to keep rowdy boys entertained!
However, if all of that action has you beat, Vista Bonita is still a cozy place to spend your time. If you're the type to enjoy snuggling up with a good book while out on vacay, then you will greatly appreciate the partly outdoor library. The hotel also has an expansive pool, and if you're lucky enough to have a room located on the bottom floor, you will have a lovely little terrace that leads straight to the water's edge.
At night, the staff tends to light up the pool with candles, so whether you stayed in for a chill afternoon or traversed the entirety of Gran Canaria, you will certainly find solace in this calm, glowy sanctuary.
Happy travels are safe travels
We recommend you always take out reputable travel insurance before your next vacation. What happens if you suffer from illness, injury, theft, or a cancellation? Many gay travelers forget about it and regret it when something happens. Better to pay a small price and have peace of mind and not worry.
08
Aqua Beach Bungalows
men only and clothing-optional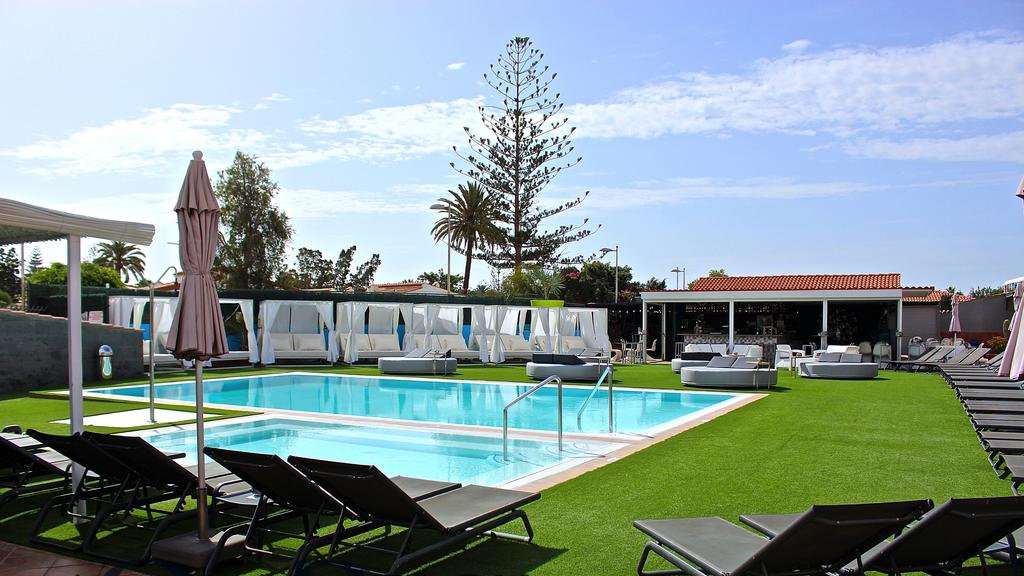 Why we love it
---
Clothing optional policy in all parts of the property
Swimming pool decked out with large sunbeds
Pool bar serves breakfast, lunch and cocktails
Located directly in front of the Yumbo Centre
When it comes to making a choice about lodging, everybody has their own budget that's going to work in their best interest, which is why it's super important to assess the value of any place before booking.
As the most price-worthy place on this list, you will likely feel like you're stealing by the time you've finished your stay at the Aqua Beach Bungalows, but I promise you, that's just how good of a deal they give their guests!
This gay-men-only resort charges no booking fees and guarantees that if you do not receive the best price for your stay, they will give you the first night for free. Talk about putting your money where your mouth is! Aqua Beach extends only their friendliest behavior to their guests and actually makes the place feel more like a community of lifelong friends rather than a congregation of strangers.
What helps bring home the sense of togetherness is the layout of their pool. Not only is it a striking picture to have such brilliant, white sunbeds gathered against the bright green turf that surrounds the dazzling pool and adjacent 12-man jacuzzi, but when you also throw in the shaded, canopied beds that compose the perimeter, the whole complex seems to just sing! By that I mean, I can really picture Sebastien and myself lazily lounging in the sun throughout the day, chatting carelessly with the men occupying the neighboring beds. And then by the time night falls, I can see the entire place transforming into a wild celebration – everyone coming together, dancing on the beds, enjoying some skinny dipping by the moonlight, and maybe even sneaking off to one of those canopied beds for a little bit of canoodling if you catch my drift…
Though, if you'd rather leave the party out of the bungalows, Yumbo Centre is a quick hop next door, and you can always dance the night away at their bars and clubs. The opportunities are plentiful when you're staying at the Aqua Beach Bungalows!
09
AxelBeach Maspalomas
hetero-friendly and adults-only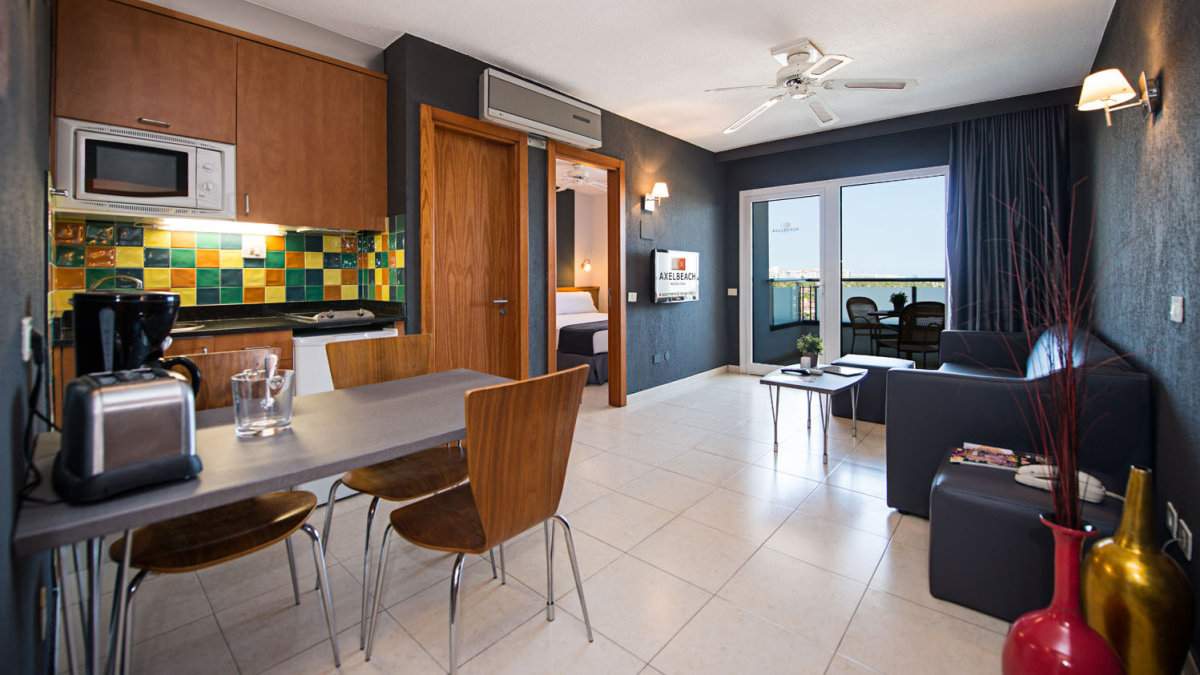 Why we love it
---
Adult-only and hetero-friendly
92 apartments spread across 4 floors
Hawaiian hammocks surrounded by palm trees
Tapas at the Sky Bar: enough said!
Gran Canaria is well-known for being a hotspot for gay travel, and for good reason! With pride celebrations happening year round and so many accommodations catering specifically to both gay men and women, it'd be hard to stay away from the already attractive island.
Plenty of hotels provide space for straight and gay guests alike, but AxelBeach Maspalomas goes the extra mile and is "hetero-friendly."
It's obviously a small gesture in the grand scheme of things, but it's really nice to see the script flipped for once! As someone who has stayed there, I can confirm that AxelBeach really does show up when it comes to welcoming and supporting any gay visitor who decides to stay with them.
In terms of their amenities, AxelBeach has two standout locations that Seby and I really loved: the Sky Bar and the lounge garden. The Sky Bar is essentially just their pool and bar area, but it has definitely earned the special title since it proves itself to be a refreshing, bright slice of heaven that is constantly packed with exciting people and amazing snacks. We couldn't keep ourselves away from their tapas!
The lounge garden is just a quick walk over from the pool, and after a long day of fun in the sun, Sebastien and I really appreciated having a serene, shaded place to cuddle up and enjoy each other's company. Especially in those Hawaiian hammocks they have. I hadn't seen anything like that before, and I have been begging Seby to let me buy one for our home ever since!
If you're searching for a place that is hip, trendy, and just a 10 minute walk from the Yumbo Centre, then AxelBeach Maspalomas has got your name on it!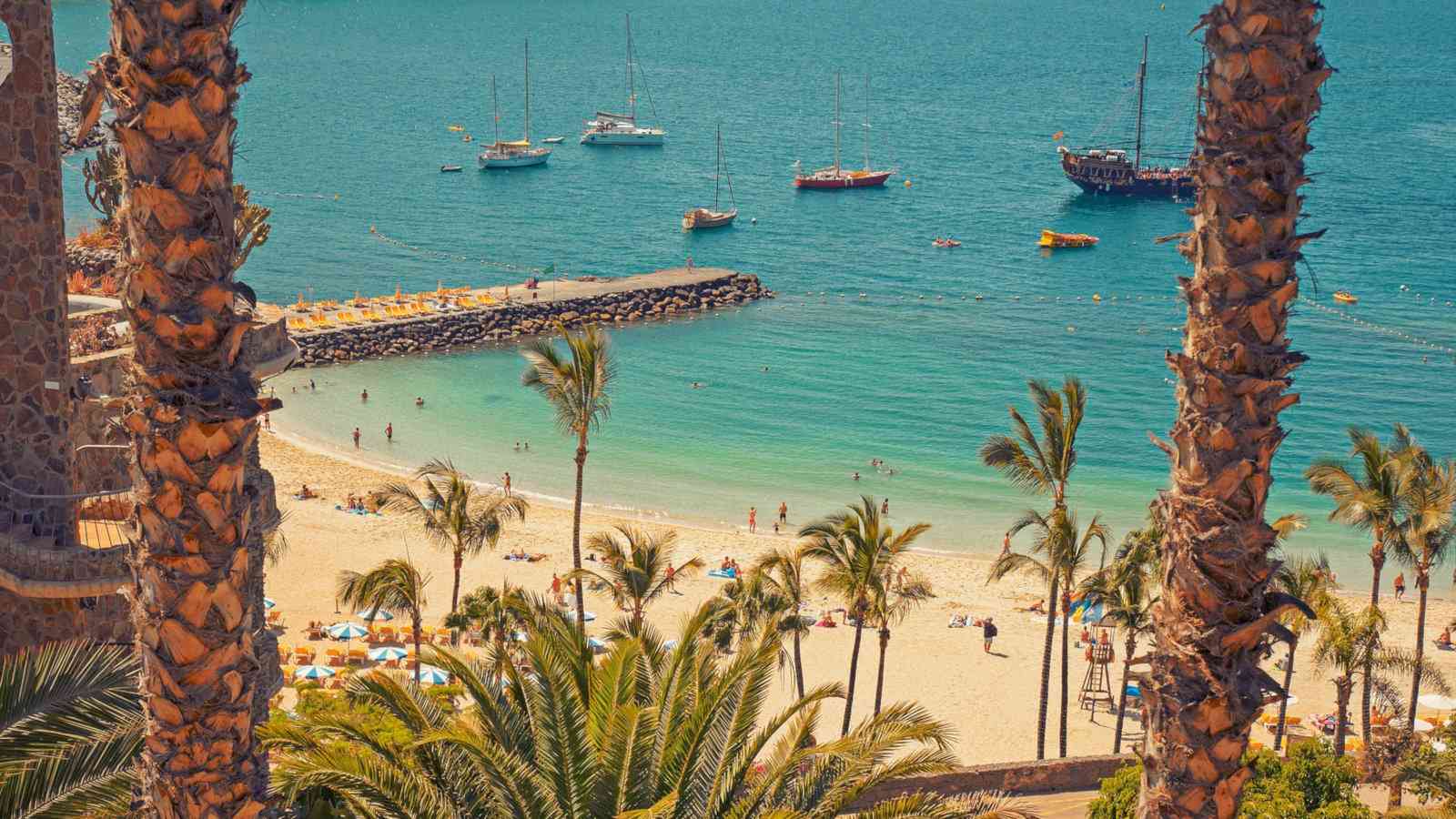 What to do in Gran Canaria?
It's not all about the beaches baby, although, there are a lot of awesome seaside activities to take part in! Find more exciting or relaxing things to do while you're in Gran Canaria.
10
Rainbow Golf Bungalows
men only and clothing-optional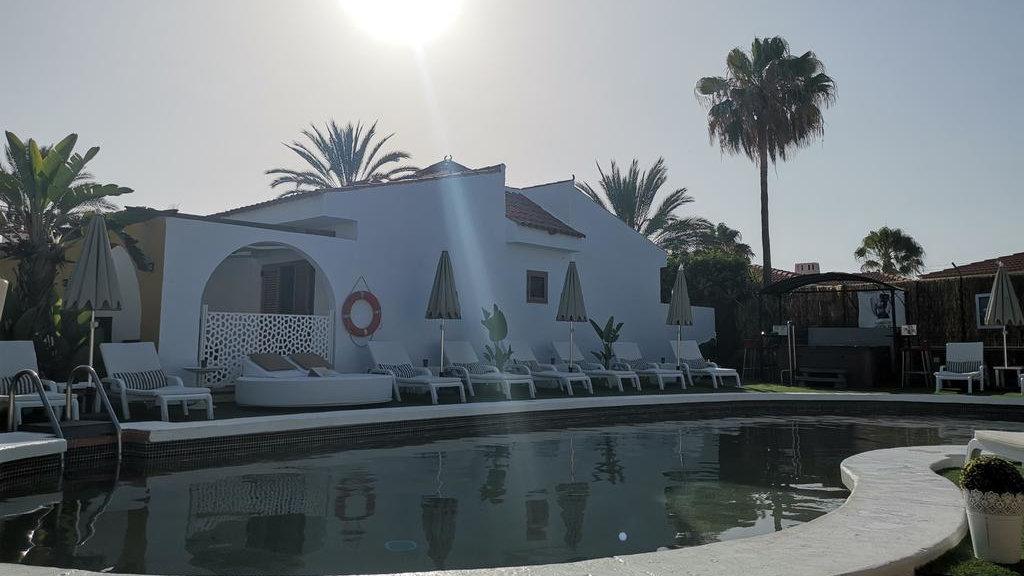 Why we love it
---
The most awarded gay resort ever!
An infrared sauna to chill out in
Located in a quiet, pedestrian neighbourhood
Tennis court and open-air gym within walking distance
The Rainbow Golf Bungalows stands as the most awarded gay resort, which is extra impressive considering the fact that they've only been up and running for about seven years now.
You might think that a resort this favourable would want to be seen as the height of luxury, but Rainbow Golf actually strays away from that idea and instead boasts about being contemporary and friendly above all else.
You can tell the staff really takes pride in maintaining the bungalows and keeping things in tip-top shape. Not only are the grounds so clean that you could comfortably walk around with feet as bare as the rest of your body (yes, it's clothing optional!), but also because they genuinely want to get to know their guests and make them feel as if they were at home. But do you know anyone who has a home decked out with divine, zen decor and a pool that stays heated year-round?! Me neither!
On top of that, Rainbow Golf also has an incredible infrared sauna, which they claim is the most healthy technology that can be used for a sauna. Personally, they already had me packing my bags at the word "sauna", but knowing that they are truly giving their guests the best of the best has me pulling up their site to book a room!
Their rooms, by the way, are very reasonably priced for being so spacious and well furnished. Rainbow Golf offers 21 total bungalows at varying levels of price and grandeur so that you can pick the room that suits exactly what you want. I'm personally eyeballing that exclusive suite with the large fridge, air conditioning, and two smart TV's…
With so many options and such attentive care to the guests, it's easy to see what sets the Rainbow Golf Bungalows apart from the rest.
11
Tropical La Zona
all male hotel and clothing-optional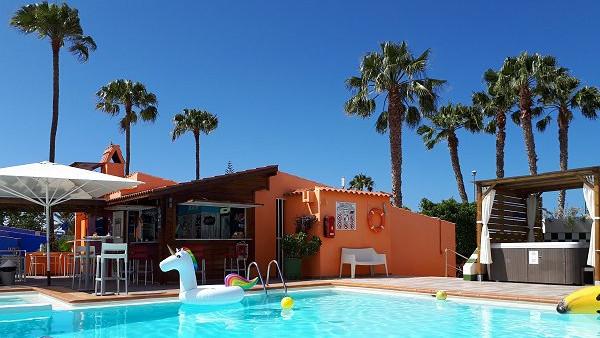 Why we love it
---
An entirely nude complex with a designated cruising spot
Gay men only, including all staff
Heated pool with bar serving drinks and snacks
Located just 5 minutes walking distance to Yumbo
Nothing really speaks to the concept of casual fun like Tropical La Zona! If you're staying at Tropical La Zona and looking to (ahem!) hang out with some cuties while passing through Gran Canaria, trust me when I say that you will be super happy to bring them back to your place!
This hotel comes with the complete package: a large acclimatised pool, a jacuzzi, an open-air gym, plenty of sun beds, and an outside bar. It's enough to leave you wondering, what more could they possibly offer to set them over the edge?
Well, how about a designated cruising spot that includes both a sling and a St. Andrew's cross that can help set you over the edge? And let's also throw in the fact that nudity is allowed throughout the entire complex, shall we? Oh, and did we also mention that Yumbo Centre and the beach are both just a few minutes walk away from the hotel?
Tropical La Zona is a fantastic place for the daring and the flirtatious, and they do not shy away from showcasing everything they have to give to the public! Hint, hint: Just visit their website if you'd like to get a cheeky peek of their goods and services…
For those less interested in a raunchy holiday but still searching for a carefree environment that specifically caters to gay men, worry not! Tropical La Zona is still the place to be. The owners, as well as the entirety of the staff, are all gay men, which means they understand how to create a fabulous and welcoming space for their guests. The premises are completely private and secure, so no matter how you're hoping to spend your vacay, you will always feel comfortable and protected!
12
Villas Blancas Gay Men's Resort
men only resort
Why we love it
---
Heated pool right outside of the on-site restaurant
Newly refurbished villas
Located between Yumbo and the gay beach
Sociable and very welcoming
Last, but certainly not least, is one of Europe's best known destinations for gay men as well as the largest gay complex of its type in Gran Canaria: Villas Blancas!
Villas Blancas is situated perfectly within the island; navigating between the Yumbo Centre, Kiosk #7, and the Maspalomas Dunes could be a comfortable walk or a quick, easy taxi trip depending on your preference for travel.
However, if you're not feeling a night around town, the villas have plenty of entertainment to go around. In fact, I'd argue that you'll probably have a harder time leaving the property than anything else!
For starters, the rooms are absolutely magnificent! Villas Blancas has been in the game for over 20 years, but the villas themselves have all been newly refurbished. The decor oozes modernity and class, and you can rest easy knowing that the furnishings and fixtures are all in top condition.
The amount of effort they've put into keeping their building up to date with current trends is certainly impressive, but I think what is even more remarkable is their on-site bar and restaurant. While I know that plenty of other hotels have their own restaurants that serve the scrumptious food beloved by Canarians and tourists alike, none do it quite as well as Villas Blancas. Now, you all know we are major foodies, right? And that we love being in the water? Well, that is exactly what sets the Villas apart from any other resort. They have not one, but two sizable pools and one of them is located right outside of their restaurant, meaning you can take a nice, warm dip as soon as you've finished your meal! Don't worry, nobody will judge you if you have a food baby after eating. It's only natural…
I haven't even gotten to the sun terraces, the 14-man jacuzzi, the sauna, or the tropical gardens yet, have I? I suppose I will just leave it at this: Villas Blancas is without a doubt a place that you've got to see to believe, and I am so ready to travel to this beautiful destination as soon as possible!
DON'T MISS OUT!
Join our newsletter
Subscribe now to receive in-depth FREE travel guides, along with inspiring stories, savvy planning tips, and exclusive discounts on gay tours.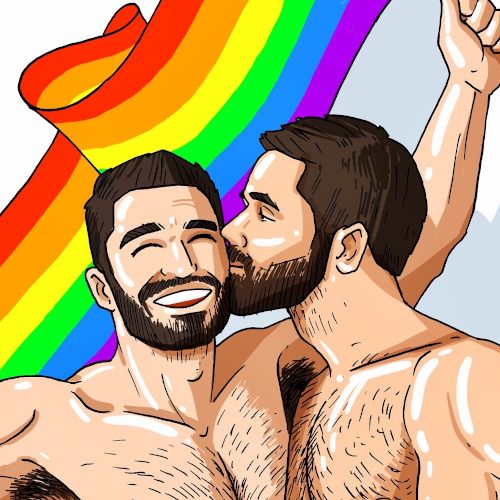 ---
Like this post? Pin it