Gran Canaria certainly has long been a hugely popular destination for the European gay boys.
And for good reason: Maspaloma Pride is one of Europe's largest annual gay events. The beach near the sand dunes of Playa del Ingles is THE place to hang out during the day and then it's on to the infamous Yumbo Centre in the evening – a shopping mall gay playground filled with bars, clubs and Clone Zone type shops.
However, there is a completely different side to the island, begging to be discovered. Most will base themselves in Playa del Ingles and not make it past Yumbo or the sand dunes. So here's our 5 things you didn't know about Gran Canaria to inspire you to venture out beyond the pink Playa Del Ingles bubble.
Roque Nublo: a fabulous phallic shaped rock
…it used to be a holy monument, the place to make sacrifices to the sun god.
Now Roque Nublo (or Cloud Rock) is the iconic site of the island. It stands proud to an impressive 1,813m (5,948 ft) above sea level, making it one of the largest free standing rocks in the world.
There's in fact a whole dramatic mountain range here that needs to fill up your Instagram gallery. Gran Canaria is an island formed from volcanic eruptions over millions of years, leaving behind eroded layers of this rugged, spectacular scenery.
Roque Nublo is the most frequented, not only for trekking size queens but as the 2nd highest point on the island, this is where you'll get your money shots.
So pack your trekking boots or some good sturdy shoes (next to all that lube and condoms) and get this bad boy into your Instagram feed.
Lots of bananas produced here
"Try a Canarian banana" our cheeky Canarian friend Daniel told us. We explained we're good, shy, retiring gentlemen and not into any of this sex tourism lark. Daniel blushed and explained that bananas are in fact popular and found everywhere in Gran Canaria. They used to be the biggest export here in the late 1800s and early 1900s until strong competition developed from Latin America.
The Canarians are so talented with their bananas, they've produced a sweet liquor from it. If like Stefan you've got a sweet tooth, you will love the Canarian banana liquor.
You can visit one of the many banana plantations, like Bodegas Los Berrazales near the capital city Las Palmas in the North. This Bodega is so versatile it also produces its own coffee beans and wine to the delight of our Frenchman.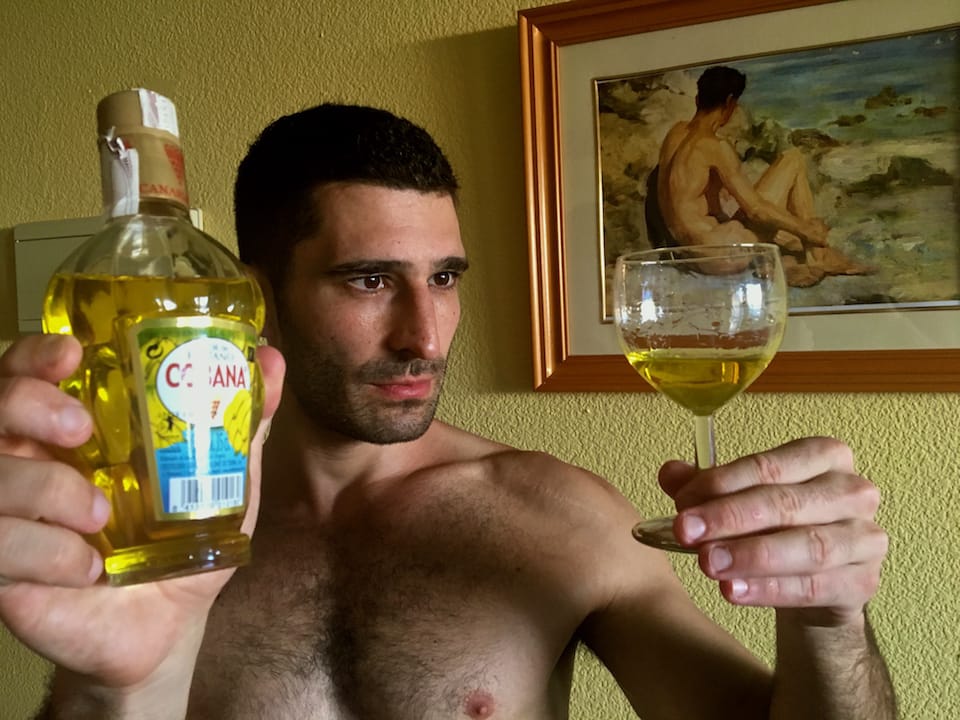 The delicious Canarian rum
Sugar cane was big business here and the Canarians were producing rum long before anyone else. Much like the banana industry, Gran Canaria's sugar plantation exports took a nose dive after Colombus introduced it to the new world and the focus shifted to the Caribbean and Brazil.
Mojito lovers need not despair, Gran Canaria still produces plenty of it. The Arehucas rum factory is the oldest rum distillery in Europe, which you can visit as part of a day trip to the charming town of Arucas in the North of the island.
Arehucas blanco (white) or Arehucas oro (gold) rum are the ones to look out for, as well as the sweeter variant, ron miel (honey rum). The prevalence of rum means that those mojito portions in Yumbo are guaranteed to be extra strong 🙂
Canarian food: mojo, wrinkly potatoes and old clothes…
The famous mojo of Gran Canaria is what gives it its legendary sexual prowess and the source of its potency…
…even Austin Powers wouldn't be able to withstand the strong, spicy garlicky flavour of this sauce (pronounced "moho"). It's sure to make all your hair stand on end.
Mojo is spread over wrinkled jacket potatoes to produce a plate of papas arrugadas con mojo. The name relates to the fact that the potatoes are baked in their skins until they shrivel up and become wrinkly (arrugada).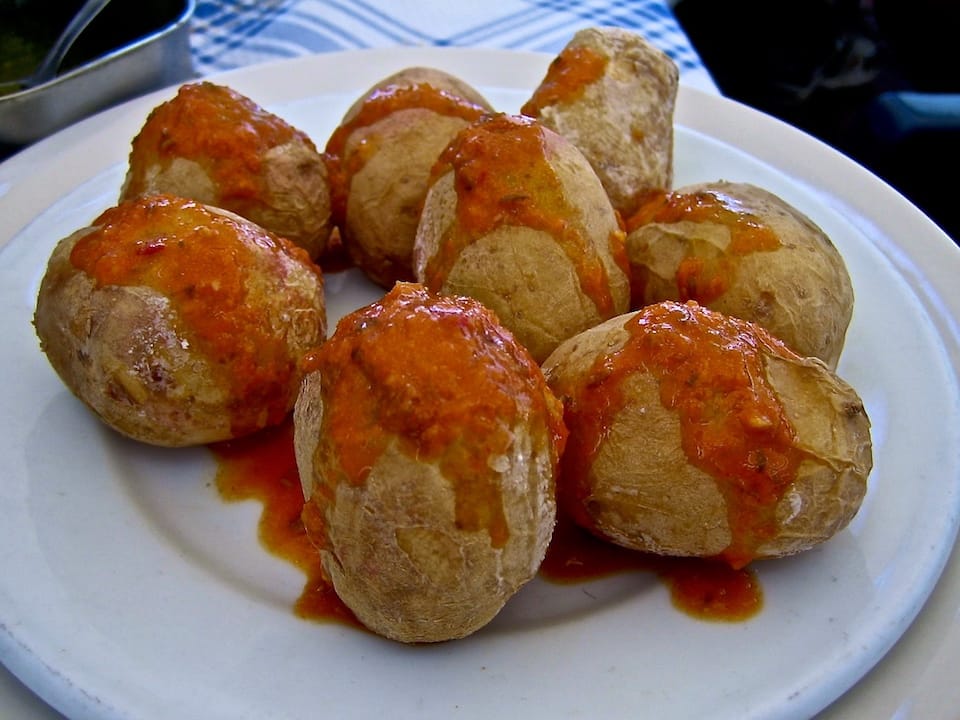 What better way to complement your wrinkled mojo? With some old clothes of course!
Ropa vieja is a chickpea, potato and meat based stew (usually chicken or beef). Although ropa vieja means old clothes, it has a rich flavour and is considered comfort food by locals. It was so popular, it spread to Latin America, particularly in Venezuela where it became the national dish.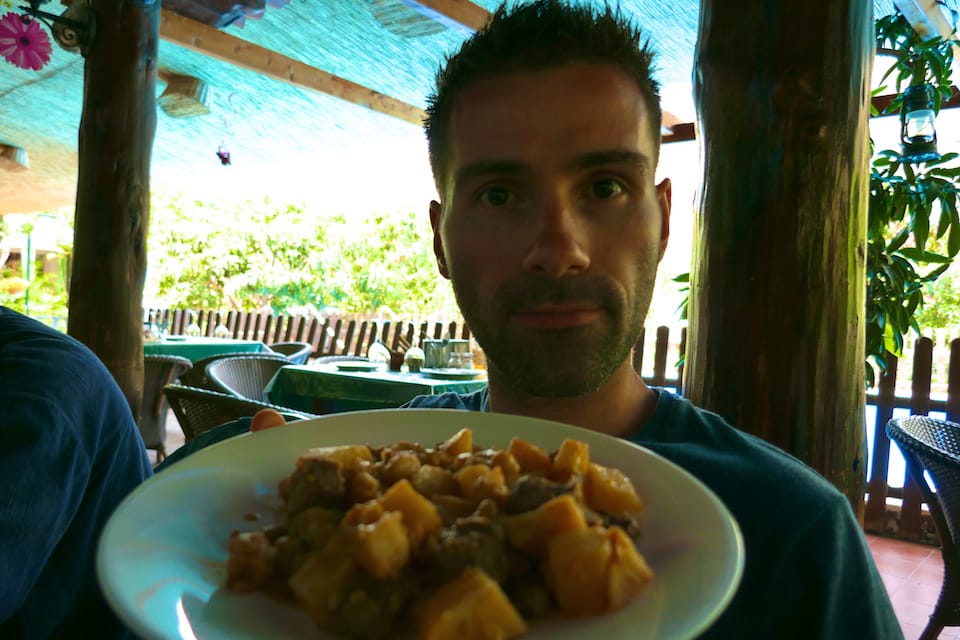 Beautiful, remote and secluded beaches
Gran Canaria is one of the ultimate beach and Vitamin Sea destinations for Europeans. When it's grey and raining in London in February, this is the place to come. When it's grey and raining in London in July, this is also the place to come.
Most of the gay boys congregate at the Kiosk #7 beach, which you reach by getting lost in the sand dunes from outside Riu Hotel in Playa del Ingles.
But there is a more unique and memorable way to get your Vitamin Sea fix, away from the crowds.
Gui Gui is a clothing optional secluded beach on the Western coast of the island, hidden away at the bottom of a Grande ravine. To reach it you need to drive for 2 hours, then trek for around 2/3 hours over the rocks in the burning heat.
When you're feeling too fabulous to bother with all that, you can instead grab your mates, a few bottles of Ron Miel and have one big speedo gay boy party on a boat to Gui Gui followed by a freshly made plate of paella on the sea shore.
It's the perfect day trip and a more relaxing way to see a different side to this remarkable island.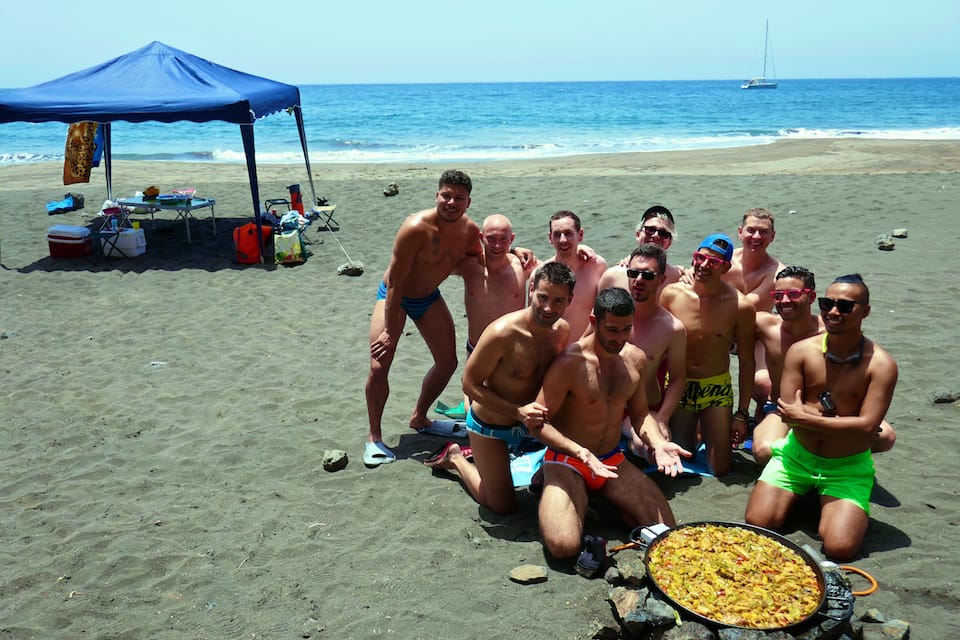 For more, check out our guide to the gay bars of Gran Canaria, read our top 5 gay hotels in Gran Canaria.
OUR FAVOURITE TRAVEL TIPS
⭐️ TRAVEL INSURANCE — We recommend you always take out travel insurance before your next vacation. What happens if you suffer from illness, injury, theft or a cancellation? With travel insurance, you can have peace of mind and not worry. We love World Nomads travel insurance and have been using it for years. Their comprehensive coverage is second to none and their online claims process is very user friendly.
⭐️ SAFETY & SECURITY — All travelers (gay or not) can sometimes encounter danger when traveling. CloseCircle is your "virtual body guard" mobile app which provides security alerts and support wherever you are in the world. They have a 24/7 emergency response team monitoring their users who will contact you immediately if the SOS swipe button is activated. Support can include anything from practical advice, to free evacuation from areas with extreme weather or security risks. You can read more about CloseCircle in our article about how to stay safe whilst traveling.
⭐️ ONLINE ANONYMITY — A VPN (Virtual Private Network) is a must in many countries: it allows you to surf anonymously and maintain your privacy whilst traveling. You'll particularly need it in countries where gay dating apps are blocked by the government. We recommend ExpressVPN, a reliable and cost effective service which we used and loved during our travels.
⭐️ HOTELS or APARTMENTS — When we plan a trip, we always look for the best hotel deals. We love Booking.com because not only do they have a comprehensive listing of accommodation options, they also offer the best prices. Added bonus: they provide 24/7 support and free cancellation for most listings.
⭐️ SIGHTSEEING and ADVENTURES — When we travel somewhere, we like to seek out the best experiences, whether it is cooking with locals in Bangkok, hiking on a glacier in Patagonia, or going on a wildlife safari in Sri Lanka. Our favorite place to look is GetYourGuide because they have over 30,000 highly rated activities, a user-friendly booking process with free cancellation and a 24 hour customer support.
This article contains affiliate links. If you click on them, we may receive compensation which keeps our website alive and helps us bring you to more destinations.
Pin for later