TERMS OF USE: There is a chance that some of the content on this page has changed since it was last updated. By reading this article, you consent to our Terms of Use and Disclaimer. Happy Travels!
DISCLOSURE: Some of our posts may contain affiliate links which we may receive a commission if you choose to book something through one of our links.
Read about what to expect at Maspalomas Pride in Gran Canaria – one of the biggest and most popular gay Pride events in Europe!
What's big, wet, and sparkly? Nope, not us after a glitter fight. We're talking about Maspalomas Pride in Gran Canaria. A cacophony of sound, color, lights, and queer joy! And perhaps an iconic LGBTQ celebrity or two… Conchita Wurst has been known to attend in the past.
Maspalomas Pride is one of the biggest and best gay events in Europe, with over 100,000 attendees flocking to the super gay bars of Gran Canaria each year.
Known as a gay hotspot, Gran Canaria is a Spanish island off the coast of West Africa, full of lavish hotels, epic beaches, dozens of gay clubs and bars, and year-round sunshine. Most of the gay events happen around the water, be it by the pool or on a boat, meaning Maspalomas Pride has more sea men than a bathhouse in gay Berlin!

Venues around the island host drag shows, run cheap drink deals, and themed nights, which only add to the fun. And who can forget the giant parade through the streets, which culminates at the lively Yumbo Centre, full of shops, boutiques, bars, and restaurants? Maspalomas Pride is one of our favorite gay Pride events. It's always a lot of fun – plenty of sun…and, if you're lucky, the vitamins mightn't be the only D you'll catch…!

Here is everything you need to know about Maspalomas Pride:
Maspalomas Pride: a close-up glimpse
From modest beginnings in 2001 to one of Europe's biggest gay events, there is no Pride quite like Maspalomas Pride. These days, it attracts around 100,000 people from across Europe and beyond, all eager to celebrate their queerness in the blazing sun of Gran Canaria. So, if you're hoping to attend, you'd be wise to book well in advance of the season.
It usually takes place in early May each year and sets a high bar for all the other Pride events for the approaching summer. There are dozens of fun gay parties to fill up your schedule, whether it be in a dance club, at a drag show, or at a speedo party on the water. And for those of you who are exhausted just thinking about that much activity, don't worry, It's not all OTT! There are plenty of lazy beach events, where people can just meet up with friends, grab a drink, and enjoy a buffet.
The main gay event, the parade, takes place on the last Saturday of the season, with participants marching their way through the streets and finishing outside the Yumbo Centre, right by the beach, before having a massive dance party in the streets. What could be better?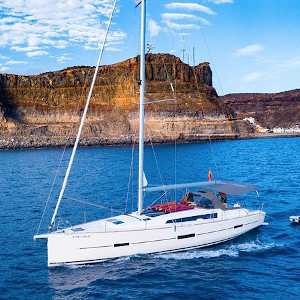 Gay Sailing in Gran Canaria!
Grab a group of friends and book this gay (clothing-optional!) sailing excursion. The very handsome Captain Juanvi takes you sailing around the south of Gran Canaria to the remote Gui-Gui beach. The excursion includes unlimited drinks, lunch and hotel pick up.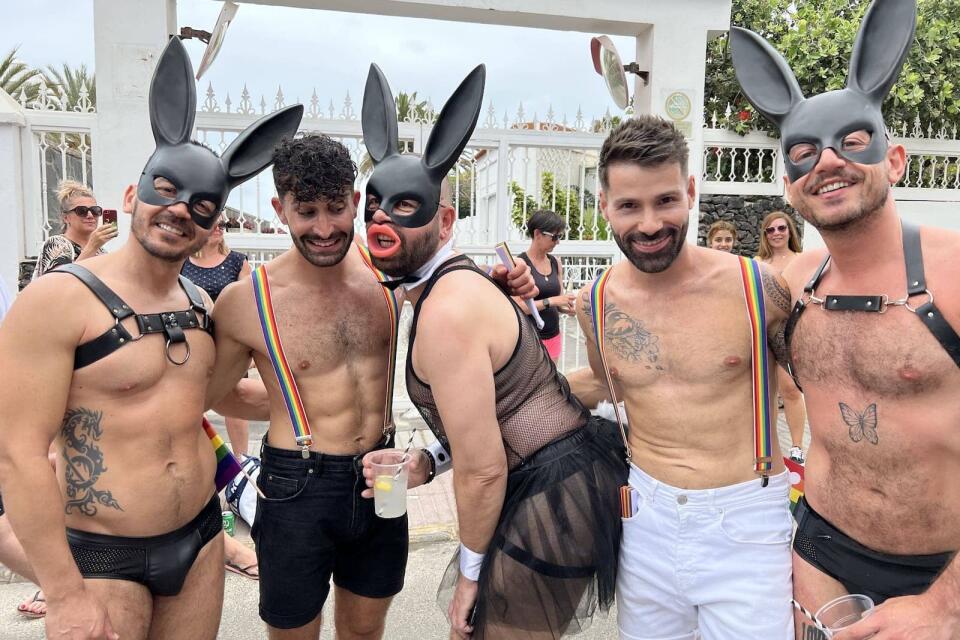 Top things to do at Gran Canaria Pride
Maspalomas Pride season is 2 weeks long and packed to the brim with pool parties, gay boat parties, club nights…and of course the parade. Here's a taster of what to expect:
1. The Pride Parade!
Pride wouldn't be Pride without a massive parade. On the last Saturday of Pride season, thousands of people gather at the front of the RIU Palace Maspalomas Hotel, before marching their way to the Yumbo Centre. And it never fails to be a pure spectacle of fun, color, and festivity.
Maspalomas Pride encompasses all the best parts of Pride, with attendees in a whole mix of vibrant fabulous outfits, campy music blaring from giant speakers, and groups from around Europe carrying banners that highlight ongoing issues within the queer community. Pride is a protest at the end of the day – but gosh, is it still so much fun!
Where else would you find drag queens, young kids, and people of all ethnicities, sizes, and genders gathered in celebration? And at the end of the route, attendees have a massive dance party to enjoy, with the main stage at the Yumbo center featuring musical guests, DJ sets, and drag artists impersonating legendary pop artists. Our top tip, before heading out, make sure you've packed all your gay pride accessories.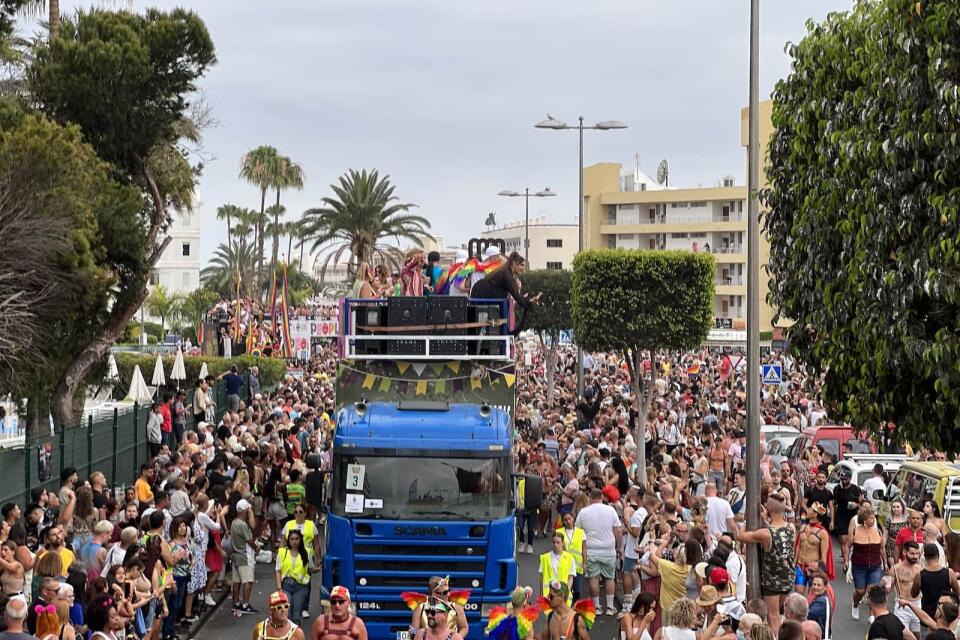 2. Gay boat party
So many boats! So many parties! Picking which one to go for is like swiping through Tinder. Do you want a cozy evening, sharing a drink with a loved one? A sweat-induced dance-off, grinding against strangers? Or a make-your-own adventure, by renting a boat with gay friends and sailing around remote islands that you wouldn't have otherwise reached.
There are plenty of organized gay cruises, some that offer food and drink, others with a live DJ set, or fun activities like snorkeling or paddleboarding. And if you feel bold enough, there is a clothing-optional option – where guys take Pride to a whole new meaning. After all, what could be more celebratory than a boatload of guys in their birthday suits relishing body positivity whilst dancing to the most prominent gay anthems in the Gran Canaria sun?
One of the most popular is the Gay Boat Trip, which features a free bar, a massive dance deck, and a cruising area.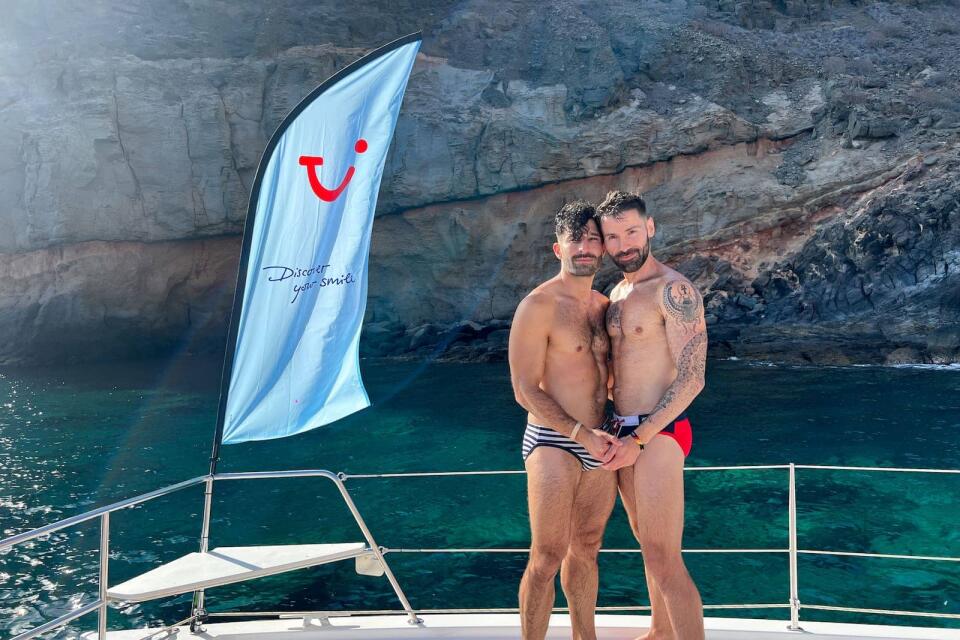 3. Yumbo Centre Pride Party
Every Pride season requires an epic finale – and the gay party outside the Yumbo Centre shows the rest of the world how it's done.
With a stage set up outside the bustling Yumbo Center, the shopping market gets even more jampacked than usual. Except in this instance, visitors are covered in face paint and rainbow flags, dancing alongside shirtless guys dressed in leather harnesses or angel wings, and gender-bending drag artists.
The bars and clubs stay open until late, with crowds migrating from one to the other, taking advantage of the various drink deals and bopping along to pounding dance music.
Almost all of the island's gay bars and clubs are located here. And no matter what kind of vibe you're looking for, you'll find it here, be it cabaret or dance heavy.
Though the real action takes place on the main stage, where a range of DJ sets, dancers, and musical guests deliver mind-blowing performances.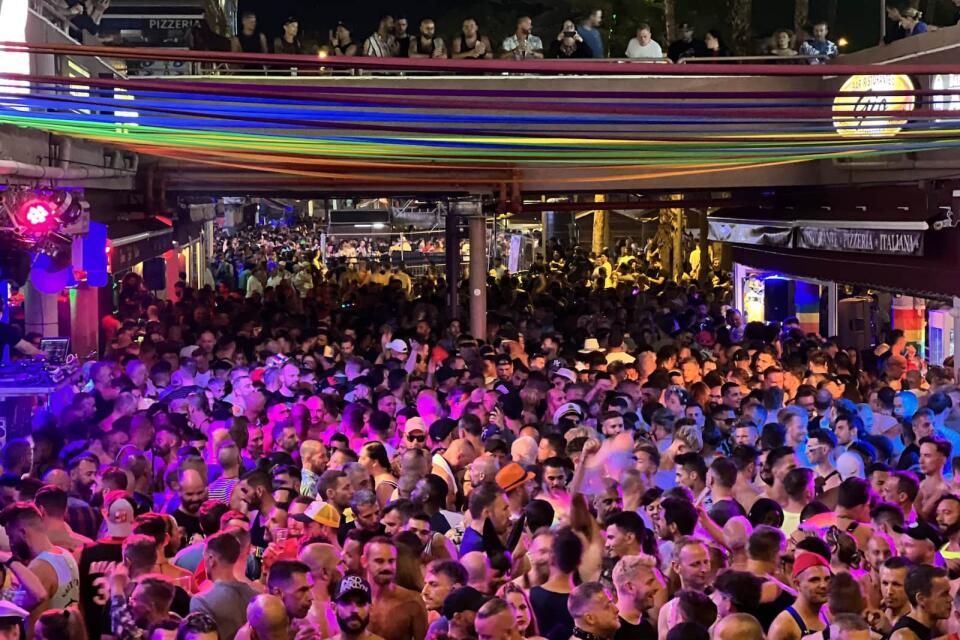 4. Gay pool parties
From partying on the sea to drinking by the pool – what is it with gay people and water? The pool parties are legendary and one of the main draws of Maspalomas Pride. Though if you want to experience them, you'll want to be quick and book one well in advance or wind up on a loooong waiting list.
The most popular gay pool party is the "Wet & White Party" at the Amadores Beach Club, where guys splash around in a huge pool, kick back their feet in a bubbling jacuzzi, spruce up their tan on the sunbeds, or sneak off into the VIP cabins with a handsome stranger… Though as fun as all that sounds, we couldn't help but favor the Ice Cream Party in the Seven Hotel & Wellness. It goes on from 1 pm-9 pm, and features a range of DJ sets and performers, hot exotic dancers, and of course, ice cream galore!
Hey, you're gonna need something to help you cool down after seeing the hot exotic dancers do their thing on stage.
5. Explore the sand dunes!
The dunes are super popular with tourists…especially the gay ones.
Considering it's right beside the famous Kiosco #5 – aka the gay beach of Gran Canaria, the hump-shaped landscape offers ideal circumstances for couples looking for some concealment…if ya catch our drift. And whilst we would never encourage lude behavior (wink wink!), if you do decide to sneak off with a loved one or a stranger, watch out for local law enforcement. In recent years, they have cracked down on salacious activities that happen on the dunes.
They are located on the south side of the island. They were formed over millions of years by sand blowing in from the bottom of the Atlantic Ocean. And they are still forming. Winds continue to move the dunes inland at a rate of 6-17 feet a year (almost as fast as Seby getting ready in the morning!) There are dedicated walking paths for visitors to take, offering stunning photo ops for your Instagram feed.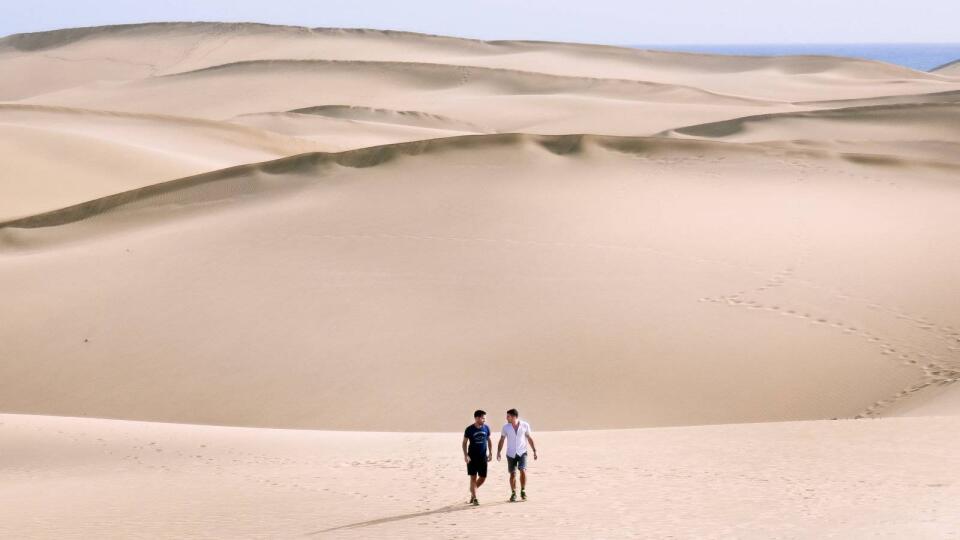 Where to stay during Gran Canaria Pride
So much sun. So much to see and do. So much celebration to be had. But where to return to after a long day of partying? We've got some fabulous (and gay!) hotels to call home during Maspalomas Pride.
01
Riu Palace Palmeras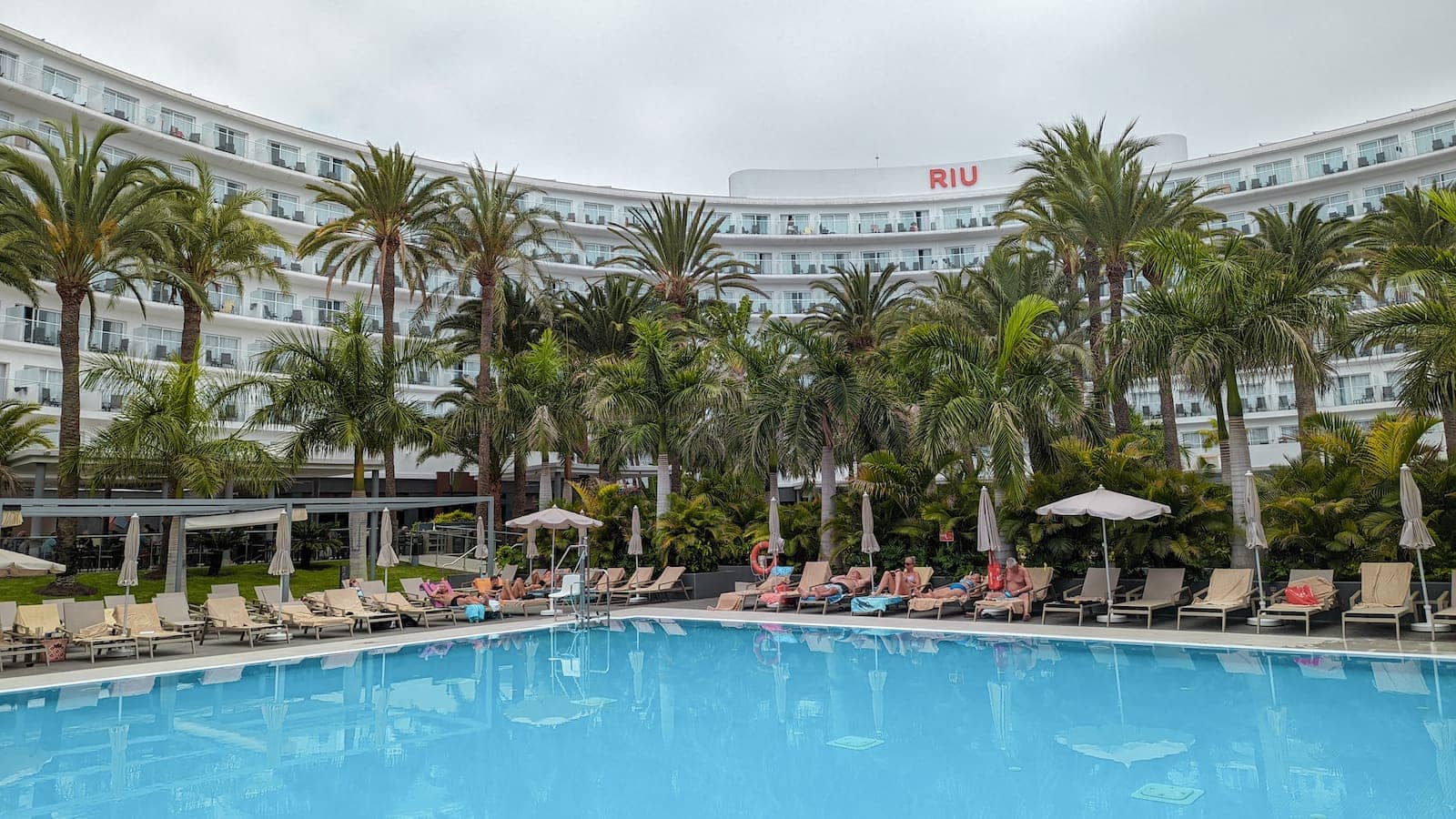 In a nutshell
---
All-inclusive gay friendly resort
Lush fitness center and gym
Short walk to Yumbo Center
Large pool and sun lounge areas
A beach lover's dream and an all-inclusive gay friendly resort, the Riu Palace Palmeras is minutes away from the sands of the Playa del Inglés. And if it wasn't for the fabulous seaside shores, the shopaholic's paradise Yumbo Centre, and surrounding cafes and restaurants, we'd have never left the hotel.
The staff was attentive to our every need from the moment we woke up to the second we laid down our heads. Our room was fabulously decorated, with modern and stylish furnishings. We had a king-sized bed, but we were mostly excited by the awe-inspiring views from our balcony.
The uber gay friendly Riu Palace Palmeras hotel has over 250 rooms in total. Each room has either a balcony or terrace with a water or garden view. The grounds featured two swimming pools, a well-equipped gym, a bar, and a lavish restaurant with a menu packed full of dishes from around the globe – a favorite of ours being steak with papas arrugadas.
Prices at Riu Palace Palmeras start from $235 per night:
---
STAY WITH A GAY LOCAL
Misterb&b is the Airbnb equivalent for the LGBTQ community. Unlike on Airbnb, you know your host is gay, voiding any nasty surprises when you check-in. It is also a great way to meet gay locals and discover the underground gay scene. Click below to get 10 € (or $10) off our first booking.
02
AxelBeach Maspalomas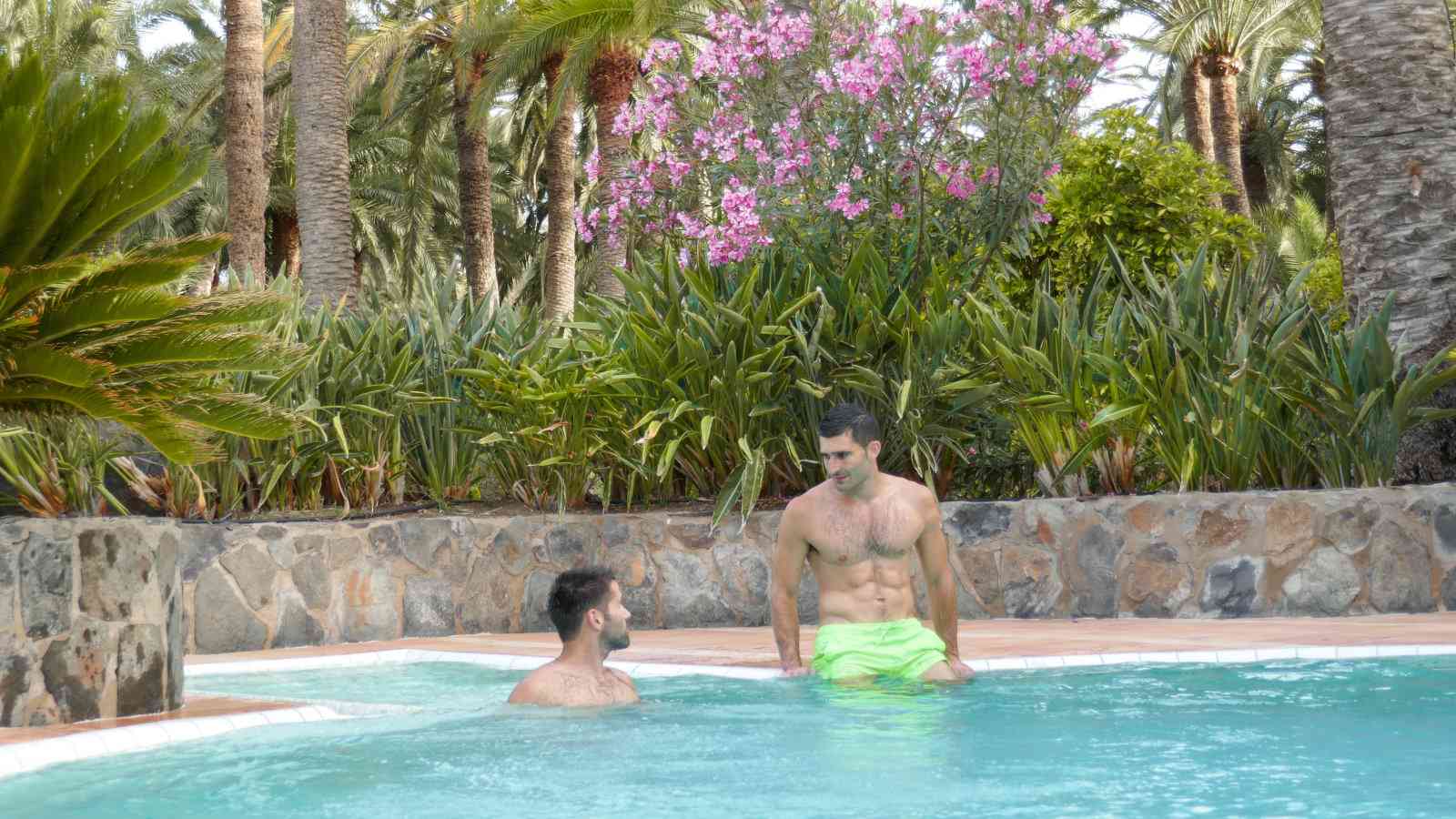 In a nutshell
---
"Hetero-friendly" hotel in Maspalomas
Popular gay pool parties are hosted here
Has the iconic "Do Disturb" signs
Fitness center, spa, sauna and hot tubs
Adult only? Check! Close to the beach? Check!! Full of gay people! Triple check!!! The AxelBeach hotel is what we would call "hetero-friendly" as it is practically overrun with LGBTQ guests. From the moment you walk in, you'll notice how the place screams party hotel. And if you haven't guessed that after seeing the "Do Disturb" door signs, then you'll definitely realize it after witnessing dozens of shirtless gay boys flocking through the corridors.
You may even think your chances of catching some zzzzs are nul pointe. However, the hotel's best-kept secret is the Axel Lounge Garden – a space of calm and serenity, with palm trees and exotic plants.
The hotel is made up of 92 modern and stylish apartments, with giant beds and cozy furniture. For meeting people, you can't go wrong with a trip to the Sky Bar of Axel. It has a giant pool and bar, where you can pick up a cocktail and gaze out onto the stunning horizon.
Prices at AxelBeach Maspalomas start from $80 per night:
---
03
Gay Paso Chico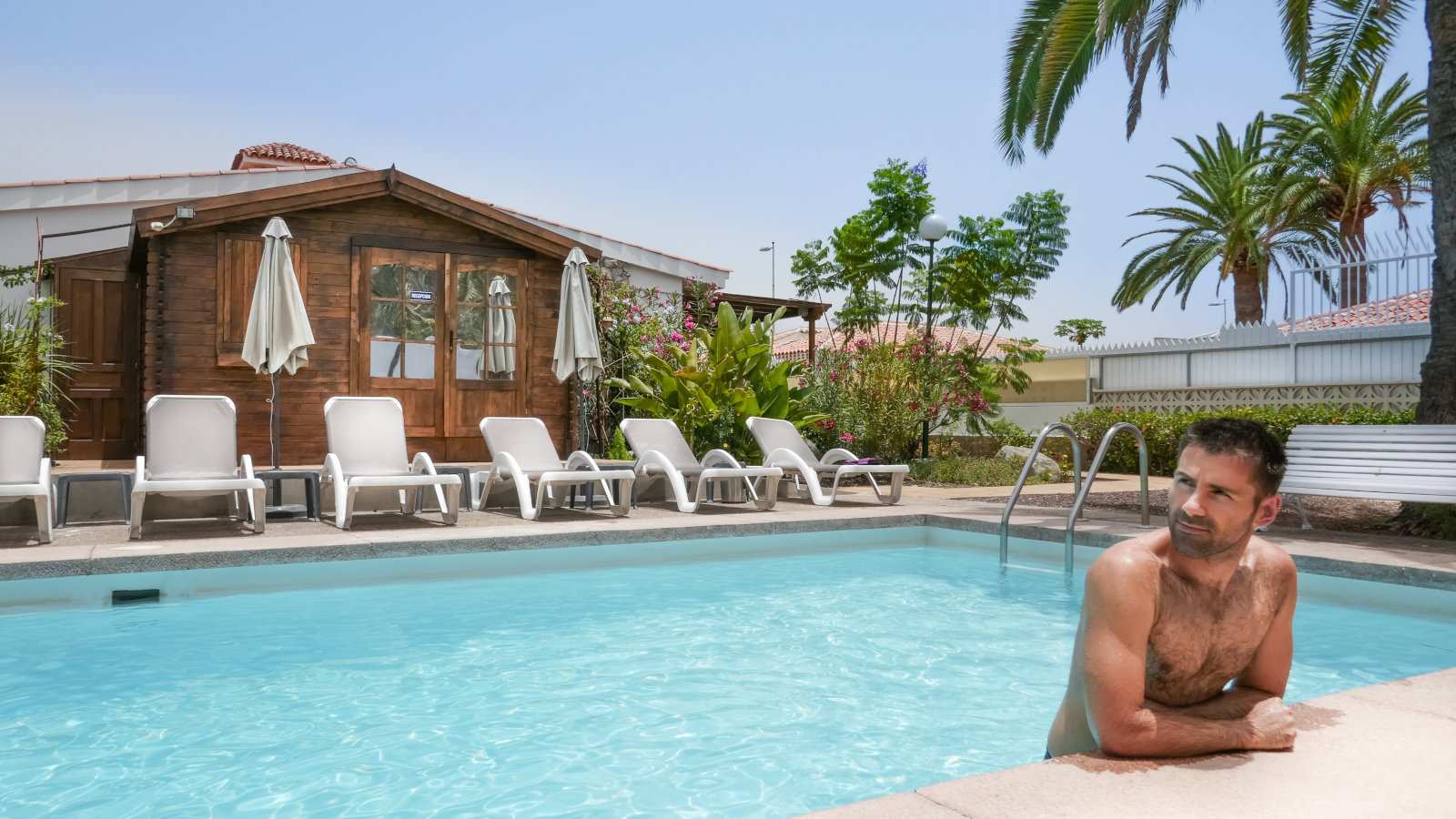 In a nutshell
---
Gay clothing optional
Right next to Yumbo Center
Affordable fully equipped bungalows
Very private: staff are hands-off
Gay Paso Chico is inexpensive, moderately equipped, and close to all the main action for Pride season. The best thing about it is that it's: A) clothing-optional and B) for gay boys only! The high fences and secluded zones may make you feel like you're in the Big Brother house at first, but you'll very quickly become appreciative of the privacy…it means you can let it all hang out (quite literally!) and relax.
Long story short: prepare for lots of late-night skinny dipping and dance parties. Made up of just 6 bungalows, you can very easily get to know your fellow guests, enjoy speedo-clad pool parties, and pop into a new friend's room for a shade sesh. The staff takes a very hands-off approach, meaning we only saw them a couple of times a day, which made us feel in total control of our own experience.
Gay Paso Chico is right beside the Yumbo Center, perfect for those who want to be at the heart of all the party gay nightlife fun.
Prices at Gay Paso Chico start from $110 per night:
---
Other highlights from Maspalomas Pride
We've been several times to Maspalomas Pride and each time it gets more and more epic!
Our advice is to head there for the week leading up to the main Saturday Pride event as Yumbo Center will be busy, but not heaving. By the weekend, the crowds emerge on the big gay shopping mall and it almost becomes a bit OTT – at least for us.
Maspalomas Pride also coincides with the annual Eurovision Song Contest so look out for bars that will be airing the big contest in and around Yumbo Center.
One thing we recommend is heading to the sand dunes at sunset. It's west facing so you'll get an impressive sunset. Another hot tip, as you're heading back from Yumbo in the early hours, it's also worth stumbling here at the twilight hours to just lie back and stare at the stars above – it's pretty magical!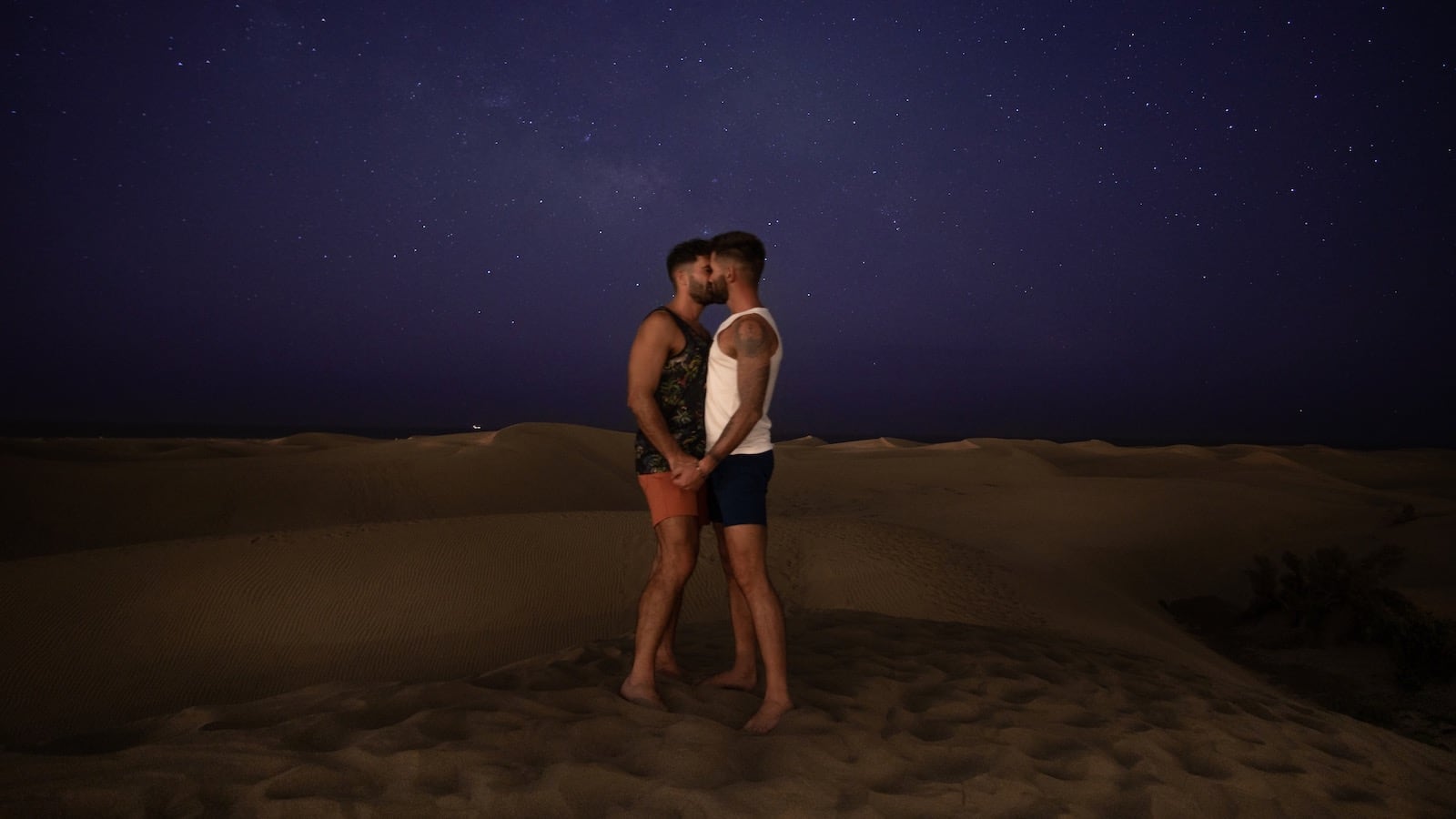 Happy travels are safe travels
We recommend you always take out reputable travel insurance before your next vacation. What happens if you suffer from illness, injury, theft, or a cancellation? Many gay travelers forget about it and regret it when something happens. Better to pay a small price and have peace of mind and not worry.