How to get from Phnom Penh to Siem Reap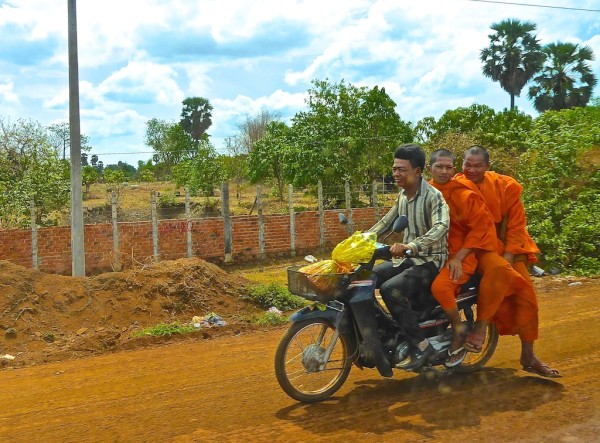 Most visitors to Cambodia will focus their stay in the capital city of Phnom Penh and in Siem Reap as a base to visit the famous Angkor Wat.
We visited Cambodia in early April during the Khmer New Year when all Cambodians were rushing to leave the capital and return to their home towns.
Here are the various options we discovered for travelling from Phnom Penh to Siem Reap.
#1

Bus from Phnom Penh to Siem Reap
The bus is probably the cheapest way to travel in Cambodia. However, finding a good, reliable company is not easy. Most private vans will have crazy drivers, so because of this we do not recommend them. The road between Phnom penh and Siem reap is still being built and is not a smooth rode, so with a careless driver, this is dangerous.
We found the Mekong Express and Giant Ibis to be reliable companies. They usually have larger (and newer) buses and more sane drivers.
Tickets from Phnom Penh to Siem Reap will sell at around £10 / $15. Buses are comfortable and have air-con (whether you choose Giant ibis or Mekong Express).
Tickets are easy to book online and pick up from your hotel can be arranged.
Giant Ibis is newer and has better online reviews. We used them to return to Phnom Penh from Siem Reap and they were professional, quick and have WIFI and air conditioning.
The journey takes around 5-7 hours taking into account traffic. This will decrease a lot once the new road is completed.
There are several stops for toilet breaks and one for lunch.
There are over night options available, but after reading how dangerous these are, we decided to travel by day only. The larger public buses are around £3 / $5 cheaper, but are slower and not as comfortable.
#2

Taxi from Phnom Penh to Siem Reap
We visited Cambodia during the busy Khmer New Year period in mid April. This was a very busy time because everyone was rushing to leave the capital city to return to their home time for the holiday.
As a result the Giant Ibis tickets were sold out. We were a group of 4 and were able to justify splitting the cost of a taxi to take us there which was £90 / $140 (so £23 / $35 per person).
Outside of this busy holiday season, you should be able to book a taxi for around £45 / $70.
#3

Airplane from Phnom Penh to Siem Reap
Cambodian Airlines flies several times each way, taking 45 minutes.
It's not the cheapest for budget travellers (around £80 / $125), but good for those limited with time.
You can read more about our experiences discovering food in Cambodia and watch our Cambodia travel video.