Phnom Penh is the capital city and main transport hub of Cambodia. We found it to be quite modern, developing very quickly and reminded us of a smaller Bangkok.
We were also pleasantly surprised to discover a busy gay scene in Phnom Penh with many bars and clubs.
You could easily spend a week in the Cambodian capital city and not be bored. For those pushed for time, 2 days is definitely more than enough to get a taste of Phnom Penh, a feel for Cambodia and its bloody history. If you have more than 2 days to spend in the city, check out Two Scots Abroad post about unique things to do in Phnom Penh.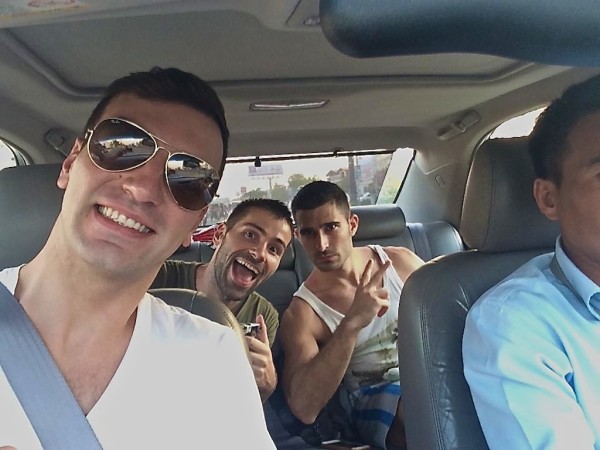 Where to stay in Phnom Penh?
Tourism in Phnom Penh is booming, so you will not struggle to find good quality accommodation. Below are the places we loved and tried on our several visits to Phnom Penh.
Well located near the Royal Palace, the national museum and the riverside.
Walking distance to the gay bars and clubs.
Prices start from $35 / £23 a standard double room, with breakfast included.
Lovely little property near the Royal Palace, nicely decorated, with very friendly staff.
Has a swimming pool, which is great after a day of sightseeing.
Prices start from $68 / £46 for a double room with breakfast included.
A romantic oasis in Phnom Penh, with very large room and a great swimming pool
Close to all attractions and the best restaurants in town
Prices start from $149 / £100 for a double room with breakfast included.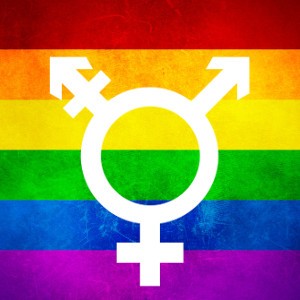 Advice for LGBTQ travellers to Phnom Penh
We loved Phnom Penh a lot. Not only are the hotels and guesthouses we stayed at super welcoming towards LGBTQ travellers, but there is also a surprisingly large gay scene. Phnom Penh has a large LGBTQ expat community which has helped make the place more diverse, international and accepting. We truly were pleasantly surprised by how gay friendly Phnom Penh was for us and would gladly return to discover more of it. For more, read our interview with local boy Aaron from Phnom Penh about what it's like growing up gay in Cambodia.
Day 1: learn about Cambodian history
Unfortunately, the terrible and bloody rule of the Khmer Rouge under Pol Pot between 1975-1979 overshadows Cambodian history mainly because around a third of its population was killed off in this short period.
In Phnom Penh, a day should be devoted to exploring the Killing Fields of Choeung Ek and the Tuol Sleng "S21" Prison.
#1

The Killing Fields of Choeung Ek

This is one of the many horrific places where the Khmer Rouge soldiers literally beat to death (bullets were considered too expensive to use) almost 3 million of the then 8 million population between 1975-9.

It is harrowing and extremely sad to experience. But we think important that everyone visits to get an idea of how badly the Cambodians suffered.

One of the most visually awful things was the "Killing Tree", against which infants were battered to death then thrown into the burial pit behind, while happy Communist sounding revolution music blasted loudly from the speakers to drown out the cries to people outside becoming suspicious. All 'batterings' happened at night when it was dark and easier to hide.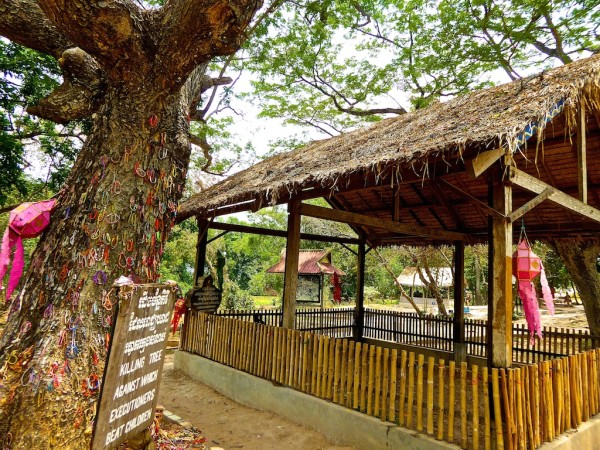 #2

The Tuol Sleng (S21) torture prison

The S21 is a former school turned torture prison where people arrested by the Khmer Rouge were tortured until they made false confessions about made up allegations against them before they were taken to the Killing Fields to be killed. They didn't know they would be killed – this was all in secret.

It was all part of a 'cleansing' ideal of the Khmer Rouge to rid society of all intellectuals, the middle class, priests etc. So anyone with any form of education was regarded as a threat to the regime and would be arrested, tortured then beaten to death.

As with the Killing Fields, a visit is a must but it is of course very sad and will affect you. One of the things that affected us most was this (translated) sign of rules prisoners had to abide by when arriving at the prison: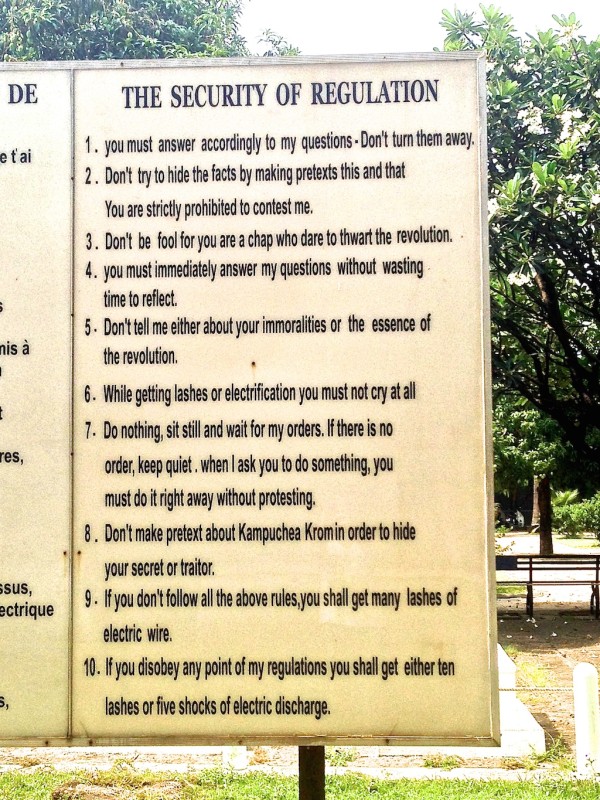 Practicalities of visiting S21 and the Killing Fields
The entrance fee at the Killing Fields was $6 per person and includes an excellent audio guide.
The entrance fee to S21 was $2 per person and free for students.
The Killing Fields of Choeung Ek are located around 8km Southwest from Phnom Penh and S21 is more centrally located in town.
We were a group of 4 and paid $20 between us for a tuk tuk to take us to the Killing Fields, S21 then bring us back.
#

3

Sunset dinner cruise on the Mekong River

After an intense day, it's time to relax and end the day with a sunset dinner cruise on the Mekong river with Phocea Mekong.
We paid $25 each (plus $5 tips each to the guide) and were lucky to have the boat all to ourselves (we were 4).
The price included a variety of appetisers like spring rolls, barbecued meats, vegetables and an open bar! Desert included a large plate of fruit and a bird made of apple slices: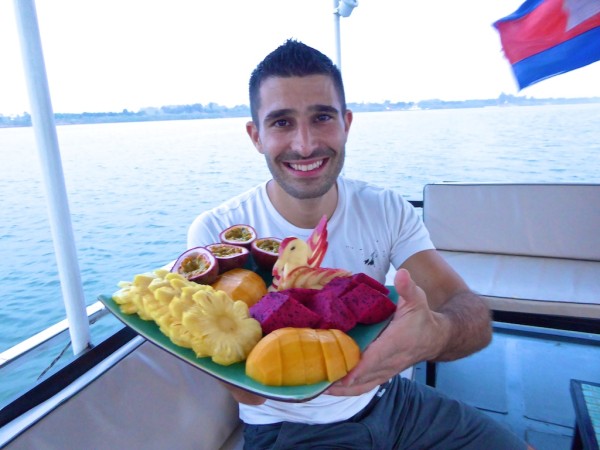 Day 2: Shopping and Palaces
Today is devoted to exploring more about Khmer history at the Royal Palace, National Museum and later some shopping.
#1

The Royal Palace
After breakfast, head to the Royal Palace, where the King of Cambodia officially resides.
It is open daily from 8am to 5pm and costs $6.50 per person. The earlier you go, the more likely you are to avoid the large tour groups.
#2

The National Museum
The National Museum is located next to the Royal Palace so makes a logical stop after your visit there.
It showcases Khmer artwork, sculptures, ceramics and a variety of ethnographic objects.
It is open daily from 8am to 5pm and entry is $5 per person.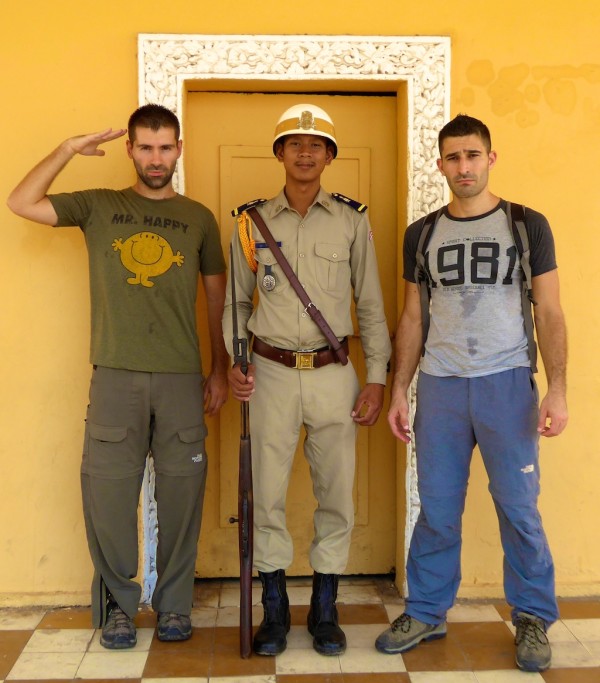 #3

Lunch at the Sugar & Spice cafe
The Daughters of Cambodia is a NGO helping victims of sex trafficking of Cambodia and they have two cafes called Sugar & Spice (located at #65 on 178 Street) and Sugar & Spice Garden Café (at #130A on 430 Street).
Both are open daily (except on Sundays), from 9am to 5:30pm. Prices are reasonable and you eat knowing you are helping out a good cause.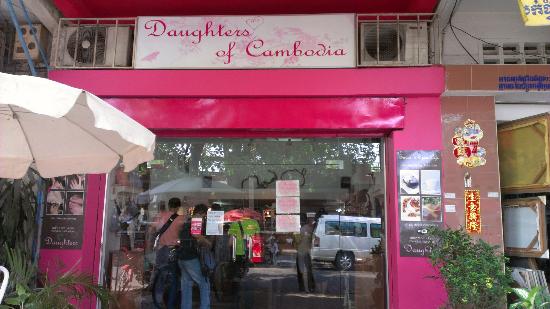 #4

Shopping at the Russian Market
The Russian Market is a large bazaar every visitor should visit at least once during their visit for souvenirs and discounted brands.
It got its name from the predominantly Russian expat community in the 1980s that used to shop here in their numbers.
Now it's full of excited tourists and backpackers like this one shopping for chic and stylish (!) outfits and (ahem!) accessories: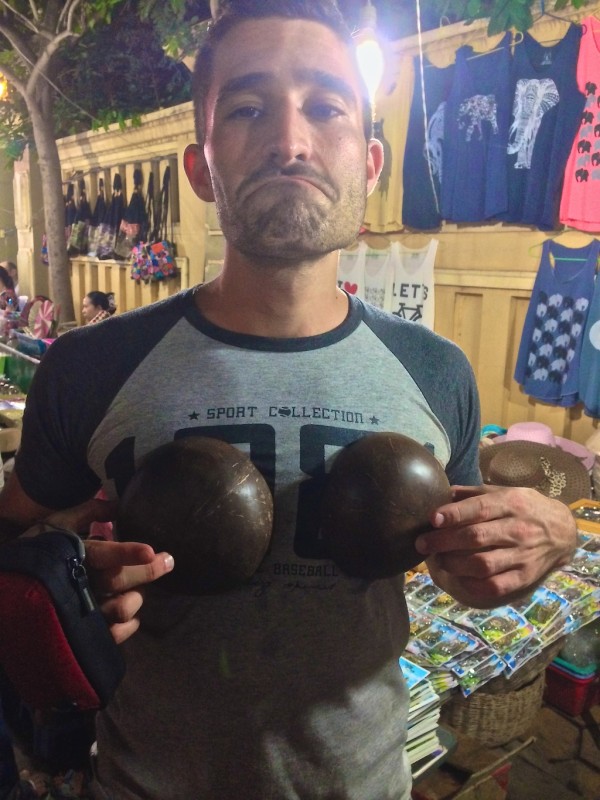 #5

Dinner at the Friends Restaurant
Friends is a restaurant owned by a NGO called the Tree Alliance. Their mission is to assist street children obtain skills to make a better life for themselves.
The food is excellent and as with the Daughters of Cambodia, what you pay goes to an excellent cause.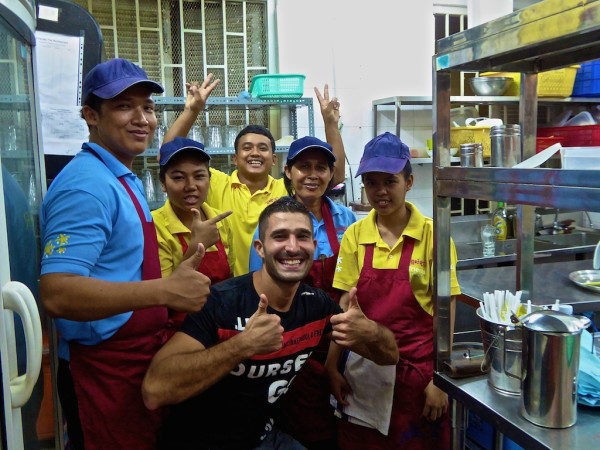 #6

Drinks and a night out in town
Head over to one of the many popular bars in Phnom Penh, particularly one of the drag queen shows like at Toolbox Bar (at #46E Street 174) or Rainbow Bar (at #134 on Street 136).
If you're lucky, they may even let you join in one of the shows as Sebastien found out when he tried to channel Idina Menzel and perform "Let It Go"…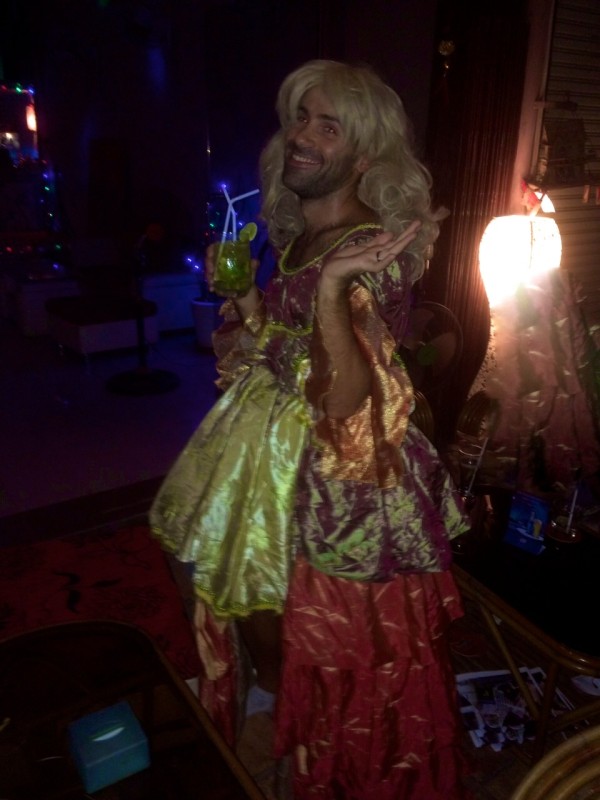 You can read more about our experiences discovering food in Cambodia and watch our Cambodia travel video:
Happy travels are safe travels
We recommend you always take out travel insurance before your next vacation. What happens if you suffer from illness, injury, theft or a cancellation? With travel insurance, you can have peace of mind and not worry. We love World Nomads travel insurance and have been using it for years. Their comprehensive coverage is second to none and their online claims process is very user friendly.
Some of the links in this post are affiliate links. This means that if you book your accommodation, an activity or your insurance, we'll earn a small commission. There is never an extra cost to you for using these links and it helps us keep the site going.