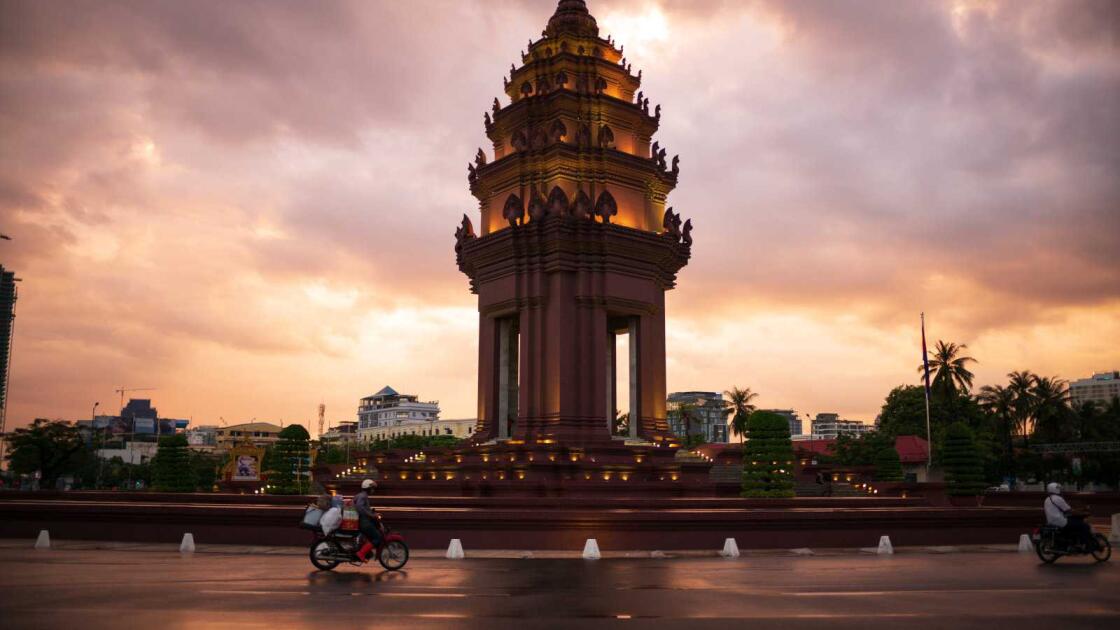 "Guys, how many days should I stay in Phnom Penh?"
…is a question we get asked a lot by our readers. And the answer is, it really depends on how much time you have on your hands to explore Cambodia. We came here expecting to stay for a few days but ended up staying for a few weeks!
Phnom Penh is the capital city and main transport hub of Cambodia. It's famous for the Killing Fields – a harrowing memorial dedicated to the victims of the Khmer Rouge regime. Most come to visit this then quickly move on to Siem Reap to visit Angkor Wat. For us, we extended our trip here because we quickly fell in love with the bustling Cambodian capital. It's a very cool, modern, city, similar to Bangkok but on a much smaller scale.
At the end of the day, it depends on how long you've got for your Cambodia trip. We think you could easily spend a week (or two!) in Phnom Penh and never be bored. However, for those pushed for time, we think two days is more than enough to get a flavor of the city and learn about the country's sad history.
When is the best time to visit Phnom Penh?
We think Phnom Penh can be visited at any time of year. There is no "ideal" time to go or months to avoid.
In terms of weather, the dry season takes place between November to April. At this time of year, the sky is usually clear blue. However, this is also the peak tourist season, so hotels are at full price, and tourist attractions are heaving with package tourists. Being so close to the equator line, Cambodia is tropical and hot for most of the year. The average temperature goes from around 95°F (35°C) in the day to around 70°F (21°C) at night.
But as we said, no matter what time of the year you come to Phnom Penh, you will love it, that's for sure!
How many days in Phnom Penh?
We think that two days is enough to hit the main sights. However, if you have a bit more time, we think 3 days / 2 nights is much better and more relaxed.
For those flying into Cambodia from the USA or Europe, you should also factor in time to relax and adjust to the jet lag, so adding a day for that isn't a bad idea. One thing we definitely recommend is saving your visit to the Killing Fields for your 2nd (or 3rd day). It's a very emotional visit, definitely not the first thing we recommend you do when you've just stepped off the plane and are still jetlagged.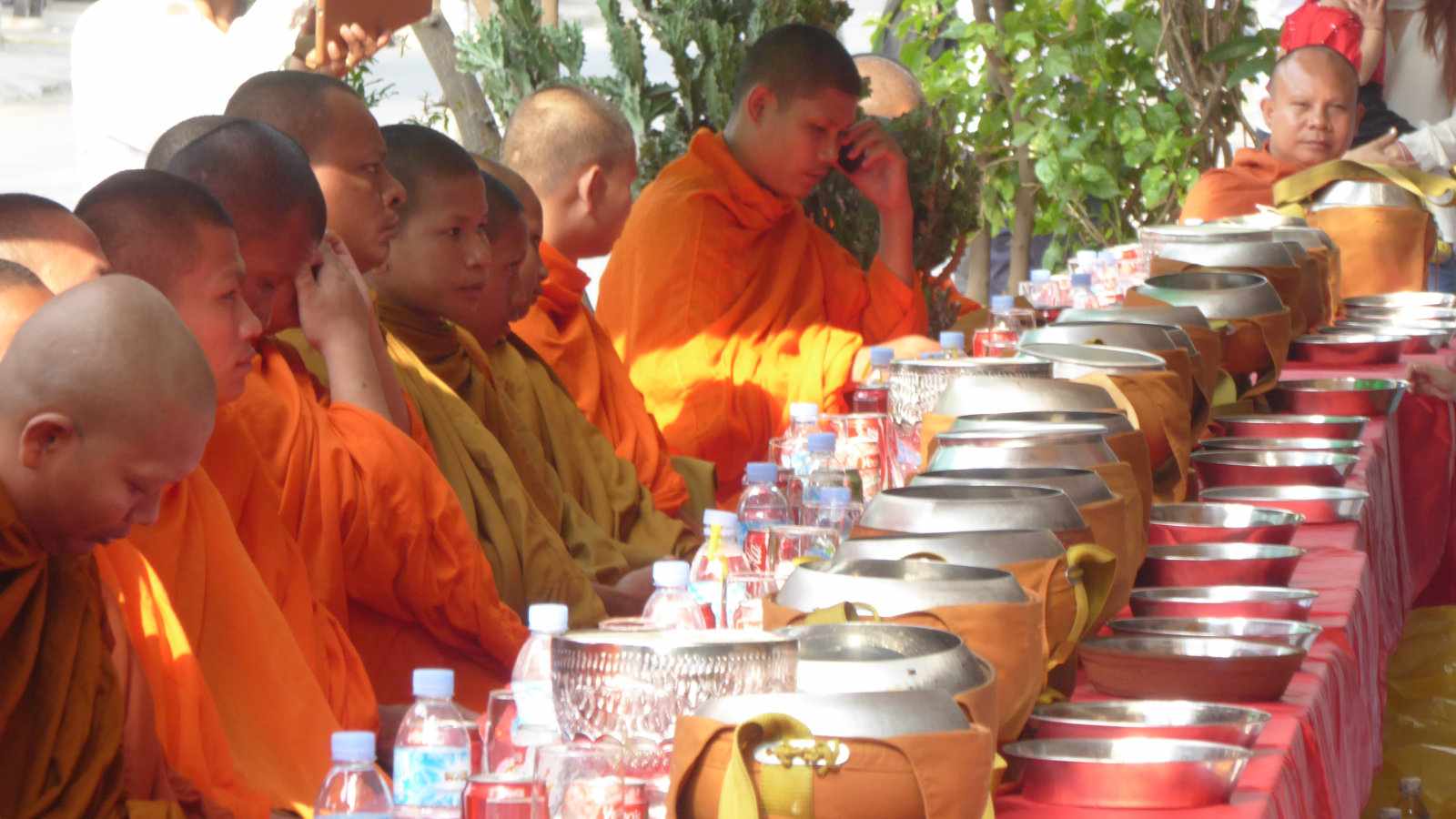 How to get around Phnom Penh?
Most get around the city center by tuk-tuk. It's an inexpensive and super fun way to travel around the city. To give you an idea, a ride across town will cost in the region of around $3. We recommend agreeing on the fee with your driver beforehand.
For longer trips, such as to the airport, we recommend getting a taxi. The airport is around 6.5 miles (10km) from the city center, taking around 30-60 minutes subject to traffic and costs around $15-20.
Motorbikes (moto taxis) are another way of getting around, but we skipped them for safety reasons. Phnom Penh also has an excellent public bus system, which is very cheap.
If pushed for time, a taxi is your best bet. Either get your hotel to arrange one for you, or use the Grab app. A trip across town by taxi never cost us more than around $3-6.
Where to stay in Phnom Penh?
There is a wide range of excellent accommodation options for all budgets in Phnom Penh, which we set out below based on our first-hand experience.
Ideally, you want to be aiming to stay somewhere for 2-3 nights to really get the most out of your trip in Phnom Penh. However, if you arrive early on day 1 and time is super tight, you can still squeeze it all into one day and stay for just 1 night.
01
White Mansion Boutique Hotel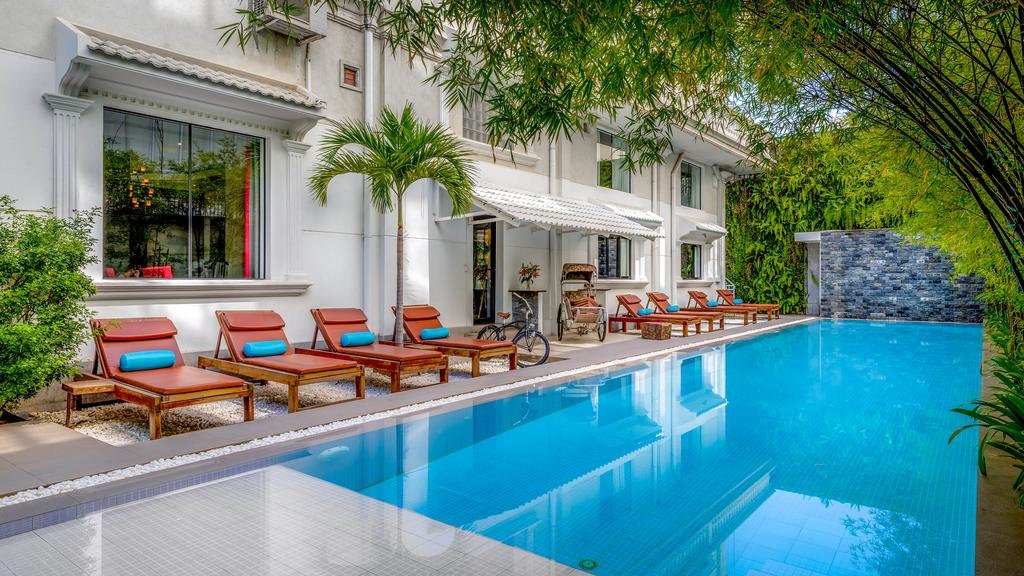 In a nutshell
---
A romantic oasis in Phnom Penh
Great swimming pool
Spa services available
Close to all attractions and the best restaurants in town
When they call this place "White Mansion" they aren't kidding!
The White Mansion Boutique Hotel is located in what used to be an American Embassy, so the whole building is stunning, stately and elegant. The rooms and suites are very spacious, some with lovely private balconies overlooking the city.
There's a 20-meter long swimming pool and the grounds are filled with luscious leafy green plants which make it feel more like a secluded tropical paradise than a hotel in the middle of a city! At night it's lit up with romantic fairy lights and the perfect spot for a cocktail. The location means you are ideally situated to visit the most famous attractions in Phnom Penh, while also being walking distance to many excellent restaurants.
The White Mansion has a French-style café called Le Café, which serves breakfast, lunch, dinner, snacks and cocktails for hotel guests as well as people not staying there. The food is delicious, a mix of French pastries, Khmer cuisine and international dishes.
Guests can have relaxing massages and spa services in the comfort of their rooms. The staff here are just wonderful, so friendly and helpful. On top of all that, the hotel is even pet-friendly, so if you're traveling with a cat or dog they will be just as comfortable and well-looked after as you are!
Prices at White Mansion Boutique Hotel start from $149 per night:
---
Day 1: Hit Phnom Penh's main attractions
Our first-day itinerary will focus on hitting Phnom Penh's main attractions, which are mostly located in the city centre within walking distance of each other. We suggest starting around 9am and setting aside a few hours for a lunch break in the middle. And pace yourself: if you don't hit all the sights, it's ok! It's far more rewarding to enjoy the experience rather than rushing it to see everything.
Handy tip: if you're tight with time and/or want a deeper insight into Cambodia's history, we recommend joining a Half-Day Phnom Penh tour of the Royal Palace, National Museum and Wat Phon.
Day 2: Delve into Cambodia's haunting history
Brace yourself: our second-day itinerary is a pretty emotional one! This day is dedicated to visiting the harrowing Killing Fields of Choeung Ek and the Tuol Sleng "S21" Torture Prison. It's a harrowing and somber experience but one we think everyone needs to see. The terrible and bloody rule of the Khmer Rouge under Pol Pot between 1975-1979 overshadows Cambodian history because around a third of its population was killed off in this short period of time!
Heads up – there are several excellent guided tours of the Killing Fields and Torture Prison that you can pre book when planning your trip.
Plan your trip to Phnom Penh
Phnom Penh Itinerary map
Here's our map of Phnom Penh which includes all the hotels, restaurants, bars and sightseeing highlights we've mentioned in this post. Use it to plan your own amazing trip to Phnom Penh!