Cambodian (or Khmer) food is not really well known internationally but there are some unique traditional Khmer foods we discovered whilst eating our way around the country. Dishes like Amok are unique to Cambodia and others like Beef Lok Lak are influenced from its neighbour: Vietnam.
This is the best traditional food of Cambodia we tried, loved and want to shout to the world about:
#1

Fish Amok

Amok is the most well known traditional food of Cambodia. It is a thick fish based curry which is also very popular in Laos and Thailand.

The fish amok recipe involves freshwater fish, lemongrass, chilli,turmeric and coconut milk. It is served in a banana leaf with rice and sometimes a fried egg. A beef, chicken or vegetarian variant (with tofu) can be made.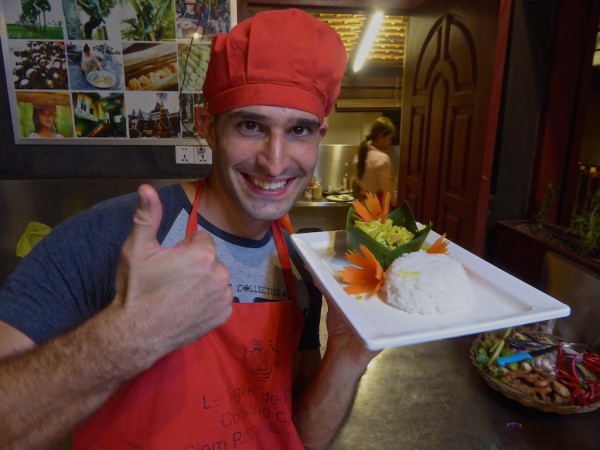 #2

Beef Lok Lak

Beef lok lak is the Cambodian version of the Vietnamese "shaking beef" called Bo Luc Lak.

Our recipe for Cambodian beef lok lak includes chopped thin slices of beef, stir fried with onions, cucumbers and tomatoes. The traditional dish is then served with rice and a fried egg for extra protein.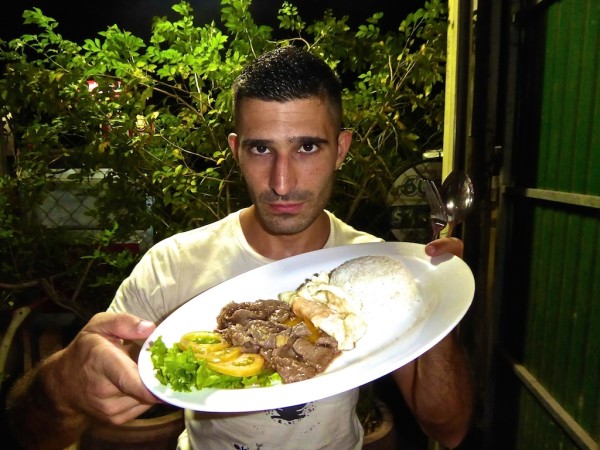 #3

Bugs

Fried crickets and silk worms anyone?

How about a platter of spring rolls with chopped red ants with fried giant water bug, tarantula and scorpion? All of this topped with a samosa containing chopped feta, spinach and tarantula…? YUMMY !!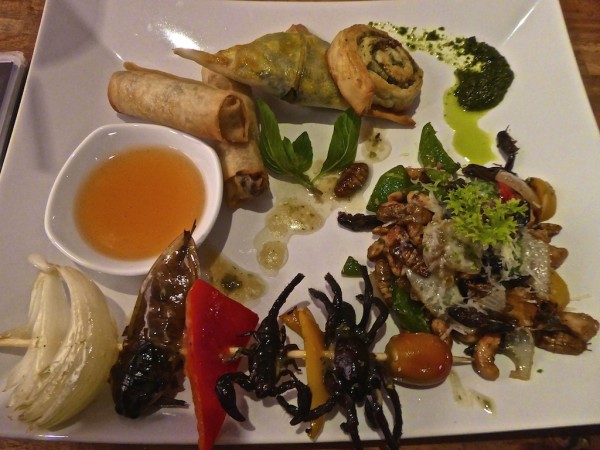 Ok we're showing off now, but Cambodians make the most of what they have and cook these high protein, easy to maintain creatures for a crunchy and quite chewy meal.
We were too shy about trying cooked bugs from the streets vendor, but instead visited the famous BUGS Cafe in Siem Reap and sampled their discovery platter.
The barbecued tarantula was the most memorable: chewy body and crunchy legs!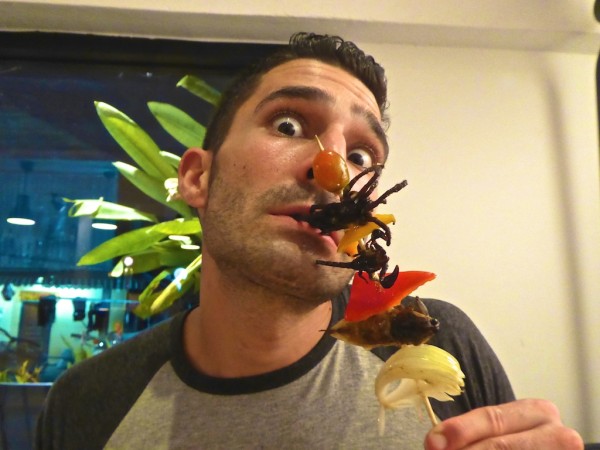 Another part of the discovery platter was the fried scorpion, which a tentative Sebastien actually quite enjoyed:
#4

Khmer curries

Cambodian curries are similar to Thai curries, both using coconut milk as a base with a subtle sweetness. However, the Khmer curries are not as spicy as the Thai, containing fewer quantities of chillies.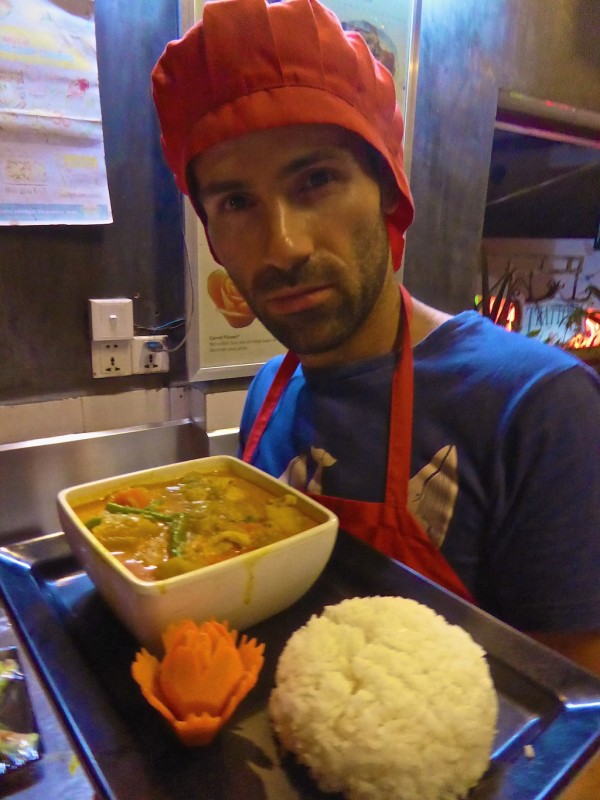 #5

Fresh spring rolls

Fresh spring rolls are not only tasty but, unlike the more traditional crispy spring rolls, they are healthier as they are not deep fried. This is another strong example of Vietnamese influence to the Cambodian cuisine, very similar to the "Summer Rolls" of Saigon.

The filling comprises various blanched cooked ingredients, fresh herbs and cooked meat (left out for vegetarians). Rice paper is used as the outside filling and the spring rolls are served with a dipping sauce consisting of chilli, crushed peanuts and lime juice.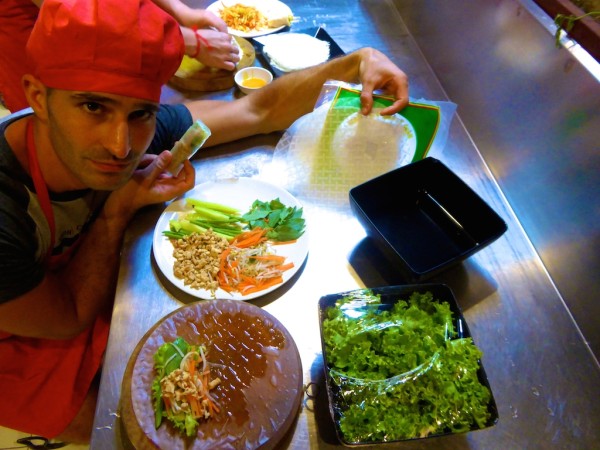 #6

Khmer mango salad

Mango salads are popular in Cambodia and throughout Southeast Asia. They are similar to the Thai papaya salad, but involve instead a grated mango as the base.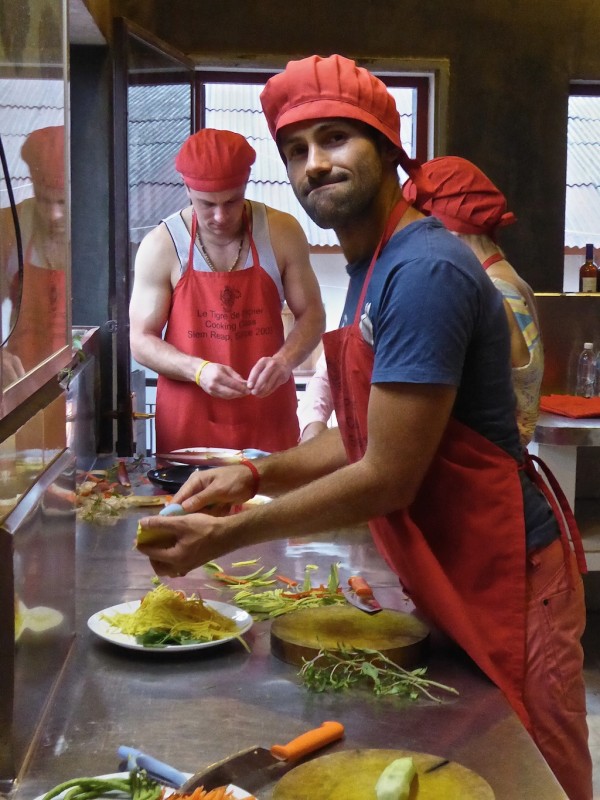 The Khmer mango salad also uses ingredients similar to the recipe for som tam papaya salad, in particular lime juice mixed with crushed nuts, dried shrimp, chopped garlic, shallots, chilli, mint and fish sauce. This is a really healthy dish, which can be adapted for vegetarians and vegans by not using the dried shrimps and fish sauce.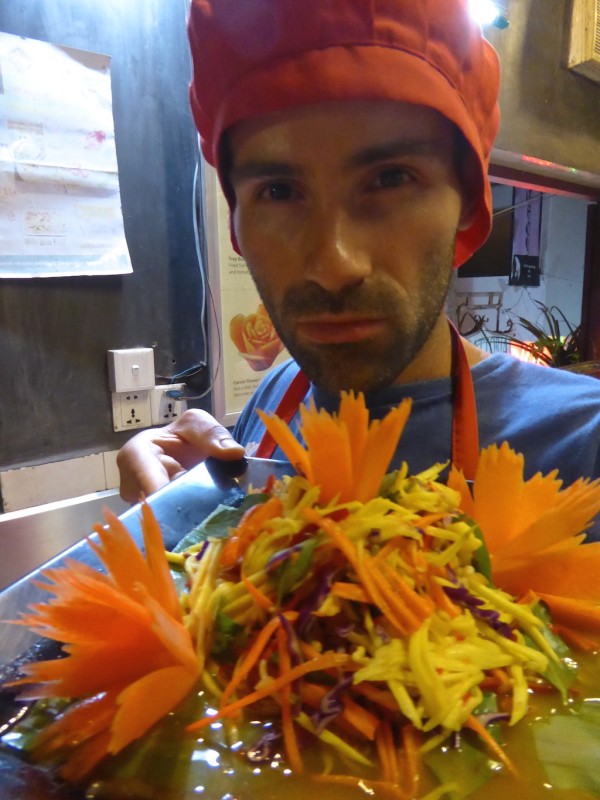 #7

Angkor Beer

The national drink of Cambodia is named after its world famous wonder and is the most widely consumed beer in Cambodia.

It is traditionally brewed at the Cambrew Brewery in Sihanoukville (Southwest of the country) and is a great way to wash down all the lovely culinary prizes from the Khmer kingdom.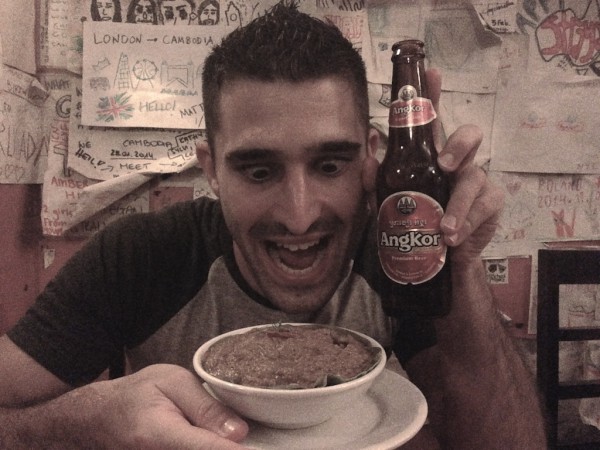 You can try our recipes for Cambodian beef lok lak and fish Amok and watch our Cambodia travel video.
OUR FAVOURITE TRAVEL TIPS
⭐️ TRAVEL INSURANCE — We recommend you always take out travel insurance before your next vacation. What happens if you suffer from illness, injury, theft or a cancellation? With travel insurance, you can have peace of mind and not worry. We love World Nomads travel insurance and have been using it for years. Their comprehensive coverage is second to none and their online claims process is very user friendly.
⭐️ SAFETY & SECURITY — All travelers can sometimes encounter danger when traveling. CloseCircle is your "virtual body guard" mobile app which provides security alerts and support wherever you are in the world. They have a 24/7 emergency response team monitoring their users who will contact you immediately if the SOS swipe button is activated. Support can include anything from practical advice, to free evacuation from areas with extreme weather or security risks. You can read more about CloseCircle in our article about how to stay safe whilst traveling.
⭐️ ONLINE ANONYMITY — A VPN (Virtual Private Network) is a must in many countries: it allows you to surf anonymously and maintain your privacy whilst traveling. You'll particularly need it in countries where dating apps are blocked by the government. We recommend ExpressVPN, a reliable and cost effective service which we used and loved during our travels.
⭐️ HOTELS or APARTMENTS — When we plan a trip, we always look for the best hotel deals. We love Booking.com because not only do they have a comprehensive listing of accommodation options, they also offer the best prices. Added bonus: they provide 24/7 support and free cancellation for most listings.
⭐️ SIGHTSEEING and ADVENTURES — When we travel somewhere, we like to seek out the best experiences, whether it is cooking with locals in Bangkok, hiking on a glacier in Patagonia, or going on a wildlife safari in Sri Lanka. Our favorite place to look is GetYourGuide because they have over 30,000 highly rated activities, a user-friendly booking process with free cancellation and a 24 hour customer support.
This article contains affiliate links. If you click on them, we may receive compensation which keeps our website alive and helps us bring you to more destinations.