Nepal is nicknamed, "the ceiling of the world". It has 8 of the world's 10 highest mountains and 100 mountains exceeding 7200m.
The two most popular treks are to Mount Everest's base camp (at 5,380m / 17,651 ft) and the Annapurna trek to the climax point of 'Thorung La Pass' at 5,416 metres (17,769 feet) altitude.
We trekked the Annapurna Circuit to the climax point of Thorong La Pass at 5,416m (17,769ft) – an experience which will alway live in our hearts.
This is our tips and advice for planning your Annapurna Circuit trek in Nepal.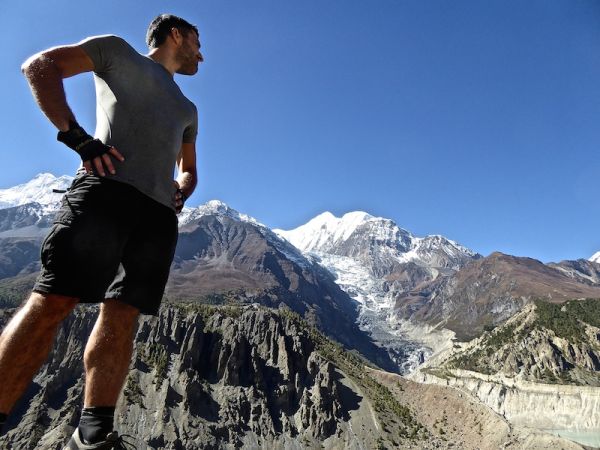 #1

HIRE A GUIDE!
We used a guide for our trek and cannot recommend this enough. An experienced guide will know the trails inside out, know the best tea houses to stay and will always fight for you to get the best service everywhere. He/she will also be able to help you with altitude sickness and motivate and encourage you along the way.
We spent a full day in Kathmandu going around all the many agencies. Our guide was Kiran, who spoke excellent English and was really passionate about the Himalayas and his country. We'd be happy to introduce you to him if interested.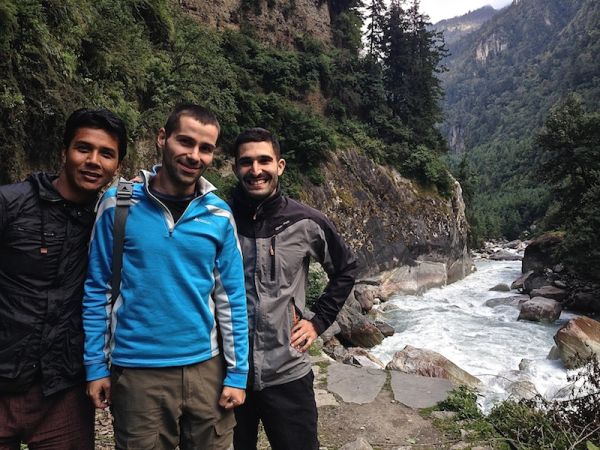 #2

IS IT SAFE?

With a guide you will be just fine.

We left Thorong La Pass just 4 days after the big avalanche in October 2014. Most of the 200 trekkers were able to take refuge in the small tea house at Thorong La Pass, but for most of the trekkers who tried to climb down, they got caught in the storm and unfortunately froze to death.

The Director General of Nepal's Department of Tourism, Tulasi Gautam, issued a statement stating that one of the reasons for the high fatalities was that many independent trekkers, walking without guides, decided to continue when the storms broke, rather than to stop and take shelter.

As such, announcements have been made to ensure rules will be tightened to ensure that only properly trained and accredited guides are able to lead treks.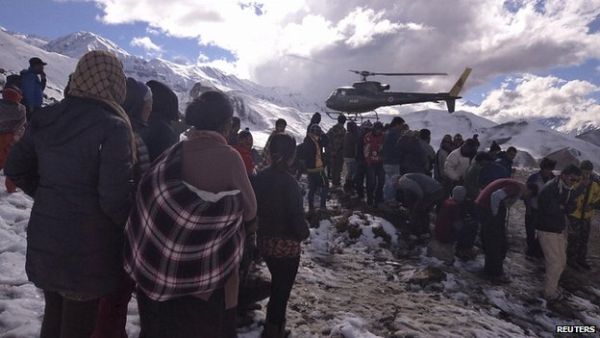 #3

TIPS FOR HIRING AN EXPERIENCED GUIDE
Quite simply, invest a day or two in Kathmandu to plan your trek beforehand and ensure you meet your guide before agreeing to hire them. This is the person you will be spending a large amount of time with, so you need to ensure you connect and of course, communicate.
Sit down with them and chat about their experience and you will quickly get an idea if you want to instruct them or not.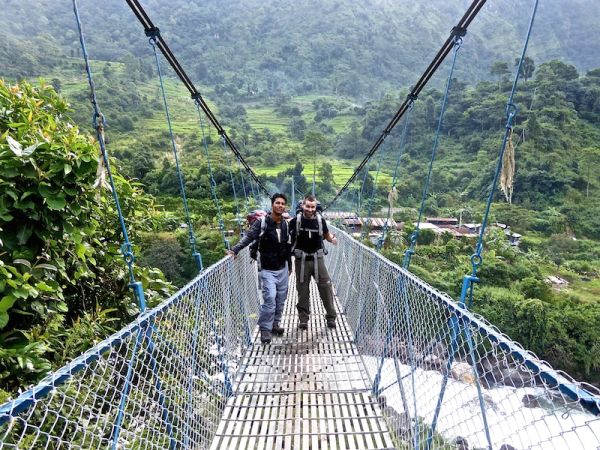 #4

SHOULD I HIRE A PORTER?

You can hire a porter to carry your belongings along the way. We chose to leave most our belongings in Kathmandu and carried our own backpacks.

It's worth asking your tour company if they treat their porters well and what is the maximum weight they make them carry. You will quickly get used to seeing this along your trek: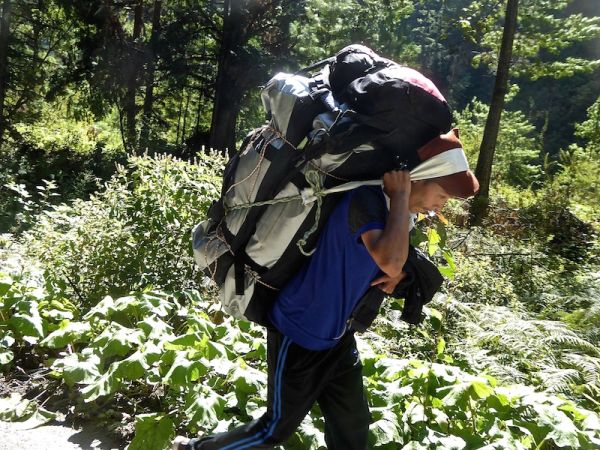 #5

WHAT TO PACK FOR YOUR ANNAPURNA TREK
These first two items are crucial but you can and should rent them in Kathmandu if like us you are long term backpackers:
1. Sleeping bag: get this through the shop your agency has a relationship with as you can haggle prices easier and you can get your guide to return it when you've finished if you're not returning to Kathmandu.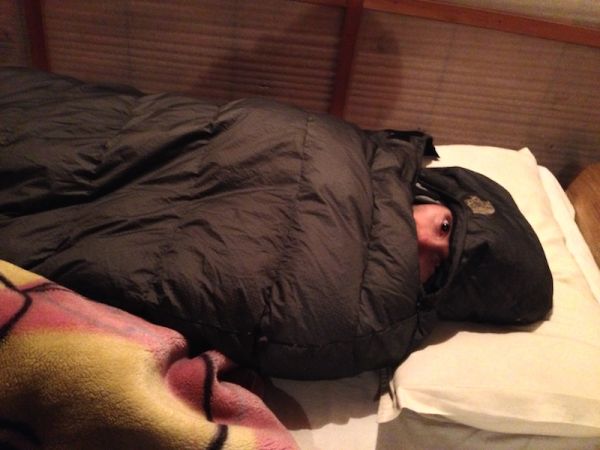 Sebastien tucked into his sleeping bag during our Annapurna trek
2. Down jacket: rent this from the same shop you rent your sleeping bag. You will need it at the high altitudes where it's FREEZING at evening/night time or during the early morning sunrise treks.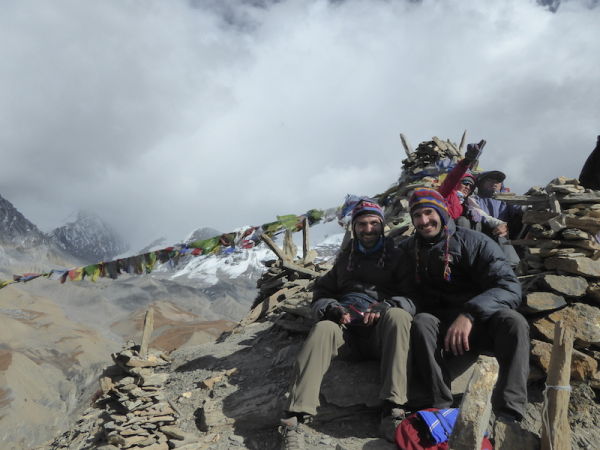 If you are only going to Nepal for a holiday, then you will most likely prefer to bring most of these items from home. For the long term backpacker however, you will want to minimise the amount of trekking specific items as much as possible and buy most of these in Kathmandu (or in Pokhara depending on where your trek starts from):
3. Cash: there are no ATMs in the mountain villages and if there are, they are unlikely to work. Make sure you're well stocked up before you head out from Kathmandu (or Pokhara).
4. A good backpack: obviously you should have this anyway, but for trekking, you ideally want a good backpack with an excellent back support mechanism and which fits you correctly, ie so that there is no space between the strap and your shoulder blades: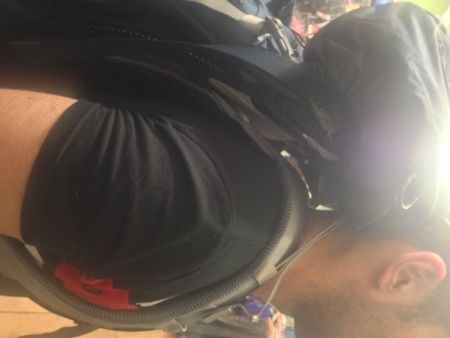 5. Good trekking shoes: "shoes not boots?". We had this dilemma before leaving London for our travels. Boots are heavy but provide the best ankle support and are the ideal. But they are bulky and for just a two weeks trekking, we found it was not worth carrying these around for a year.
Trekking shoes double up as trainers to use as your day to day shoes and were good enough for us during the Annapurna Circuit.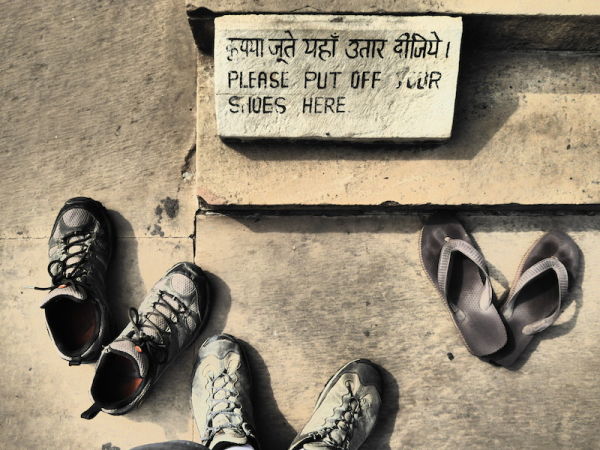 6. Trekking socks (3/4) for your shoes: you will need these for your shoes anyway, so get them before you leave home. You can clean and dry them along the way. Washing product you can buy along the way and looks like a soap bar.
7. Sunglasses: if like Stefan you hate wearing them, you can buy a cheap pair in Kathmandu and throw them away afterwards. They are very important at the high altitudes where the sun is strong during the day.
8. Two pairs of shorts which become zip trousers: these are so useful for backpackers generally. Sebastien ripped his during our Tiger Leaping Gorge trek in China so bought a new pair in Kathmandu:
9. One fleece top: this is invaluable anyway for those overly air-conditioned flights/trains/buses on your travels, but for Annapurna, this is a must. Buy in Kathmandu if you arrive without one.
10. One light long sleeved top: good generally for mosquito environments on your travels. Sebastien bought his in Kathmandu.
11. General clothes like T shirts and underwear: ideally quick drying and light clothing is best, but most trekkers we met along the way just wore a variety of whatever they had, nothing particularly specific. Take no more than around 3-4 pairs of everything as you can wash them along the way and you want to minimise the amount you're carrying.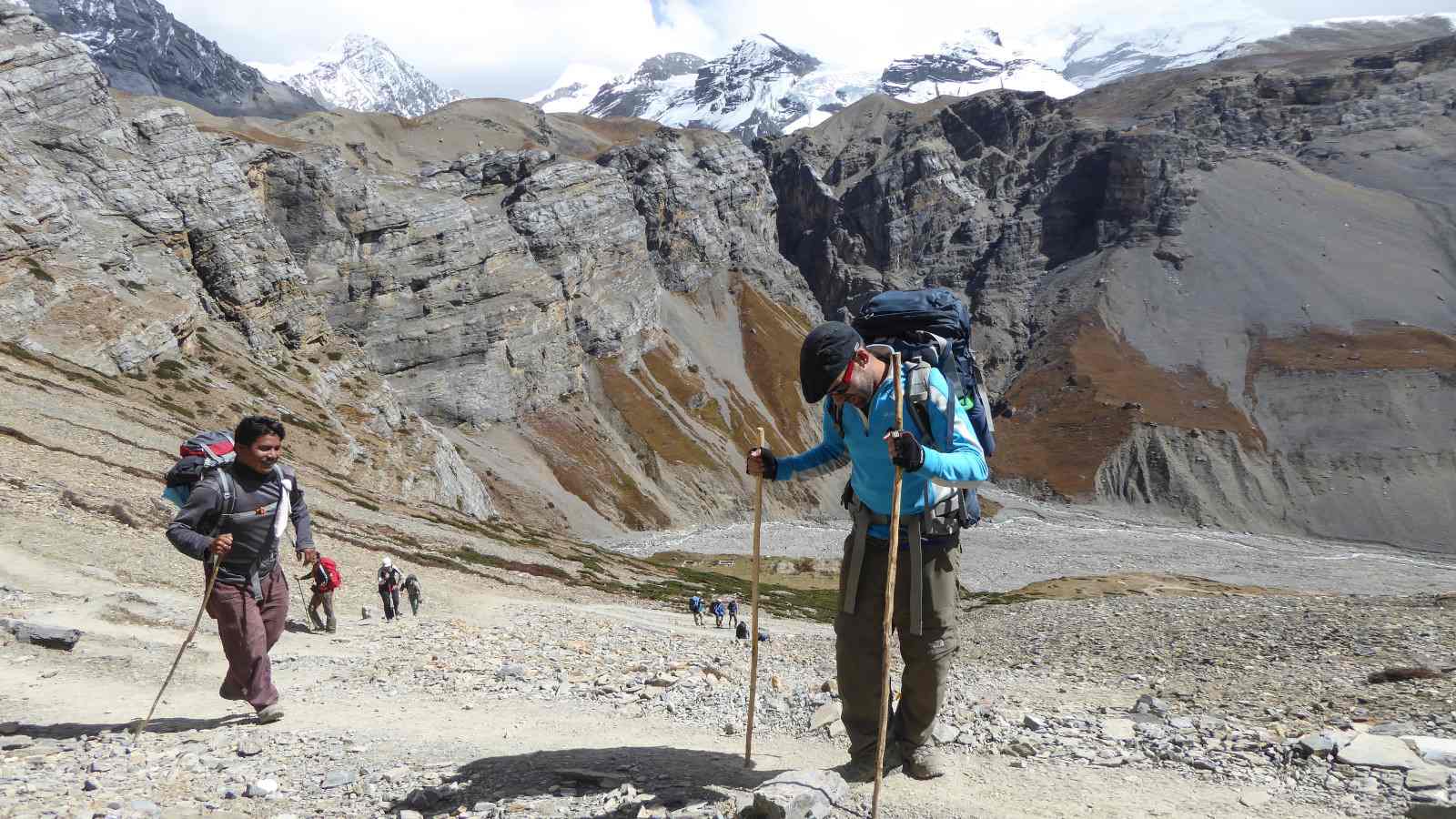 12. Rain coat: always a must anyway for your travels.
13. Quick drying towel: these are usually not supplied at the tea houses you will stay in.
14. Flip flops: for public showers you will use at tea houses not offering en suite rooms.
15. First aid kit: paracetamol is a must for those headaches at the high altitudes. You can buy diamox in Kathmandu – a tablet to help with altitude sickness (but makes you wee every 15 minutes).
16. Head torch with spare batteries: this is a must for morning pre sunrise treks where you need your hands to support you with your walking sticks (see below) instead of using your iPhone's camera.
17. Swiss army knife: you have no idea how useful these bad boys are! If flying, remember not to put it in your hand luggage though.
18. Camera with spare battery and charger: you will be able to charge your camera at most tea houses you stay at but this gets harder at the tea houses at the higher altitudes so have a spare battery pack just in case.
19. Sun hat/cap: essential for the intense sunlight during the day, especially at the high altitudes.
20. Thermal under layers: important for the high altitudes where it's freezing from early evening till late morning. But you can do just wear your other layers. We bought these cheap in Kathmandu and gave them away afterwards to our guide to re use.
21. Toiletries: toothpaste, shower gel etc: you can obviously buy these in Kathmandu and along the way. If you like to dress up etc, the Annapurna Circuit is unfortunately not really the ideal place to do so (!) so better to leave high heels, ball gown dresses, eye liner etc at home (or in your Kathmandu hotel).
22. Toilet paper: always have one on you anyway, but obviously you can stock up along the way and in Kathmandu. They are rarely supplied in tea house toilets, unless you are comfortable using your (left) hand and a bucket of water.
23. Pen: you will be surprised how useful it is.
24. Sweets: stock up on a few packets in Kathmandu if your backpack isn't too full – they will help you get some really lovely photos of the local village children you will meet along the way.
25. Mosquito repellant and tiger balm: mosquito repellant is always on us anyway, but Tiger Balm helps ease the bites. You can get this for cheap in supermarkets in Kathmandu. Tiger Balm also helps ease muscle pain apparently but we never needed it for this luckily.
26. Lip balm: the air gets dry and your lips will be really grateful for that little tub of Vaseline, also will protect your lips from the strong sun in the high altitudes.
27. Swimming costume / speedos: for any hot springs you may visit and water areas you'll want to take a dip in.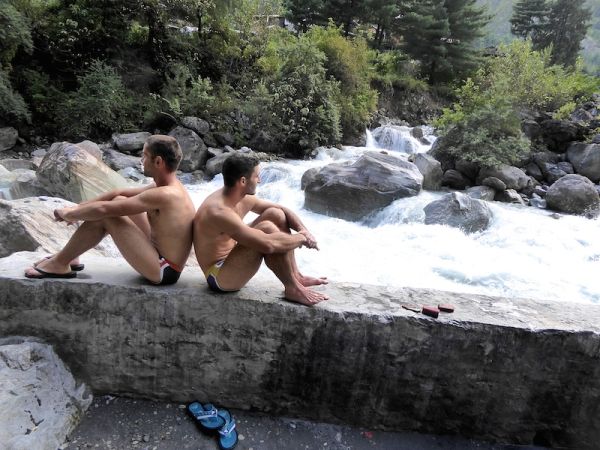 28. Sun lotion: this is a must anyway and also doubles up as a moisturiser to use on your face.
29. Thick gloves: at high altitudes you need these. Buy them for cheap in Kathmandu and then you can disregard them/donate them afterwards.
30. Two water bottles: ideally you can slot these into the side pockets of your backpack, but the argument is to use these instead of plastic bottles to help the environment. You can buy them cheaply in Kathmandu and donate them afterwards.
31. Water purification tablets: you have no idea how much money you will save if you stock up on these! As you go higher up, water becomes more expensive. We used 1 tablet for 1 litre of water and 2 tablets when you reach higher altitudes (there is apparently a risk of a parasite in the water at higher altitudes). You can buy "Tang" in Kathmandu (and along the way) to flavour the water if you want.
32. Woolly hats: necessary for the cold higher altitudes – buy cheaply in Kathmandu then post them home for a present for loved ones, or you can just give them away of course afterwards: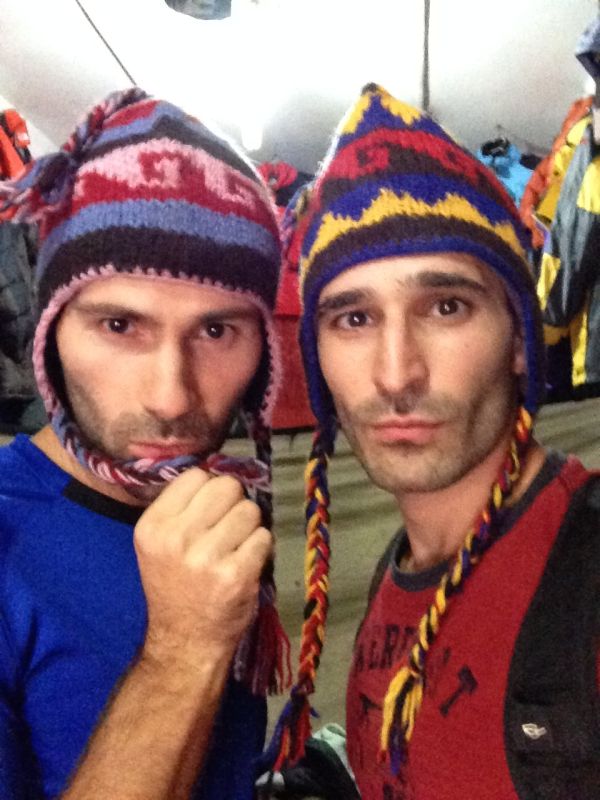 33. Walking sticks: your knees will thank you when on those long down hill treks. We didn't buy these beforehand and our guide just got us two excellent wooden sticks each (for free!) at the start of our trek together.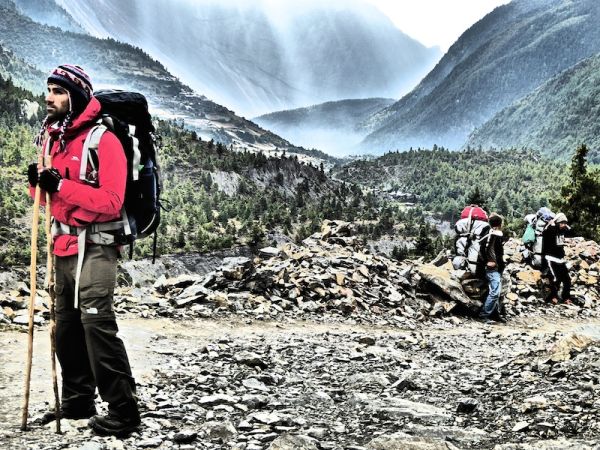 Read more about our experience trekking the Annapurna Circuit for the excellent Mr Hudson Explores and check out our video from our trekking in the Himalayas in Nepal:
Watch more from our travel in Nepal in our awesome video:
OUR FAVOURITE TRAVEL TIPS
⭐️ TRAVEL INSURANCE — We recommend you always take out travel insurance before your next vacation. What happens if you suffer from illness, injury, theft or a cancellation? With travel insurance, you can have peace of mind and not worry. We love World Nomads travel insurance and have been using it for years. Their comprehensive coverage is second to none and their online claims process is very user friendly.
⭐️ SAFETY & SECURITY — All travelers can sometimes encounter danger when traveling. CloseCircle is your "virtual body guard" mobile app which provides security alerts and support wherever you are in the world. They have a 24/7 emergency response team monitoring their users who will contact you immediately if the SOS swipe button is activated. Support can include anything from practical advice, to free evacuation from areas with extreme weather or security risks. You can read more about CloseCircle in our article about how to stay safe whilst traveling.
⭐️ ONLINE ANONYMITY — A VPN (Virtual Private Network) is a must in many countries: it allows you to surf anonymously and maintain your privacy whilst traveling. You'll particularly need it in countries where dating apps are blocked by the government. We recommend ExpressVPN, a reliable and cost effective service which we used and loved during our travels.
⭐️ HOTELS or APARTMENTS — When we plan a trip, we always look for the best hotel deals. We love Booking.com because not only do they have a comprehensive listing of accommodation options, they also offer the best prices. Added bonus: they provide 24/7 support and free cancellation for most listings.
⭐️ SIGHTSEEING and ADVENTURES — When we travel somewhere, we like to seek out the best experiences, whether it is cooking with locals in Bangkok, hiking on a glacier in Patagonia, or going on a wildlife safari in Sri Lanka. Our favorite place to look is GetYourGuide because they have over 30,000 highly rated activities, a user-friendly booking process with free cancellation and a 24 hour customer support.
This article contains affiliate links. If you click on them, we may receive compensation which keeps our website alive and helps us bring you to more destinations.