TERMS OF USE: There is a chance that some of the content on this page has changed since it was last updated. By reading this article, you consent to our Terms of Use and Disclaimer. Happy Travels!
DISCLOSURE: Some of our posts may contain affiliate links which we may receive a commission if you choose to book something through one of our links.
Our detailed gay guide to all the best gay bars in Bangkok to check out including those in Silom Soi 4 and more scattered around the city.
We are well aware that much of our content is Speedo-heavy, especially on our socials.
Vain? Image obsessed? Not gonna lie, we are 100% guilty – but loving it. At the very least it's an incentive to keep fit. Now in our 40s, we're fully aware this isn't going to last forever, but you can bet we're going to rock it for as long as we can.
We want to grow to a ripe old age together, looking back at all our content, then be able to turn to each other and say:
"Look how narcissistic we were back then – but good on us for making the most of it when we had it!"
And that's why we are rocking our Speedo game!
For us swimwear isn't just about covering your goodies – it's about making a bold statement. You want something that makes you look hot but is comfortable at the same time. You want something that screams – "I love myself and I look good"!
However, we always struggle to find the right Speedo that perfectly encapsulates this message! Either they're too long or sag too much – especially the cheaper ones you buy on Amazon. Over the years we've discovered a bunch of excellent brands that make excellent Speedos catering to gay men that will make you feel like a gay icon when you put them on!
From classic styles to trendy designs, we've curated a list of gay swimwear brands that'll have you dripping in finesse. So, grab a mai tai, slip on your shades, and let's dive into the world of gay swimwear.
Where to buy gay men's swimwear?
It's our daily struggle. Living in Cyprus, we rely on ordering everything online or on a shopping spree when we're abroad, especially to really gay places like the Yumbo Center Mall in Gran Canaria or some of the many gay shops in Barcelona.
We've now discovered some of the best gay swimwear brands online, which is where we recommend you head to get your Speedo fix. Obviously, take care to avoid counterfeits and ensure you only shop on trusted websites, like the ones we share below.
Our other hot tip – if you're specifically looking for branded hot swimwear, Inderwear offers a wide selection of well-known popular gay brands such as Armani, Balboa, and Addicted, all in one place with round-the-world shipping. Trust us, when you're based in a random place like Cyprus, this is a blessing! Inderwear is also handy for more niche brands like SKU that don't have their own website.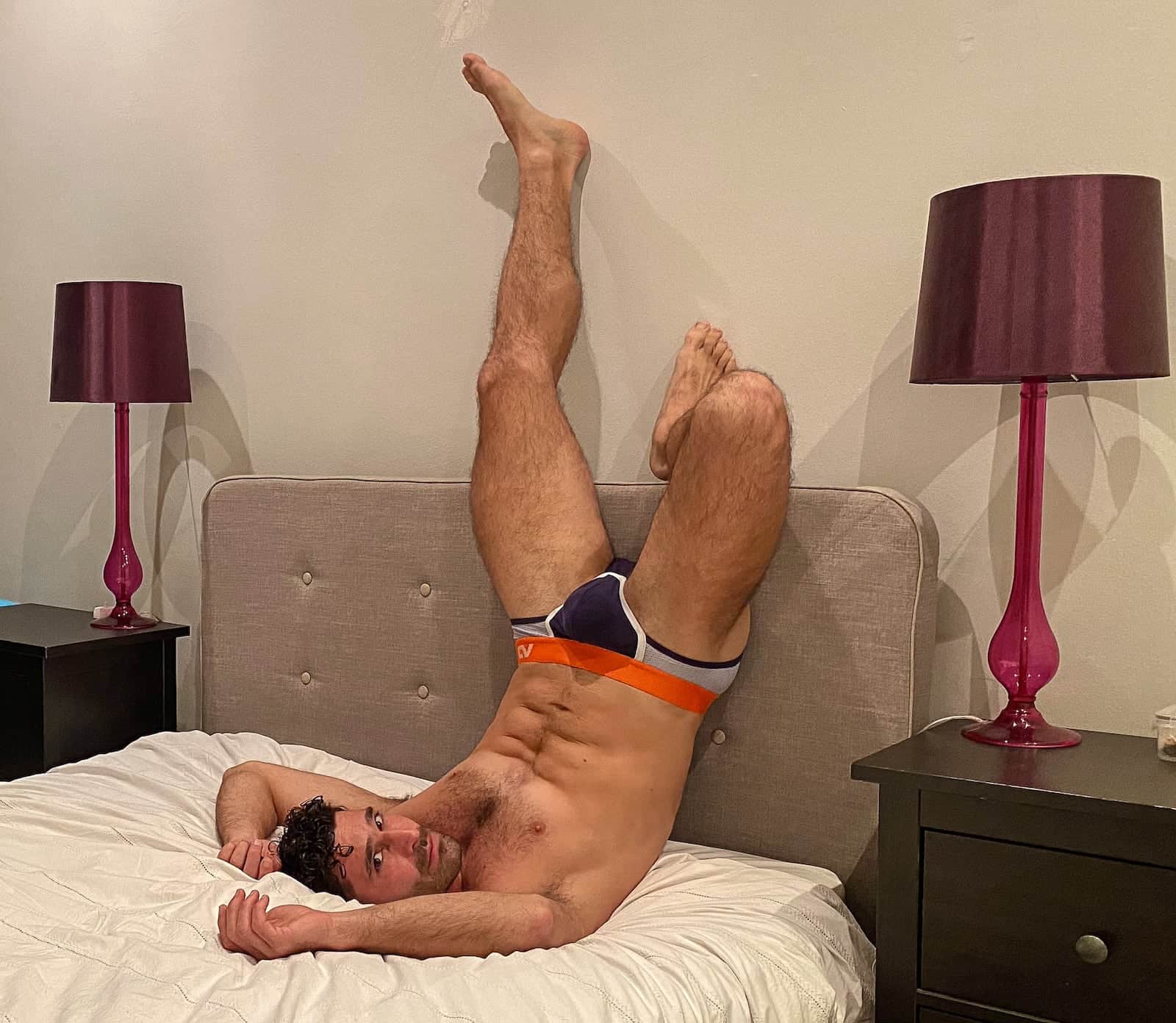 What type of swimwear should I wear?
As good ole' Out Magazine show, different occasions call for different swimwear.
When we are headed to the local family beach down the road in Cyprus, we're obviously not going to rock up there with tight-fitting Speedos! This is when we opt for a pair of swim shorts that are slightly longer than Speedos, and less revealing.
However, when we're heading over to somewhere really gay like Maspalomas Pride or the Mykonos beach parties, it would be almost criminal of us not to sport a "Slap me!" Speedo from Addicted or one of Aussibum's briefs that accentuates the bulge!
Ultimately, the most important thing of all is to ensure that you feel comfortable in what you're wearing!
The different styles of swimwear
If I'm going to a family beach event or an uber-gay Mykonos-style beach boy party will obviously dictate if I wear swim shorts or tighter Speedos, but what about the other styles in between?
Over the years I've grown more attracted to swim trunks because they're not as "revealing" as Speedo briefs and not as conservative as swim shorts. Swim thongs, however – now that's daring, and it takes a lot of, er, balls, to pull these bad boys off!
Here's our summary of the different styles of swimwear to check out starting from the most conservative and ending with the skimpiest:
Shorts: swim shorts are the ones we opt for when heading to a family-friendly beach or when we just want to fit in with the straight crowd. They are longer than you're average Speedo brief and trunks. Depending on the style, they'll cover half or even most of your thigh – but you get the idea. This is the safe go-to pair we opt for – ie when we don't want to be on show! The longer shorts are called "Broad Shorts" and are particularly fashionable in the US surfer-dude crowd.
Trunks: swim trunks are what we like to think of as the perfect midpoint between shorts and Speedo briefs. They leave a little bit more to the imagination than a tight speedo but still expose enough leg to tantalize your audience. I personally love these ones the most because I find they're the most effective for highlighting one's bubble butt!
Briefs: swim briefs, Speedos, "Bikinis" (in America), and "Budgie Smugglers" in Australia are super revealing and pretty much the staple clothing item on a huge gay cruise like La Demence or Atlantis! They can be sober and classy in terms of color and style, or more playful for showing off that bulge… Some brands, like Addicted, will even supply your Speedo with a little cup to insert to accentuate your Speedo bulge…
Thongs: swim thongs are more revealing than briefs. It's literally a piece of material barely covering your bulge and then a small string holding it together that goes up your crack to reveal your booty to the world. It takes a lot of balls to pull off a thong – personally, I'm not a fan of them as it doesn't leave much to the imagination.
Bodysuits or singlets: now we're entering the more daring arena! Traditionally, swim-bodysuits are worn by ladies to cover up certain parts of their bodies. The gays being gays, we've taken this to a whole new level offering up a range of skimpy options that resemble a Borat-like mankini or wrestler outfit. Swim bodysuits are ideal if you're attending a particular themed raunchy gay party. Note that some websites will refer to these as "singlets" and some, like Andrew Christian, call them "Boykinis".
Nothing at all: also an option! With so many excellent gay clothing-optional beaches in the world, who needs a swimsuit at all? Just remember to apply sunscreen to your bits and bobs…a burnt botty is not the right type of pain you want going on down there!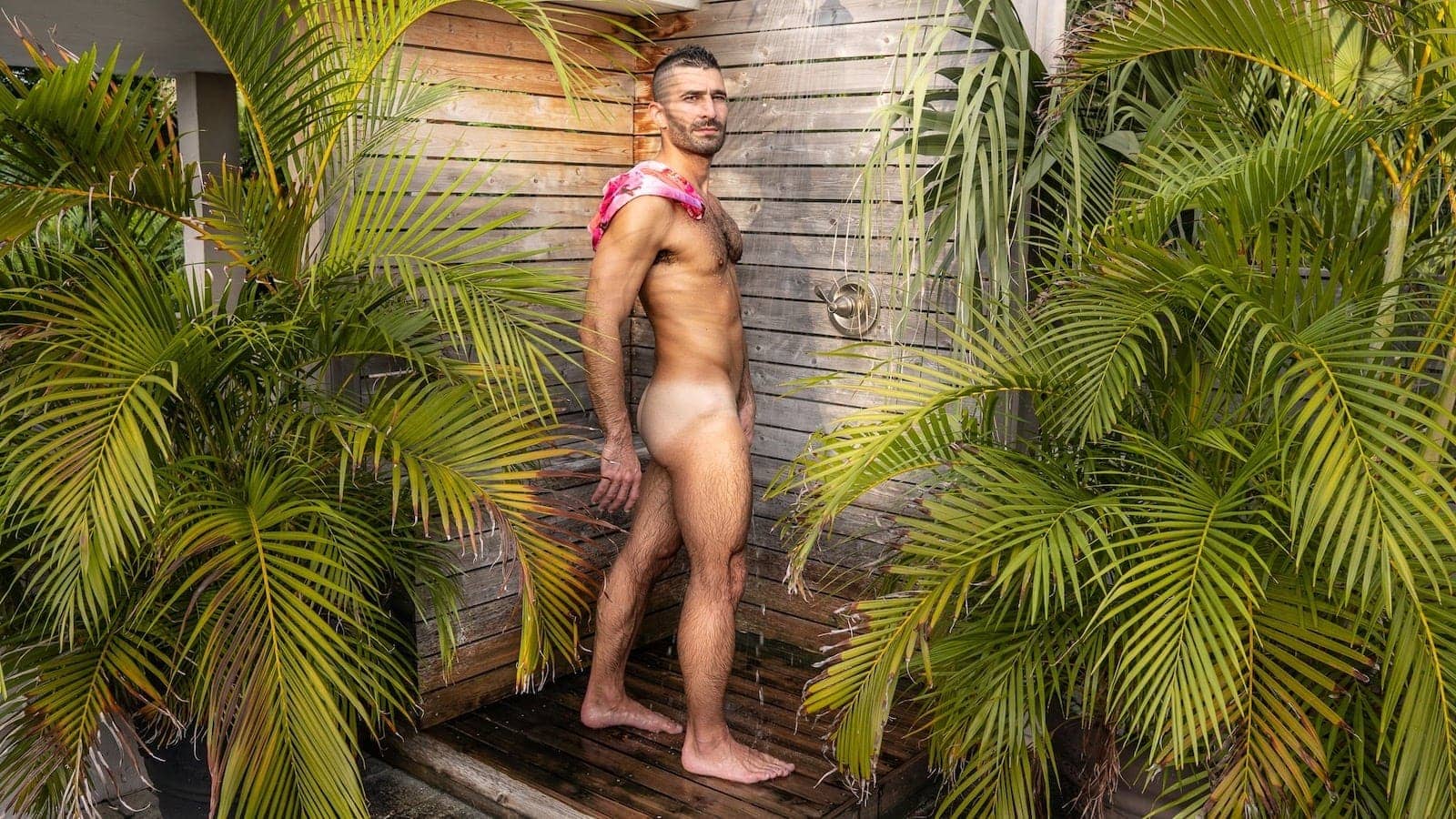 Our favorite swimwear brands
After many many years of being proud out gay guys on the scene traveling the world, we've found a whole heap of excellent swimwear brands that show off the goods!
We've cozied up with some of them to offer exclusive discount codes for you so make sure you take advantage of these to save some coin when ordering.
Swimwear brands that we've tried, loved, and recommend:
We LOVE the Spanish-based ES Collection (or just, ES, for short) because it's as classy as it is gay. It's a gay owned brand founded in Barcelona known for creating high-quality clothing ranging from casual wear, fitness wear, swimwear, underwear, and more. ES is so gay that it "invented" the padded swimwear look for men!
For us, ES has become synonymous with the gay scene. We'd say they are probably the most famous gay fashion brand in the world. We see them at every gay beach bar, Circuit party, and Pride event we've been to.
ES has flagship stores across the major European cities, but we'll be honest, we've only ever shopped on their online store. It's low risk as their sizing guide is pretty on point.
Our hot discount for you: use the discount code NOMADICBOYS to claim a 10% discount on any of their clothing on their website.
Addicted is another brand we love owned by the same company behind ES. We find Addicted clothes to be on the raunchier and more daring side, but just as gorgeous. This is the place to come for the skimpy Speedos and swim thongs!
For us Addicted is another brand that is so ubiquitous amongst the LGBTQ community with a strong presence at all gay Pride events and parties, particularly in Europe.
We love them for this, but most importantly they offer a wide range of fun colors, patterns, and ideas! For Seby, the "OMG" Speedo range fits the bill nicely(!)…my personal favorite is the "SLAP ME" Speedo with the words perfectly positioned on the butt. Try walking around a packed gay cruise of 4,000 gay men wearing just those…
'cause we are so generous: as with ES, use the discount code NOMADICBOYS to claim a 10% discount on any of their clothing on their website.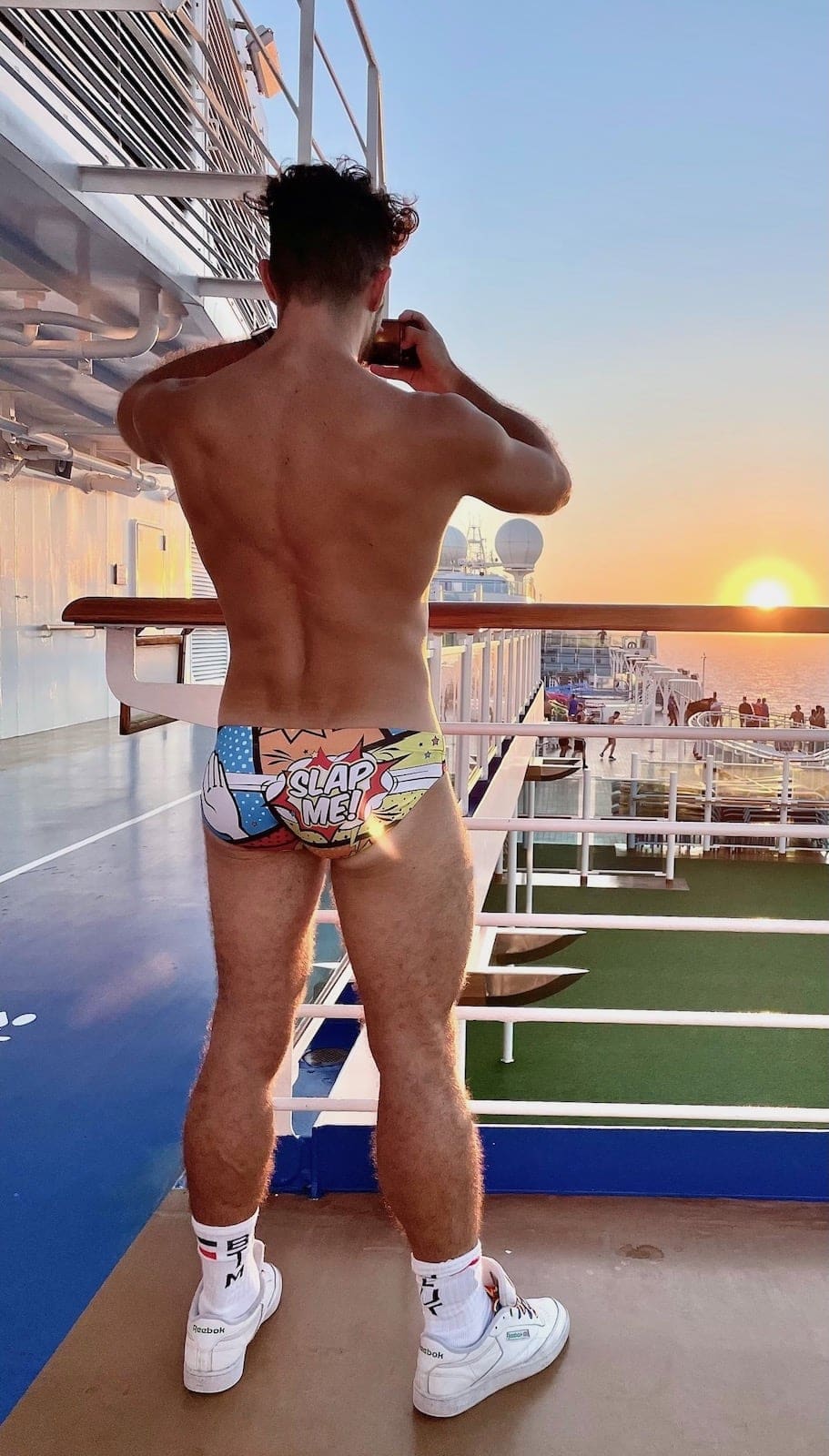 I first came across TEAMM8 back in 2009, around the same time I met my Seby. It was on a random Facebook post I stumbled on at the time – let's just say these guys know how to pick a hot swimwear model! Check out their Instagram and you'll see what we mean…
TEAMM8 is an Australian gay brand based in Sydney since 2008 and has since become popular all over. Like ES and Addicted, we see TEAMM8 in some shape or form at almost every gay event we attend.
TEAMM8 crafts up a range of clothes including activewear, underwear, accessories, and even a cute "Boyfriend Bundle" range which we love. But in our opinion, the best thing about TEAMM8 is their excellent range of Swimwear: they specialize in Briefs, Shorts, and Thongs. My personal favorite is their olive-colored briefs, sometimes also called "army" color.
Whilst TEAMM8 have one sole flagship store in Sydney, we've only ever dealt with them online and never had any issues. Just make sure you follow their sizing guides.
Our generosity continues: claim a whopping 20% off any TEAMM8 clothing by using our discount code: NOMADICBOYS20.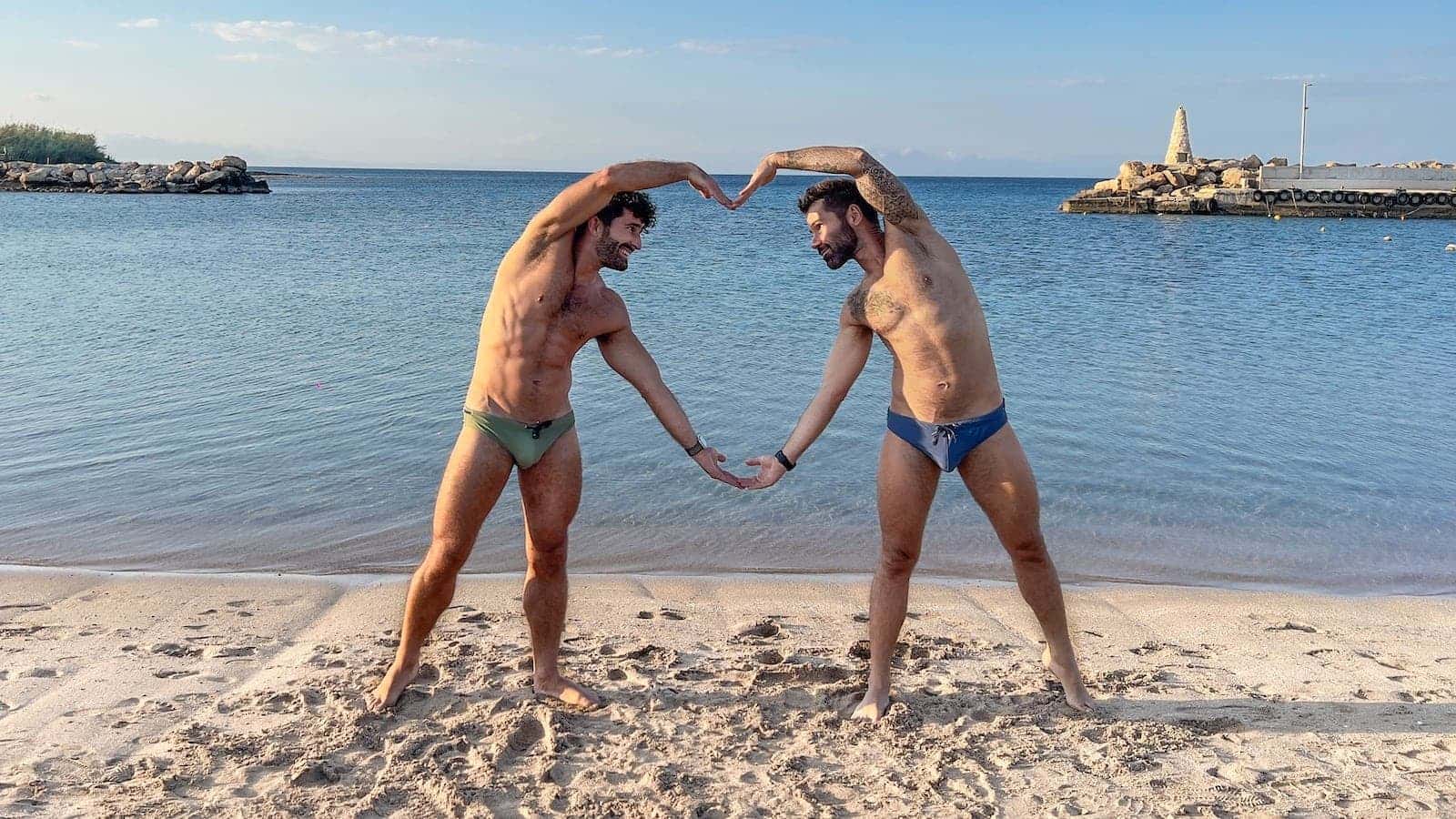 AussieBum is like the O-G in the world of gay swimwear brands! They've been around since I've been an openly gay man – having launched back in 2001 in Sydney. In my decades of being an out-gay man, aussieBum has always been there – every gay shop in Soho gay London, gay Pride event, gay beach party, gay pool party…you name it.
The story behind aussieBum is really interesting too, since it all started when founder Sean Ashby realized that his successful corporate marketing career wasn't really what he wanted to do with his life. After spending time as a 'beach bum' he then came up with the idea for aussieBum, playful swimwear made of nylon rather than the newly popular lycra. Kylie Minogue's stylist asked Sean to supply the aussieBum collection for her music video for "Slow" and the rest was history! Let's be honest, you had me at "Kylie"…
Along with many different cuts, colors, and fun patterns, what we love the most is aussieBum's infamous "Wonderjock" – a fabric cup in jocks that's designed to lift and enhance the Crown Jewels!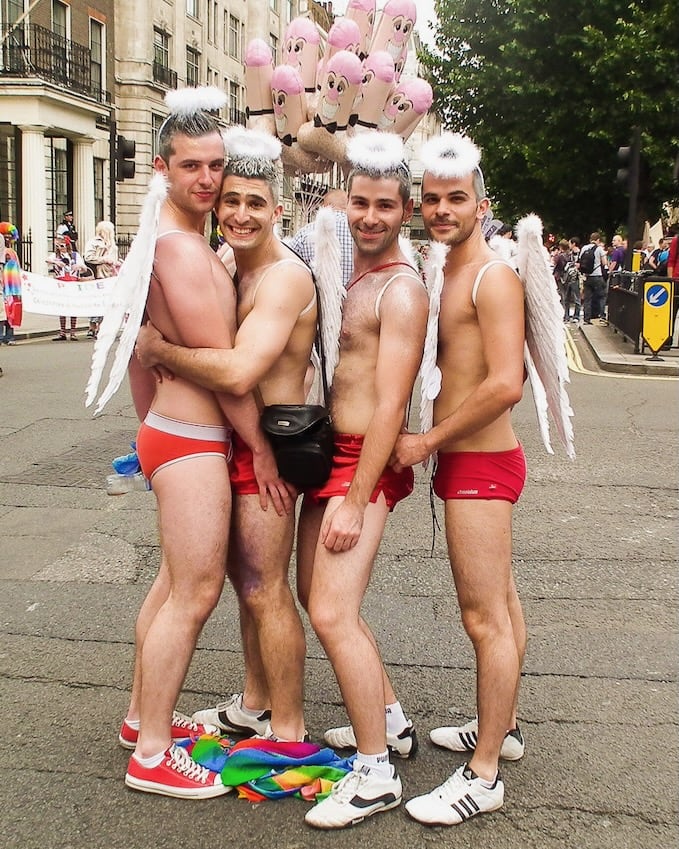 …and the Nomadic Boys douze points goes to…GREECE!
Well, we are based in Cyprus (an infamous joke that Eurovision geeks will get).
We first came across Modus Vivendi during the first Covid lockdown when we were looking for local gay swimwear brands. Modus Vivendi is based in Greece's second city, Thessaloniki, but ships everywhere.
We love their swimwear range. They sell everything from singlets, trunks, briefs, thongs, and shorts with plenty of bright colors, and patterns. Everything we've ordered from them has fitted beautifully and nicely shows off the goods! Note that Modus Vivendi also sells loungewear, activewear, and a wide range of underwear.
Our personal favorite Modus Vivendi swimwear is their Glam Meander line, which has the traditional Greek meander pattern – also a cool tattoo design…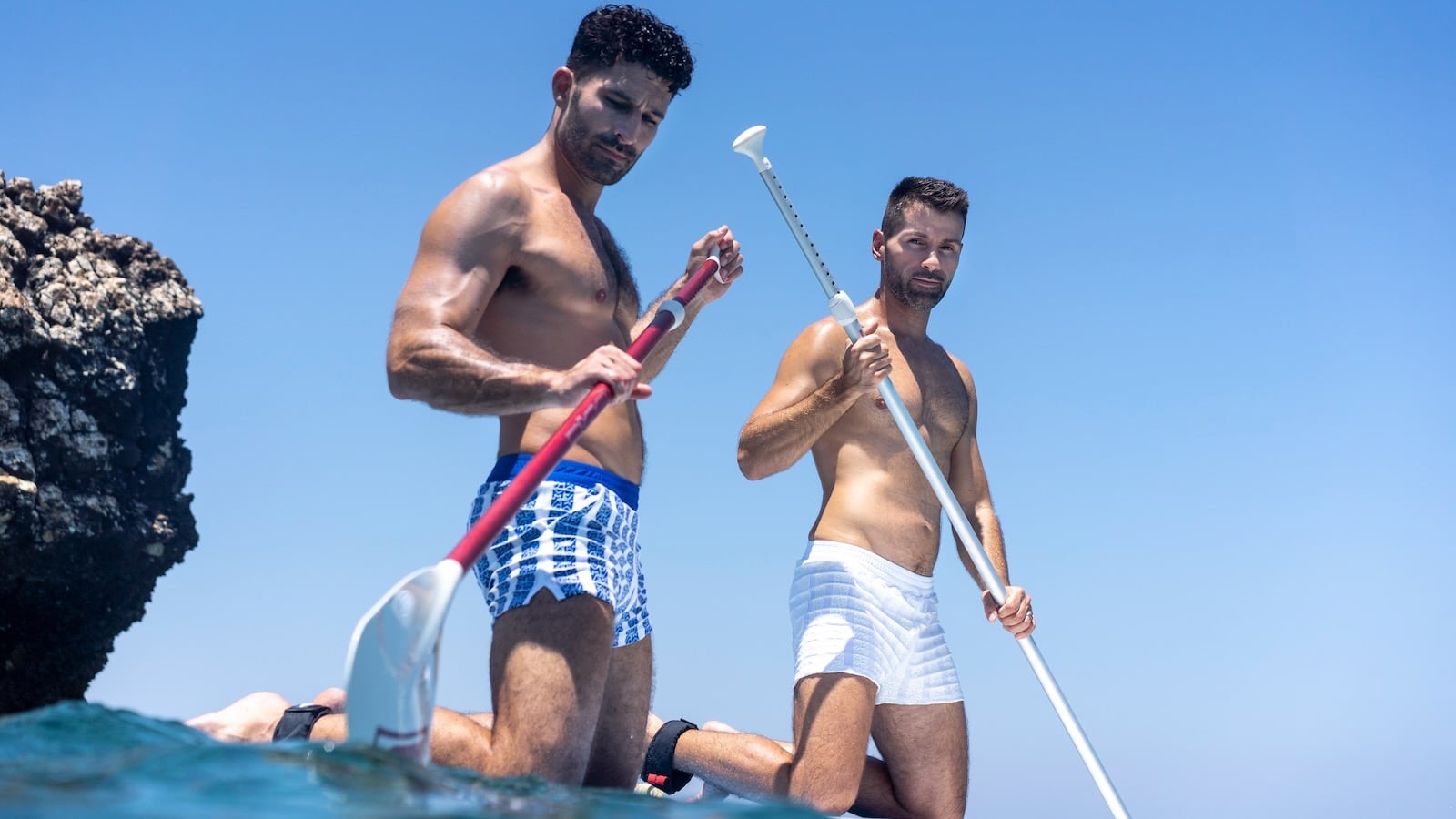 The number of times I've (ahem!) "scrutinized" the Pump! models…
Pump! is a Canadian-based brand that launched in 2009 in gay 'ole Montreal – a city we love, famous for its gay "dancer" bars and spicy locals! I first came across Pump! when a friend got me one of their underwear briefs, which I instantly fell in love with and wore to every hot date I had…
For us, Pump! gives us sporty jock vibes, their range of clothing giving a youthful, sporty look. They're known for being one of the first brands to start using splatter and graffiti-style painting on their underwear. We love their swimwear, particularly for its distinctive bright and trendy styles…the "water cheeky" range is my personal favorite.
The most important thing we found about Pump! is that their swimwear is durable and comfortable, whilst being fashionable and sexy…this is the brand we recommend you check out if you fancy feeling out your hot jock fantasy!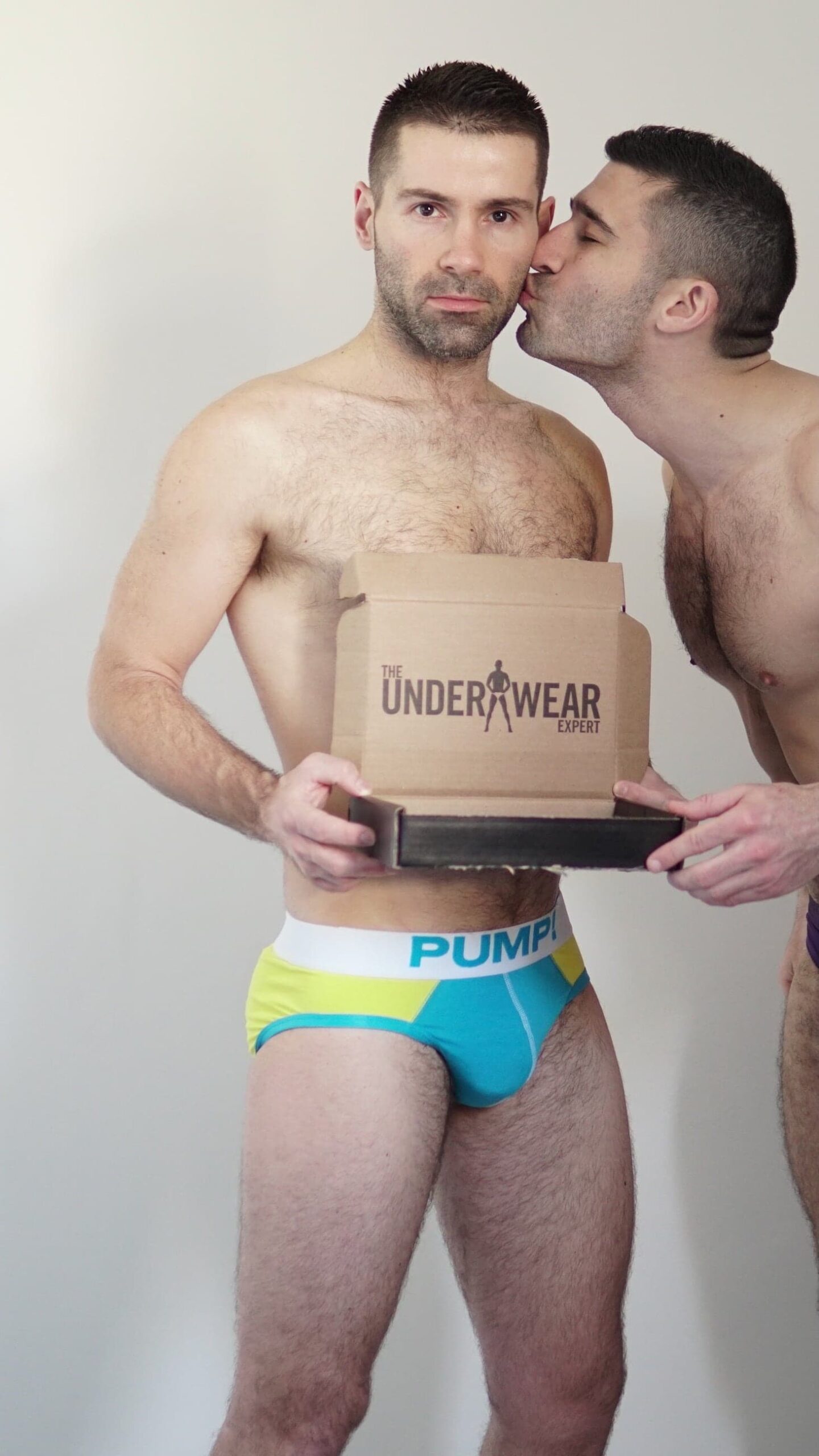 Code 22 is a gay fashion brand from Barcelona. It was launched by designer Michel Messara in July 2015. We love Code 22's range of swimwear – a mix of unique printed patterns as well as simple bold colors.
They don't have the largest swimwear range as some of the other brands in this list, but as with Barcode Berlin, they've got simple prints you can shop from to complement a rainbow-matching group of friends. However, unlike Barcode Berlin, Code 22 swimwear is more low-key!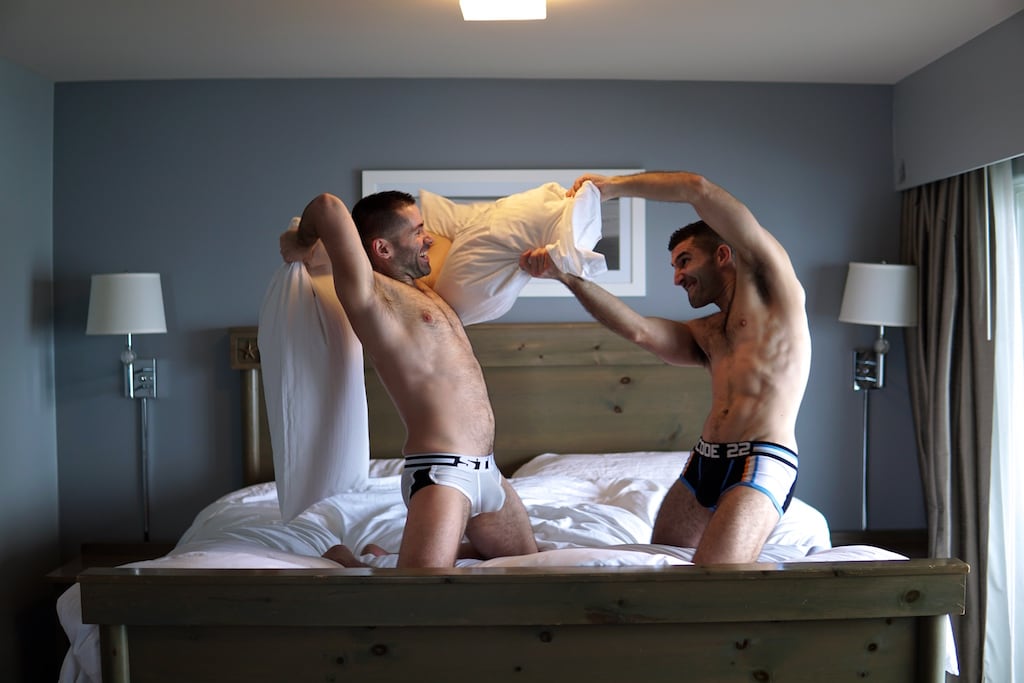 Swimwear brands that we've either not yet tried or do not have photos of us wearing them (yet):
What we love most about Andrew Christian is the man himself. He's built his own famous gay clothing brand around his name – going strong since 1997. That's around the time when I was bopping to the Spice Girls, All Saints, and TLC…
We've often met the man himself at various gay events – notably Puerto Vallarta Gay Pride, where he'll be featured as a guest judge on the panel of a Drag Race-style event.
We love the wide range of cuts, styles, colors, and patterns of Andrew Christian clothes. Seby's favorite is the cheeky bikini that features a banana on the bulge! If like me, you work hard on your squat game to develop that bubble butt, then Andrew Christian swimwear is your friend!
We're also 100% behind all the provocative Andrew Christian advertising videos that feature smoking-hot models showing off his range of swim shorts, trunks, bikinis, boykinis… Most importantly we LOVE Andrew Christian's dedication to LGBTQ rights. He donates generously to charities like the Trevor Project and ILGA Europe. His dedication to charitable work in the LGBTQ community at one stage included offering free lube and condoms with every order!
We've got one inside of each of us just waiting to break out…right? Or is that just me?
Quite honestly, the name was enough to catch my eye. It cracked me up – "No way can this be a name for a brand"…but sure enough, Nasty Pig is indeed a gay clothing brand that was created by couple Frederick Kearney and David Lauterstein back in 1994 in New York City. It's been going from strength to strength ever since.
Nasty Pig first started making vinyl pants, rubber superhero tanks, Nasty Pig tee shirts, and the infamous rubber chaps, before evolving into the very first gay culture brand in history. For us, their swimwear range is ace. As the name suggests, this is a brand that appeals to those of us who are on point with their squat game 🙂
We love the mix of playful and colorful Bikinis, trunks, and board shorts…though some of those shorts are pretty long – a fashion popular with American surfer dudes.
What we love most about Nasty Pig is that amongst all the fun, and fierce swimwear styles, they support the LGBTQ community by donating to The Ali Forney Center, which protects homeless LGBTQ youths.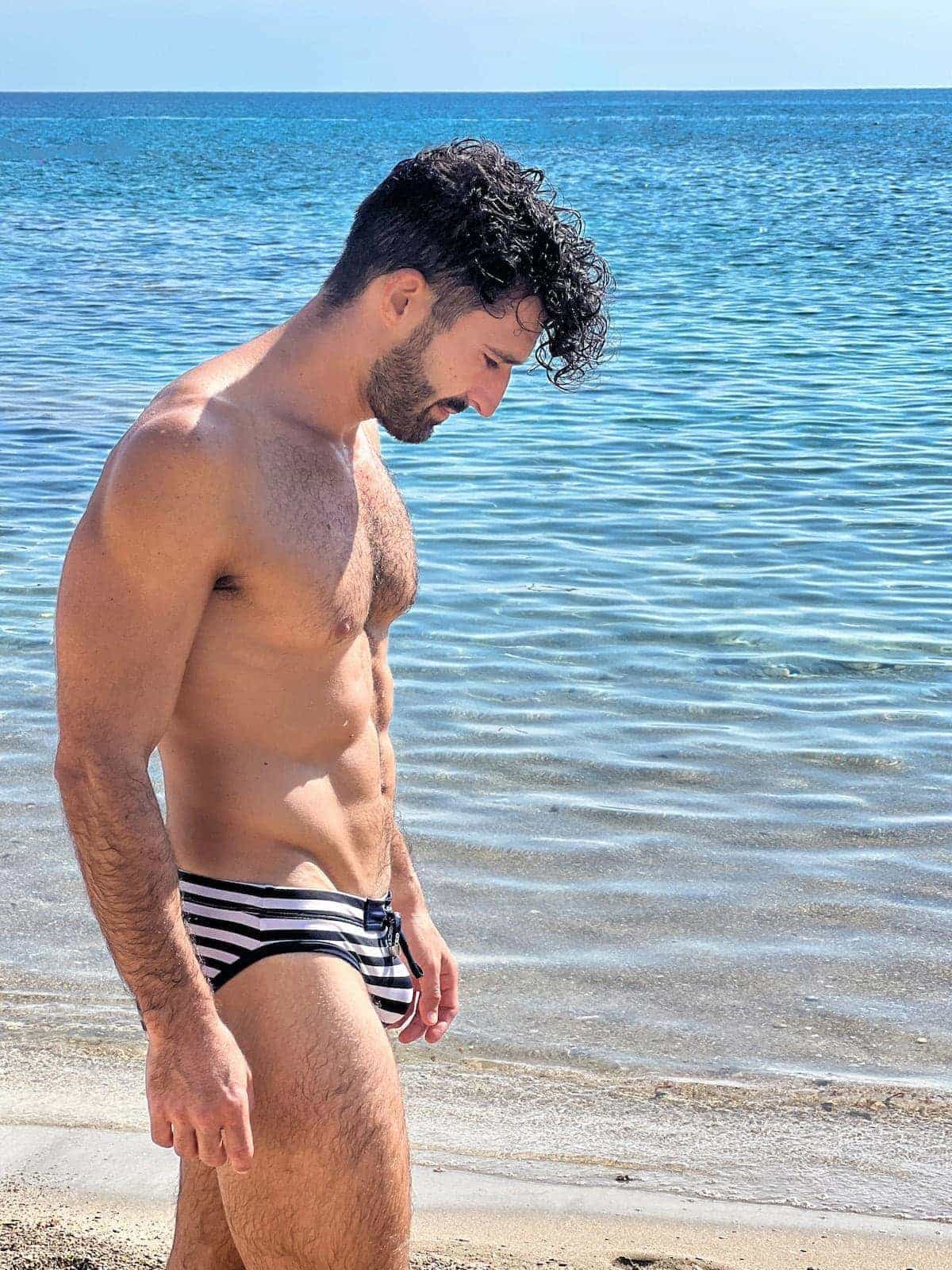 We've all salivated over Bruno from the Pitt Crew on RuPaul's Drag Race, right? We recommend heading over to season 15 to see him wearing nothing but his Garçon Model briefs and that big cheeky smile of his…
Garçon Model (sometimes called just "GM") is a sexy Canadian underwear brand based in Vancouver. The name means "Good Boy" in French making it another favorite amongst our (ahem!)
The GM swimwear is lit with bright colors, quality fabrics, and yummy-looking designs. We love their more playful swimwear designs that feature cute cartoon ice creams and pandas wearing sunglasses.
Garçon is another gay clothing brand that we've been fortunate to see in the gay travel world, particularly at the White Parties. GM is in fact the official underwear and swimwear sponsor of White Party Palm Springs – one of the biggest and best LGBTQ+ dance music festivals in the USA.
We also love Le Blog – the official blog of Garçon Model which keeps us up to date with the latest underwear trends and gay culture hot topics – who's sleeping with who…which party is lit…which drag queen said what…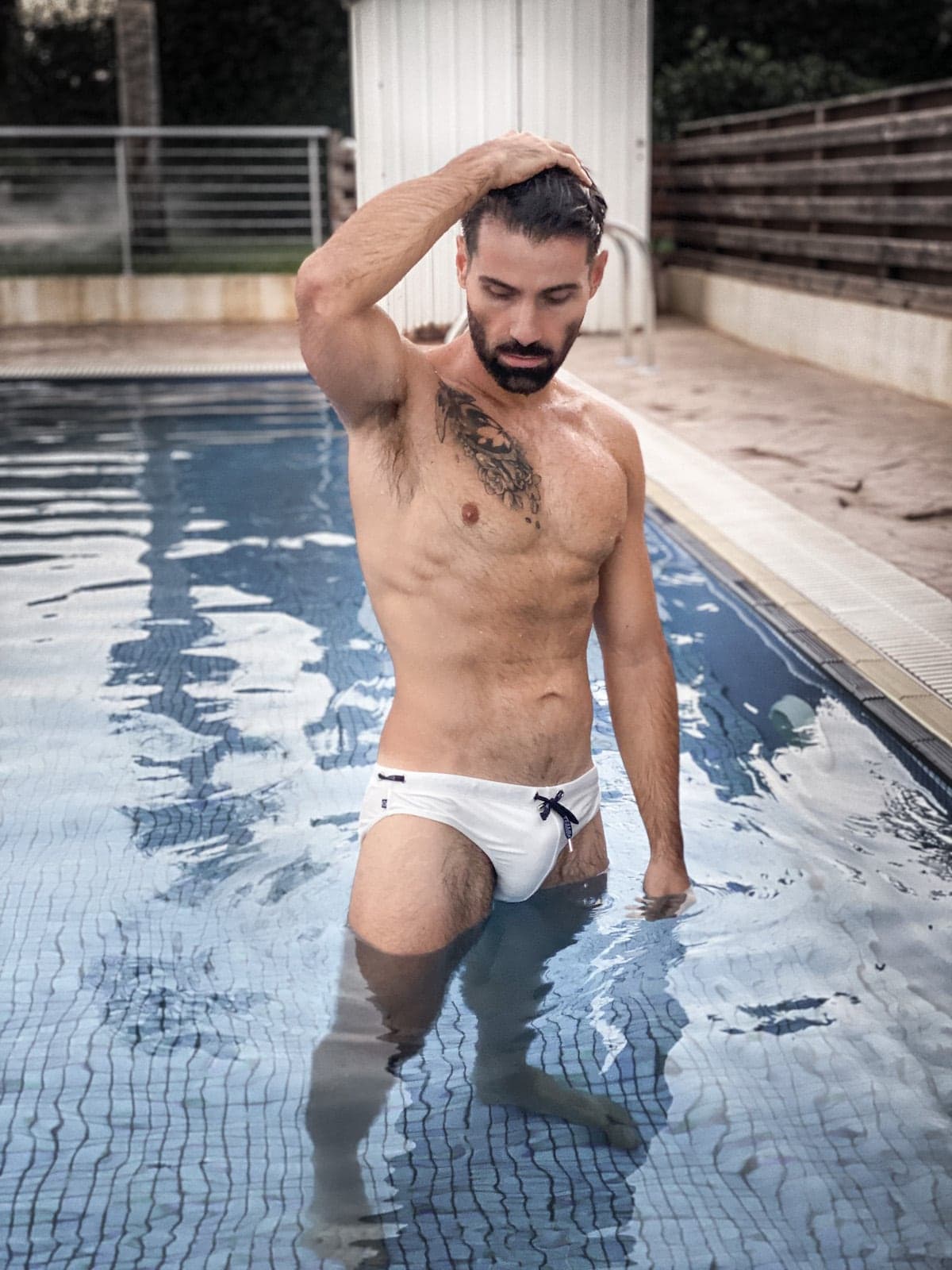 Seby often calls me this when he says I'm not paying attention to his many travails as I set my Airpods to "Noise Cancellation" mode… "L'Homme Invisible" is in fact a French luxury underwear, swimwear, and loungewear brand that was first created in 1986 by Patrice Chevreux and then bought by Sandeep Sahni in 2011.
At its heart, L'Homme Invisible is all about romantic chic style and was also one of the first brands to come up with the concept of men's lingerie – quite a feat for the 1980s. For us, the L'Homme Invisible swimwear range gives us luxury, romance, and eleganza…especially the string thongs which leave so very little to the imagination!
It takes a very bold and courageous man to pull off some of the L'Homme Invisible string thongs that's for sure. For something a little more conservative, we love their briefs, especially the Navy and Pattaya designs.
Don't be fooled by the name – JJ Malibu is actually a gay brand from Canada.
When we first stumbled on JJ Malibu we were instantly hooked by the quirky and flamboyant designs. The swimwear options range from striking gay thongs, to short (we mean short!) shorts, trunks, and briefs. They also sell gym tank tops, harnesses, and one of the largest underwear collections we've seen!
At just five years old, JJ Malibu has certainly made its mark in the gay travel world. We noticed them during our latest gay trip to Bangkok for New Year's when they were the main sponsor for the Bangkok White Party.
We also noticed JJ Malibu on Drag Race – it's another brand the Pitt Crew loves to wear…and we can see why! My favorite JJ Malibu Bikini is the one with kiss lips on the front. For Seby it's the Bikini with the cute pig parked right on the bulge.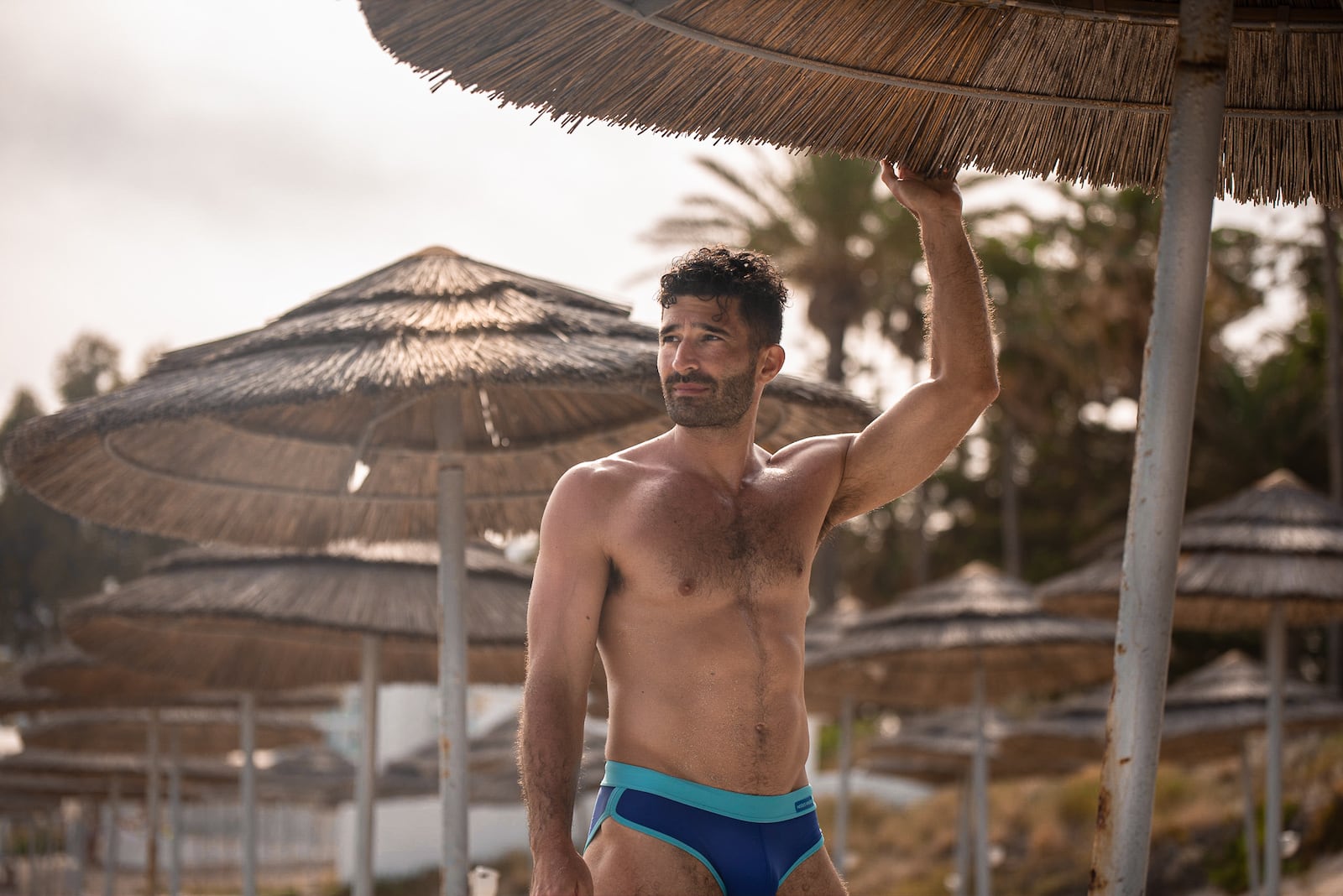 Cut4Men (or C4M) is another Joe Snyder innovation. It's even more courageous than other Joe Snyder styles – puch enhancing thongs? Sassy jockstraps? You get the idea… Their mission is to highlight men's personalities through their clothing – let's just say that wearing one of their thongs on Fire Island did more than enhance my personality!
We particularly like the "shiny" look of many of their provocative bikini briefs, although there are also some snazzy designs to choose from. If you wanna show off the booty we recommend their high-cut cheeky briefs.
Bold, provocative, and cheeky. For us, that's C4M in a nutshell!
The big website we mentioned towards the start of this article that sells all these brands in one place, Inderwear…well, the owner is the French company, "Les Dessous d'Apollon", which also owns SKU Paris.
SKU Paris, or simply, "SKU" focus on underwear and swimwear that is original, sporty, and simple. We've worn several SKU clothing before (mainly underwear), which we've always found to be both comfortable and stylish, while still remaining affordable. For something more daring, we recommend you check out their range of G-strings and thongs – trust us, they've got your back!
I was curious as to what SKU stood for – after much Googling I discovered it stands for "Stock Keeping Unit"…geddit?!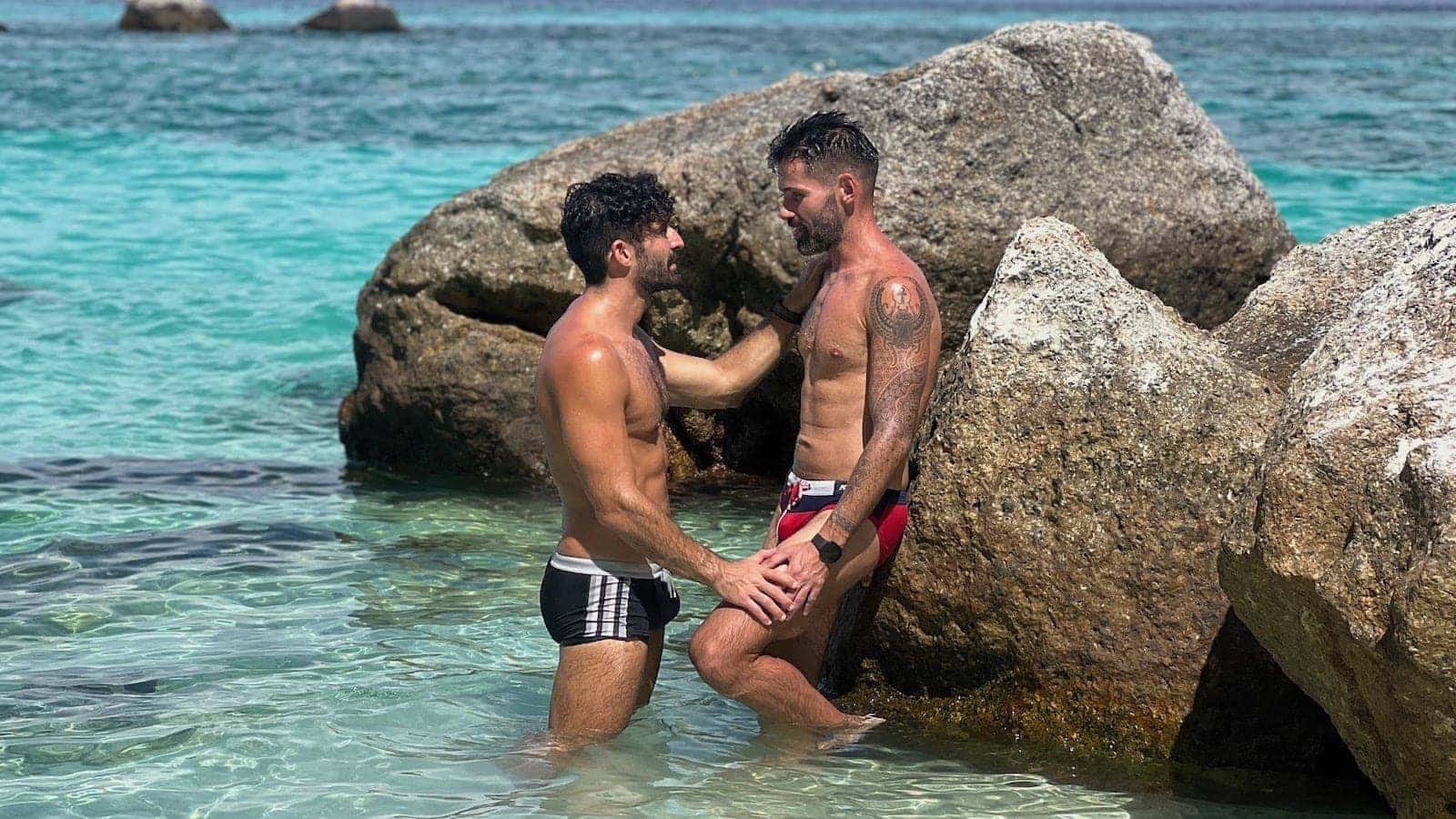 Just like the Mercedes-Benz is a symbol of luxury in the car world, Olaf Benz is considered to be one of the most exclusive and high-quality underwear and swimwear brands.
They also have a pretty varied range – including sober beach shorts, beach pants, briefs, some pretty out-there thongs, and a few pretty sassy body suits.
We'll be honest we've not yet tried any Olaf Benz swimwear but we include it after seeing several gay guys showing it off at the gay beaches in Barcelona. The jazzy prints appealed to Seby in particular. For me, my eyes went to their iconic beach body suits – Seby says I spend far too much time watching Turkish oil wrestling Youtube clips…
TOF Paris is another fabulous French brand known for their sexy party gear as well as their stylish, and cheeky swimwear line. Seby first introduced me to this brand after I met him. He said that growing up as a young gay boy in Lyon, all the cool hot gay kids got their undergarments from TOF – always made me giggle because a TOF in the UK is a nickname for an aristocrat who exudes an air of superiority…
We love TOF's cute line of shorts, thongs, and crop tops in navy sailor stripes. Lots of pretty prints, bright colors, macho camouflage patterns…but for me, you can't beat a good old fashioned metallic snakeskin now can you?!
Handy TOF clothing tip to look out for, if it's made from polyamide and lycra, then it will dry quicker than other garments.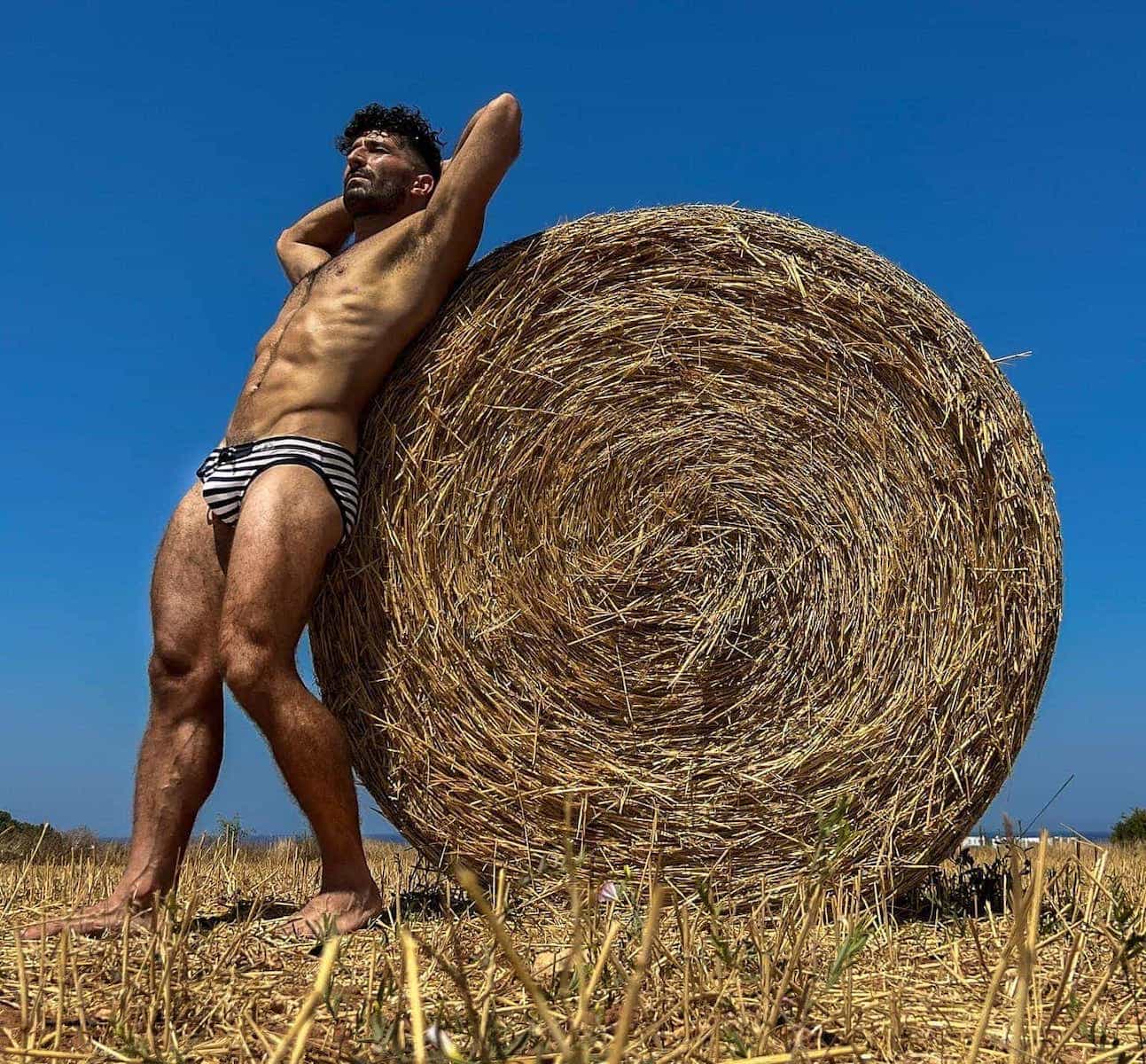 One year when we went to London Gay Pride, we buddied up with a group of friends to each wear a color from the rainbow (mental note for next time – for this to work you need a group of 5-7!) Barcode Berlin is perfect to achieve this. They have bold (and sexy) Speedo prints from every color under the sun.
Born in East Berlin in 2009, Barcode is very much inspired by the uniqueness of Berlin. Their lines are a wonderful mix of cute and cheeky, sporty and naughty – just as you would expect from a Berlin brand! You know what I mean…that one time you woke up and said to yourself – "Now where can I get myself a cute pair of briefs with a print of a duck wearing a ball gag?" – now you know!
Duck print with a ball gag too much? Fear not, they've got similar ones featuring bananas, eggplants, and Pride unicorns…
And a shout out to their model scouts…phwoooaaaar they don't do a bad job at all do they?!
Launched by Vicky Caffet in 2012, the Garçon Français line is based on historical French underwear, and all made on location in Troyes. We love Garçon Français clothing but only recently stumbled on their swimwear range of Speedos, which is very small but growing. It's worth checking out if nothing else in this article has taken your fancy.
The Speedos on offer at Garçon Français are simple and classy – no bright patterns or crazy designs here.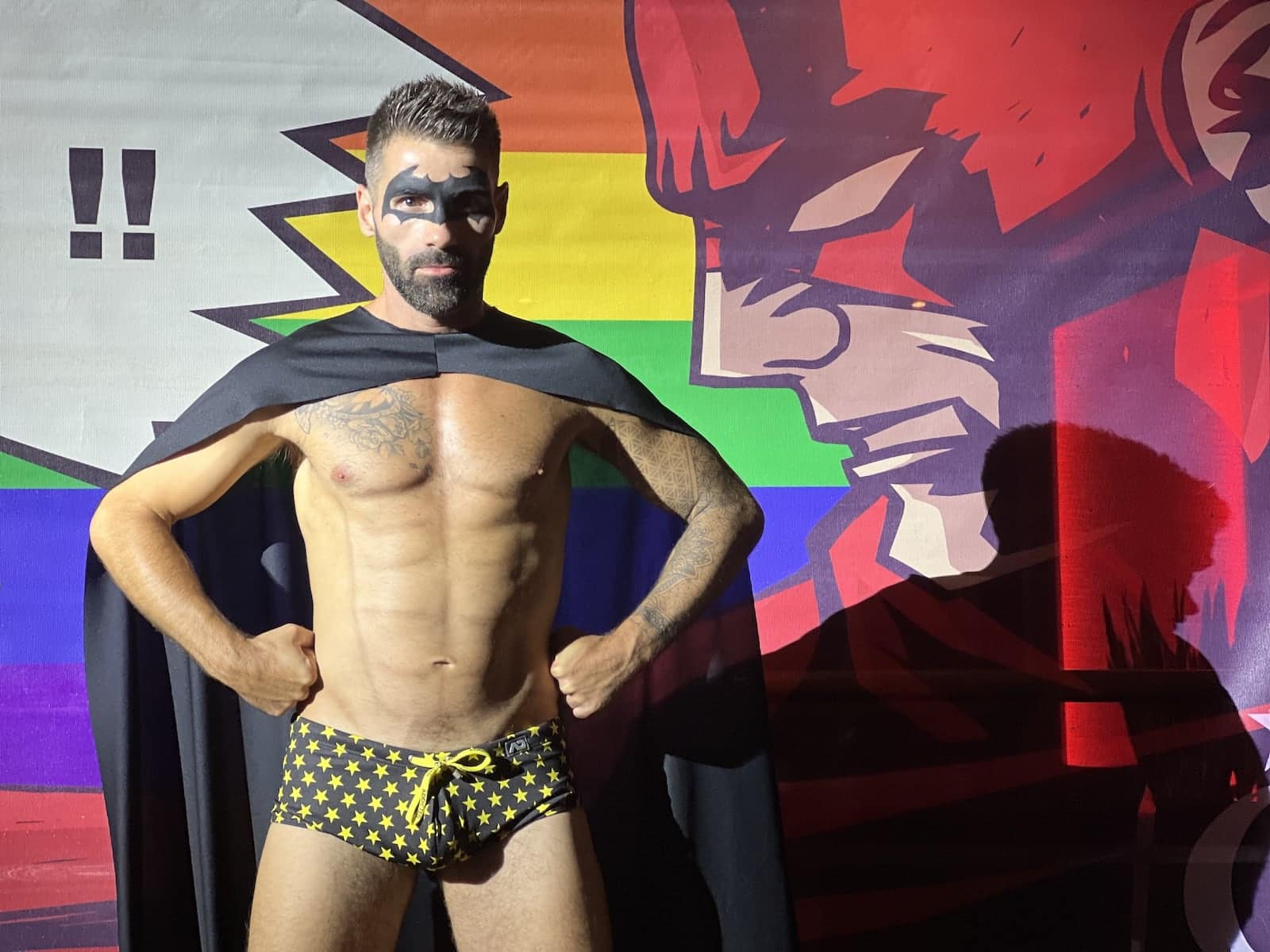 Another swimwear/underwear brand originating in France? What can we say, the French know how to produce fine men, fine wine, and fine swimwear!
HOM was founded in the south of France in 1968. The brand was subsequently purchased by the Swiss-German Triumph Group in 1986 and then the Huber Group in 2015. HOM clothing is now sold in stores all over Europe, as well as around the world via online sales.
In terms of swimwear, HOM provides shorts, trunks, and micro briefs in fun patterns or stylish block colors. Our eyes were drawn to the tropical plants and toucans (my favorite bird). Whilst we've not yet tried out any HOM clothing, it's on the list to check out on our next shopping spree.